Artificial Christmas tree buying guide
Artificial Christmas trees to suit all festive styles and spaces
Artificial Christmas trees have come a long way since the dyed-green goose feathers of the 19th Century. These days, modern artificial trees are available in a wide variety of sizes and styles and are quicker and easier to set up than ever before. From pop-up to pre-lit, coloured to compact table top, our artificial Christmas trees are certain to create the perfect Christmas centrepiece.
Shop artificial Christmas trees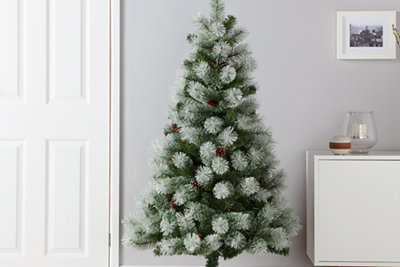 Before you buy
Why choose an artificial Christmas tree?
The festive season is all about cherished family traditions and customs. If you enjoyed a real tree as a child, then that's probably what you prefer as an adult. However, circumstances don't always stay the same and that's when you might consider a change. Perhaps you now have a young child or pet and are concerned about safety, or are looking for an easier set-up with no needle drop. Or maybe you want to have a real tree in one room and an artificial in another.
There are many reasons why an artificial tree is a fantastic choice and at B&Q every artificial tree is unique and exclusive to us. Artificial trees are…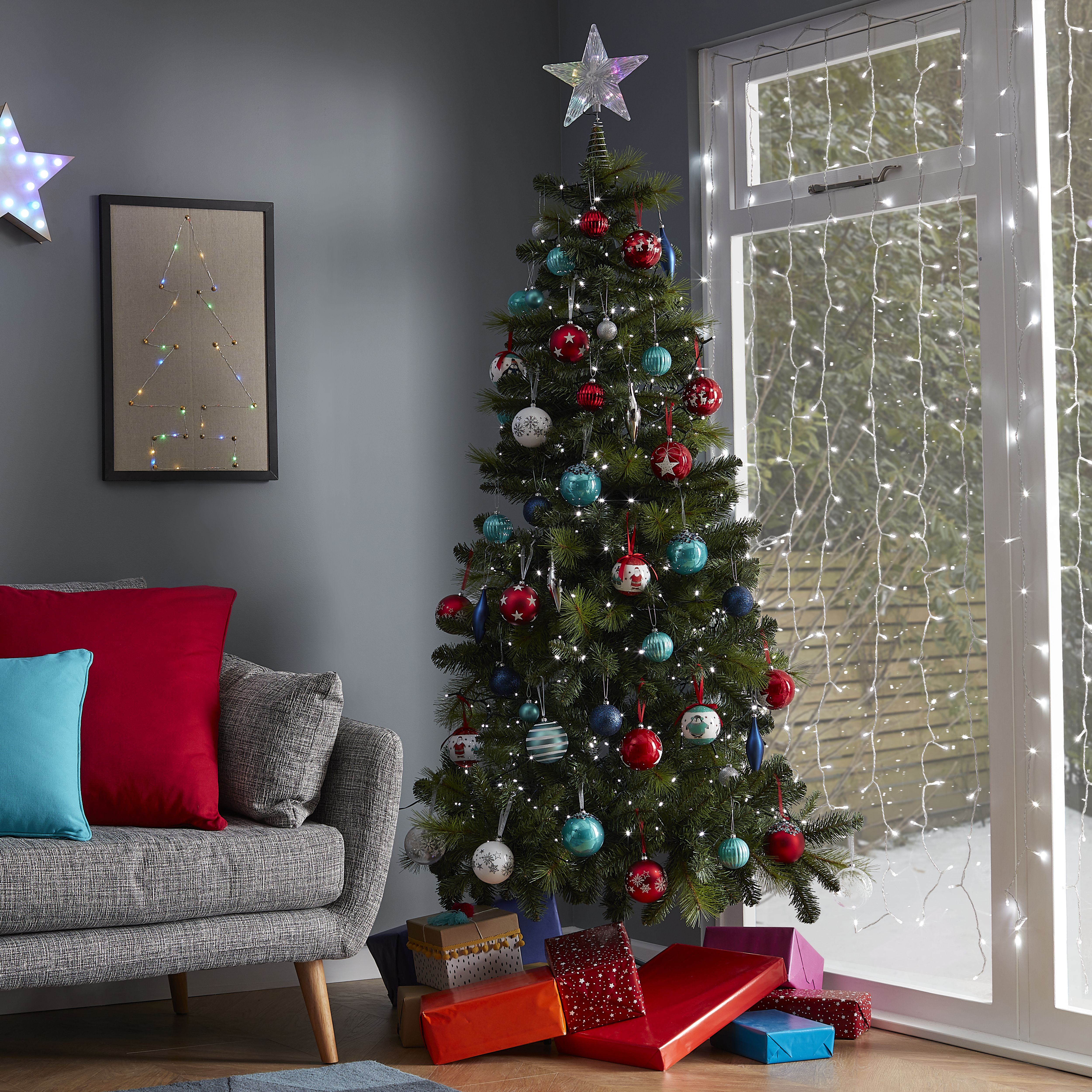 Clean with no messy dropping needles
Bought once and used again and again - the more you use it, the more cost-effective it becomes
Low maintenance, requiring no care
Quick and easy to set up - with new technologies making this even simpler
Safe for small children and pets
Available in a variety of sizes, including space-saving options
Time savers - available pre-lit and pre-decorated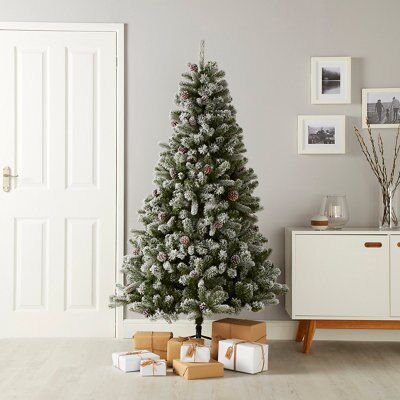 Easy to store away after use with no messy disposal
Reliable - every year you enjoy the same tree, but can easily mix up the look with new decorations
On-trend - available in various colours and styles
Innovative – packed with exciting features including cashmere-effect tips for a real tree look
Come with an integrated base to save on buying a separate stand
Coordinated with matching garlands and wreaths
Easy to transport - packaged neatly for convenient carry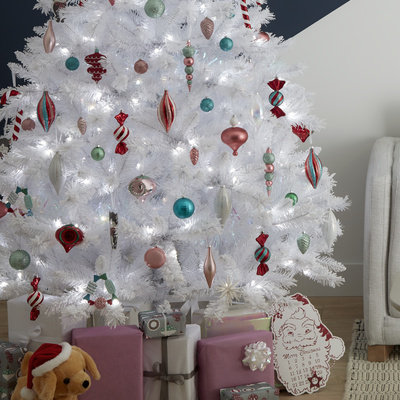 Plan the space for the Christmas tree
Before buying a Christmas tree – be it artificial or real – you need to know what space you have available for it. Consider whether you've used this space for a tree before, or is this the first time for one in this particular spot? Perhaps you've moved house and this is the first time you've had a Christmas tree in your new home. Are you going to be moving furniture to accommodate the tree, and do you expect it to be touching any walls or furniture?
It's not necessary to have the exact measurements (though it can help), it's more an approximate sense of space as this will determine how large a tree you can have. Artificial trees come with a base attached but remember to factor in the height of a star or fairy to go on top of your tree.
Types of tree
We offer a broad range of trees – so whatever you're looking for, we're bound to have something that's just right for you.
Features
With your type of artificial Christmas tree decided upon, there are a number of other things to consider to help you find the perfect tree.
Other trees
Looking for something a little more unusual? Inject some style into the season with our selection of trees that break with tradition. Designed with a more modern twist, they're great as standalone trees or together as part of a Christmas scene; as the main tree or a fun addition; and work in small areas looking for a splash of festive flavour.
Our alternative artificial Christmas tree styles include: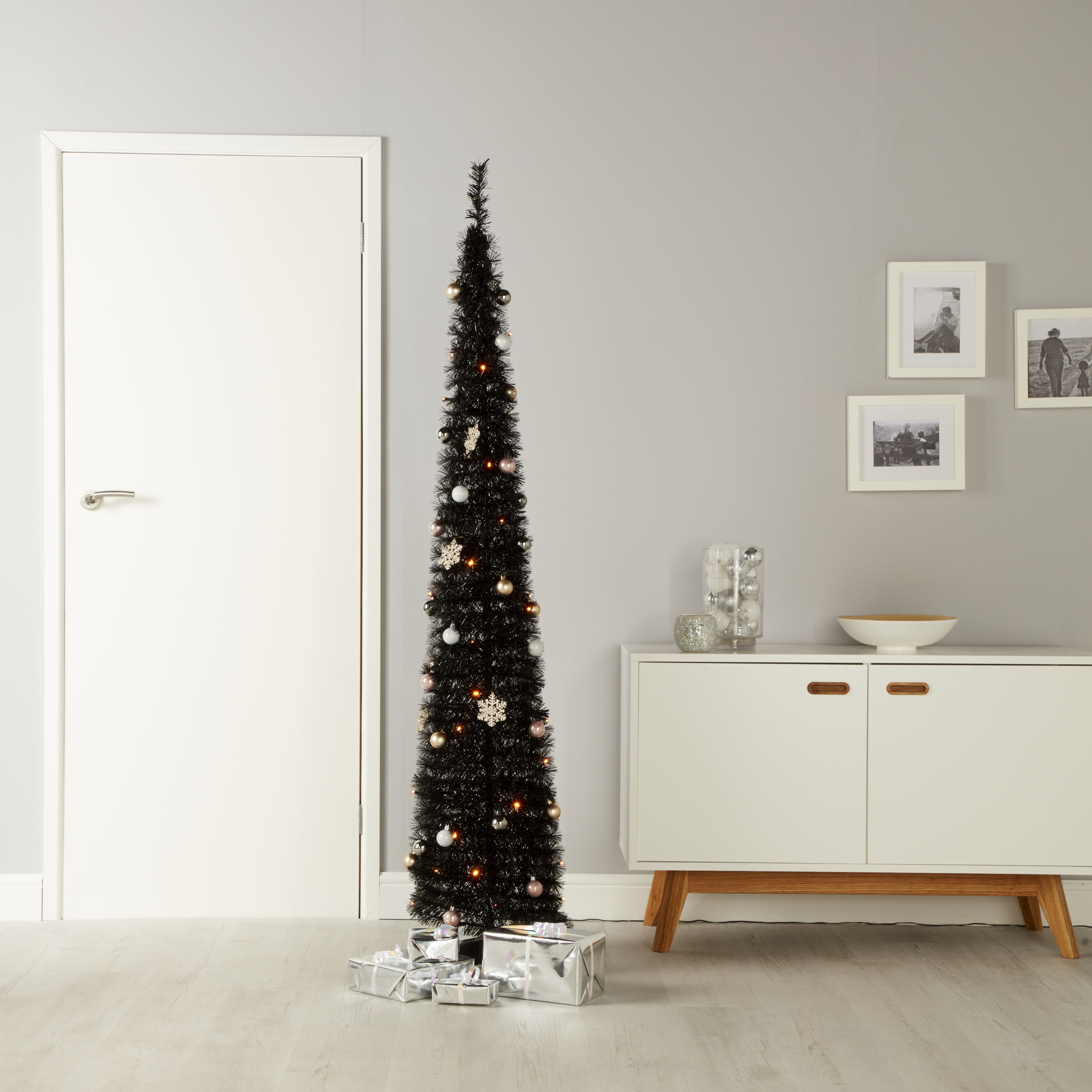 Pop up Christmas trees
Our range of pop up trees are a quick easy way to bring some Christmas sparkle to your home. Their slimline design is ideal for small spaces and they're pre-lit and pre-decorated making them easy to set up and quick to pack away. It takes minutes to construct or collapse the tree and because they can be flattened completely, storage is really easy. Choose from a range of colours - white, black (pictured) and champagne.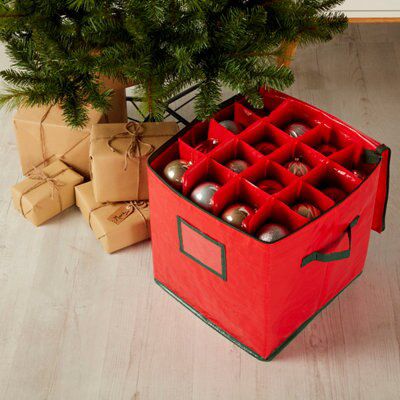 Storing your tree and decorations
There will eventually come a time when you have to return to reality and tidy away your festive display. And believe us, we know how easy it is to accidentally smash glass baubles, or to step on the fairy lights. Our storage solutions will keep your tree and decorations safe, and will make it easier for you to dig out everything you need for Christmas 2020.
Our storage bags and boxes are available in a bright red colour, so you certainly won't have any trouble locating them in your attic or storage cupboard. The Decoration Storage Box (pictured) is sturdy and has slots for you to individually store each bauble or delicate decoration. Keep your tree protected and free from dust with our Tree Storage Bag, and our Lights Storage Set comes with a plastic device that you can wrap your string lights around so that they don't get tangled.
Articles