We remain open and here to help. Customer and colleague safety remains our priority. Whether shopping in store or online, we urge you to follow the Government's social distancing guidelines and to shop responsibly only for what is necessary.
Artificial Christmas tree buying guide
Spruce up your home with the perfect tree
Artificial Christmas trees have come a long way since the dyed-green goose feathers of the 19th Century. These days, modern artificial trees can easily be mistaken for the real deal (minus the hassle of falling needles). From pre-lit to snow tipped – our artificial trees will create a magical backdrop to your Christmas memories.
Nothing says Christmas like a Christmas tree – but not every tree is right for every home. Whether you're living in a London studio flat, or a spacious home in the countryside – we've got a range of tree types to suit all lifestyles. Let us help you find the perfect artificial Christmas tree.
Reasons to choose an artificial Christmas tree
The festive season is all about cherished family traditions and customs. If you enjoyed a real tree as a child, then that's probably what you prefer as an adult. However, circumstances don't always stay the same and that's when you might consider a change. Perhaps you now have a young child or pet and are concerned about safety. Or you're looking for an easier set-up with no needle drop.
There are many reasons why an artificial tree is a fantastic choice and at B&Q every artificial tree is unique and exclusive to us.
Clean with no messy dropping needles
Bought once and used again and again - the more you use it, the more cost-effective it becomes
Low maintenance, requiring no care
Easy to transport - packaged neatly for convenient carry
Quick and easy to set up – available pre-lit and pre-decorated
Safe for small children and pets
Reliable - every year you enjoy the same tree, but can easily mix up the look with new decorations
Innovative – packed with exciting features including cashmere-effect tips for a real tree look
Come with an integrated base to save on buying a separate stand
Coordinated with matching garlands and wreaths
Easy to store away after use with no messy disposal
---
---
Plain artificial Christmas trees
Get the natural look of a real Christmas tree with all the benefits of a fake one thanks to a plain artificial Christmas tree. These classic trees are free from pre-attached lights or decorations so you can add your own for a completely personalised look. This might make the trimming of the tree take longer, but it's a lot more fun! Our Eiger collection is a firm favourite. Available in three different sizes (4ft, 6ft and 7.5ft), they have an assortment of green needle pine and PVC tips for a classic authentic look.
Pre-lit artificial Christmas trees
Save yourself time this busy holiday season with a pre-lit artificial Christmas tree. These come with the lights already attached to the branches, so there's no need to shop for extra lights or spend time hanging them. All of the lights on our pre-lit trees are fitted with LED bulbs, making them safer, longer-lasting and more energy-efficient than filament bulbs. These trees are mains-operated and feature multi-function light settings so you can choose the perfect mood setting for your festivities. For a stress-free set-up, look for models with our innovative Quick Set technology. This is electrical wiring embedded inside the tree's trunk pole, saving you even more time.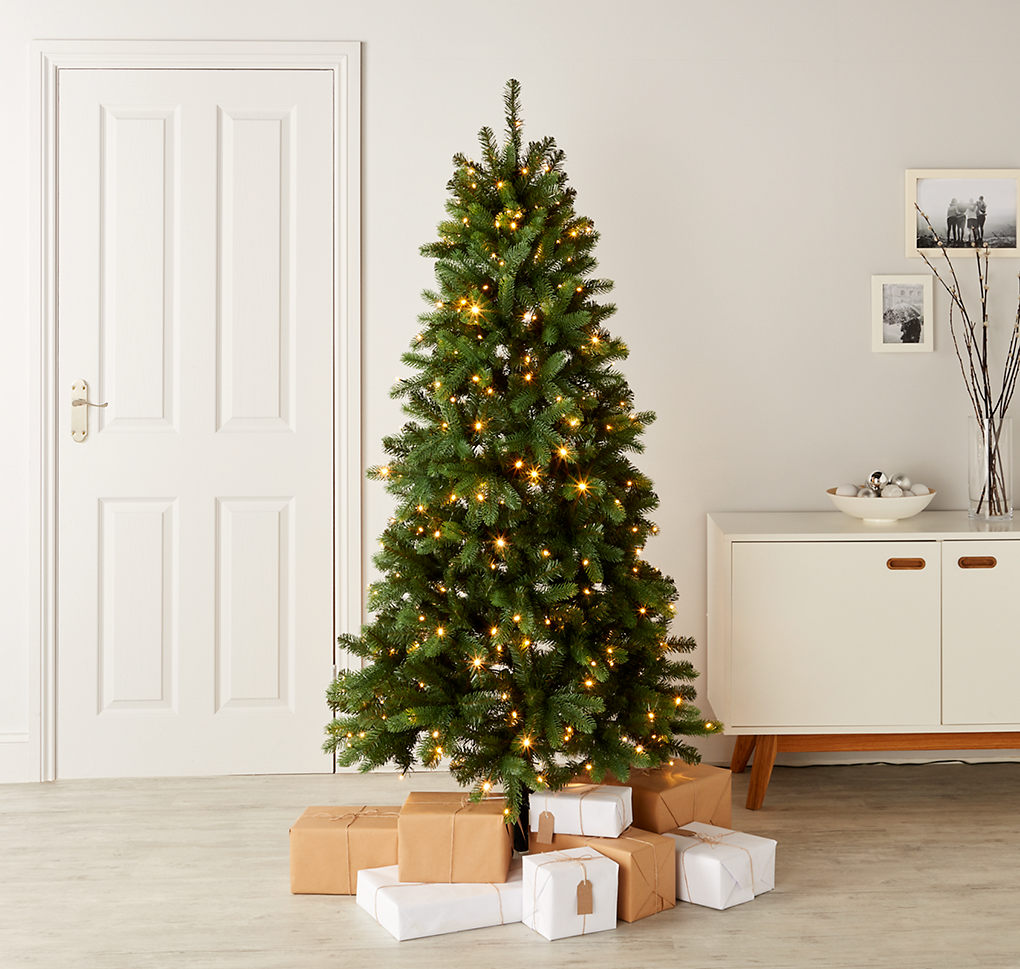 Pre-decorated artificial Christmas trees
If you prefer to use your own lights but are still looking to save time trimming the tree, go for a pre-decorated one. These trees come complete with pre-attached natural-looking decorations, such as rustic woodland berries and pinecones and classic snow-effect (flocked) branches. Stand as they are or add your own decorations to make them even more festive.
Why not combine the two and enjoy a pre-lit and pre-decorated artificial Christmas tree? No separate lights. No extra decorations. No fuss.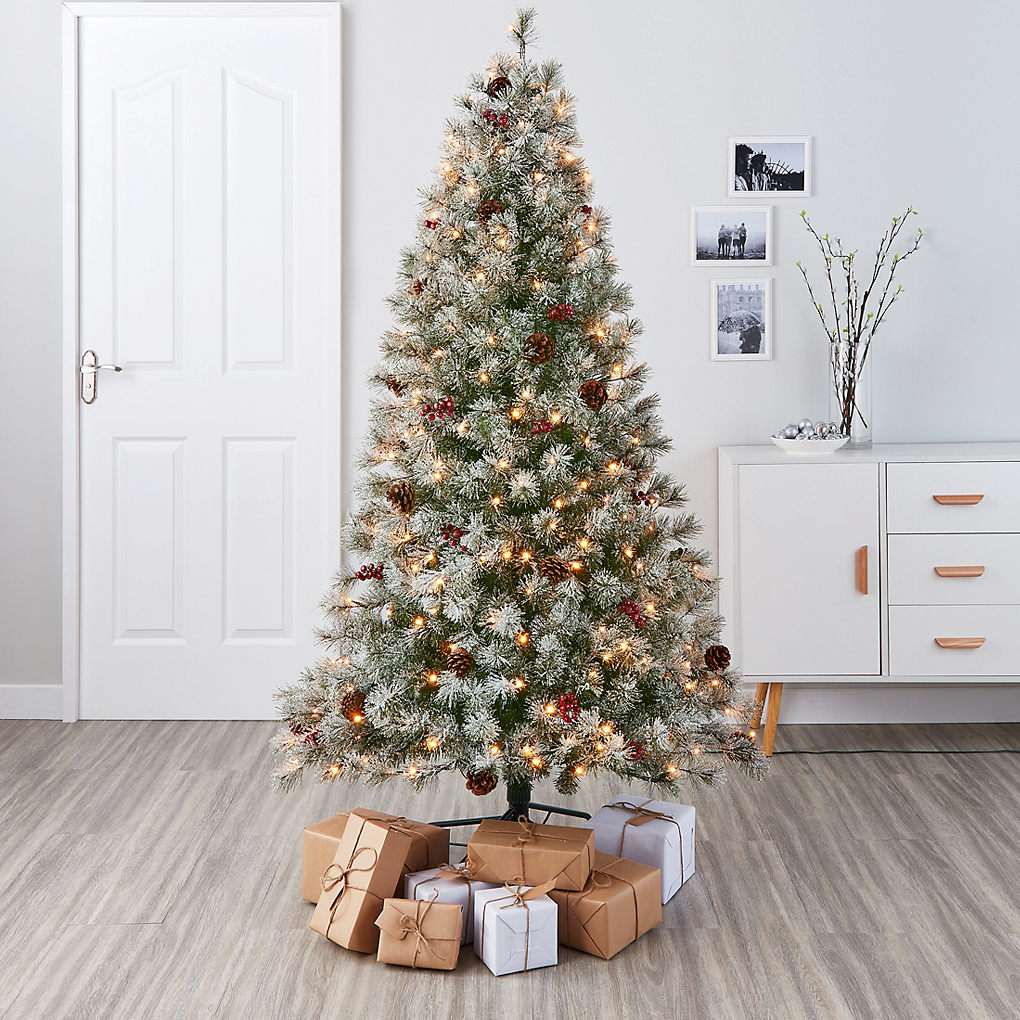 Coloured artificial Christmas trees
A coloured tree is a fun way to shake up your Christmas look. We offer white trees for a crisp, pristine look; dramatic black options for a modern spin on Christmas decor, and a vibrant, cheerful pink or blue tree that looks great in kid's bedrooms.
For a stunning silver that coordinates seamlessly with our delicate Scandinavian Christmas decorations look to the Silver tipped Fir.
---
Christmas tree branch construction
Our artificial Christmas trees come in three different build designs – hinged, hooked, or wrapped. Hinged trees offer the quickest and easiest construction as their branches are already attached to the trunk via hinges. The branches are simply pulled down and fluffed up when on show and then folded downwards when stored away. Alternatively, hooked trees take longer to assemble as each branch comes detached from the tree and is secured to the trunk using hooks. Like hinged trees, wrapped trees are already assembled and just need pulling down and fluffing. This construction is more common with smaller trees.
Chrismas tree branch tips
Many of our artificial Christmas trees boast a natural look and creating this is all down to the design of the branch tips. Bushy tips don't necessarily result in the most realistic looking branch, and so the tips of our tree branches mix up different materials, lengths, thicknesses, and colour tones to create that softer, more realistic appearance.
Some branch tips are flocked for a snow-dusted look, whereas others have cashmere-effect tips to make the branches look fuller and more textured. All are developed and styled to our high standards.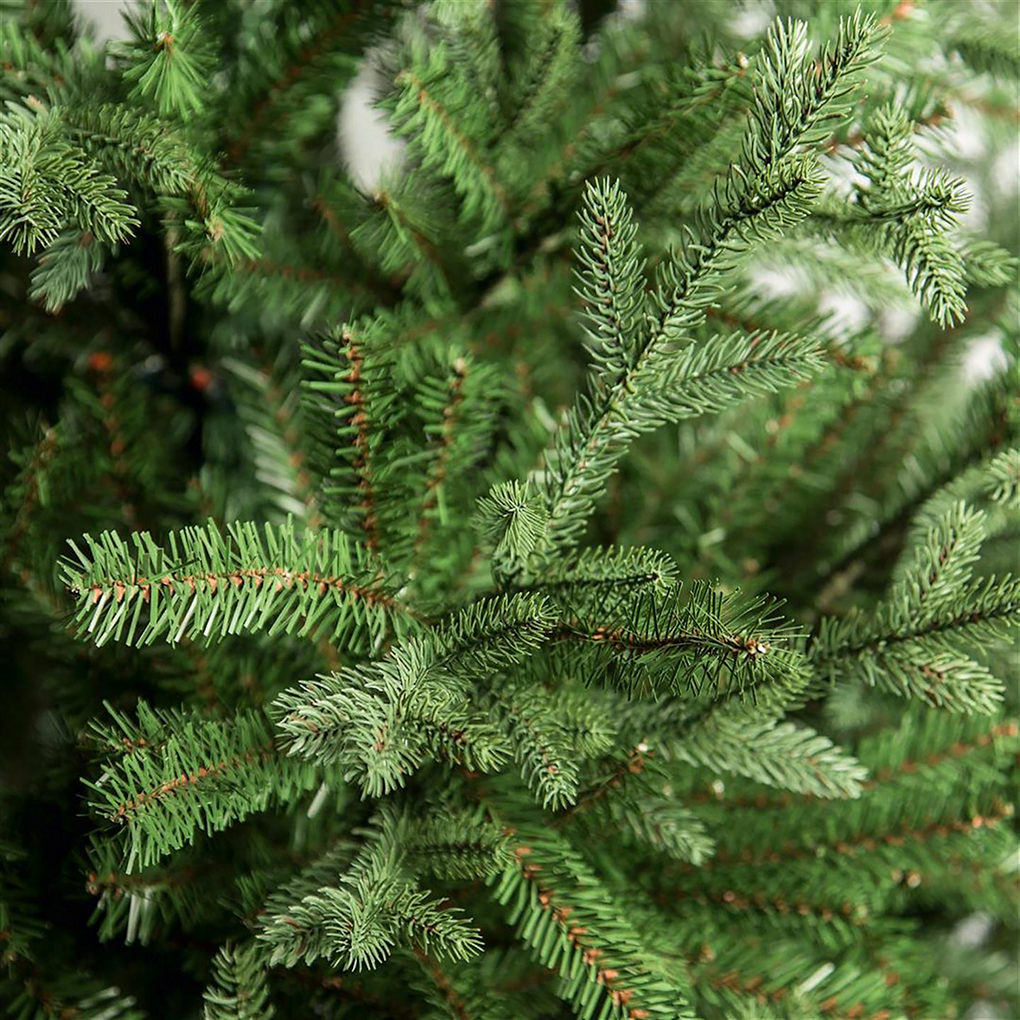 Christmas tree stands
There's no need to buy a separate tree stand with an artificial model as this is already built in. At B&Q, we tilt test all of our artificial Christmas trees to ensure their bases are sturdy enough to withstand tilting to an angle of 10 degrees. We offer two types of Christmas tree stands – metal and plastic. Plastic is a good value offer, while the metal is more premium, with some featuring one or no-screw assembly for quick and easy set-up. Whichever one you choose, be sure to cover it up with a stylish Christmas tree skirt.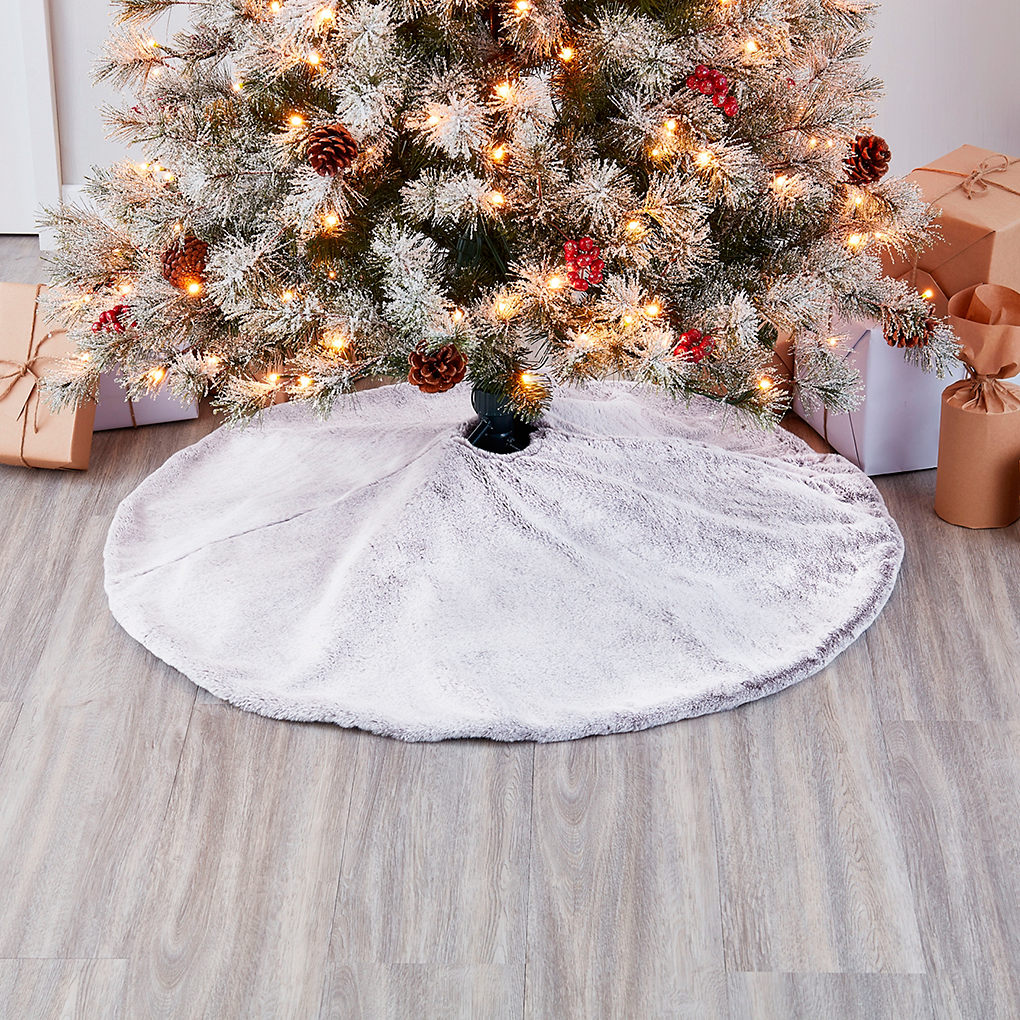 Storing your tree and decorations
There will eventually come a time when you have to return to reality and tidy away your festive display. And believe us, we know how easy it is to accidentally smash glass baubles, or to step on the fairy lights. Our storage solutions will keep your tree and decorations safe and will make it easier for you to dig out everything you need for next year.
Our storage bags and boxes are available in a bright red colour, so you certainly won't have any trouble locating them in your attic or storage cupboard. Keep your tree protected and free from dust with our tree storage bag. Our decoration storage bag is sturdy and has slots for you to individually store each bauble or delicate decoration.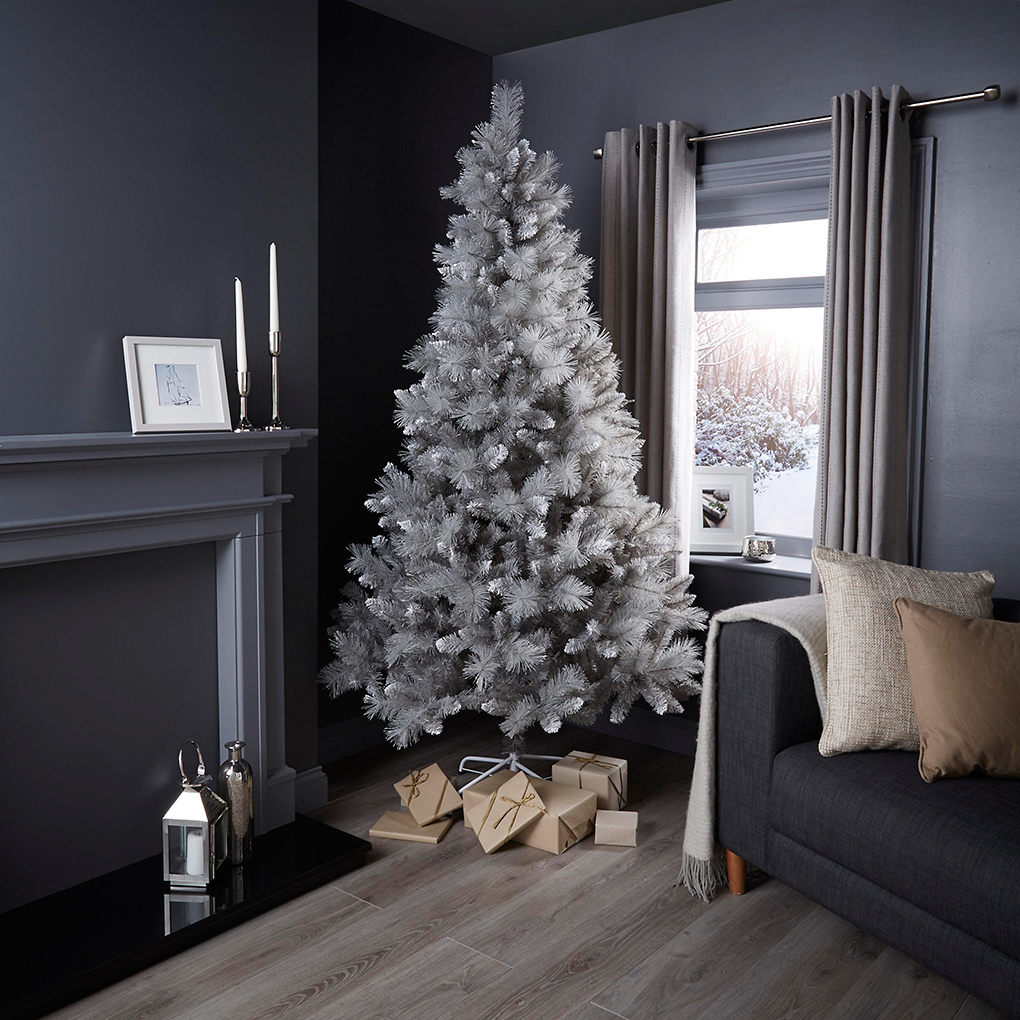 ---