How to decorate a Christmas tree
Ideas to help create the perfect Christmas tree
For many of us, it doesn't feel like Christmas has arrived until the Christmas tree is up and decorated. Whichever type of tree you choose; real or artificial, cut or pot-grown, large or small, you'll want it to be a seasonal showstopper.
Whether trimming your tree is a family activity, or something you prefer to do by yourself, we're here to help you make your tree look its best with our tips and ideas on how to decorate a Christmas tree. We want to help you create the right look for your home this holiday, whatever your festive style.
So turn up the volume on your favourite Christmas songs, stock up on mince pies and grab the baubles... it's time to start decorating the Christmas tree.
Choose a festive style
Choosing how you want to decorate your Christmas tree can play an important part in creating your home's festive look. Do you love classic red and gold, chic Scandinavian greys, seasonal sparkle or bright colours? Whether you favour one of these looks, or you want to mix and match a few, our stylish range of Christmas decorations is sure to make your tree look its best.
We've created these distinctive, on-trend collections to inspire you to get creative with your Christmas look.
Art Deco
For a touch of vintage luxury this Christmas, explore our Art Deco decorations and home accessories. Subtle shades of champagne, dusky pink and pale blue are twinned with opulent finishes in metallics, glitter and pearlescent for a soft, delicate style that looks great all winter long.
Merry & Bright
Ideal for kids, this playful and vibrant collection uses a modern colour palette of navy blue, mint green, yellow and red. From polar bears to stars, it delivers a fresh and fun Christmas theme to be enjoyed year after year.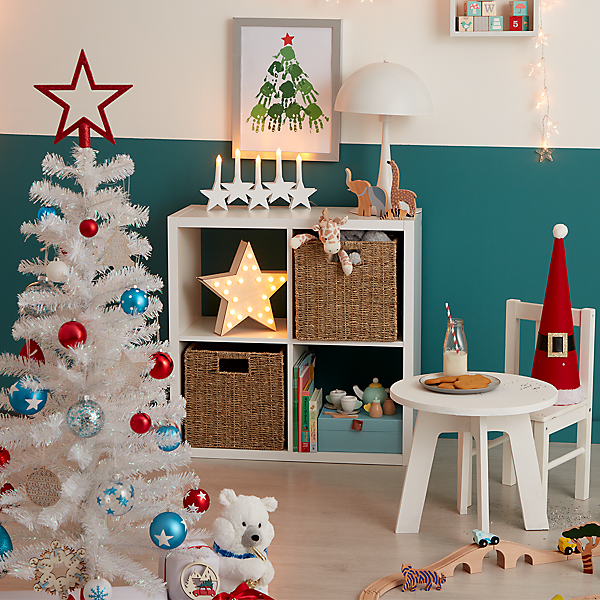 Scandi
Simple, understated and effortlessly cool. When it comes to Christmas, the Scandinavians know what they're doing. This Nordic-inspired collection consists of geometric shapes, metallic hues and subtle glitter highlights.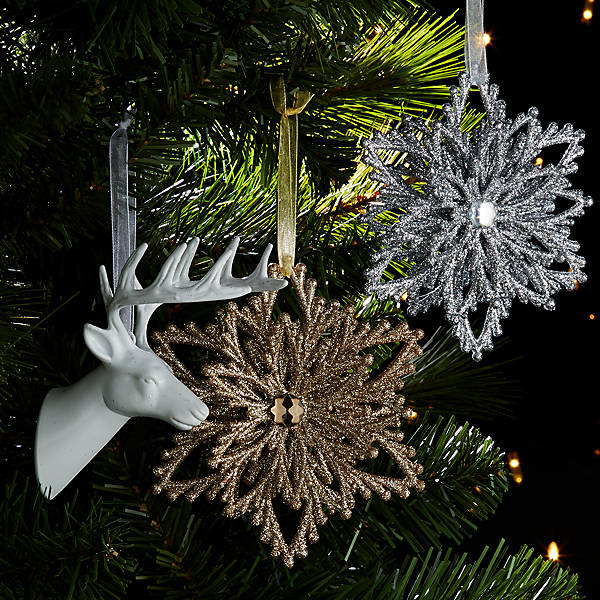 Traditional
Go for a classic look this year with our contemporary spin on traditional Christmas decorations. Our Traditional collection is combined of jade greens and letterbox reds offset by accents of gold and silver. Great for mixing with your existing decorations or starting a whole new look, they evoke all the warmth and comfort of the holiday season.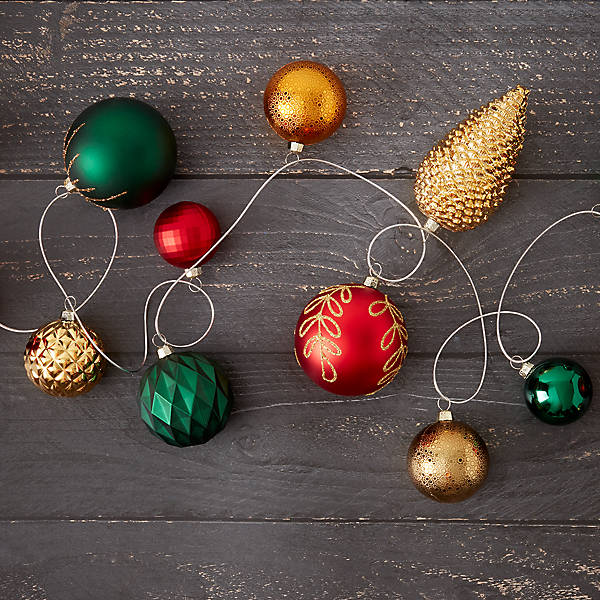 How many Christmas decorations and lights are needed?
Calculate how many lights and decorations you might need to decorate your tree with our handy table. These are just a rough suggestion, add more or less to give your tree the look you prefer.

---
---
Top tip: Add a wreath and garland
Add some further floristry to your festive look with a garland and wreath. Look out for ones that coordinate with both artificial and real trees. Or, you could even create your own Christmas wreath using our step-by-step how to guide.
You might need:
A Christmas tree - not sure what type you're looking for? Read our handy buying guides to real and artificial Christmas trees to help you choose your perfect tree.
A tree stand or pot - this might not be necessary if you opt for an artificial tree or a potted real tree, so check if your tree is freestanding or not before buying
A tree skirt - for the base of your tree
String Christmas lights – an essential way to bring your tree to life. We love the 120 LED lights available in ice white or warm white. With 8 light functions, these lights have a setting suitable for any Christmas occasion. Learn more about them and other festive lighting with our helpful advice. You might not need extra lights if you have a pre-lit artificial tree, so be sure to check.
Christmas tree light fixings - great for keeping string lights securely attached to tree branches
Tree decorations – from baubles to bead chains – we have something for every style. Choose from assorted multipacks for a coordinated look or individual pieces for a more personalised mix.
Christmas decoration hooks - to help hang decorations from tree branches
A tree topper – the only way to finish your Christmas tree
Timer or Smart Home socket - ideal for turning your Christmas lights on and off remotely if regular access to the socket is difficult
A step stool or work platform - to safely reach the top of the tree, if necessary
Safety first
Don't climb on your tree or overstretch trying to decorate it. If you can't reach – ask someone to help you.
If using old, filament bulb Christmas lights, check for any damage to the plug, the cable, the bulbs and bulb holders before turning on Christmas lights.
Plug lights into the closest available socket to the tree. This minimises trailing cables which can be a trip hazard.
How to select a location for the Christmas tree
Choose where you want your tree to stand before you buy it, this ensures that you pick a tree that is perfect for your space.
Maybe you use the same place every year, or perhaps you've got a tree for your living room, kitchen and even your hallway. Wherever you place your tree, make sure it has enough space.
Give yourself a clear walkway past your tree to avoid it being in a place where people might squeeze past it, knocking your decorations to the floor. And avoid standing it near direct heat (for example, close to a radiator or fire). This is especially important if it's a real Christmas tree, as this warmth will dry out the tree, resulting in dropping needles and sagging branches.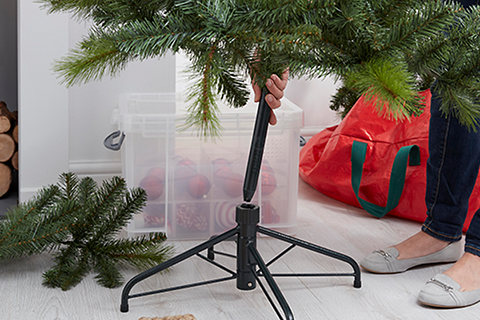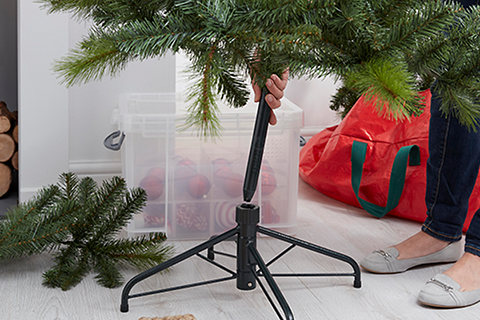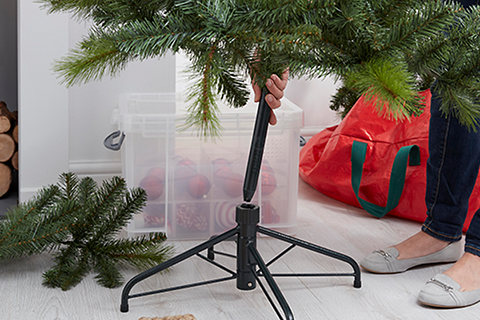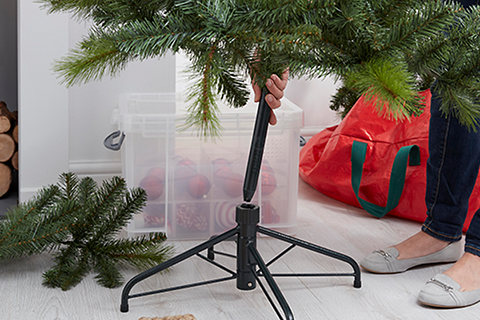 Step 1
Place your real tree securely in a stand or pot. Artificial ones come with a base so they're ready to go. Make sure you put your tree on a flat even surface to make sure it's stable.
When decorating an artificial tree, be sure to fluff its branches before adding any decorations. This adds volume and helps it look as bushy and full as possible.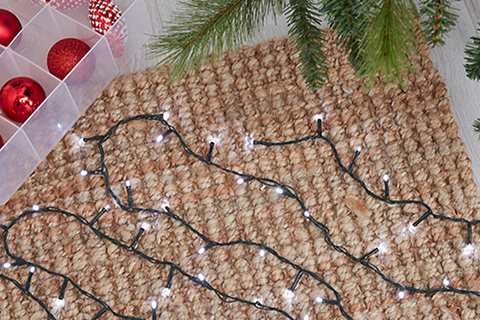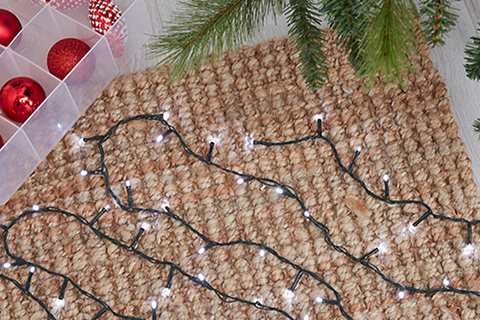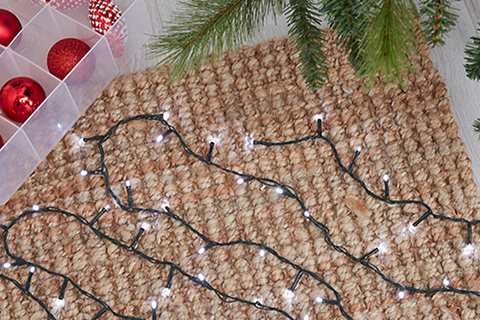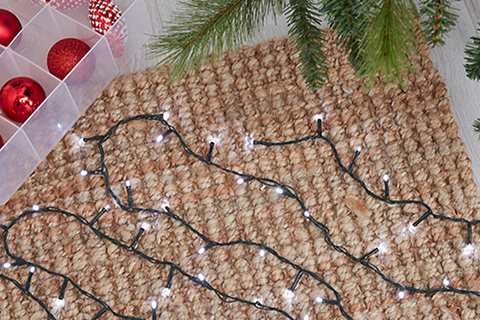 Step 2
Lie the string lights on the floor and switch them on.
Checking that they work now should prevent you from decorating your tree only to later find that they don't work. So whether you've bought new lights or are using an old set, be sure to check that they work first.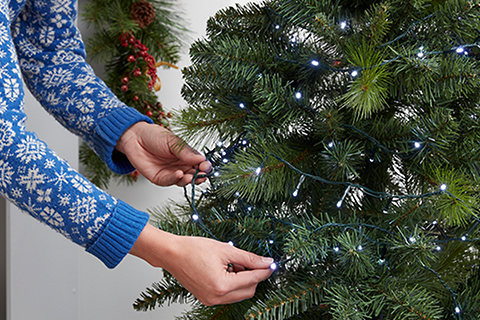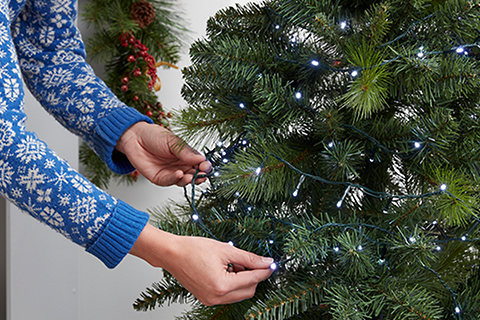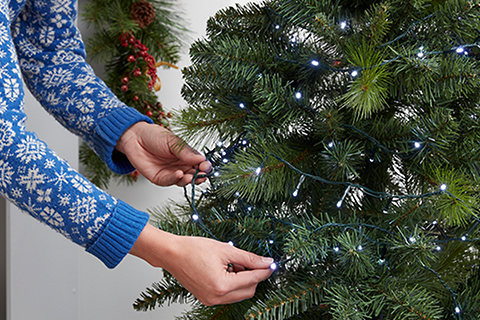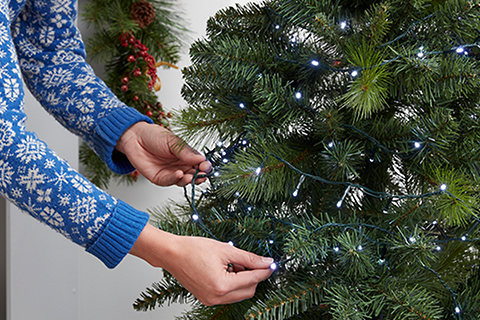 Step 3
Light your tree from the top and work your way down.
Wrap the lights around the tree, spreading them out evenly as you go, this will give your tree a soft glow. Plug them in and switch on once they've been arranged.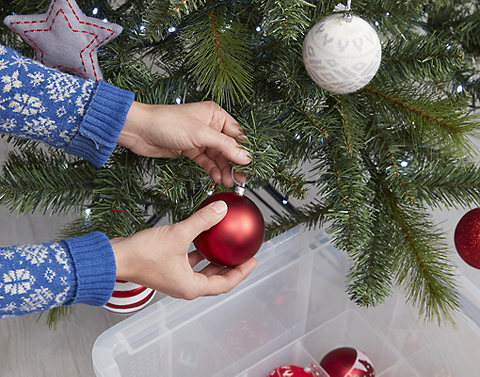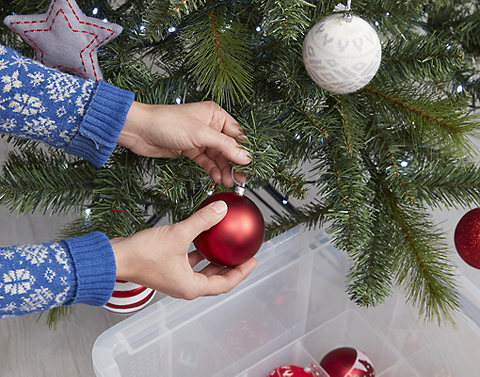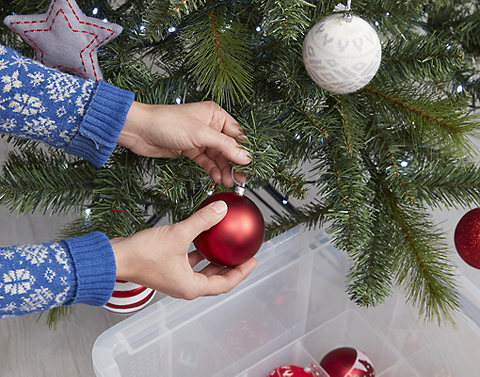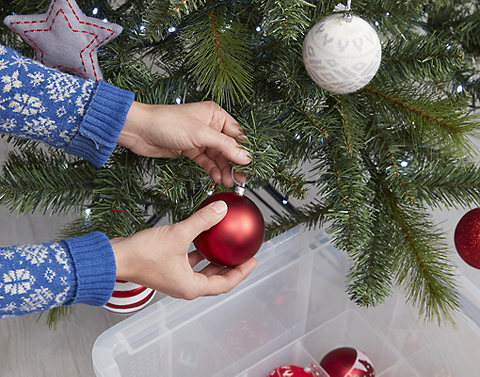 Step 4
Add your decorations.
Work your way from the bottom of the tree to the top and hang the larger baubles and decorations lower down for a more balanced look.
The heavier ones are best placed at the back of the branch, closer to the trunk to avoid the branch sagging.
Start with decorations of the same colour first to create a colour foundation, then arrange the more ornate and glitzy decorations for maximum impact.
Top tip: Personalise decorations
Make your tree more personal by creating your own decorations. Simply use single colour baubles and a coloured marker. Ask your friends and family to write Christmas messages that you can then hang on your tree.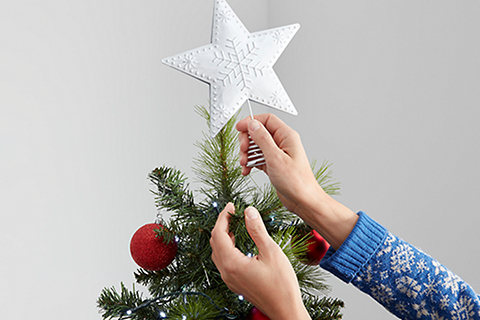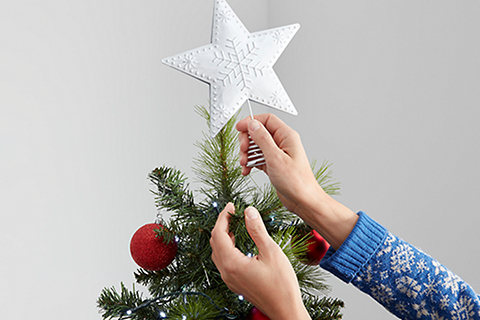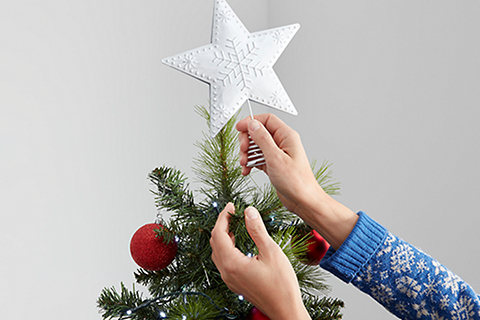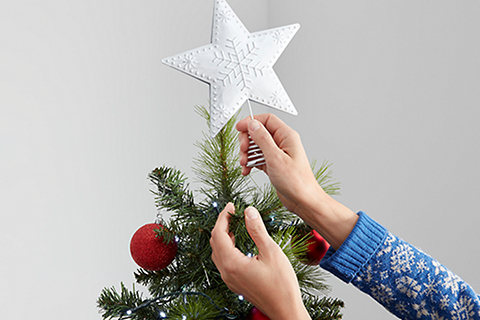 Step 5
Place your tree topper on the top to finish your Christmas tree off perfectly.
Use a step stool or work platform to safely reach the top of the tree if required.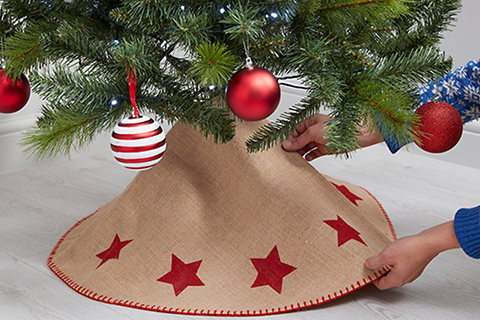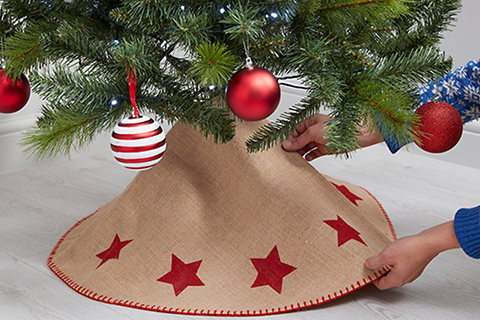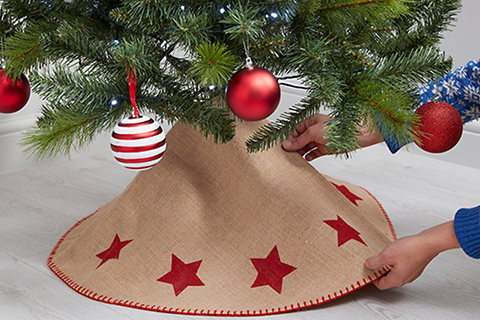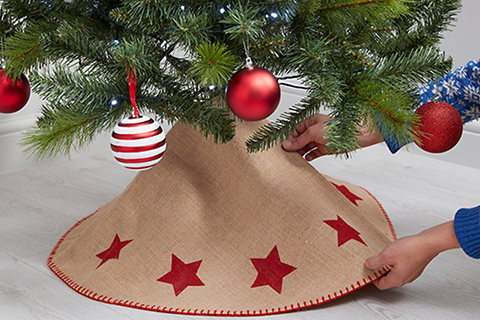 Step 6
Cover up unsightly tree stands and cables with a tree skirt or even some spare tinsel around the tree's base.
And lastly, place your beautifully wrapped Christmas presents at the bottom of your tree ready for Christmas morning. Check out our range of Christmas wrapping paper to coordinate your presents with your tree for a picture perfect look.
---