How to plant a show stopping hanging basket
Gorgeous colour, aromatic herbs, delicious fruits, you don't need acres of space to enjoy plants. With hanging baskets, you can brighten up your outdoors without so much as a shovel! Hang in your front garden to welcome guests, on your balcony for a slice of nature, or anywhere you want to highlight.
Coordinate them with beds and borders for a matching look or give them their own distinctive style for gardening glory at raised heights. Eye-level show stopping colour is easy to achieve with our simple steps to creating a hanging basket.
Start by watching our handy video guide below.
---
When's the best time to plant a hanging basket?
The best time of year to plant a hanging basket depends on what plants it will feature. For:
summer bedding plants - plant in late spring as it'll give them a few weeks to establish themselves before making an instant impact when hung outdoors
non-tender plants - plant in mid-spring when they'll start to grow properly
winter plants - plant in early autumn, around the same time as spring-flowering bulbs
How to choose the right basket and liner
Hanging baskets come in a wide range of different styles and materials. Classic options include plastic-coated wire or wicker baskets, but increasingly popular are solid-sided baskets that have built-in water reservoirs and are ideal for hot, exposed conditions.
Our range offers a selection of natural woven varieties, from traditional round silhouettes to more contemporary cone shapes. Lining your basket will help keep moisture in and stop compost from falling out. The traditional lining material is sphagnum moss, which is farmed specially for this purpose (so don't collect it from the wild). Many gardeners prefer to use other materials such as coco fibre.
Alternatively, there are purpose-made options such as thick, felt-like liners made from recycled fibres and solid liners which, with care, should last for several seasons. If you use a solid liner, make sure it's deep enough for your chosen basket.
Some of our hanging baskets come pre-lined so, depending on the material, you simply need to puncture a few holes in the bottom for drainage.
Choosing your plants
You can use almost any small plant for a hanging basket, as long as it doesn't outgrow its container.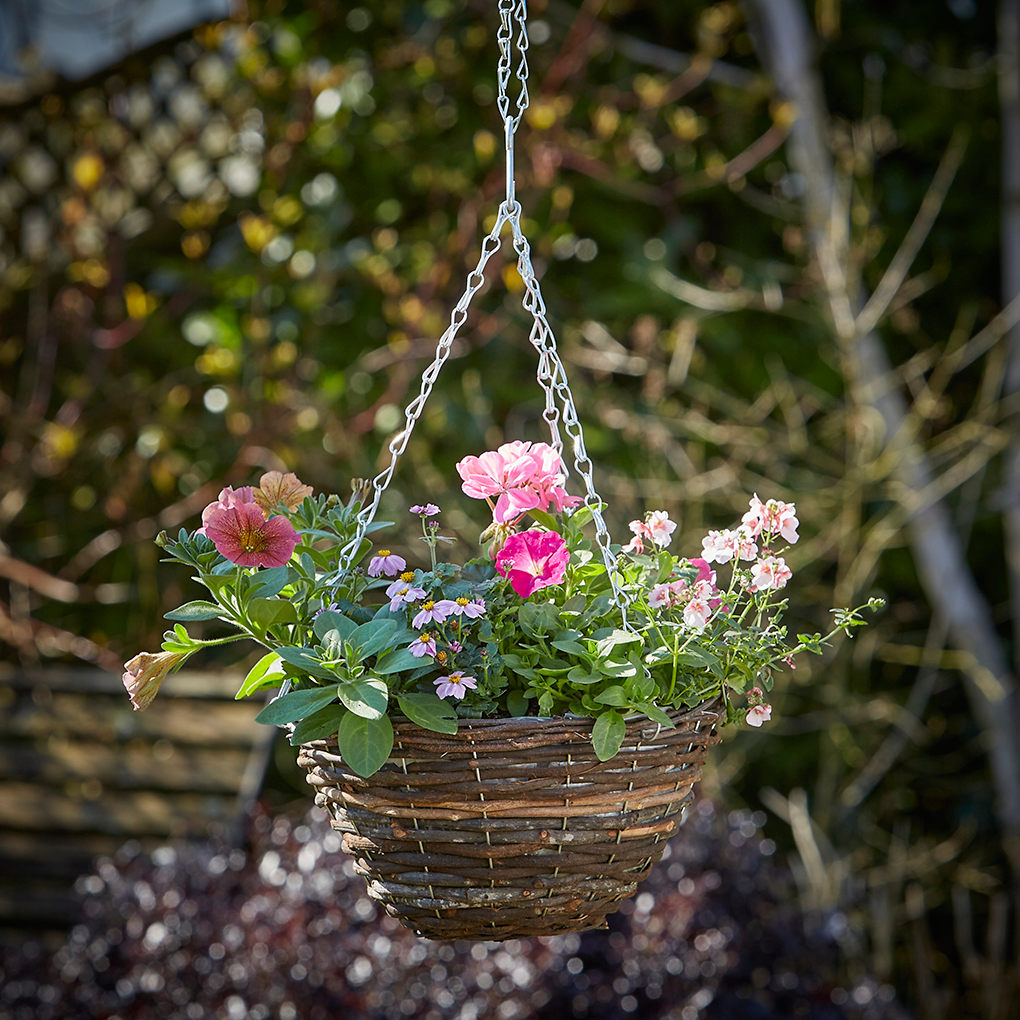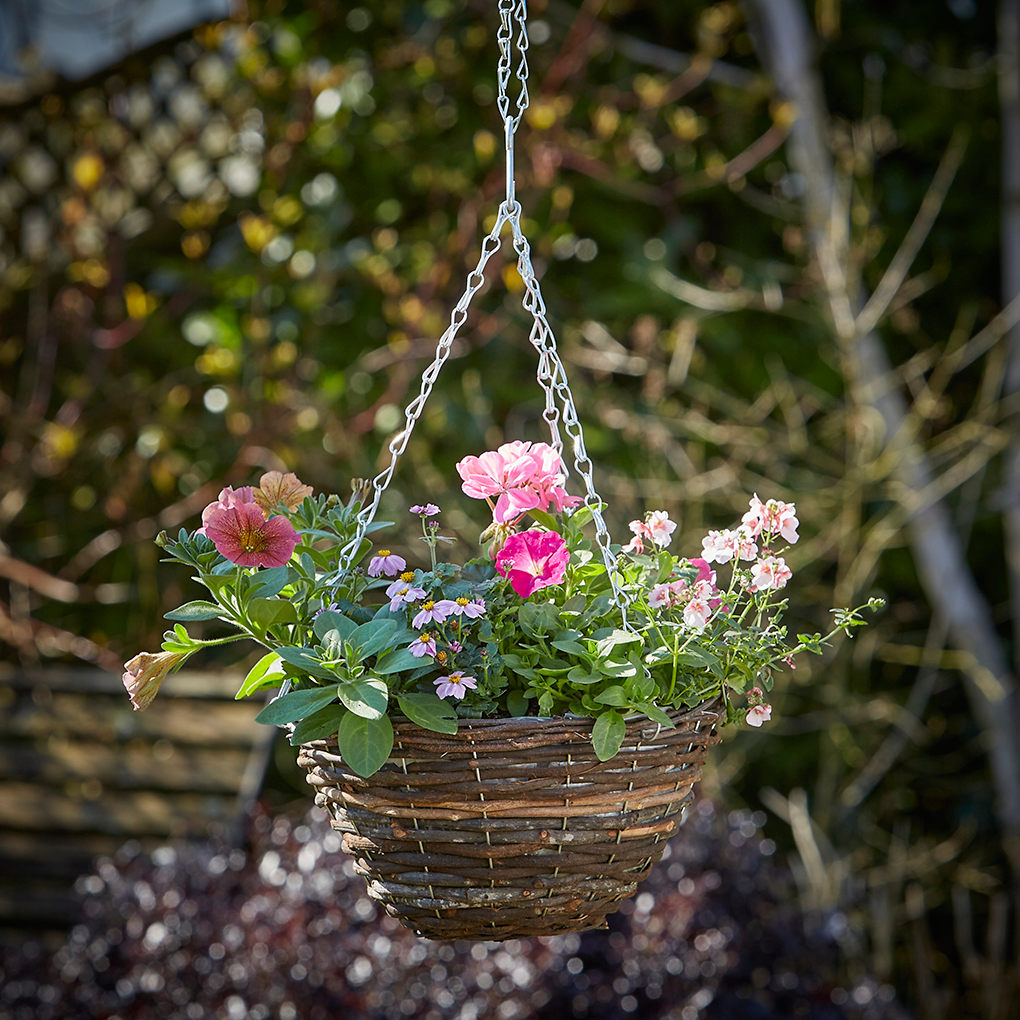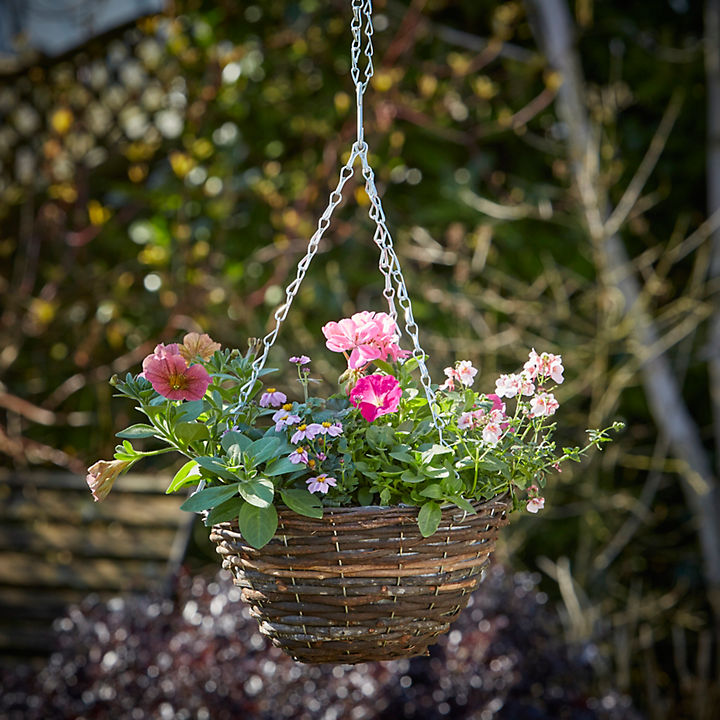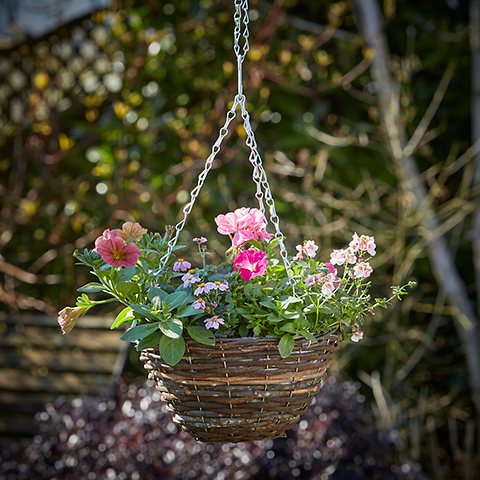 Summer bedding plants
These are the most popular plants for hanging baskets – think petunias, geraniums, calibrachoa and trailing fuchsias, verbena and lobelia.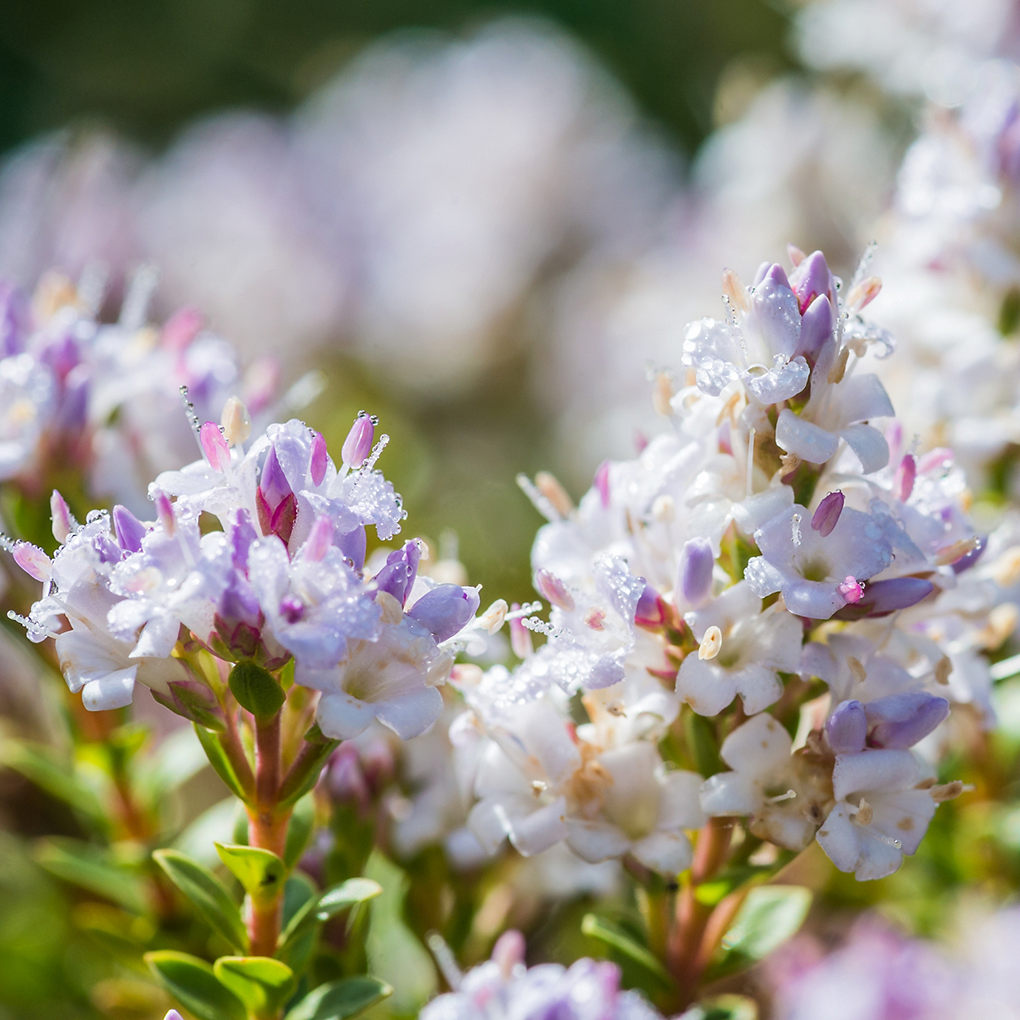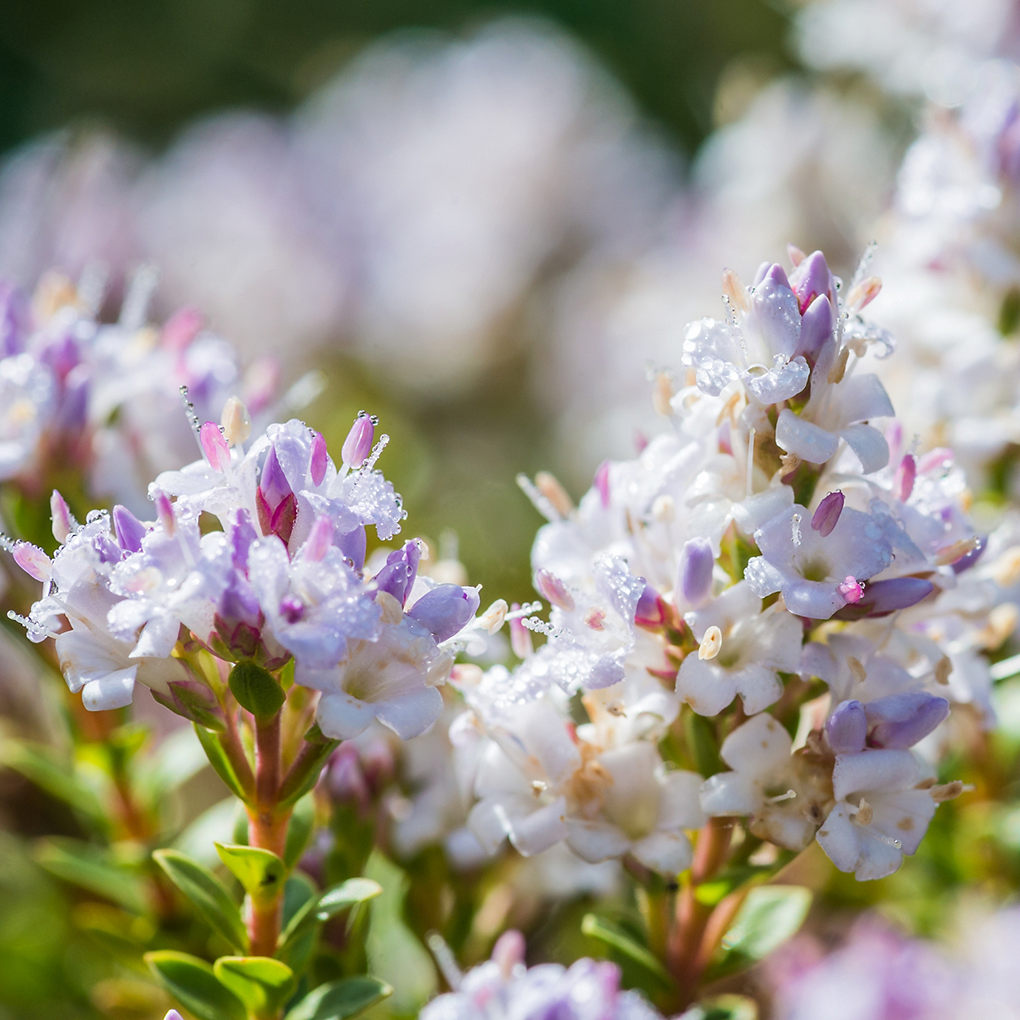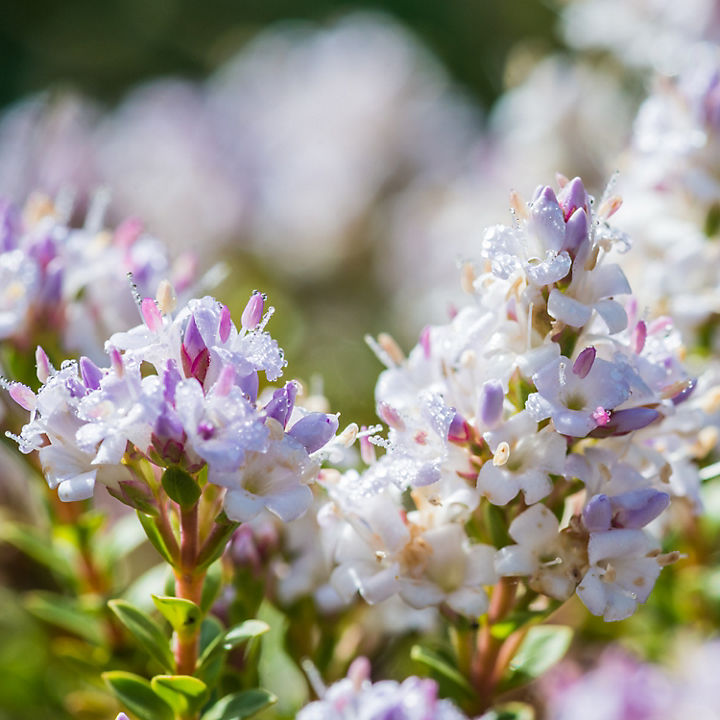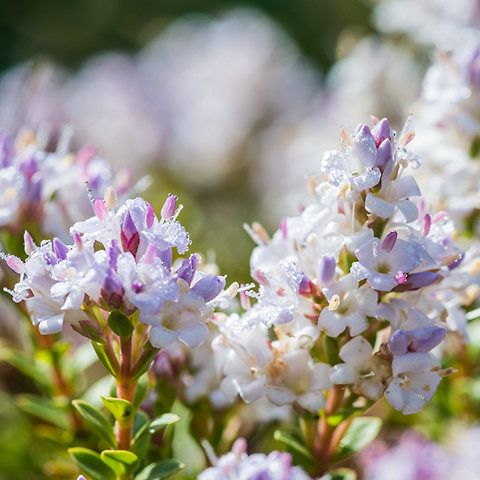 Young small shrubs
You can plant evergreen shrubs, likes hebes, in hanging baskets to give a splash of colour throughout the winter, and then replant them in pots for the garden in spring.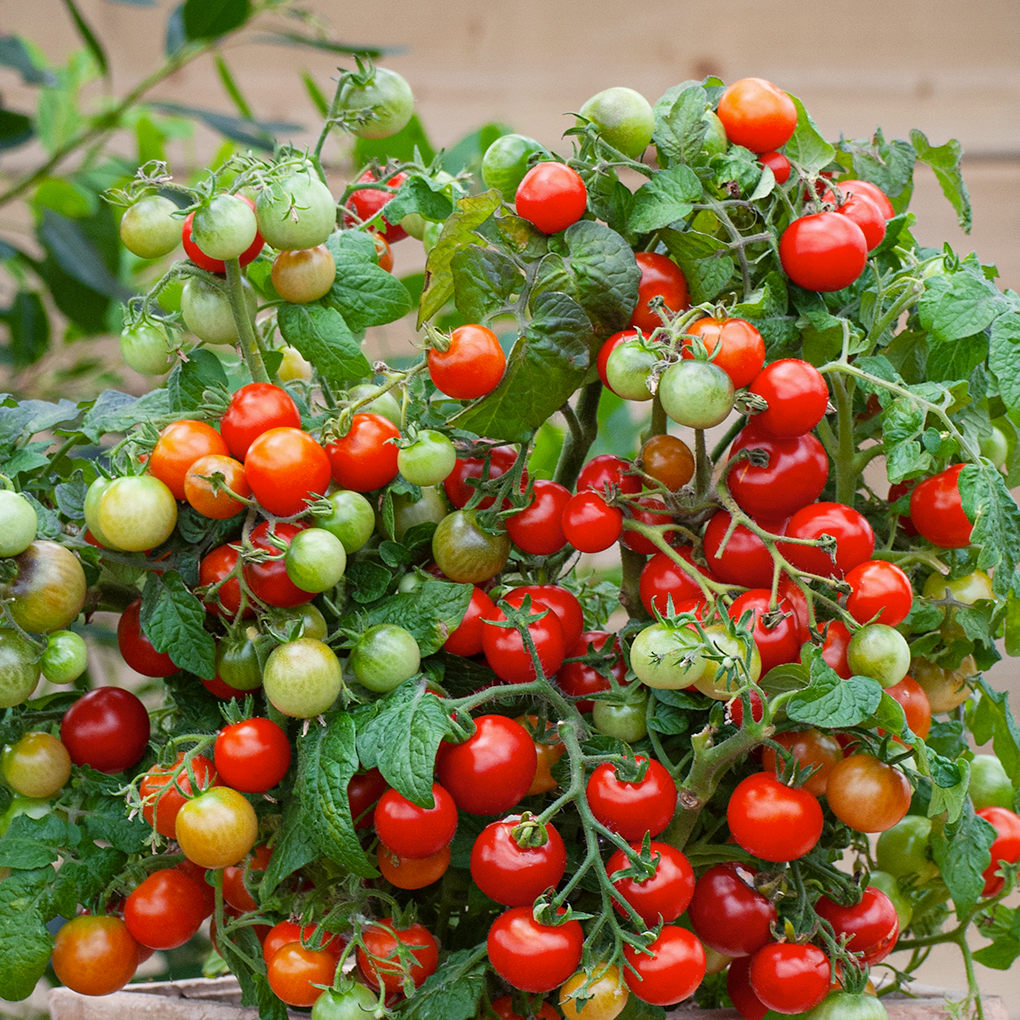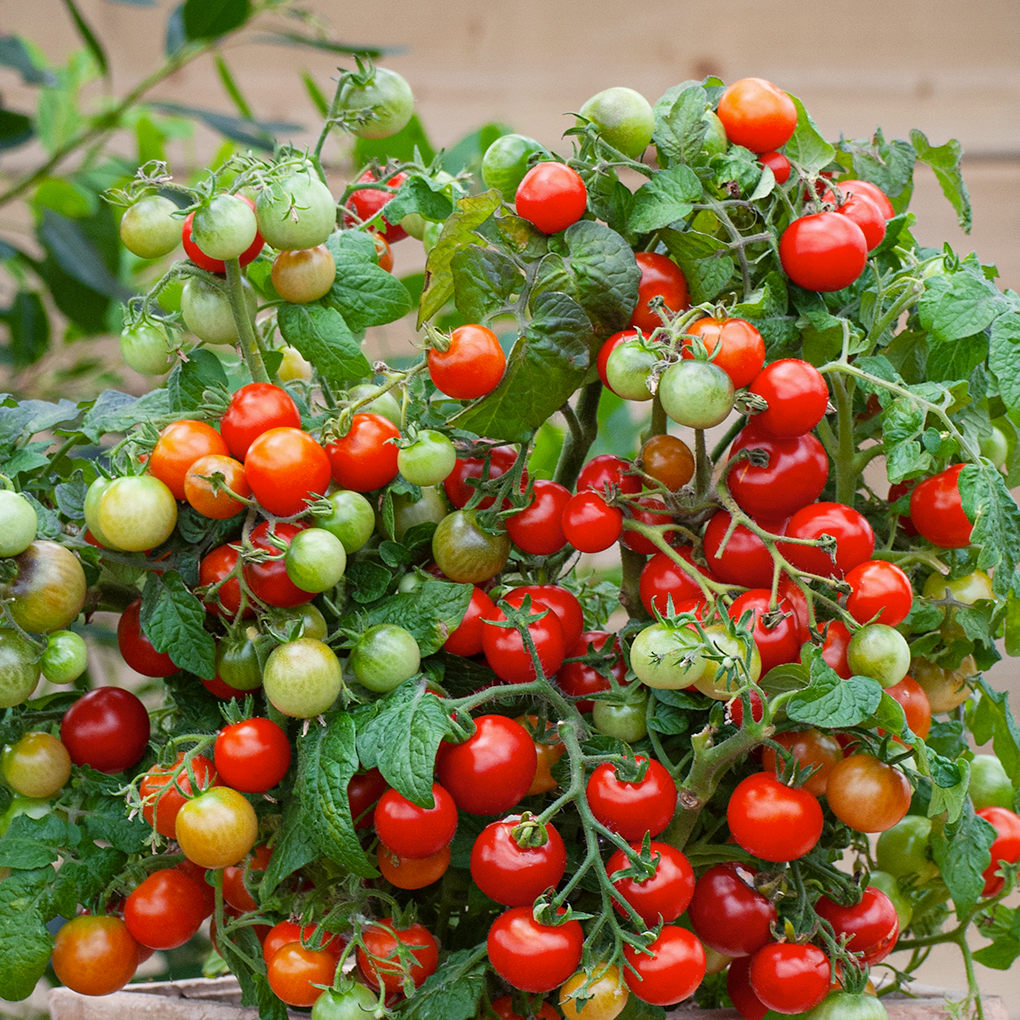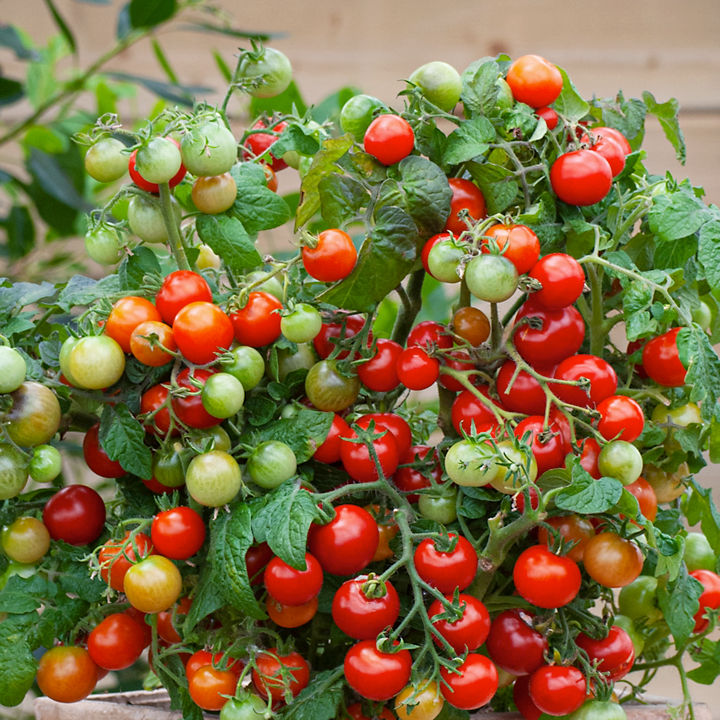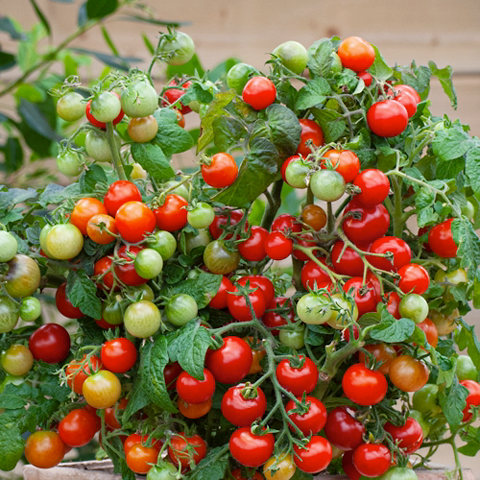 Tomatoes
The trailing varieties are perfect for hanging baskets. For more information on planting and growing your own tomatoes, check out our how to guide.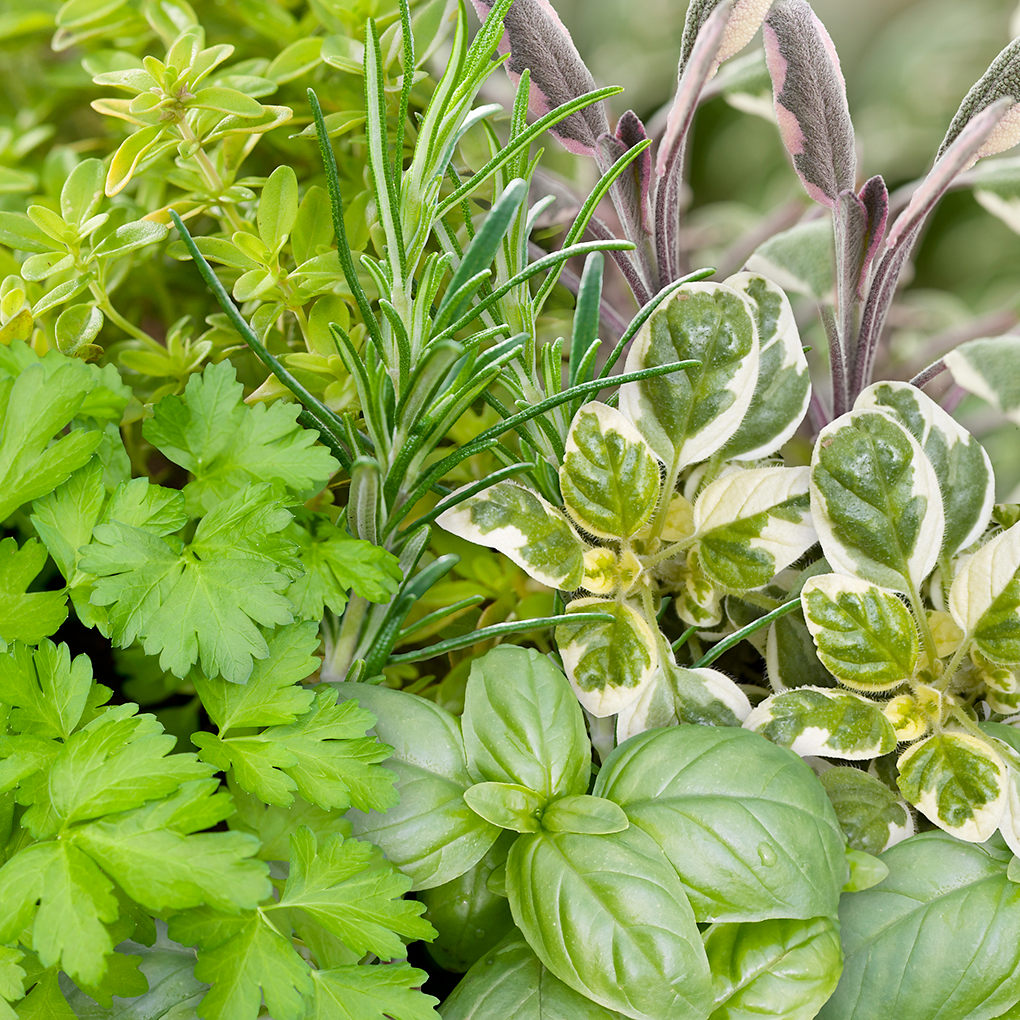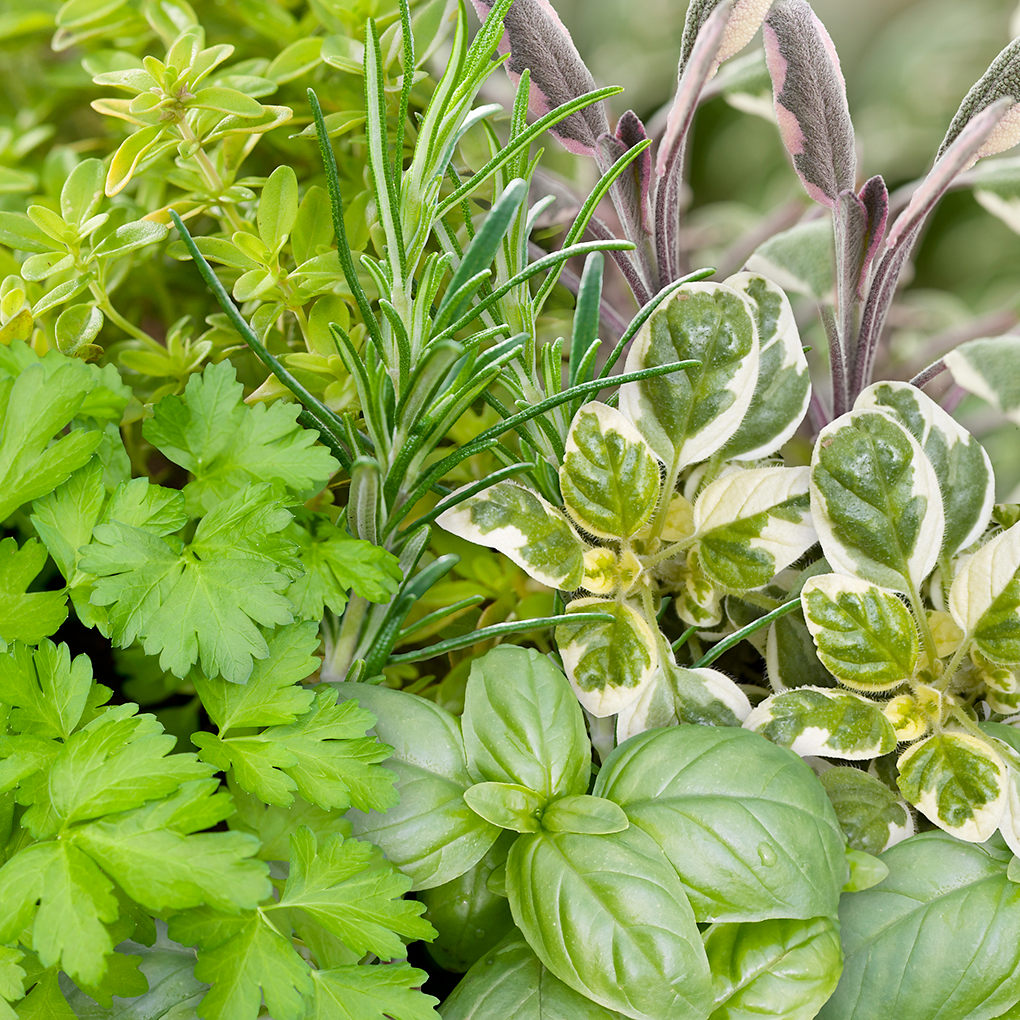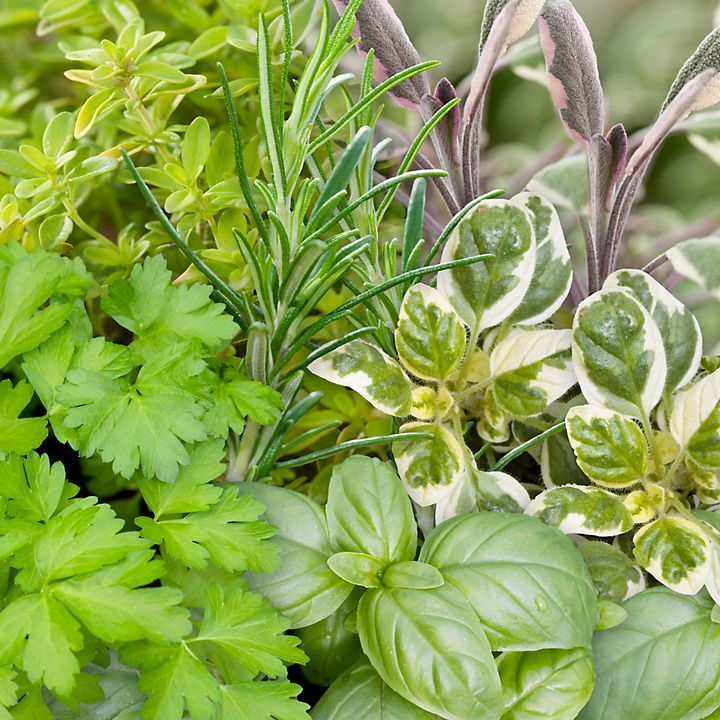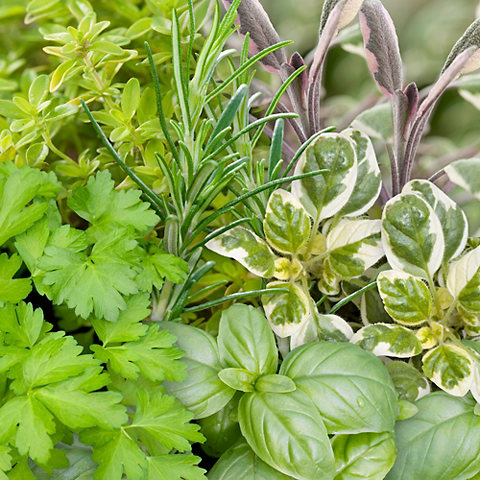 Herbs
Keep herbs such as basil (Lime, Greek and Sweet Thai basils pictured), rosemary and thyme handy for cooking, by hanging them near your kitchen door. Check out our how to guide.
---
---
Step 1
Place a liner in the basket (if it doesn't have one already) and half-fill it with moisture-retaining compost.
Add water-saving gel and slow-release plant food to help keep the plants moist and nourished throughout the season. Slow-release plant food comes in granules, sticks and nuggets that can easily be pushed into the compost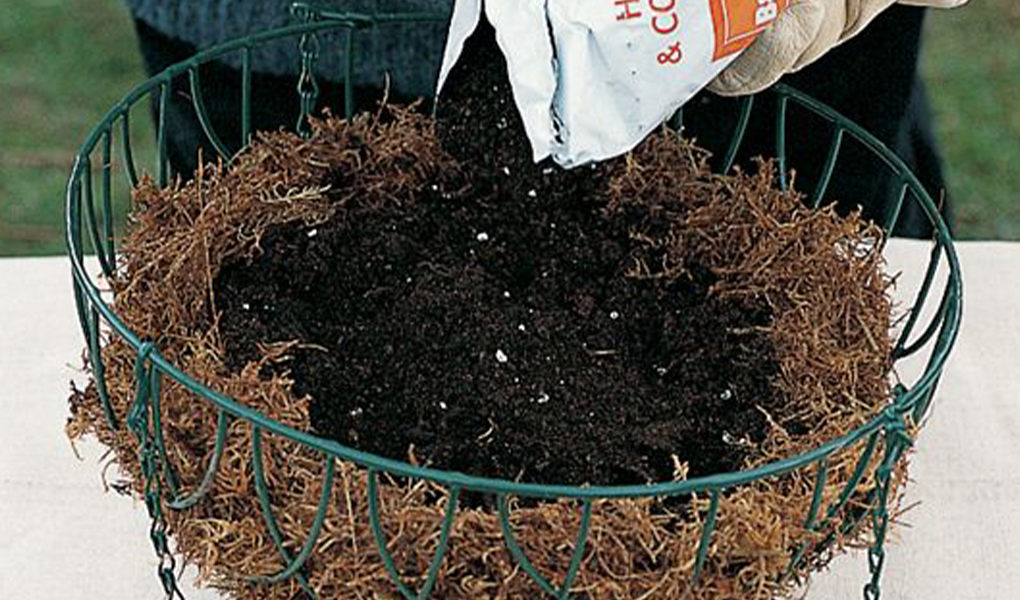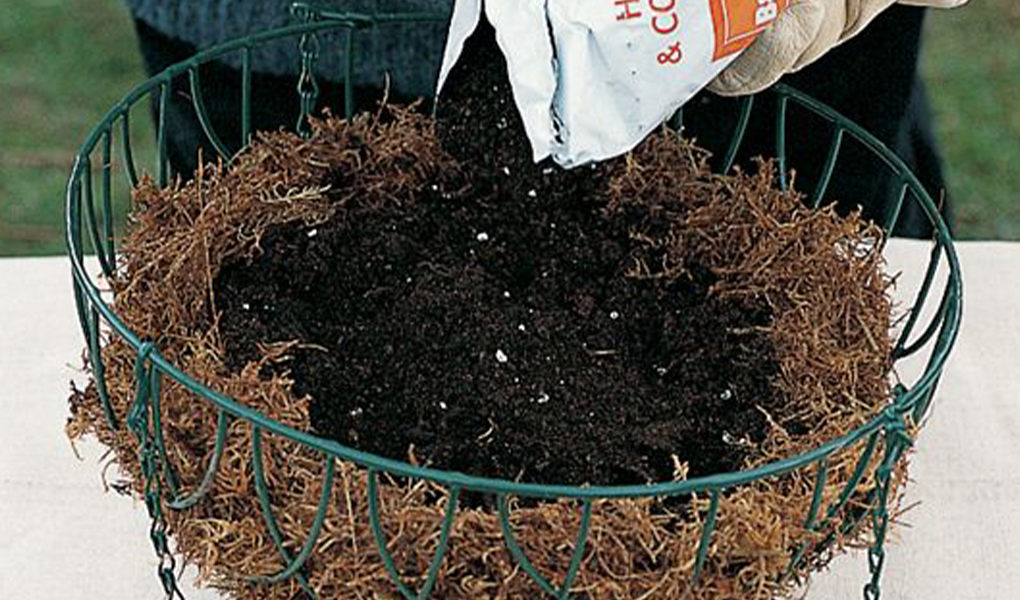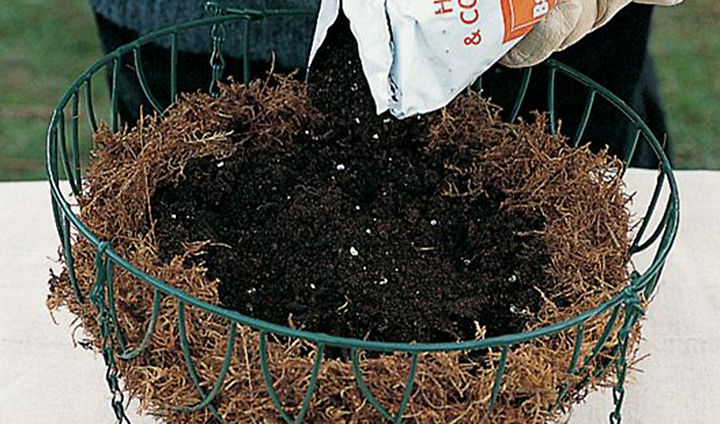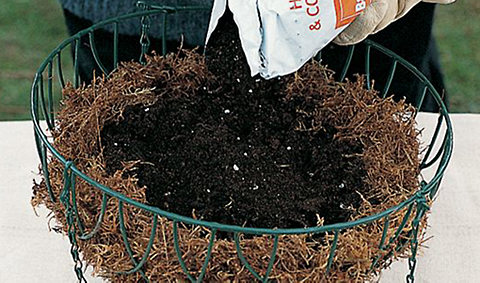 Top tip: Balance the basket when planting
Prevent your hanging basket from rolling about while you're planting it by standing it on a bucket, pot or even a small saucepan.
Step 2
Around the sides of your basket, gently push the roots of trailing plants through the hanging basket liner, and firm them into the compost. Do this all the way round the outside of the basket, and add a little more compost.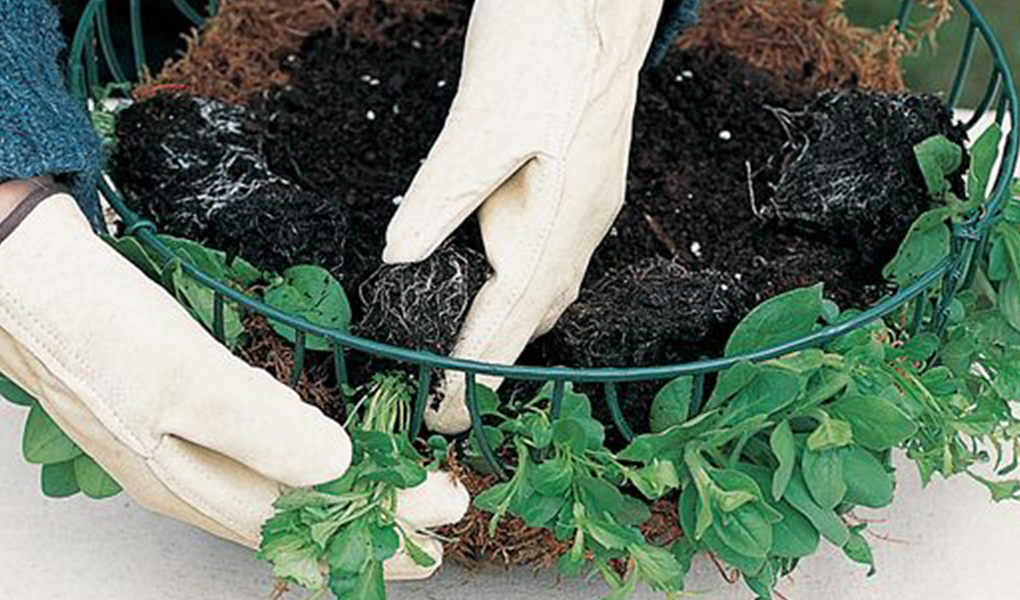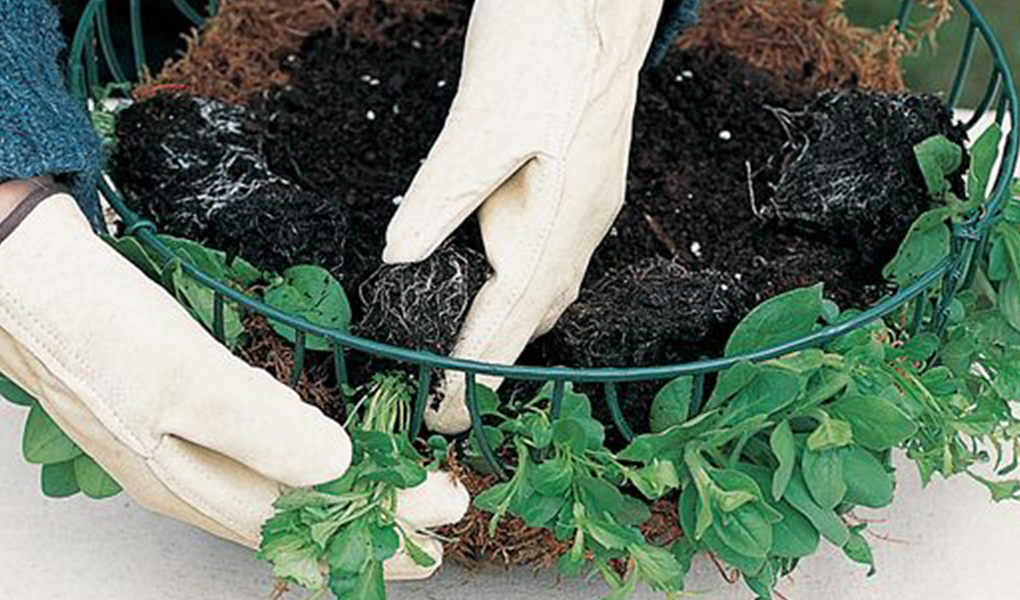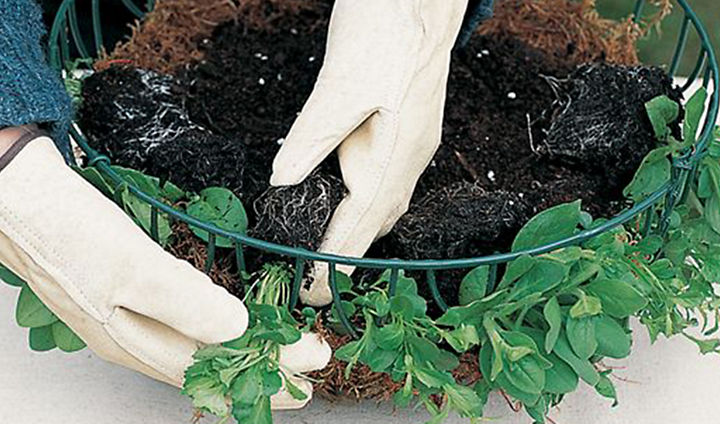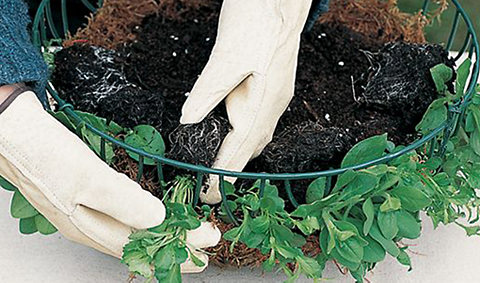 Step 3
Arrange the remaining plants in the top of the basket: one in the middle and the rest around the edge.
Firm more compost around the root balls, keeping the final level a few centimetres (cm) below the top of the basket to allow room for watering.
Water plants well.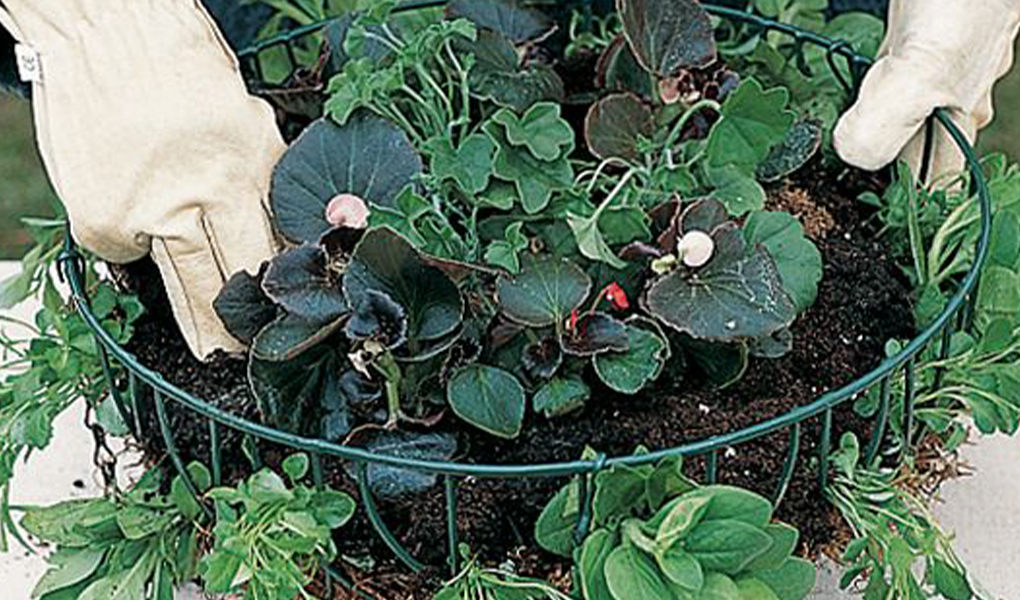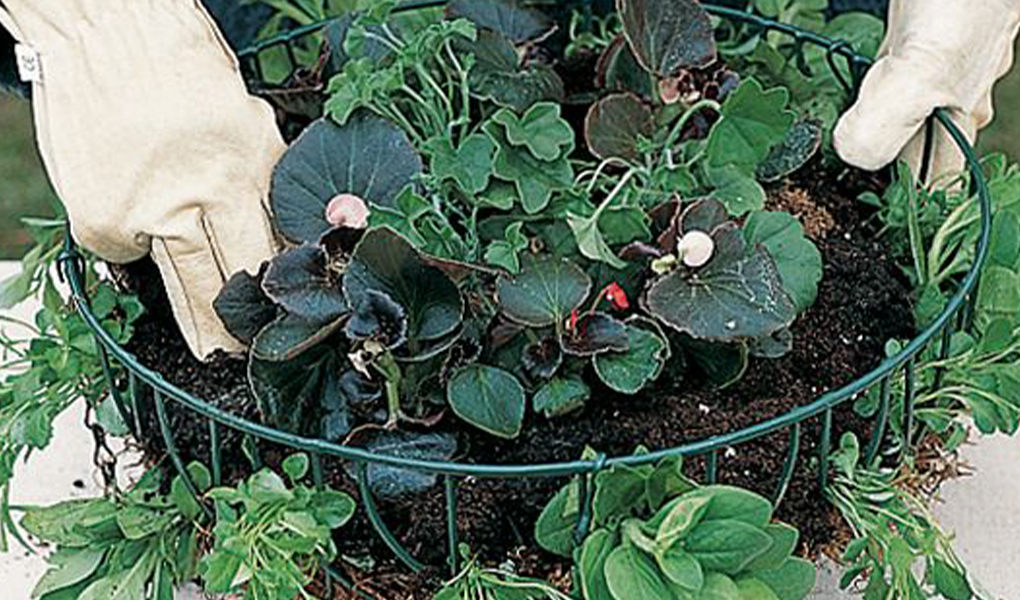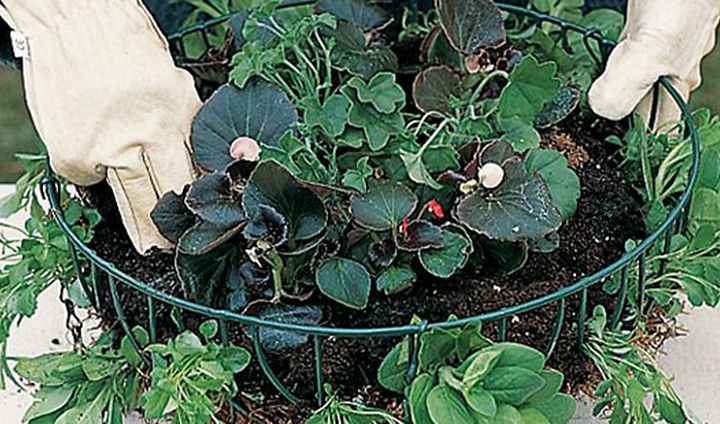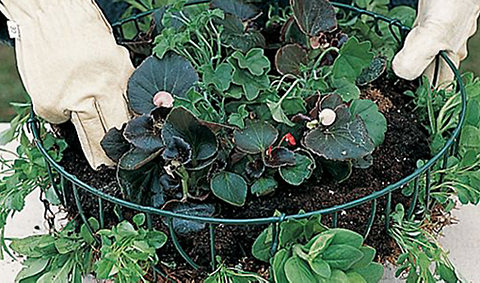 Step 4
Select your spot for hanging. We recommend hanging your basket well above head height to avoid accidents. You can even attach to wooden fencing by securing it to the fence post.
Once the hanging spot is decided upon, mark the fixing holes in pencil and check they're vertical with a spirit level.
If securing to an exterior wall, select the hammer action on your drill and drill with an appropriately-sized masonry drill bit into the brick, not the mortar. Drill deep enough so that the wall plugs can be inserted fully and clean the hole out.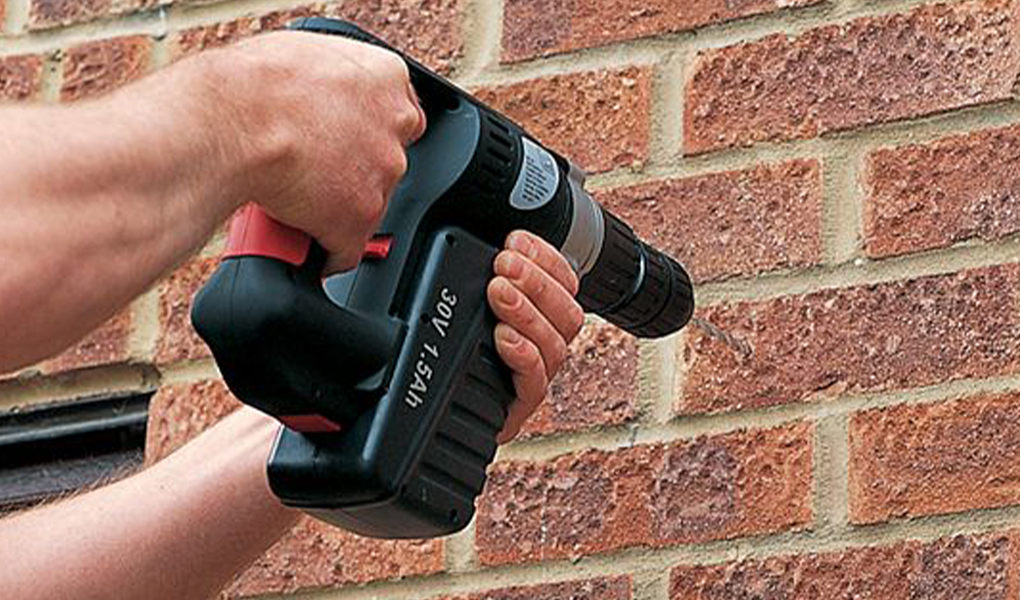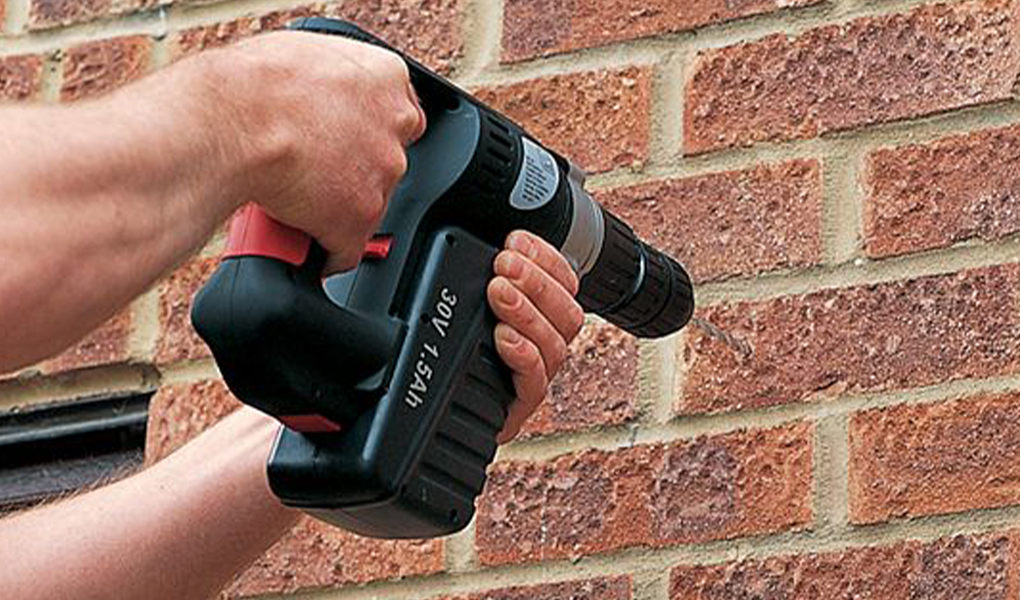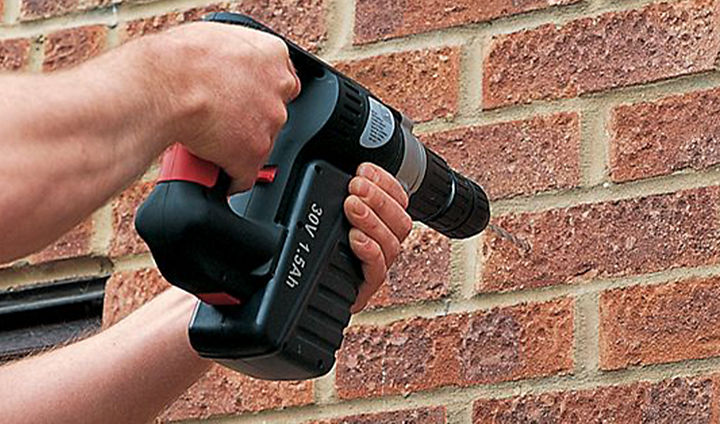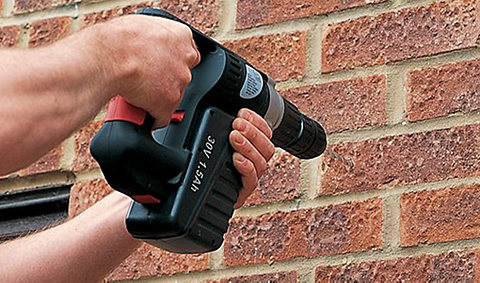 Step 5
Insert the right-sized wall plugs for the hole and tap in gently with a hammer until they're flush with the wall.
Fix the bracket to the wall with the screws and check that it's firmly attached.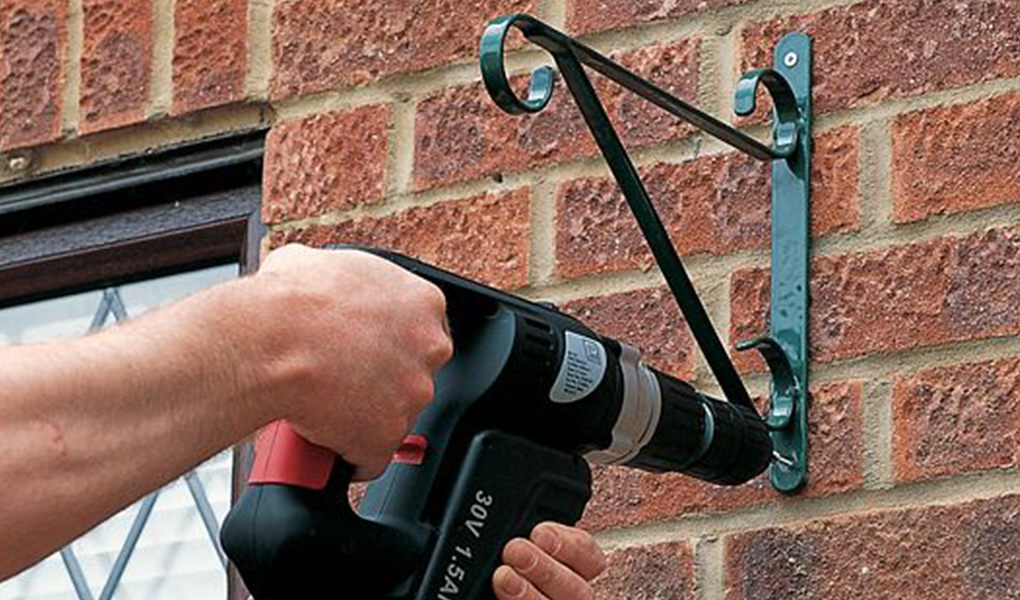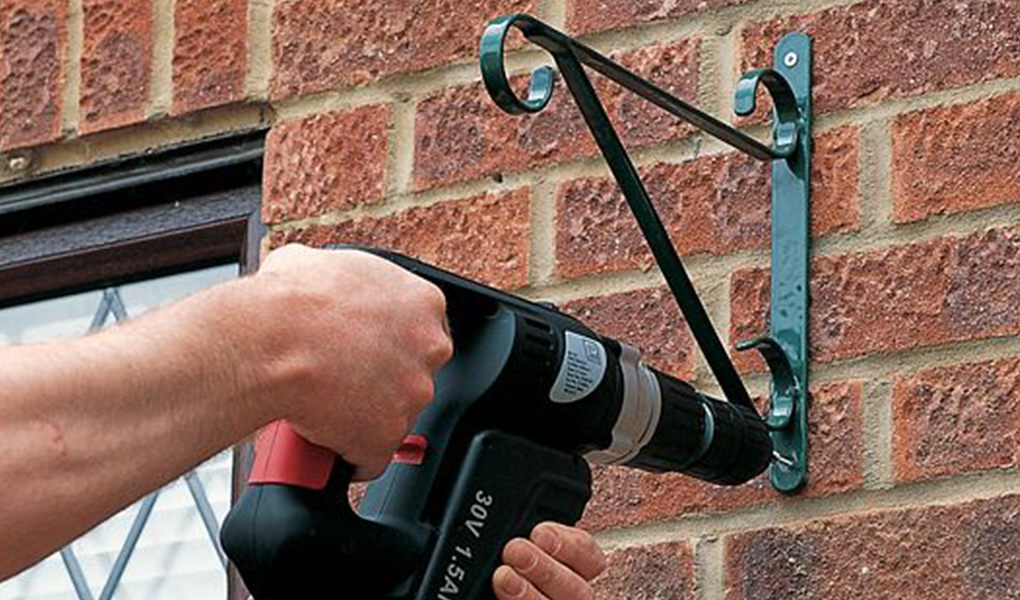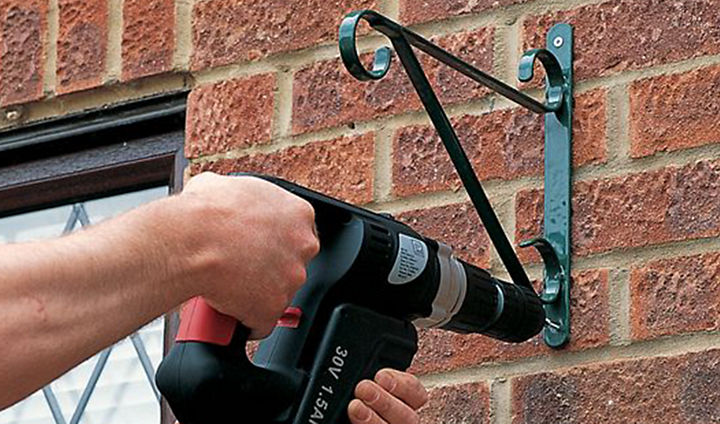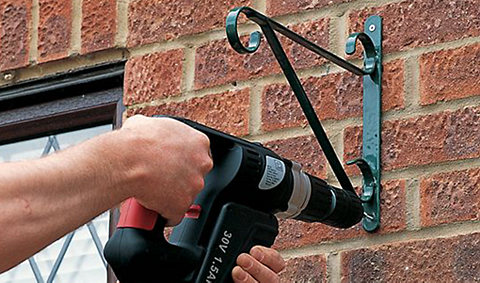 Step 6
Hang the basket to the bracket using the chains, then water it thoroughly.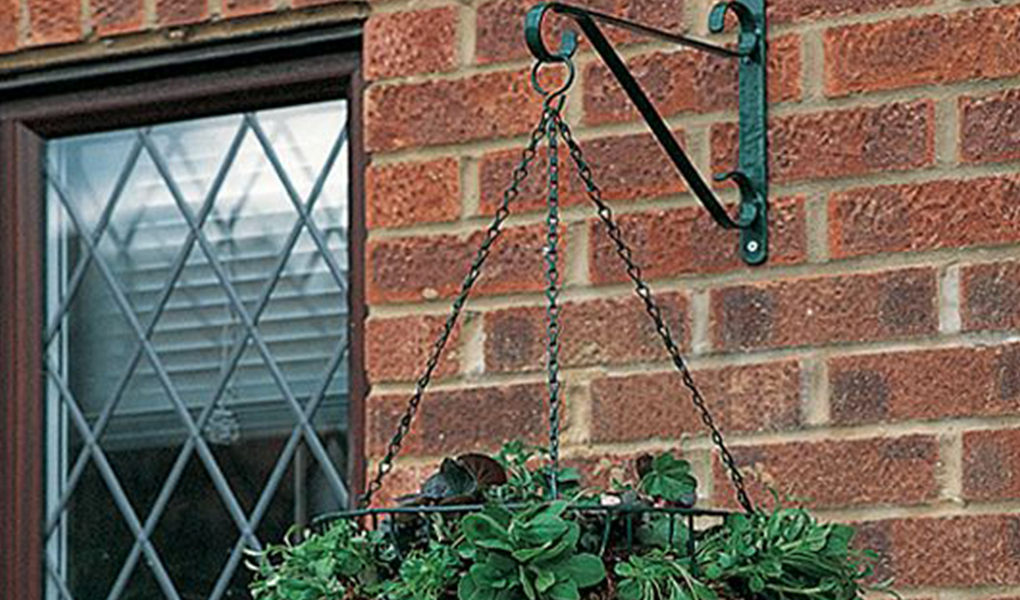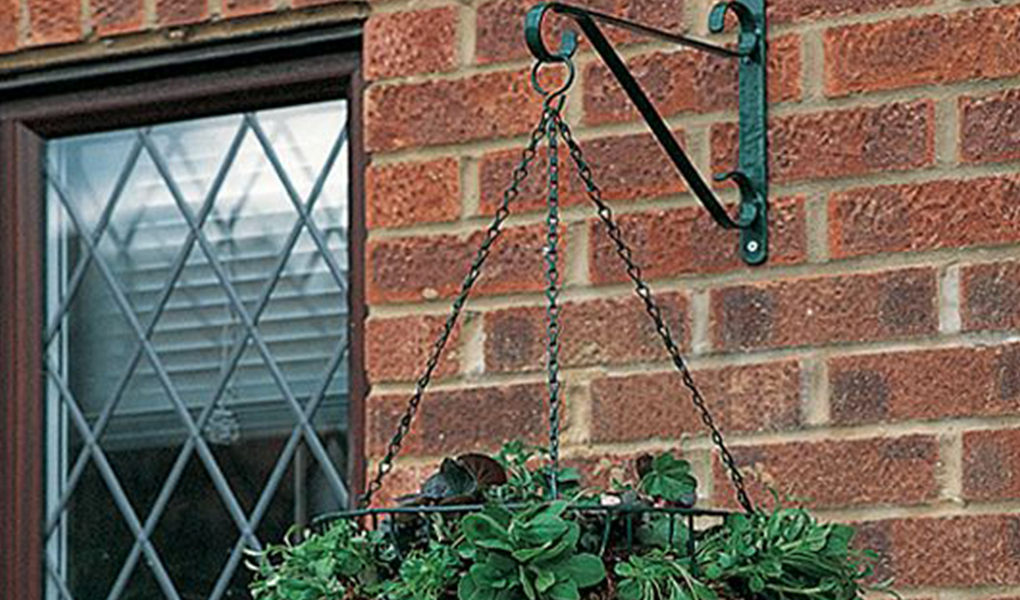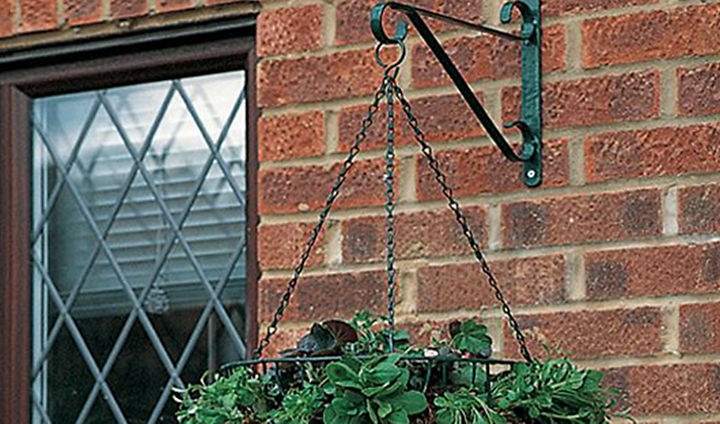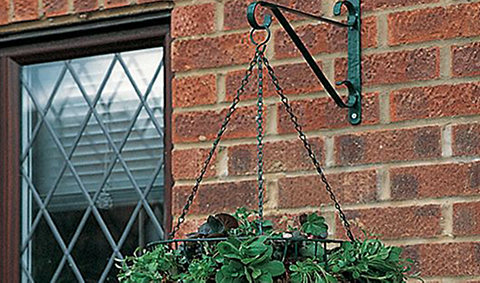 Step 7
Continue to water at least daily, if not twice a day during the height of summer, as even with the help of water-retaining gel, hanging baskets can dry out very quickly.
Supplement the slow-release plant food with regular liquid feeds to give your plants an instant boost.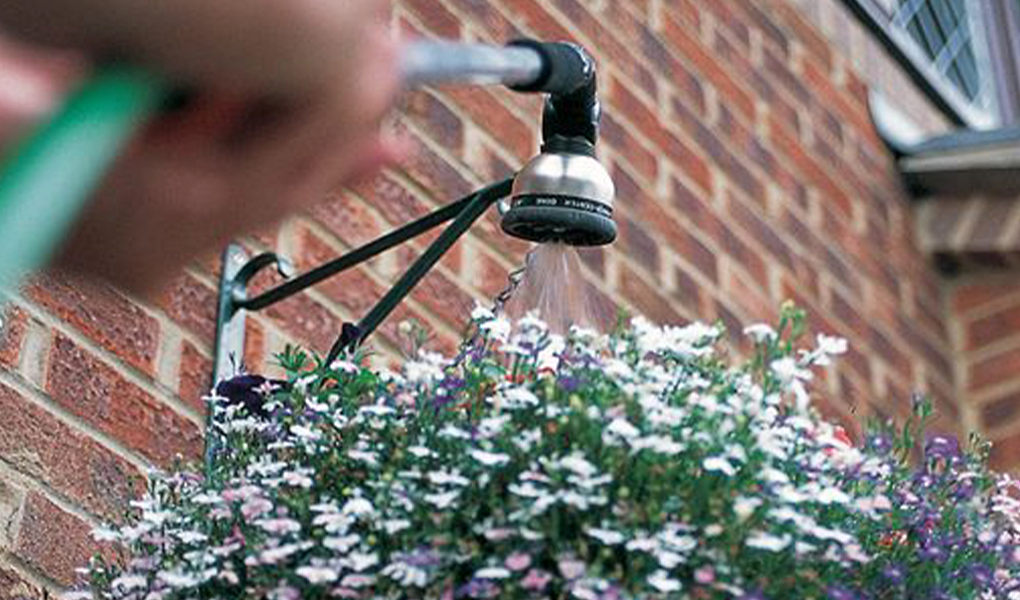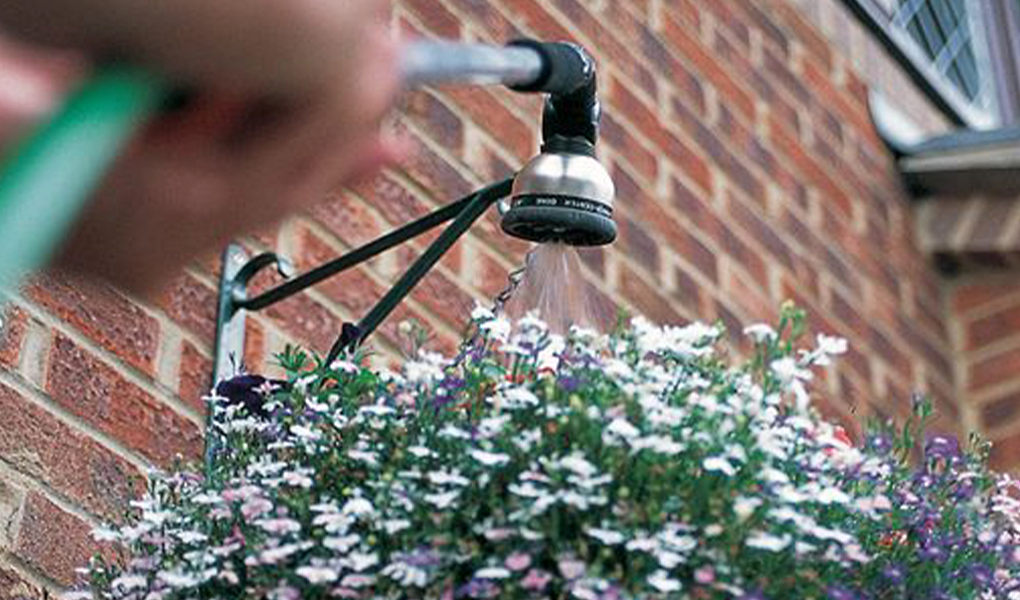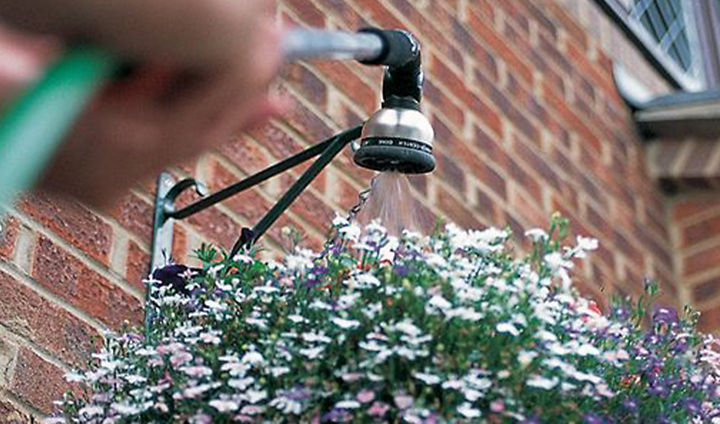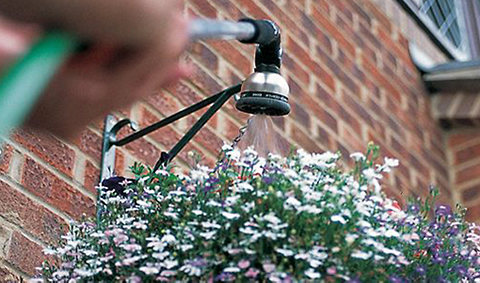 ---