How to put up a bathroom mirror
Hang a stylish and functional mirror on the bathroom wall
No bathroom is complete without a mirror, but it can add more than just functionality. Choosing the right mirror can make your room lighter and brighter, especially our illuminated options, and clever placement can give the illusion of more space. This guide gives you easy to follow steps to help you install your new mirror.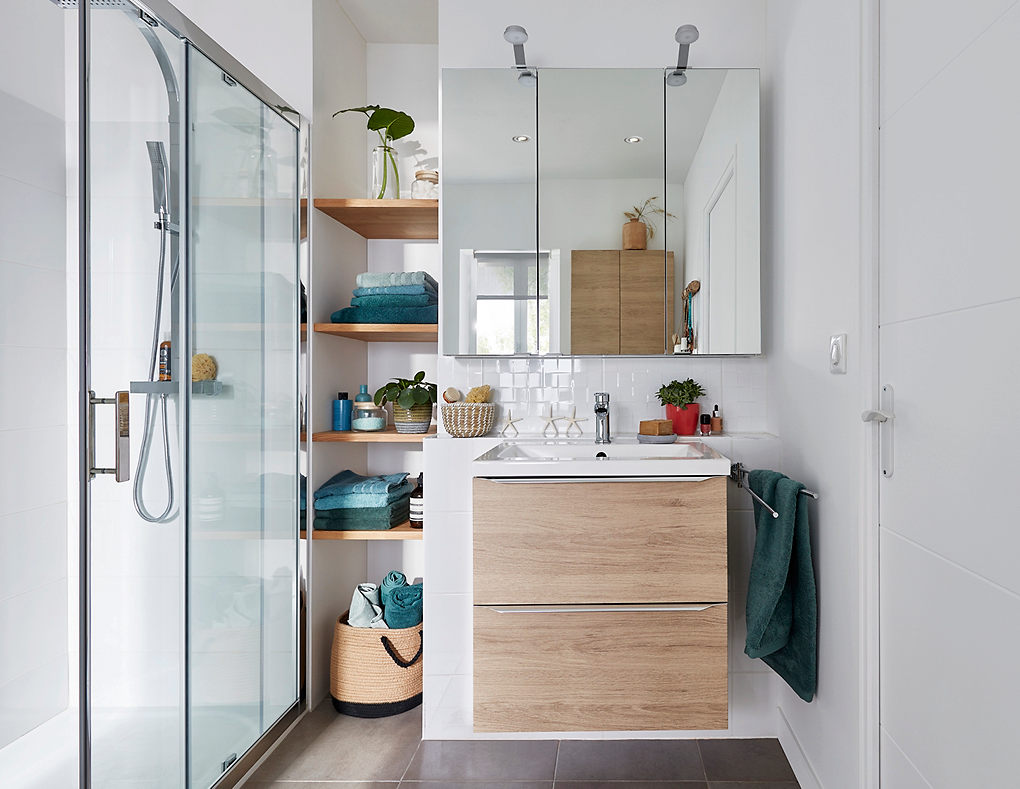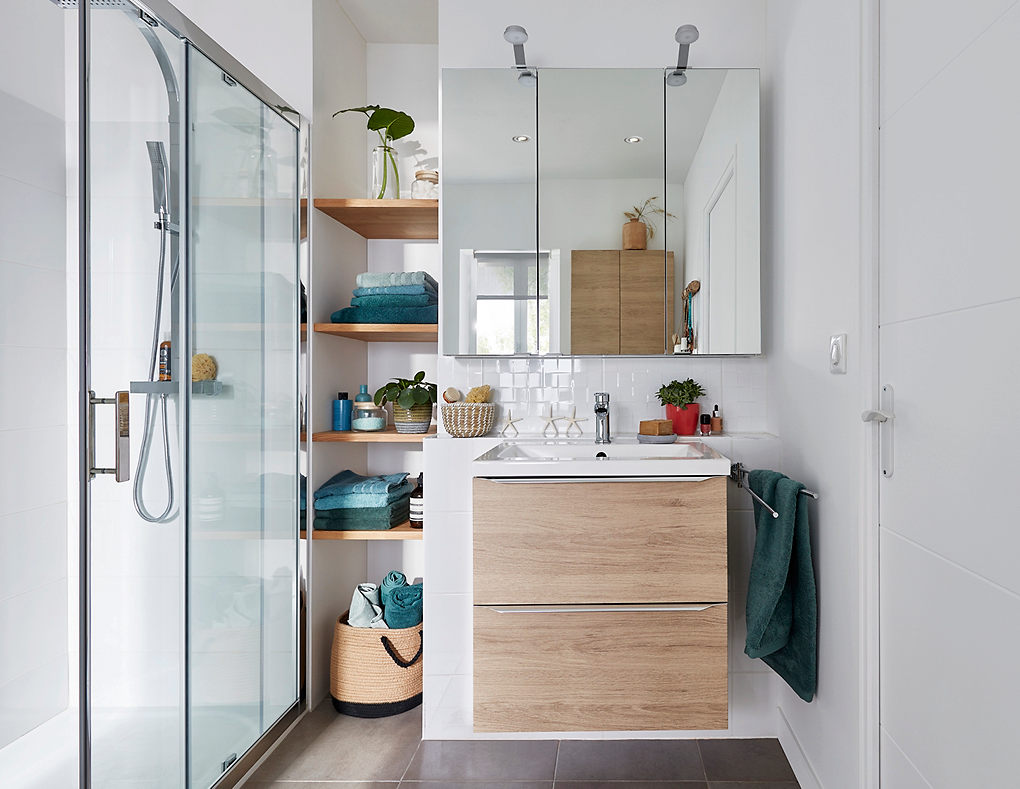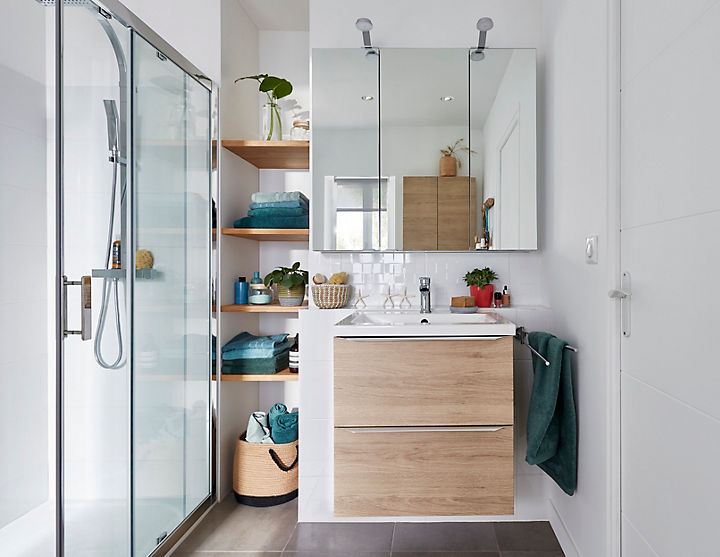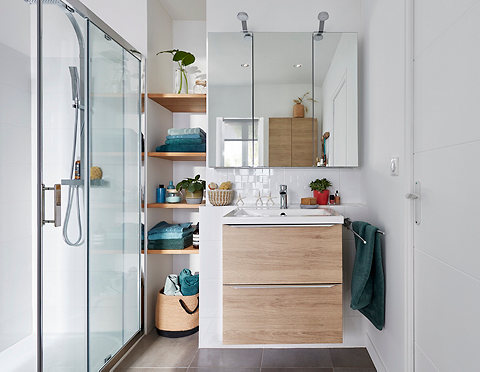 ---
Safety first: Check your walls
Before drilling, hammering or putting a screw into a wall, be sure you've checked what's behind it with a pipe, cable and stud detector (also known as a multi-purpose digital detector). They're simple to use and will let you know if there are any pipes, cables or studs where you're planning to work. Simply run it over the surface of the area and it will tell you where hazards lie.
Tools
Materials
Mirror fixings, unless supplied with the mirror
Safety kit
---
Decide exactly where you're going to hang your bathroom mirror, above the basin is usually the most practical choice.
If fitting a mains operated illuminated mirror or one with a de-mister function, read the product instructions and be aware of the bathroom splash zones and where it's safe to locate the mirror.
This guide will show how to install a standard mirror.
---
Step 1
Check there are no hidden pipes or cables behind the wall surface with a pipe, cable and stud detector. Use slow, sweeping movements over the area you want to drill into.
If you need to use a stepladder, ensure it's correctly set up on a level surface and all work items are clear from the bottom of the ladder.
Step 2
Hold the mirror up to the wall. You may need help with this, especially if the mirror is large. Using a spirit level, make sure that the mirror is level and mark the position of the fixing points with a pencil. Larger mirrors or mirrored cabinets may require a slightly different fixing method such as brackets, so always check the installation instructions for your particular mirror.
Step 3
Remove the mirror and place it in a safe place, out of the way. Before drilling above a basin, lay a dust sheet to protect the basin.
Step 4
Using an appropriate drill bit for your wall, mark the length of your wall plugs on to the drill bit with a piece of tape to create a handy depth gauge.
Some mirrors are supplied with fixings, but they might only be suitable for certain walls types, so always check and ensure you use the correct wall plugs and screws designed to hold the weight of the mirror you are hanging.
On masonry walls, walls made from bricks and mortar, you'll need a hammer-action drill with a masonry bit.
If you have plasterboard walls and a heavy mirror, use hollow wall fixings to safely secure the mirror to the wall.
Step 5
Put on a pair of safety goggles and drill the holes in the marked positions to the marked depth.
Don't forget you may need to switch a hammer drill to hammer mode if you're drilling through a brick or stone wall.
Clear up any dust with a dust pan and brush.
Gently tap the wall plugs in with a hammer and ensure they're completely flush with the wall.
Fit the plastic mirror washers to the back of the mirror and get an extra pair of hands to help you position the mirror on the wall. Carefully line up the mirror holes and screw in place. Don't over tighten the screws, or you'll crack the mirror.
If the fixing screws are not supplied with the mirror, use mirror screws with a chrome coloured cover caps for a neat finish.
If your mirror has brackets on the back of the mirror, leave a small section of the screw head standing out from the wall to give the mirror bracket something upon which to hang.
Step 8
---
---
Our installation service
Don't want to do it yourself? We can help. We work with approved installers to help coordinate your bathroom project from start to finish. Our range of flexible finance options means you can find a plan to suit you. We also provide a 2-year workmanship guarantee for peace of mind. Find out more about our installation service and book a free planning appointment to get started.