Furniture Ideas for creating space
From face masks to first aid kits, bath bombs and blow dryers, we keep a lot of stuff in our bathrooms – and when you want to relax after a long day, you don't want to be tripping over it all! With all these needs in mind, we've created a range of storage-boosting furniture and accessories that give you more space to keep everything organised and help you sort out your bathroom clutter once and for all.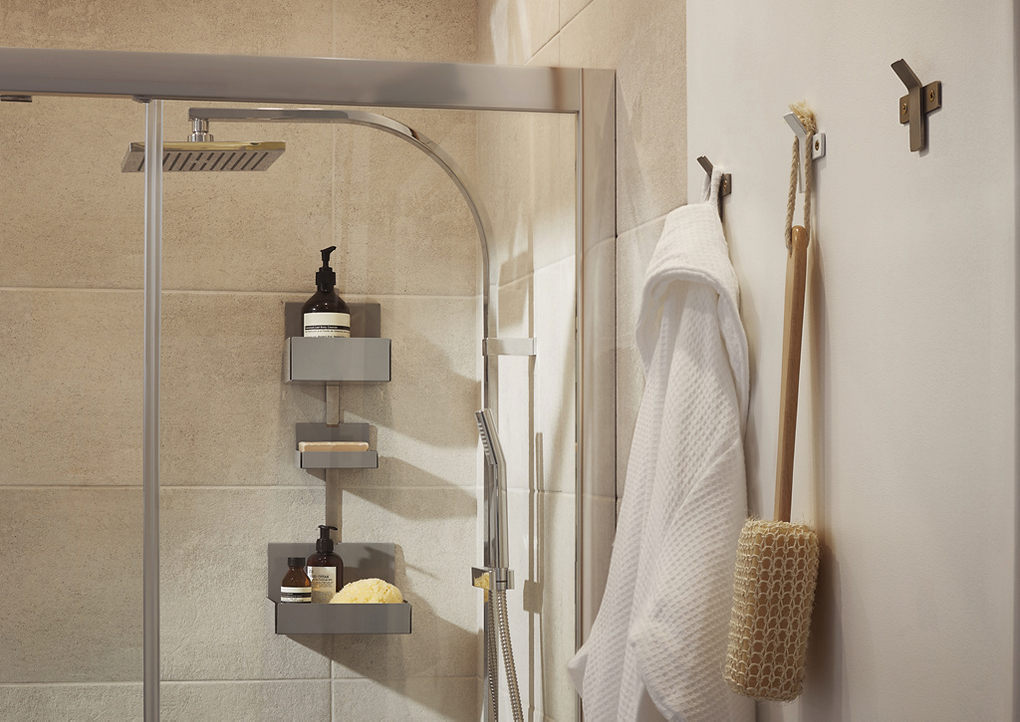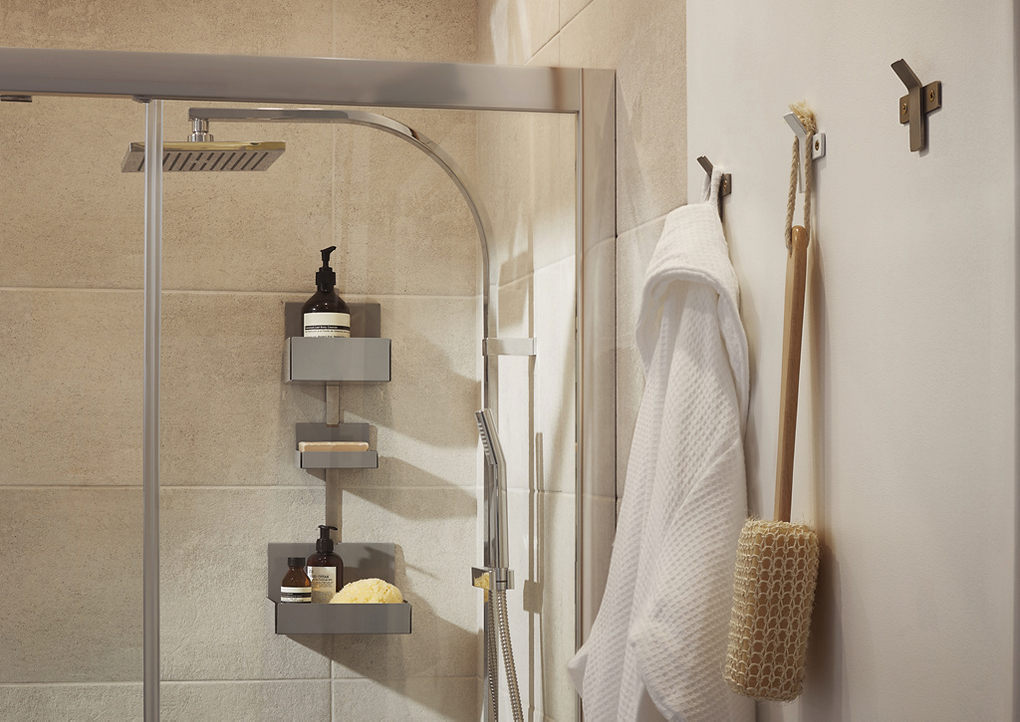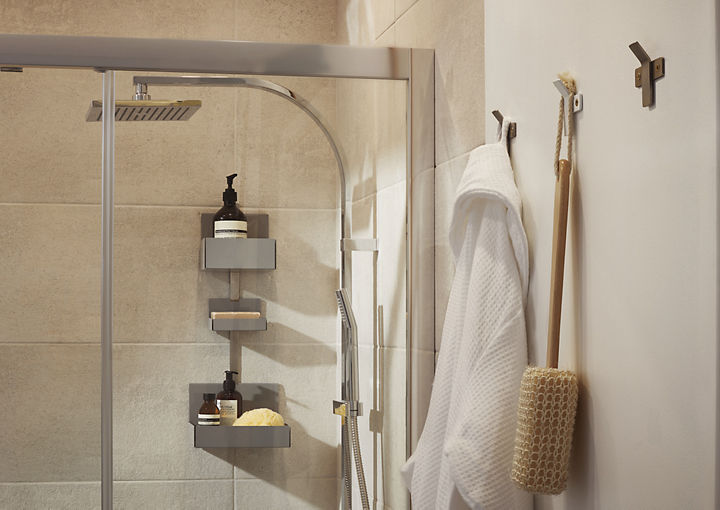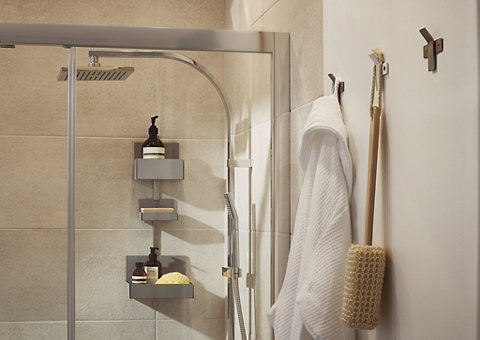 Choose hooks for towels and robes
Add hooks, rails or rings to the back of your door or furniture units to hide all sorts: dressing gowns, pyjamas and even some of your toiletries in a hanging wash bag.
Fix self-adhesive Koros hooks with tumblers and boxes to the inside of your cabinets for wash cloths or make up bags. If you're feeling creative, try making your own hook rail to store bathrobes and towels.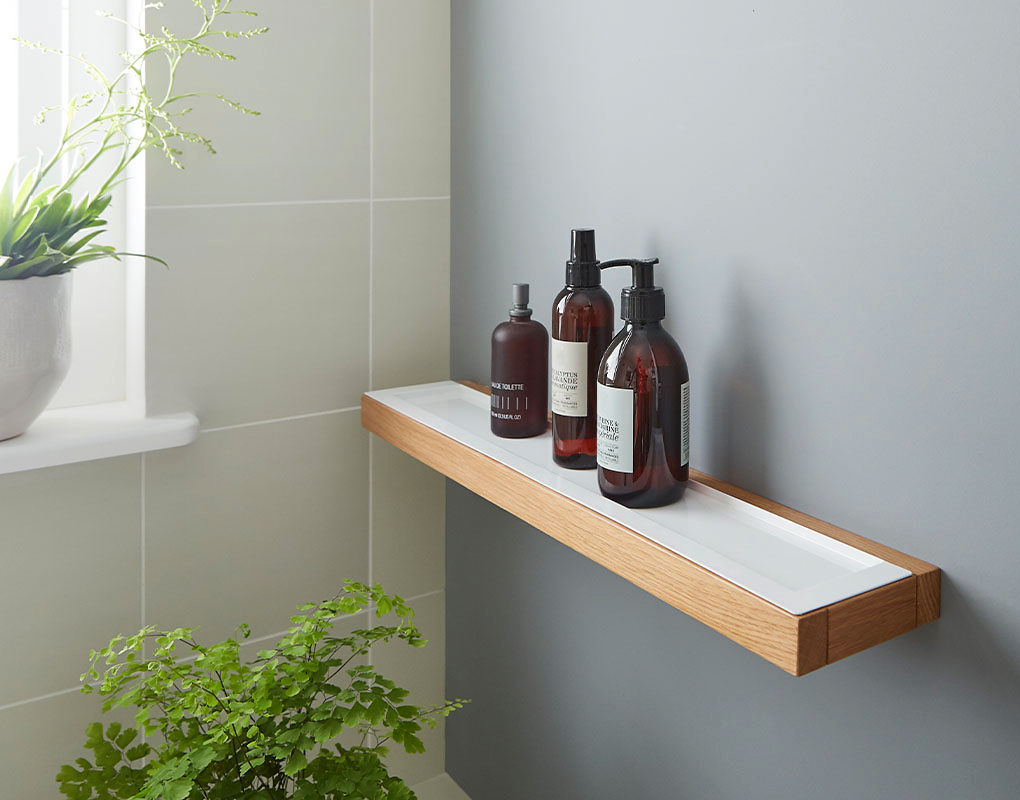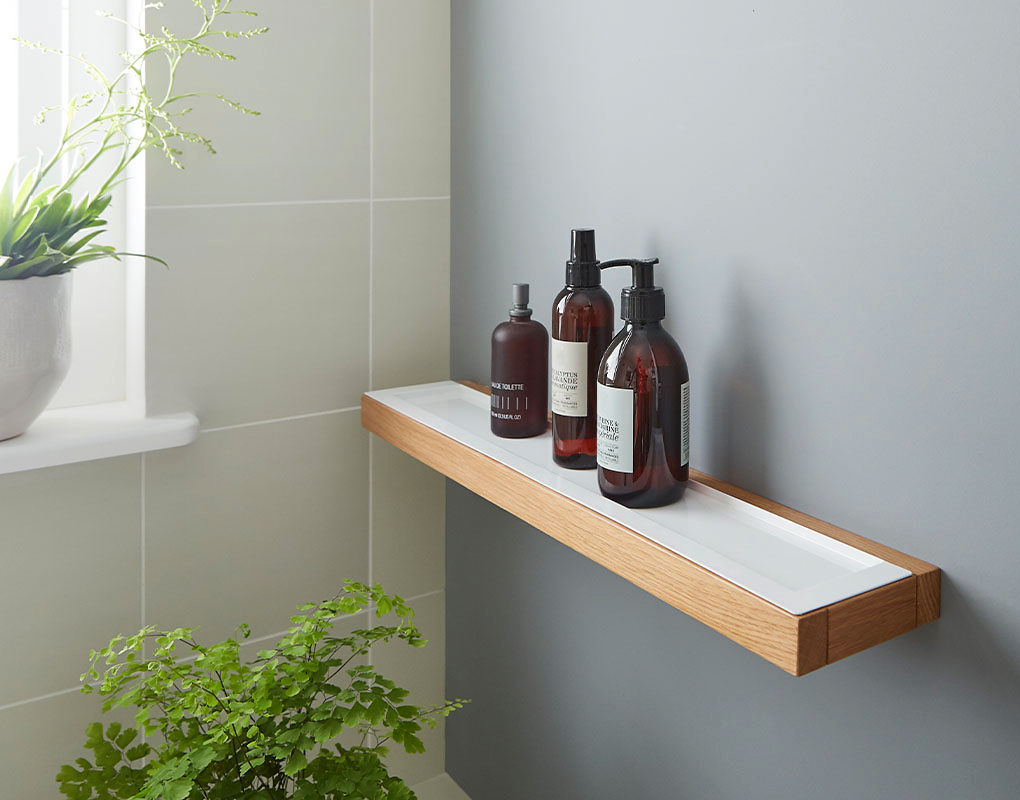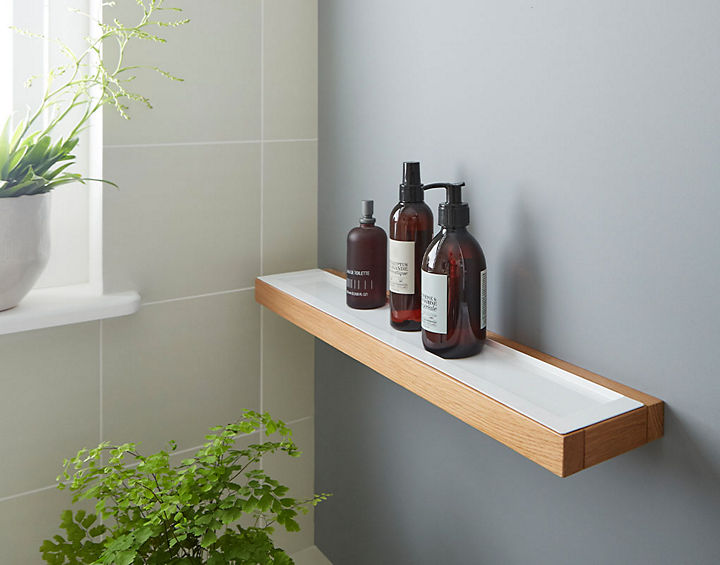 Add shelving
Getting a bit creative with your shelving options can lead to a versatile storage solution. Got a wall-mounted basin? Think about adding floating shelves beneath or next to it.
Any awkward spaces in your bathroom can be used for shelving areas, go for cut-to-size shelves and have your measurements to hand to create shelving bespoke to your bathroom. And if you want storage space that isn't immediately visible, try putting shelving above the door – guests will only see if they're looking up and out of the bathroom.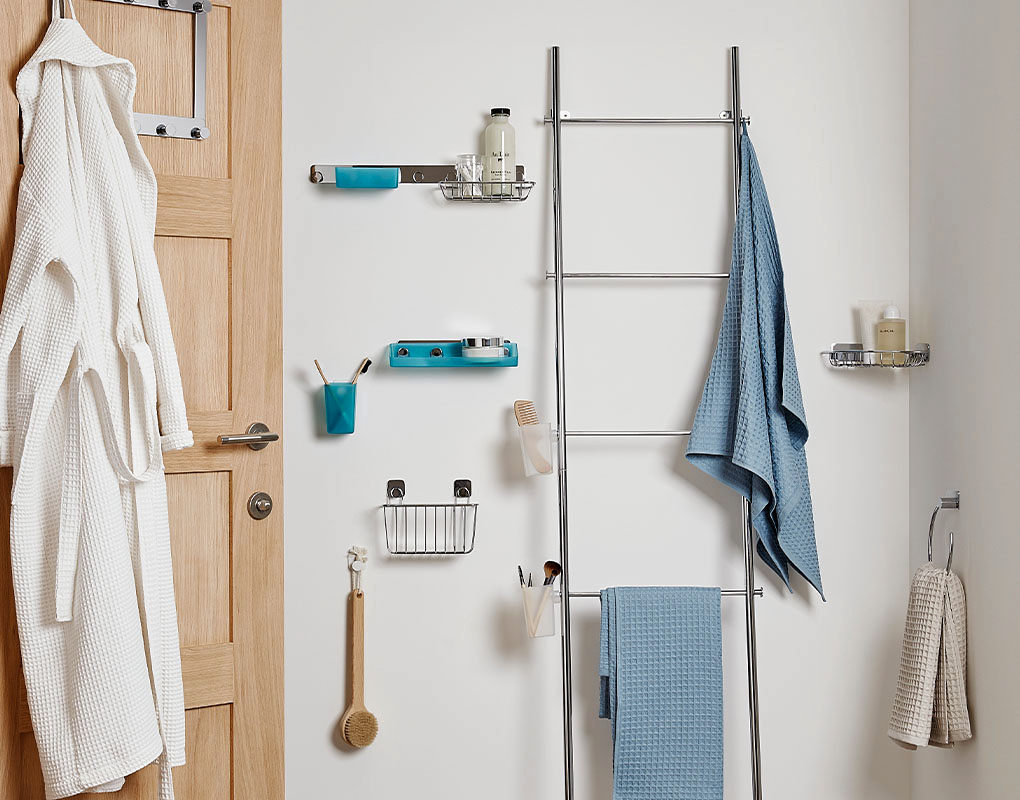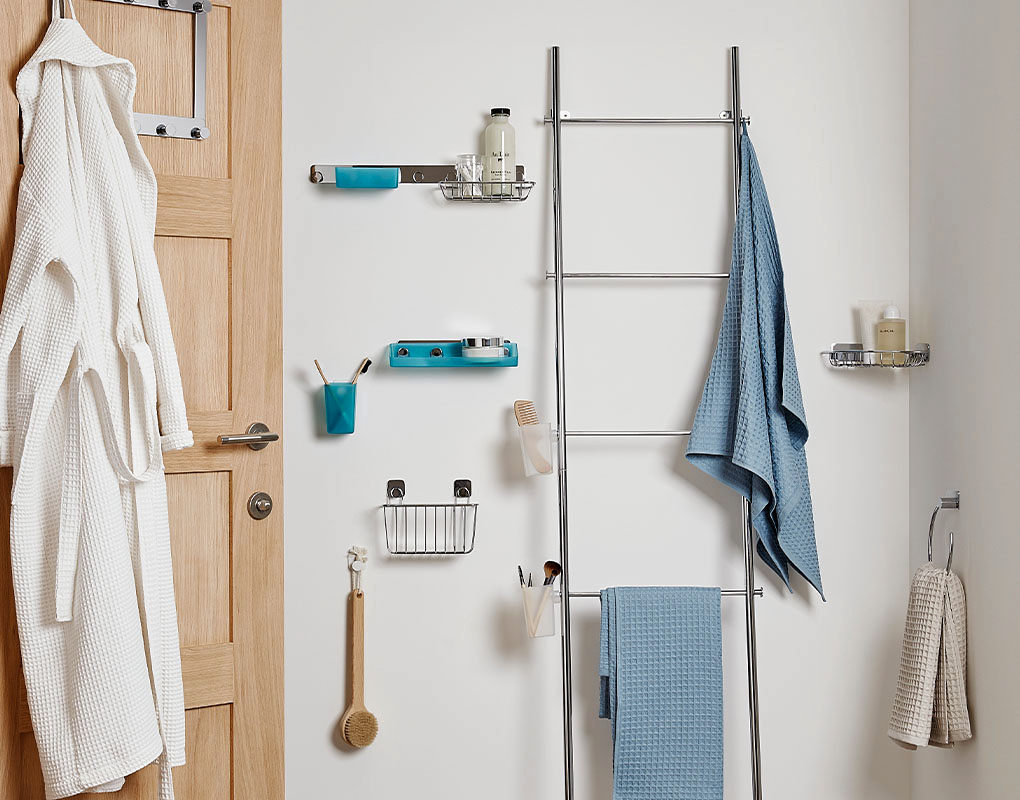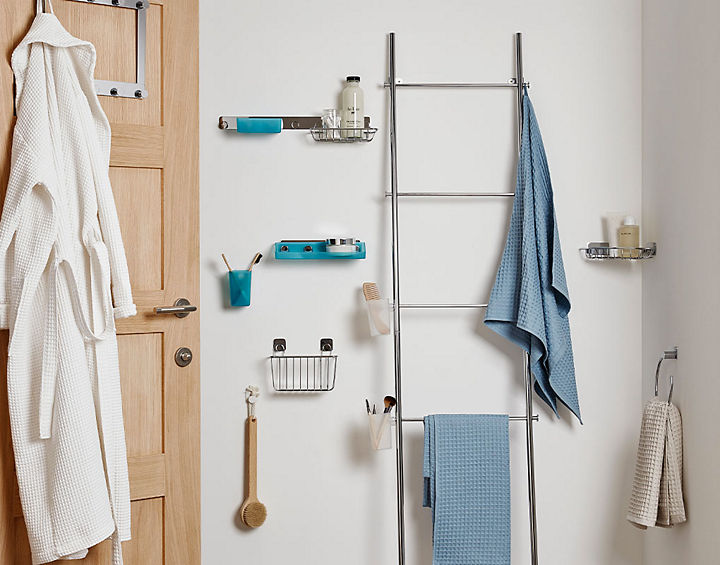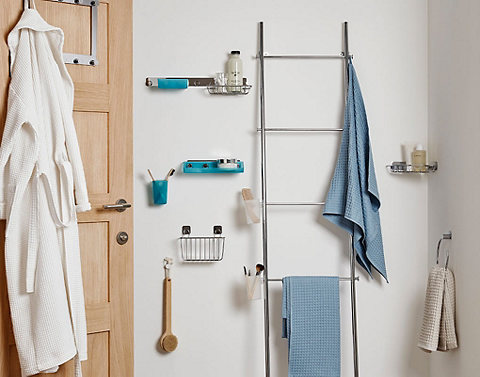 Make the most of bathroom walls
Often in bathrooms we don't think to use the free wall space – make the most of it by attaching your accessories, leaving space on your countertops.
Soap dishes and dispensers can be hung above the sink and below the mirror, as can toothbrush holders and tumblers. The Koros range of accessories is really easy to install and can be fixed with tape so it doesn't require any tools.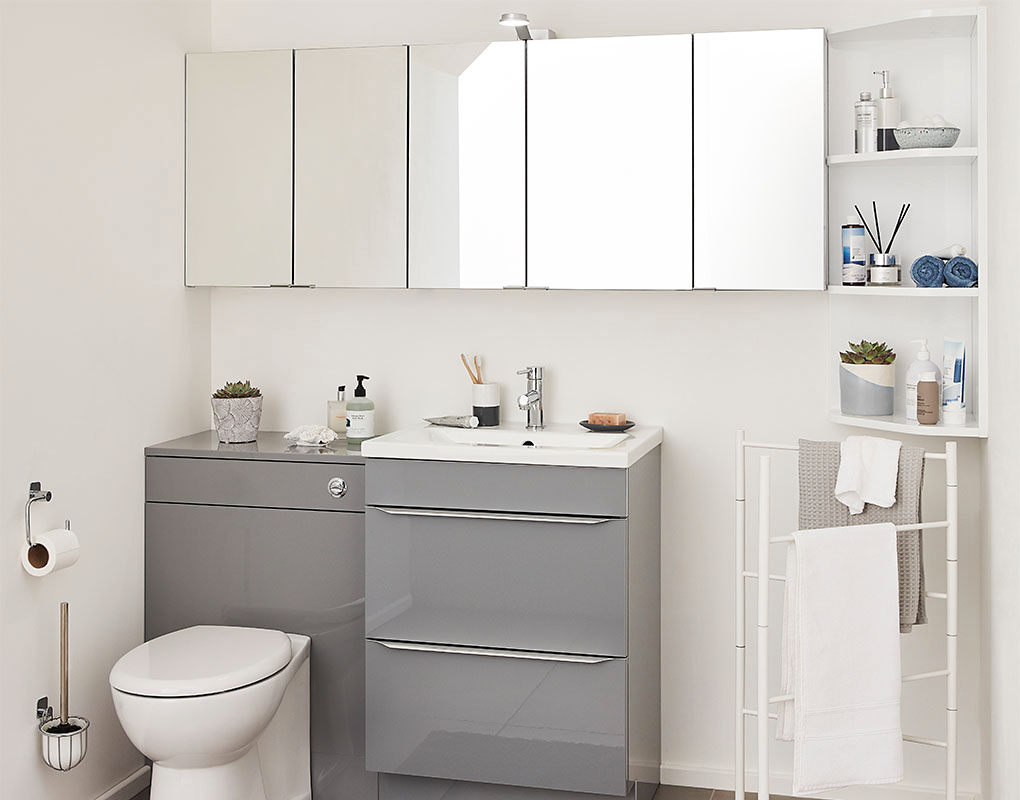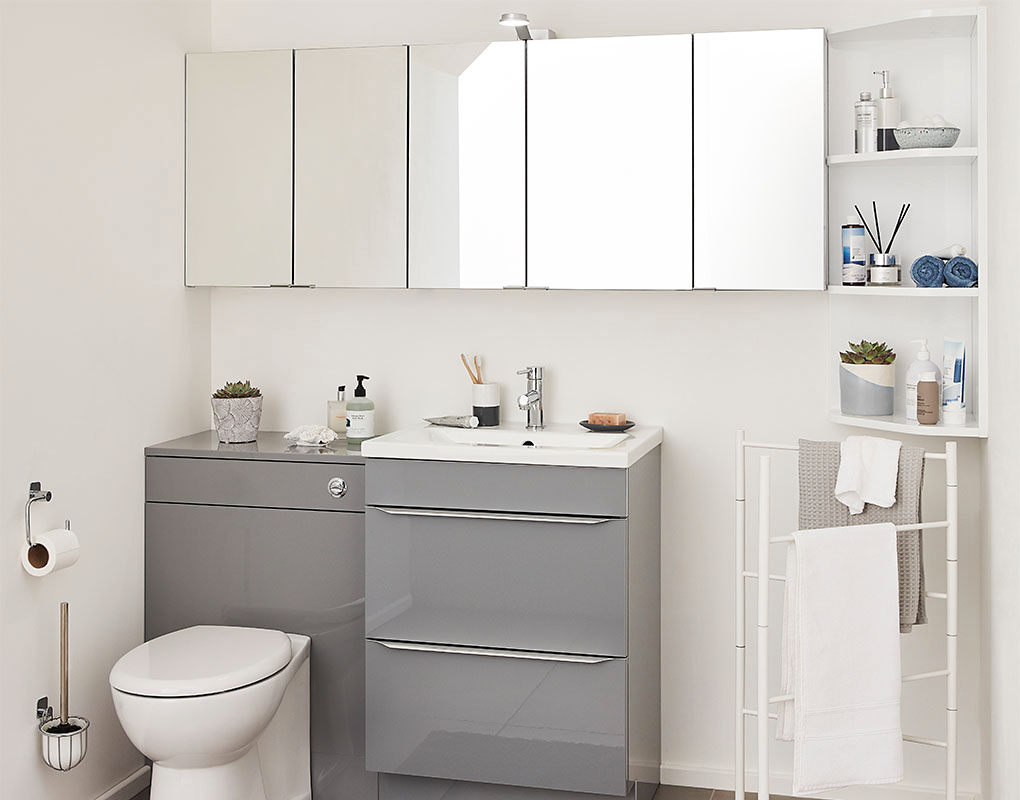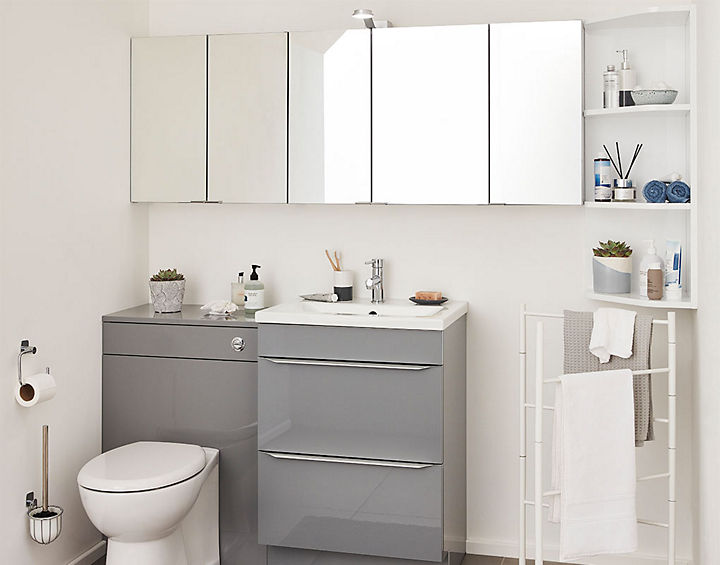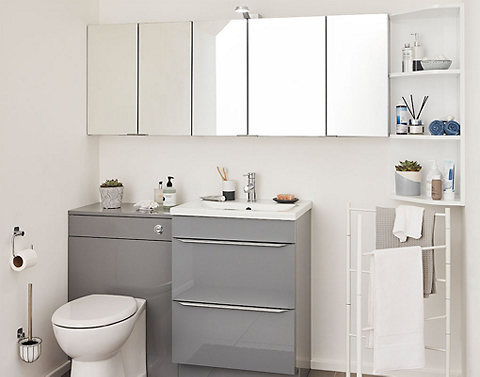 Choose a mirrored cabinet
A mirrored cabinet is a great way to add storage when you also need a mirror. As well as making the smallest room in your home appear larger, they can also offer valuable storage space for all your medicines, make up and more.
Make use of any free worktop space with a dressing table mirror with built-in drawers, or create your own dressing table area using our helpful guide.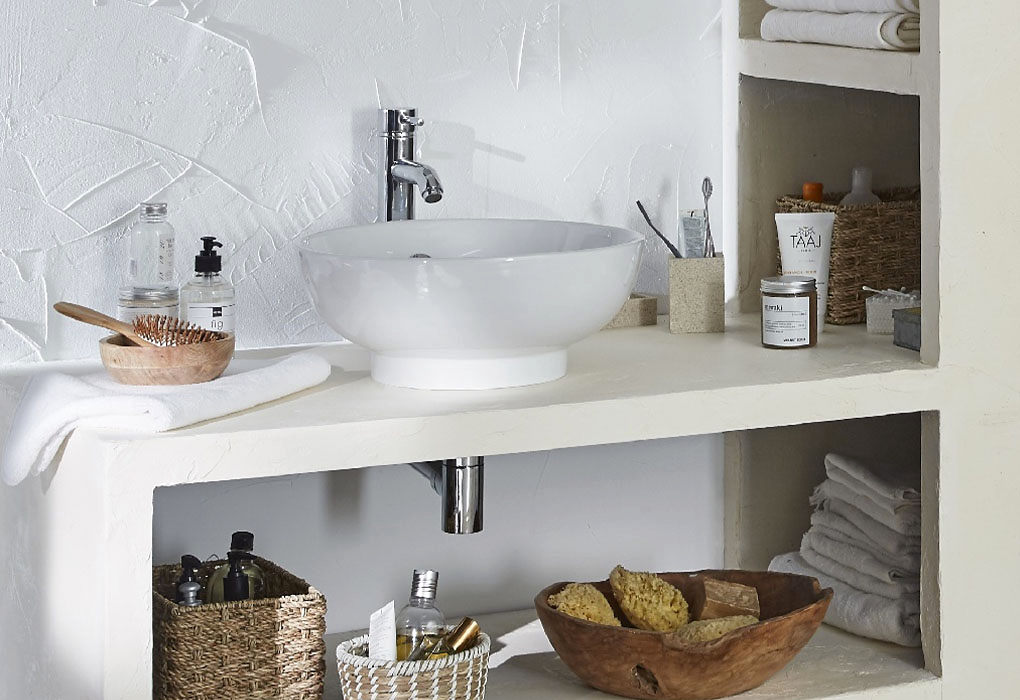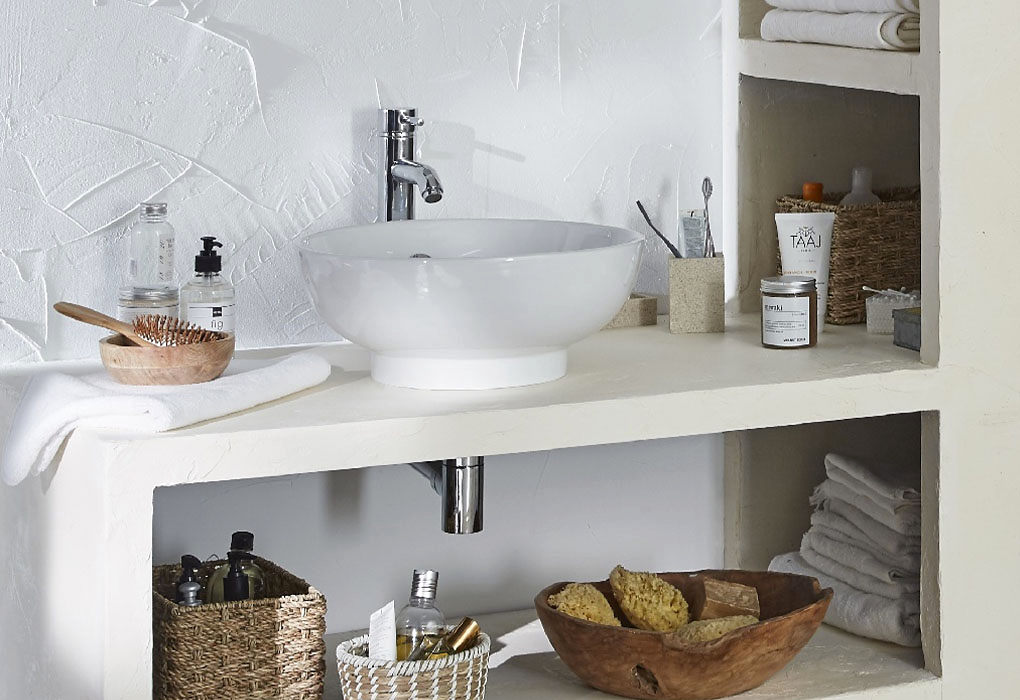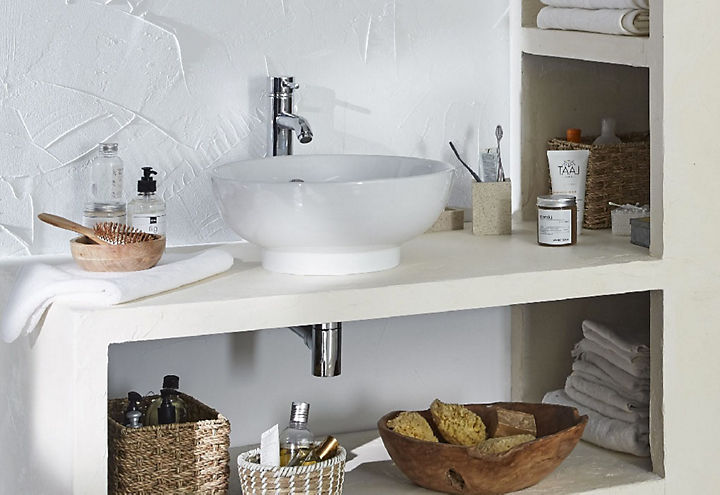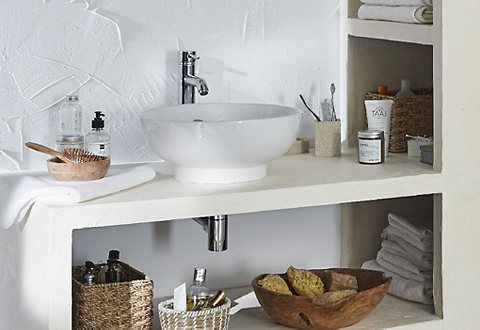 Pick pretty storage
If you have items stored on your bathroom's shelves or surfaces, choose containers or baskets that are attractive, and they'll add to the look.
Glass jars are so stylish that you can even put everyday items like cotton wool or buds in there, and it will still look good out in the open.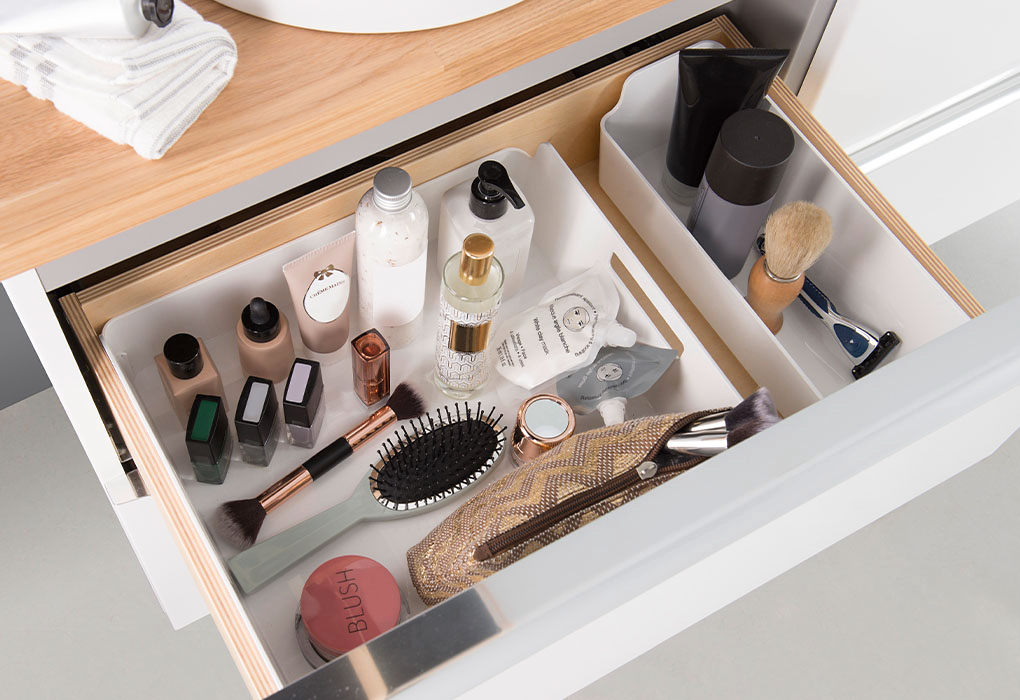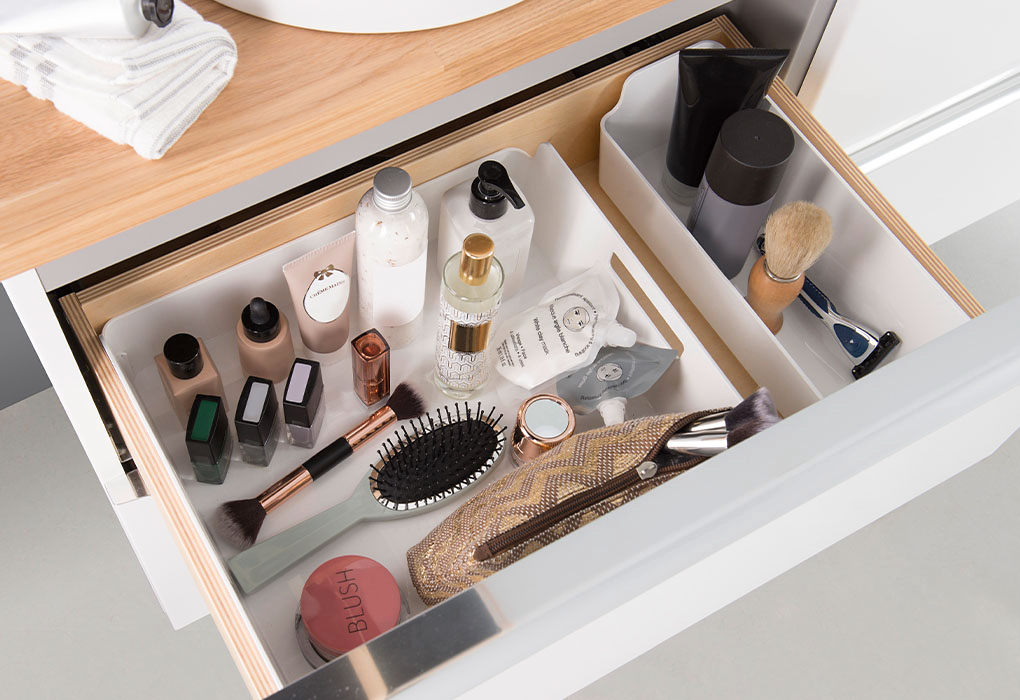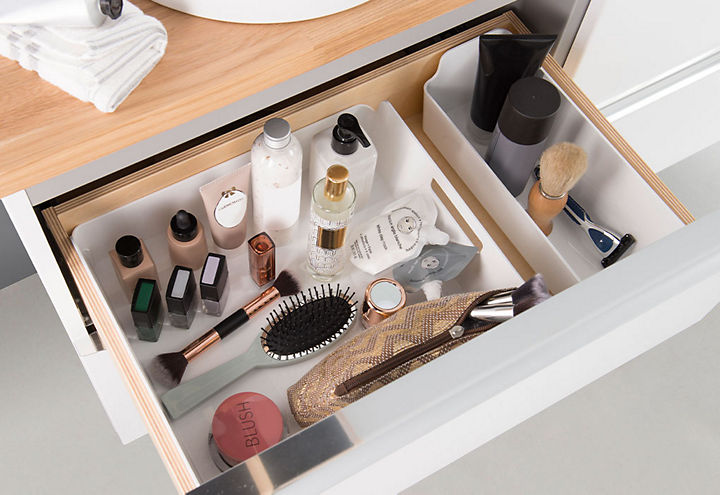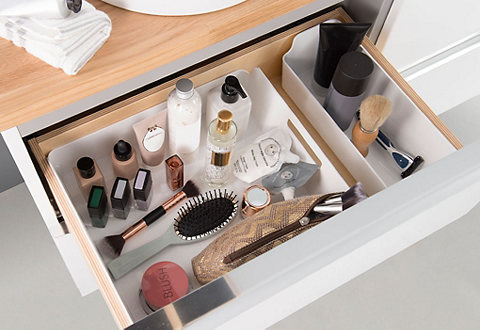 Go beyond the drawers
Once you've picked the storage for your bathroom, it's easy to just throw everything in there and shut the drawers.
Keep the insides of your units organised with compartments or baskets to separate different items, or why not give each family member their own section to save digging around.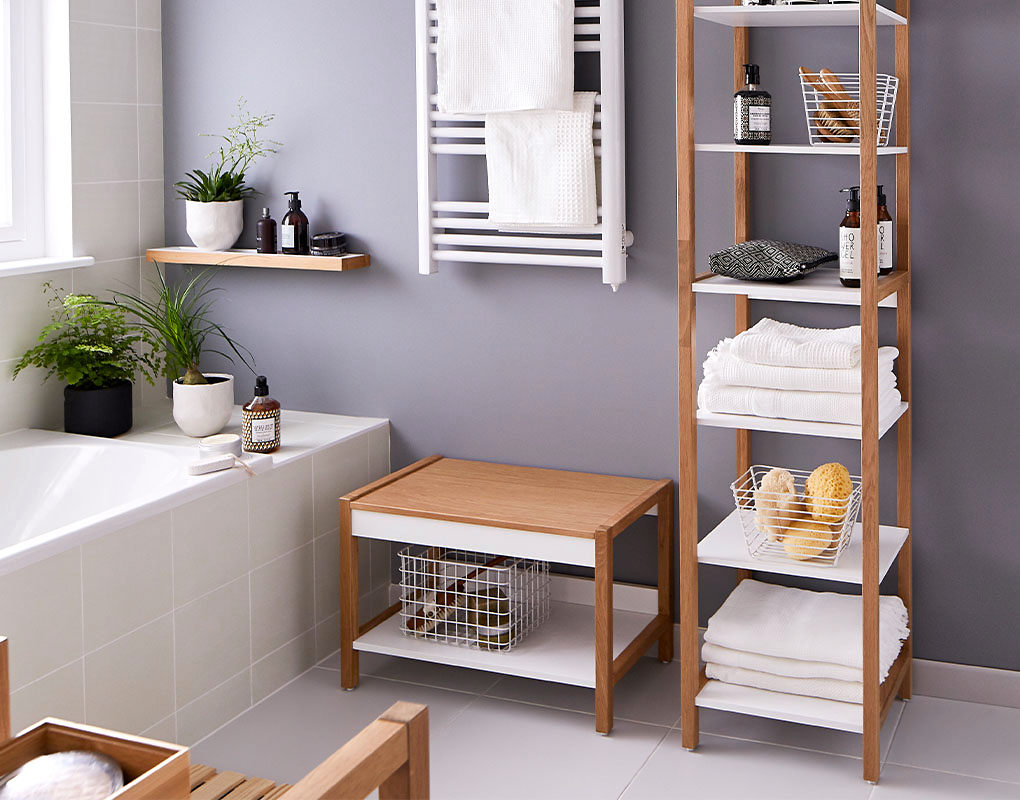 Find freestanding furniture
If you've got the floor space, adding extra furniture can also help solve storage issues.  It doesn't even have to be bathroom furniture: adding a small freestanding bookcase is an easy solution.
Try options that tuck underneath your sink. And if you like rustic styling, why not check out our article on making box cubbies, once you're done finish your completed cubby with a waterproof varnish to protect it from moisture.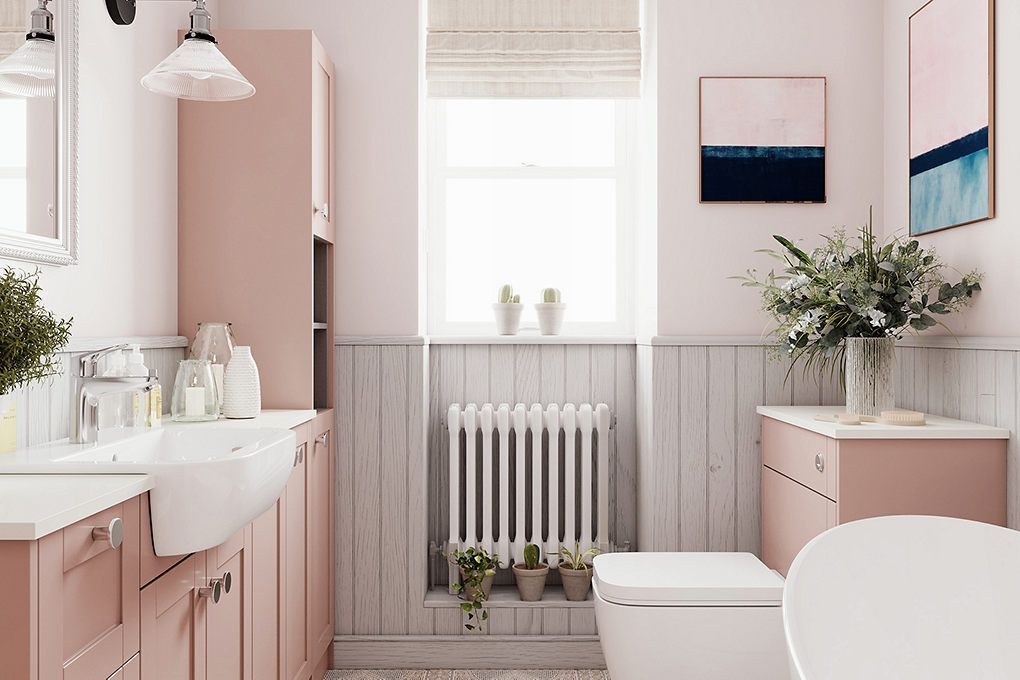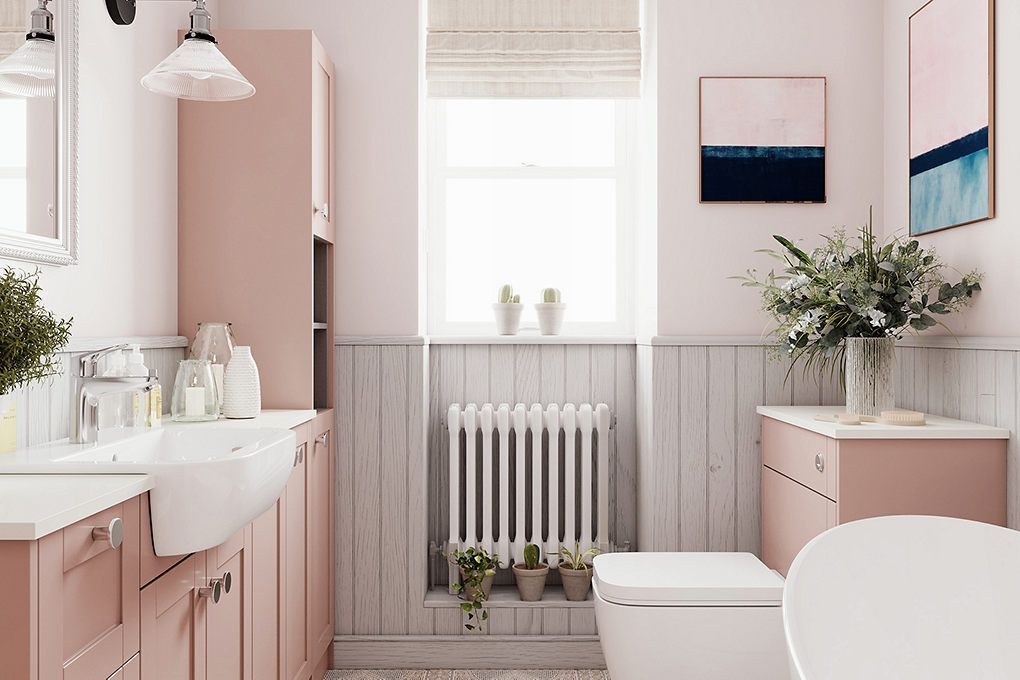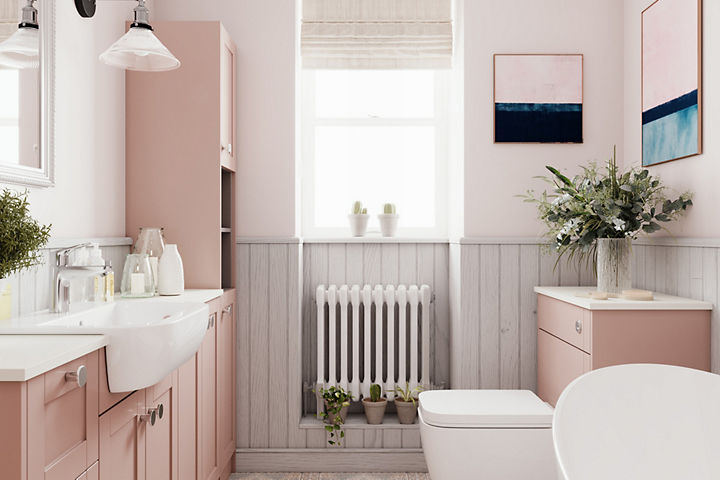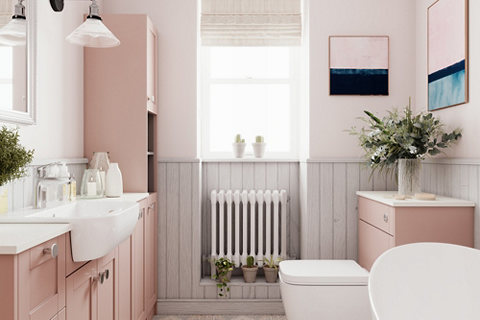 Bright colours
Gone are the days when bathroom furniture was available in just a small number of colours. You can now choose from a huge range of different furniture colours that will help you create a bathroom space that matches your own personal tastes.
Pink bathroom furniture is ideal for someone who wants to create a calming, minimalist bathroom space, but wants to move away from standard white furniture. If you want to go for a darker colour but aren't a fan of black or dark wood finishes, blue is a great option that's compatible with a wide range of different tile and wall colours. Similarly, dark green furniture can bring a natural, relaxing touch to your bathroom.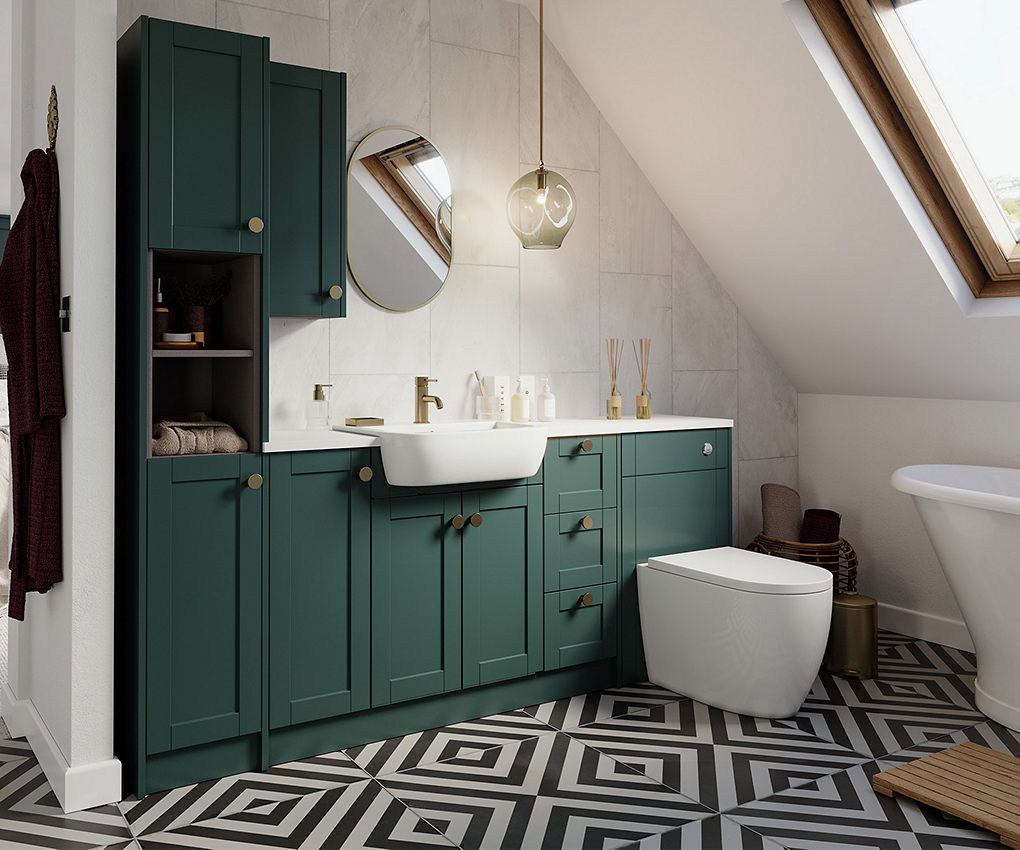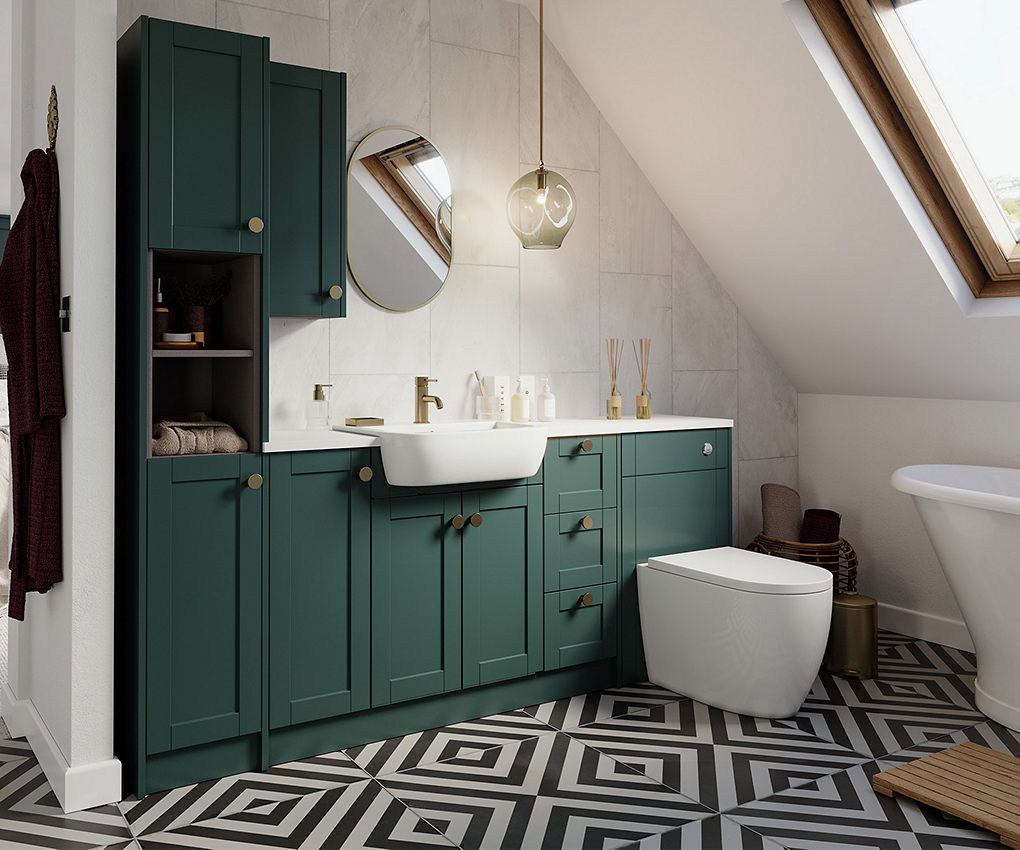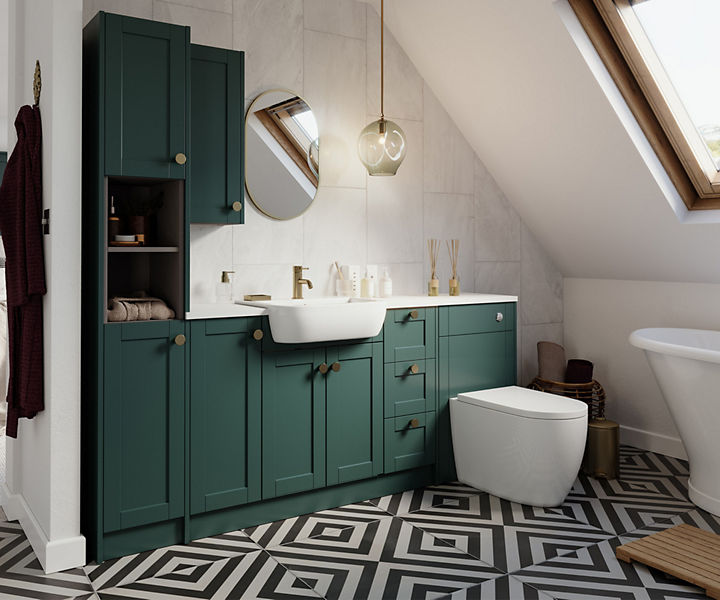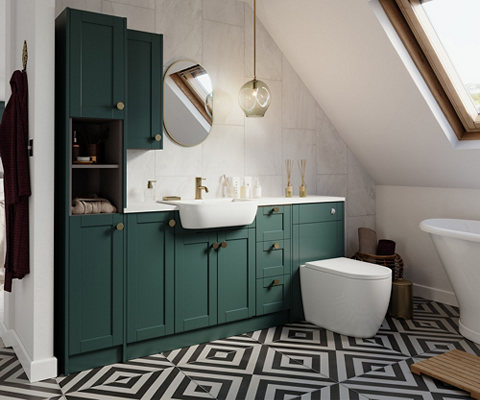 Floor to ceiling units to maximise space
If you're looking to maximise the storage space in your bathroom, it's important to utilise the full height of your walls. Fitted bathroom furniture will help you do this. With tall storage units and wall mounted cabinets that can be installed higher up the walls, you can ensure you're making full use of the space you have available.
If you want help making the most of the space in your bathroom, why not book a planning appointment?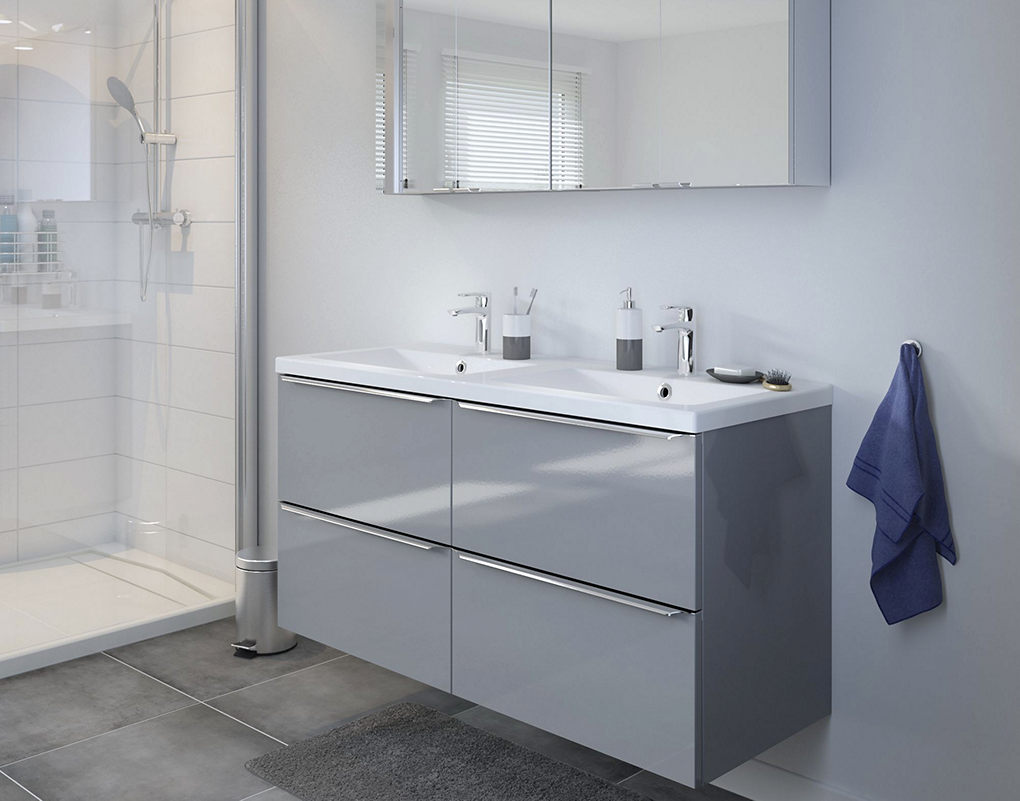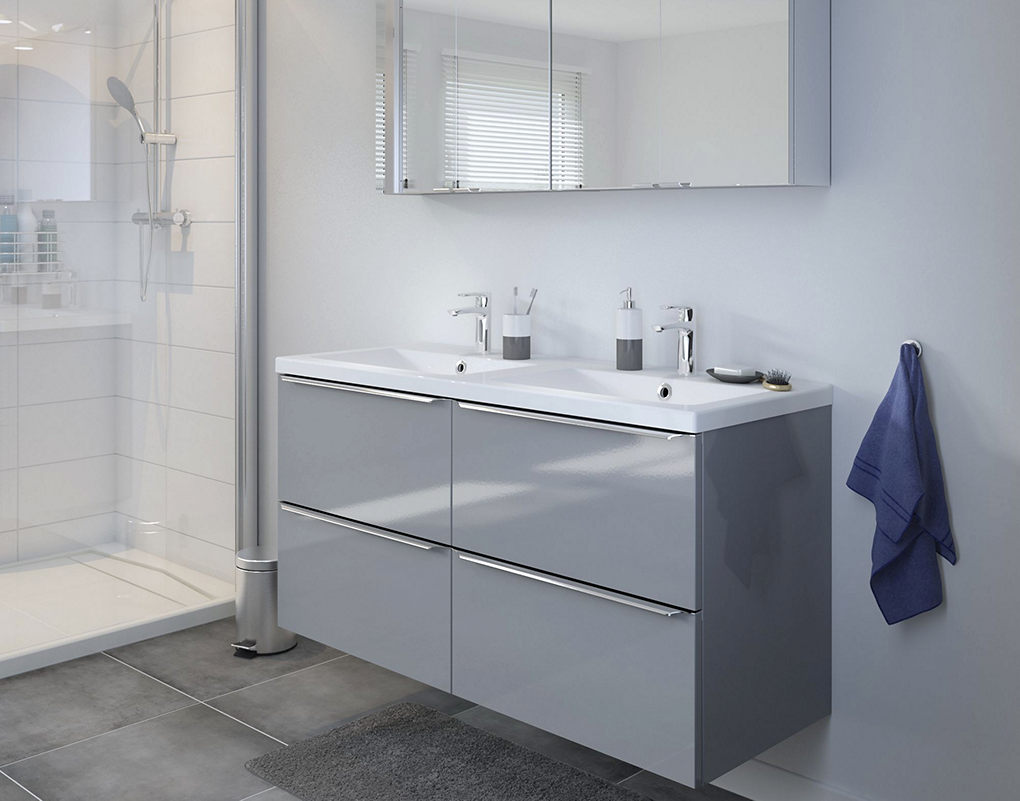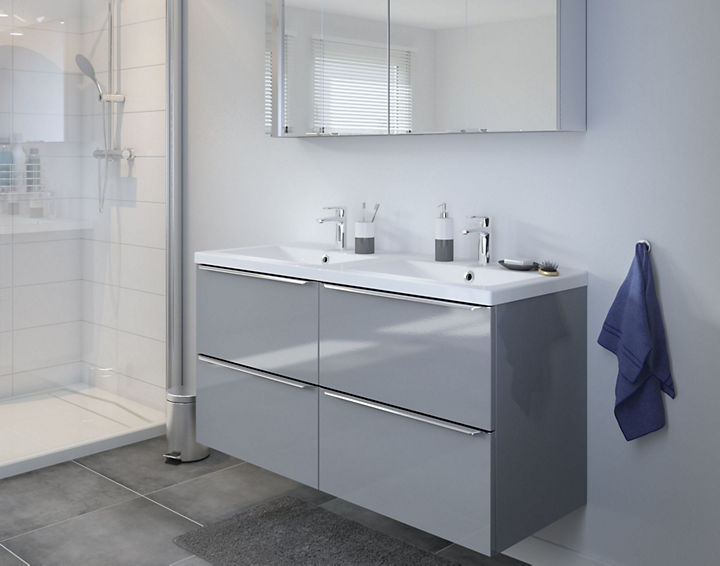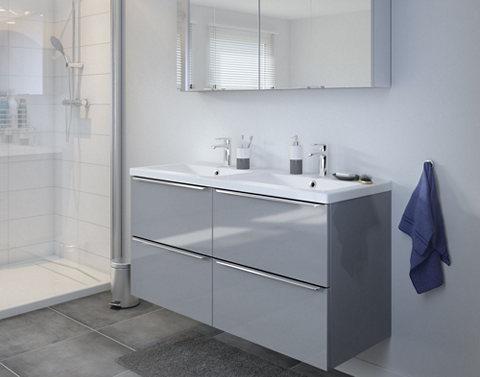 Double vanity units
If you're looking for the ultimate in luxury, a double basin vanity unit is for you. A piece of furniture many would associate with high end hotels, double basin units give you plenty of storage and countertop space. The two basins also make them a popular choice for couples who want their own separate basin for getting ready in the morning. If you have the room but you don't want a combined double basin unit, you could also install two separate vanity units side by side.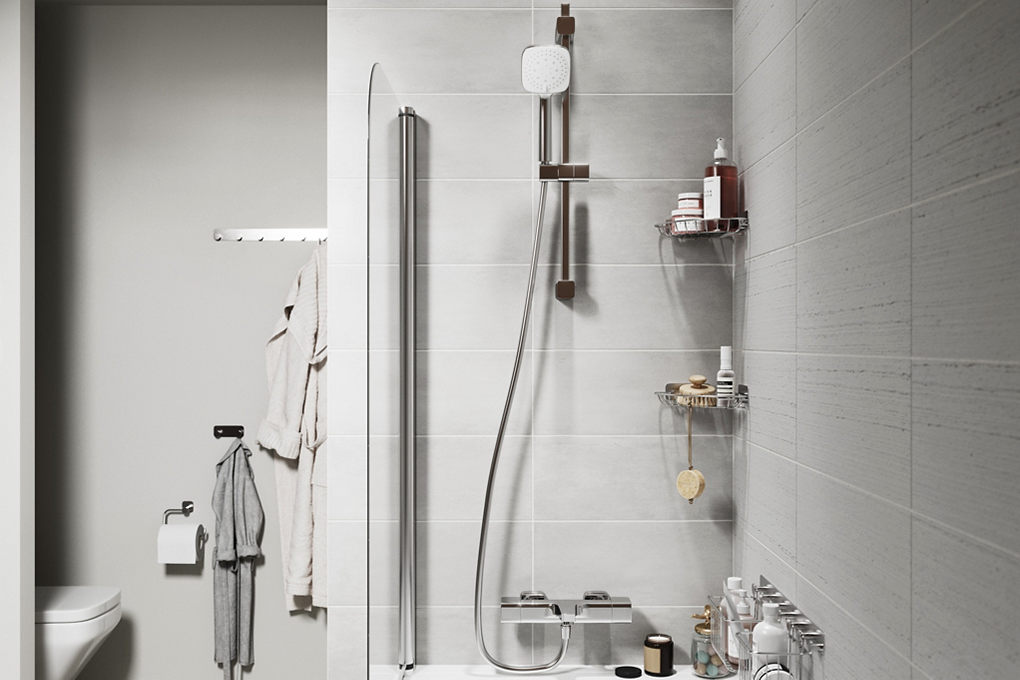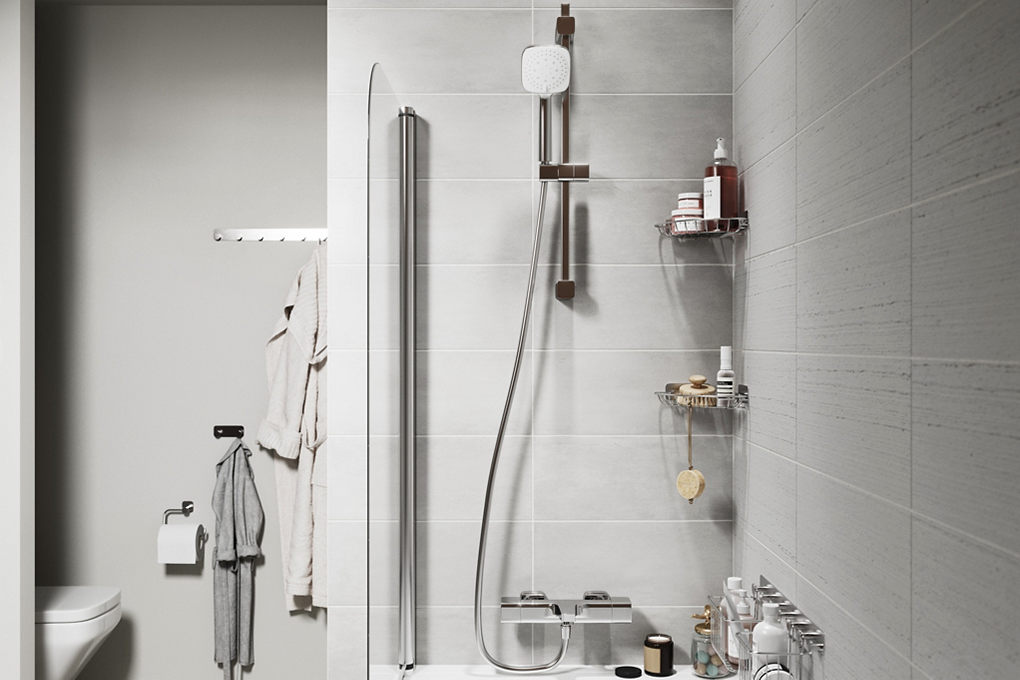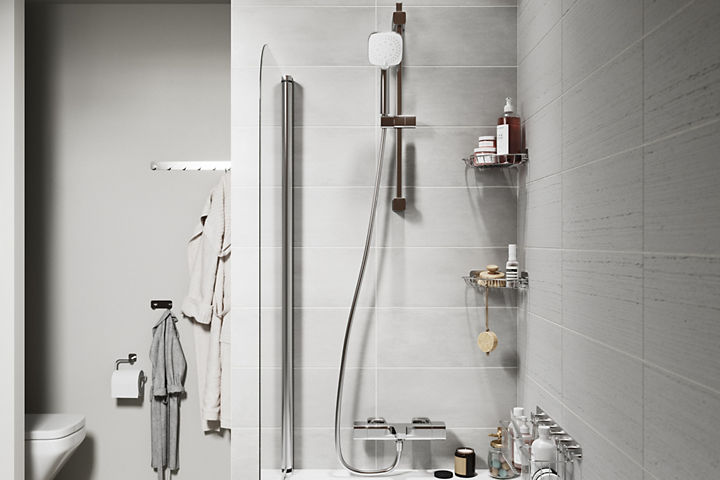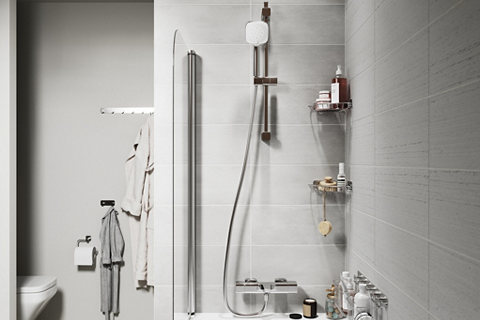 Shower caddies
Showers can be a huge source of clutter in our bathrooms. With a large number of different shampoos and shower gel bottles alongside soap and flannels, the surfaces can quickly fill up. This doesn't just look untidy, but can be a cause of grime and soap scum build-up. Shower caddies and baskets are one way you can stop this. Fitted inside your shower enclosure or around your bath, these are designed to store everything you need, whilst also allowing water to flow through. This can help you keep your shower organised and stop soap scum accumulating around bottles. If you're renting a home and can't fix a caddy or basket to the wall, choose an over the glass caddy that requires no fixings.
Wall hung units for a spacious bathroom
To keep your bathroom tidy, you need to make sure you've got enough bathroom furniture to hold everything you need. However, if you install too many furniture units you can often create a space that feels very cramped and claustrophobic. Wall hung units, as their name suggests, are mounted on a wall leaving the floor space underneath empty. Although a small detail, this can really change the look and feel of your bathroom. More visible floor space will let the room breathe, reducing those cluttered feelings.