Outdoor tiles buying guide
Update your garden with outdoor floor tiles
Our outdoor tile range has been designed in a variety of styles and finishes, making it simple to find something to suit your space. Designed to coordinate your interior and exterior floors to create a sense of space and harmony, choose from wood, concrete or stone aspects.
We'll help you choose the best tile for your outdoor space in our guide, with tips on laying and maintenance too.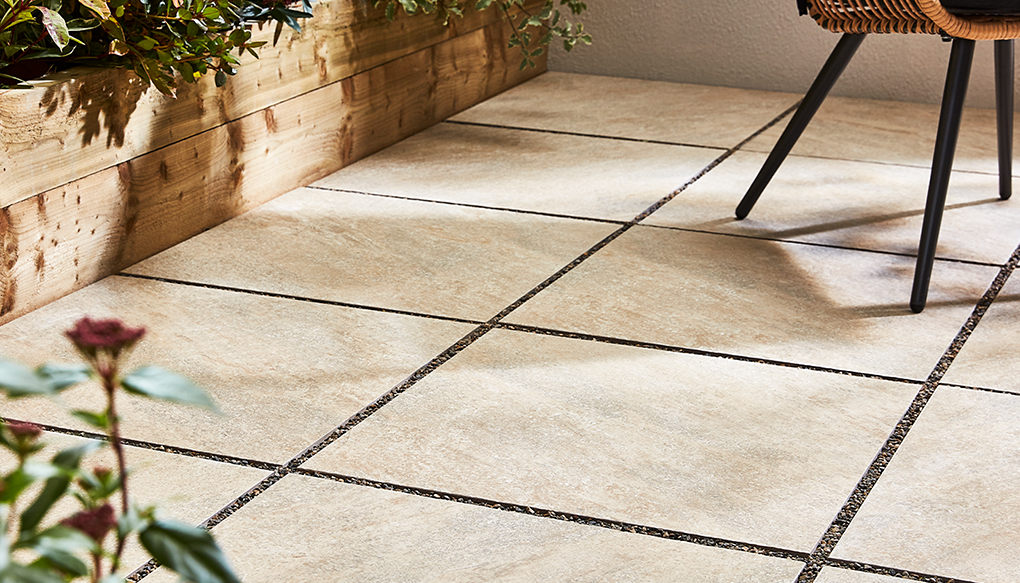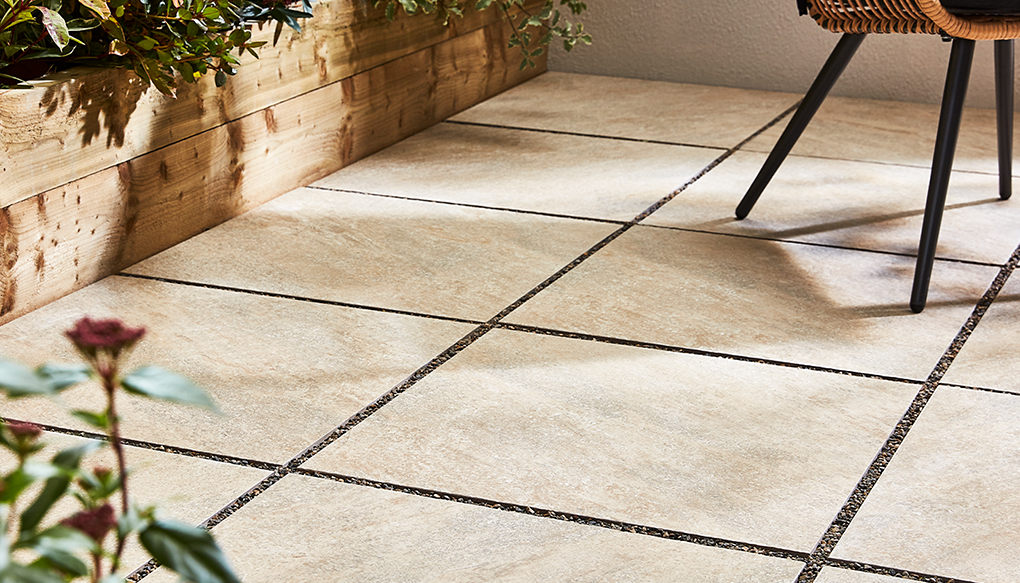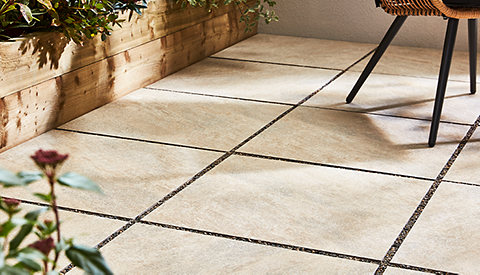 Why choose outdoor tiles?
Our outdoor tiles come in three different effects: wood, concrete, stone – so you'll be able to find a style to suit you, plus the added bonuses that come with it. Outdoor tiles have been designed to be:
Frost resistant: they don't absorb water so if the temperature drops to below freezing, you won't have to worry about the tile cracking.
Stain-proof: they have no little holes that dirt can get into to affect the overall look of them. They'll just need to be cleaned with warm soapy water and occasionally swept to keep them in top form
Slip-resistant: The more textured and matt your outdoor tiles, the more slip-resistant they'll be.
Fade & scratch resistant: Because of how they're made, fired in a kiln at over 1200 degrees, they're incredibly hardwearing. This makes them resistant to scratching and because of this they're also resistant to UV facing. Keeping the tiles colour looking freshly laid for years to come.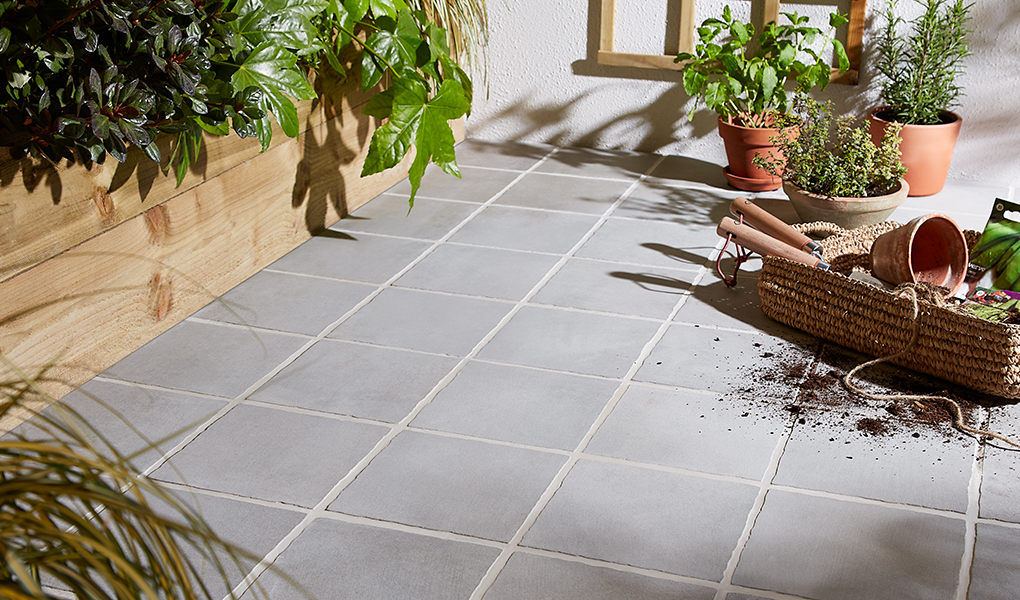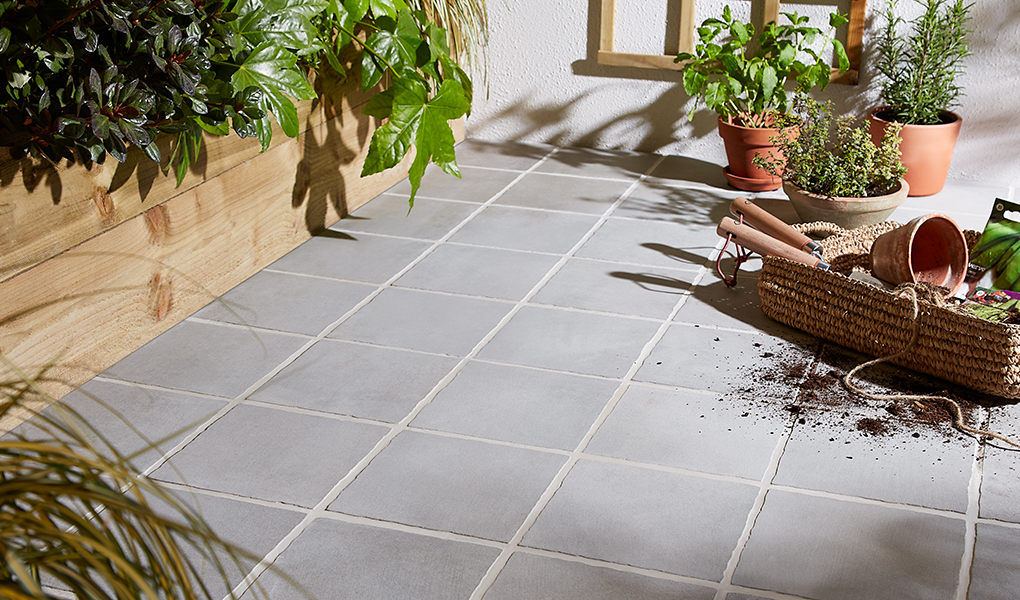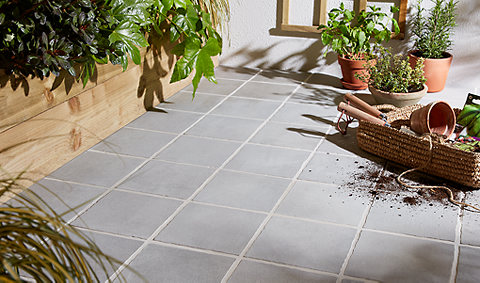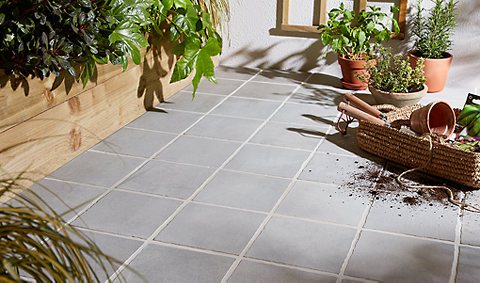 If all of those benefits aren't enough, you'll even be able to create a seamless effect. Using the same style of tile inside your home and then extending it out into your garden, this creates a modern seamless finish in your home. It's ideal for those barbecue evenings in the sun, as you can keep the doors open and make your patio an extension of your home.
When choosing your tiles look for the following information on the products to help you choose the best resistance ratings for your outdoor space.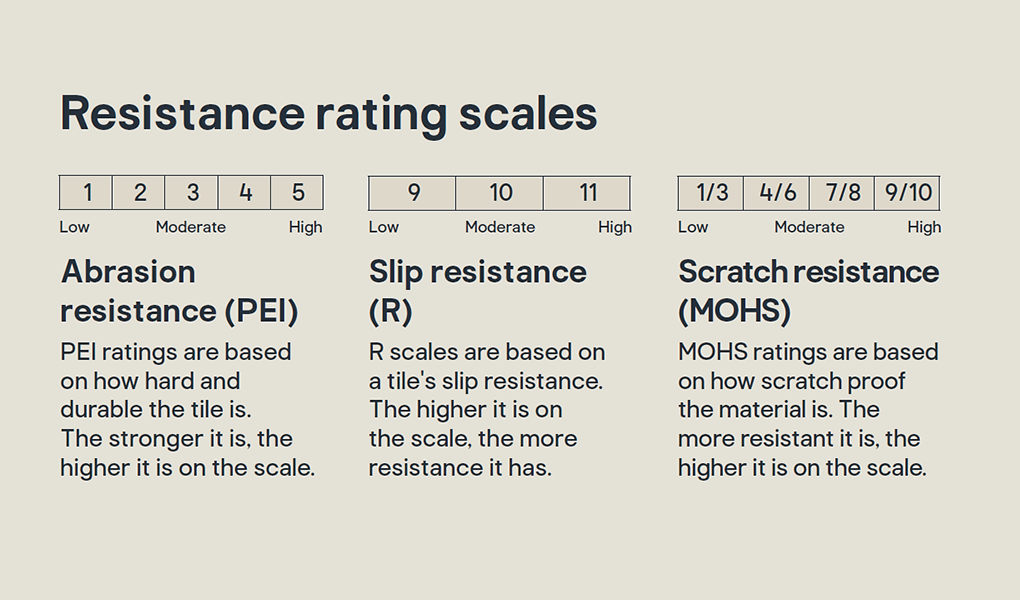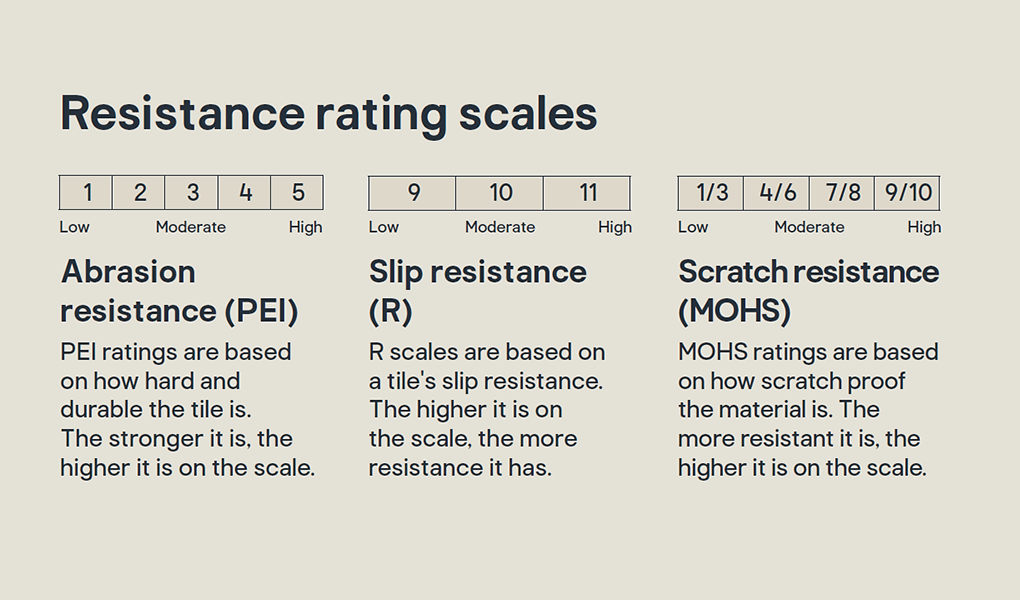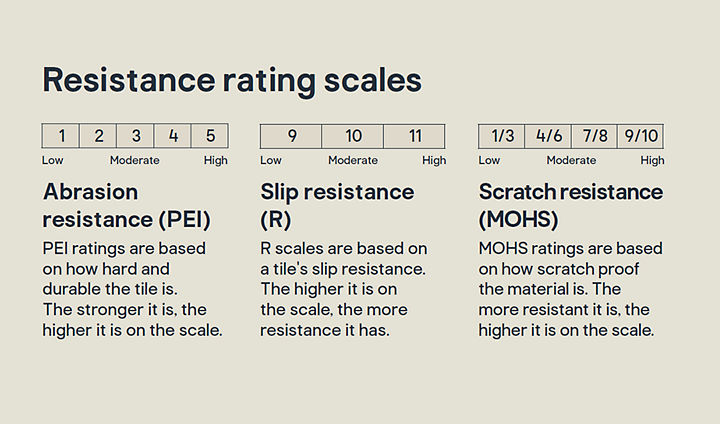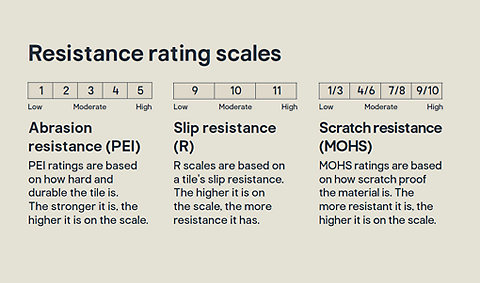 Stone effect outdoor tiles
An elegant, economical option that combines the look of natural stone with the durability and easy maintenance of tile. Available in both glazed and unglazed options, our stone effect outdoor tiles come in rectangle and square so you can select the best fit for your space.
Choose from natural stone or porcelain tiles, which are both water and frost resistant.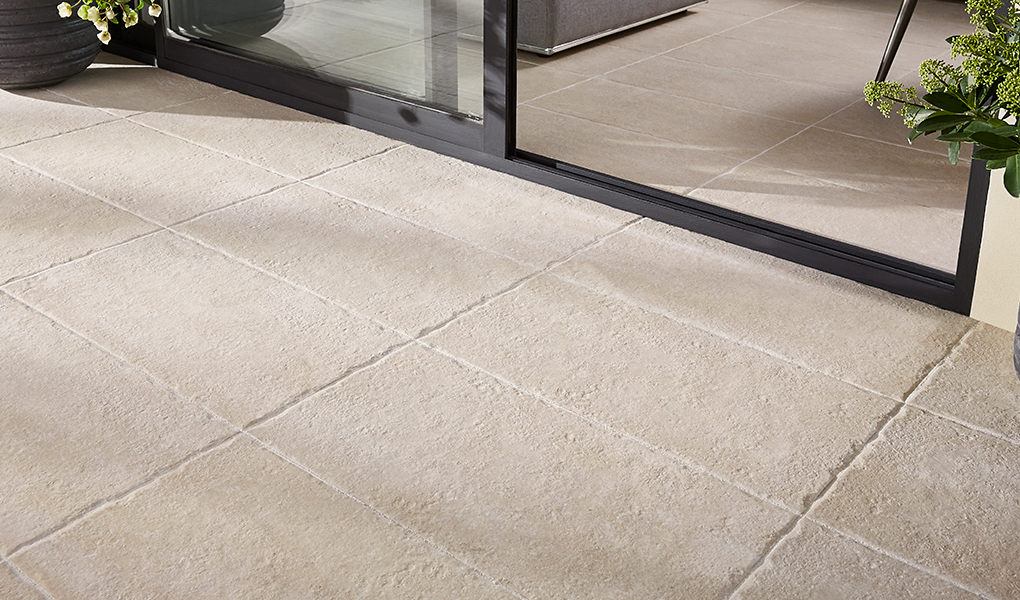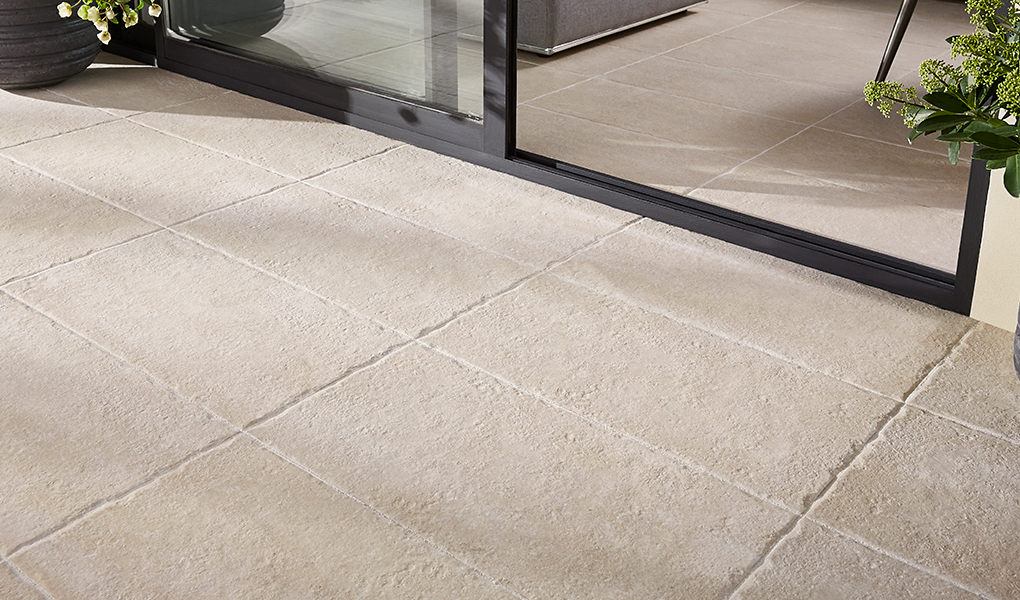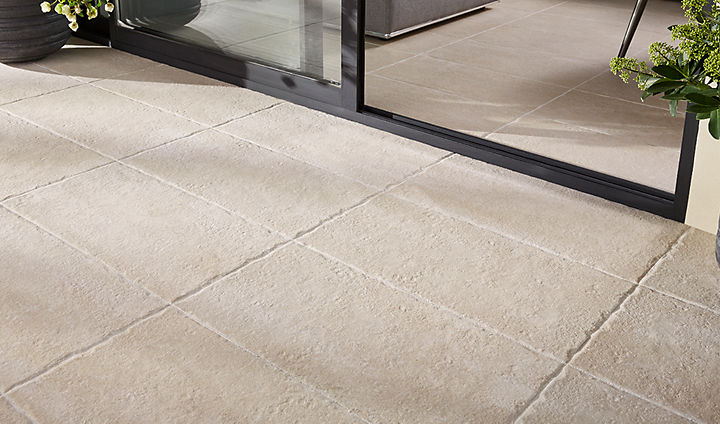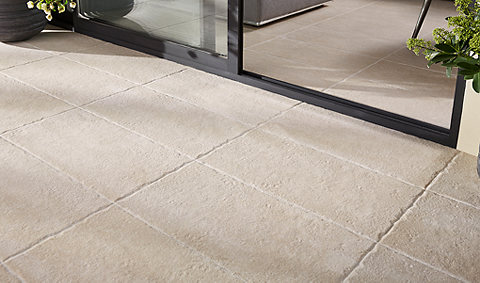 Wood effect outdoor tiles
Wood effect tiles are a great economical alternative to real wood and are much easier to maintain while still providing a warm, natural look. In a selection of colours including anthracite, grey and brown, our wood effect outdoor tiles are all made from porcelain and come glazed for easy cleaning. They're also scratch, water and frost resistant.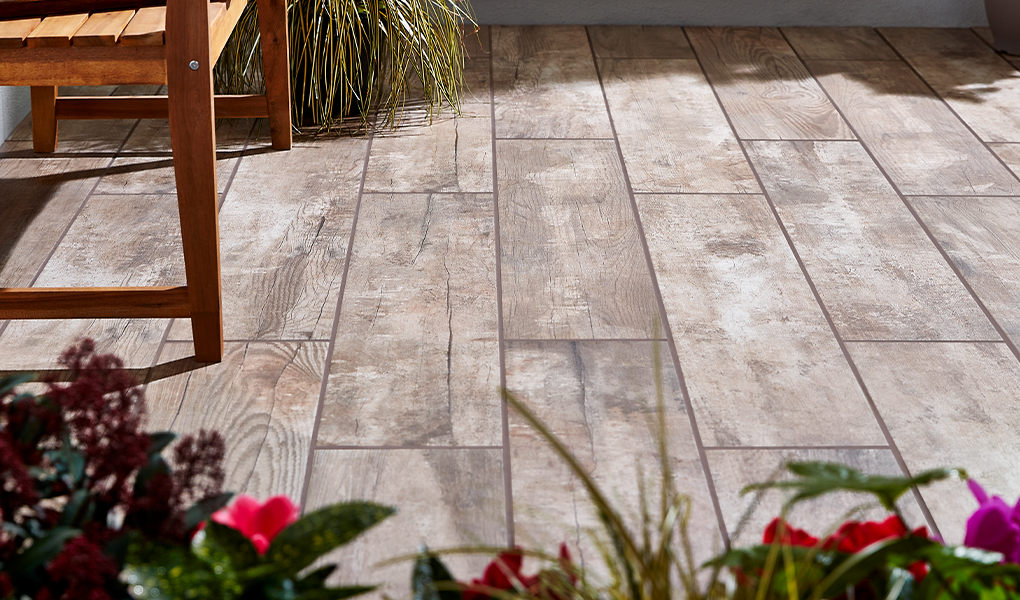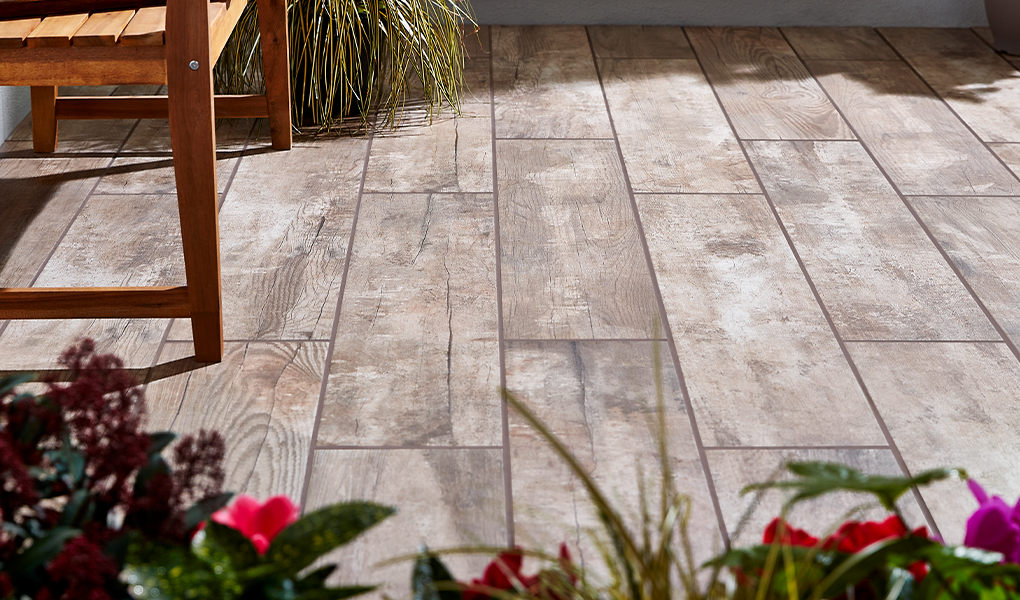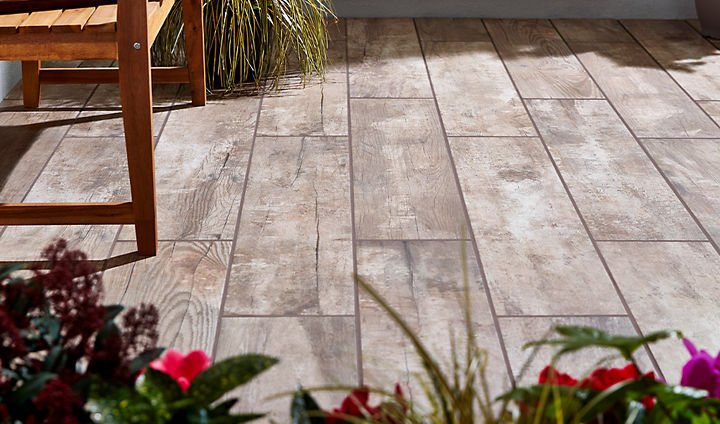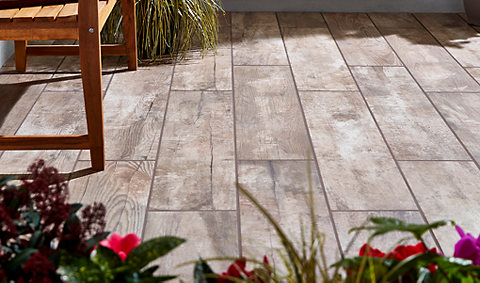 Concrete effect outdoor tiles
A range of tiles designed to coordinate your interior and exterior floors to create a sense of harmony. Extend the authentic, industrial look of concrete to your outdoor space with these large format contemporary floor tiles. Offering a wide variety of designs in a finish that's easier to maintain, these are finished with a matt look, and a smooth texture. Concrete effect outdoor tiles are a safe, slip-resistant option, ideal for wet or frequently used areas.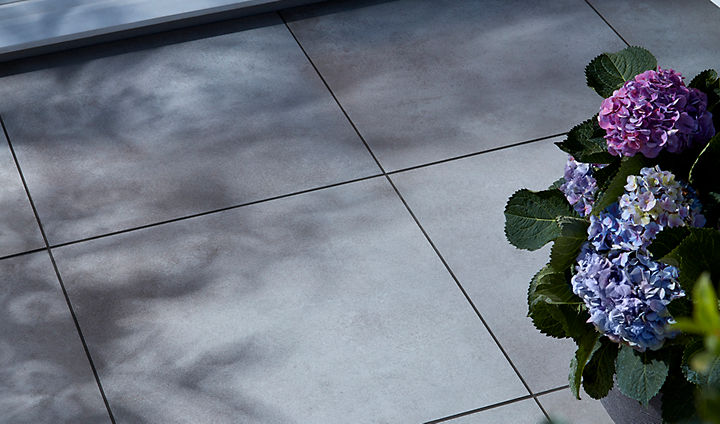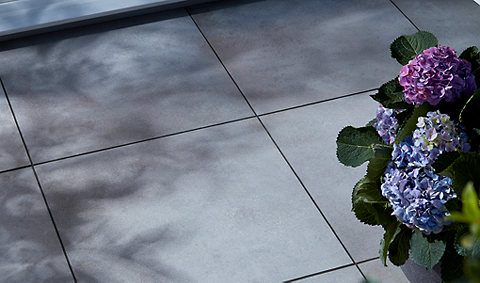 Laying outdoor tiles on concrete
Our video guide will show you just how easy it is to lay our outdoor tiles on a concrete base.
Finish the job
When you're buying your outdoor tiles don't forget the tools you'll need to finish the job.