Hard-wearing and stylish stones for patios, driveways and more
Creating a patio in your garden can give your outdoors a whole new dimension to enjoy. Imagine those alfresco evenings gathered around the table enjoying dinner, or sunny days in the fresh air laid back on a sunlounger.
With our gorgeous range of paving we can help you choose the right slabs to suit whatever design you have in mind, from rustic to modern. Take a read through this guide, packed full of advice to make your decision as easy as possible, we're the experts so let us do the hard work.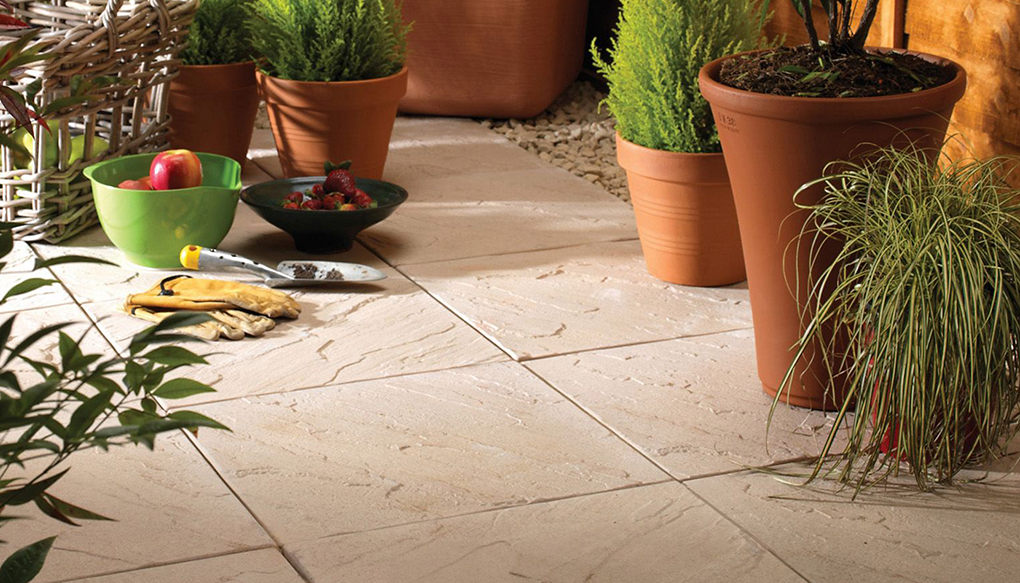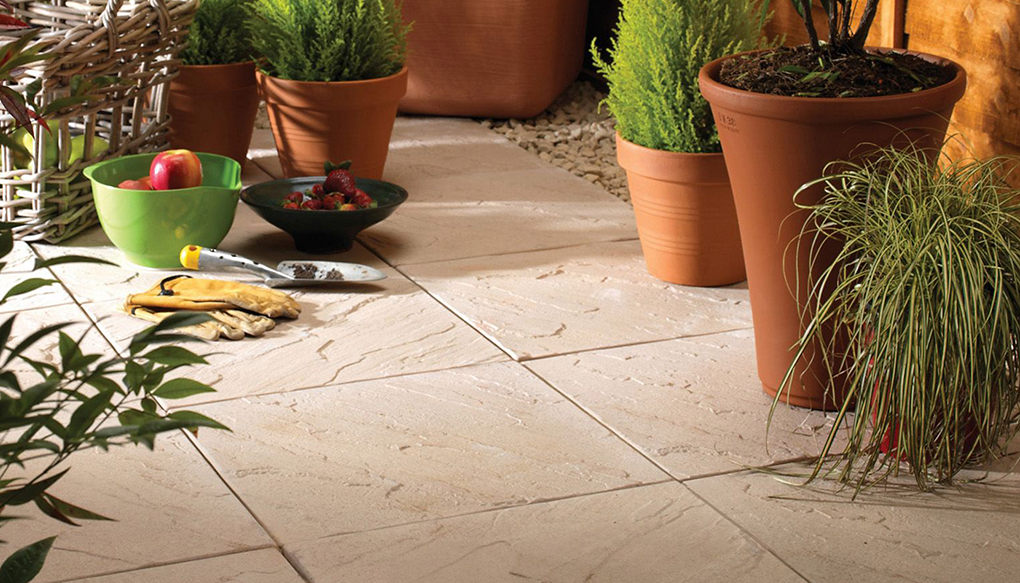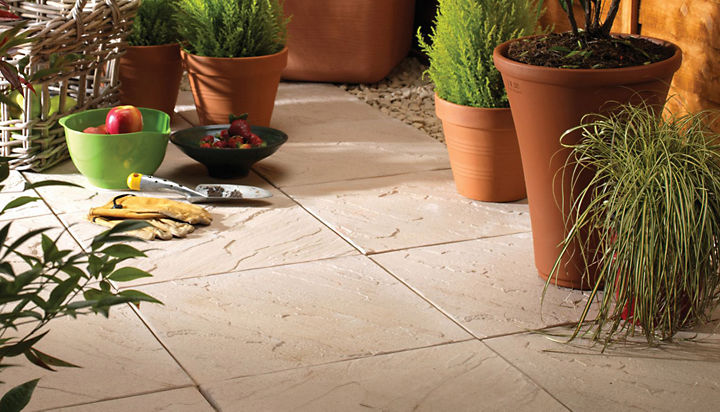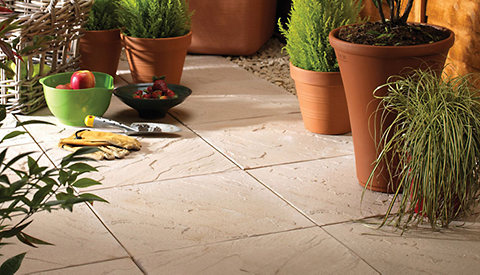 Types of paving
Paving slabs
Paving blocks
Carpet stones
Let's start by looking at what kind of look you want your patio to have, this will help you choose between slabs, blocks and stones.
Paving slabs
Paving slabs are large paving stones which are the most common choice for patios and paths. These are a great way to create a clean look, and cover a bigger space more efficiently.
You can buy our paving slabs in various packs, like single size packs for a uniform look, or mixed size packs to create a more unique style. If you want a circle patio, our circle packs and circle squaring off packs will do the trick.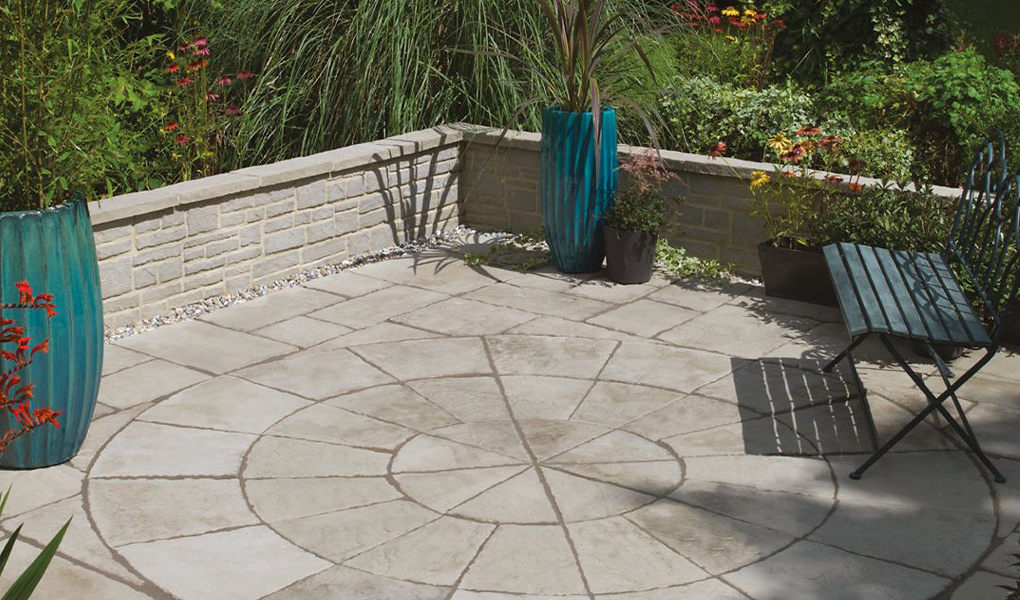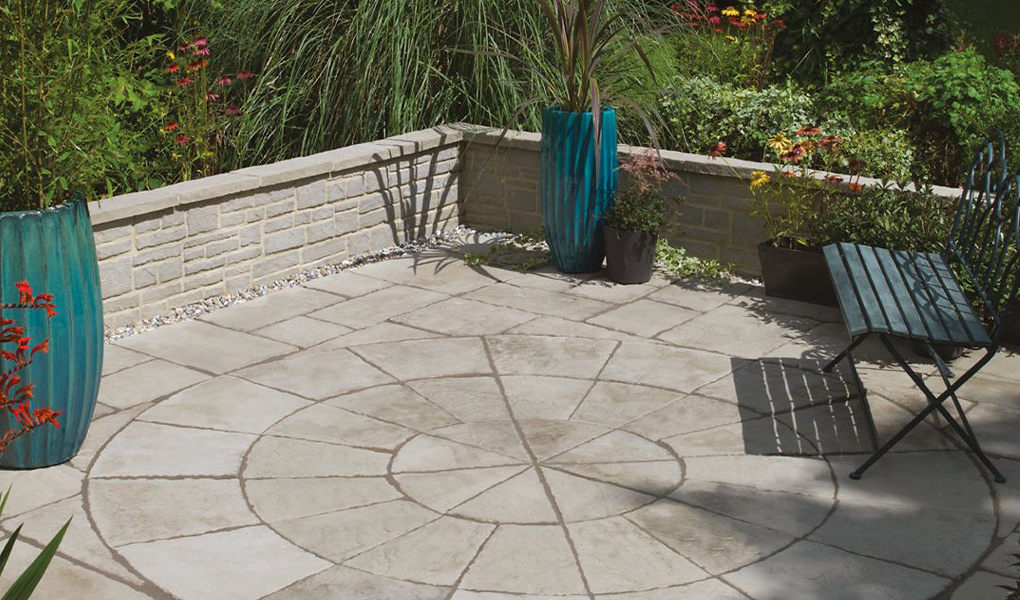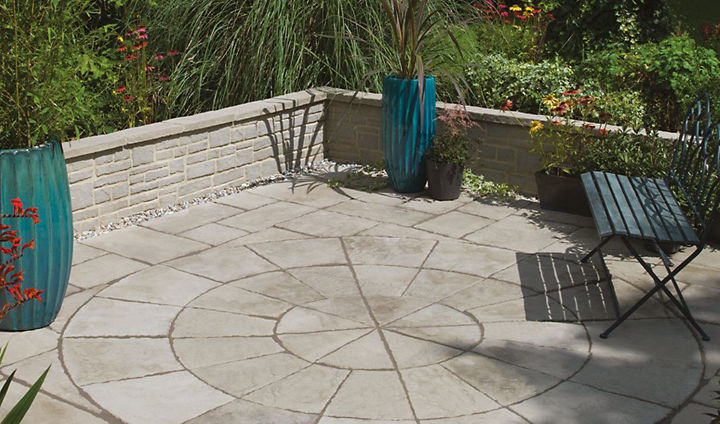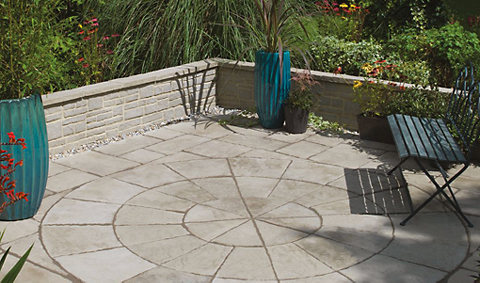 Paving blocks
Paving blocks are shaped like bricks and so are commonly known as block paving. They're smaller and thicker than slabs, so they also work well as decorative edging around patios. You can buy our paving blocks in packs of single sized or mixed sized bricks depending on how you want your patio to look.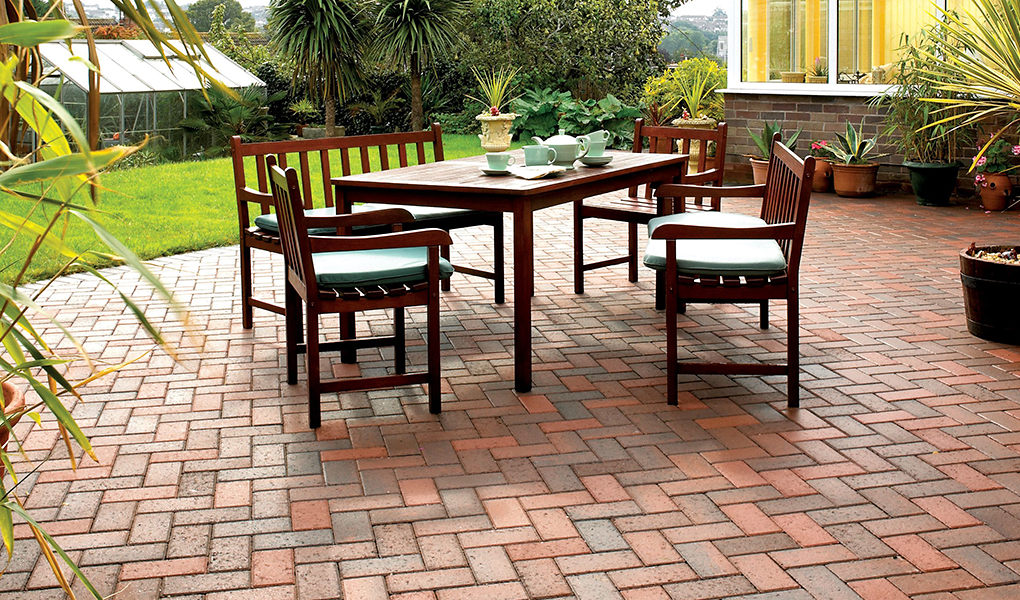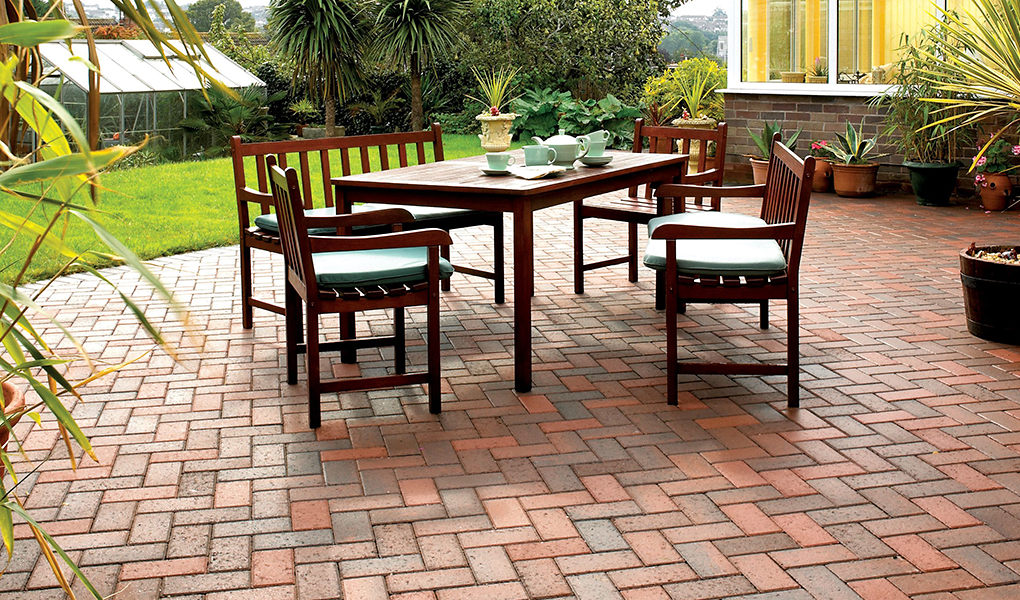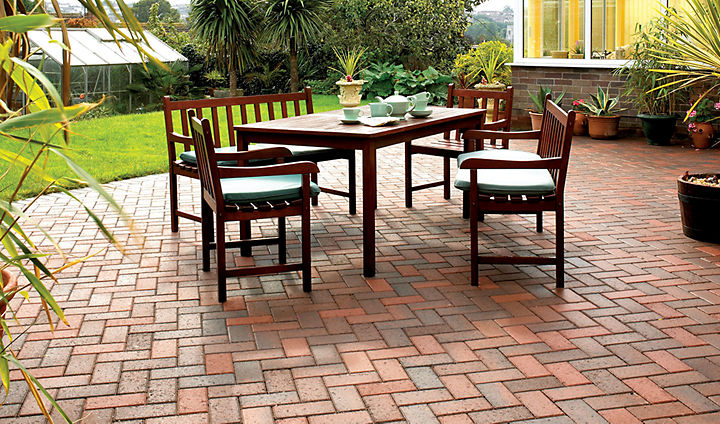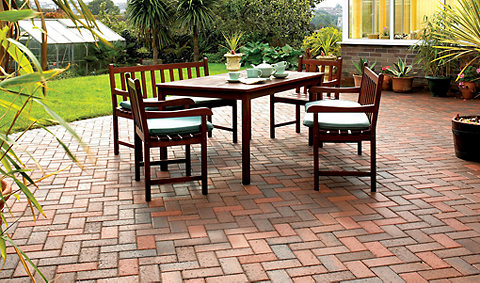 Carpet stones
Carpet stones are stone cobbles pre-laid onto a flexible mat which you can trim to the size and shape you want. They offer a simpler way to achieve a rustic, cobbled look without having to individually lay each stone. Carpet stones are also ideal for awkwardly-shaped areas, such as curving garden paths and around garden ponds.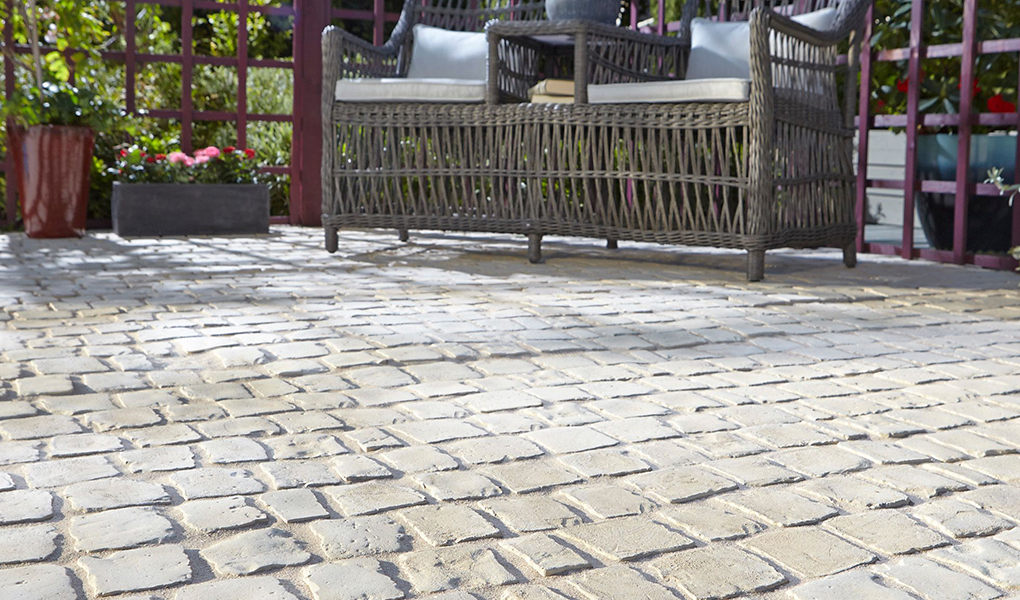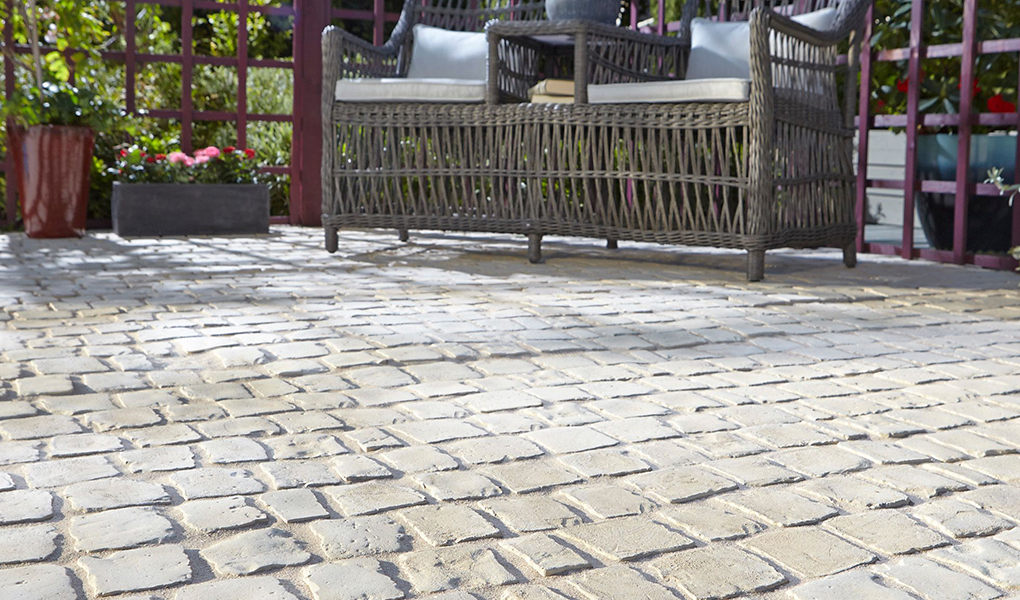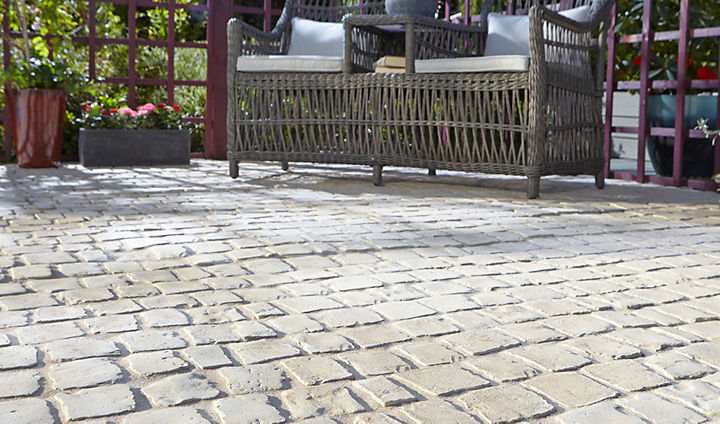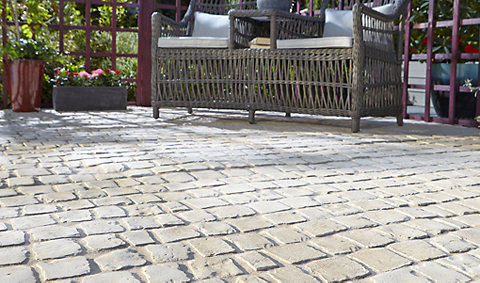 Garden stepping stones
Consider laying some garden stepping stones. These work well set into lawns, gravel or even in borders between your plants, offering a flat and stable surface for garden paths. They also add a distinctive feature to any outdoor space.
Paving materials
Porcelain
Natural stone
Natural granite
Natural limestone
Natural slate
Natural sandstone
Concrete
Now you've got a design in mind, it's time to take a look at what options you have when it comes to materials. Your paving stones can be made of porcelain, natural stone or concrete. Let's look at the differences between them and help you choose.
Porcelain
A contemporary material that requires little maintenance. It's fired up to 1400 degrees Celsius to offer strength and durability. It's impervious to colour fading and is also scratch-resistant. Choose between two porcelain ranges - Mode and Madera (pictured). The Madera offers all the warm beauty of real wood without any of the hassle.
Natural stone
Our natural stone is: - Made from 100% natural stone - Unique and individual – being a natural material, colours and patterns can vary piece to piece - Responsibly sourced - Hard-wearing and durable – making it a great investment that will last for years - Strong – our paving slabs are less prone to crack or break when handled compared to other materials and frost-tested to endure cold winter weather.
Natural granite
Celebrated for its strength, granite is incredibly resilient making it a great option for heavy traffic areas. The paving slab range is offered in stylish greys and four sizes including the large aspect 900 by 900millimetre (mm). There are three choices for complementary setts.
Natural limestone
Make a real statement with your paving thanks to limestone. This boasts natural veining and a consistent colouring across slabs which give the stones a sleek and tidy look. Also offered as a garden stepping stone in blue/black.
Natural slate
Packed full of character, on-trend slate is an increasingly popular choice. Hand-riven and diamond-sawn, it's offered in two finishes: a soft blue/black for the modern outdoor space and a multi-coloured one for more traditional gardens.
Natural sandstone
Known for its tonal variations, differing riven profiles and natural veining, sandstone injects rustic style into any outdoor space. We offer it in a variety of colours. Look for circle packs to create a focal feature that's perfect for country and cottage gardens. Partner with matching setts and garden stepping stones.
Concrete
Concrete is a man-made product that replicates the look and feel of natural stone. Also known as reconstituted stone, engineered stone, artificial stone or cast stone as it's cast in specially made moulds. Concrete is a popular and budget-friendly option.