Hard-wearing and attractive options for paved spaces
For an attractive, functional and long-lasting addition to your garden or driveway, add some paving. Whether you're looking to create a patio area, transform your outdoor space into a courtyard or add a driveway, paving is a great choice. It doesn't have to be a completely paved area, why not create a path through your lawn or add some steps to a turfed slope? And once in place, this durable landscaping option is virtually weatherproof and will require very little maintenance.
With options in a wide selection of colours, tones and textures, our range offers country charm for traditional gardens and modern designs for more contemporary-themed spaces, or mix and match to create your own signature style. Find out more with our buyer's guide to help you find the ideal paving solution for your home.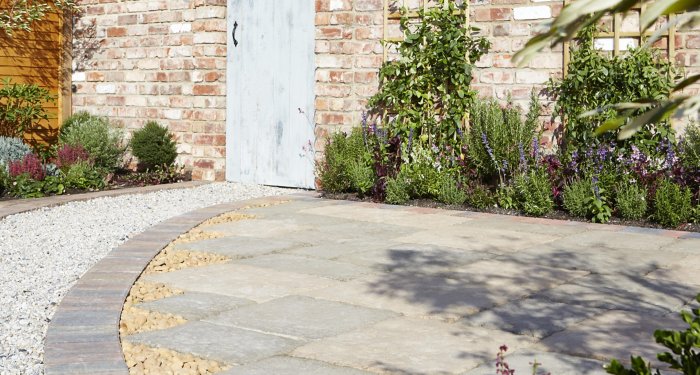 What will the paving be used for?
The thickness of a paving slab or block defines where it can safely be used or what can be put on top of it. Thinner options are fine for foot traffic and seated garden areas such as patios and courtyards, while the thicker ones are better suited for vehicles or structures. Block paving is designed for driveways due to its thickness and plan size, while British standard paving is perfect as a foundation for garden buildings (like sheds and greenhouses) thanks to its smooth, even surface and robust construction.
If looking to create a more modest paved area, such as a pathway across a lawn, gravel, or flower bed, opt for a smaller block. Paving slabs work well here, and you can choose to either coordinate with other paved areas or introduce other sizes, colours or materials for a more quirky design. Or consider garden stepping stones. They offer a more delicate look and when laid with gaps in between them, make an attractive feature for any garden.
Are you starting from scratch or replacing what you have?
Either way, before you start your paving project, take the time to measure up your space and work out the amount of materials you'll need. Always be sure to get an extra 5% to cover any wastage as well as potentially give you spare blocks in case any are broken and need replacing.
Work out how many blocks you'll need with our paving calculator, and check out our how to guides for step-by-step expert advice on how to tackle your paving project.
Paving calculator Paving ideas and advice
Articles