Hard-wearing and stylish stones for patios, driveways and more
Looking for durable, long-lasting and attractive landscaping for your garden or driveway? Consider paving. Paving stones (also known as pavers) are fantastically versatile. Lay them to create a garden patio, parking space in a driveway or a garden path. Lay new stones to overhaul an existing paved space or introduce a new one. And it doesn't have to be a completely paved area, why not create a path through your lawn or add some steps to a turfed slope? Once laid, this low-maintenance landscaping is virtually weatherproof and will look great for years to come.
But where to start your paving project? In this guide, we'll talk through the different types of paving stones available as well as some of the features to look out for to help you find your perfect paving.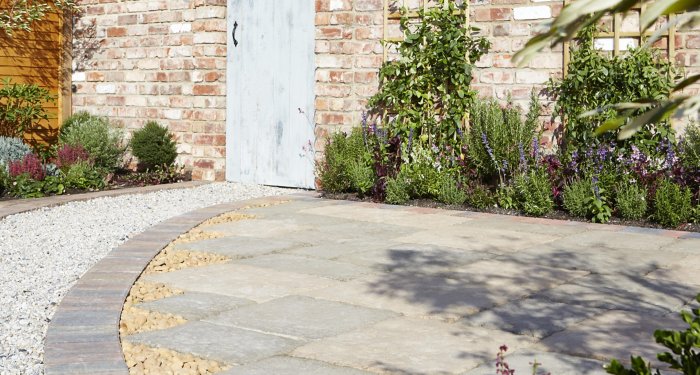 Types of paving
We offer a variety of ways to create outdoor paving. These paving types are:
Paving slabs
Paving blocks
Carpet stones
Paving setts
Garden stepping stones.
All of our paving slabs, blocks and carpet stones are offered as singles or in multipacks. Singles are only available in-store or by using our bulk delivery service.
Circle packs and circle squaring off packs to design an attractive circle feature.
Paving materials
With the types of paving considered, it's time to think about the materials available. There are three options here - porcelain, natural stone and concrete. How to choose between them?
Our natural stone options include:
Paving features
Look for other distinctive qualities of our paving stone ranges.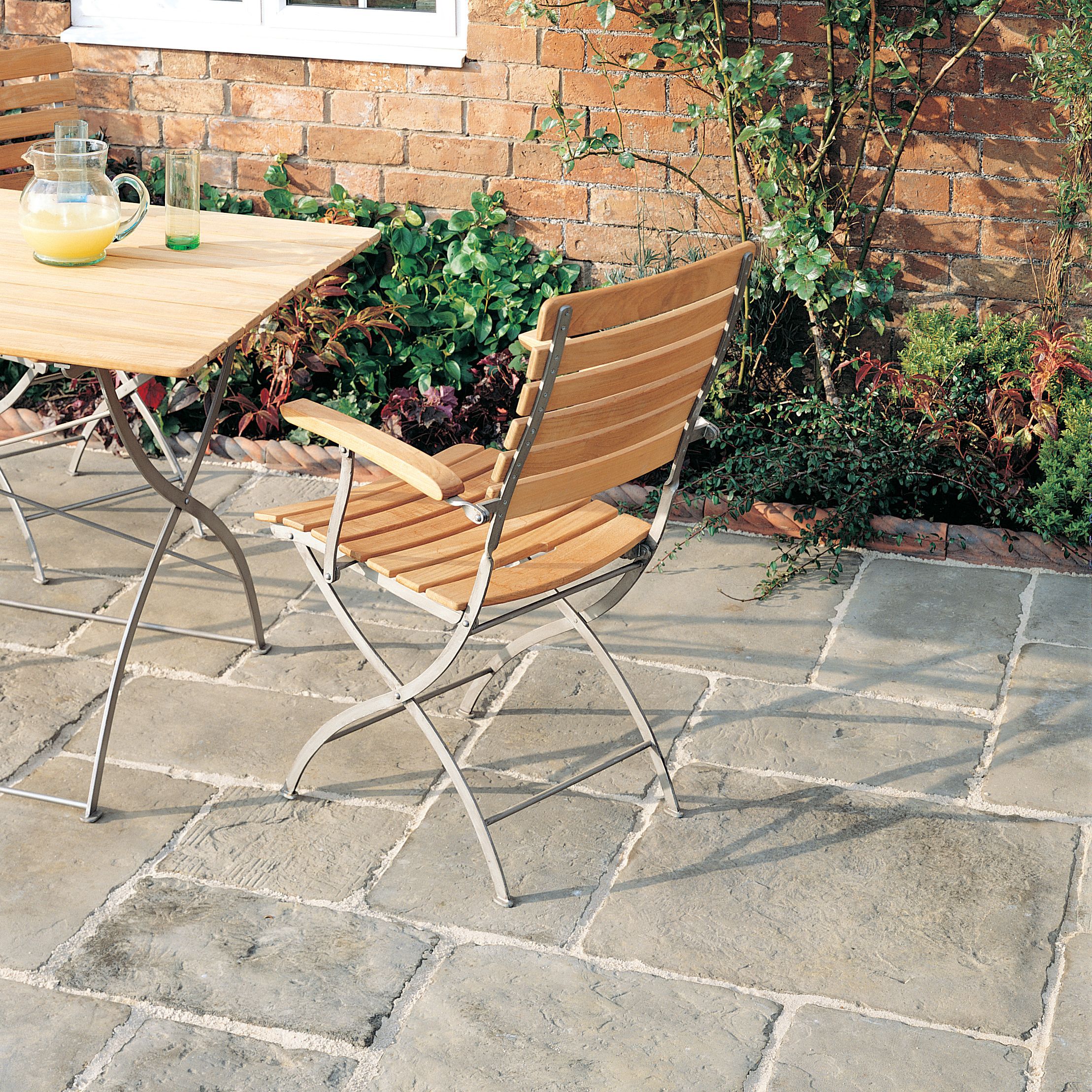 Paving stone profile
A paving stone's profile is the outline shape of its surface when viewed from one side. Choose between three paving profiles - smooth, riven and textured.
Smooth profiles are completely flat, level and even. Their sleek style suits contemporary gardens or more functional uses (such as being laid as a shed base). Look out for stones that are cut on each of their faces. This is known as a six-sided sawn stone or one that's been sawn six sides. These combine a smooth profile with straight edges for the ultimate in clean, contemporary paving.
Riven profiles (pictured) have been split, creating an outline that is uneven, rugged and irregular. This rustic appearance creates a weathered, authentic look that makes the stones seem as if they've been in place for years. If opting for concrete, look for paving packs that include a variety of riven profiles. This helps achieve that random, natural look even when laying manmade slabs. A favourite in traditional-style gardens, riven profiles range in how uneven their surface is, so be sure to select suitable paving for your needs.
Textured profiles are often described as looking sandblasted or stippled. They offer greater slip resistance than smooth profiles, and work well in contemporary-style gardens to give a uniform appearance to your paving.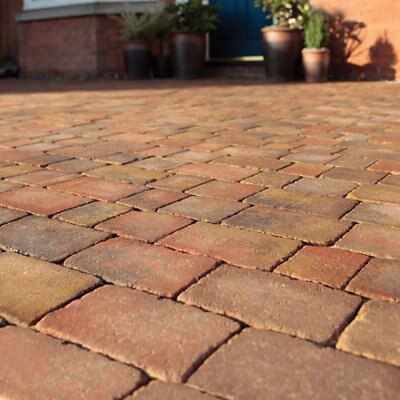 Paving stone finish
The paving stone's finish is the texture of its surface or face. Essentially this ranges from smooth to coarse. Ones with a little texture or roughness can help prevent slips when walking on, while others are distressed to affect a weathered look. One such example is our Woburn Rumbled Paving Blocks (pictured) that are rumbled in a large rotary drum to look rough and pitted.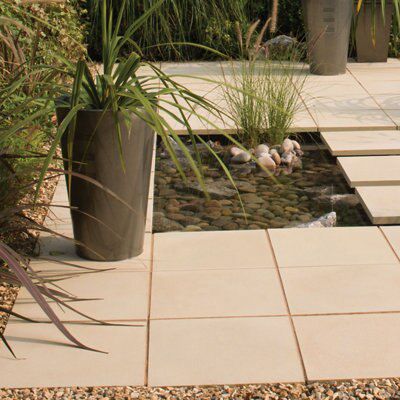 Paving stone edging
The difference between edging styles may be subtle, but they can make a big difference. Take a look at:
- Straight edges (pictured) – these create a regular, symmetrical and tight join between stones that is also known as square edges. Natural stones are sawn by machine to create these crisp edges, with some using diamond blades for the neatest finish.
- Fettled edges – this irregular finish offers a more natural appearance than straight edges. Traditionally it occurs from using hand tools to dress the edges of the paving stone after it's been cut in the quarry. These edges work well with riven profiles to suit country gardens.
- Pencil edges – this style features a very small chamfer at the edge of the stone. Introduce this sleek look with our Driveflair block paving.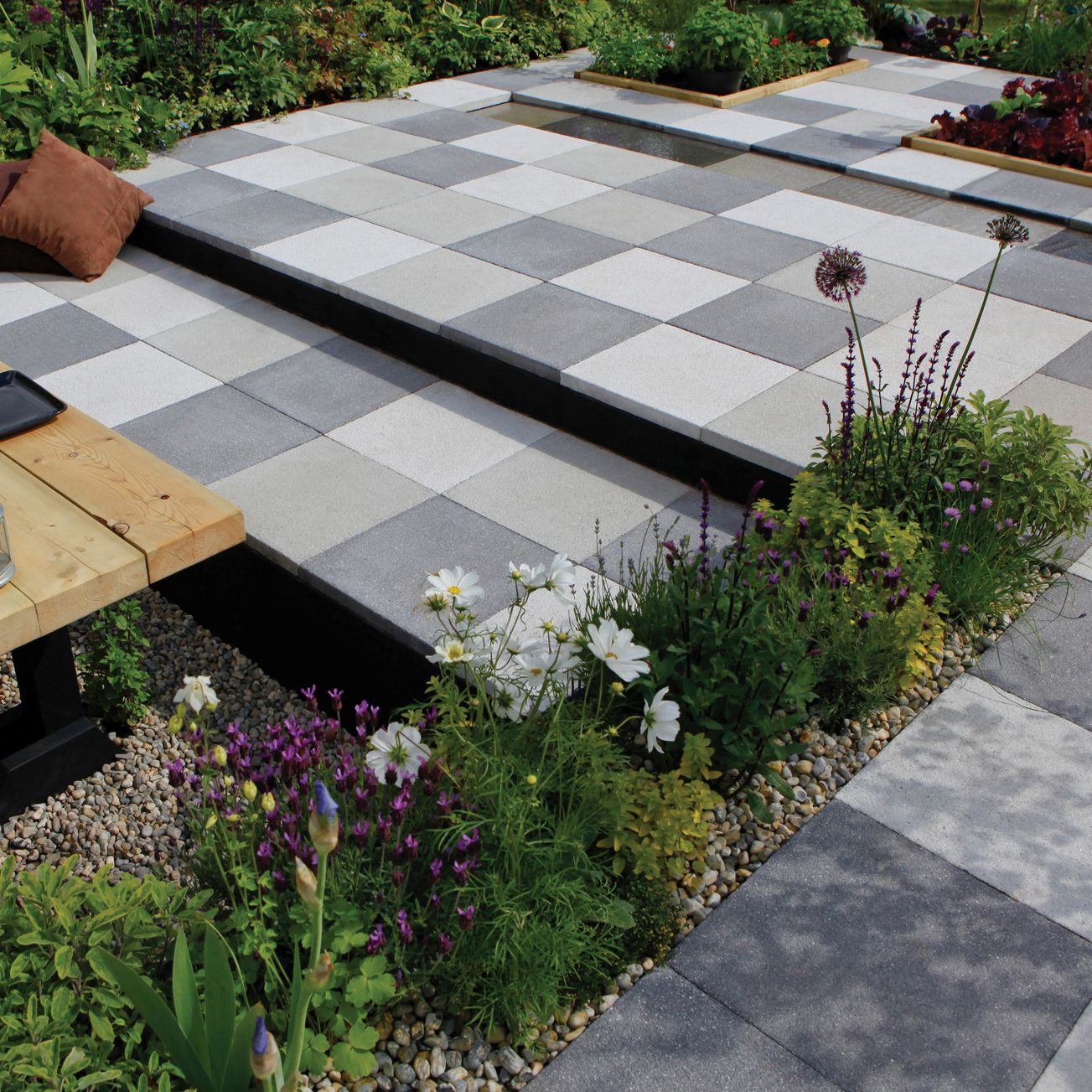 Paving stone colour
Whatever your outdoor colour palette, we've a paving stone colour to suit. From cool on-trend greys to warmer, richer tones, as well as the traditional red brick. Opt for ones that will naturally blend into their surroundings for a subtle effect, or go bold with brighter shades to ramp up the colour. For a truly unique look, mix and match different shades. Many of our ranges offer complementary shades so work them all into your paving for something truly eye-catching.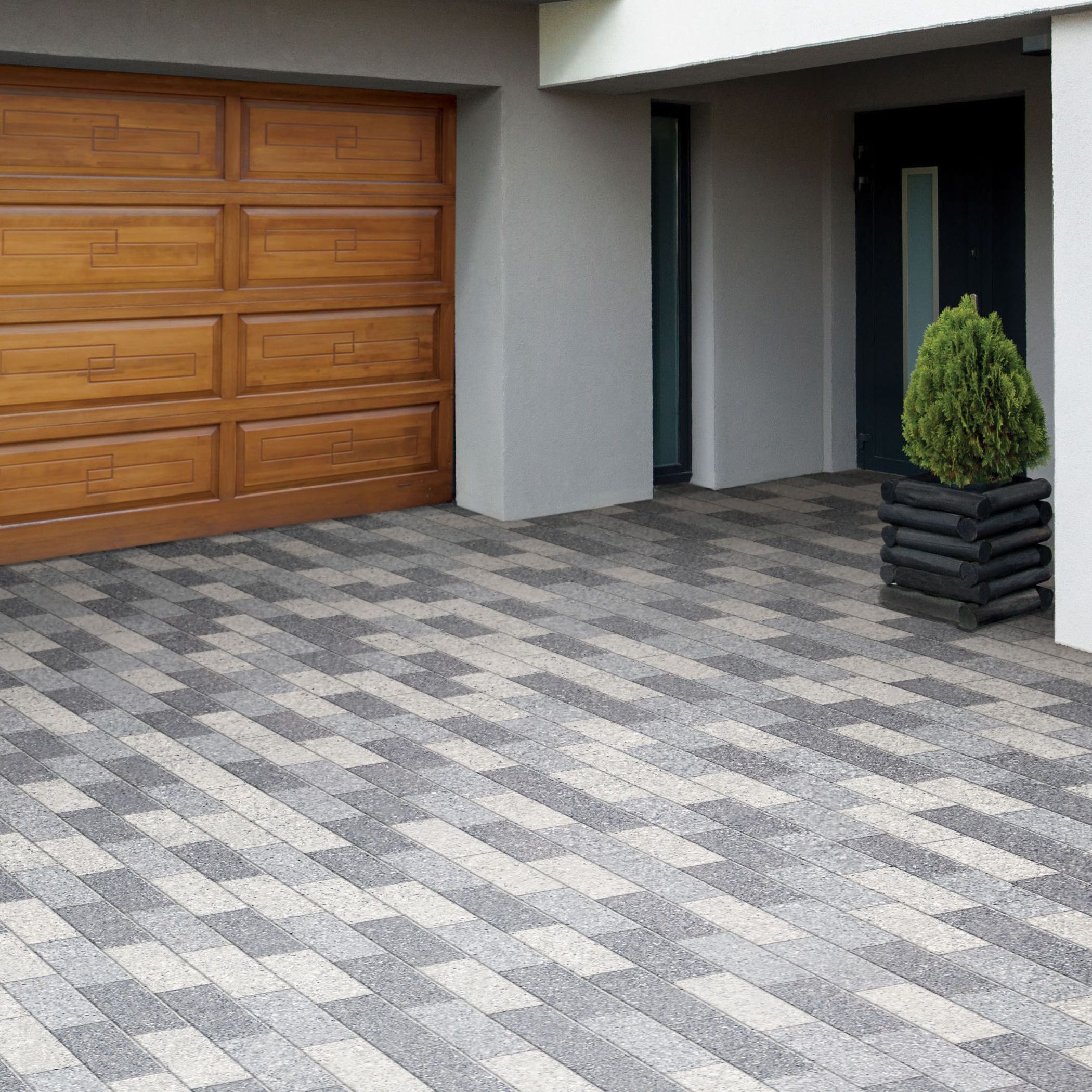 Paving stone size
Our paving selection offers a wide choice of sizes to suit any outdoor space. Go big with large formats or scale it back with smaller ones. Long-aspect options, such as our Stonemaster Block Paving (pictured) or Madera Porcelain, can help create the illusion of length – ideal if you have a shorter space.
And remember it's not just the length and width of the stone that's worth thinking about - don't forget it's thickness or depth. This defines where it can safely be used or what can be put on top of it. Thinner options are fine for foot traffic and seated garden areas such as patios and courtyards, while the thicker ones are better suited for vehicles or structures. Stone thickness can also vary massively, from as little as 18mm for a natural stone paving slab up to 80mm for a hard-wearing paving block.
You might need
Once you've selected your paving stones, it's time to think about all those extras you might need to finish the job.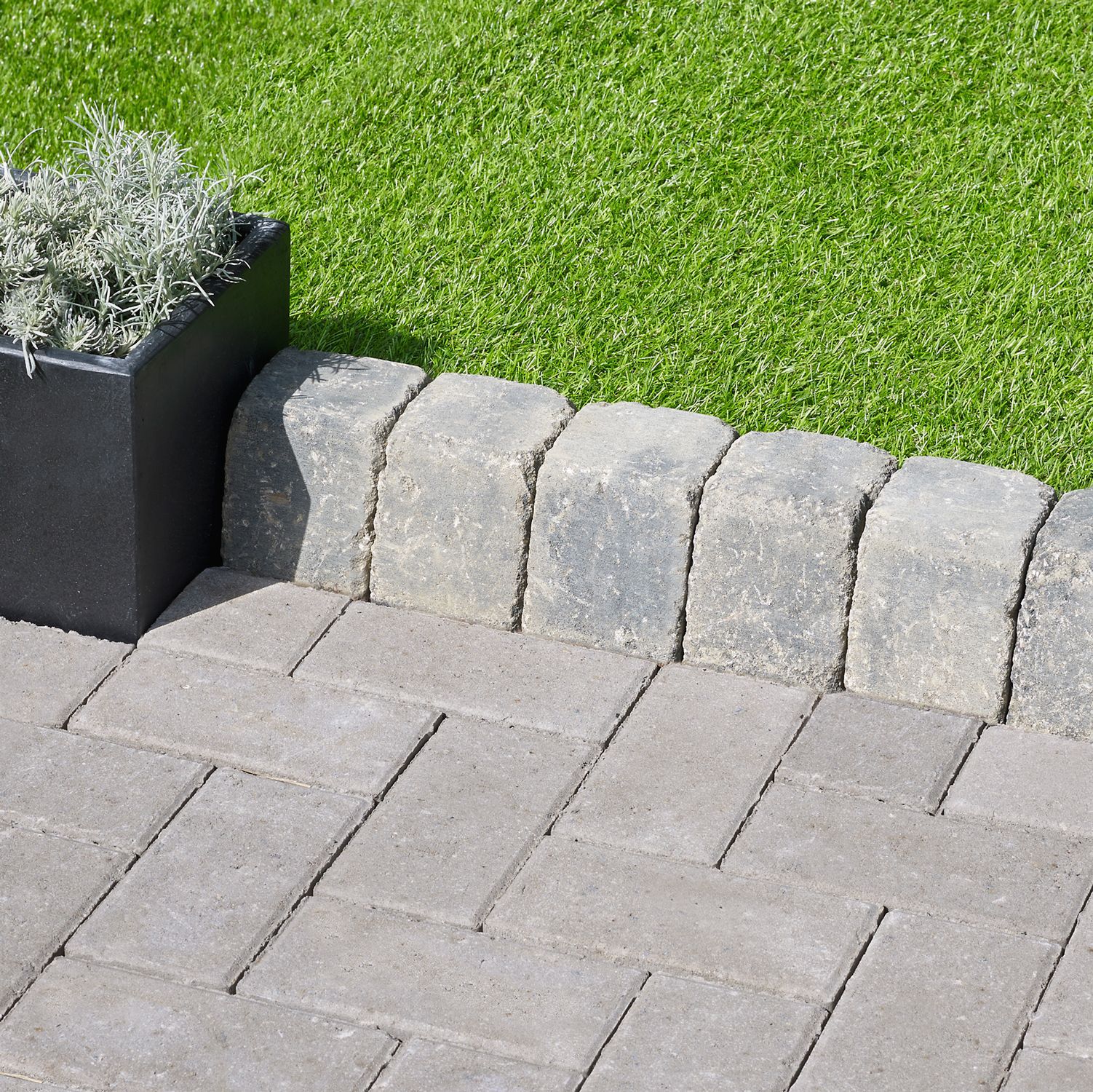 Paving edging and driveway kerbs
Add an attractive border, zonal definition and practical protection with edging and kerbs (pictured).
Our paving edging is available as single lengths and multipacks. Look for those that match our paving slab ranges, or create contrast with something different like a soft, scalloped edge. While our block kerbs are the perfect finishing touch to your driveway. Explore our range of sizes and styles to prevent unwanted vehicle overrun.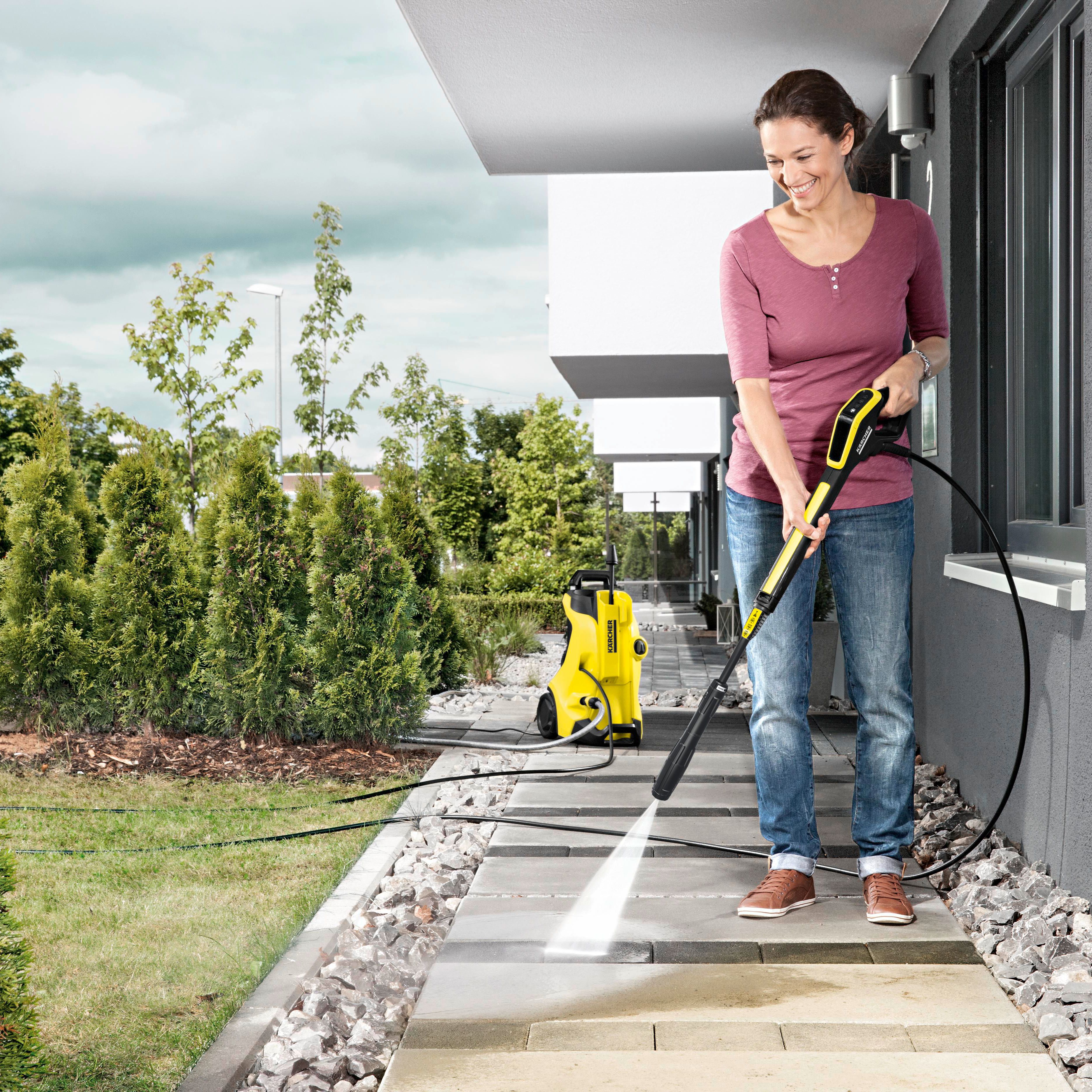 Paving maintenance
Keep your paving clean with a pressure washer that will blast dirt out of every corner and crevice. Get the most out of this versatile garden power tool with a surface cleaner – an attachment specially designed to tackle hard surfaces like paving – and specialist detergents.
For more help on finding the right pressure washer for you, check out our buying guide. Alternatively, browse our range of cleaning products that can be used on patios and brickwork.
Paving sealer and grout
Some paving might benefit from sealing once laid. This transparent protective layer helps maintain the colour and integrity of your chosen stones to keep them looking their best. And some sealers can improve the paving's slip-resistance – helpful during wet weather spells. Always check whether suitable for your paving before applying.
Lastly, don't forget your paving grout. This fills the gaps between the slabs (known as jointing). Opt for one in a colour that complements your paving or add some colourant to create your perfect shade.
Articles