We remain open and here to help. Safety remains our priority so we urge you to follow the Government's guidelines and to shop responsibly.
Planer, sander & router buying guide
Jargon-busting advice to find the best woodworking power tool for the job
For levelling wooden surfaces or trimming a door nothing beats a planer, and today's powered options help make the job quicker and easier. Equally, when you need to remove layers of varnish, stains, paint or rust (or you just want a fine finish over a large area), a sander is invaluable. For more decorative woodworking projects like edging, rebating, making grooves and decorative mouldings, you'll need a router.
---
---
Different sanders are designed to perform various tasks, so it's important to understand which sanders are best suited to which applications. To help you select the right type, we've grouped our sanders into four groups: Detail sanders, belt sanders, random orbit sanders and sheet sanders.
A detail sander (also known as a corner sander) is a hand-held sander that uses a vibrating head with a triangular piece of sandpaper attached. Used for sanding small areas, corners and tight spaces. A popular sander for providing a fine finish when restoring furniture prior to painting, staining or varnishing.
A belt sander is used to quickly sand down wood and other materials for finishing purposes. It consists of an electrical motor that turns a pair of drums on which a seamless loop of sandpaper is mounted. Belt sanders are ideal for heavy duty tasks like stripping flooring, doors and table tops for example. A collection box or vacuum adapter will help keep dust under control and your working environment clean.
A random orbit sander (also known as orbital sanders) remove the material from the surface with a fast cyclical motion. The random orbit is produced by simultaneously spinning the sanding disk, which ensures that no single part of the abrasive material travels the same path twice. An ergonomic palm-sized handle makes this sander easy to manoeuvre over flat surfaces. Some also have an adjustable/ removable side handle to make them even easier to hold and control.
A sheet sander is used to sand down wooden surfaces although they can be used on materials such as plastics and metals as well. The motor moves the sanding pad in a circular motion at high speed. Named after the size of their sanding plate, they take sheets of different sizes.
Sander features explained
(sheet sander shown)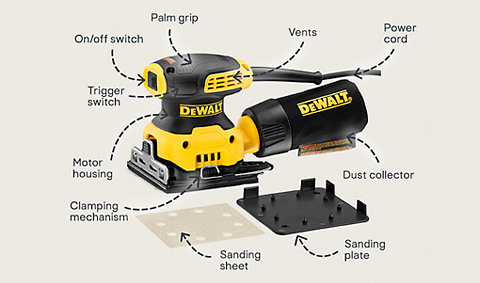 Corded or cordless
Generally speaking, the higher the wattage the more powerful the sander but belt speed / orbits per minute (OPM) is also an important consideration when buying a sander. If you're working outside, consider a cordless sander. Cordless power is measured in volts and sander battery sizes typically use 18V. One-battery tools powers multiple tools from the same range. Once you have the battery and charger, you simply buy the tool to extend your own range of power tools. 'Bare tool' in the product description indicates it is supplied without the battery.
Belt speed
Slower speed means more control and higher speeds mean faster, but less accurate sanding. Sanding speed is usually measured in orbits per minute (OPM).
Dust extraction
Sanding can create a lot of dust, some sort of dust extraction facility to help remove dust and keep your work area clean can be a useful feature.
Paper attachment
There are various types of sanding paper attachments. Look for quick-fit sanding paper for an easier paper fitment. For example, the hook-and-loop attachment gives a secure, firm grip.
Sanding sheet clamps
To securely fasten the sanding sheet to the base plate of the sander
Sanding pad size
The size of the plate or disc that the abrasive surface is held by.
Sanding belt size (belt sanders)
These normally come in two width sizes: 76mm and 100mm. For confined spaces, use a smaller (13mm wide) precision belt sander, shown. These sanders are ideal for sanding, filing and sharpening tool blades. They can also be used on a variety of different materials.
Grit size (grain size)
Abrasive sheets are referred to by their grit size (for example 60 grit). Larger grit sizes (such as 40 and 60 grit) are best for coarse sanding work where you need to remove a lot of material, while smaller grit sizes (like 240 grit or higher) are good for extra-fine sanding.
---
A router is used for accurate cutting in wood, such as shaping, edging, rebating, making grooves and decorative mouldings. This is a specialist tool, used by advanced home improvers, kitchen fitters, joiners and cabinet makers. Routers are not only for timber projects; with the right router bits they can also be used on plastic and some metals, as well as laminate and resin bonded material.
There are three main types of router; plunge base, fixed base and palm routers. For maximum versatility, plunge base routers are capable of more varieties of cuts than their fixed base cousins. For detailed work, palm routers are a popular choice as they can be operated one handed with the other used to closely guide the material.
Router features explained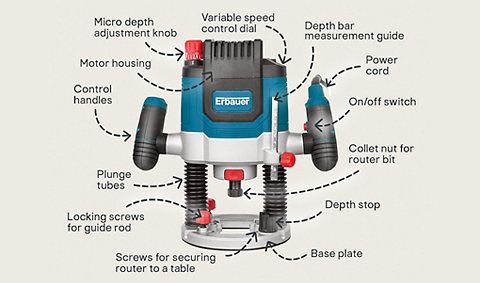 Router power output
The more powerful the router power, the better it will handle larger cutters, deeper cuts and harder materials. The higher power models usually weigh more, and may be a buying factor. Our routers range from 710 watts for light duty work, up to 2100 watts for heavy duty projects.
Dust extractors
A range of router dust extractors are available - some at entry level, making them very low cost and extremely portable. More expensive extractors have features like automatic switch on when the router starts, and switch off several seconds after the router switches off. This allows any dust or waste to be cleared from the extractor's hose.
Plunge capacity
The maximum distance the router will push down into the material with a bit fitted. This capacity can only be achieved if the individual bit is long enough.
Revolutions per minute (RPM)
The revolutions per minute that a router collet and cutter make. The required speed will depend on the size of cutter and material being used. Most routers today have a variable speed motor.
Router bits
The router uses router bits (much like a drill) to bore into the wood's surface and is fully height adjustable, allowing you complete control over the cuts you make. There's a wide variety of router bits available, from those that help you perform basic joinery functions to specialist bits for more decorative finishes.
Collet capacity (or tool holder size)
The collet is a form of chuck which holds the special straight-shanked router cutters. The diameter of the cutter shank has to exactly correspond with the diameter of the collet - so, a quarter-inch shank cutter would only be used with a quarter-inch collet.
Router jigs
Used to guide the router when making cuts, especially when cutting shapes. Router jigs are commonly used for joinery tasks such as rebating worktops and stair making.
Guide bush
This accessory is used to help a router bit follow a template or jig without damaging the surrounding material.
---