Planting & digging garden hand tools buying guide
The right tools to prepare the soil for planting
It's essential to use the right tool for digging, weeding and planting in your garden. Whether you're an experienced gardener or new to getting your fingers green, simply using the best tool can make garden maintenance a lot easier.
But with so many to choose from, it can be confusing to find the right garden hand tool for your outdoor job. That's where we can help. Here's our guide to help you find the perfect garden hand tools for digging, weeding and planting to make gardening simple, straight forward and enjoyable.
What gardening jobs are you doing?
Have a think about what jobs you'll be tackling in the garden - this will help you choose the most suitable tools. For example, are you picking through already loosened soil to remove weeds? Or are you digging very compacted soil that has had very little work done on it?
If you're creating new beds and borders, you'll need to stock up on tools that not only help you establish the area, but also help you dig through the soil.
It is also important to consider the type of soil you have in your garden. If you have heavy soil that is difficult to break up you'll need heavy duty tools to make the job easier, compared to lighter tools where your soil type is less compact.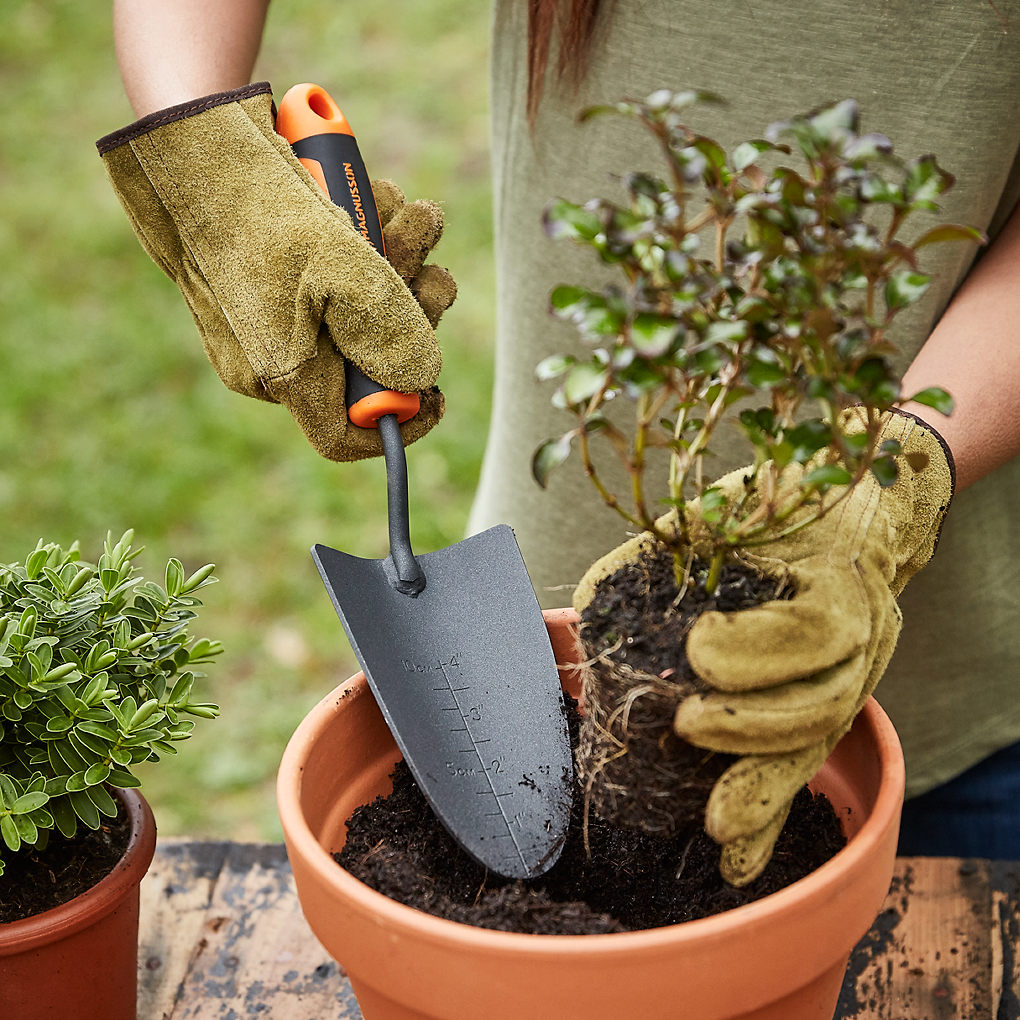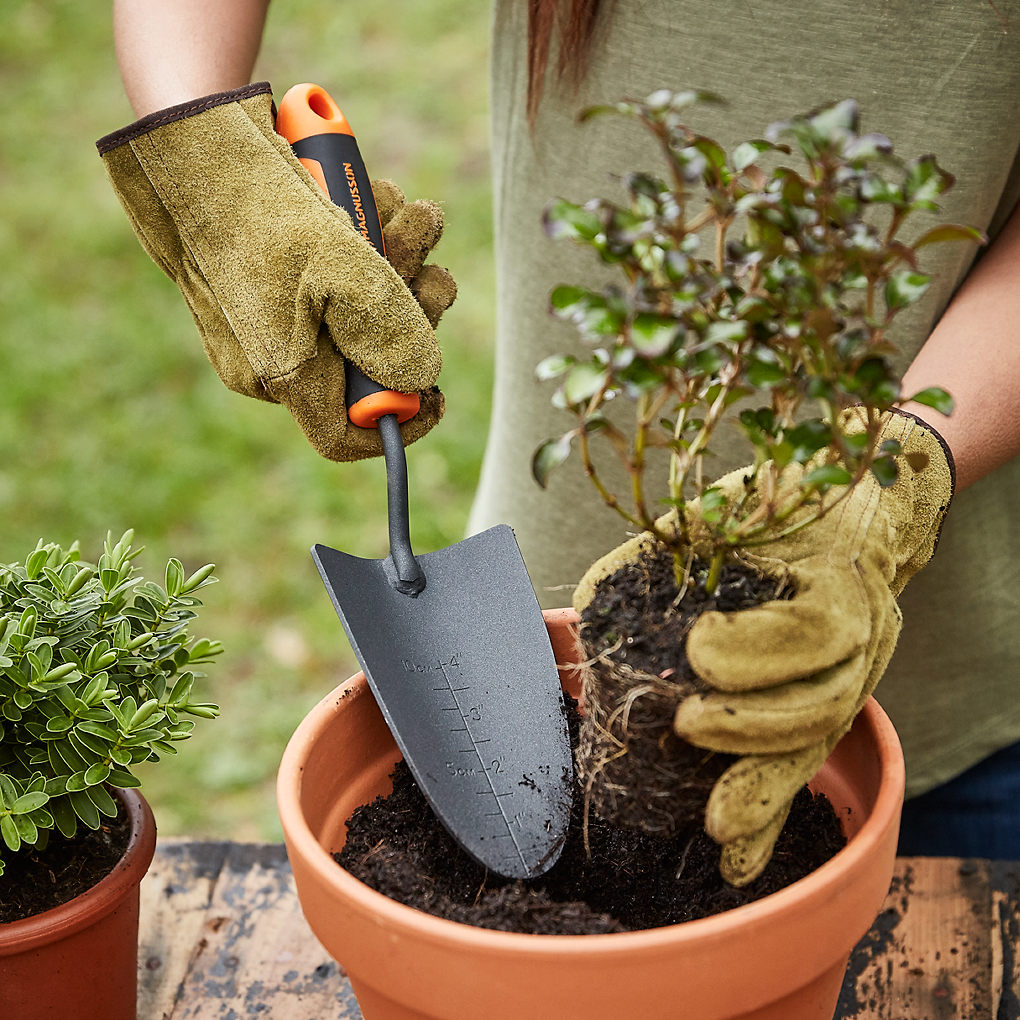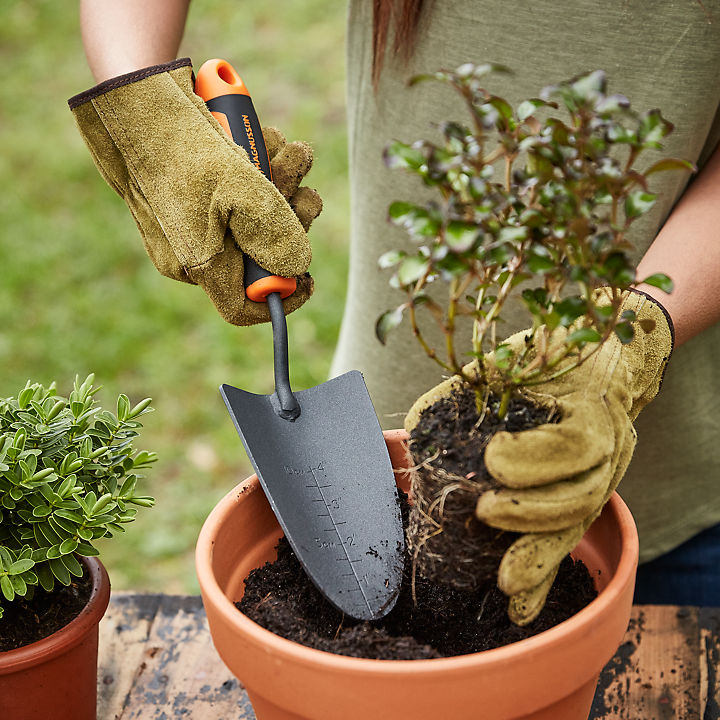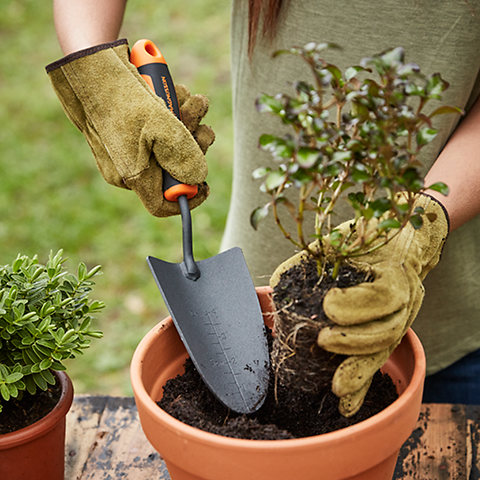 Choosing the best tools
As well as being functional, there are extra features in our ranges that will make your gardening jobs fuss free and comfortable to do no matter how long you're planning on working. Look out for the GoodHome Durum Hand Tool range; a beautiful collection of stylish tools, made from high quality natural materials:
Our Durum hand tools are built to last and even come with a 5-year guarantee
Handles made from high quality, durable, sustainably sourced ash wood
Heads made from stainless steel, so they won't rust in your garden and soil won't stick to the head
Hanging cords make it easier for storing your tools
Ergonomically designed handles which make for more comfortable gardening
A contemporary, coordinated look so you have tools you can be proud of
Garden spades
Garden spades are the key tool for any gardener. There are three types of garden spade: digging spades, drain spades and border spaces.
Digging spades – These tools are designed for digging holes in soil, turning over soil to prepare the ground for larger plants, shrubs and trees
Drain spades – These are much longer and slimmer than a digging spade, which makes them ideal for digging neat and narrow channels for drainage pipes and cables.
Border spades – This type has a narrower head, which makes it perfect for working in confined spaces, such as beds and borders.
Our spades are also available in a variety of different materials and finishes to suit the type of task you are doing from heavy digging jobs to smaller planting jobs.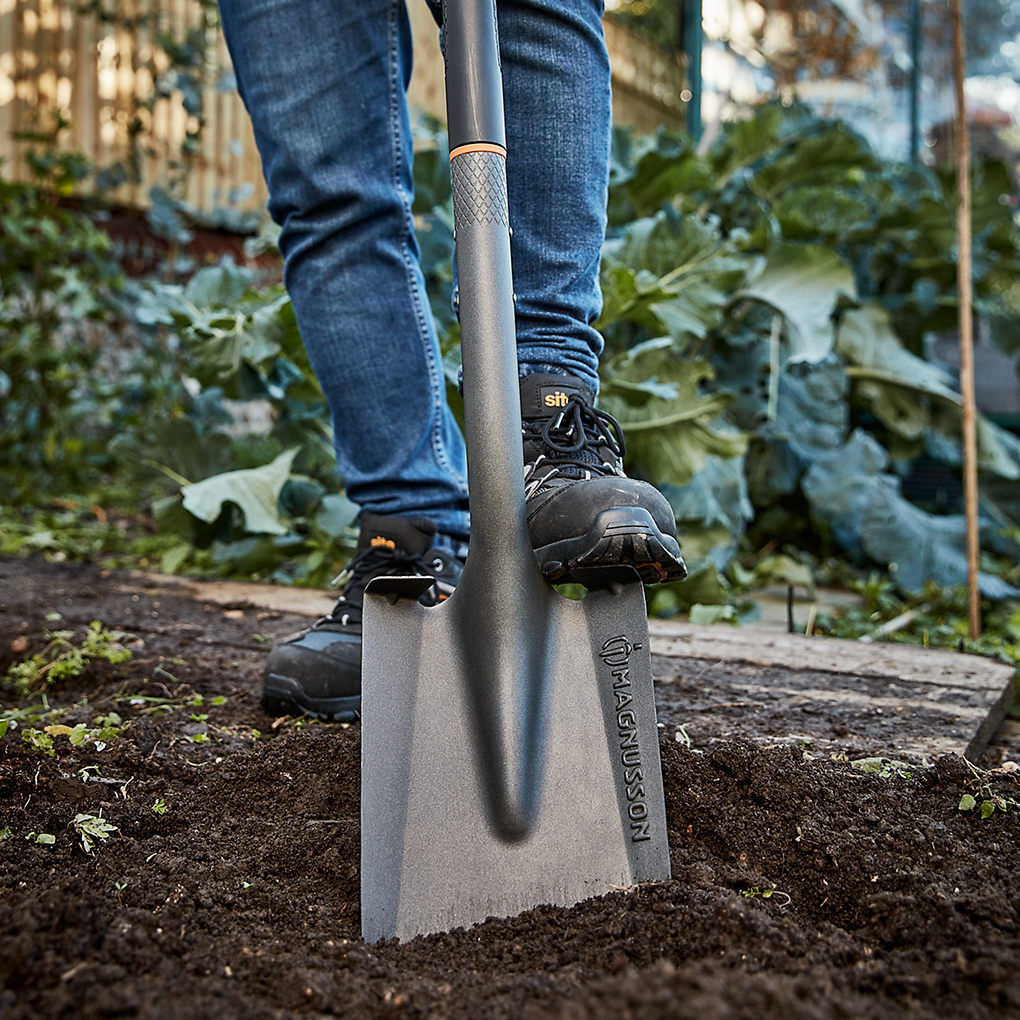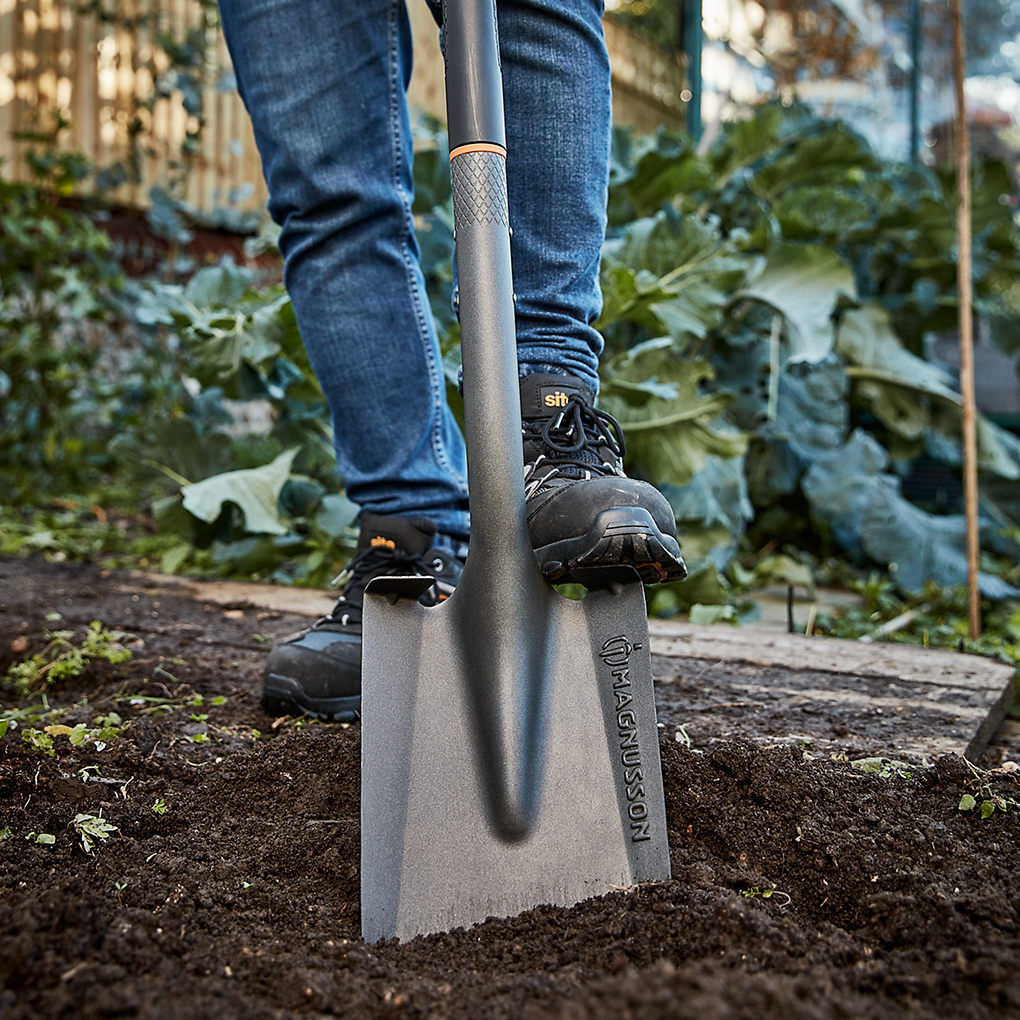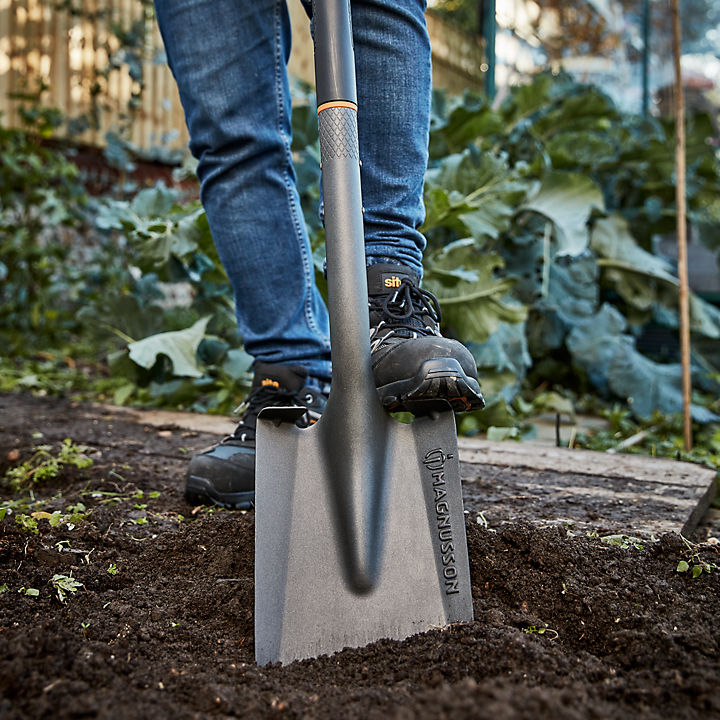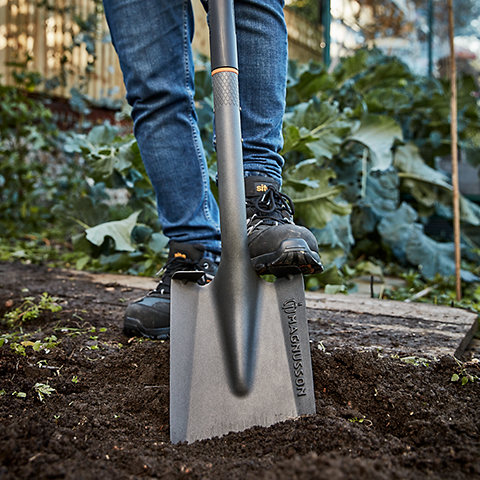 Garden forks
Used to help break up, lift and aerate soil. Our Garden forks have sturdy tines (prongs) which make them easier to push into the ground – making them a great choice for harder soil. Also known as spading forks or digging forks, they're also less likely to be stopped by stones or other small obstacles compared to a spade.
There are three types of garden fork: standard forks, border forks and pitch forks:
Standard forks – These are for heavier jobs such as breaking up heavy, compacted soil. They're particularly useful on clay soil, as the soil doesn't stick to the tines of the fork as readily as it does to the flat blade of a spade.
Pitch Forks – These are slightly larger than the digging fork with long, widely separated tines which are perfect for lifting and throwing loose material such as compost, manure and hay
Border forks – These are slightly smaller and lighter than digging forks. Because of this, they work well in more confined areas where a larger tool might damage plant root systems.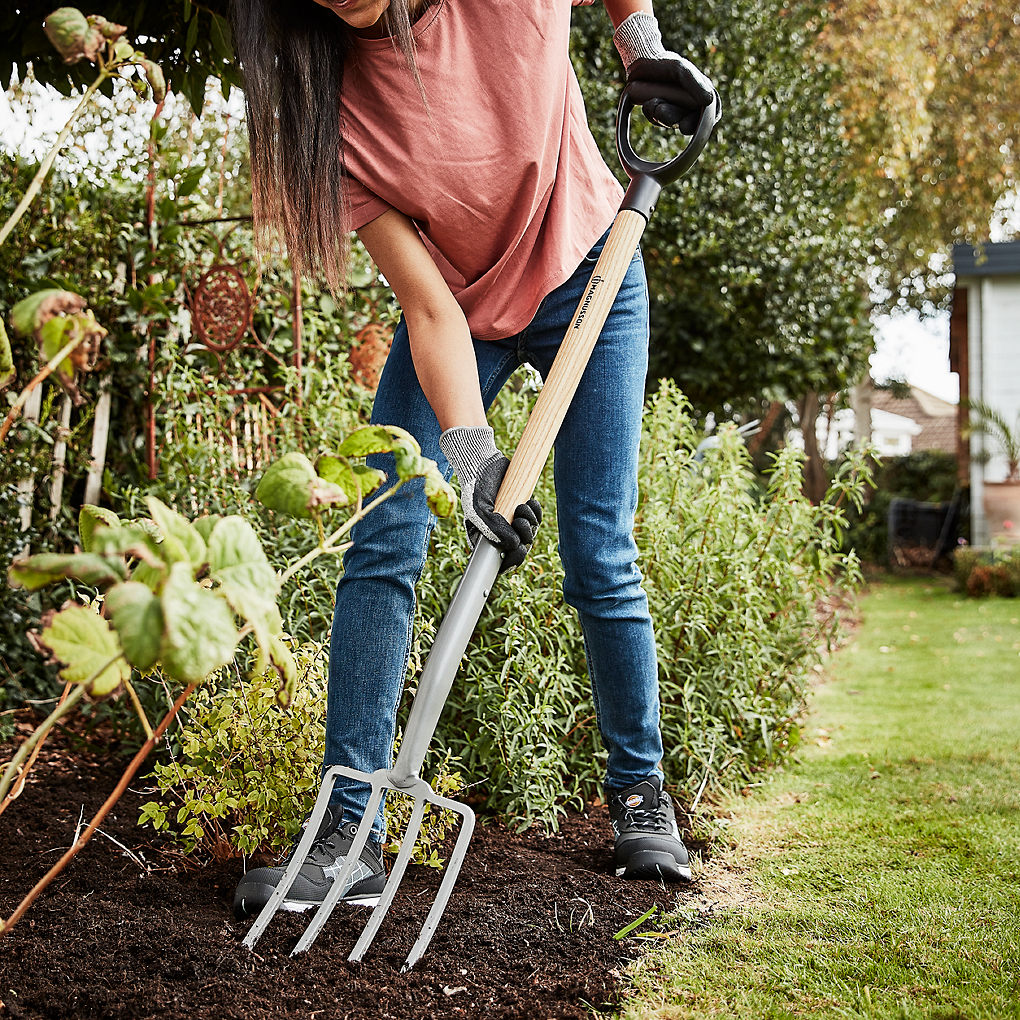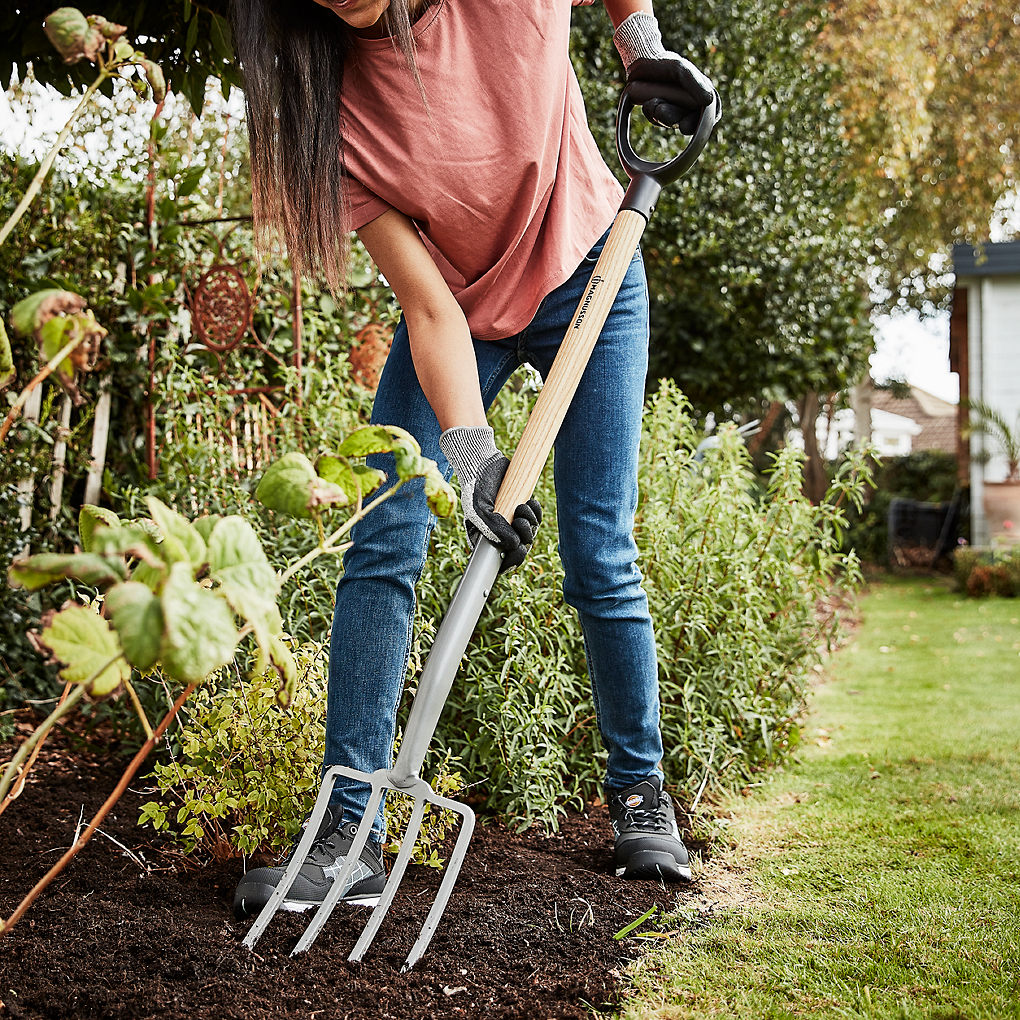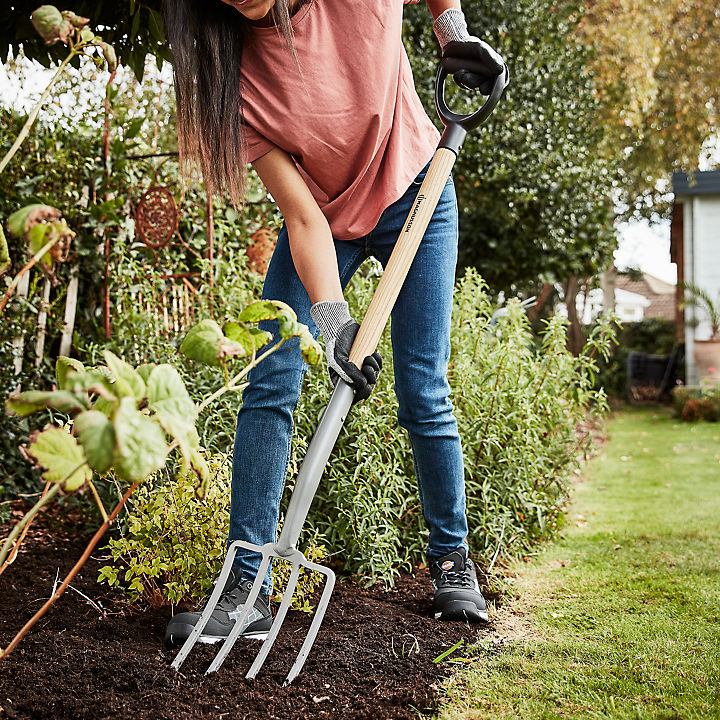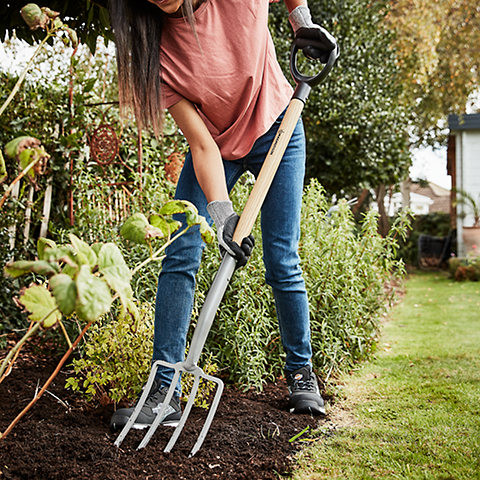 Garden shovels
Generally used for scooping up and moving garden debris, sand or other materials like soil. We have four different kinds of shovels to choose from:
Square shovels - Shovel with a flat mouth, square end and raised edges, used for scooping and moving large volumes of loose materials, also ideal for levelling soil.
Pointed shovels - Shovel with a pointed blade and raised edges to create a scoop, used for scooping and moving harder loose materials such as gravel and rock.
Micro shovels - Smaller version of the standard shovel used for shovelling tasks in confined spaces and for easy transportation in your vehicle, in case of emergencies.
Snow shovels – this wide aluminium shovel is used for easily lifting and moving large amounts of loose snow. The metal head also makes it ideal for clearing compressed snow and ice.
Our shovels are also available in a variety of different materials and finishes to suit the type of task you are doing from light lifting and moving to jobs requiring a more heavy-duty tool.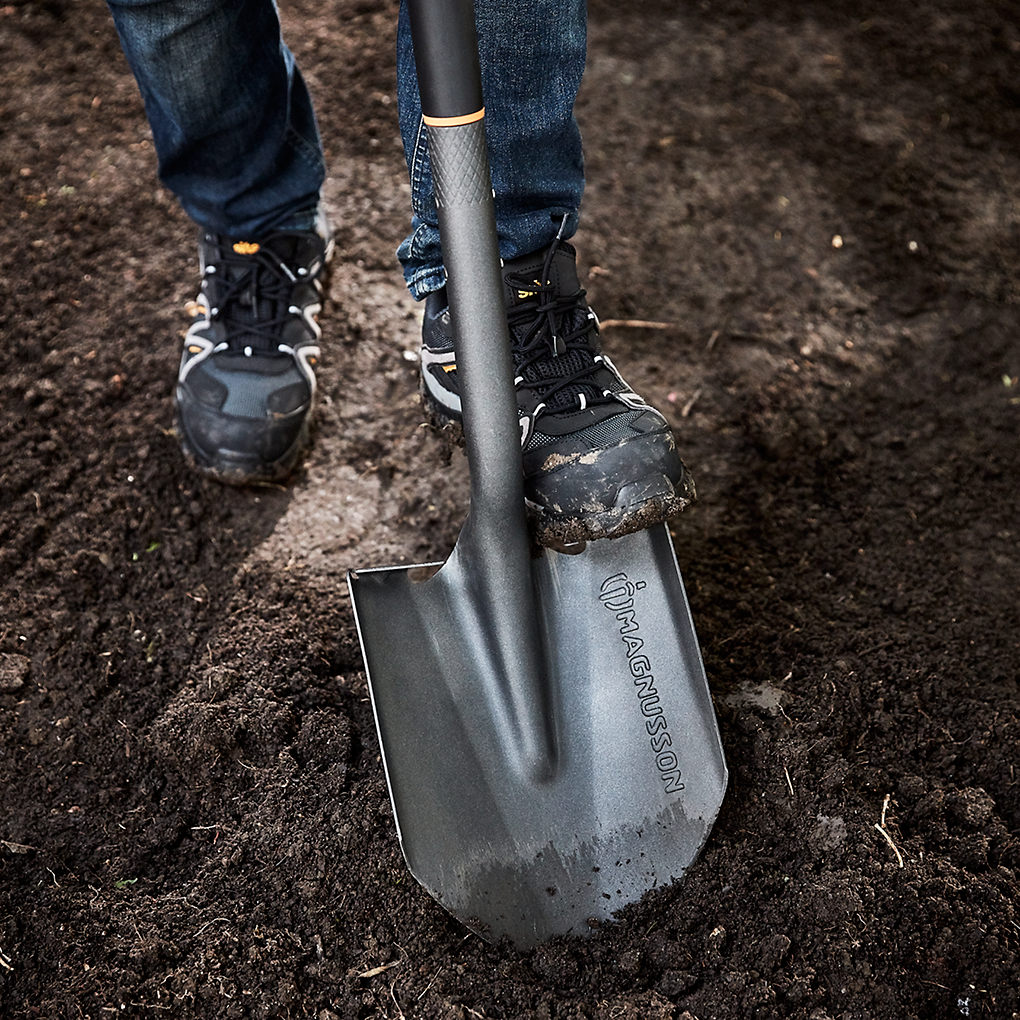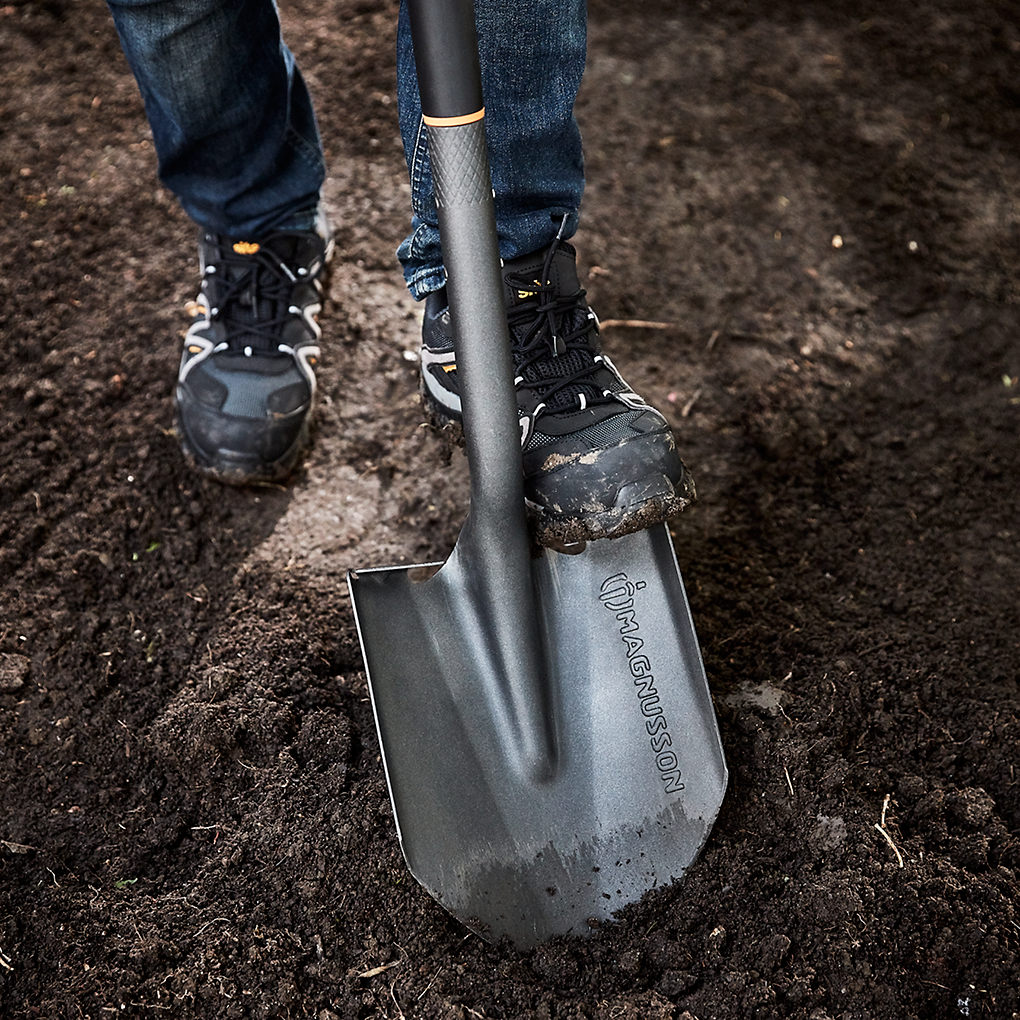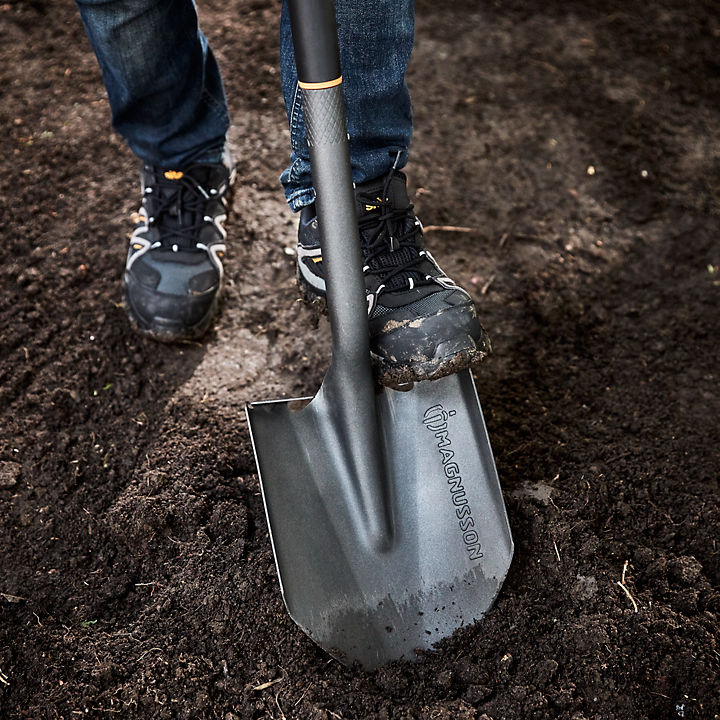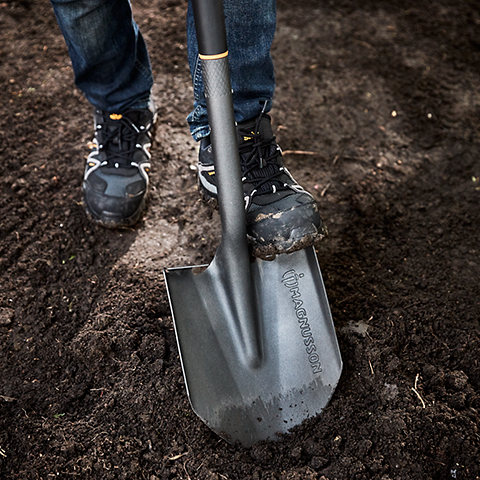 Garden Hoes
A garden hoe is a really versatile tool which can be used to loosen and clear soil and remove weeds. They're also great for digging narrow furrows (drills) and shallow trenches for planting seeds or bulbs.
We offer two types of garden hoe in our range – Dutch and draw hoes
Dutch hoes – These feature a solid blade which is sharp on every side and set at a 90 , they're designed to be pushed and pulled over the surface of the soil to loosen it and remove weeds. Regular use of a Dutch hoe will keep the soil moving so that new weeds don't germinate and become established. It also encourages air and water into the soil.
Draw hoes – Draw hoes have a triangular blade shape. Use them to chop into the ground and then pull towards you. This action of pulling, or drawing, gives the tool its name. They are a great tool for cultivating the soil to a depth of several inches and creating trenches for your seeds and bulbs.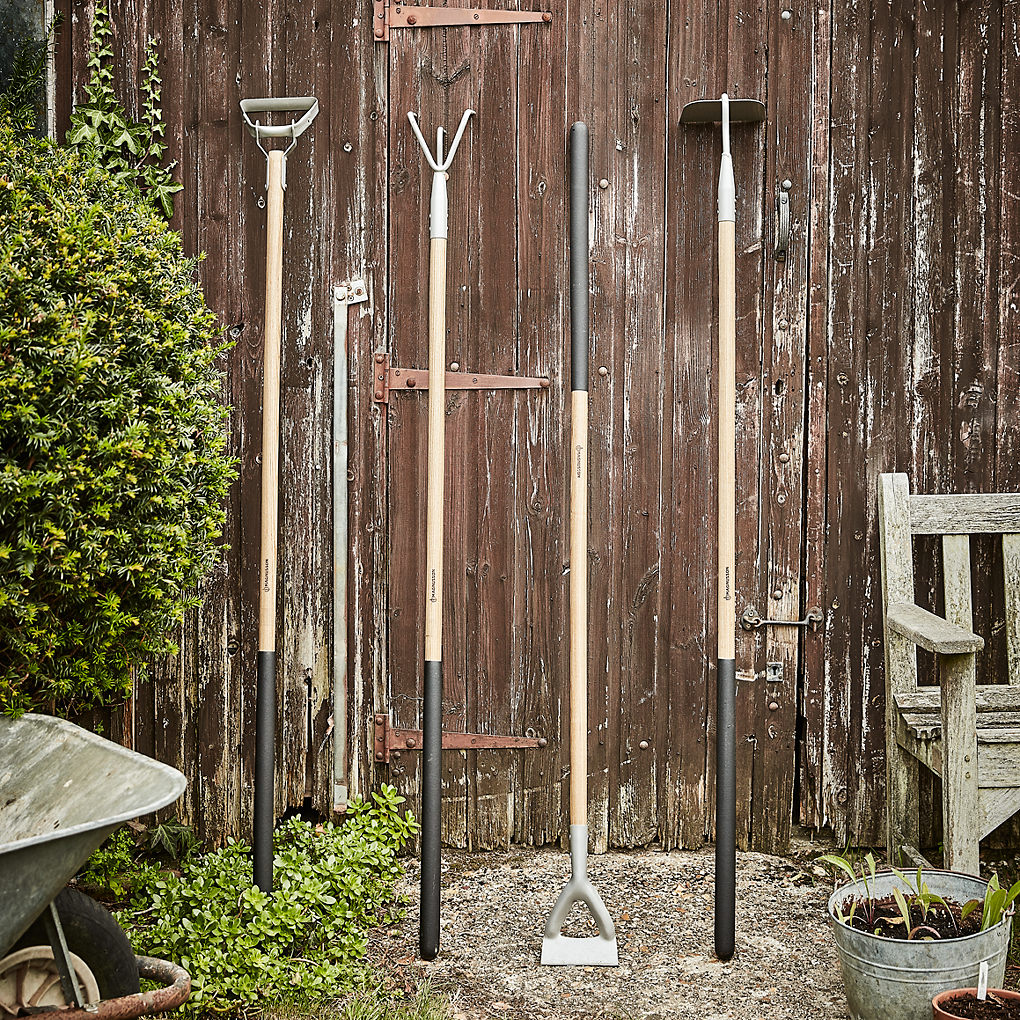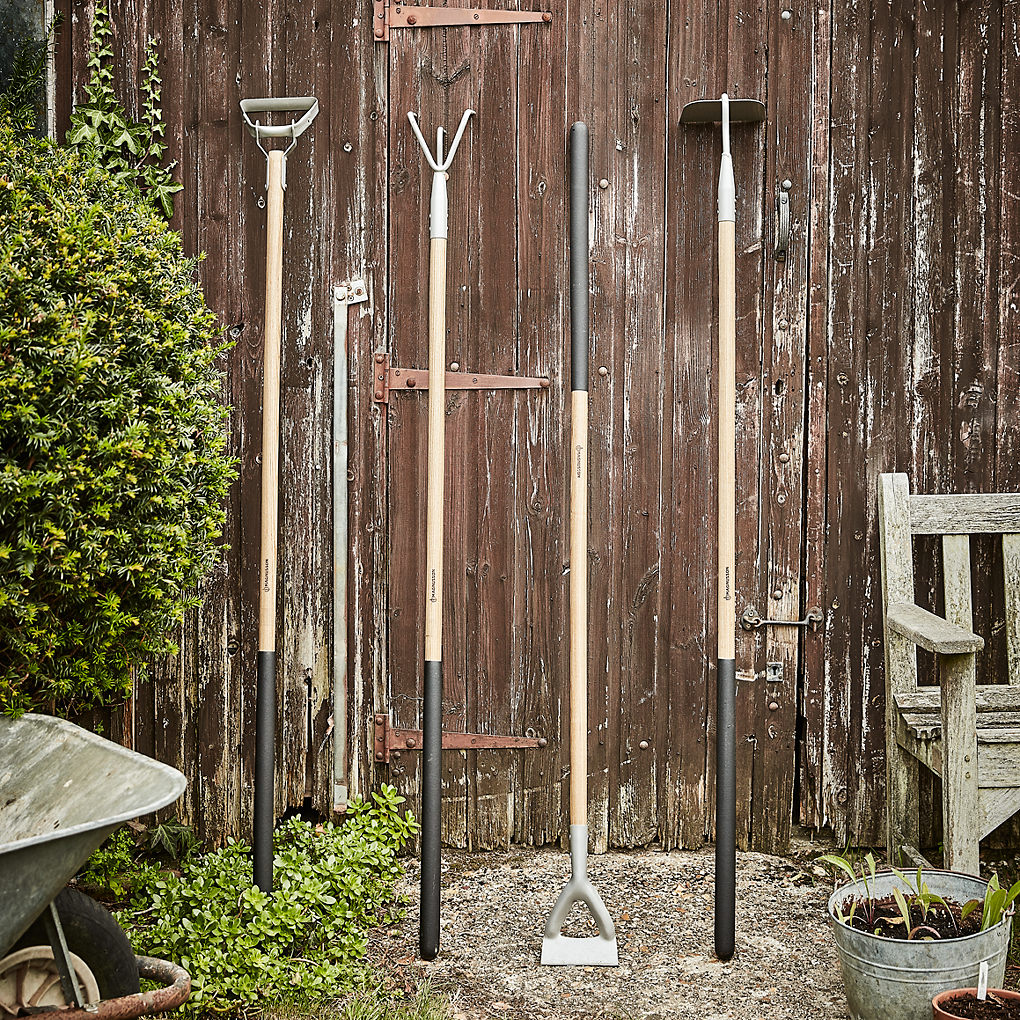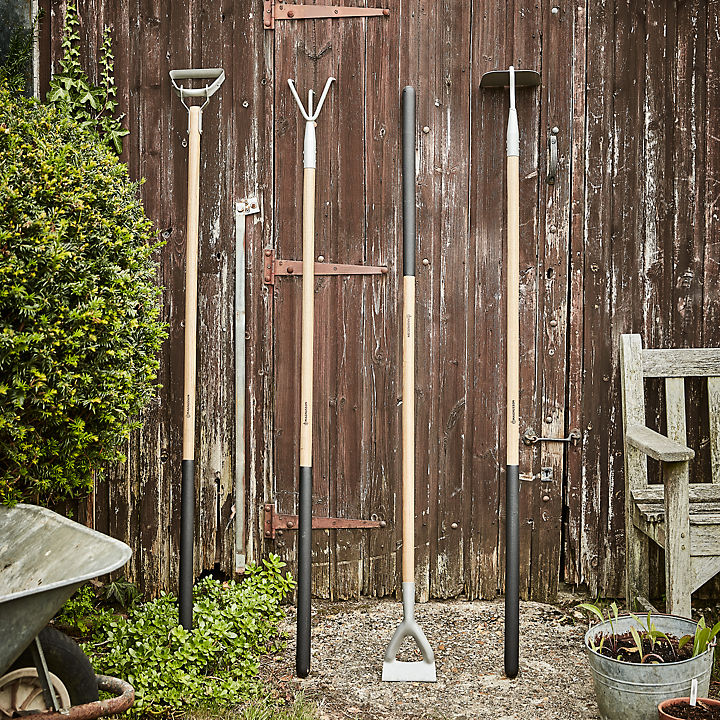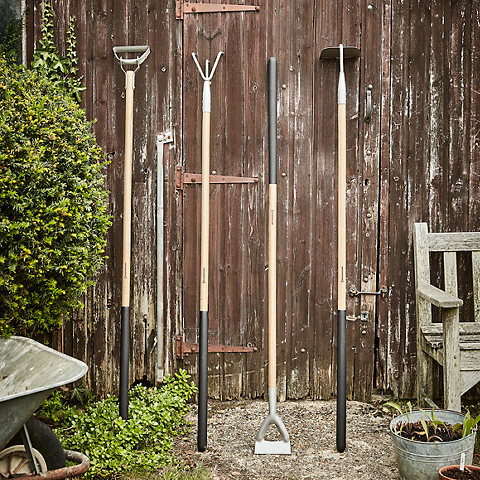 Weeders
Target problem weeds with a tool specially designed to remove them. There are many different weeders. We offer:
Push/pull weeders – these work in a forward and backwards motion and are best suited to weeds growing in the top layer of soil in pots or beds.
Deep root weeders – this type has a forked tip, and as the name suggests is best suited to more established weeds. It's also known as a fulcrum head weeder, as a curved piece of metal runs along the length of the handle which helps act as a fulcrum when digging out the weeds.
Floor / Patio scrapers – these products are designed to remove weeds / moss from paving, patios and tight spaces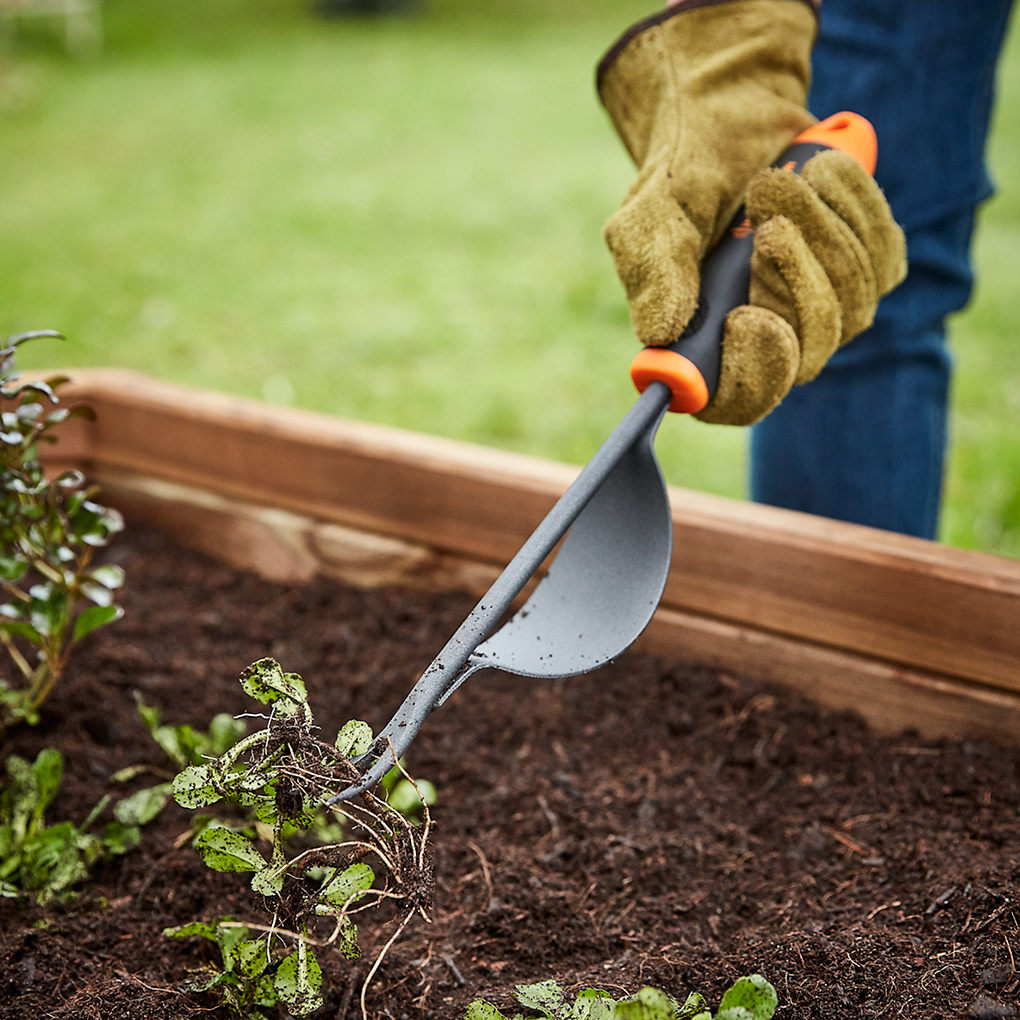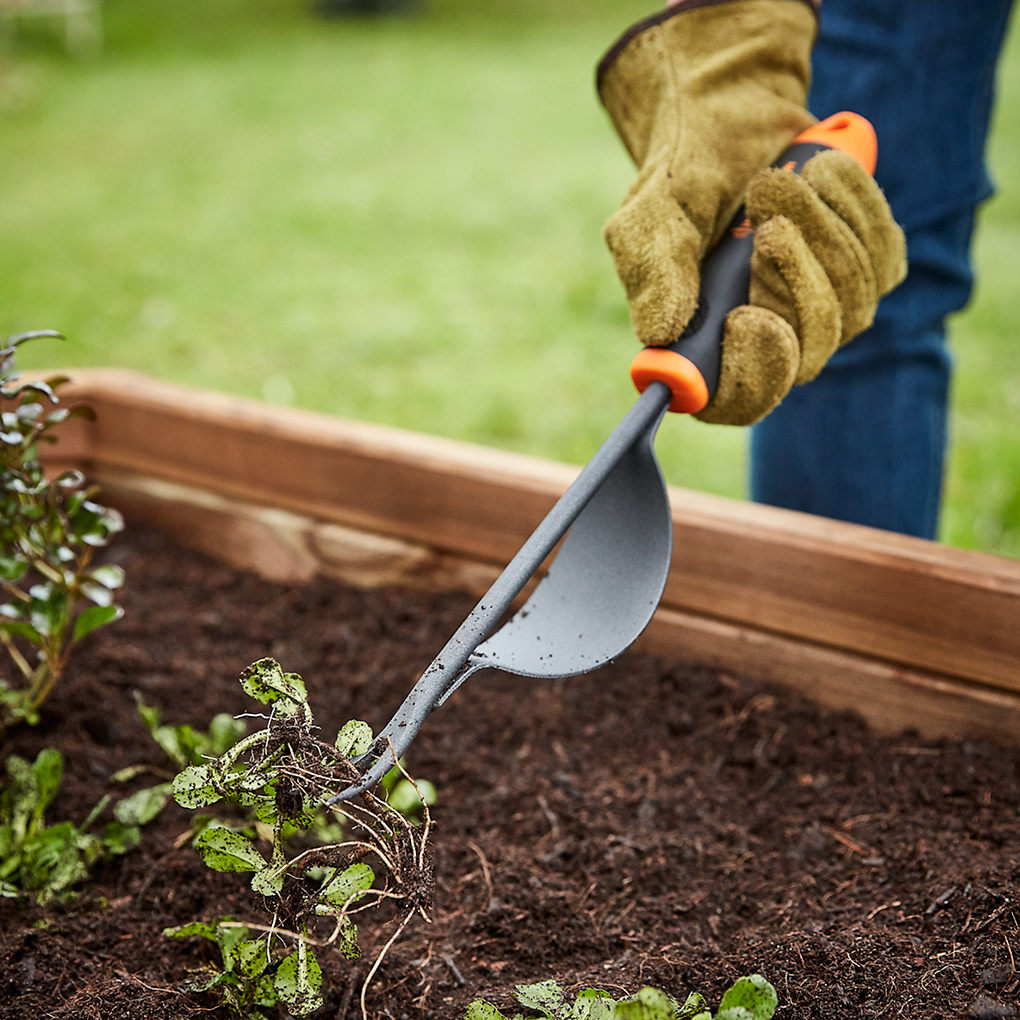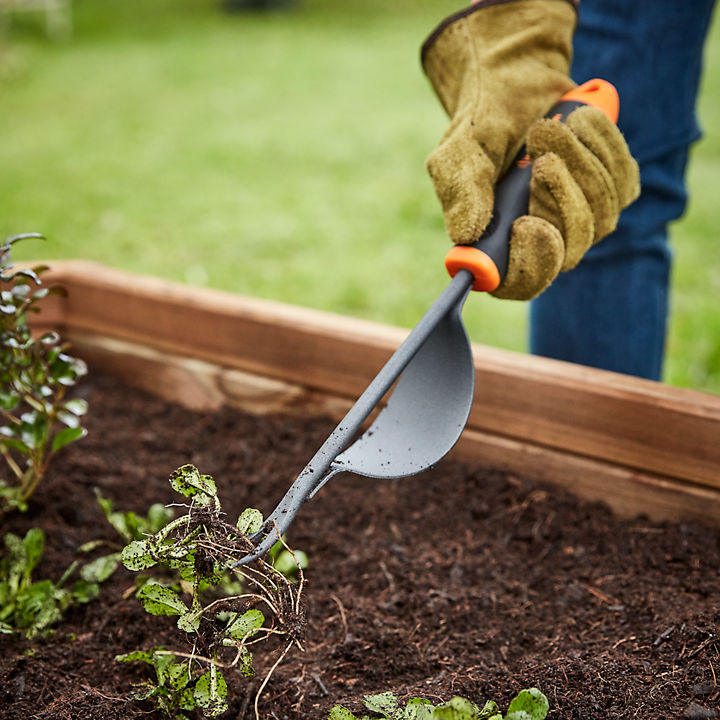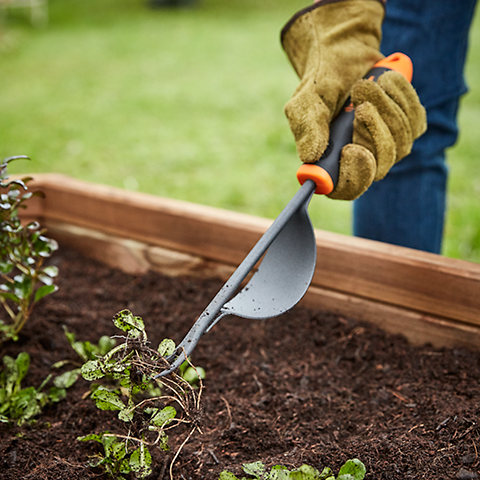 Rakes
Rakes come in two types which are used very differently to perform key garden tasks.
Soil rakes (garden rakes) - A sturdy option that can level surfaces, loosen compacted soil and spread mulch evenly. There are many variations of soil rakes which include, border soil rakes for smaller areas such as flower beds, and tarmac rakes for levelling more heavy duty surfaces.
Lawn rakes – A long handled rake with a wide head and flexible tines. These are used for gathering garden debris such as moving and clearing piles of leaves and garden clippings. Look for an adjustable option which offers flexibility to access smaller spaces such as flower beds.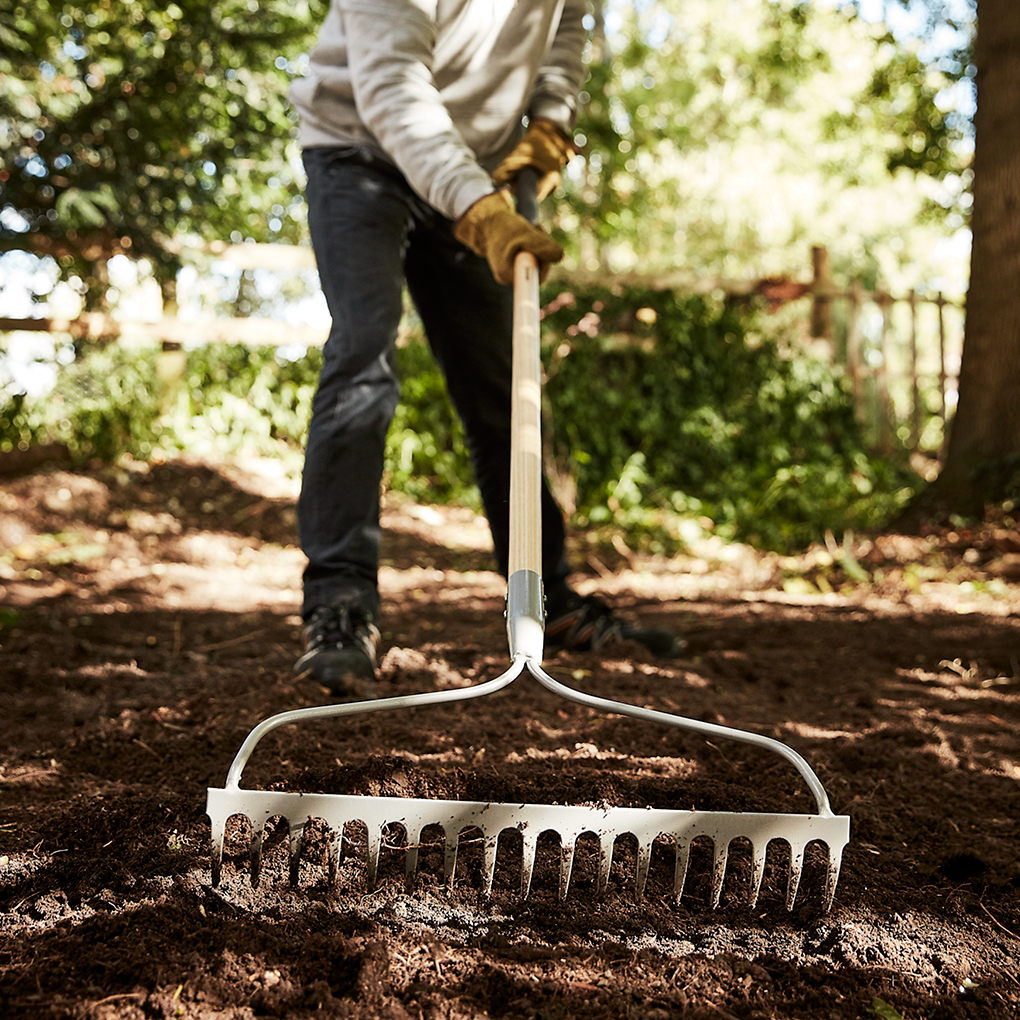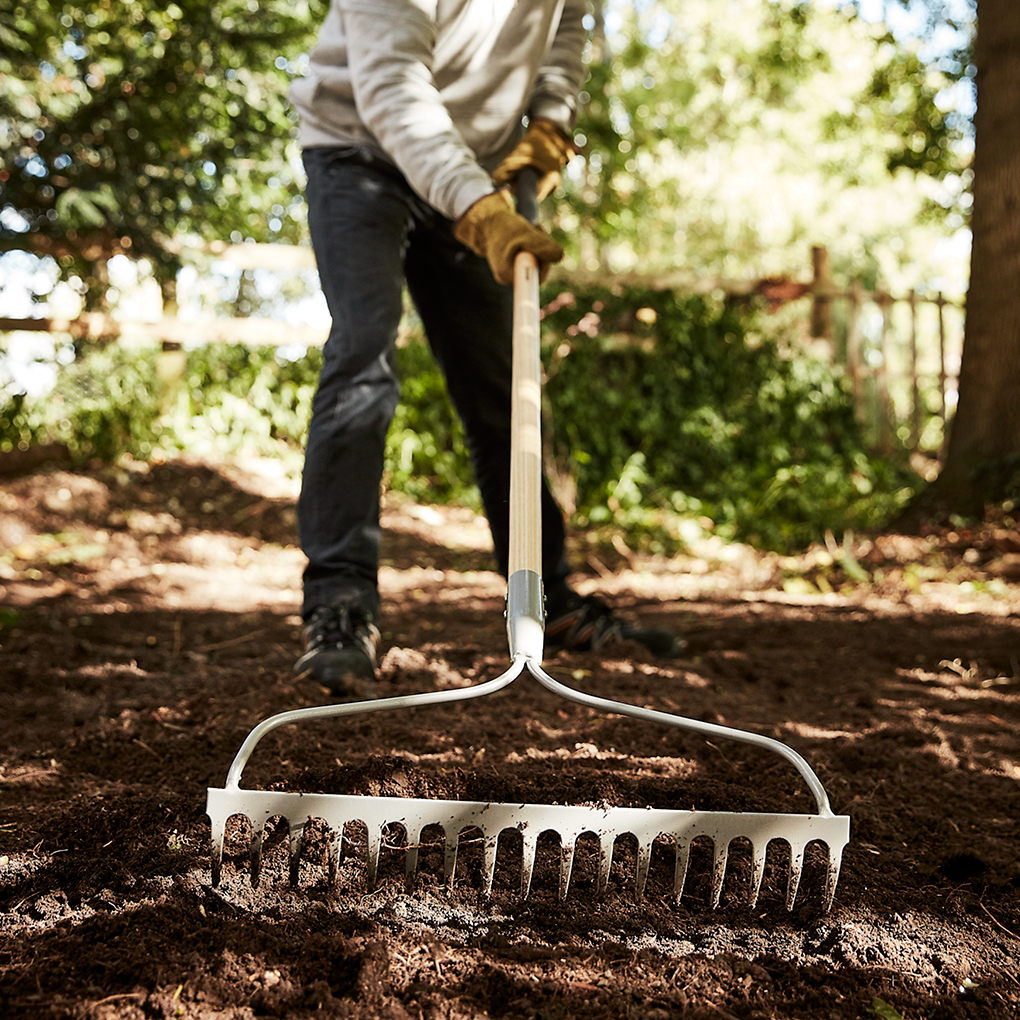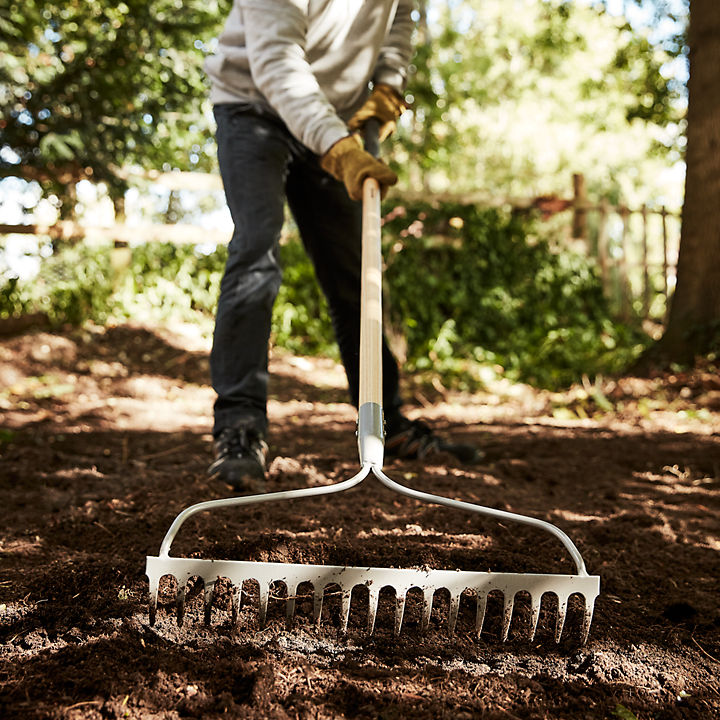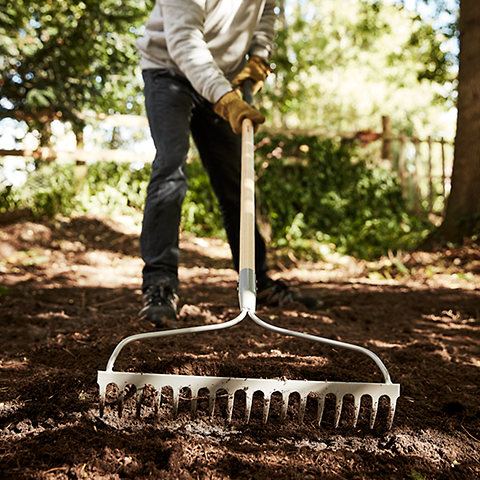 Hand forks
This must have tool can be used to turn and aerate the top layer of soil, remove weeds, lift and level the soil.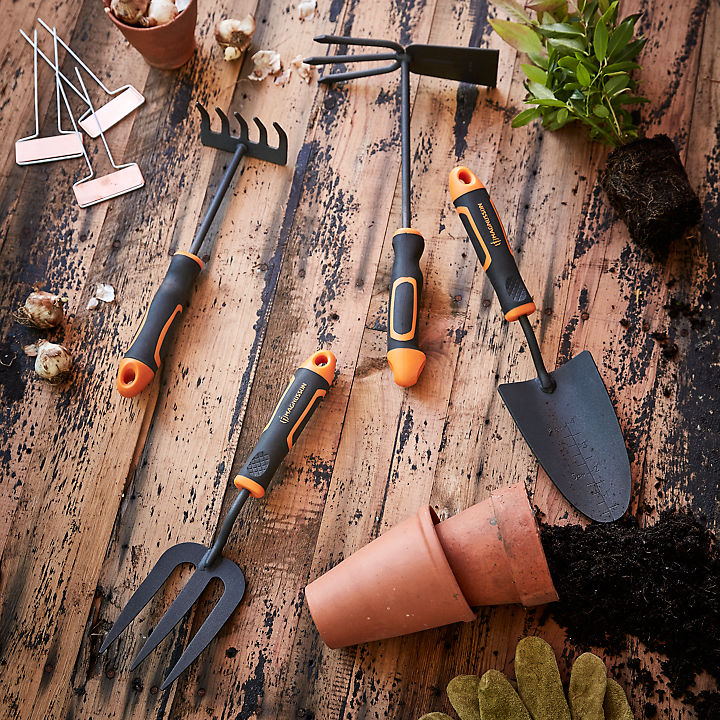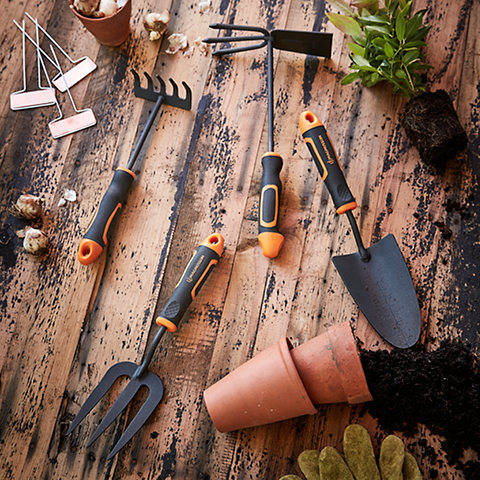 Trowels
Ideal for smaller gardens and jobs, a trowel is a versatile tool with a pointed scooped head. This makes it ideal for moving small amounts of soil, transferring plants to pots, planting out bulbs and seeds, breaking up soil and digging small holes.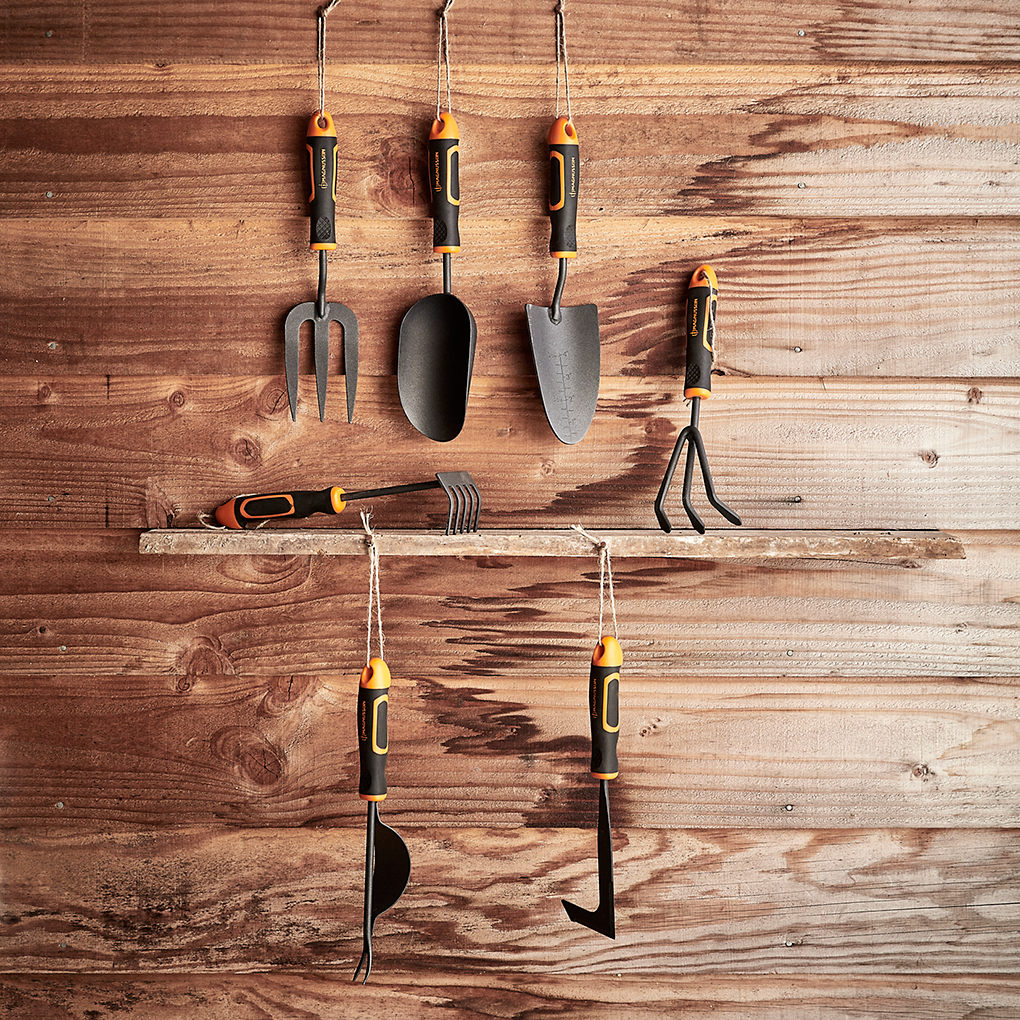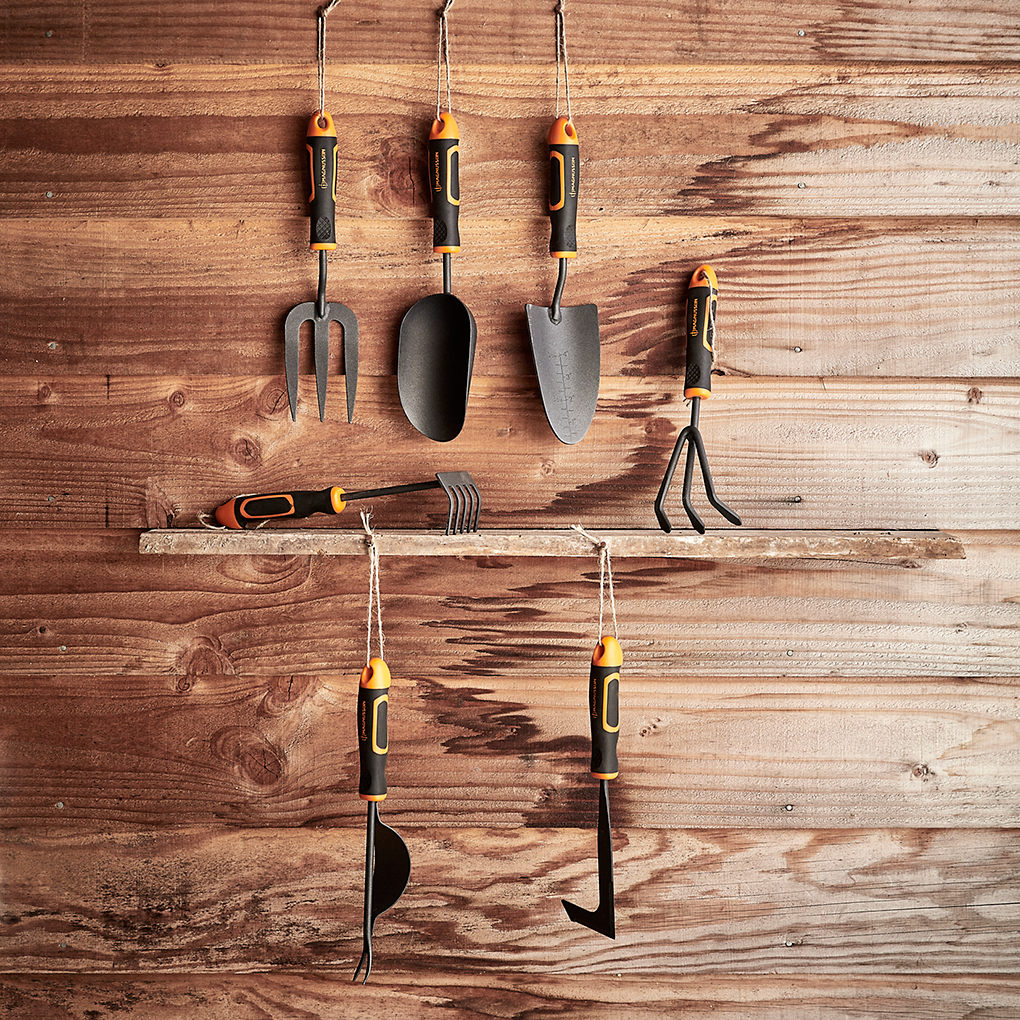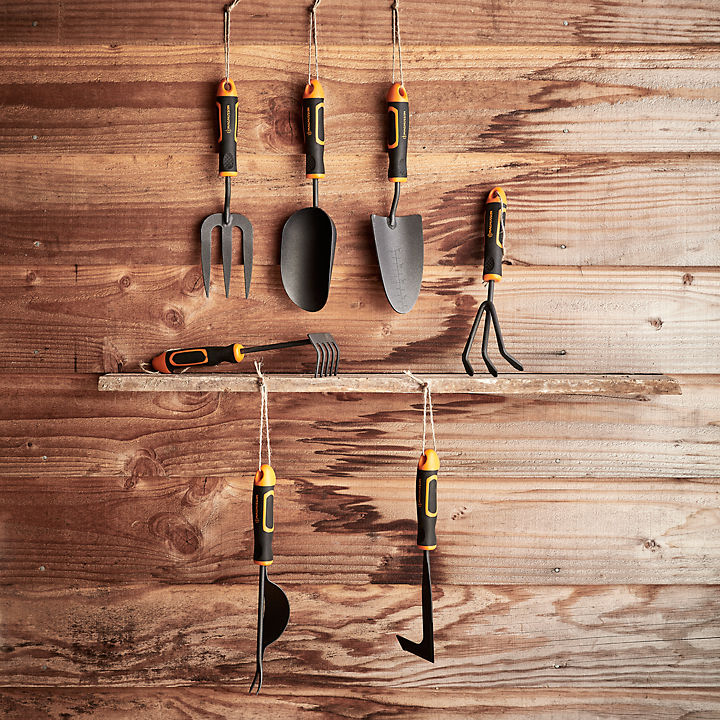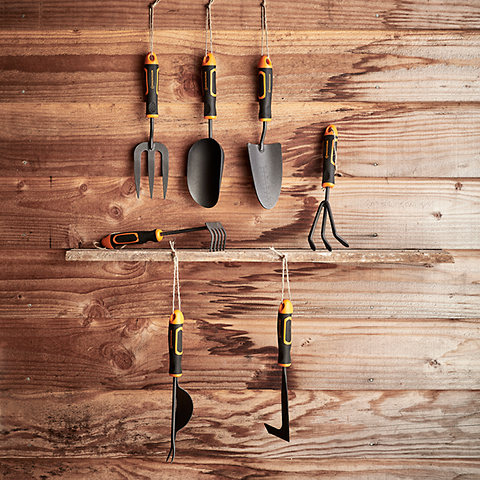 Dibbers & Bulb planters
Dibbers are a small-handled tool with a fine, tapering point. Also known as dibblers or dibbles, their sharpened head is used to make a neat hole in the soil ready for planting smaller items, such as seeds, small bulbs and seedlings.
For larger holes pick up a bulb planter. These lift and hold the soil, giving you a chance to plant a bulb in the newly-created hole, before releasing the soil back on top.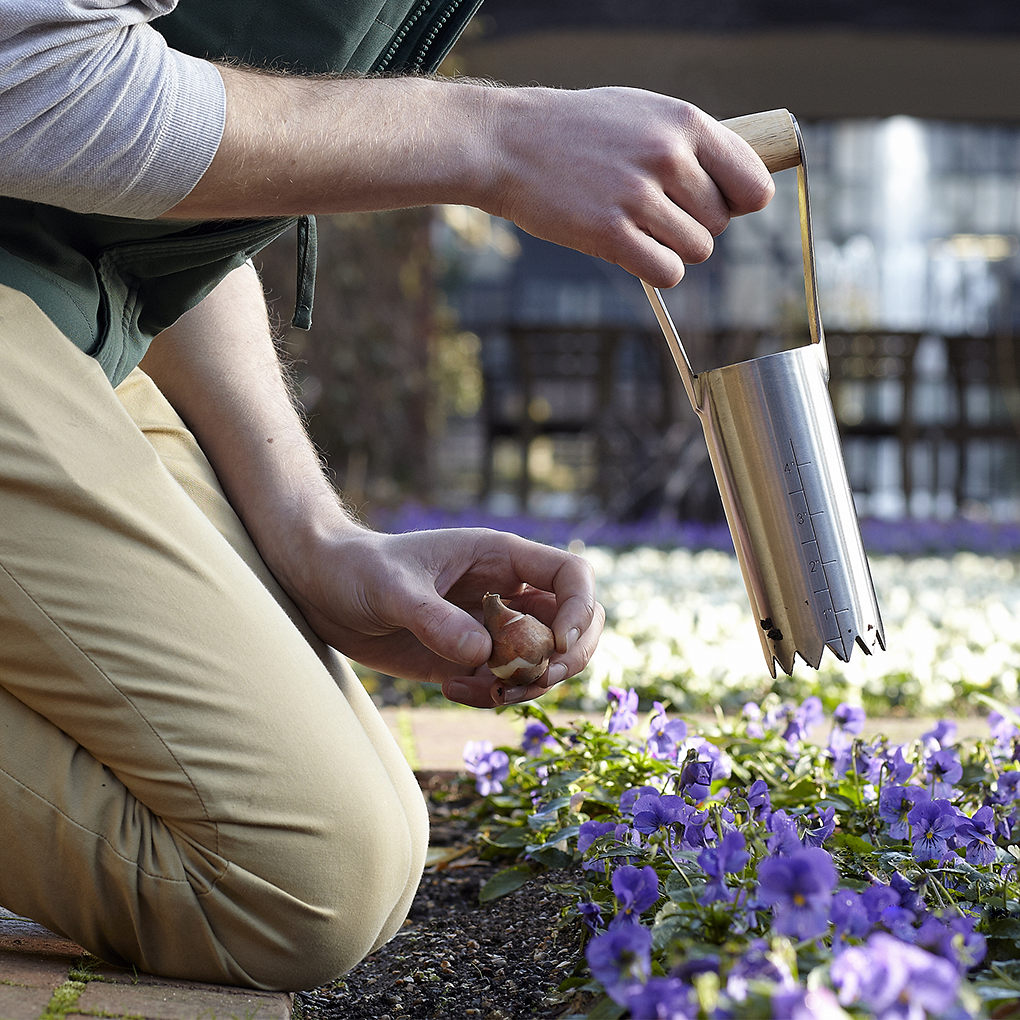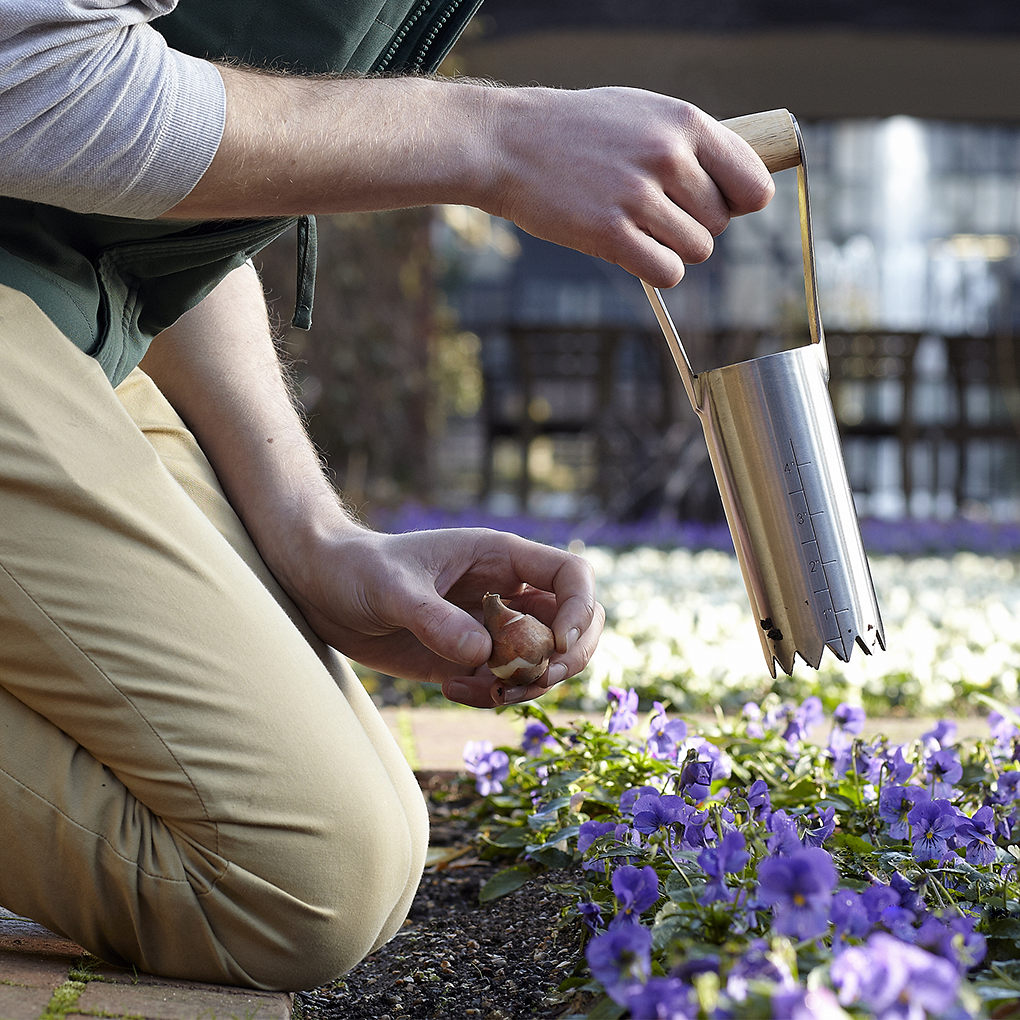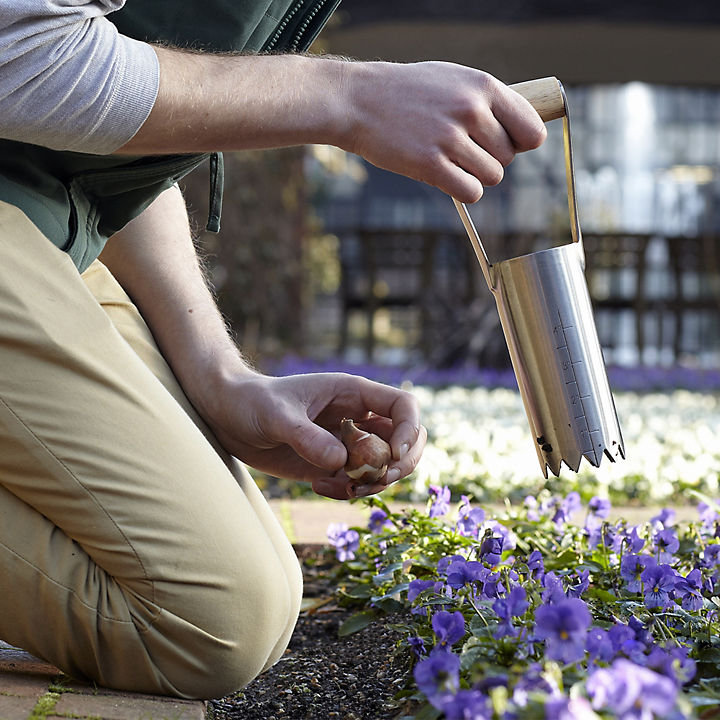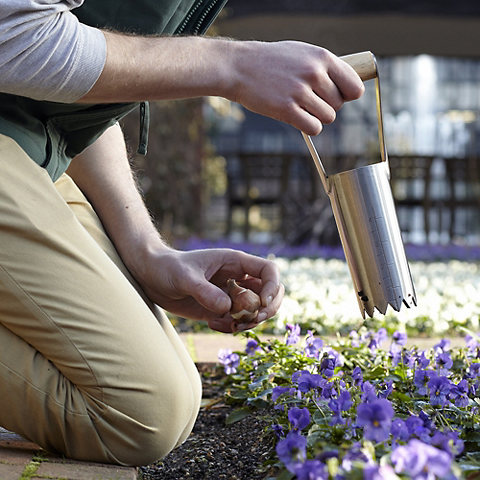 Transplanters
Similar to a trowel, a transplanter features a narrow head which makes it ideal for digging smaller and deeper holes for seeds and moving delicate seedlings without causing damage. It's narrow width also makes it a great candidate for working in small confined spaces such as flower beds. These products often have a measuring guide to help you plant to the recommended depth.
Augers
An auger offers a non-powered way to drill a sizeable hole into the ground. This can be for the planting of large plants, though is most commonly used to create holes for fence posts.
Because of this, they're also known as a post hole digger, along with earth auger, soil auger and auger drill.
Pick axes & mattocks
A pick axe has a pick (or axe) at one end and a slim chisel on the other. The pick axe's blade is used to cut vertically, which makes a great choice for breaking and digging into firm soil. These can also be used to dig out stubborn tree roots.
Similar to the pick axe, a mattock consists of two ends (an axe and a hoe type blade) which makes it a very versatile tool to have in your garden. The axe end is perfect for cutting roots, whereas the hoe end is ideal for digging and cultivating hard soil.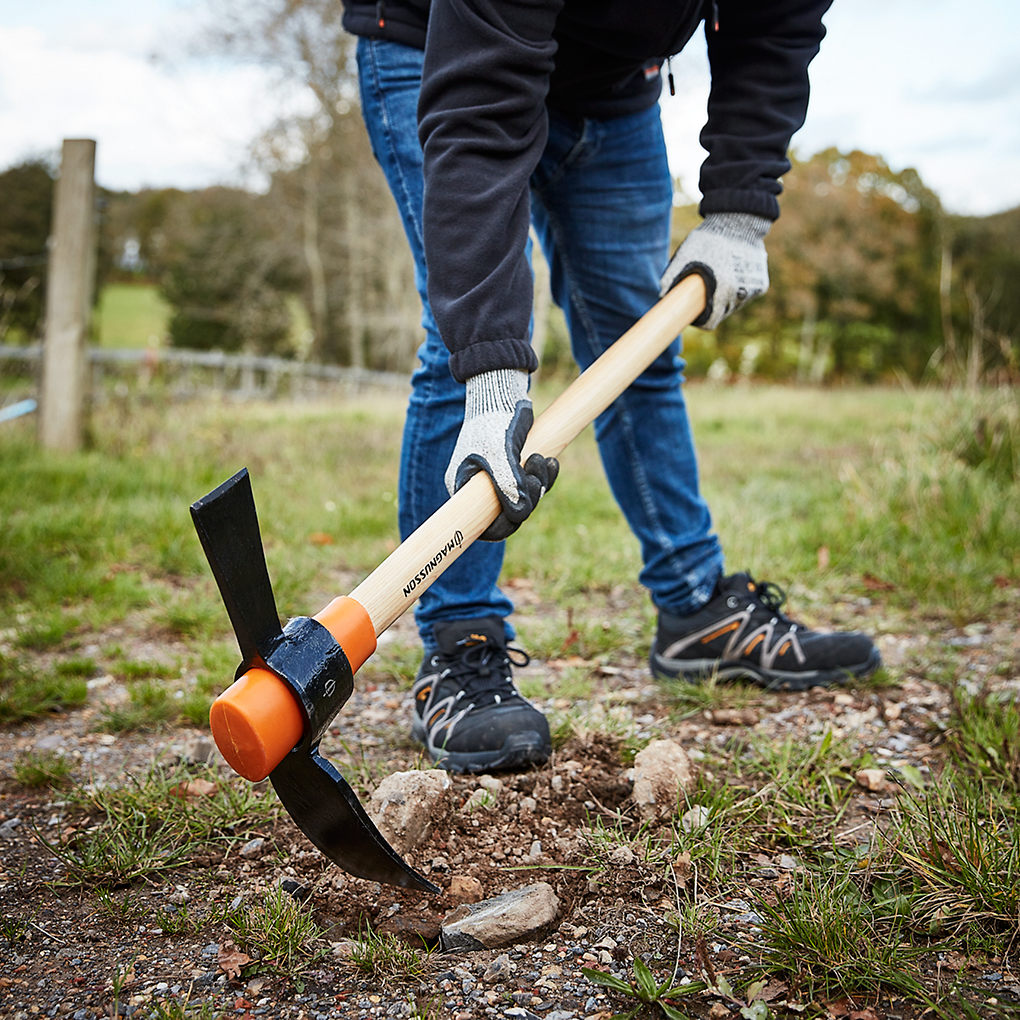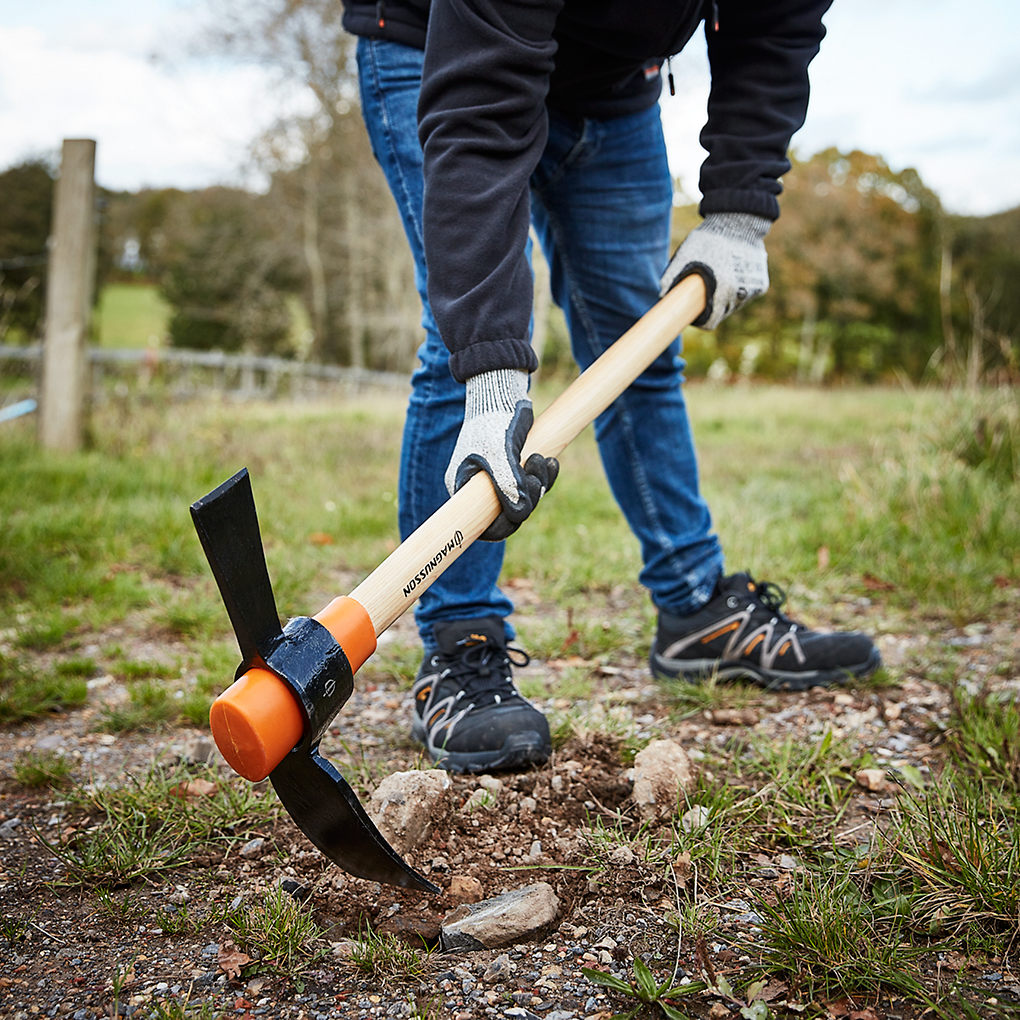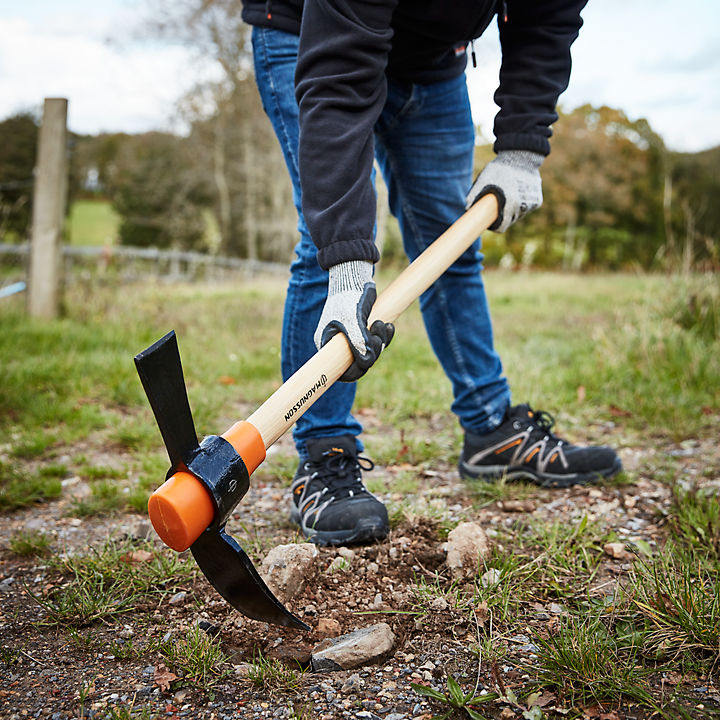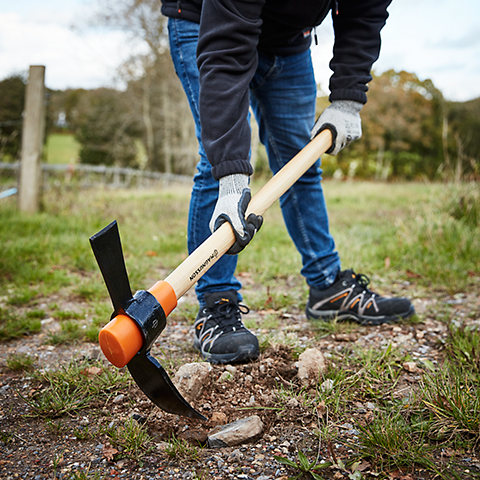 Half Moon Edgers
An edger will help you make neat and tidy edges around flowers beds or between lawns, driveways, patios or paths.
The edger will cut a straight line in the grass along the border to prevent stray grass edges that make your garden look untidy.