Transform your space with wallpaper
When it comes to transforming your home, the only limit is your imagination. From the boldest prints to the most subtle splash of colour, wallpaper is the most versatile way to express your style. Gone are the days where wallpaper was hard work to put up, now you can have whatever look you want in a matter of hours.
Don't be fooled by its delicate look, our range is durable, wipeable, and hard wearing, perfect for family life. We've even got wallpaper that is specifically designed for kitchens and bathrooms, so forget about peeling corners. From wood, tile, and stone effect to geometric, botanical, and metallic, there's a choice that's perfect for every space. Let us take you on a journey, with all the advice and wallpaper inspiration you need to take on a wallpaper makeover.
Skip to...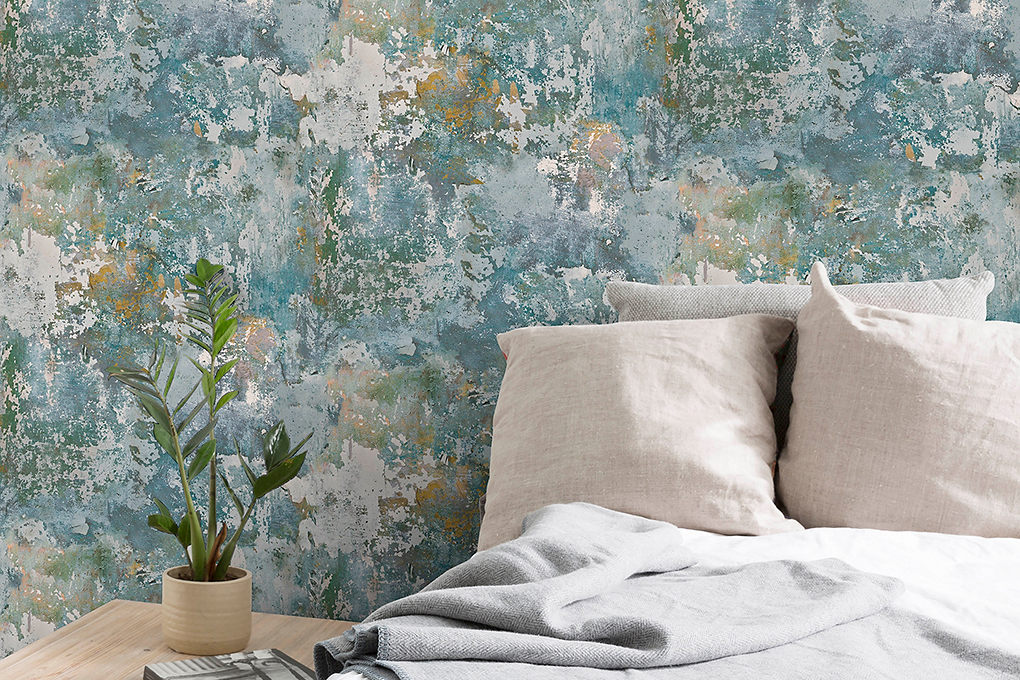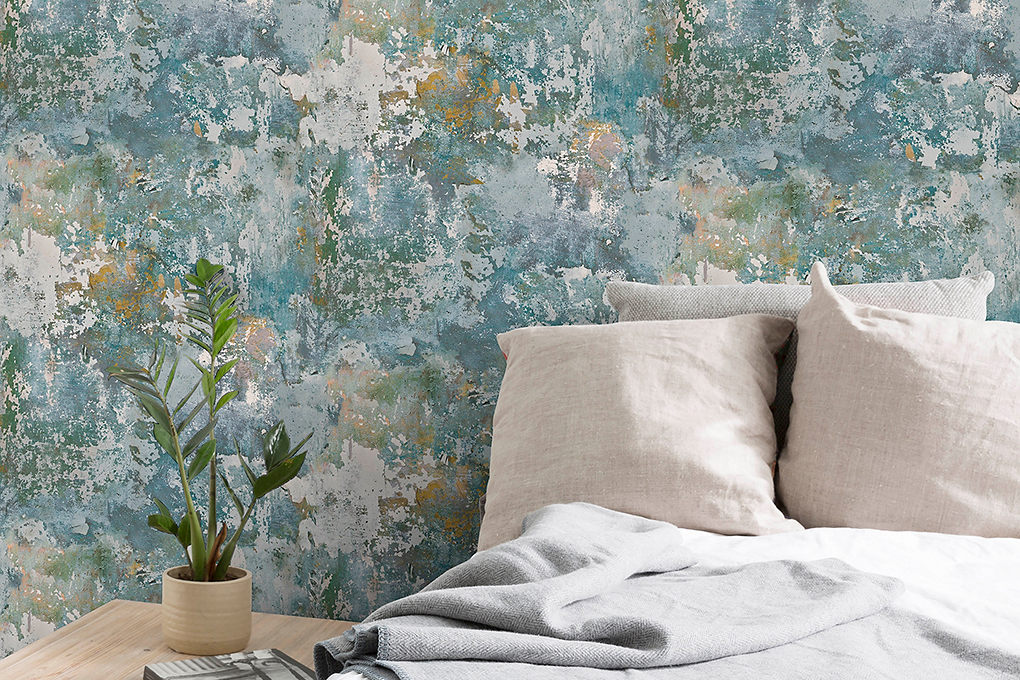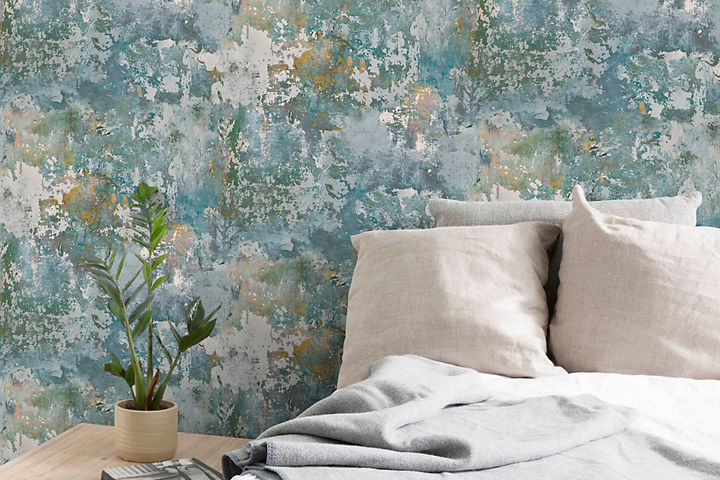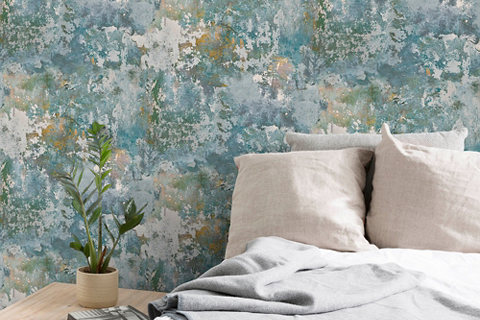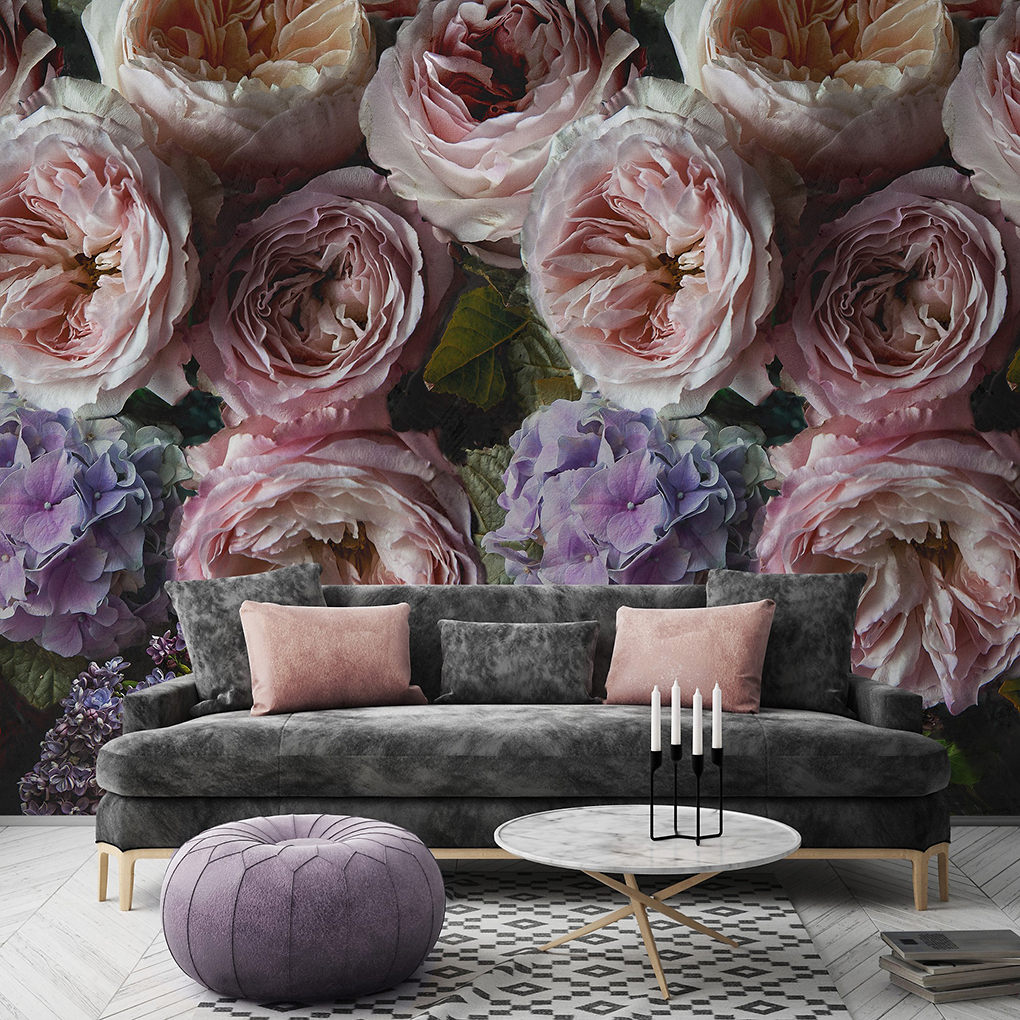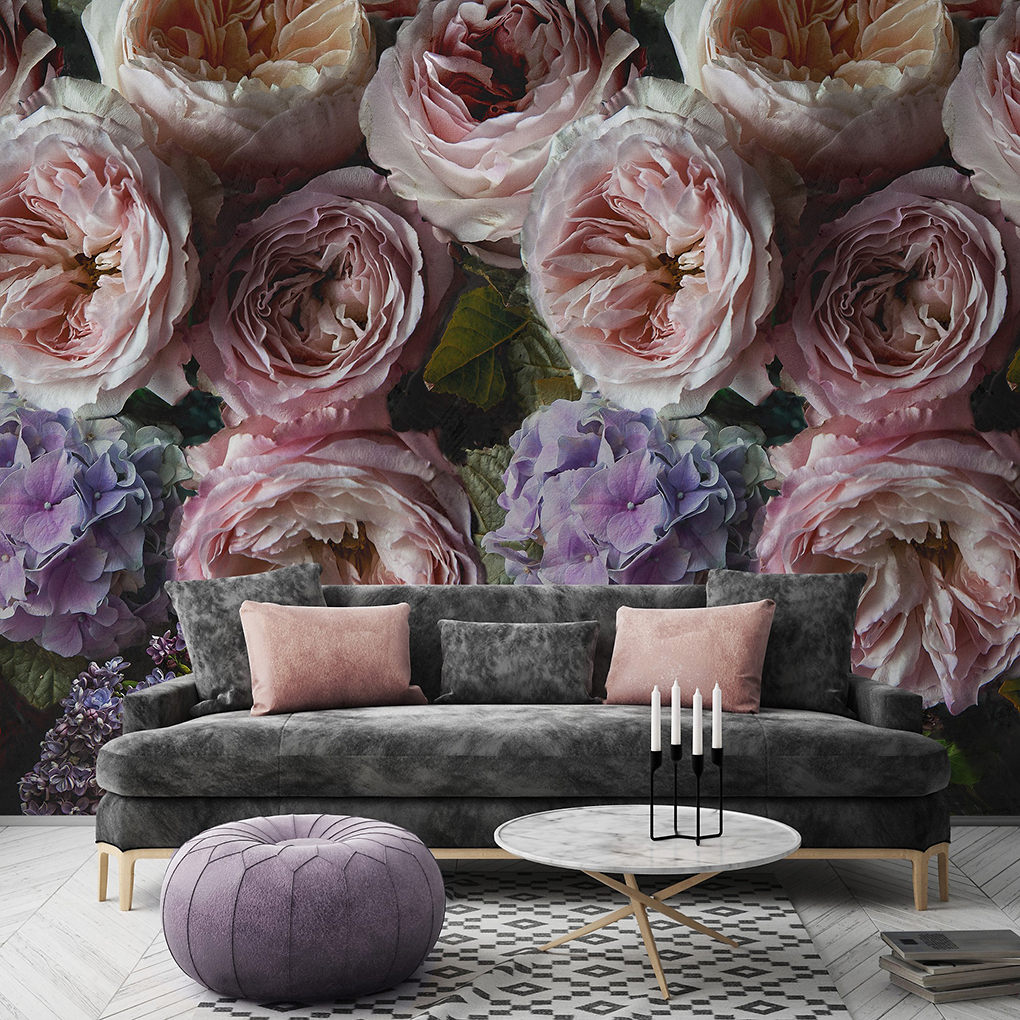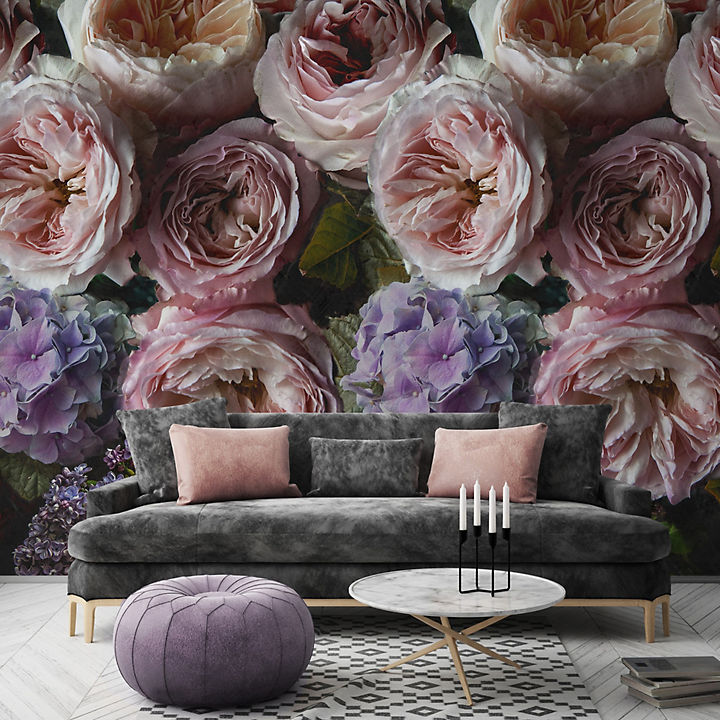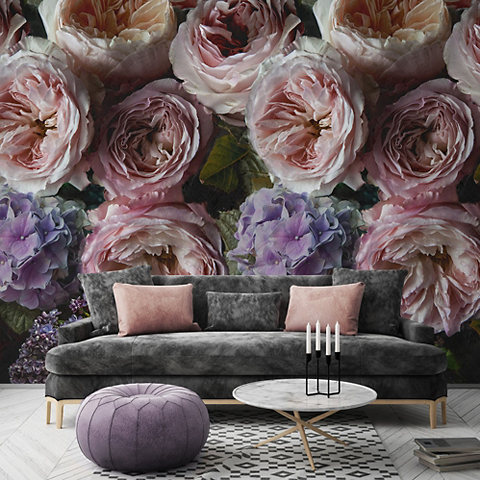 Before you begin
Before you start thinking about materials and colours, it's important to take time to consider some practicalities of your wallpaper project.
Which room is being decorated?
Wallpaper is regularly used in bedrooms, living rooms and dining rooms and thanks to clever design innovations it can also work brilliantly in kitchens and bathrooms. We offer stylish ranges that are specially made to withstand extra moisture, including splashes. So, you can enjoy a consistent look from one room to the next, such as from your bedroom to your en-suite, or from your kitchen into your hall or living room.
Additionally, we offer options that are ideal for high traffic areas such as hallways and landings, where walls might be scuffed or marked. So it's good to understand at this early stage if your room requires a tailored type of paper.
What condition are the walls in?
Is your surface uneven or cracked before wallpapering? Not to worry, your decor can still achieve a smooth finish thanks to lining paper which is hung underneath your chosen paper to iron out any unwanted bumps and lumps. Alternatively, we also offer textured and heavily embossed styles that help even out any imperfections without the need for lining paper. Options worth considering if your walls need a little help.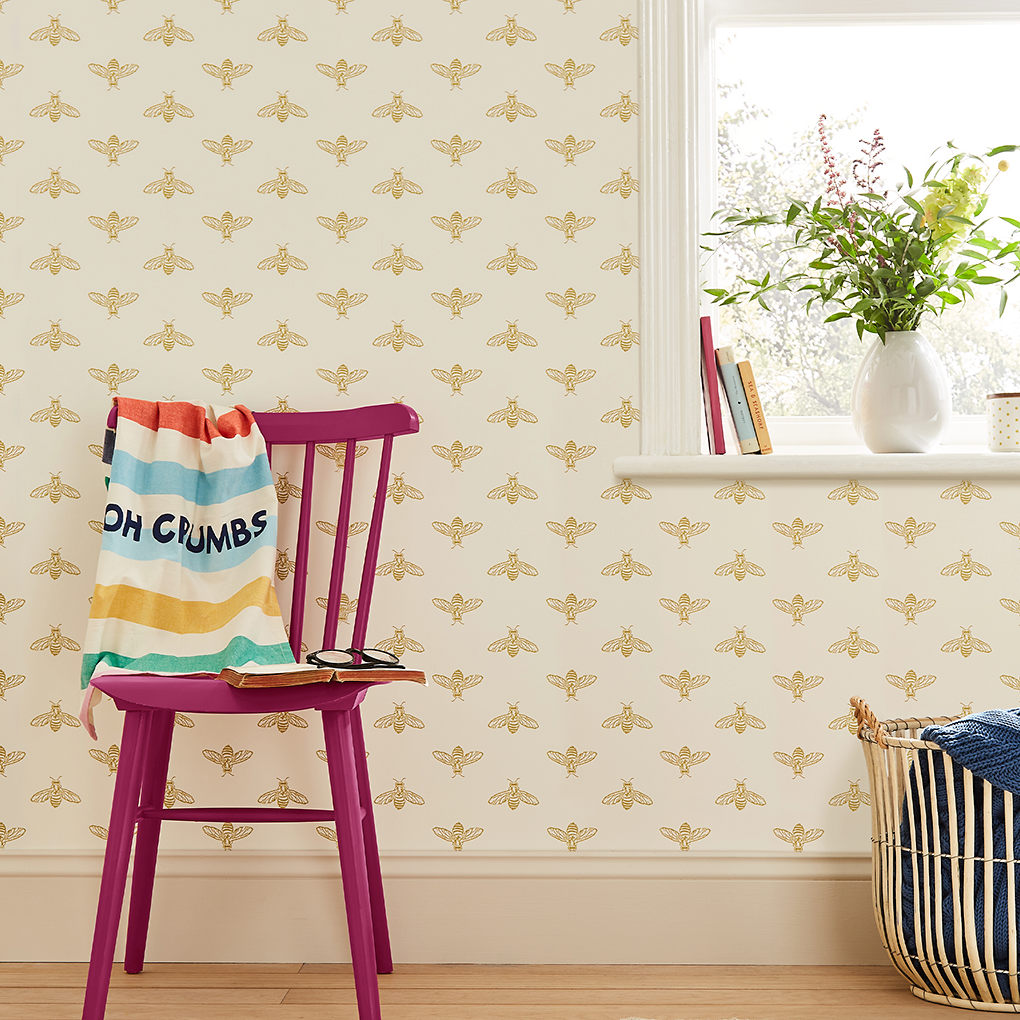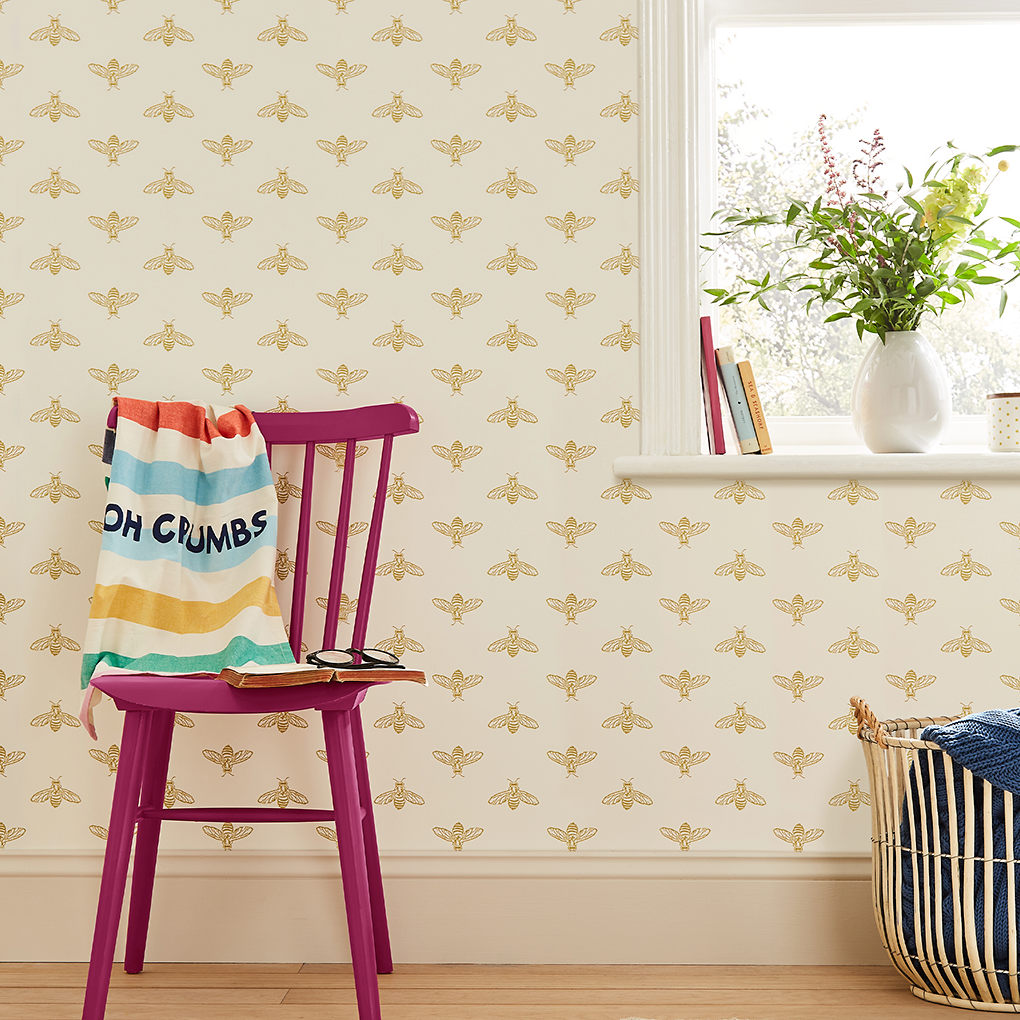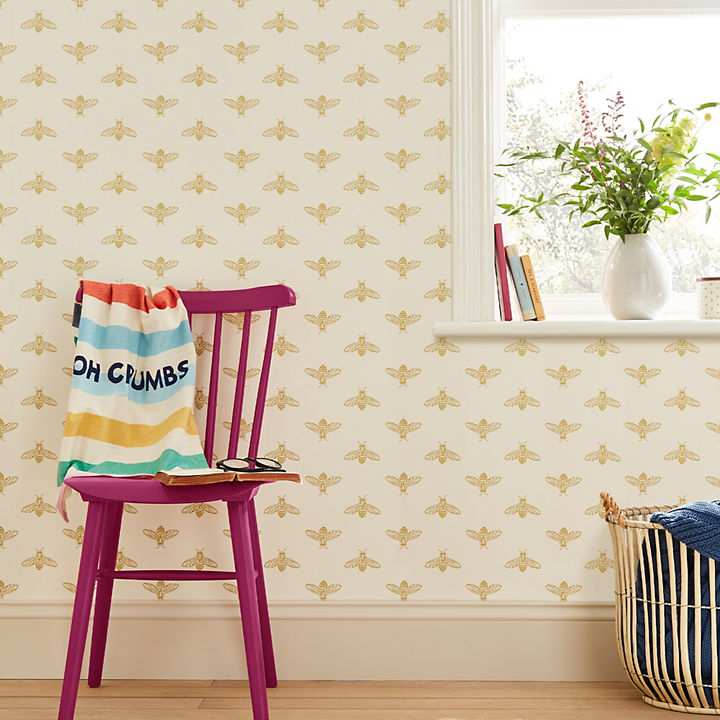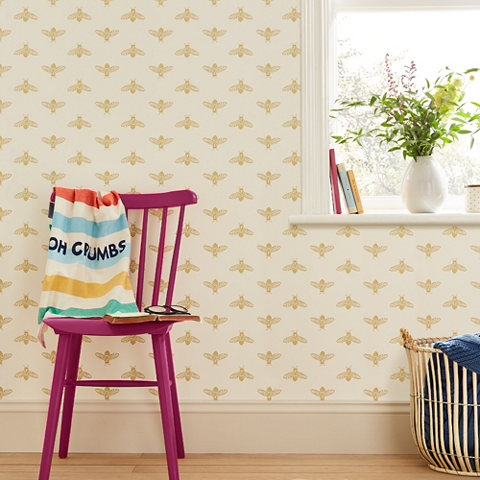 What effect do you want?
Wallpaper can help your home achieve all sorts of looks, so it's time to think creatively. Paper all four walls of the room or break up the look with a border. Again, this can be added wherever you fancy - around the top of the paper, the bottom or the middle of the wall.
If you don't want all four walls to look the same, why not add a coordinating paper or paint one of our paintable papers to create a feature wall? And it doesn't just have to be for the walls alone - use it on your ceiling as a simple way to add interest and texture.
We offer an extensive range of patterns and designs to complement all colour schemes or themes. And if we don't have anything quite right, consider one of our paintable papers that will allow you to create your own, unique look.
How much wallpaper is needed?
Before buying your wallpaper, it's essential to know how many rolls you'll need. Use a tape measure to measure the width and height of each wall or surface being decorated and then use our wallpaper calculator to calculate the amount needed.
Wallpaper materials & types
Wallpaper is made from two layers or substrates - the top and base. The top is the decorative finish and for that there are two main choices - paper or vinyl. The bottom layer, or backing, determines how the paper is hung and these choices include paper or non-woven. Paper substrates are hung using the paste the paper hanging method, whereas those with non-woven bases use the paste the wall technique. For more on paste the wall wallpaper head to the 'Wallpaper features' tab of this article.
All of our wallpapers contain paper that is made from forest friendly, responsibly sourced timber, certified by either the Forestry Stewardship Council (FSC®) or by the Programme for the Endorsement of Forest Certification (PEFC™). For more information, visit our Responsible Business pages.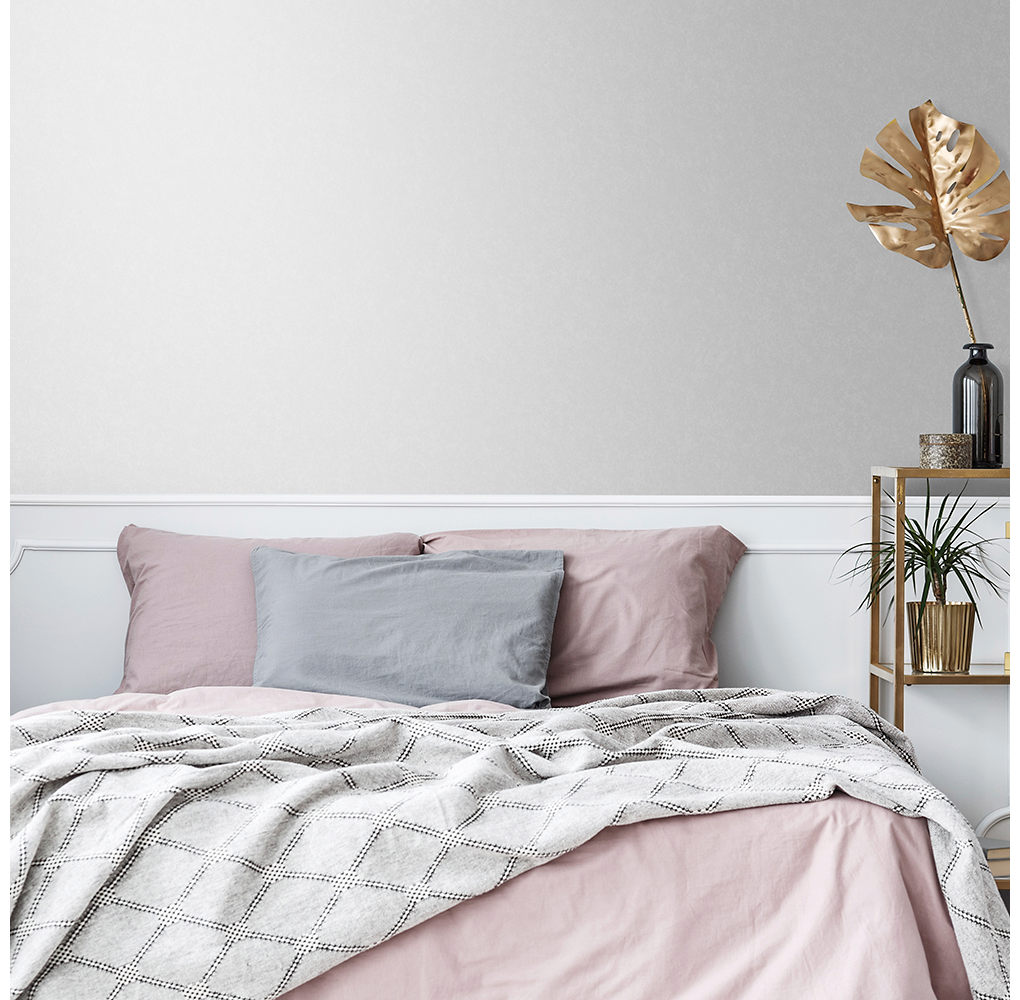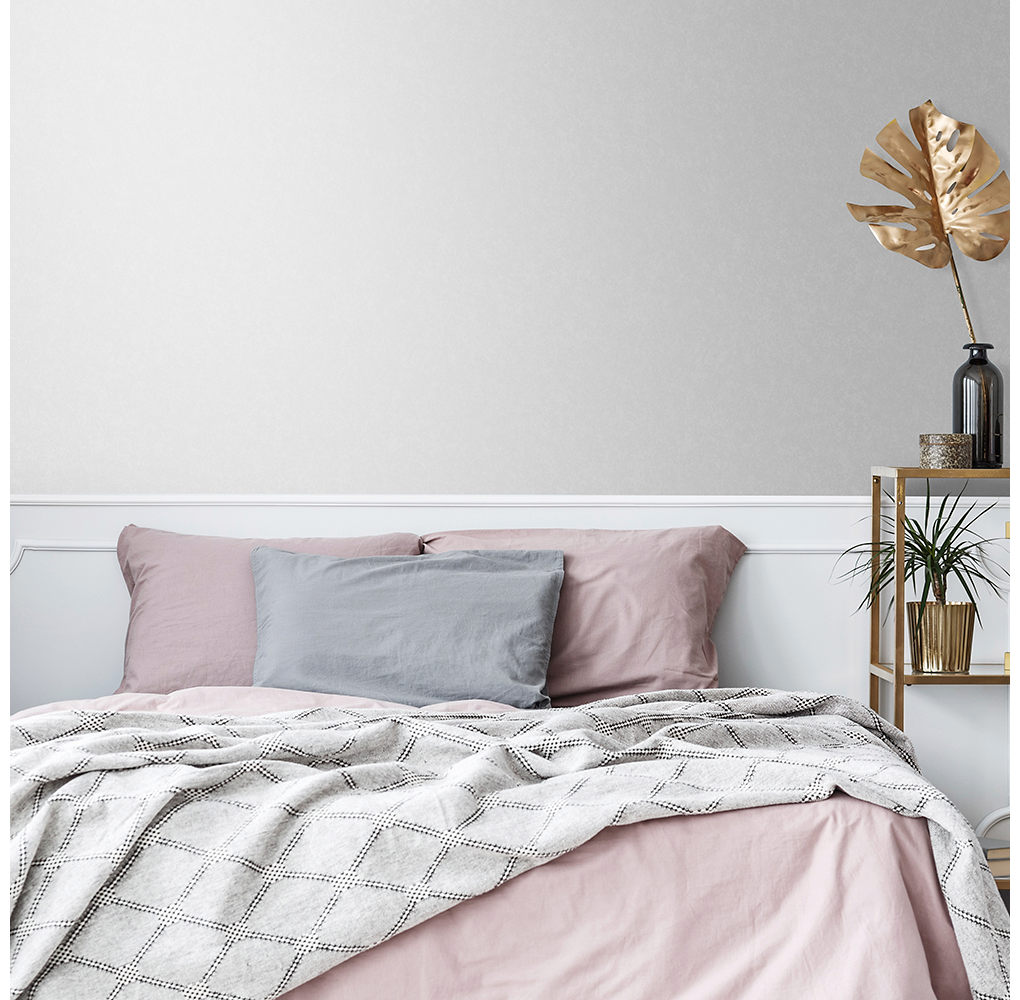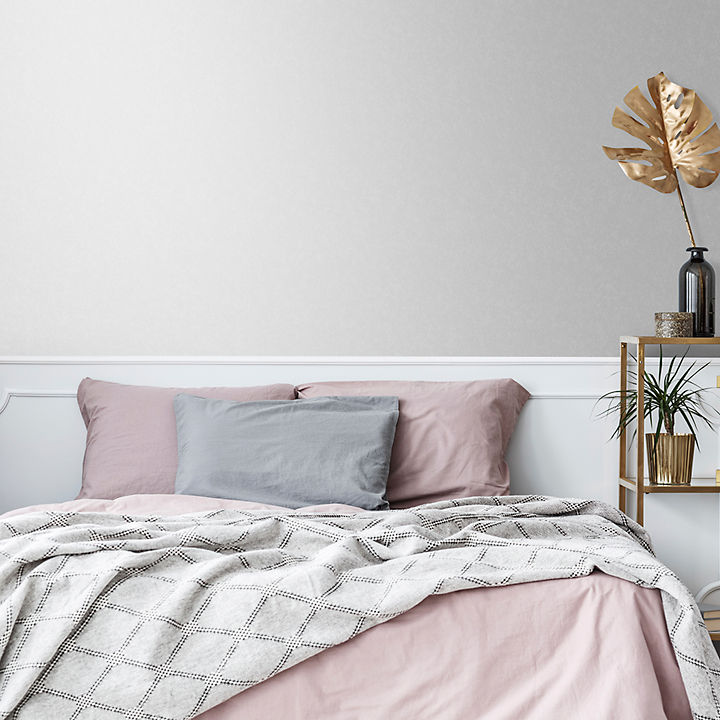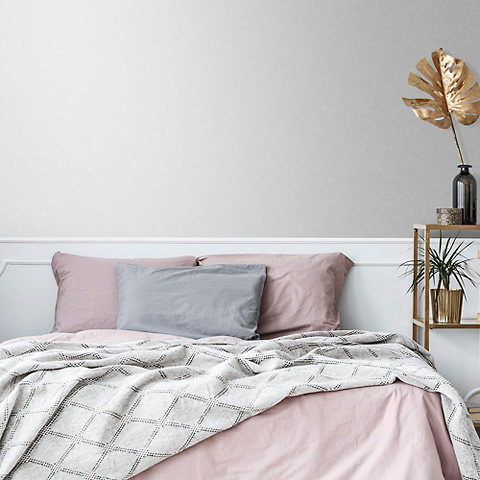 Wallpaper types
Plain wallpaper
For a simple, clean look, our extensive range of plain wallpapers can make your room feel both luxurious and low key.
Our plain wallpaper is:
made from either vinyl or paper
available in a wide range of different colours
offered in various textures, including ones that feel like leather, linen (pictured) and tweed
available in different finishes, such as glitter for a bit of glamour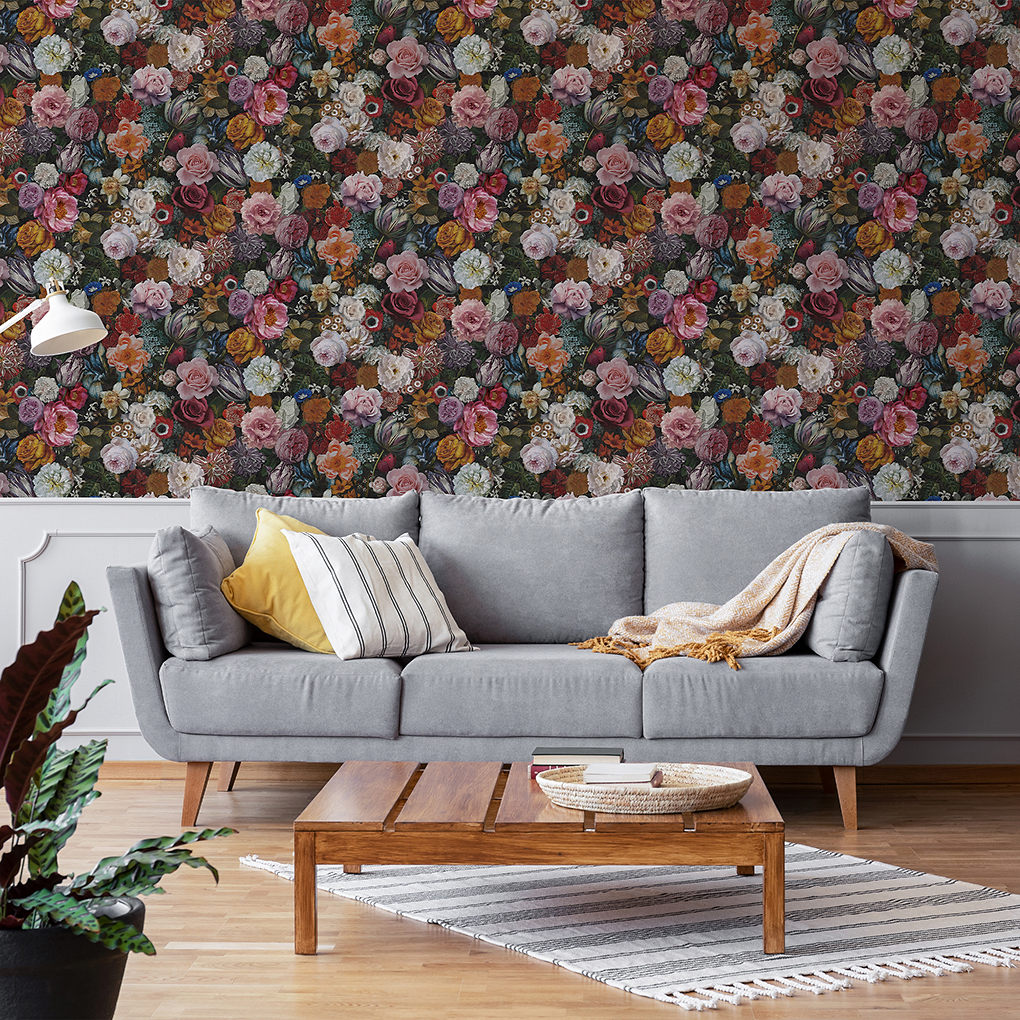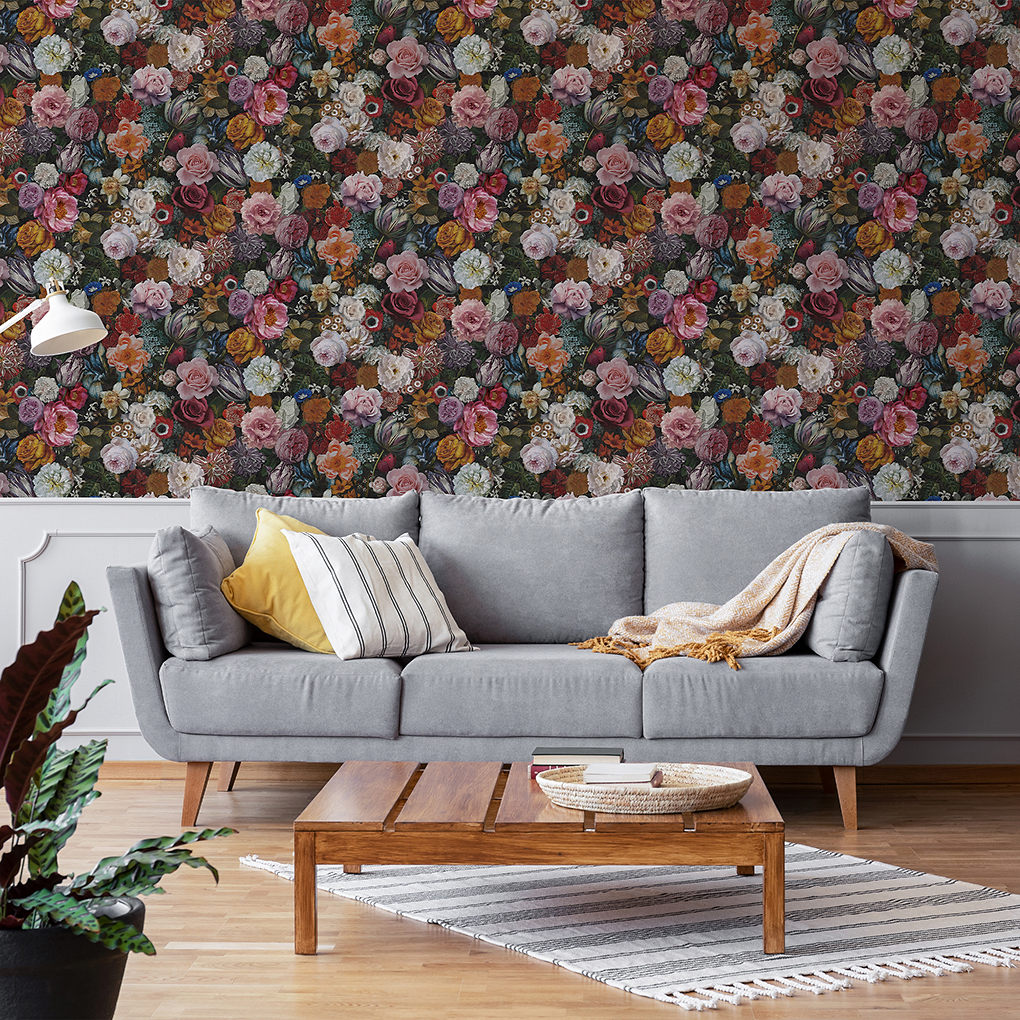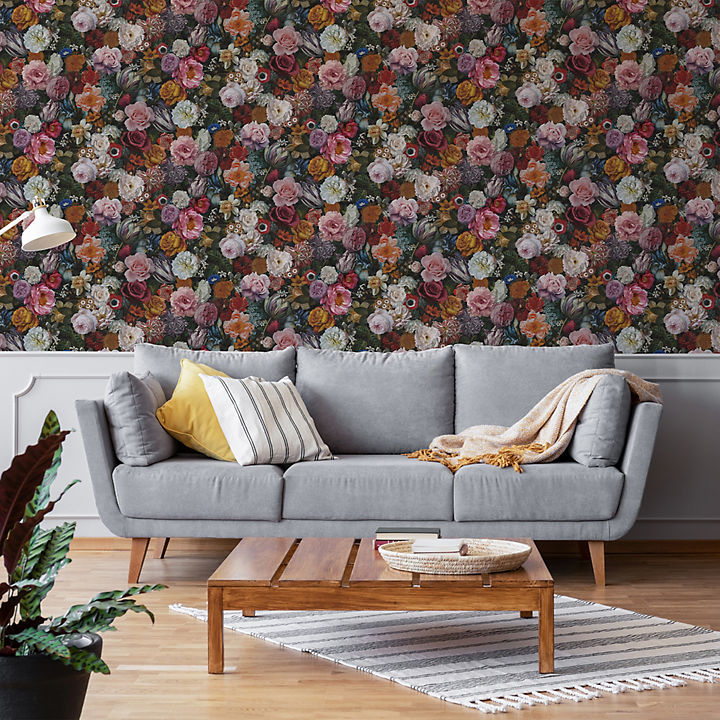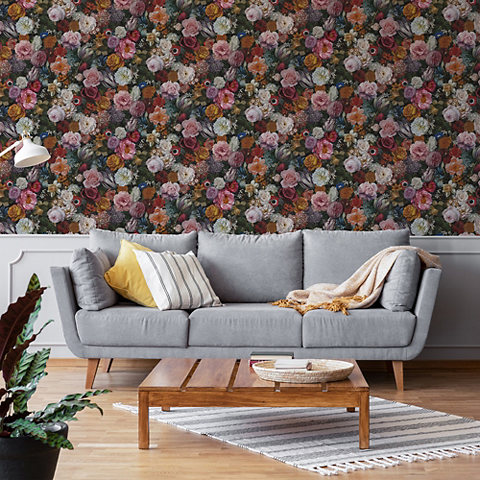 Patterned wallpaper
Patterned wallpaper is great for a feature wall or to make a statement on every wall. Choose from a huge range of designs, patterns and effects to suit any look or theme, including flocked and embossed options as well as designs for children's rooms.
Our patterned wallpaper is:
made from either vinyl or paper
available in an extensive range of different on-trend designs and colours, such as damask, geometrics, glitters and metallics
offered in either a smooth or textured finish
easy to clean - simply wipe clean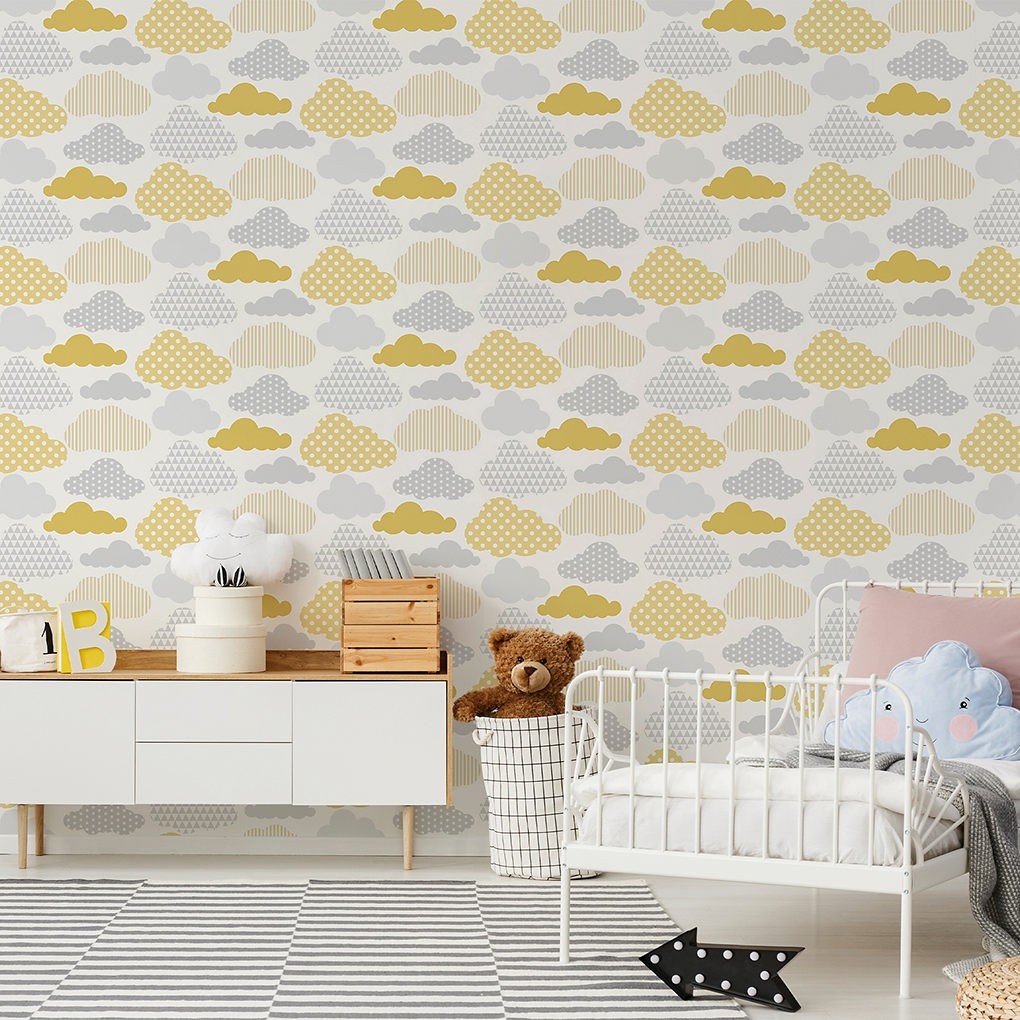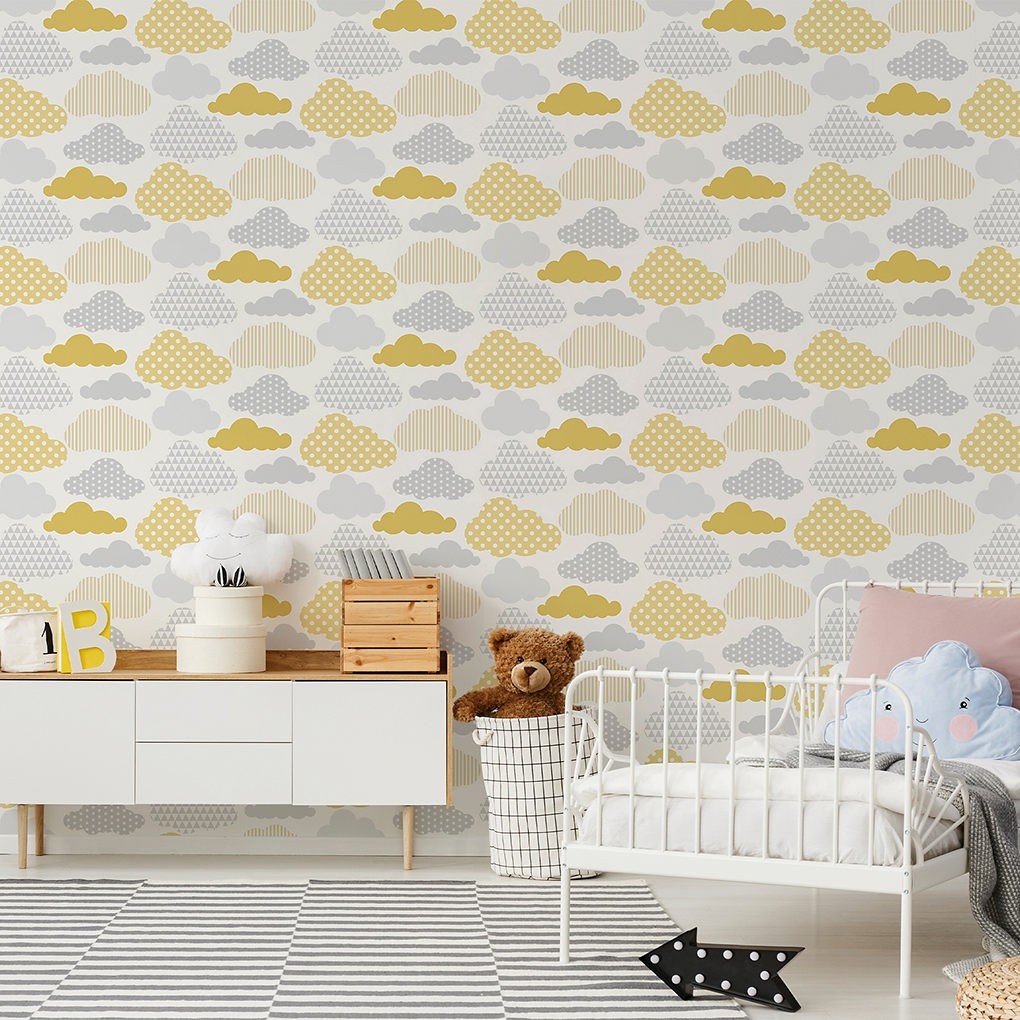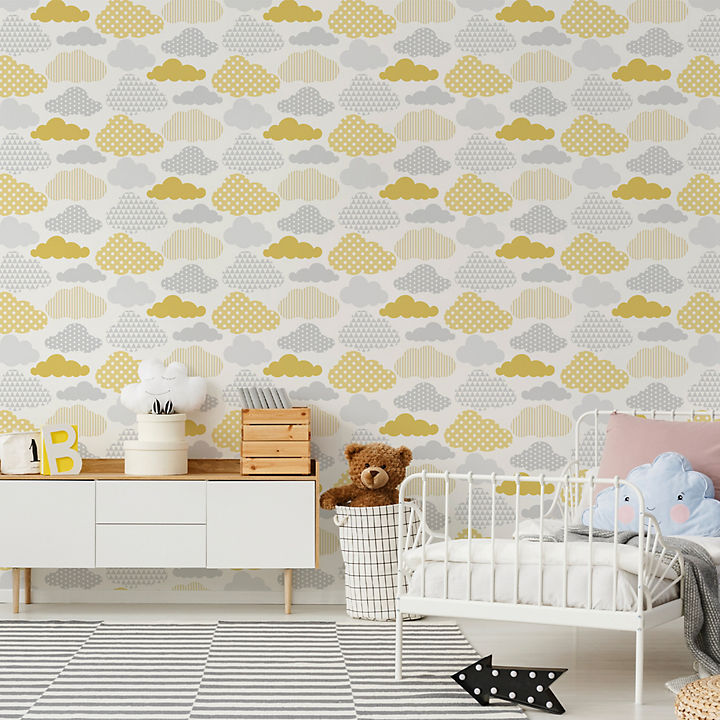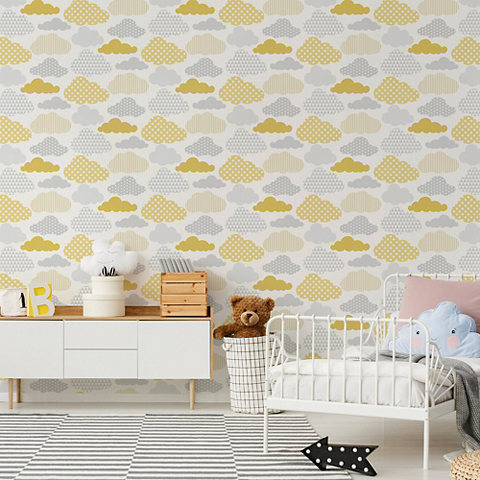 Flocked wallpaper
Flocked wallpaper uses fibres, such as velvet pile, bonded in patterns to the surface of the paper creating a luxurious, classical look. Dirt can be sponged away, but be sure not to scrub too hard as this could remove the flock.
Embossed wallpaper
Embossed wallpaper features a raised pattern which is imprinted into the paper or vinyl during the manufacturing process. Take extra care when hanging paper options to avoid flattening the pattern (this doesn't apply to vinyl).
Children's wallpaper
Ideal for bedrooms and playrooms, our children's range includes everything you need to add some fun to your child's rooms including wallpaper, self-adhesive borders and wall stickers. Available with designs that feature their favourite characters and nursery themes, as well as more mature styles that can last until their teens.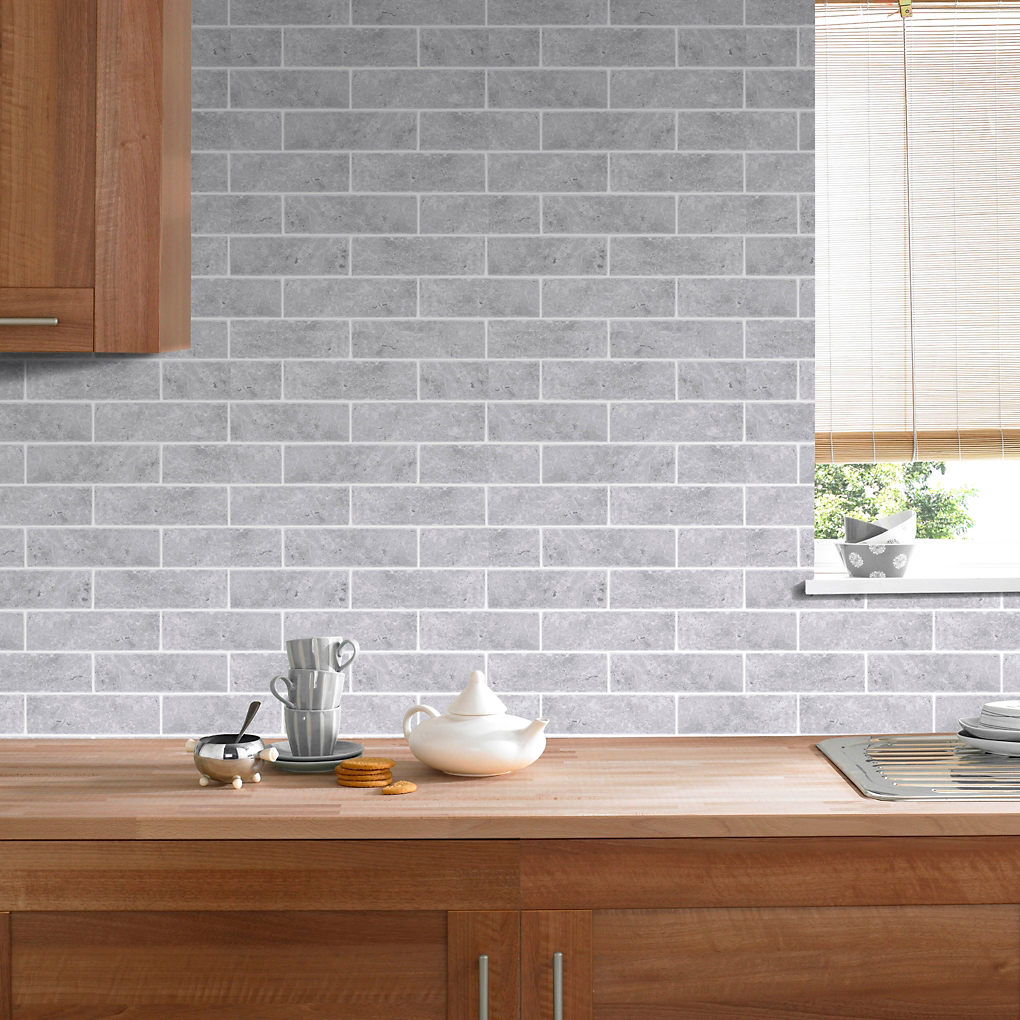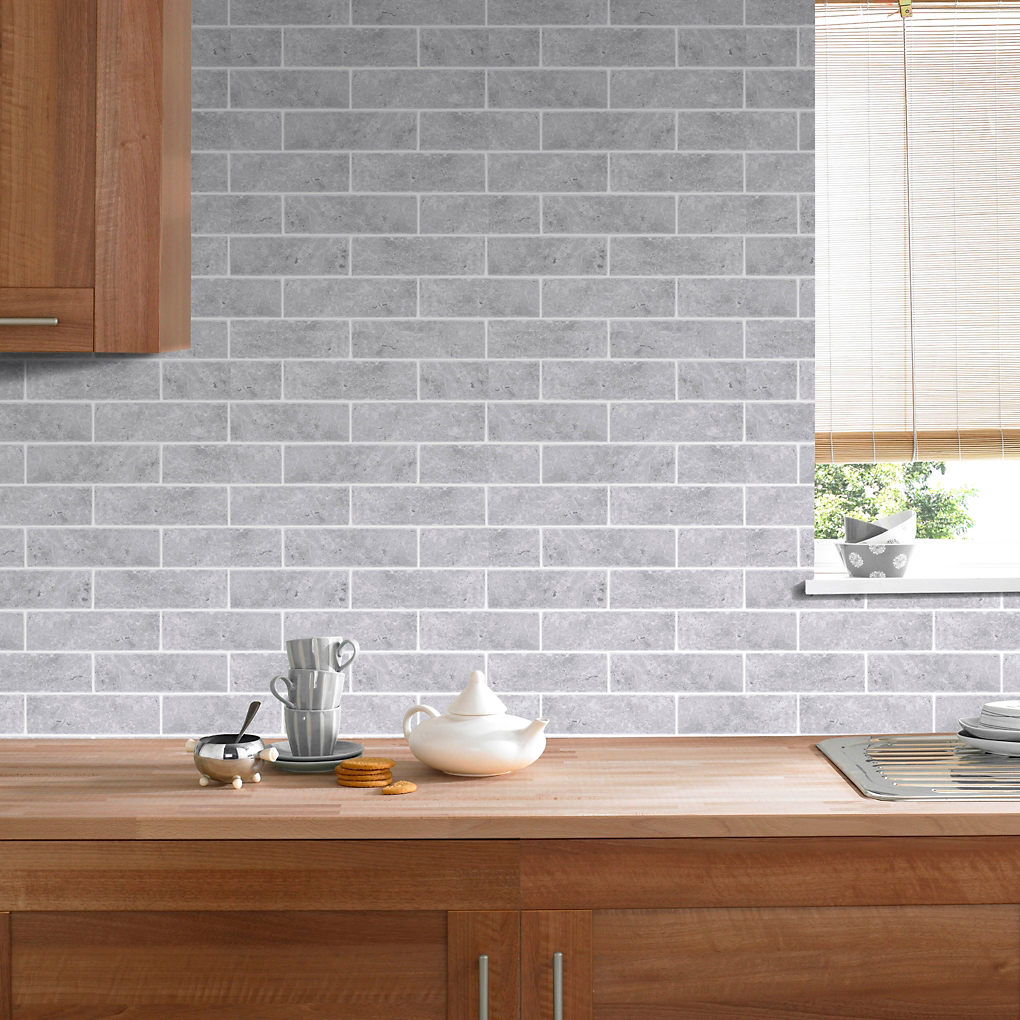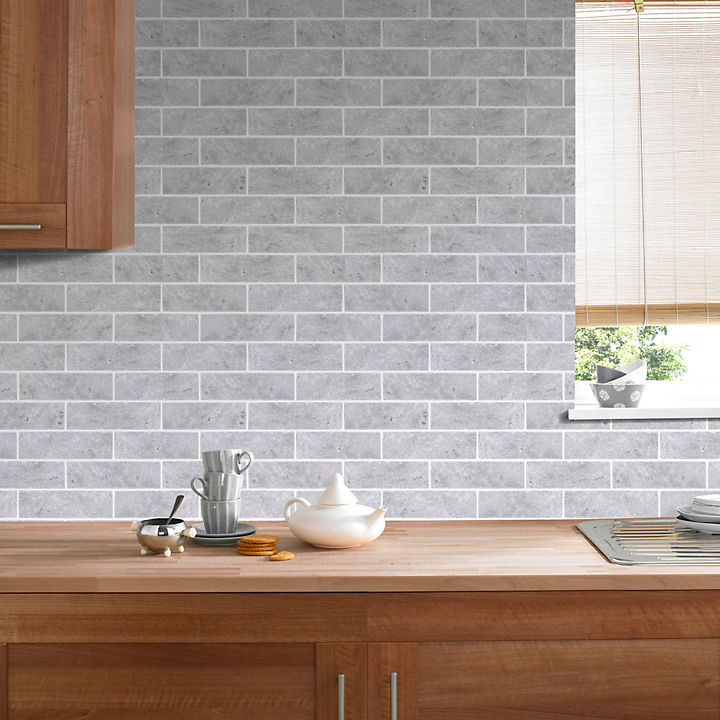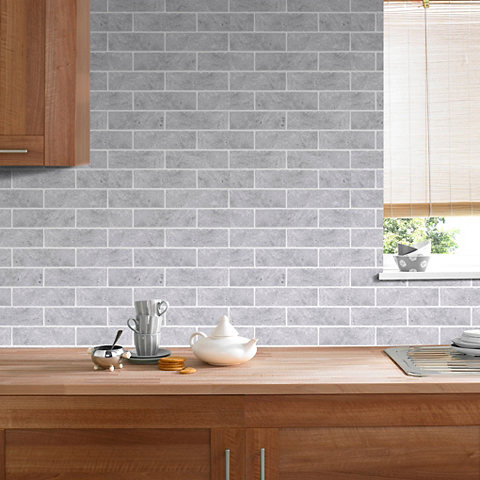 Paintable wallpaper
Create your own unique look with our paintable wallpaper range. As well as being customisable, it also helps disguise uneven surfaces and cracks, making imperfections disappear. Simply paint over to achieve your desired paint effect.
Our paintable wallpaper is:
made from vinyl
available in various textured designs including stripes, squares, flowers and more
easy to clean - simply wipe clean
not suitable for kitchens or bathrooms
Kitchen and bathroom wallpaper
Our wallpaper for bathrooms and kitchens is a more cost effective and easier to maintain decorating option than tiles.
Our kitchen and bathroom wallpaper is:
made from vinyl, cushioned vinyl or embossed vinyl
specially designed for high humidity areas as it doesn't absorb moisture
splash proof
available as extra washable - all dirt and grease is easily removed
available with on-going protection from harmful bacteria, making it an incredibly sanitary choice for your home
able to replicate the look of tiles – without the tricky application or removal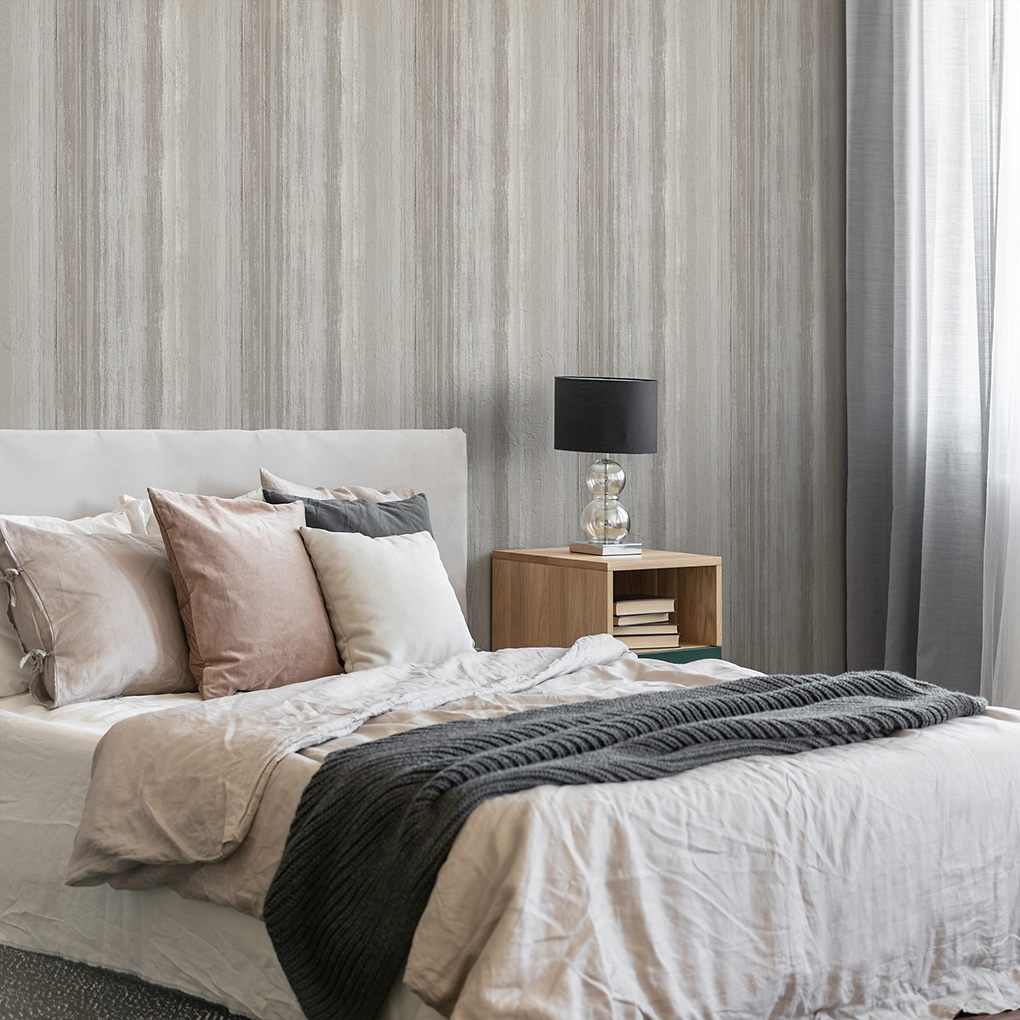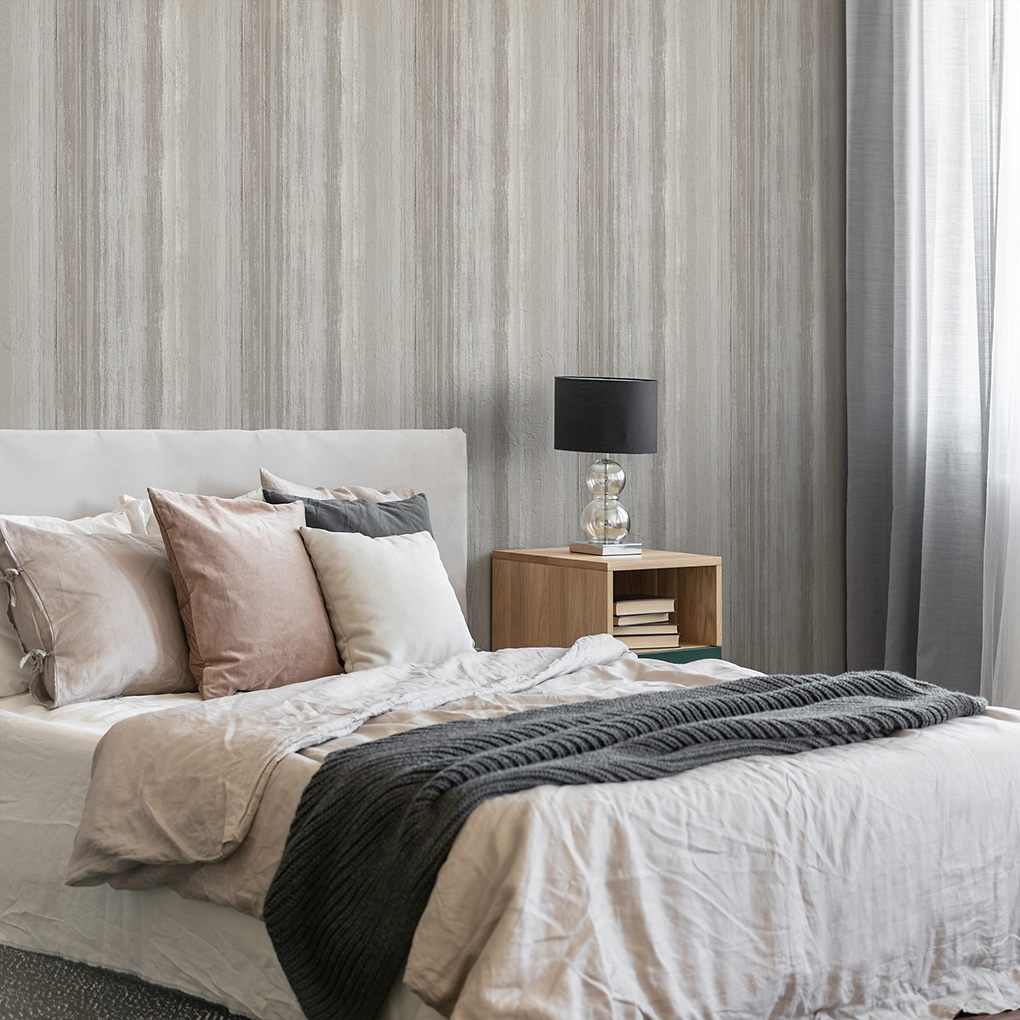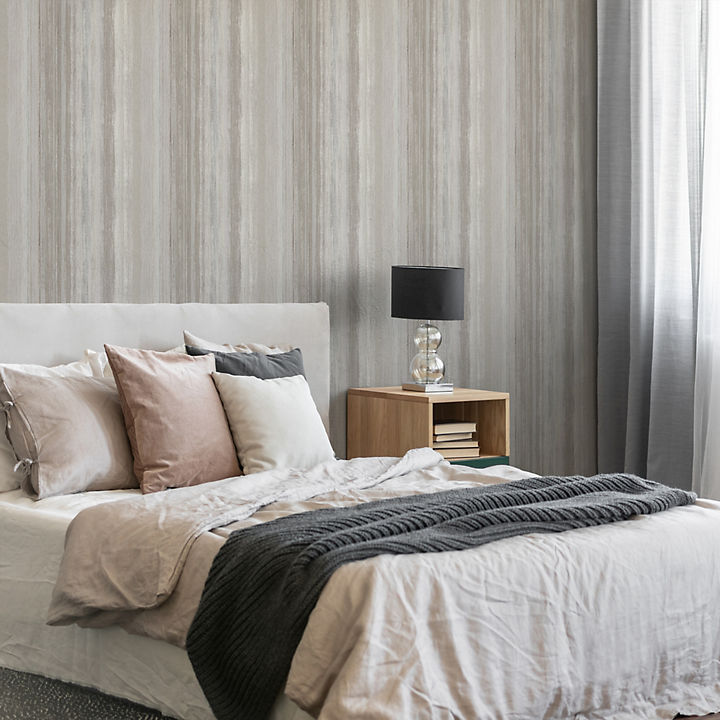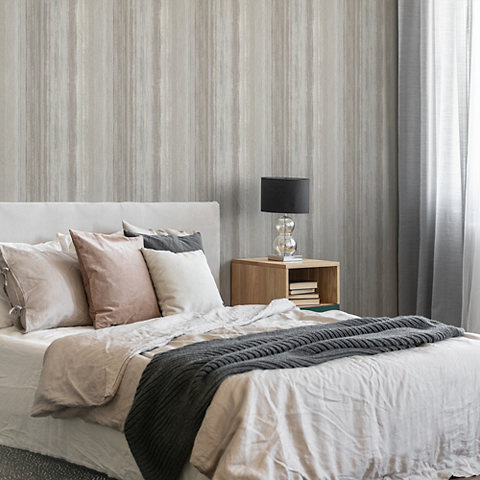 Wallpaper features
When choosing your wallpaper, knowing about the features will help you make the right choice for your home.
Coverage
Measured in metres squared (m2).
As well as using our wallpaper calculator, working out how many rolls of wallpaper you need depends on how much coverage you expect from each roll.
Wallpaper application types
There are three ways to hang your wallpaper: paste the paper, paste the wall and ready pasted.
Paste the paper - As the name suggests, this application involves applying the paste to the wallpaper before hanging. This is the traditional method for hanging and is slightly more time-intensive than other options. To do so, you'll need a pasting table (or a flat surface) to support covering the paper in paste before you attach it to the wall.
Paste the paper options require soaking time – this allows the paper to expand when moistened so that you don't apply it to the wall before it's reached its full size.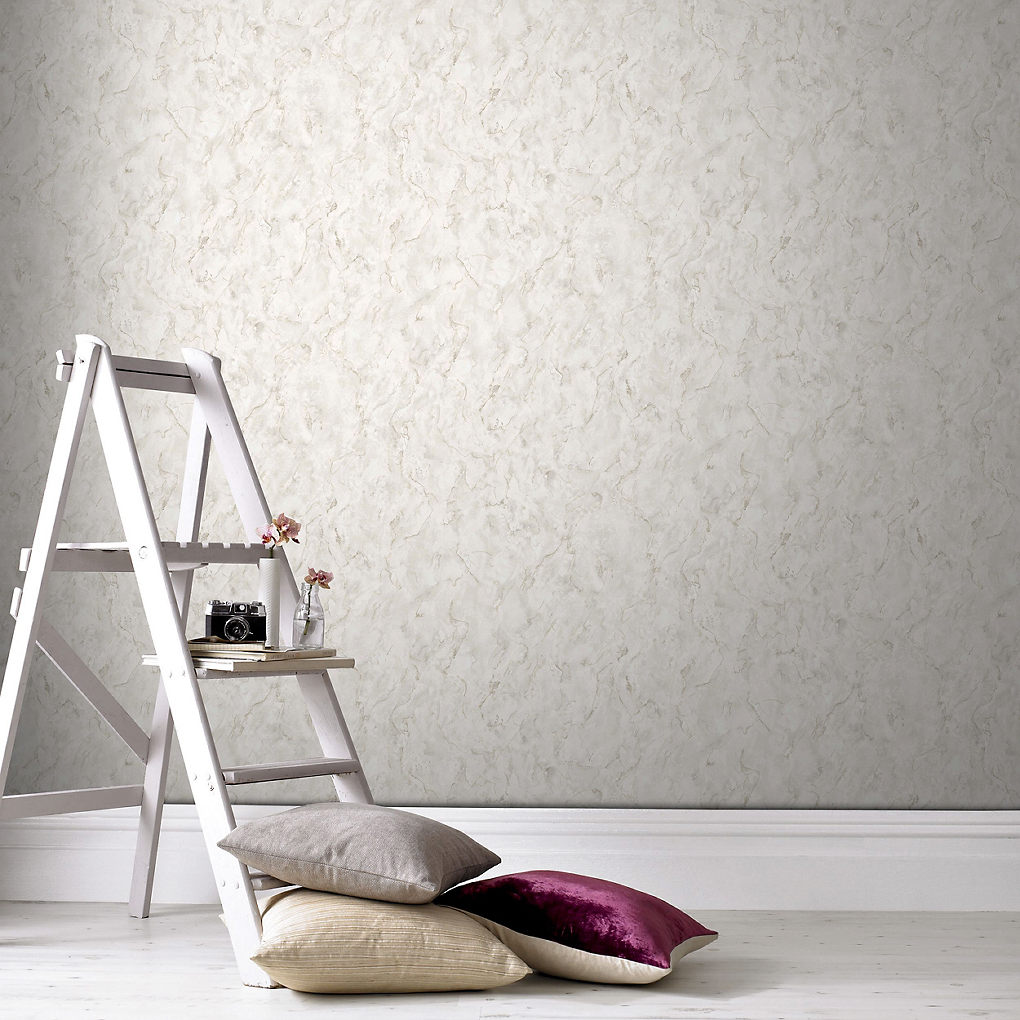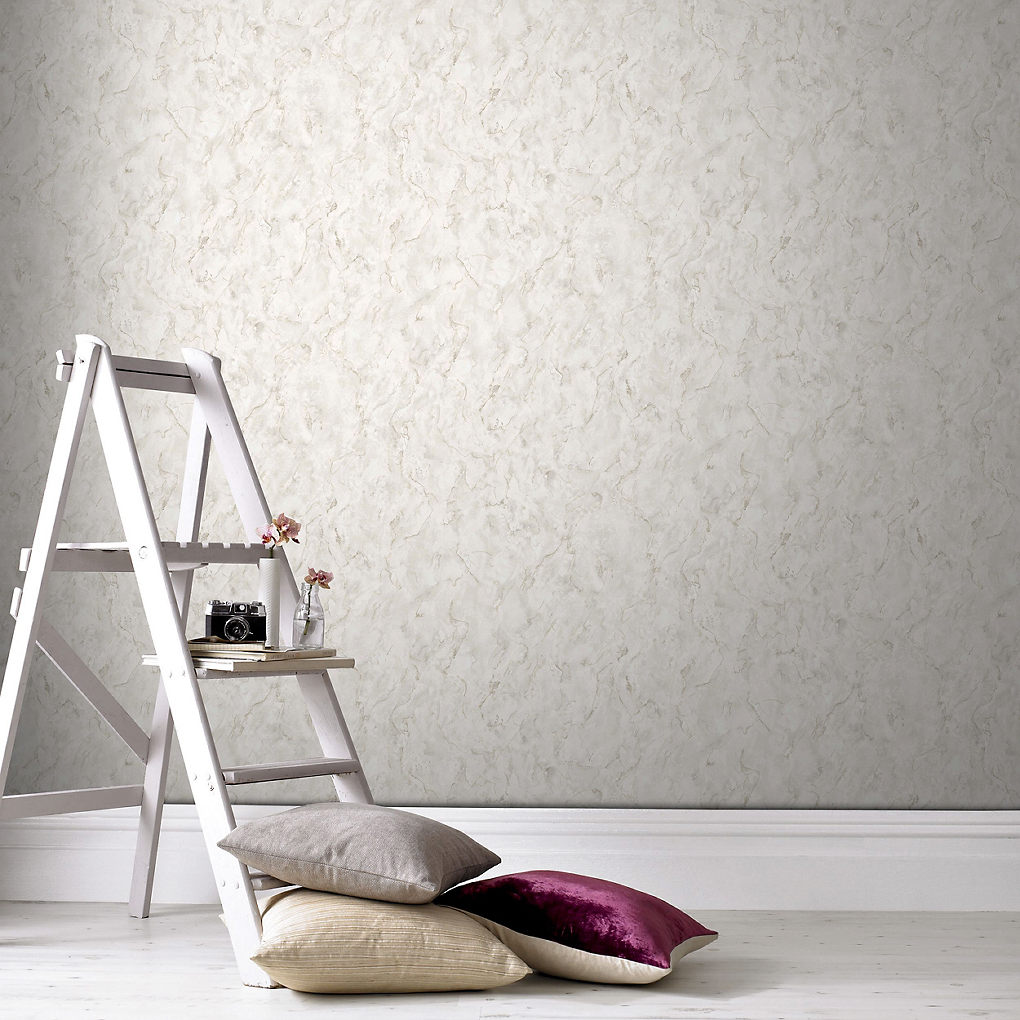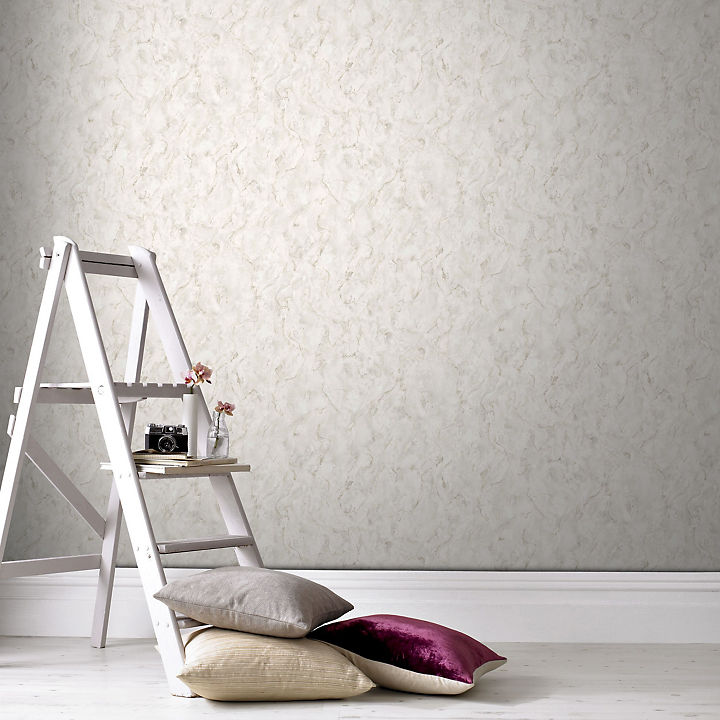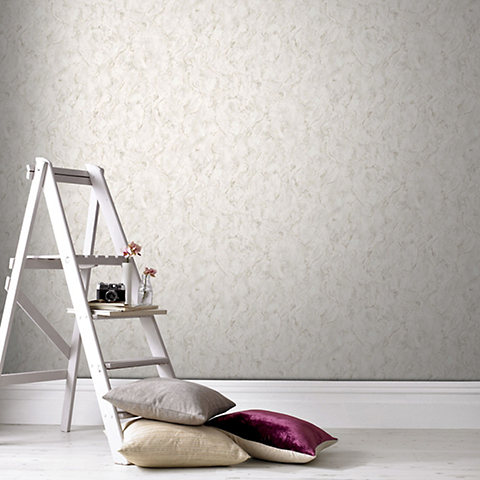 Paste the wall - Paste the wall options are the ideal choice for those new to wallpapering, as well as anyone short on time. Adding paste to the wall rather than the paper, is the quick and simple way to prepare your wallpaper for hanging. It's easier both to manipulate into place once on the wall and to remove any air bubbles, plus the paper is able to breathe with no concerns around possible shrinkage.
With paste the wall wallpapers, you're papering straight from the roll with no need for soaking time or cutting each piece before you begin. Simply hang and then cut to the right length. This shorter process results in a massive time saving when compared to paste the paper alternatives - and you won't need a pasting table.
Paste the wall wallpapers are also easy to remove. They peel straight off the wall without leaving any backing paper behind, meaning it's much easier to redecorate when you fancy a change.
Ready pasted/self-adhesive - With this hanging method, adhesive has already been applied to the wallpaper in the factory so you simply need to immerse the wallpaper in water for a certain amount of time before application. Wall stickers can just be removed from their backing and placed on the wall.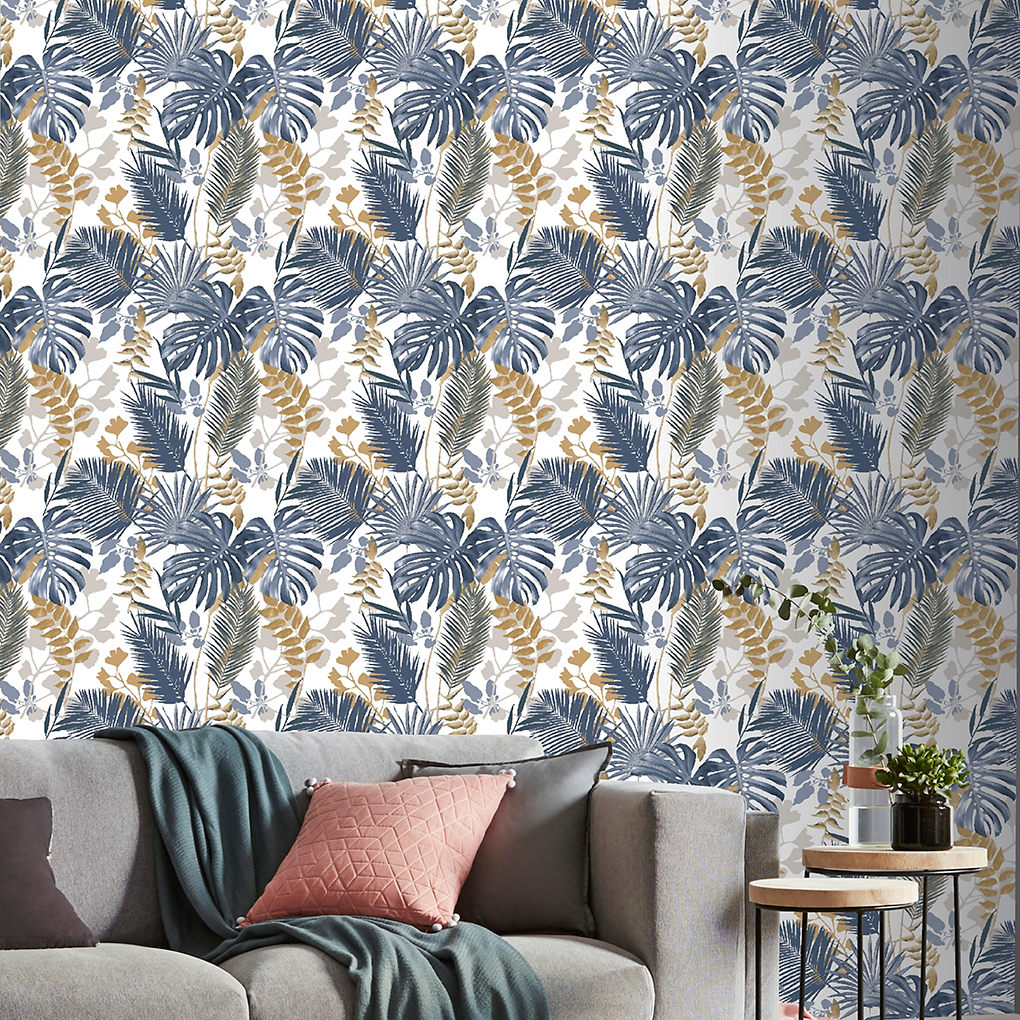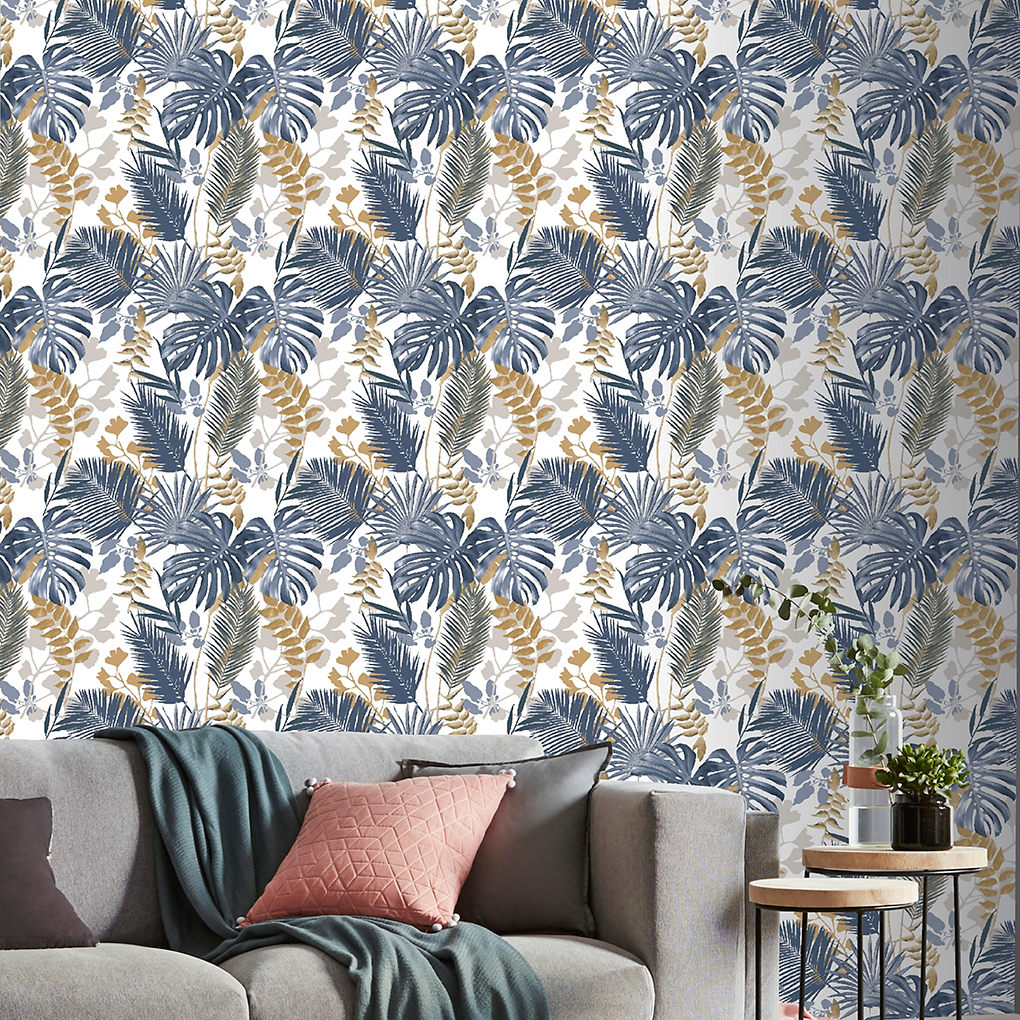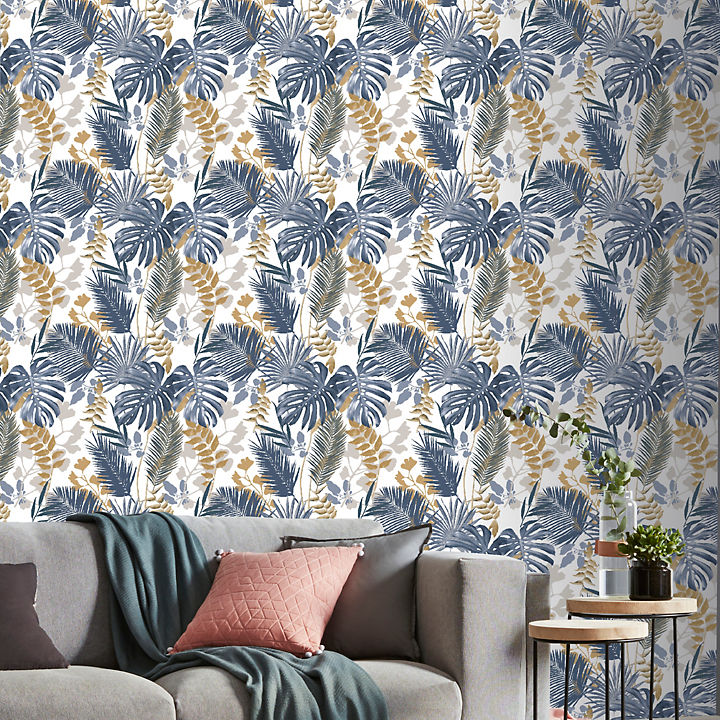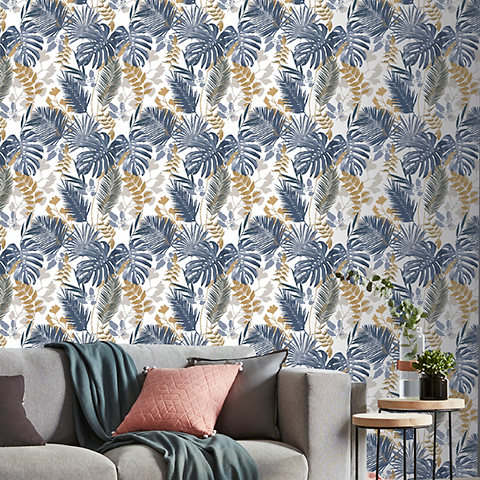 Batch number
The colour and print of wallpaper can vary based on a wide range of factors, including changes in ink or temperature – even the trees that it's made from can impact the final look. So, to ensure the most consistent finish, check that all the rolls you buy have the same batch number and that you have a surplus for your project should you need more paper later.
Wallpaper match symbols
There are three types of wallpaper matches: free, straight or offset matches. This relates to the design of the wallpaper and how it can be hung and is particularly important when it comes to patterned wallpaper.
Free match - the easiest product to hang, free match designs mean that no matter how the strips of wallpaper are placed next to each other, there'll be no visible join or seam. This can result in less waste as you don't have to discard the non-matching areas.
Straight match - both edges of the wallpaper match in a straight horizontal line with the edges of the next strip of paper. If you lay two strips next to each other you should be able to see that the match is straight. Again, there should be minimal waste with this type of wallpaper.
Offset match - the right-hand edge of the first strip of patterned wallpaper will only match with the left-hand side of the next piece when the second strip has been dropped by a specified distance. For example, a label will state a 64/32centimetre (cm) offset match. This means the design or pattern repeats every 64cm and the point at which they match from left to right is every 32cm. There can be more waste with this type of design, as you can only use pieces that match correctly.
You might need
There can be a number of other items to consider when planning your wallpapering project.
Lining paper
If your surface is a little bumpy or damaged, add lining paper to help create an even surface for hanging wallpaper or for painting over. It can also help with heat and sound absorption.
Our lining paper is:
not suitable for bathrooms and kitchens if hung without a kitchen and bathroom paper or suitable paint over the top
available made from recycled paper
offered in different thicknesses – 1700 Grade being the thickest
Borders
Keen to add something more to your walls or break up the look you have? Explore our range of borders, wall stickers and wall murals. These can complement your main wallpaper or paint choice and can be added to an already decorated room for an instant makeover.
Decorating tools and materials
Depending on the scale of your project, there can be a number of decorating tools needed when papering walls. And from pasting tables to seam rollers, we have everything you could want at every stage. Check out our buying guide to wallpapering tools for more information on your options.