By Tom Drake | 17th October 2023 | 5 min read
Mounting your TV on the wall can bring a different dimension to the design of your home. It allows you to place a TV in areas you may not be able to without a piece of furniture and can give your home a beautifully modern look. In this guide, we take you through how you can safely mount a TV on any wall.
How to wall mount a TV: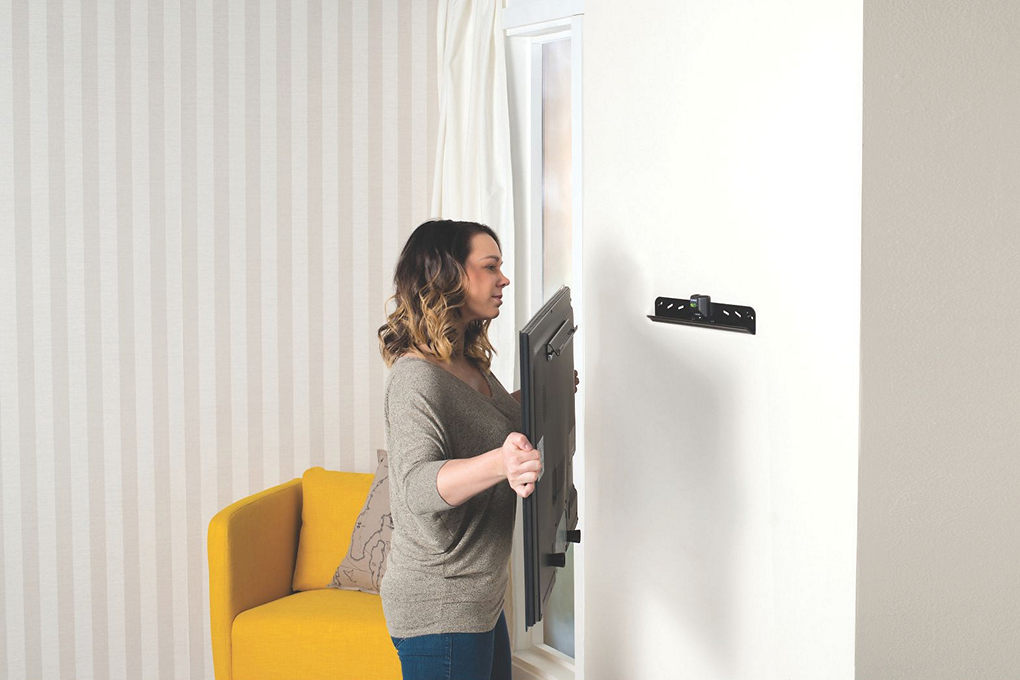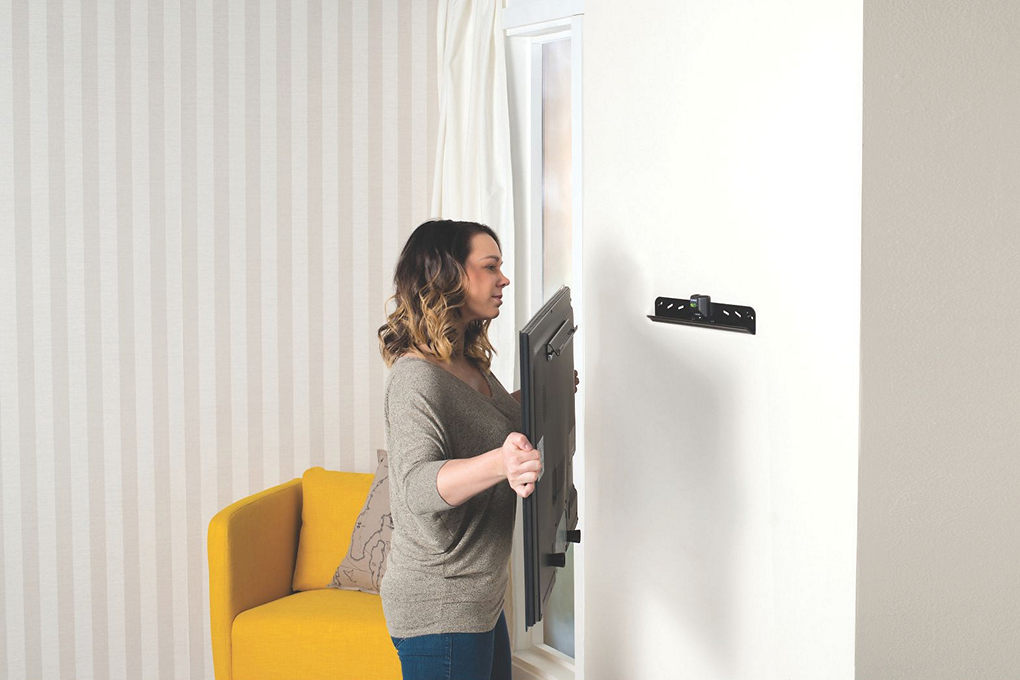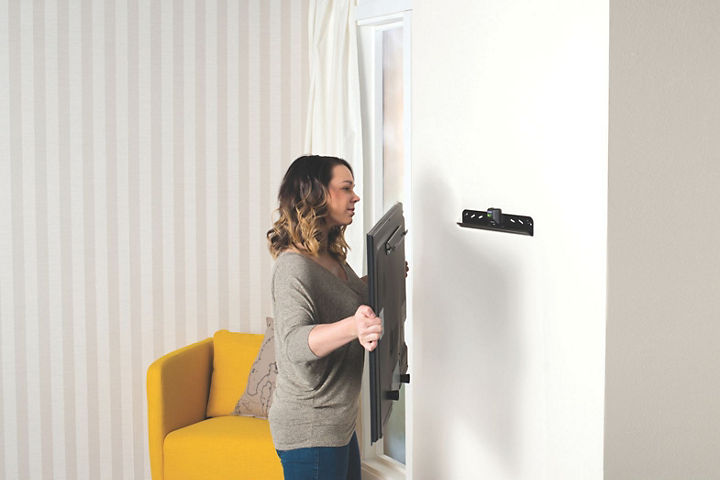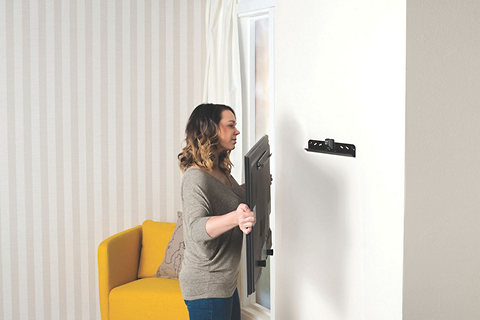 1. Check your wall type
Before you can fit your TV bracket, you need to check the type of wall you want to install it on. This can affect where you install your TV and the fixings you need, so take the time to work this out. The majority of walls in our homes will either be brick or plasterboard.
Brick walls
Brick walls are solid, which gives you an extra degree of freedom when deciding where to place your TV. As long as there aren't any cables or pipes behind them, you can install your TV anywhere you like.
Your TV bracket may come with fixings for masonry but if not, you'll need to purchase some appropriate wall plugs, or wall anchors if your TV is heavy.
Plasterboard walls
Plasterboard walls are constructed from a series of wood uprights with plasterboard sheets in-between. The wood studs will be strong enough to support the weight of your TV, but the sheets of plasterboard will not without special fixings.
You can use a detector to locate the wooden studs on your plasterboard wall. If these line up with where you want to install your TV and the size of your bracket, you can mount your bracket directly to these. If these don't line up, you'll need to purchase special plasterboard fixing kits which are designed to spread the weight of a TV across a larger area of the plasterboard.
2. Position your TV
Next up you need to decide where you want to position your TV on the wall. Pay close attention to the height and viewing angle from different points around the room. You could even cut out a piece of cardboard the same size as your TV to try out different placements. You should also check whether your TV bracket allows you to change the viewing angle, which will allow you to mount your TV higher and tilt it downwards.
If you're using a swing bracket, you'll also need to take into account where the TV will be positioned once it's been mounted as it may be different to the location of the bracket itself.
3. Mark the position of the bracket
Once you've decided where you want your TV to go, you'll need to mark up the bracket on the wall ready for your fixings.
There are a number of different bracket types available and this process will vary depending on the type you've chosen.
Hold your bracket up to the wall and use a spirit level to make sure it's level, you may want to have someone help you with this step. Once you've got the bracket in position and level, mark the position of the holes you need to drill using a pencil.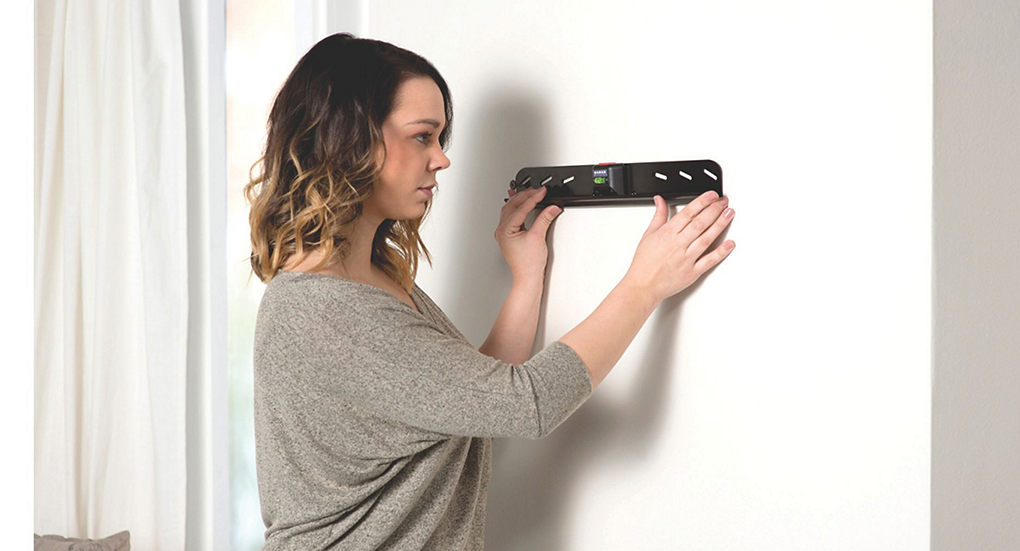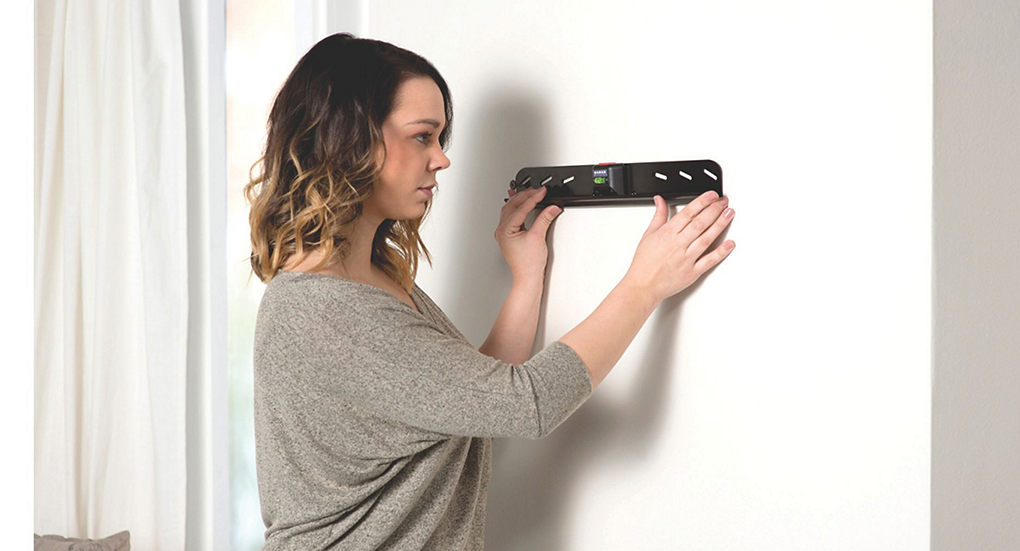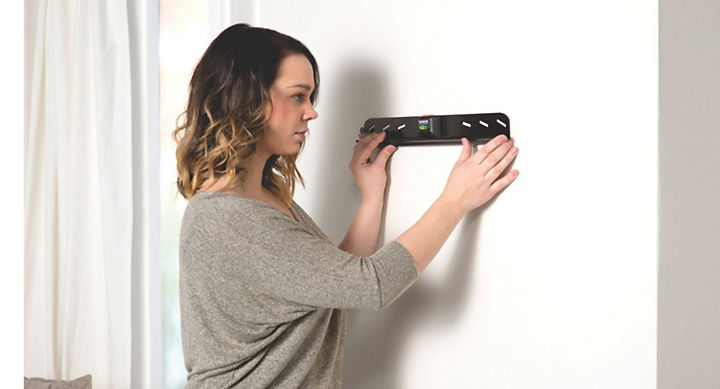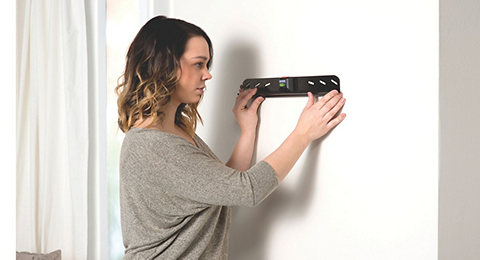 4. Secure your bracket to the wall
Using an appropriate drill bit, you can now drill into the wall where you've marked and insert your wall plugs or anchors. If you're attaching your bracket directly to a wooden stud, you can skip this step. Before drilling, always check for pipes and electrical cables using a detector.
Before you secure your bracket, double check to make sure it's level. It's better to take the bracket off and re-drill the holes at this stage rather than installing your TV then finding out it's wonky!
Once you're confident with the positioning of your bracket, you can fix it to the wall.
5. Attach your bracket to the TV
Before you can mount your TV onto the wall, you first need to attach the bracket to your TV. The majority of TV brackets will come in two parts, with one part mounted on the wall and another attached to the back of your TV to 'clip' onto the bracket.
To mount the bracket onto the back of your TV, place it face down on a flat, soft surface such as a sofa or bed. If you're unable to do this, you can place your TV on a harder surface with something underneath it like a towel to prevent damage to the screen.
Locate the holes on the back of your TV and line these up with the holes on your bracket. You can then use the supplied fixings to attach it to the back of your TV.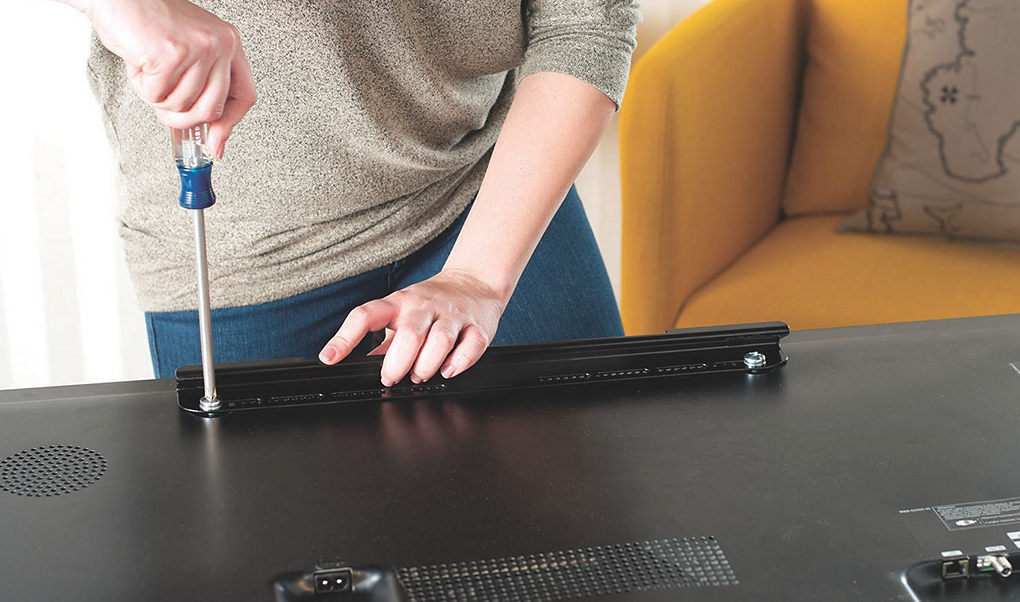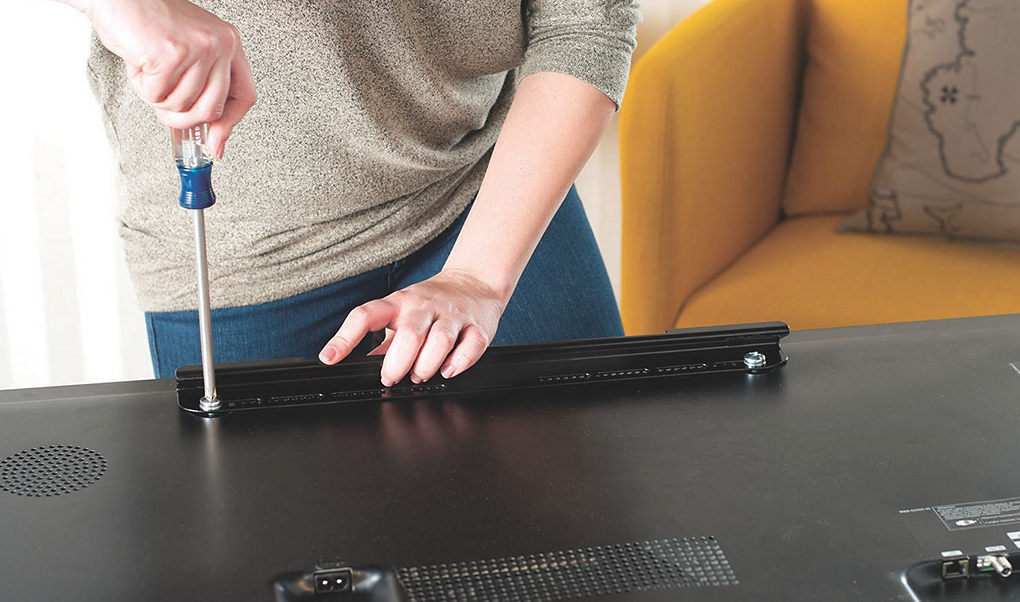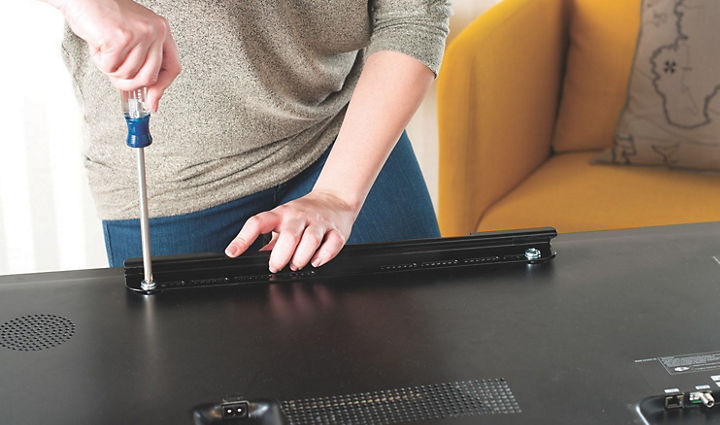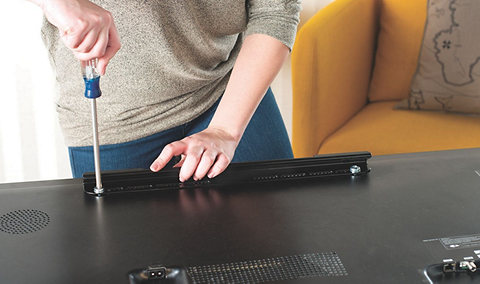 6. Connect cables and lift into place
You can now connect the cables to the back of the TV. This is particularly important if you're installing a TV that's relatively flush to your wall. If you want to hide the cables, consider using trunking or a cable tidy to keep everything neat.
Finally, you can lift your TV onto your bracket to complete the installation. If your TV is particularly heavy, we recommend asking for some help when lifting.
That concludes our guide to wall mounting a TV. If you're ready to mount your own TV, take a look at our extensive range of tilt, swivel and flush TV brackets.