How to keep your worktops in tip top condition
Say hello to shiny surfaces
Coffee spillages, grubby fingers, and unloading the weekly shop – it's safe to say our worktops have to put up with a lot. We need a kitchen surface that we can rely on, one that can withstand daily wear and tear. While it's important to choose a reliable worktop in your kitchen, the way we care for our surfaces will also make a difference to their life span.
How you clean and care for your worktop will depend greatly on the material you've chosen. Laminates are renowned for being dependable, and they require little to no maintenance. Wooden worktops create a beautiful, rustic look in your kitchen. However, they will need a bit more attention to ensure they stay looking their best.
We've put together a fail-safe guide to looking after your worktops, so you can keep your kitchen looking fresh, all day every day.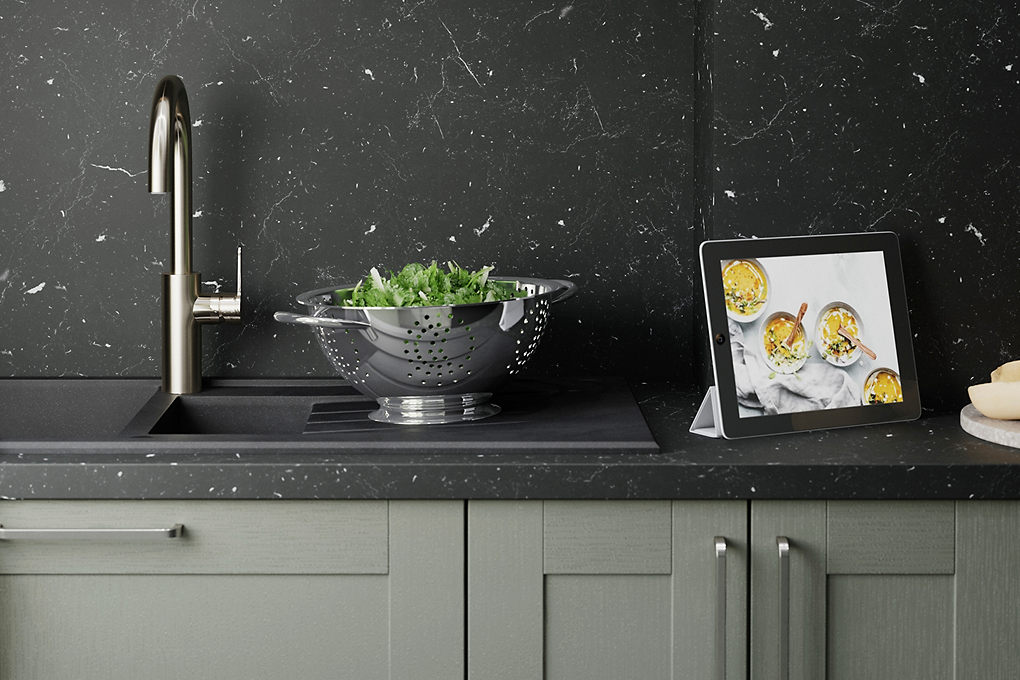 Caring for laminate worktops
The great thing about laminate worktops is that they are extremely durable and easy to look after. Our laminates have been tested against the worst stain causing culprits, including red wine, coffee, and butter. That being said, they aren't invincible, and there are still some steps you can take to ensure they stay in their best condition.
Read our tips for looking after laminate worktops so that they can stand strong over the years…
Do:
Regularly clean your laminate surface with mild soap and warm water
Always use a chopping board when cutting your fruit, veg, meat and other food.
Wipe away spillages as soon as you notice them.
Don't:
Don't place hot pans directly onto your worktop as they'll cause scorch marks. Always use a trivet or protective mat.
Don't use abrasive cleaners or a steel scourer as they could scratch the surface and dull the laminate finish.
Don't drag pans or pots across the surface as it can cause scratches. Always lift objects from the surface.
Did you know?
We're confident that our GoodHome laminate worktops won't let you down, which is why they come with a 25-year guarantee.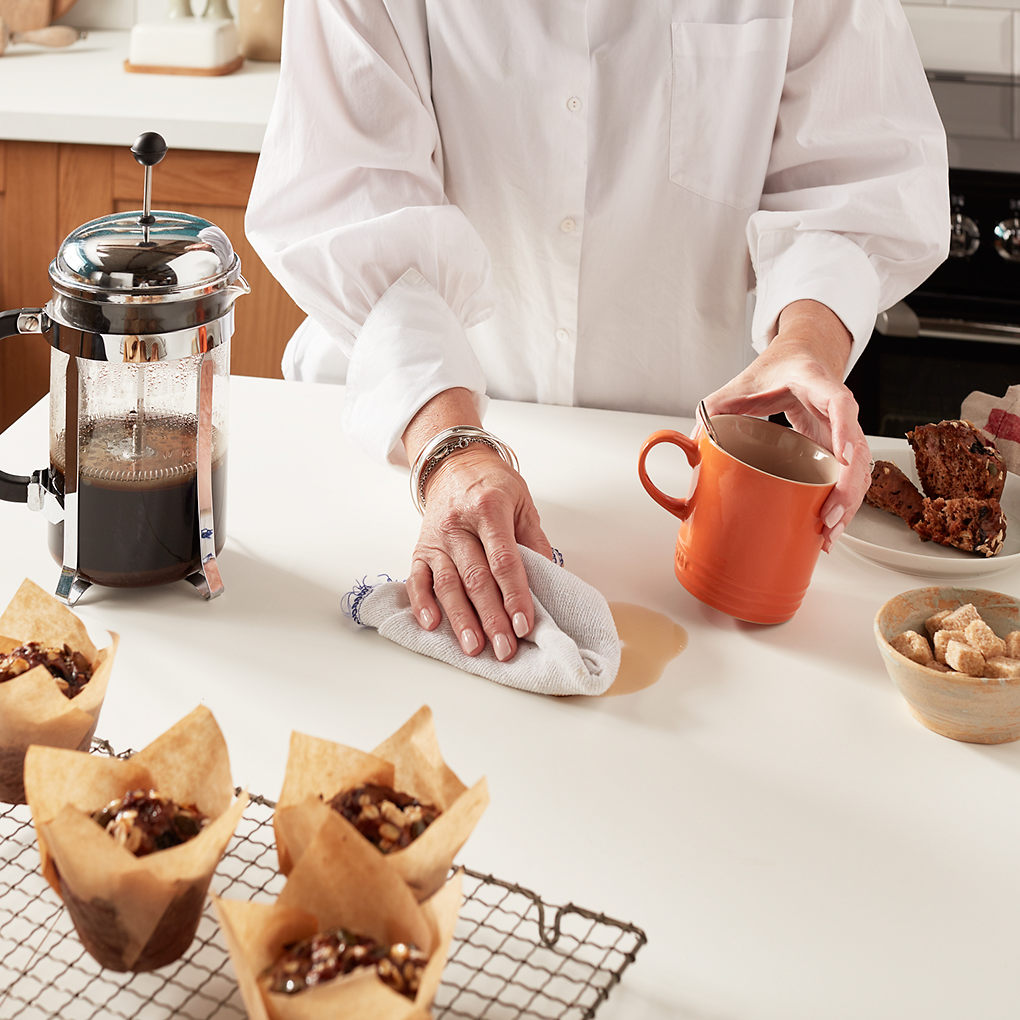 How to oil a wooden worktop
Caring for your solid wood surface
Solid wood worktops can add a charming, rustic finish to any kitchen. They do, however, require a little more care and attention than a laminate worktop. We've put together a few key tips to help keep your wooden worktop looking its best.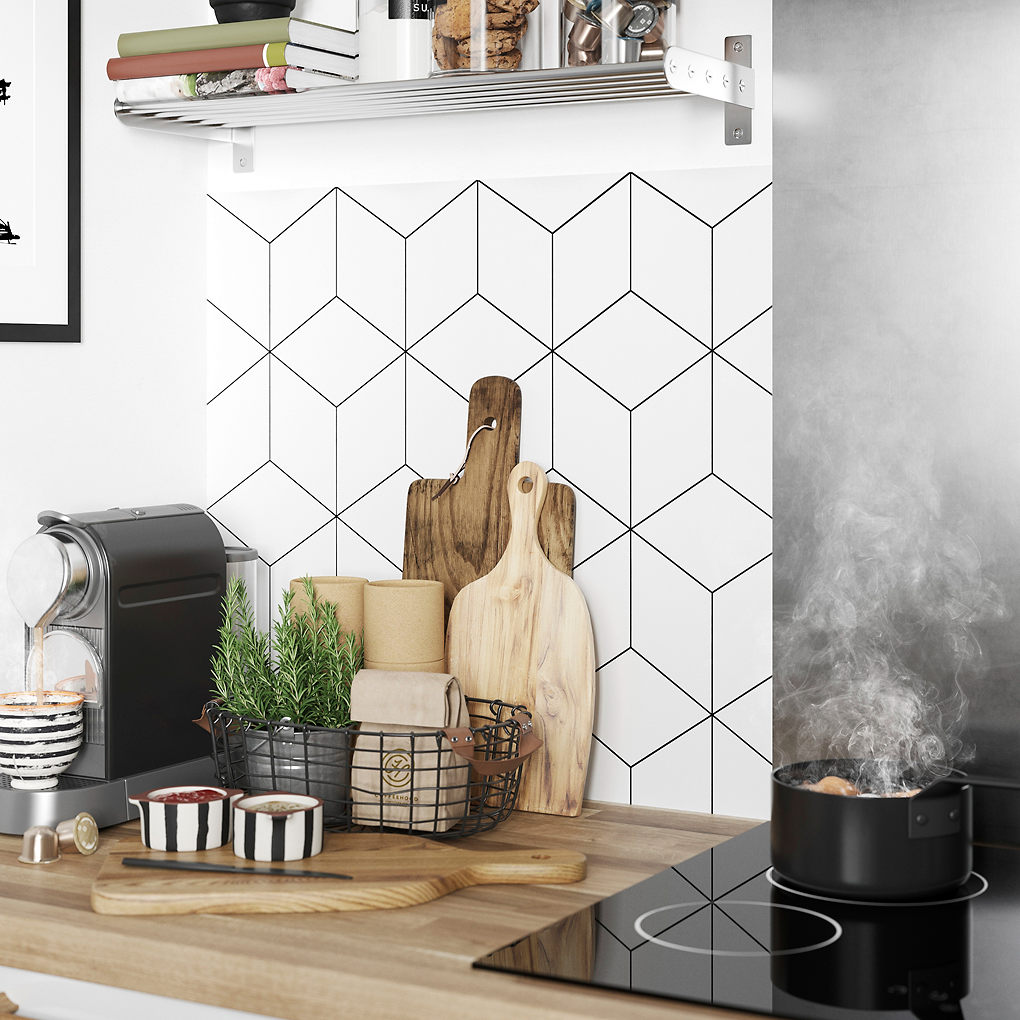 What you'll need:
Step 1 - Prepare
Wearing protective gloves, lightly sand the work surface (we recommend 120 grit sandpaper). Thoroughly vacuum up any dust shavings. Use the cleansing treatment provided in the kit mixed with a little water to clean the surface and then wipe it down with water.
Step 2 - Treat
When the surface is completely dry, open the tin of oil and give it a good stir. Using a clean paintbrush, apply the oil evenly and leave for around 30 minutes to allow the oil to soak into the wood. Buff the surface with the soft white pad included in the kit and wipe off any excess oil with a lint free cloth. Leave to rest for at least an hour.
Step 3 - Finish
Stir the oil and apply another even coat using a brush. Sand in the wet oil with the black sanding pad (grit 280-400) included in the kit. Wipe off any excess oil with a lint free cloth.
Step 4 - Aftercare
The surface will be ready for use after 24 hours. The oil will continue to harden over the next week, so try to use the surface lightly during this time with no harsh scrubbing or cleaning. Any spillages should be wiped up immediately to avoid watermarks. Now sit back and enjoy your freshly oiled surface! Don't forget to factor in some regular maintenance sessions to keep your worktop looking its best.