Kitchen worktop buying guide
Durable and stylish worktops for your busy kitchen
The perfect worktop is not just about completing the look of your kitchen - it also needs to suit your lifestyle. As the place where you chop, clean and prepare food, your worktop is more important than you think.
Whether you're hosting glamorous dinner parties or cooking up a storm with your latest cookbook, we have a hard-wearing and stylish option for you. We offer everything from the latest laminate trends and sustainable wood, to our luxurious custom-made granite or quartz. All our worktops are beautifully crafted and come in a range of finishes and designs. With an option to suit every budget, we've got the ideal worktop to add the finishing touch to your kitchen.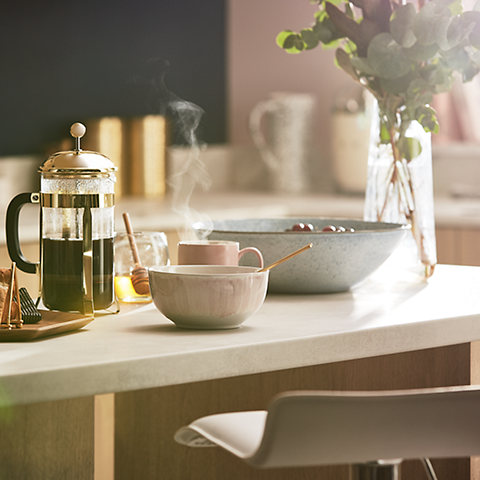 ---
Laminate worktops enable you to get the look you want whilst being easy to install, clean and maintain.
Laminate worktops are a very popular choice. They're great value for money, and we've been able to provide you with a better look and finish than ever before thanks to new technology. This means they've become a high-performance choice for busy kitchens. All our laminate worktops are:
Available in a wide range of colours and textures
Durable - they're resistant to bumps, scrapes and most household stains
Easy to look after
Water-resistant - they create a barrier that protects the cabinets underneath from any possible water damage
Heat & scratch resistant
Drip sealed to stop spills damaging cabinets below
Square or curved edges available in 3 thicknesses
Our GoodHome laminate worktops are:
Kabsa
38mm post-formed laminate, available in a selection of wood and stone décors. Browse our Kabsa range.
Kala
38mm square-edged laminate, available in a selection of wood and stone décors. Browse our Kala range.
Algiata
22mm slimline laminate with enhanced textures, available in trendy white marble, slate, grey stone and concrete décors. Browse our Algiata range.
Berberis
Our high-quality 38mm square-edged laminate, Berberis comes in either deep colour gloss, super matt, or real metallic glitter within the top layer. Improved impact and scratch resistance, anti-fingerprint finish, low light reflection and a high resistance to household chemicals (dependent on finish) all make Berberis the #1 candidate for busy family kitchens.
Laminate installation kit
Installing your laminate worktop should be easy. Our laminate worktop installation kit will supply you with all the components and accessories you need to install your new laminate worktop or breakfast bar.
---
Solid wood worktops age beautifully over time and with regular maintenance they'll be resistant to stains and moisture.
Natural wood worktops are striking to look at and work well with more traditional home designs. All our solid wood worktops are:
Available in various wood finishes
Made from responsibly sourced wood
Designed with an ultra-smooth surface
Pre-oiled for maximum defence against moisture and stains
Natural wood means the colour will deepen over time as it ages
Requires regular oiling and light sanding
Solid wood worktop installation kit
Our solid wood worktop installation kit includes everything you need to install a new wooden worktop or breakfast bar. This pack includes worktop oil, intensive wood cleaner, a black sanding pad, a white polishing pad, a lint-free cloth and a pair of gloves. It also includes detailed instructions on how to install and care for your solid wood worktop.
---
Solid surface worktops offer superior heat, scratch and water resistance with no need to have to edge your worktop.
Solid surface worktops are made from a variety of materials and offer the same surface all the way through (instead of being wrapped around chipboard.) All our solid surface worktops are:
Better heat, scratch and water resistance than regular laminate
Hygienic and easy to clean and maintain
Double-sided finish
No edging required
We have one GoodHome option for solid surface worktops, as well as our branded option:
Nepeta (GoodHome)
12mm ultra-thin solid surface worktop, made with a high-quality manufacturing process and available in 6 décor options. Browse the Nepeta range.
LG
LG Acrylic worktops offer a natural stone finish and can be blended together at the join with colour-matched adhesive and polishing. Available in 3 décor options. Browse the LG range.
---
Splashbacks are used as a wall covering to protect it from cooking splatter, hot oil and steam. You can position them behind a hob or freestanding cooker and secure with adhesive. We have a range of widths to suit different hobs or oven sizes.
Upstands are great for protecting the join between a kitchen worktop and kitchen wall. Choose from upstands in a variety of sizes and finishes to match your worktop. They are the perfect finishing touch to any kitchen. All our wood-based upstands and splashbacks are made from responsibly sourced, forest friendly timber.
---