Artificial grass buying guide
The low-maintenance alternative to a natural lawn
Artificial grass is a practical way to enjoy a pristine lawn all year round. You won't need to be mowing, watering and mopping muddy footprints, just sit back and enjoy.
Our new range of artificial grass has the look, touch and feel of a real lawn without the hassle of having to maintain it. Its durability makes it especially great for kids' play areas, around swimming pools and heavily used gardens. Waterlogged lawns won't ruin your plans, our artificial grass will drain away the rain, giving you a garden that will withstand the British weather.
---
Having a perfect, natural lawn can require quite a bit of work. As well as mowing, lawns may need to be routinely fed and watered, with weeds and moss removed regularly. And even doing all this may not lead to lush grass.
Artificial grass is:
Low-maintenance - stop watering, feeding, weeding and mowing your lawn
Hard-wearing and durable
Long-lasting and fade-resistant
Easy to clean - ideal if you have children or pets. Simply water it lightly to remove any spillages or mess
Ideal for smaller or more awkwardly-shaped outside spaces such as roof terraces, decking areas and balconies
Ready to lay on both hard surfaces (such as concrete or wooden decking) or directly onto soft surfaces (such as soil)
---
Our ranges are available in 4m long rolls, in 1m or 2m widths. For small gardens and balconies, you can shop these here on diy.com. For larger pieces (up to 4m wide and 25m long), you can have these cut to size in many of our larger stores, but please check availability before travelling.
Before you buy your grass, work out which is the most effective way to lay the rolls. Draw a plan and ensure that all the rolls (and therefore the pile) run in the same direction.
It's best not to mix online purchases with in-store purchases. When your grass is cut to size in store, the pile direction is always down the length of the roll. The pile direction of the smaller precut sizes available online is denoted by the length (L) of the roll within the measurements, so consider this when making your plans.
Similar to wallpaper, lay the pieces length to length and ensure the pile is in the same direction. Don't rotate any pieces or you will have more joins and an untidy pattern to the grass. This may mean buying more grass than required, but it will create less joins and lead to a more professional finish.
When working out what lengths to buy, you can mix both 1m and 2m widths (of the same grass), but as always, fit them in the same direction.
| Range | Colour / shade | Blade height / pile depth | Pile density | Pre-cut sizes available online | Cut to size instore? |
| --- | --- | --- | --- | --- | --- |
| Boronia | 1 tone of green | 6mm | Low | 1m x 4m, 2m x 4m, 2m x 10m | Yes, up to 4m x 25m |
| Dennis | 3 tones of green + 1 tone of beige | 20mm | Medium | 1m x 4m, 2m x 4m | Yes, up to 4m x 25m |
| Linden | 3 tones of green + 1 tone of beige | 30mm | Medium | 1m x 4m, 2m x 4m | Yes, up to 4m x 17m |
| Maple | 3 tones of green + 1 tone of beige | 37mm | High | 1m x 4m, 2m x 4m | Yes, up to 4m x 17m |
| Olive | 3 tones of green + 1 tone of beige | 45mm | High | 1m x 4m, 2m x 4m | N/A |
---
Our range offers solutions for all budgets. For small areas, such as balconies or shaded corners of your garden, our entry price Boronia range may be all you need. At the opposite end of the range, you may be looking to invest in a luxury lawn replacement to enjoy and be proud of. This guide will explain the options available within our in-store and online range to help you select the best option for your outdoor room.
Density and thickness
When choosing artificial grass, the main thing to think about when it comes to quality, is density. This refers to the number of yarns (grass blades) per square inch.
Artificial grass, like carpet, is made from yarns of woven into a strong base layer. These are extremely hard-wearing synthetic fibres and the greater the number of yarns, the denser and thicker the grass will be.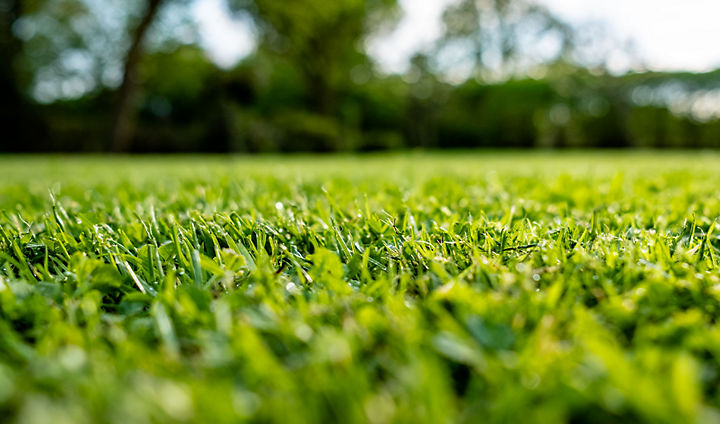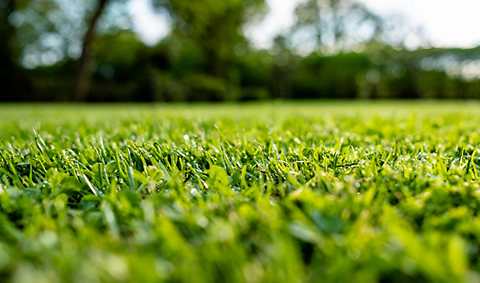 Thick, dense grass creates the most comfortable and luxurious feel underfoot. Low-density grass is a great budget option and is best in smaller areas that don't have much foot traffic.
While denser grass is the best option for high-traffic areas, for example family gardens, as it will last the longest.
Pile height
The pile height of the grass refers to the height of the upright blades (or yarns). Our short-pile Boronia range (6mm) will give the impression of a well-maintained lawn. It's comfortable underfoot, but the grass does not look as real as the medium to long pile grasses. Short piles are often ideal for a play surface or a golf putting lawn, for example.
Mid priced Dennis and Linden ranges provide a deeper pile underfoot and look much more realistic. Our longer pile grasses are Maple and Olive. They provide the most luxurious and comfortable option, combined with the most natural looking lawn.
If you're not sure what the best option is, you can purchase small samples to take home and compare the quality, touch and feel before you buy.
Shade and colour
The yarns used in our artificial grass are a blend of greens and beige and this ensures a more realistic look can be achieved. Most of our ranges are made up of three shades of green and one of beige. Only our entry price Boronia has one tone of green.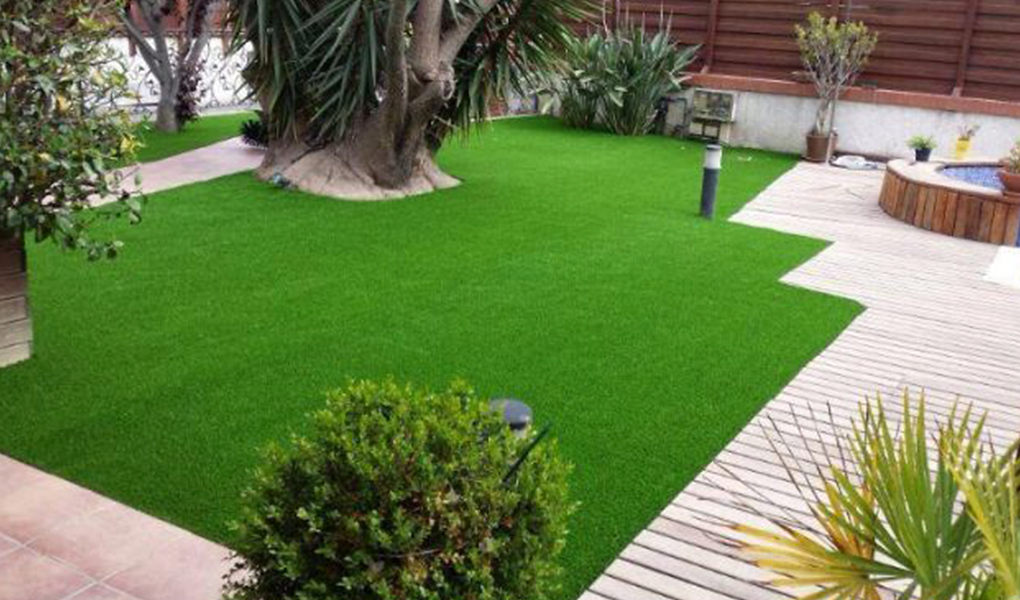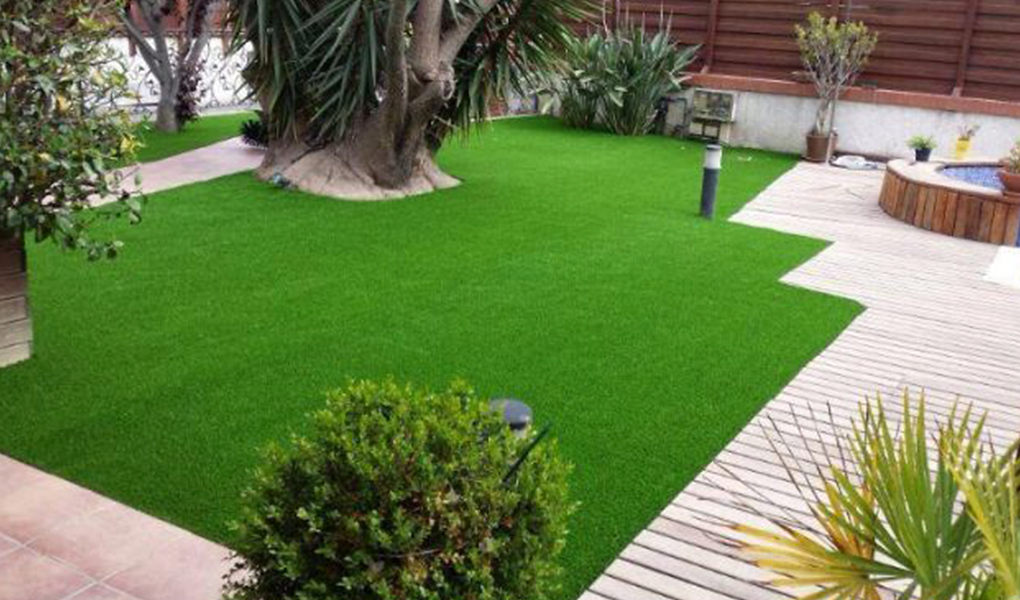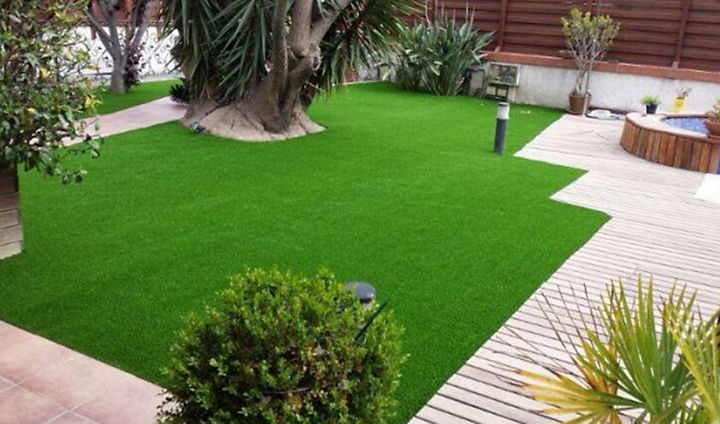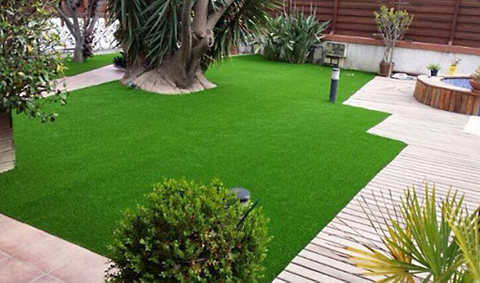 ---
If you're installing your artificial grass on concrete, decking or paving you'll need to use an underlay to mask any unevenness in the surface below and make for a much softer feeling underfoot.
When you're laying artificial grass onto soft ground, for example where an existing lawn was, fit a weed control fabric first. This will prevent weeds from growing up under the grass and disturbing your new lawn.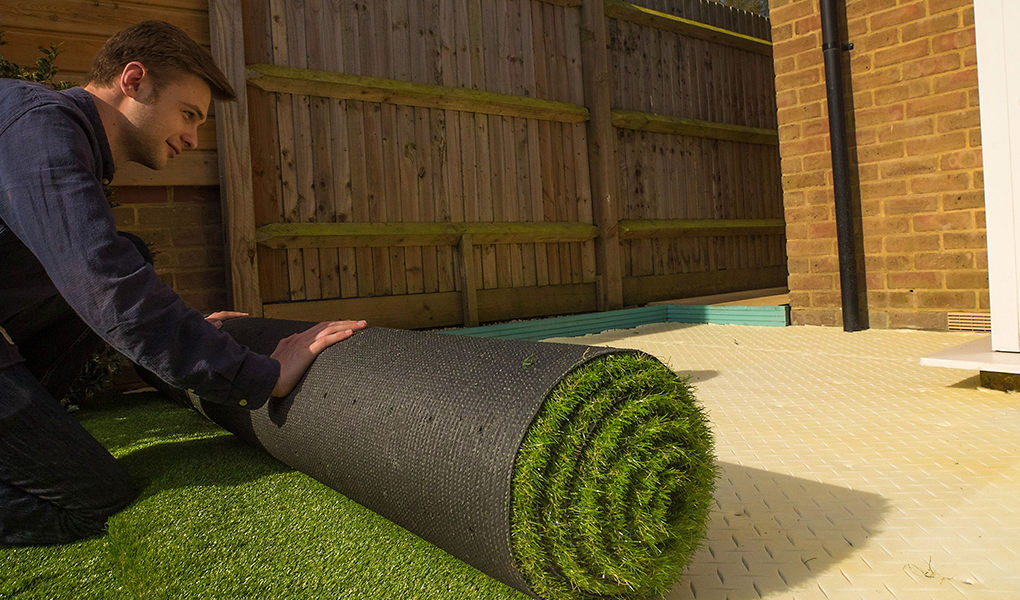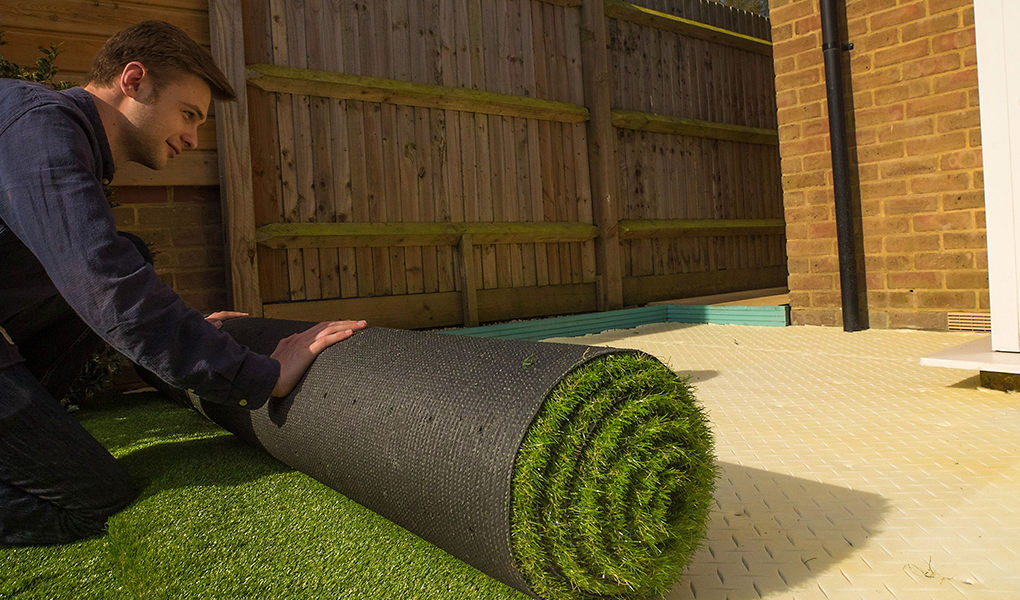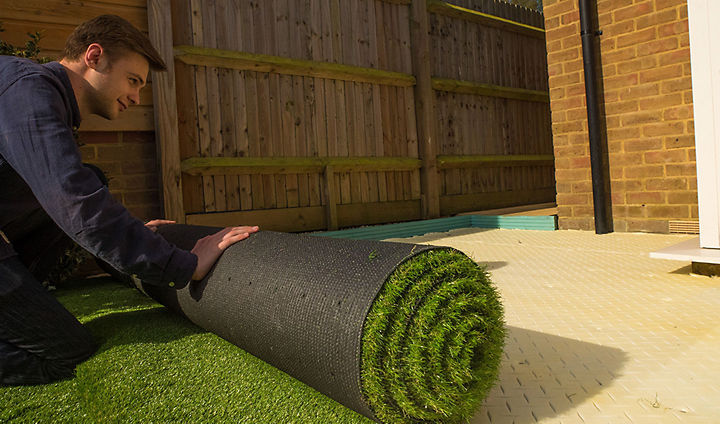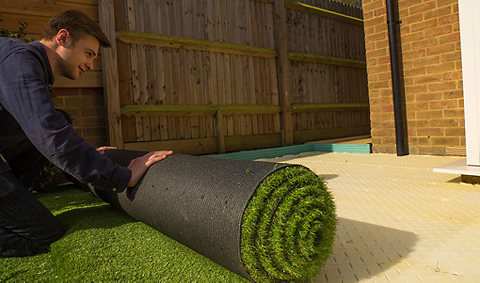 If you need to join pieces of grass together, use self-adhesive joining tape to hold the seams of your grass panels in place and tightly together.
The perimeter of the lawn can be fixed down in a number of ways depending on your preference. Edges can either be nailed to timber battens or secured using special artificial grass pins. The edges can also be glued down to a concrete edge or base with artificial grass adhesive.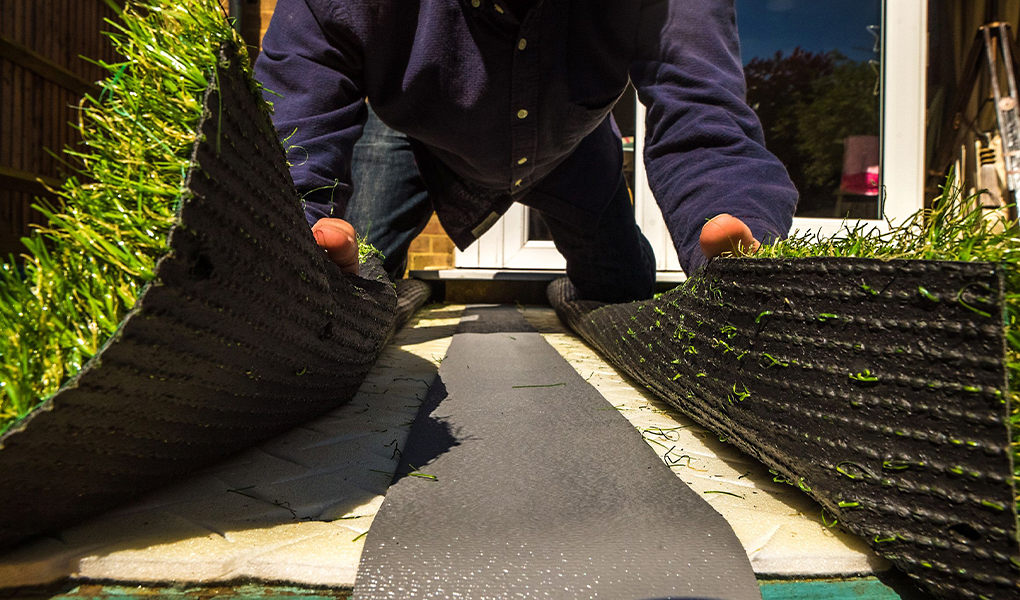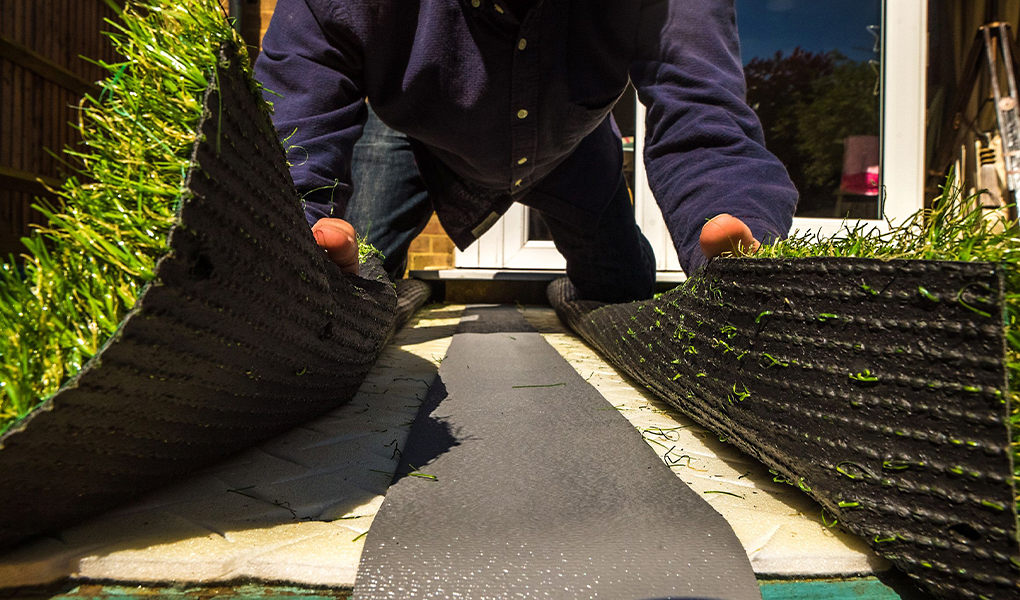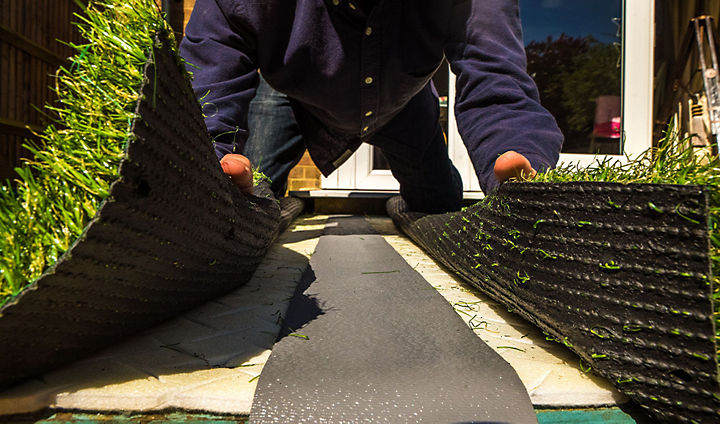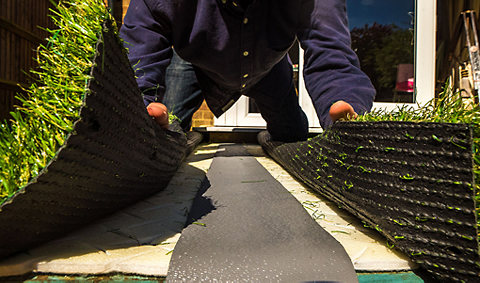 Once your new lawn has been installed, some grasses may require a thin layer of kiln dried sand to be spread over the grass. This is usually recommended with a pile depth of 30mm or over. The sand helps to lift the pile but also gives the lawn additional weight to help with stability. The sand is hidden when brushed in. As a guide, use 5kg of sand per square metre.
---