Create a social space with stylish and durable decking
Attractive and practical, decking is a great landscaping option for outdoor spaces of any size. It creates additional living space, distinguishing a special spot for socialising or relaxing. Decked areas help make the most of surfaces that are uneven or sloped so that no garden space is wasted. It works well as elevated terraces to offer garden interest at different heights.
Decking is ideal for zoning in large gardens as well as smaller spaces, such as balconies and roof terraces, where it can create the feel of an outdoor oasis in the midst of the city. Decking complements modern styles, as well as more rural or country gardens. The natural feel of timber evokes the sensation of being waterside or by the beach. In fact, if you have, or are looking to add, a hot tub or swimming pool to your garden, consider laying a decked border around it. We offer low-slip boards which are ideal for this very purpose.So, whether you're tackling a small-scale decking project or something more substantial, we're here to help you find the right decking for you and your outdoor space.
Decking formats
We offer two different decking formats – decking boards and decking tiles.
Decking boards
Decking boards are perfect for extending your outdoor living space, offering the look and feel of a traditional deck to create an "extra room". They suit all types of project, especially bigger or more complex ones, such as raised or large decks.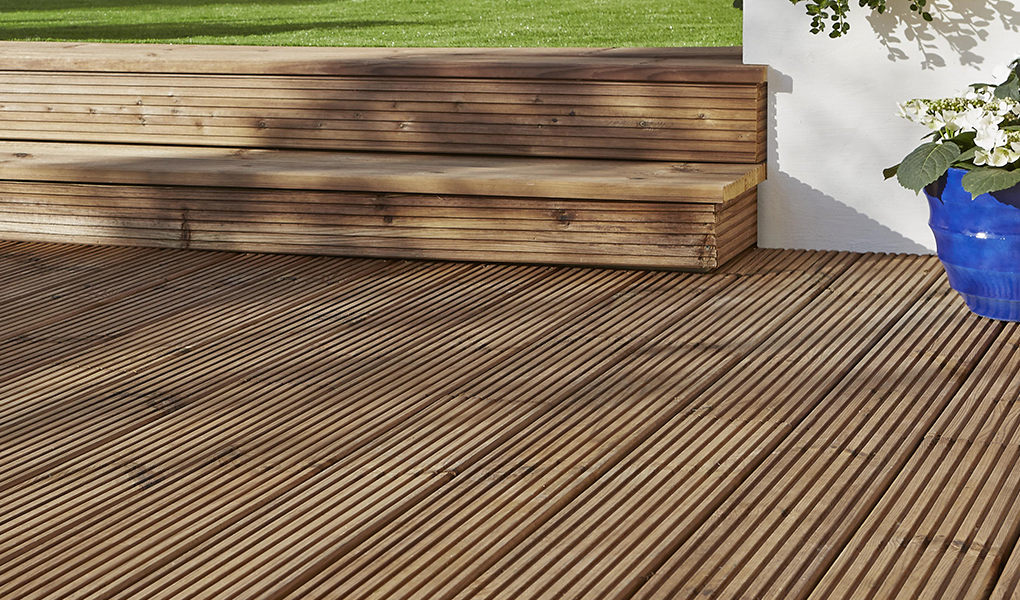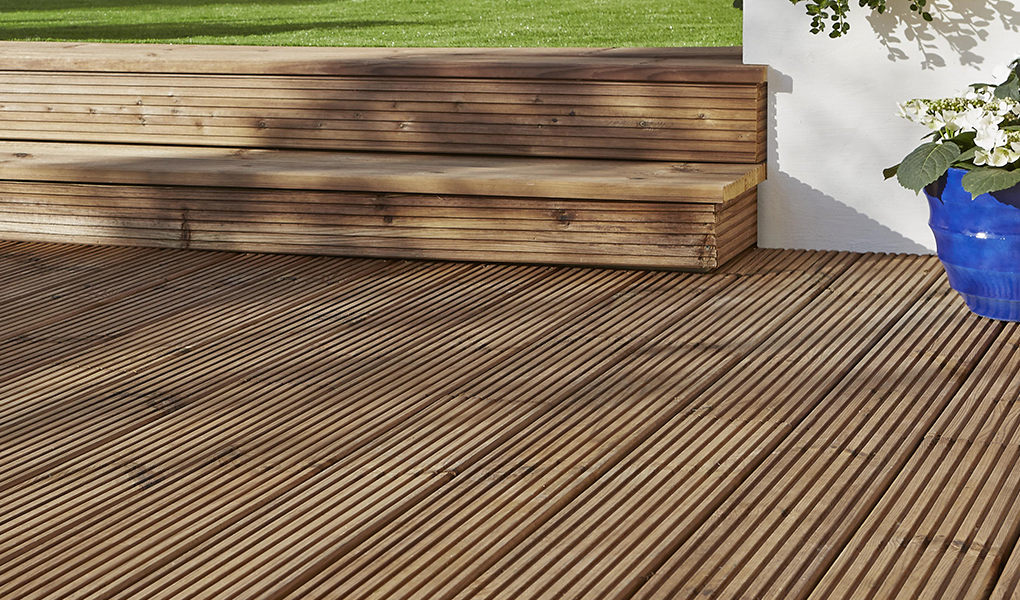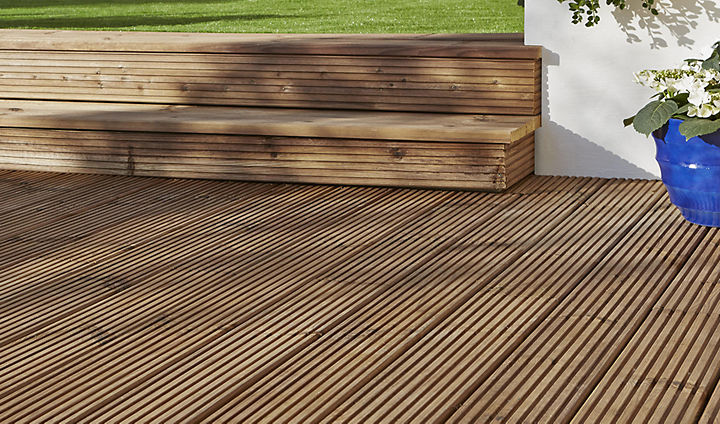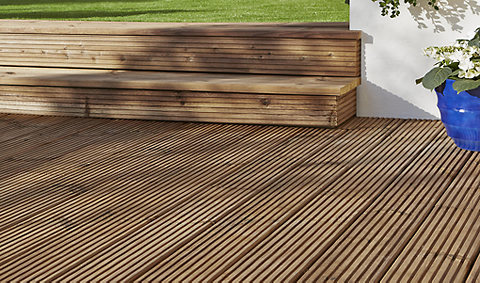 Decking tiles
Ideal for small decking areas, such as balconies and paths, deck tiles can also be used underneath plant pots in your garden or conservatory. Or why not use as a temporary flooring option? Easily pack them up and take them camping or to a festival to create a level surface for camping chairs and picnic tables.
Our deck tiles are quick and easy to fit, so you can give your garden a simple makeover without the need for joists and anchors. Place over any existing flat surface, such as concrete or an existing deck, and easily move when you fancy a change – perfect for renters. Get creative and create your own laying design to make your decking truly unique.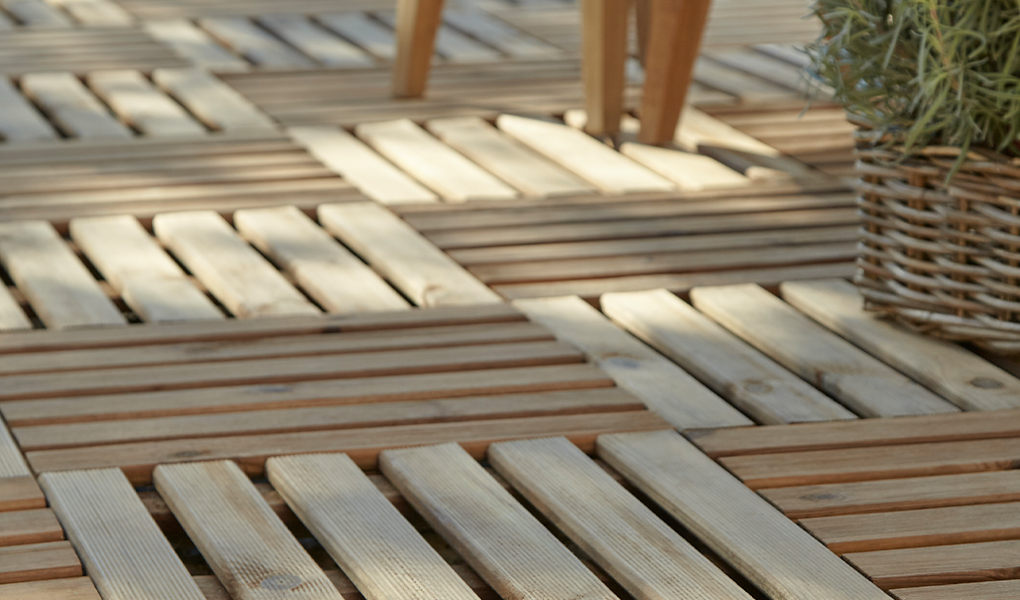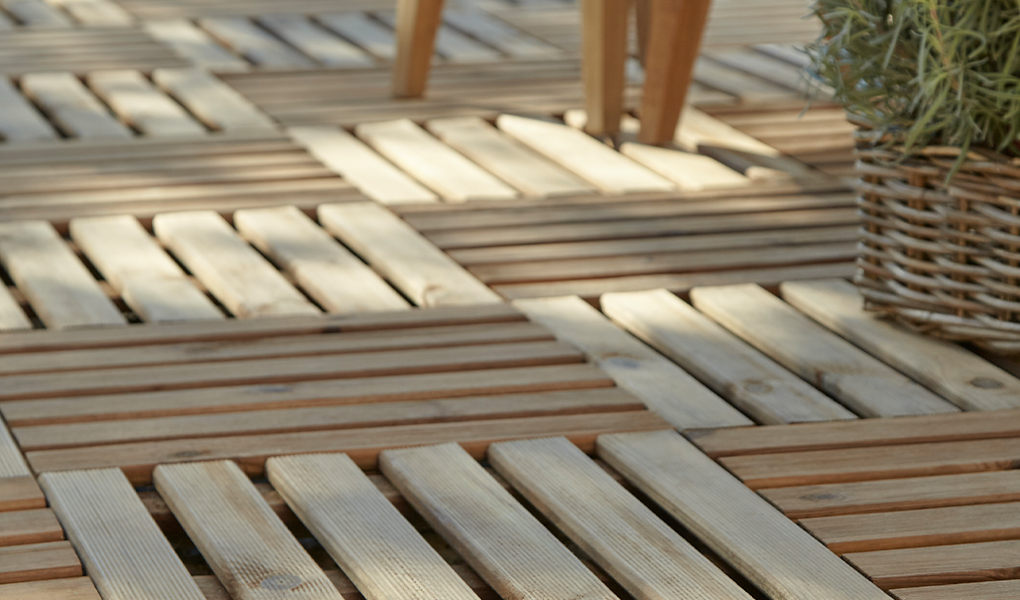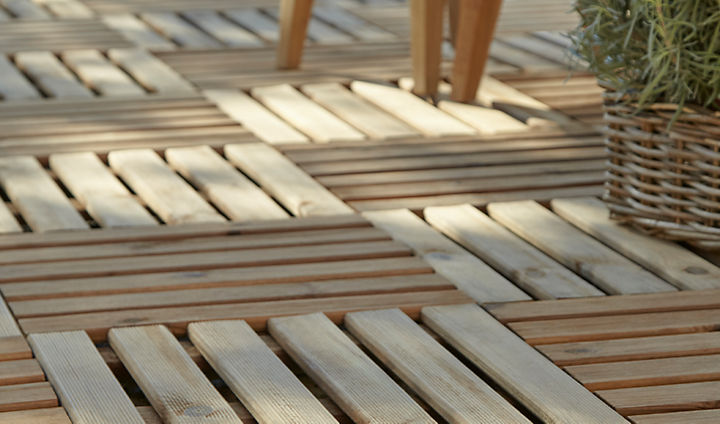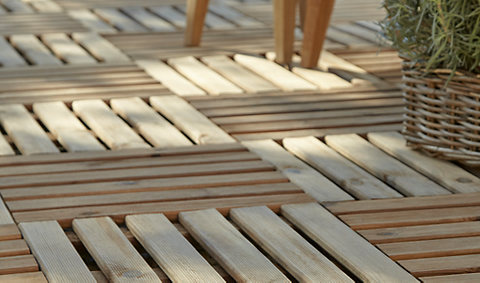 Types of decking
Timber deck boards
Layered timber deck boards
Composite deck boards
Timber deck boards
For the classic decking look, choose timber decking. All of our timber boards are made from softwood that is kiln-dried and pressure-treated to ensure that excess moisture is removed evenly to prevent shrinking and warping. It's then treated to protect against fungal decay and insect attack, ensuring that it will stay in good condition for longer. Our timber is treated to Use Class (UC) 3 as required for softwood decking – this means that it's suitable for use above ground and has been treated to protect it from the elements.
All of our softwood deck boards meet either PEFC™ (Programme for the Endorsement of Forest Certification) or FSC® (Forest Stewardship Council) standards. This means that the timber used has been sourced from forests that have been independently certified as being responsibly managed. For more information on our timber policy, visit our Responsible Business pages.
Our timber decking is offered in different colours, finishes, thicknesses and sizes. So, if you want the look of hardwood, check out our darker brown decking. And for the most robust option, look for thicker decking boards. While planning and laying a larger deck can be made easier by using the longest and widest deck boards available.
We also offer reversible boards so that you can easily switch up your decking's look with contrasting textures or trims. Opt for a fully ribbed or grooved design, or just a partially planed board.
Pick up our decking boards as individual boards or multi-packs. And for extra ease, we also offer modular decking board kits that include materials to create and lay deck squares. Choose from two to six decking squares per kit and add more as you need them.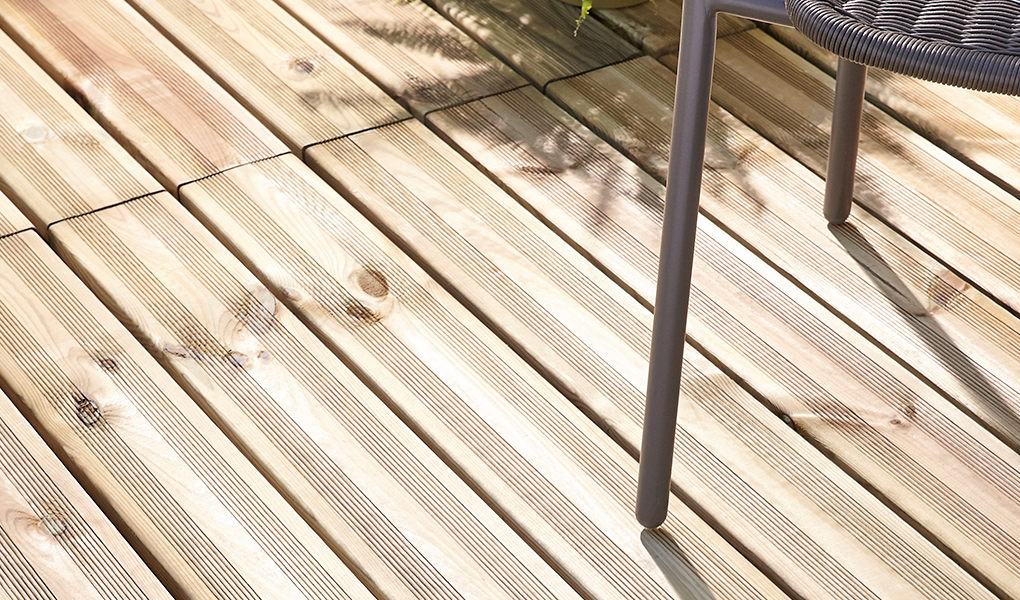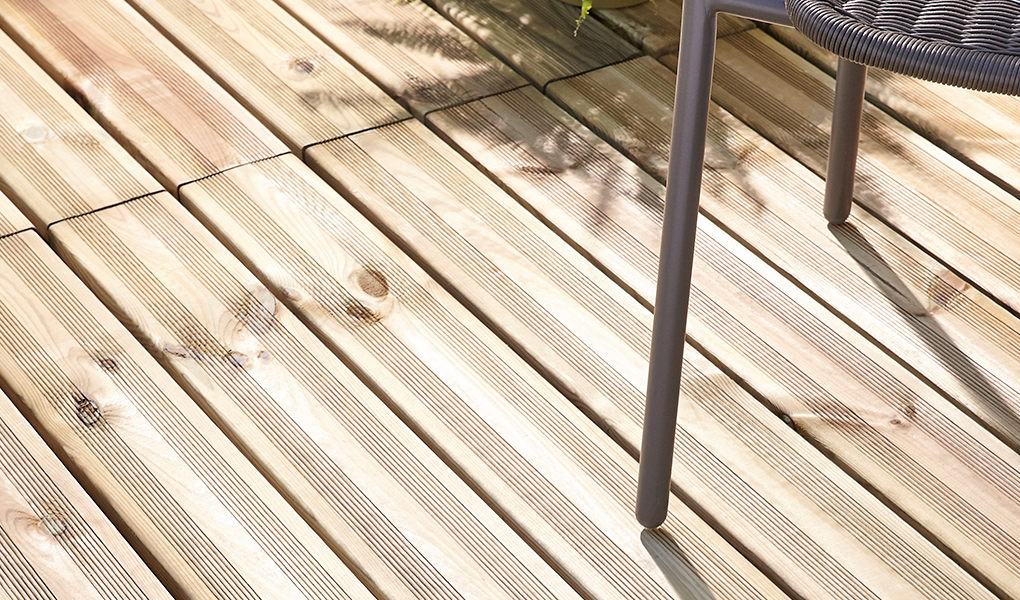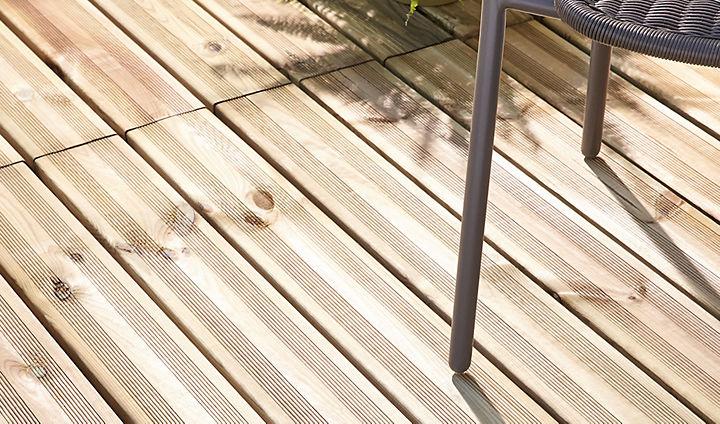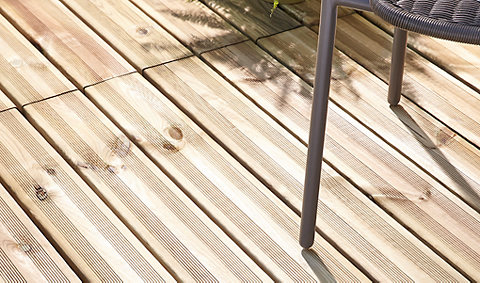 Layered timber deck boards
If you're looking to provide more grip than standard softwood boards, consider a layered timber decking option, available exclusively online. Extra grip underfoot can be especially important on steps or if your decking will border wet areas, like a hot tub or pool.
Walksure – with its layer of black and red rubber, this layered decking not only offers grip, it also adds a contemporary look to your garden. And we also offer an anti-slip insert that can be cut to size and added to existing timber decking.
Composite deck boards
For a long-lasting and innovative decking option, choose composite decking. Made from 95 per cent recycled materials (a combination of plastic and wood dust from re-used oak furniture), its advanced design ensures no warping, splitting, splintering, distorting or rotting over time. And the boards won't fade in the sunlight, so they'll look brand new for longer.
A strong and durable solid deck board with scratch and stain-resistant properties, composite decking never needs sanding, staining or oiling – so there's no time intensive and costly maintenance work. And it's easy to maintain – just wipe clean with warm, soapy water.
Choose from three colours – classic brown, warm Moroccan red (pictured) and on-trend grey.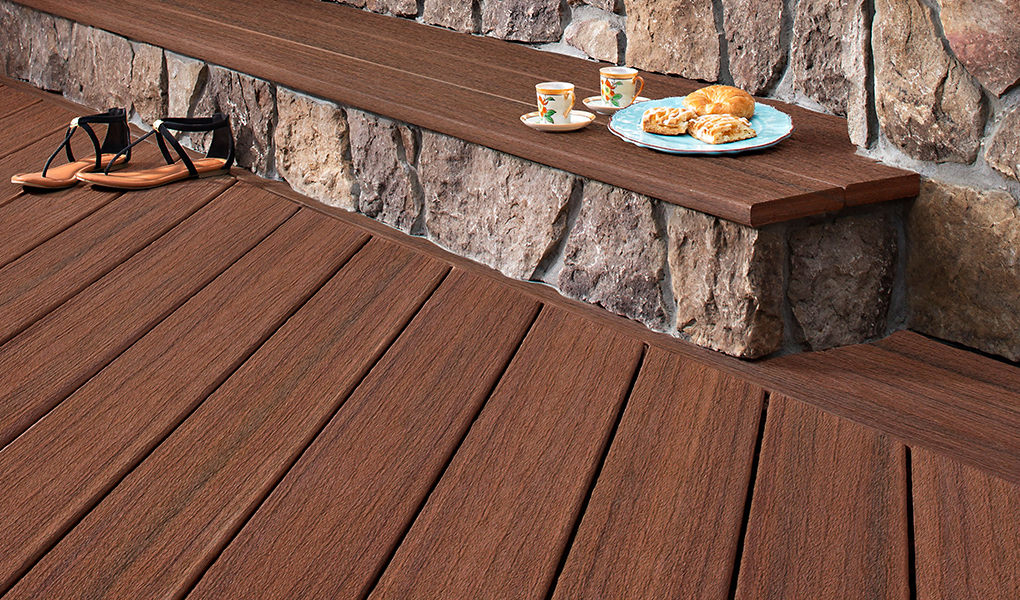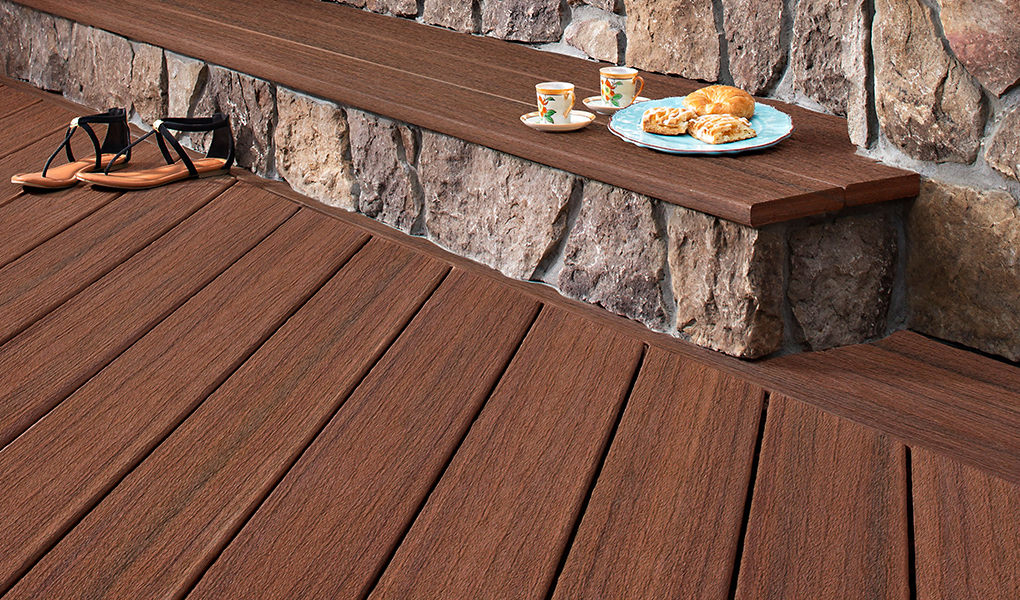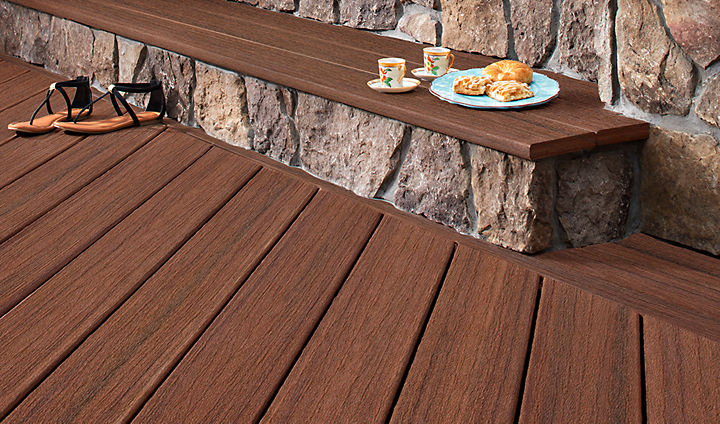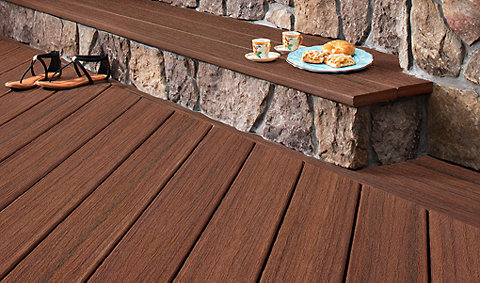 Decking essentials
If laying deck boards (not deck tiles), there are a few extra items that you'll need to complete your landscaping project. Below we discuss the necessary accessories for both ground-level and raised decks.
For both ground-level and raised decking:
Decking joists
Decking joists create the sub-frame for your decking, with the deck boards laid on top of them. We offer timber decking joists that can be used for the laying of softwood or TREX composite boards. Like the timber deck boards, they are made from responsibly sourced, Forest Friendly timber and are kiln-dried and treated to ensure stability and durability. And if your ground is uneven, pick up a pack of adjustable decking risers to help the joists reach the desired height.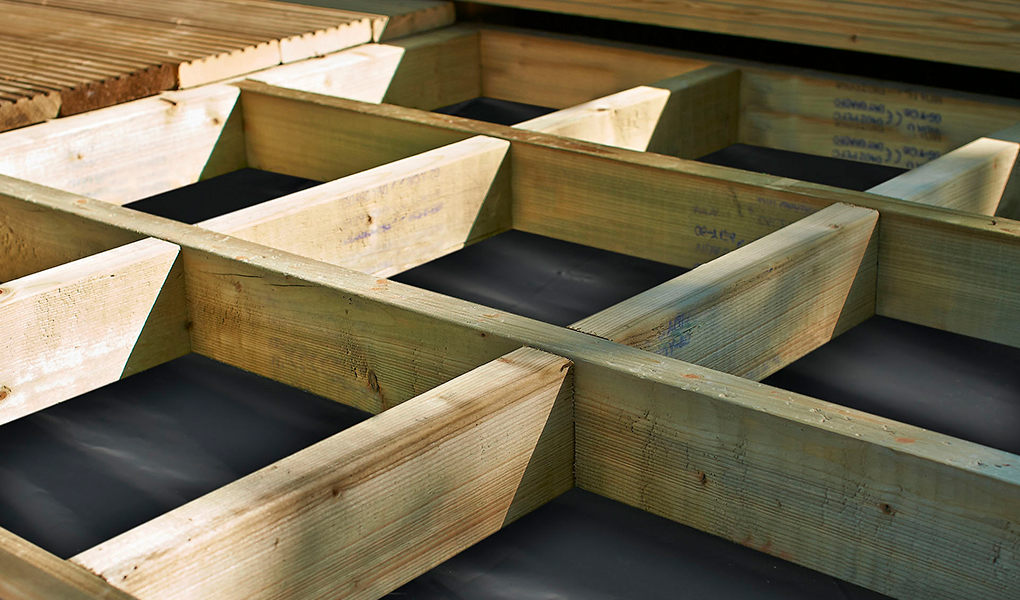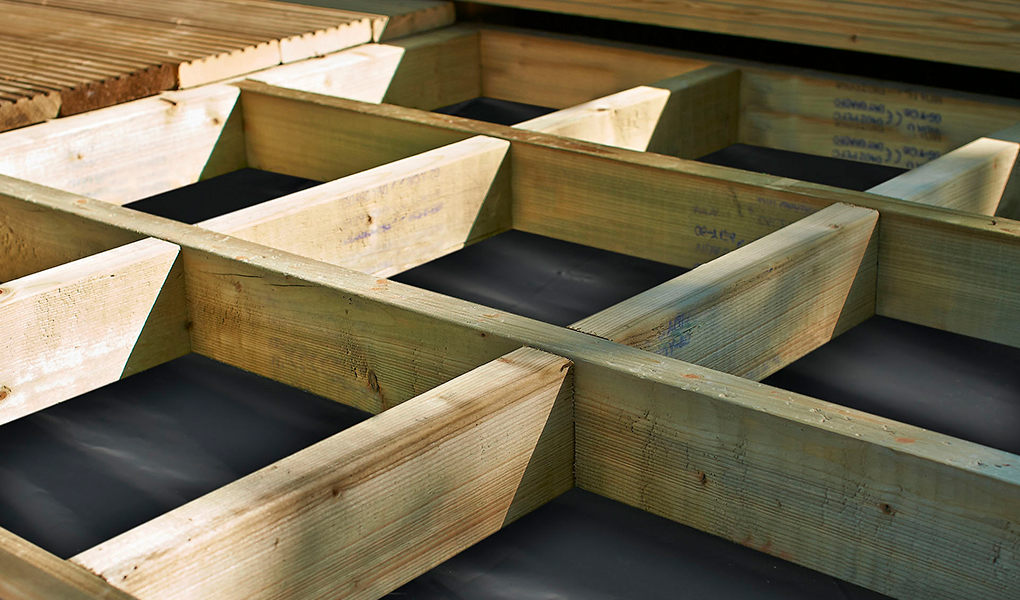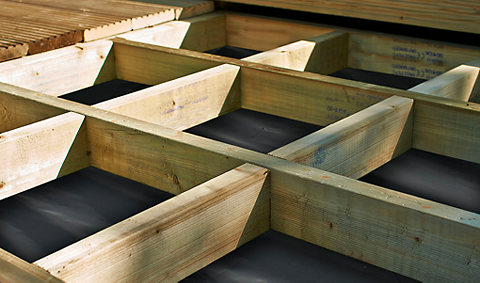 Decking screws
Ensure your decking stays secure with decking screws. Choose the right type for your deck boards – standard steel decking screws for timber deck boards and specialist composite ones for the matching boards.
We advise choosing screws that are at least 2.5 times longer than the thickness of the surface they'll be secured to (the deck boards). And keep them discreet with brown-coated ones for brown deck boards and green-coated ones to match Grassedeck boards. Our steel screws are corrosion-resistant to ensure that your decking remains secure for many years. And they're available in packs ranging from 20 to 1,000 screws to suit the scale of your decking project.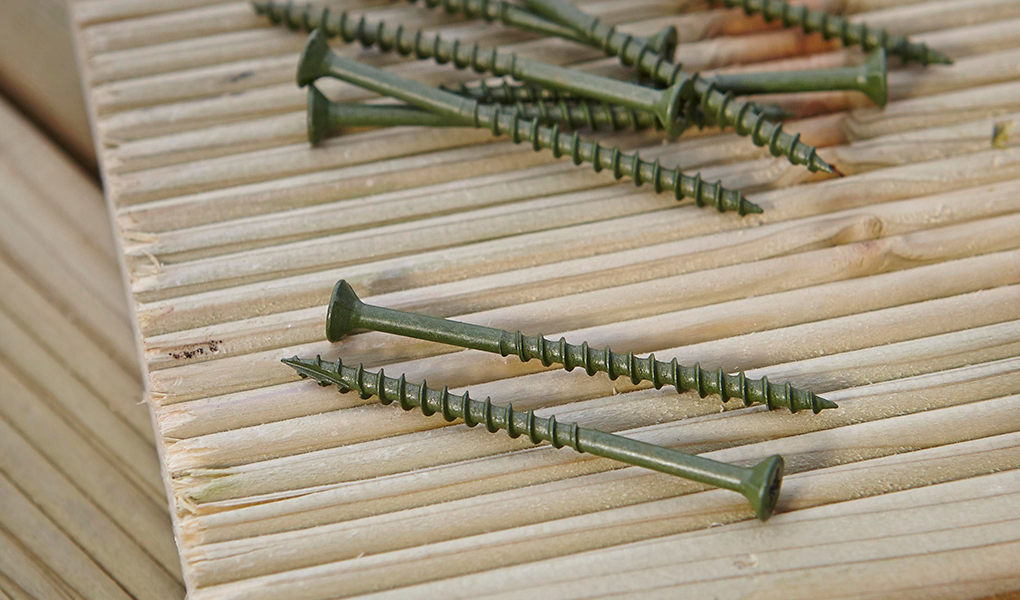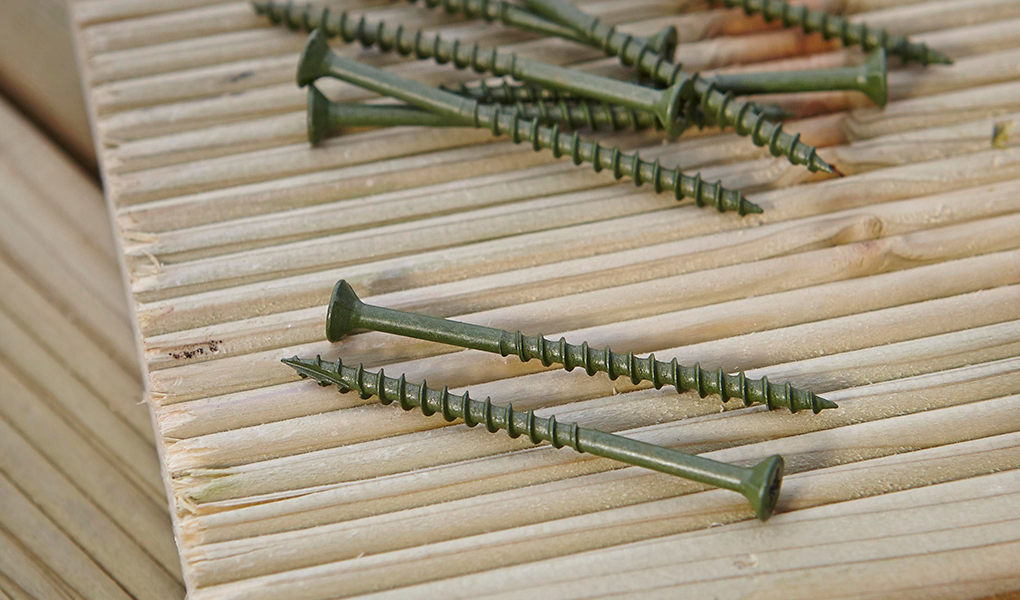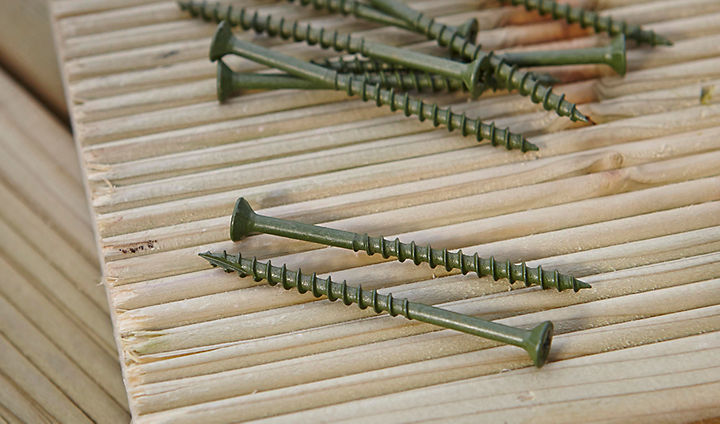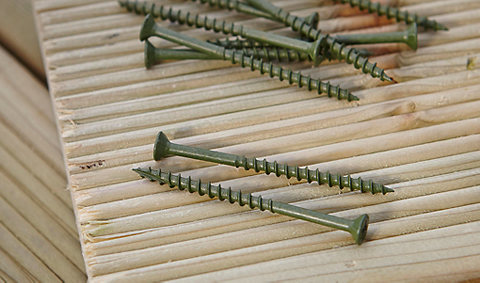 For raised decking:
Being elevated, raised decks require some further additions to be safe. Some of which can also be fitted to ground-level decks for more of a style statement.
Balustrades
If your decking has a drop, add some form of balustrade or railing to prevent falls. They can also add ornamental interest to your deck and help frame the space – perfect if your garden has different zoned areas.
We offer a number of ways to create your own balustrade. Use:
A trellis panel (also known as a balustrade screen). These come in a variety of decorative designs and are secured to decking posts.
Decking spindles (also known as balusters). These are wooden pillars that are attached to a hand rail (at the top) and a base rail (at the bottom) to create a rail that is secured to the decking posts.
A railing kit. These include all the component parts needed to make a complete balustrade – for both trellis panel and spindle designs. We offer them as a starter kit or a running kit. A starter kit begins and ends your railing and can be a standalone piece. A running kit is designed to be used with the Starter Kit to add further length to your balustrade.
Decking rope. Only possible if your decked terrace is on ground-level, a rope barrier offers the look if not the safety of more structured railing. Use the rope with Capstan Heritage Deck Posts as they come with pre-drilled holes for easy fitting.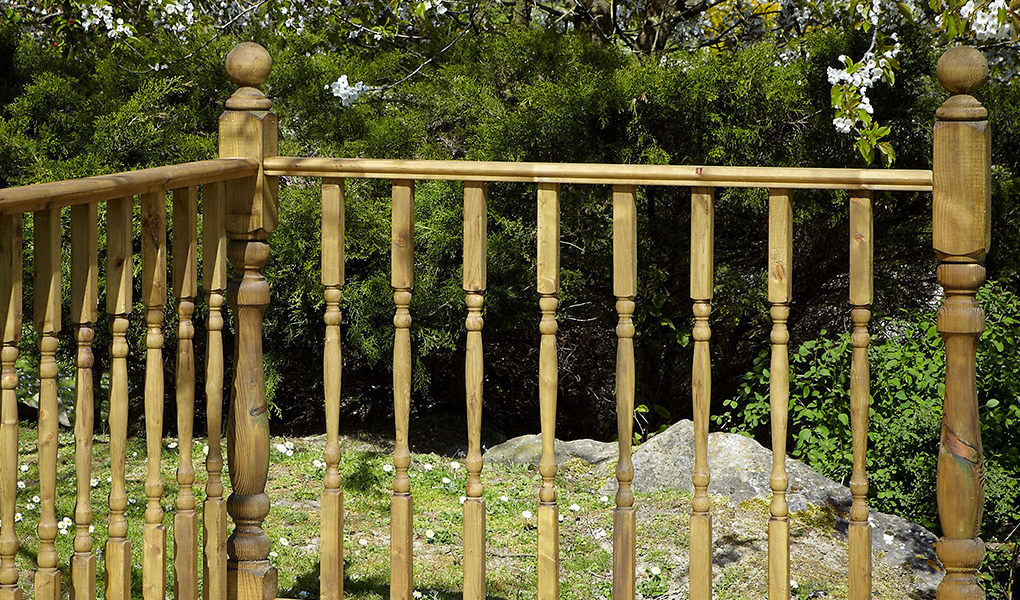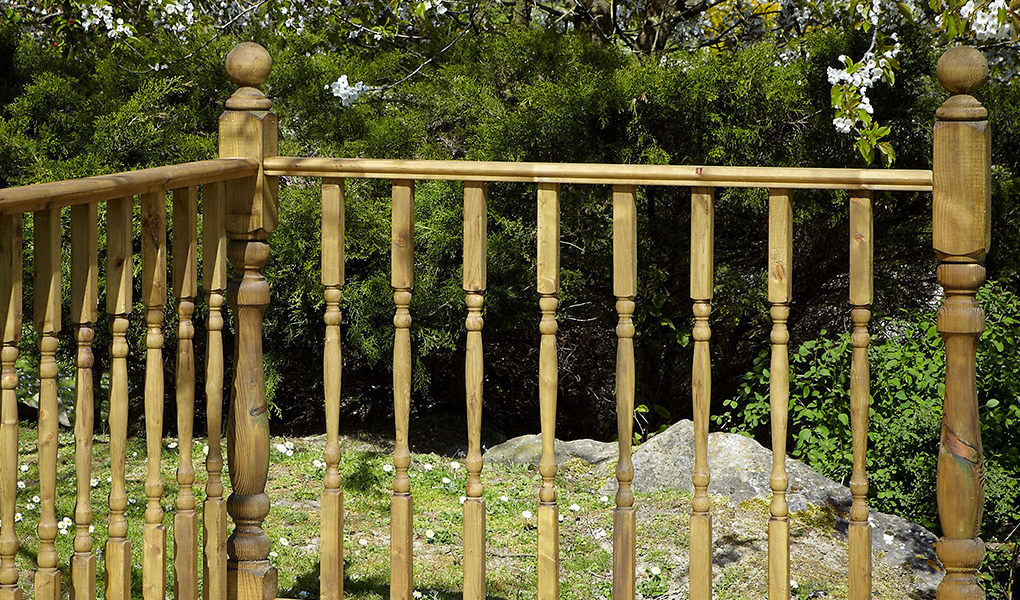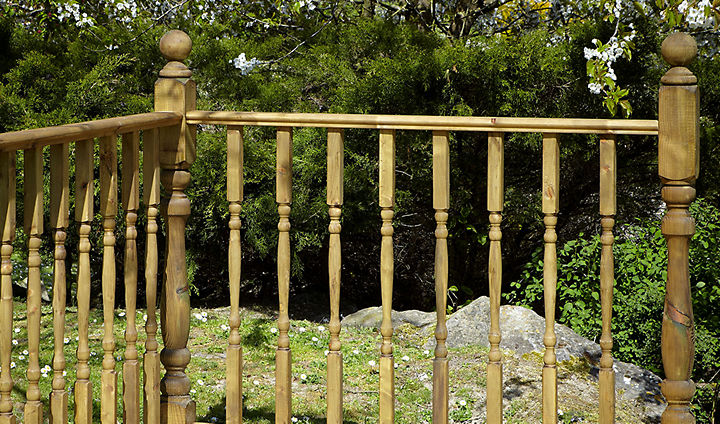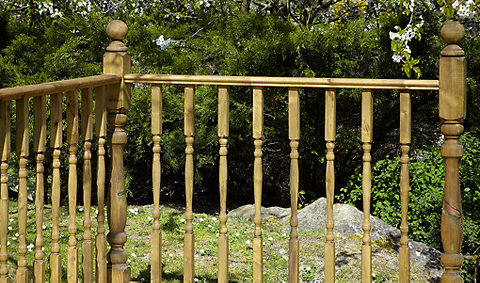 Decking posts and caps
Decking posts are built into the construction of a raised deck at the outer corners of the terraced area. Balustrades are then secured to them to make a complete protective barrier. Add an attractive finish by topping them with post caps. We offer them in flat and ball designs to suit your garden's style.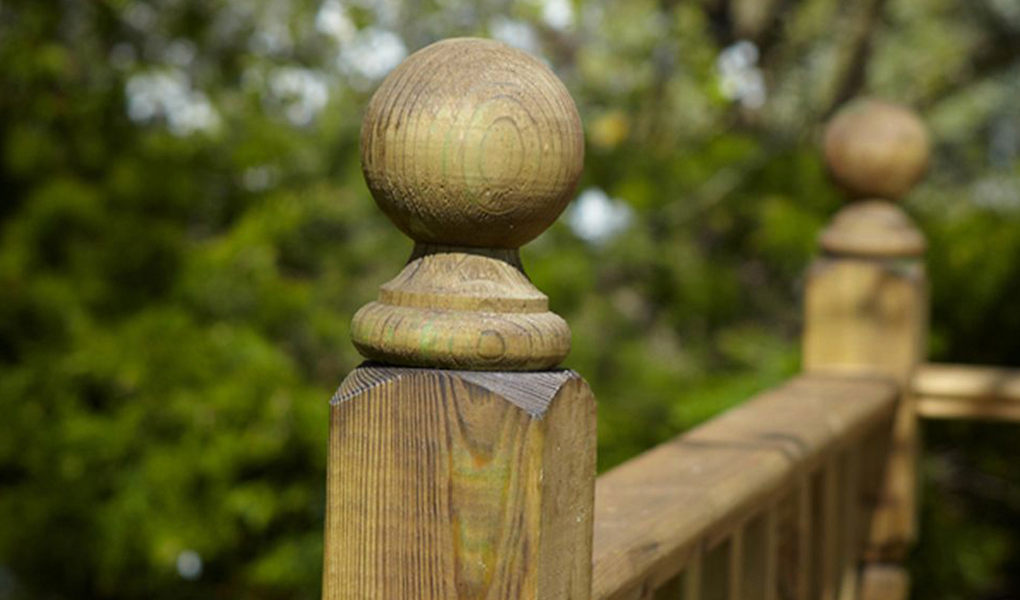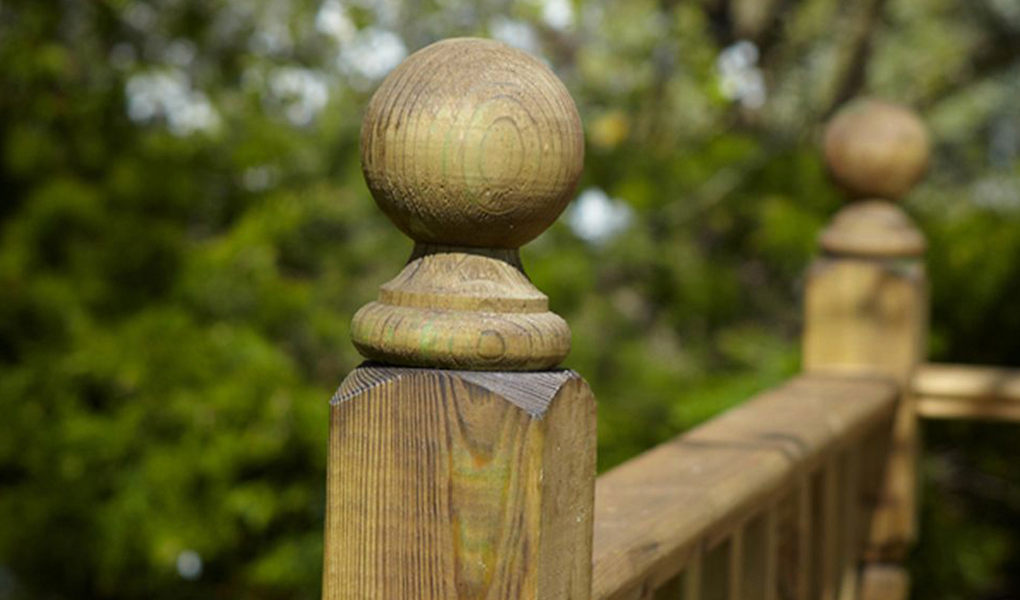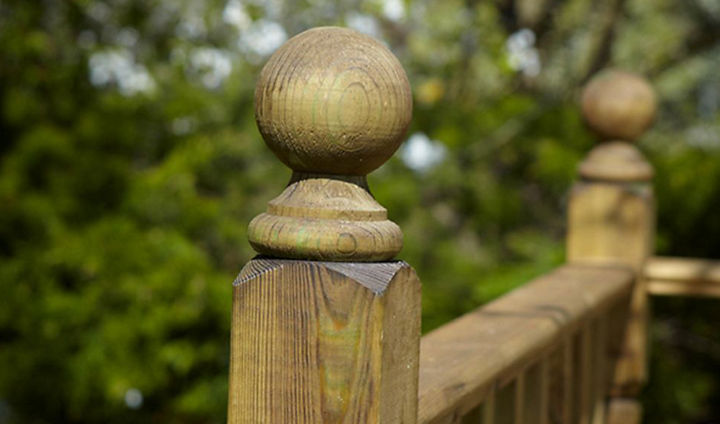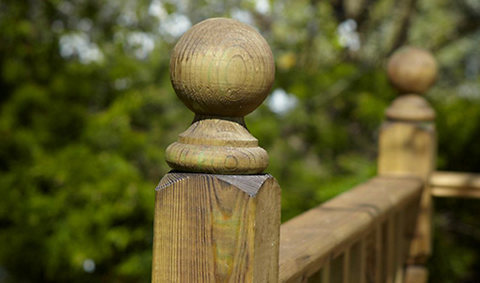 Decking steps
If your decking area is raised, explore our range of timber decking steps. Pick up as a complete pack that includes everything you need to build a set of three, four and six steps. Or build your own with individual treads and risers. If fitting composite stair treads, extra items will be required. For more on this and how to fit decking steps, head to our how to guide.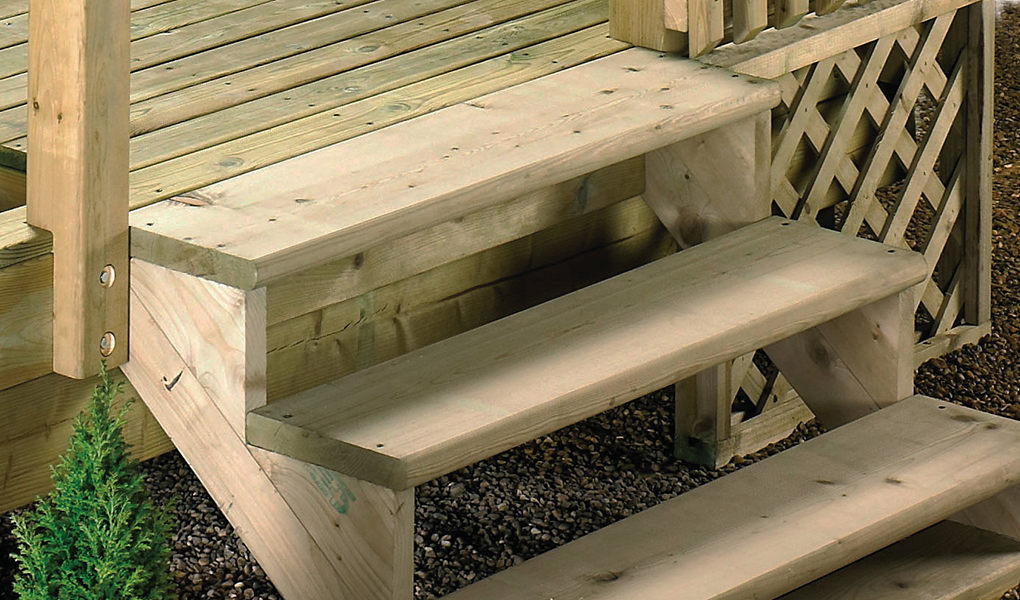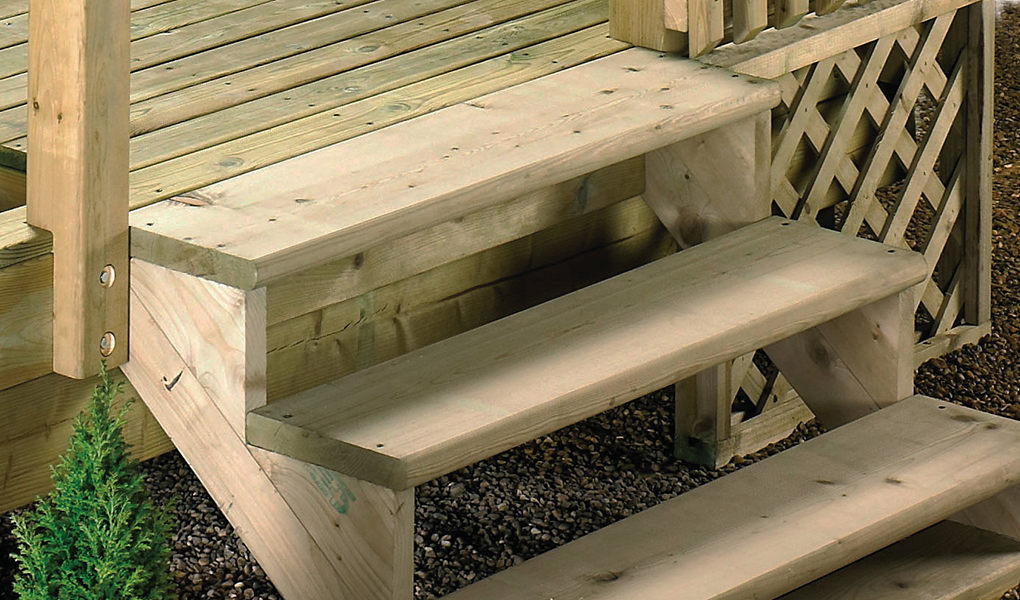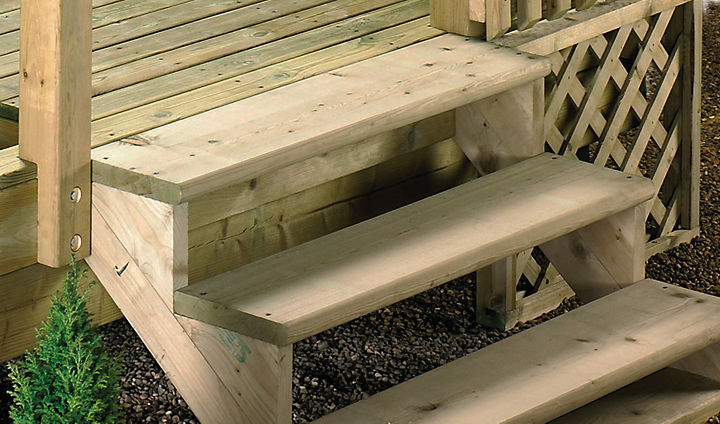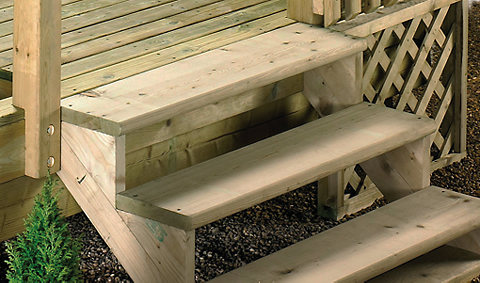 Decking lights
Decking lights are great idea for the steps and edges of your decking – making sure you and your guests won't miss your footing in the dark. Available in white and blue, our LED decking lights are recessed into the decking for safety and are offered in solar-powered or wired options.
And for something really special, opt for our LED striplight kit. Secure to the decking's edge and let its range of colours illuminate your outdoor space.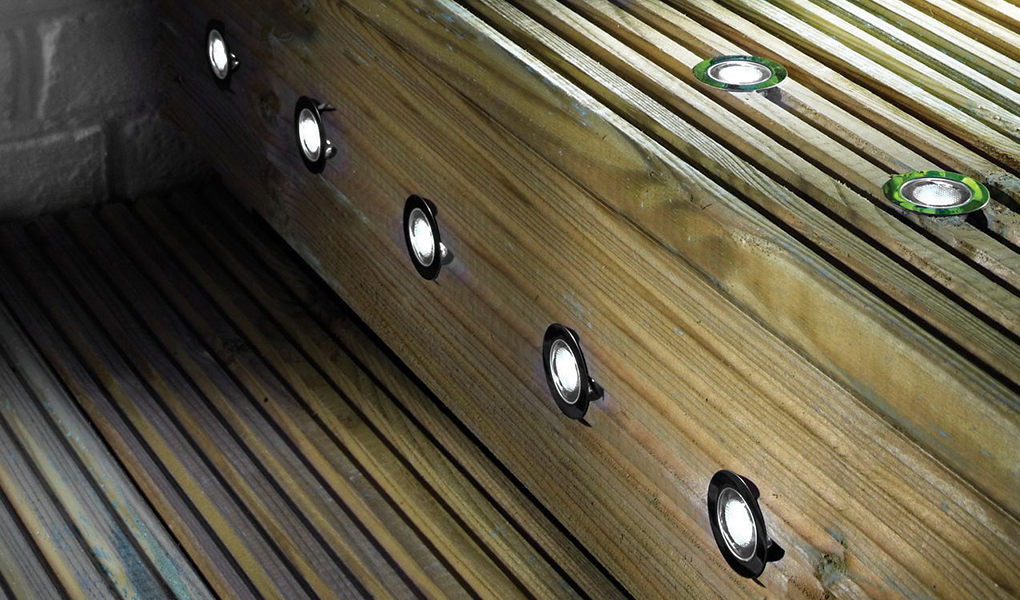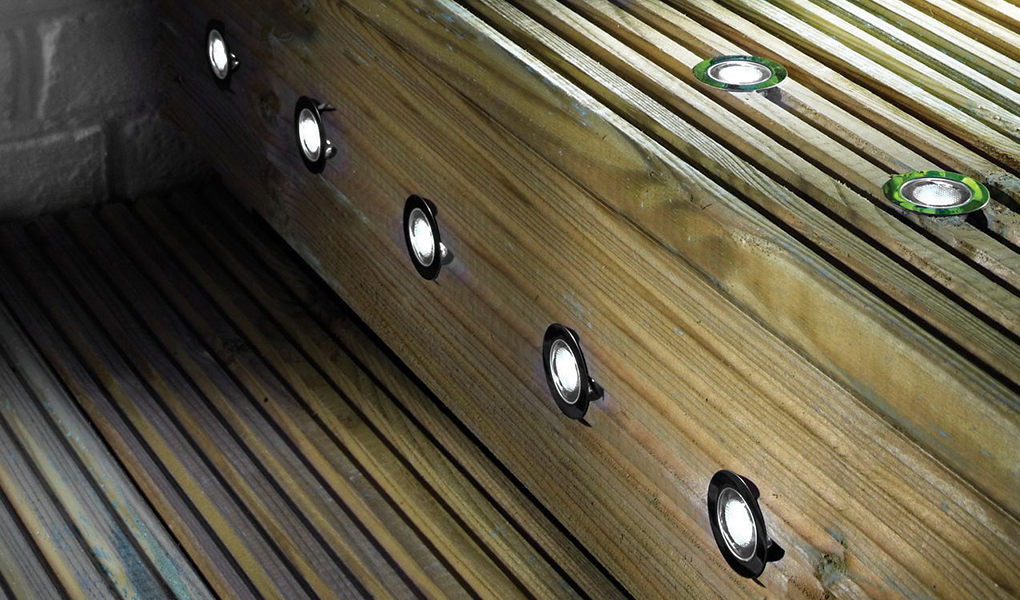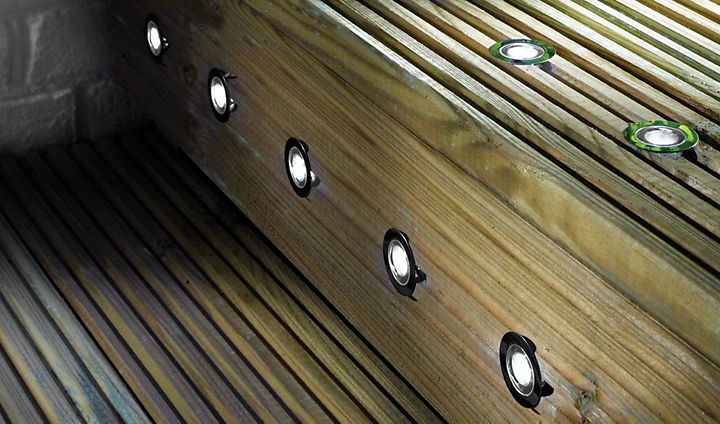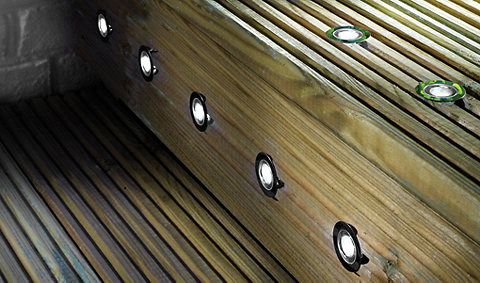 Decking protection and maintenance
Decking stains and oils not only protect your decking from wear and tear, they also help create the finish you desire. Whatever colour or look you go for, we have the staining tools you need to protect your new decking. And for more advice on caring for your deck, check out our how to guide, How to clean, paint and care for decking.