How to prepare the car for winter driving
As the seasons change and temperatures drop, it's worth remembering that your car can sometimes receive the brunt of bad weather as we arrive in winter. Snow, ice and wet weather can all take their toll. Fortunately, there are some simple precautions we can all take to help protect our cars against damage and to prepare for poor weather. We recommend keeping some essentials in your boot so that you're always ready for whatever the British weather might throw at us.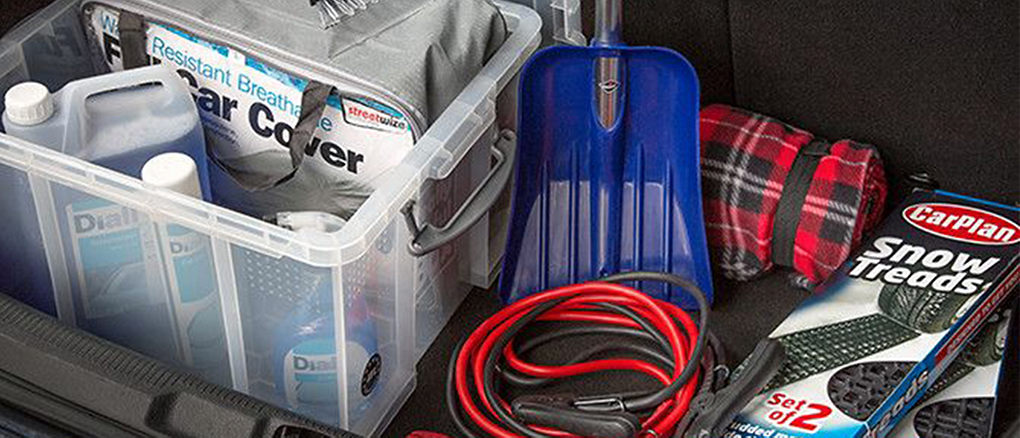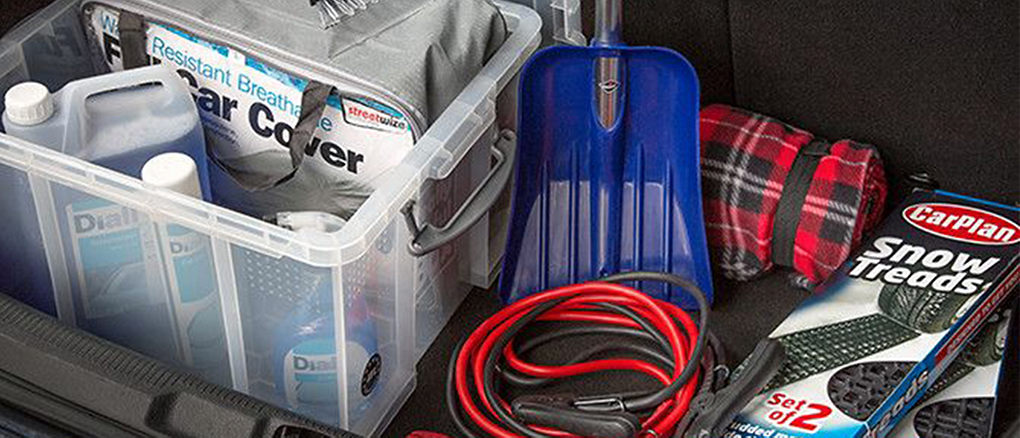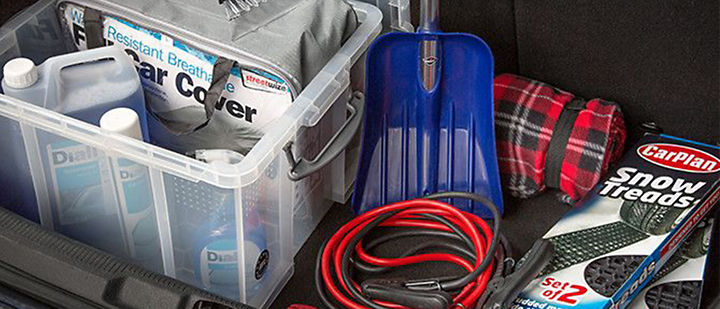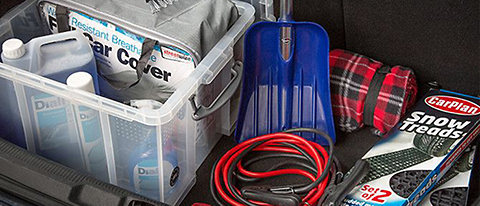 We suggest
Snow treads - also known as traction mats
A fully-charged mobile phone - pick up a car charger to help
Warm clothing, drinks and snacks
---
Cold temperatures can cause elements of your car engine to freeze. This can cause damage as well as prevent your car from starting in some instances. Before the winter begins, take some time to check over your vehicle and make sure that you're adequately protected in advance.
Protect the engine with anti-freeze
Anti-freeze is used in car engines to prevent the coolant from freezing. If coolant freezes, it can't circulate within the engine and therefore your car can quickly overheat, leading to unexpected breakdowns. The good news is that your car should already have anti-freeze in its coolant system – however this needs to be topped up from time to time. Check your levels regularly, ideally before any cold weather hits as well as periodically throughout the winter. It's also a good idea to double-check before heading out on any long journeys.
To use, simply follow the instructions in your car's handbook.
Windscreen wipers can also be affected by freezing temperatures. Don't be tempted to use water instead of screenwash as this can cause the washer pump to freeze. This could blow the fuse, and as your wipers often run off the same fuse you could be left with no way of clearing your screen.
Screenwash won't freeze when temperatures dip below zero. Just ensure you keep your screenwash topped up with the correct concentration for the winter conditions.
Be battery aware
Cold weather can place a strain on car batteries, making the winter a peak time for cars not starting. To help reduce the strain on your battery, giving your car a better chance of starting first time, make sure that all the electrics are turned off before you start the car. Turn on the lights, radio and more once the engine has started, rather than starting them all at once.
If your car has been sat in cold weather for a period of time without being used, you could find you need to charge the battery. If you're worried about your car starting first time, consider keeping a battery charger or jump leads to hand.
---
One of the most frustrating moments for a driver is the first autumn morning when we head out to our cars and find them unexpectedly covered in frost. Getting your car clear, warm and ready to go can take up valuable time and not always be easy. A few simple tricks and tools can help you quickly and safely get on the road.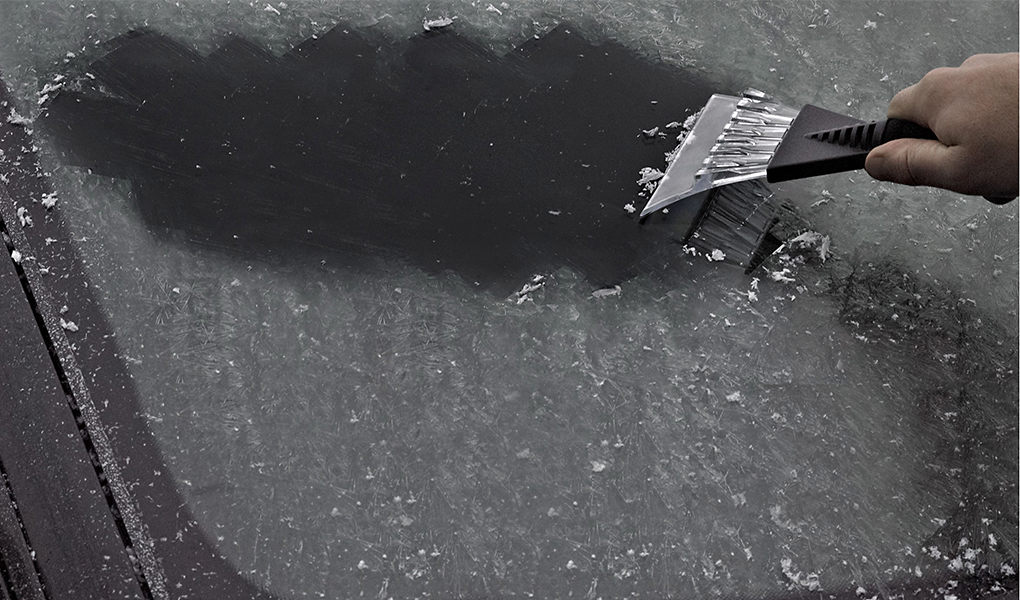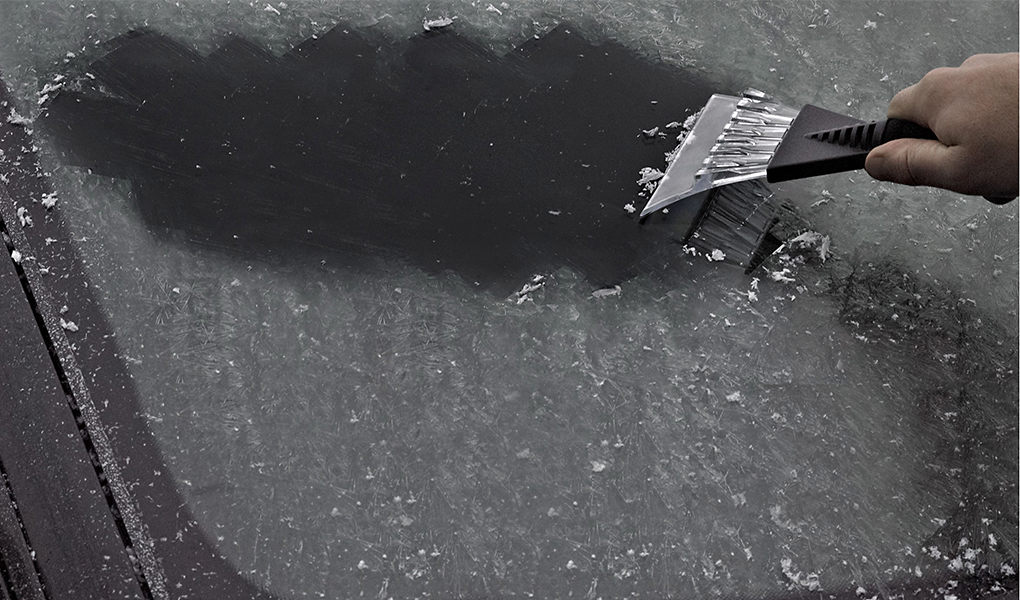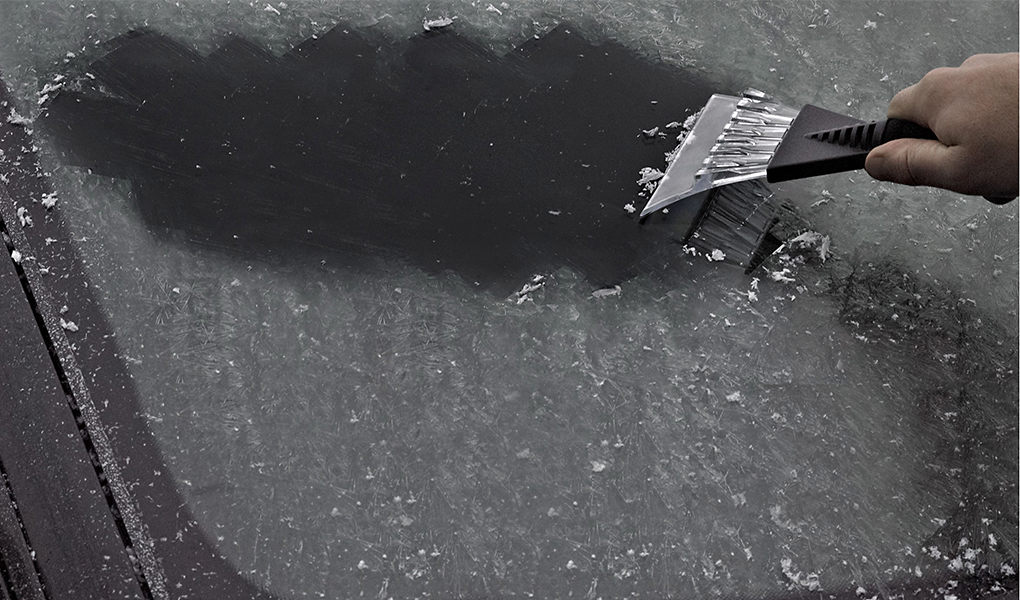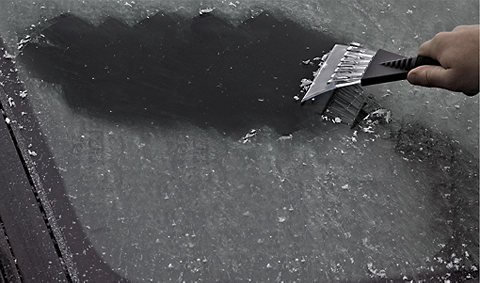 Clear ice quickly
If ice has formed on your windscreen, it's important to remove this thoroughly before driving – and without causing any damage to your car. Whilst pouring hot water onto the windscreen can help to melt ice, it can also cause your windscreen to crack resulting in an expensive and inconvenient repair.
To clear the glass quickly and safely, arm yourself with two essentials; an ice scraper and de-icer. Spray the de-icer onto the windscreen, following the instructions on the packaging. This will help to accelerate the melting. You can then use your scraper to help remove any more stubborn ice.
Don't forget that you'll also need to clear you rear windscreen, side windows and wing mirrors before you hit the road.
Keep some de-icer handy in the house too. If your car locks freeze you'll have an easy way to de-ice them.
Get out of the drive safely
Once your car is ready to go, it's always worth making sure that your route onto the road is safe. After snowfall or a heavy frost you may find getting out a driveway tricky, so take great care and prepare the area around the car. Using a snow shovel, remove as much snow as possible from around the wheels and in particular in front of the car.
You might find it difficult to get traction in icy or snowy conditions, so it can be helpful to keep some snow treads (also known as traction mats) handy. These can be placed in front of each wheel to provide more grip. Your car tyres will be able to grip the surface more easily, making it easier for you get out of your parking space and onto a gritted road. Once you're out of your parking space you can retrieve the mats and safely stow them away in the car for future use.
---
Before settling out a long journey, check the weather forecast and make sure that you're prepared accordingly. Be aware that journeys can take longer in difficult weather conditions – take a fully charged mobile phone, drinking water and some snacks with you in case the journey takes longer than expected or in case you experience any difficulties or breakdown.
If a breakdown occurs in winter, you'll need to be prepared for colder and darker conditions. Keeping a blanket and warm clothing in the car is a wise idea, as you may need to wait for repair services without heating in your car. A torch, or better still a head torch, can be a huge help – both for ensuring that all is well with the outside of your car before you set off, and in case of a breakdown or flat tyre. Should you experience a flat battery, you may not be able to rely on the lights of your vehicle when jump-starting your car or charging a battery so a hands-free head torch can be very helpful.
It's also worth ensuring that you have breakdown essentials that are useful year round – a safety warning triangle and high-visibility vests for the driver and all passengers.
Whilst cold, snowy and wet weather can pose hazards, both on the road and getting onto the road, it's important to remember that being well prepared and taking your time can help to reduce these. Keeping the right tools and supplies to hand will make it easiest for you to get on the road, and will make it easier to deal with some of the difficulties we can face on the roads in winter. Keeping your car well-maintained, and taking time to regularly check the basics such as water, oil, fuel and tyres before heading out can also help to reduce the likelihood of a breakdown. If you do face difficulties on the road make sure that you're well-equipped with essentials to keep you and your passengers as comfortable as possible and carry contact details for your breakdown service with you.
We hope that driving in winter is as hassle-free as possible, being well-prepared should help to make this a reality.
---