Maximise your kitchen space with our GoodHome ranges
In any well-planned kitchen, a good cabinet and drawer system is essential to creating a space that works for you.
From layout, to functionality, or influencing the overall look, cabinetry and drawers form the base for your kitchen and can help make the most of the space you have. Add good internal storage and you have everything you need to maximise every inch of space.
We understand how important it is to create an efficient well organised space, so through our range of clever systems that all work seamlessly together you can create more space for the things that matter.
---
Shop the range
---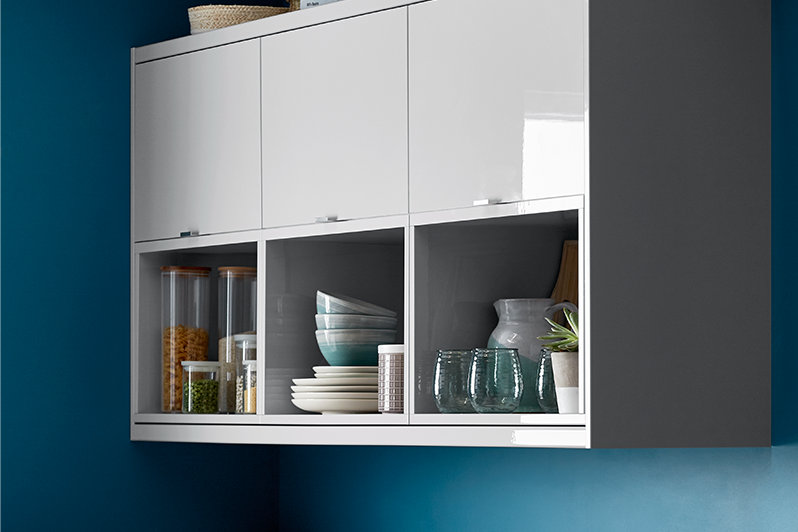 GoodHome caraway cabinets
Our Caraway cabinet system is designed to make the most of your space. Available in an array of different cabinet widths, heights and types to suit different purposes, it's easy to choose the combination of cabinets you want.
Find a greater range of cabinet widths to make the most of all linear space in our new range
Discover clever solutions to utilise traditionally unused space above and below cabinets
Option to use wall cabinets as base cabinets saving floor space
Shop Caraway Cabinets
---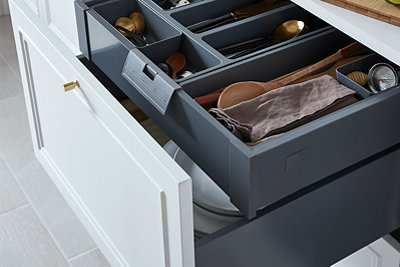 GoodHome soto drawers
Our Soto drawers offer great quality at great prices, making the most of the space you have to help you store away everything you need and access it when it suits you. Our Soto drawers can hold up to 35kg or equivalent to 50 dinner plates!
Drawers boost the amount of easily accessible storage in your kitchen and can be used in so many different ways, deep drawers are ideal for pots, pans or create storage towers for huge amounts of ultra-efficient storage space.
---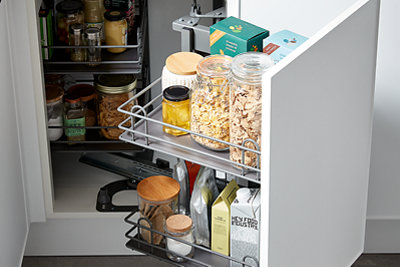 GoodHome pebre internal storage
Taking time to consider internal storage can hugely help improve the overall usability of your kitchen.
Our Pebre pull out internal storage is designed to easily fit our Caraway cabinets. This range helps you maximise usable storage space, including solutions for otherwise difficult to reach corners.
The Pebre range helps you efficiently store away items and make them easy to access when you need them, organising your kitchen around you and your needs.
---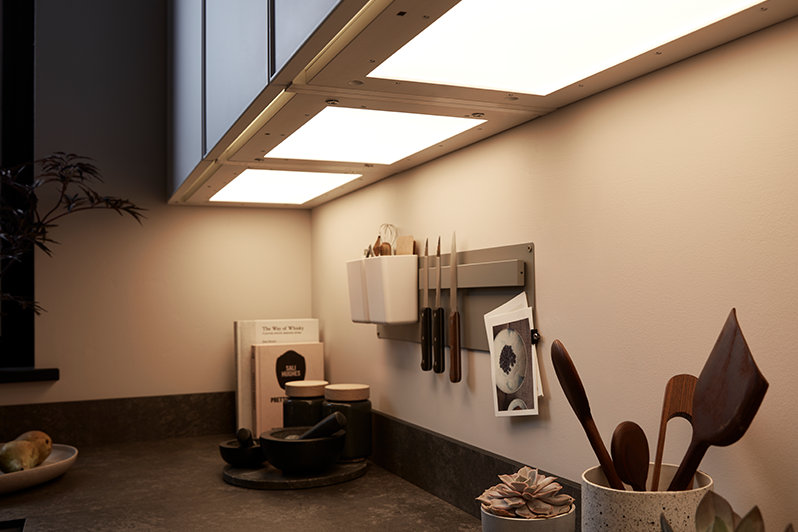 GoodHome tasuke integrated lights
Having the right lighting in the right place is an everyday kitchen essential. When hosting guests, you'll want warming accent lighting to create an atmosphere. Switch over to bright task lighting when you're dicing and chopping to get the job done.
Our Tasuke integrated cabinet lighting can do both. By replacing the base of your wall cabinet, Tasuke lighting provides a blanket of bright light over your workspace with just a wave of the hand thanks to its intuitive motion controls.