Black bathroom design ideas: 8 ways to embrace this on-trend colour
1. Start with black bathroom walls
Achieve total tranquillity in your bathroom by painting the walls a silky shade of black. Create a striking feature wall by painting the focal wall in our GoodHome Liberty Matt emulsion paint. Alternatively, why not paint all four walls black to create a cool cocooning effect in your bathroom? Top tip: be bold and paint any windows and skirting boards black for a captivating colour drenching effect – sure to leave your guests saying 'wow!'
If painting isn't for you, choose contemporary black wall tiles or wall panels. We suggest adding a black splashback in your shower area to create a cool contrast with light shade walls. If you don't consider yourself a DIY pro, black tile sheets like this Trentie ceramic mosaic tile sheet are a stylish and cost-effective way to add a pop of black to your bathroom without all of the fuss.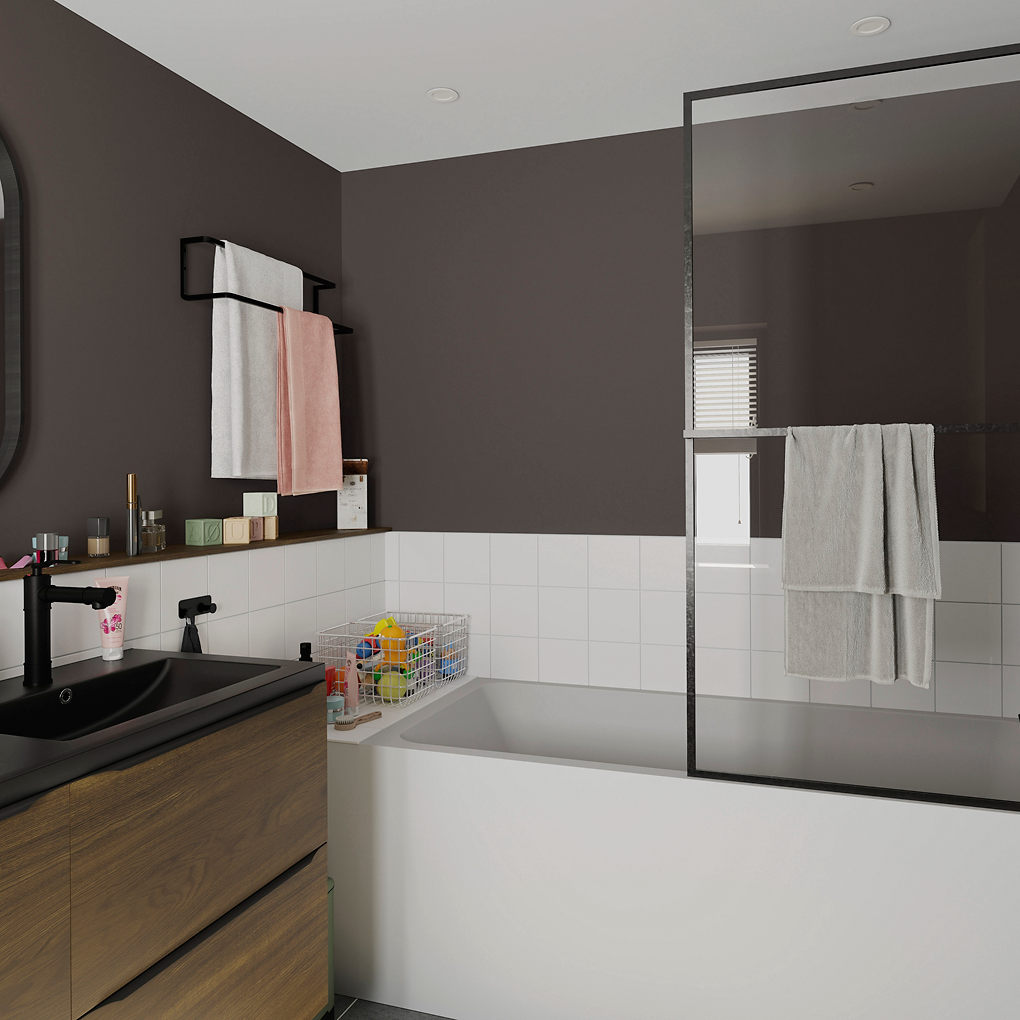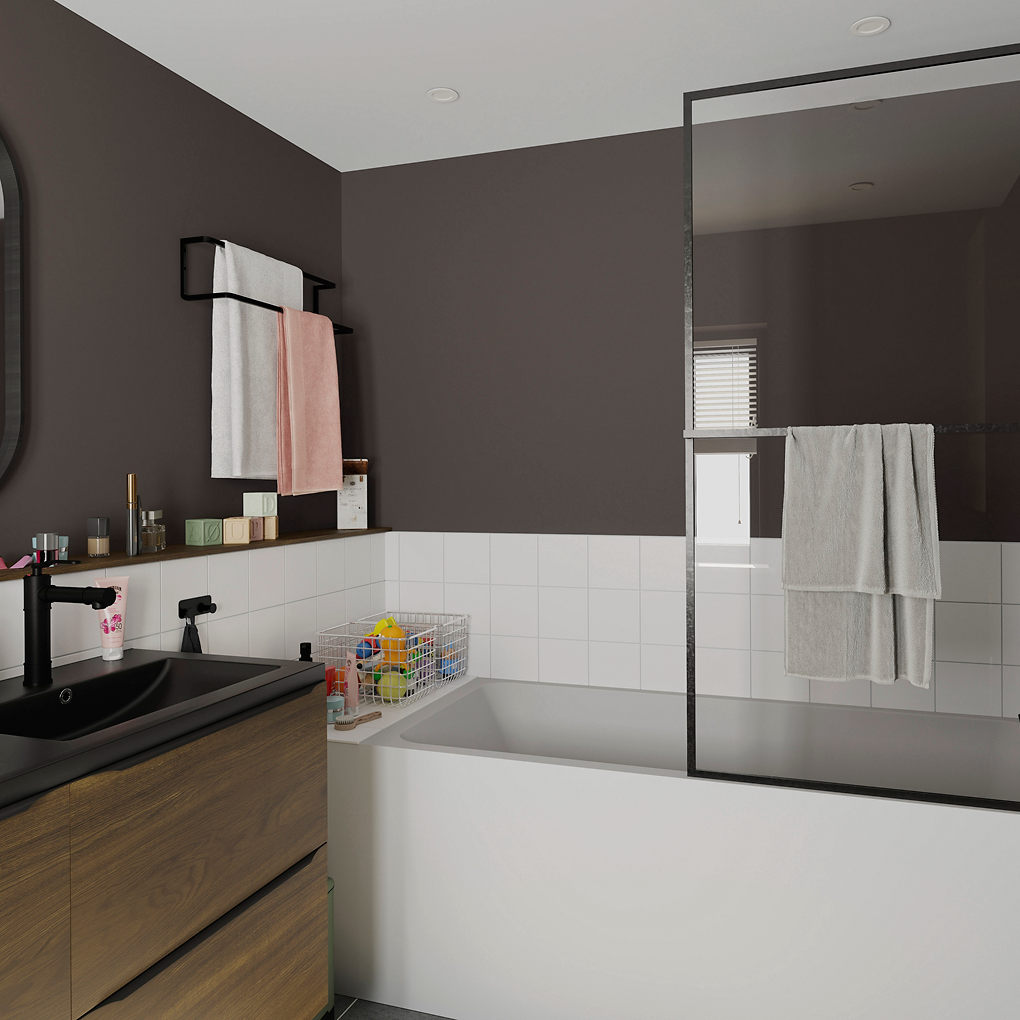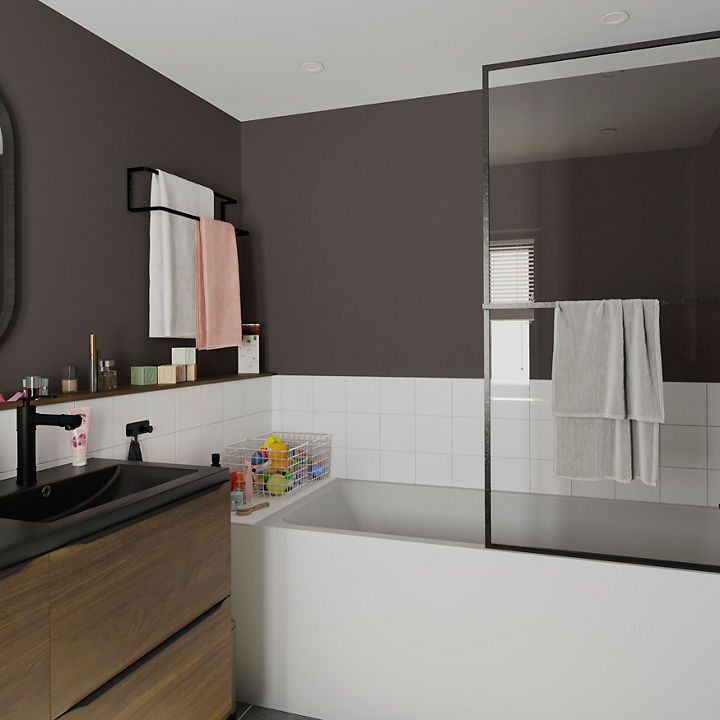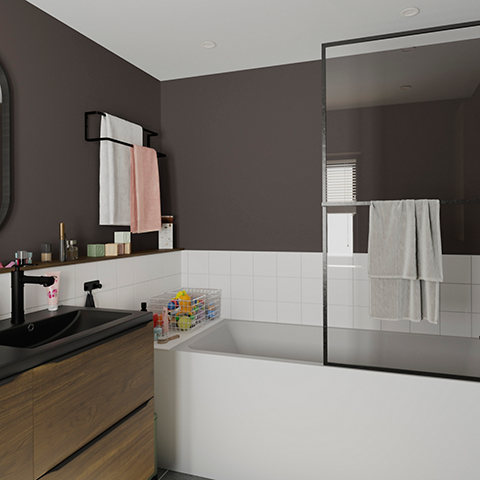 2. Incorporate black bathroom accessories
If you're looking to revamp your bathroom without a total refit, consider swapping out your dull bathroom accessories for bold black replacements. From taps and toilet roll holders to bathroom bins and mirrors, black bathroom accessories are all the rage right now. Pops of black are considered ultra-stylish in contemporary bathrooms, and they don't break the bank. 
We recommend opting for all-black bathroom accessories for a sleek, consistent aesthetic. The possibilities are endless when it comes to black bathroom accessories: think black toilet roll holders, towel rails, towel rings, bins, bathmats – the lot! Some of our favourites include this stylish GoodHome black soap dispenser and black bathroom tumbler.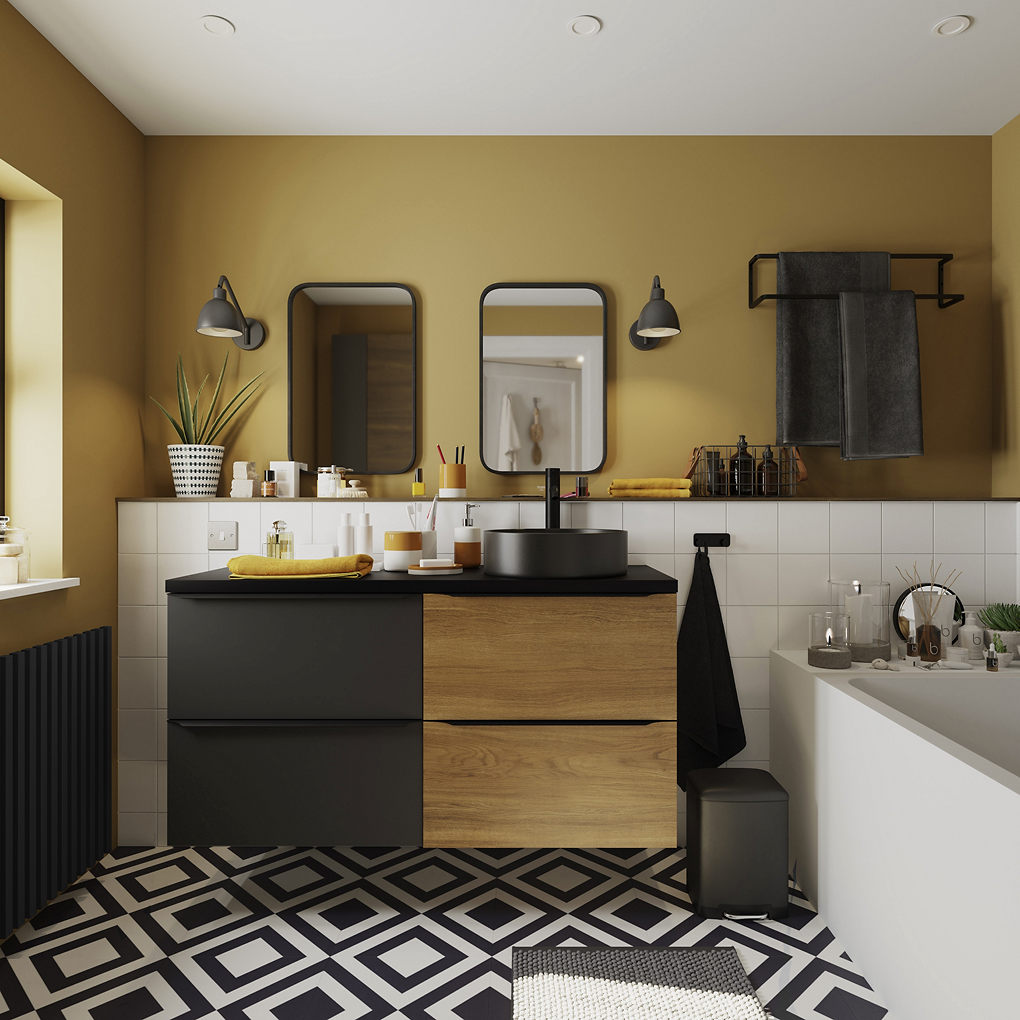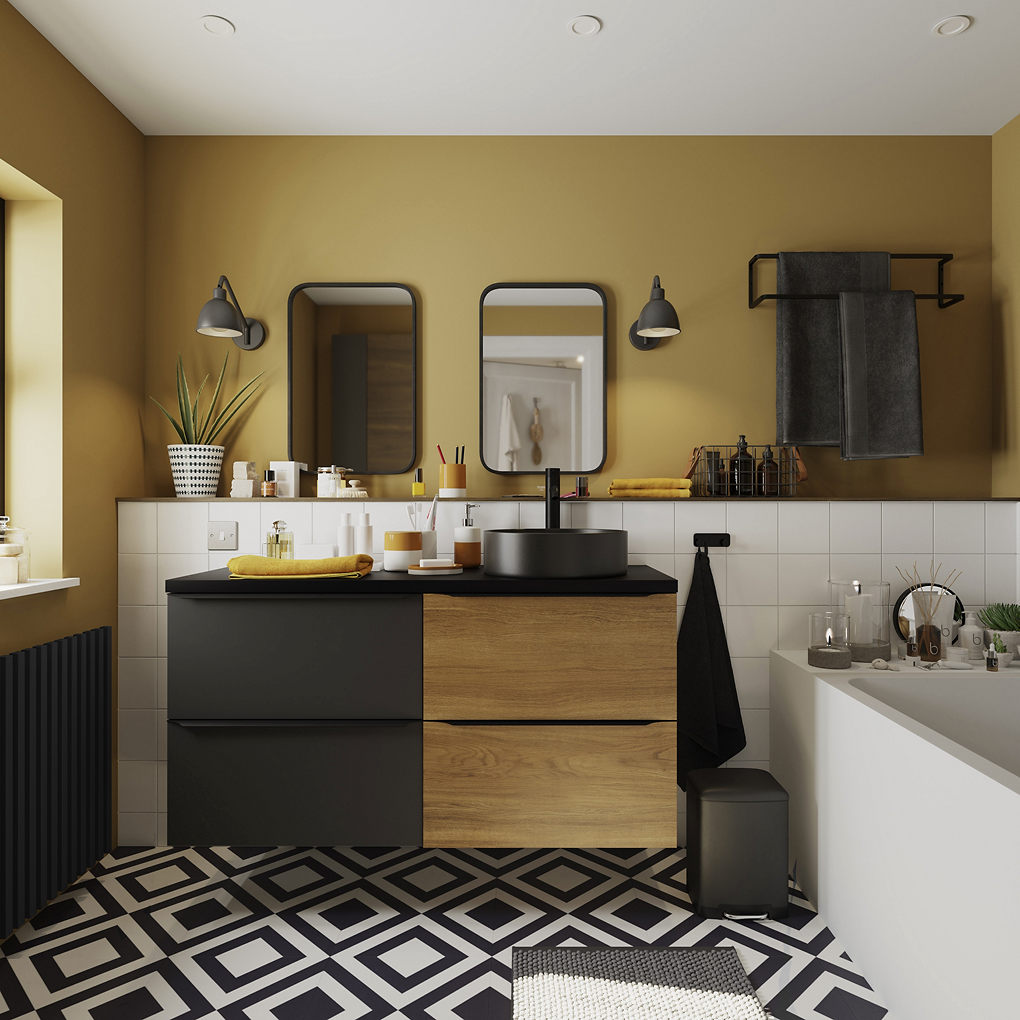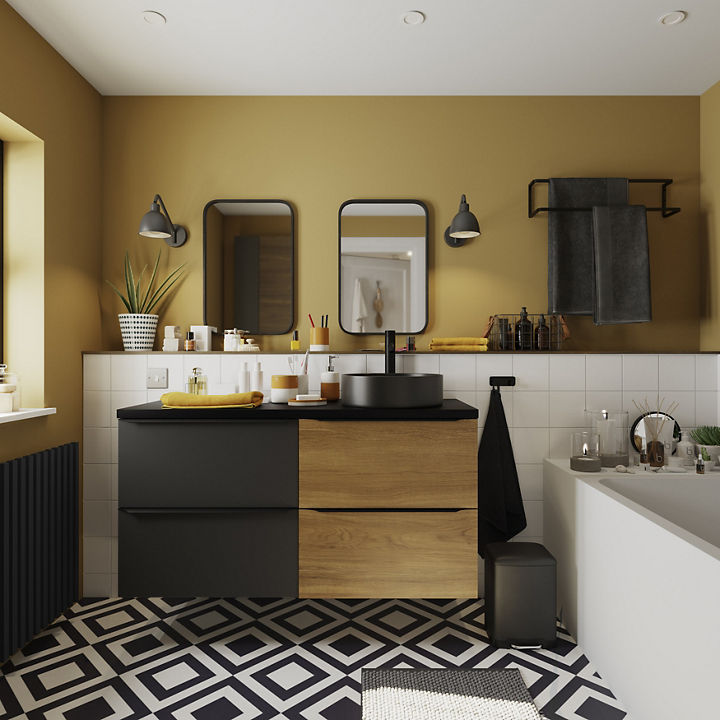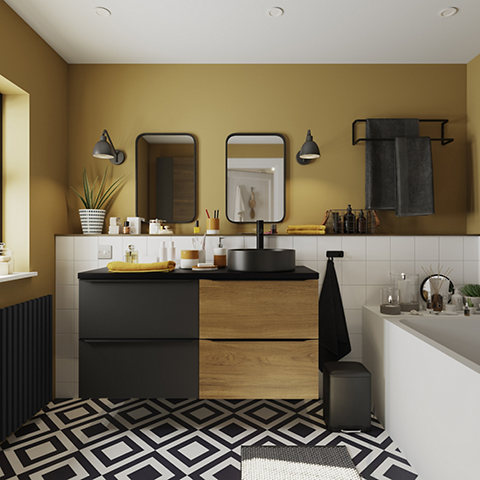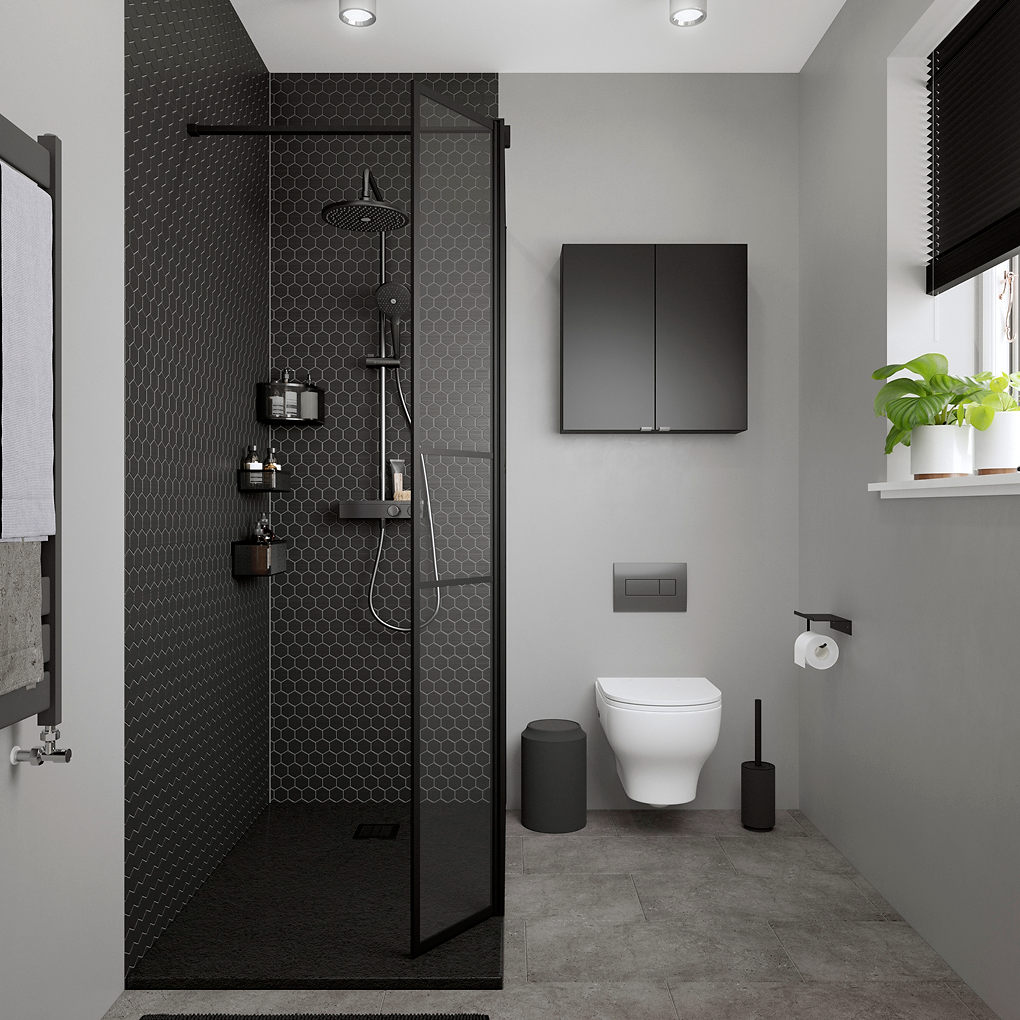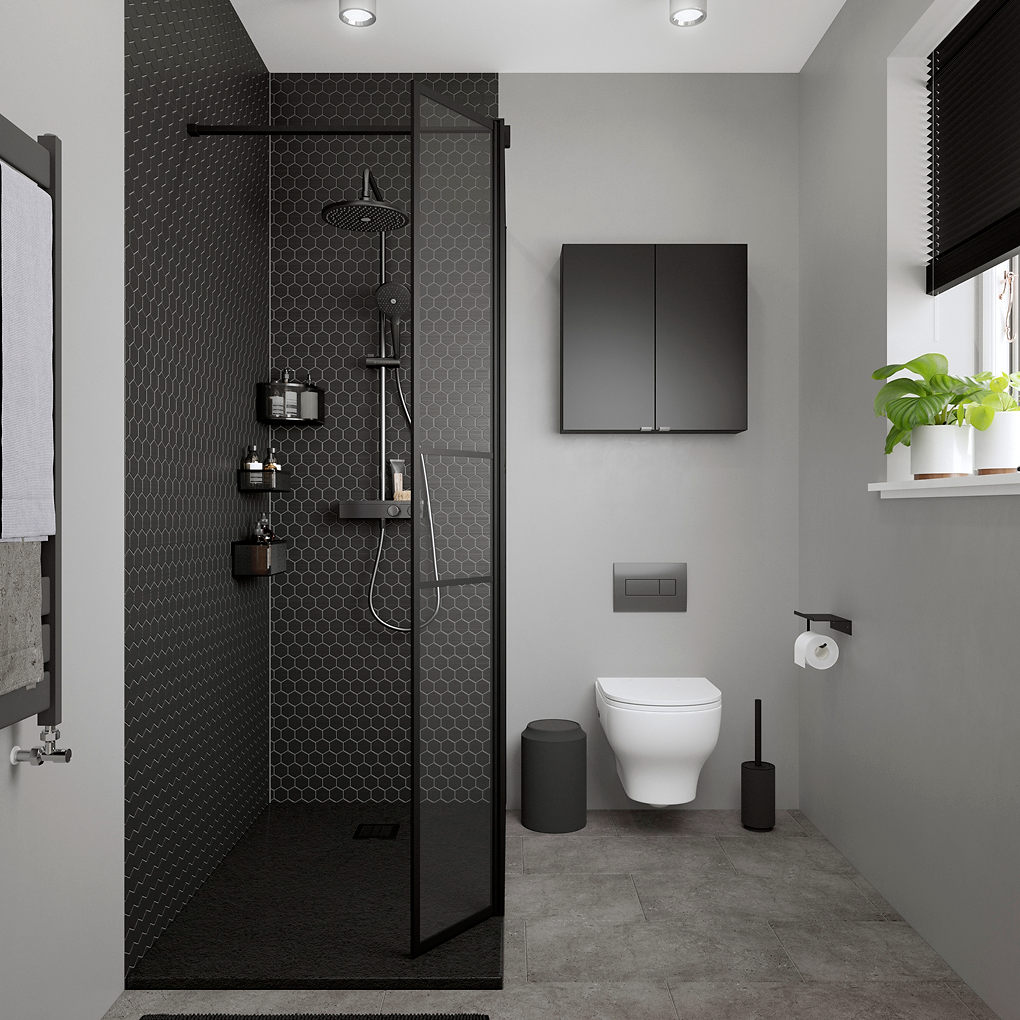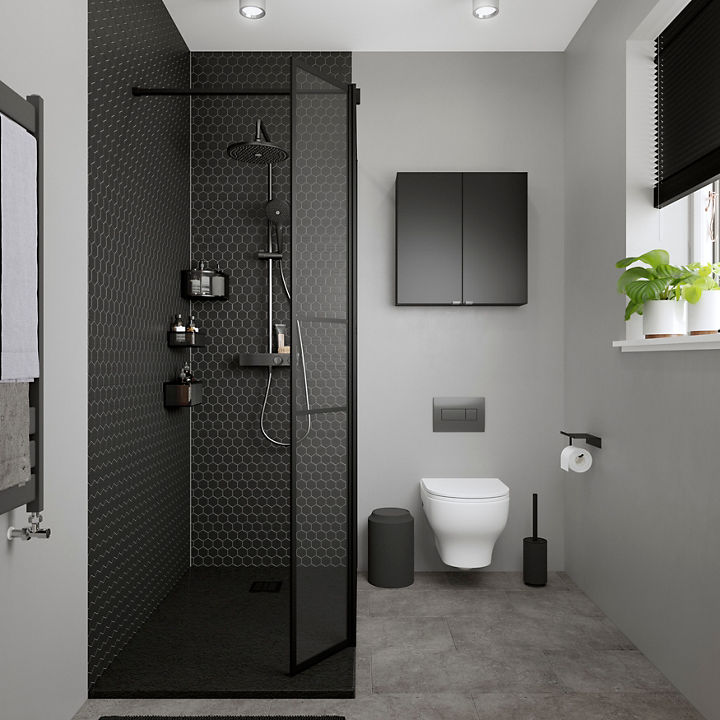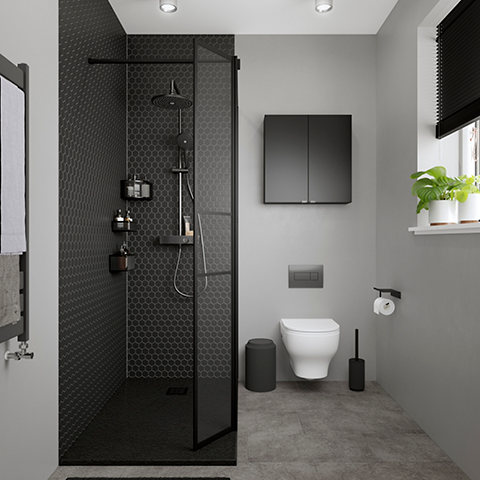 4. Create cool colour contrasts
If all-black isn't for you, consider creating modern monochrome contrasts in your bathroom space. Opt for a refined greyscale look by using different shades of black and grey (don't forget – this can be with your walls, furniture, or accessories). Alternatively, go for monochrome if you're after something a little more daring: make your bathroom pop with bold blacks and whites.
You can still incorporate black in your bathroom if colour is more your thing. Just look how on-trend the below bathroom looks with sleek black accessories and burnt orange walls. Achieve this look with the Naturéa Crocosmia Velvet matt Emulsion paint, a black towel warmer, and black bathroom cabinets.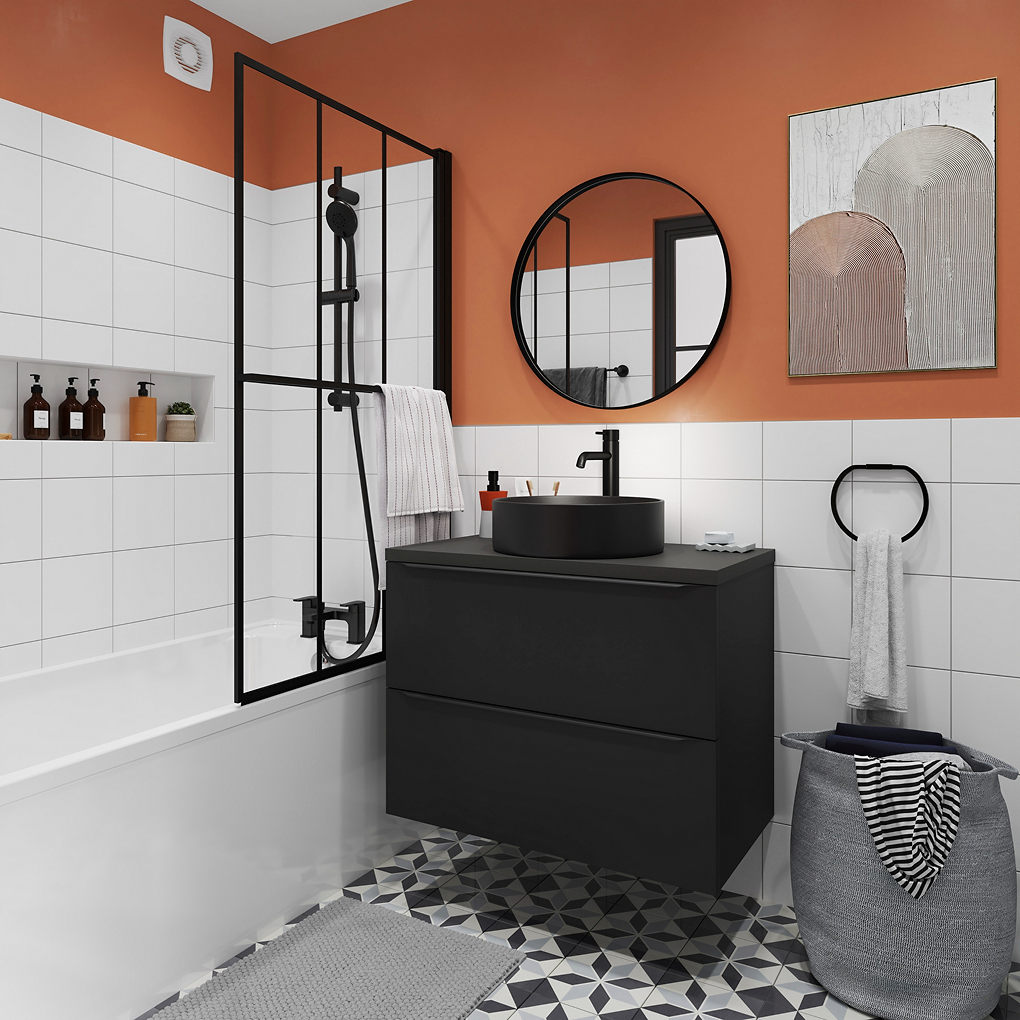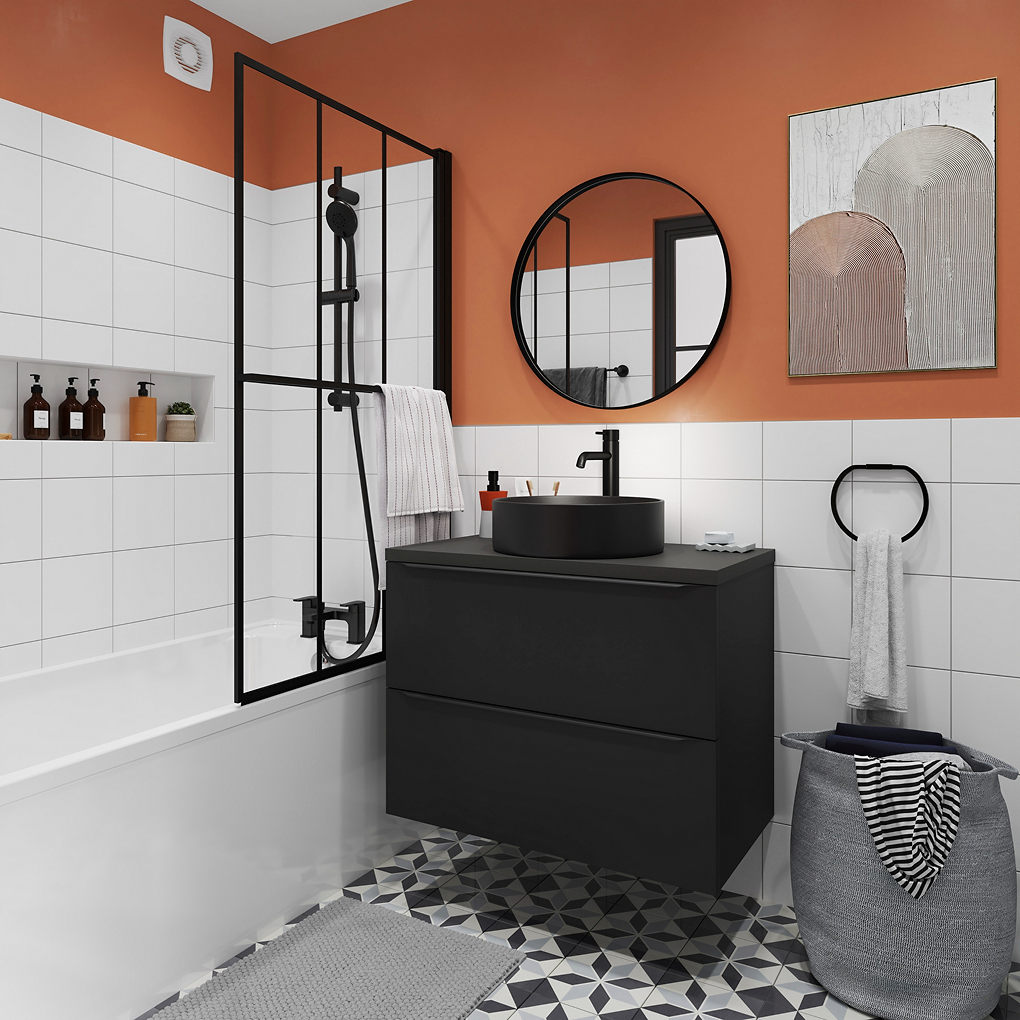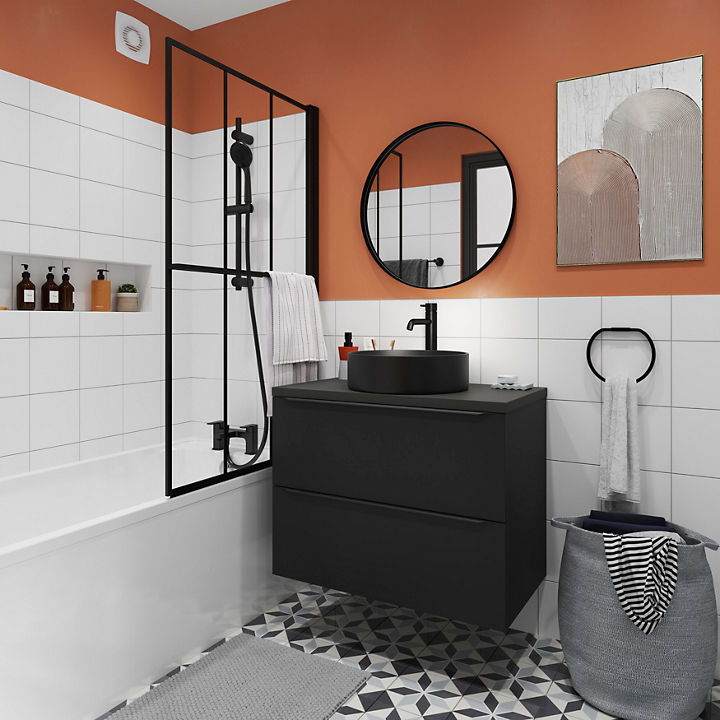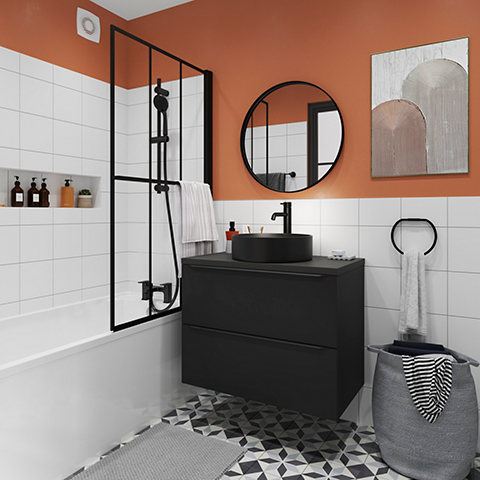 5. Black radiator ideas
Black radiators and towel warmers add a designer aesthetic to bathrooms, making them an eye-catching alternative to standard white radiators. Paired with black bathroom accessories, black radiators can transform the look of your bathroom from old and tired to fresh and high-end. Plus, even though they look costly, black towel warmers are ultra-affordable!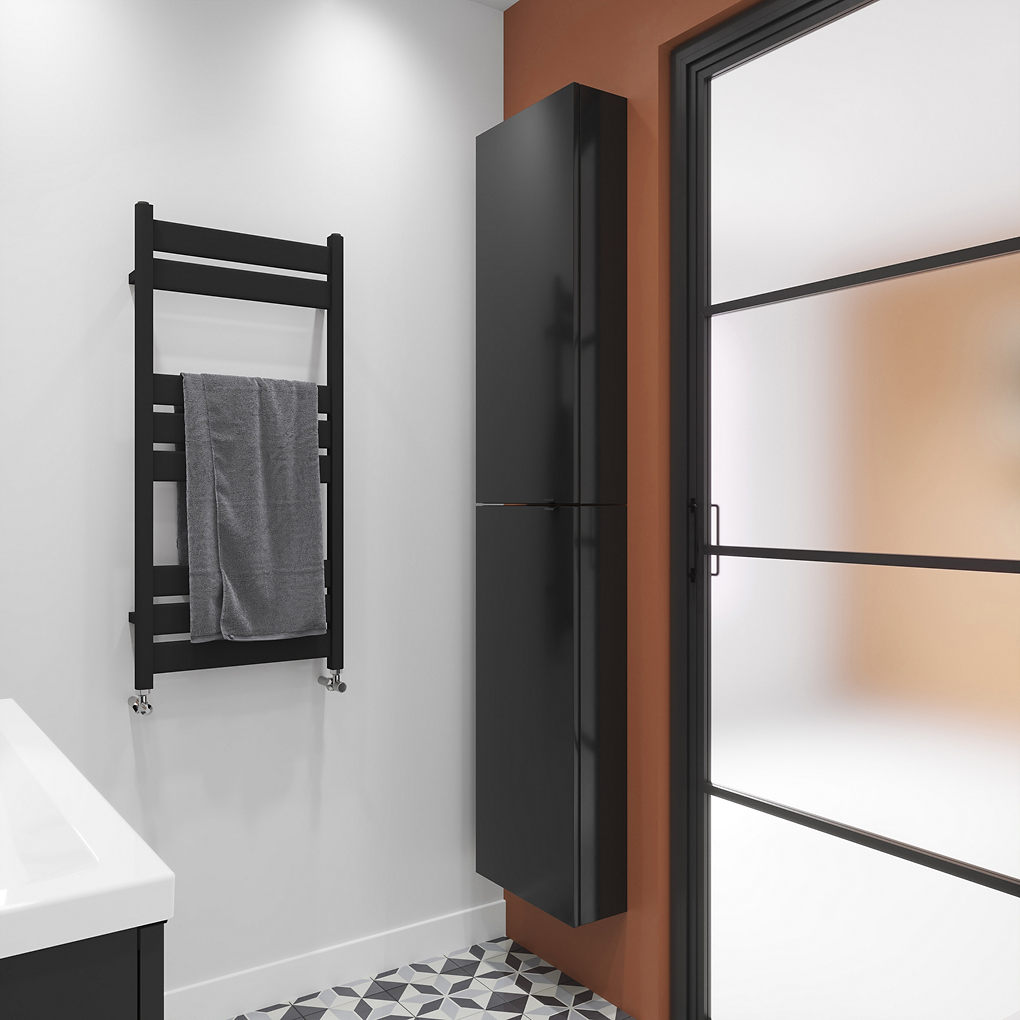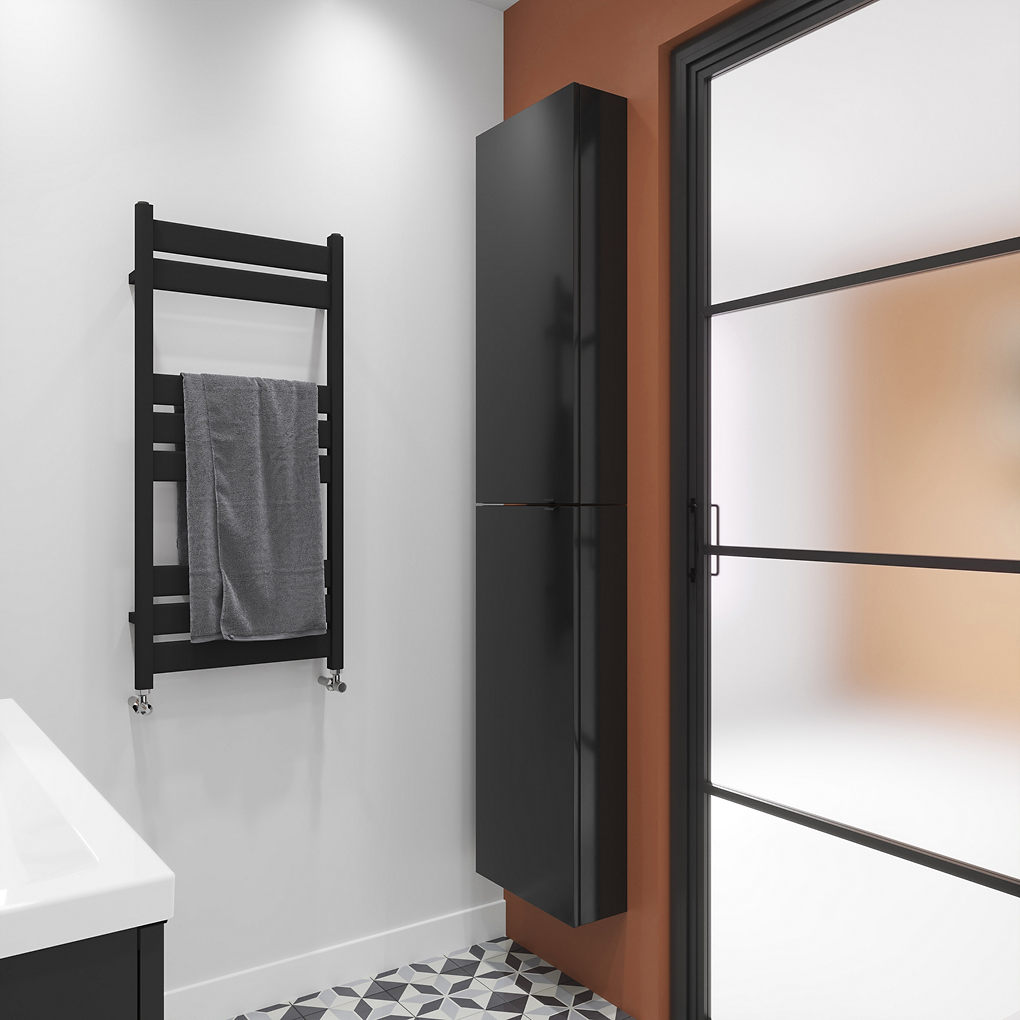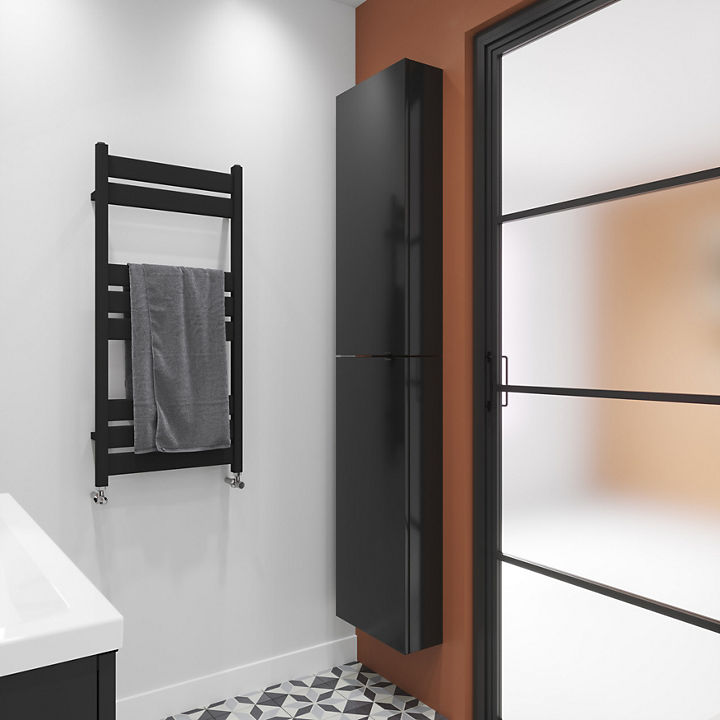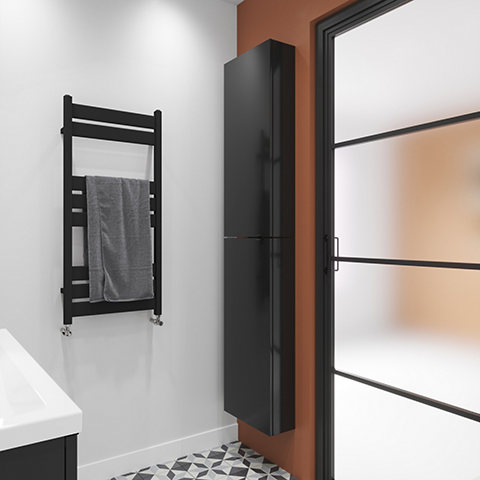 6. Black showers and shower screens
Searches for black showers have tripled in the last year and we can see why: matt black showers adopt a high-end look without breaking the bank. If you're looking to achieve an ultra-modern look, opt for a square or rectangular shower head like this Invena Square Rainfall Shower. Alternatively, circular shower heads like our GoodHome Cavally Shower offer a more traditional yet trendy aesthetic. 
It doesn't stop at showers. Finish off your black bathroom aesthetic with a black framed shower screen or panel. The contemporary grid style of these stylish shower and bath screens brings a touch of sophistication to your bathroom whilst works cohesively with beautiful black shower kits. Our go-to is the GoodHome Ahti black bath screen.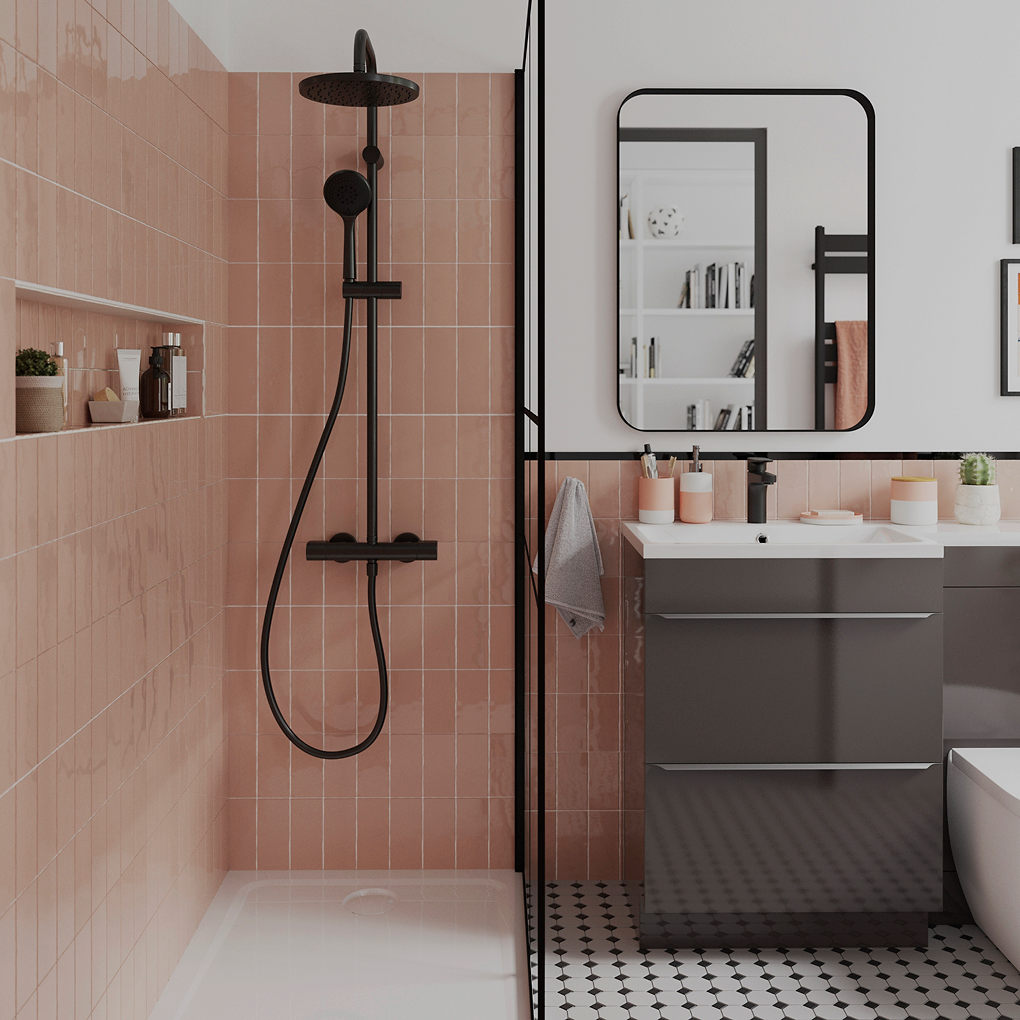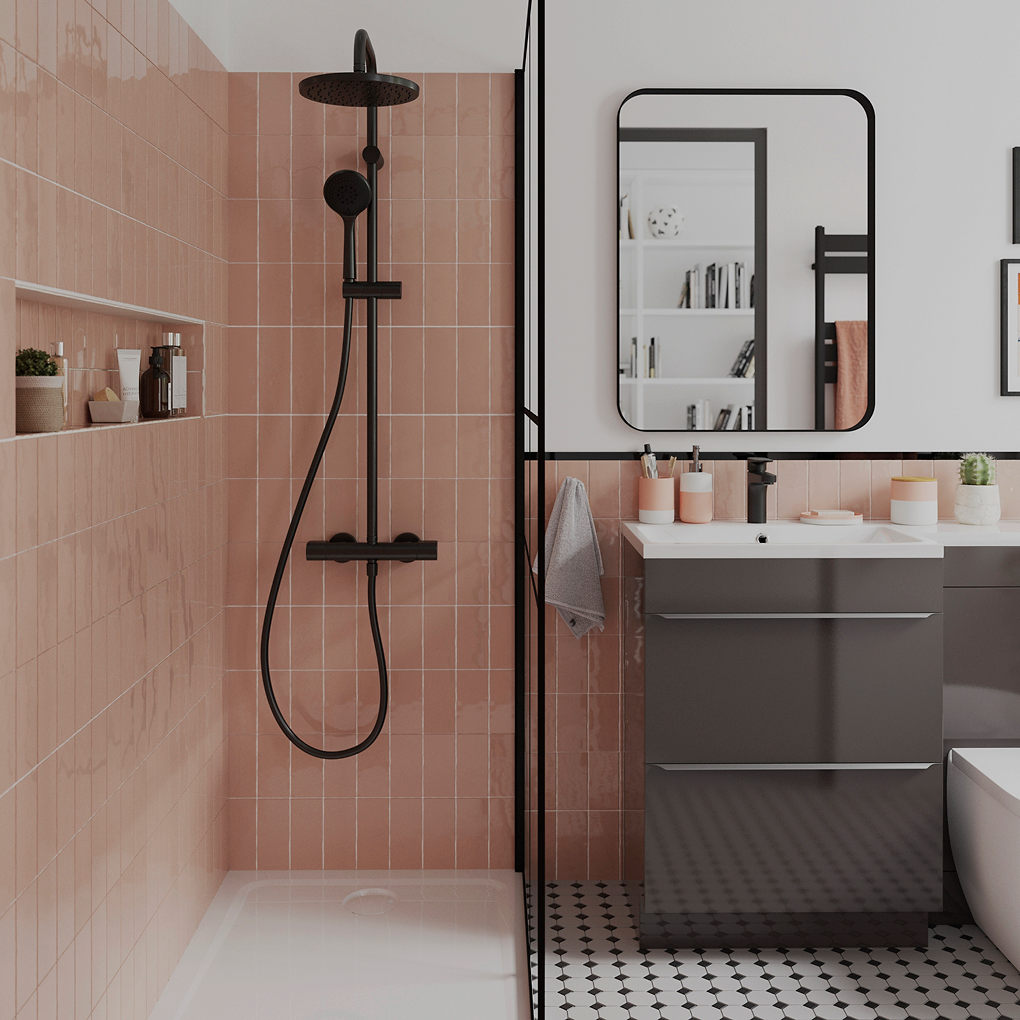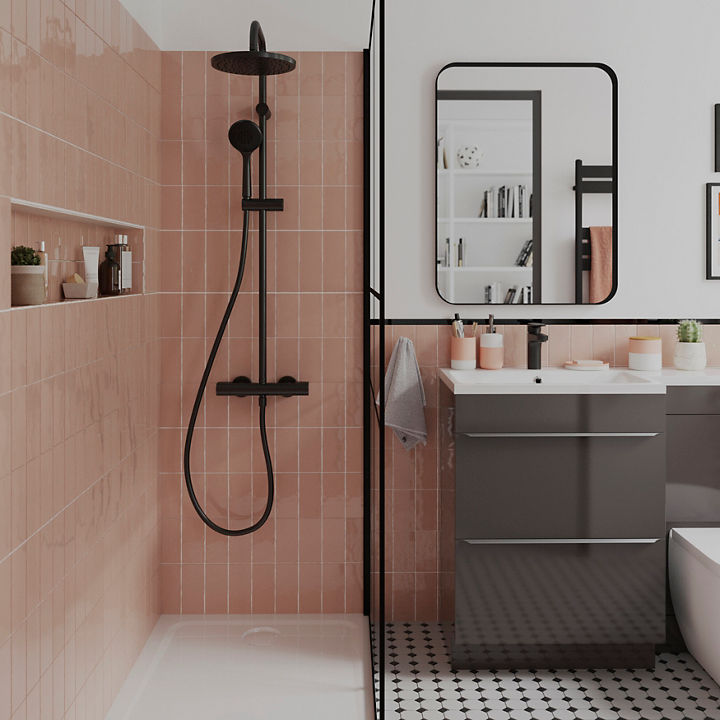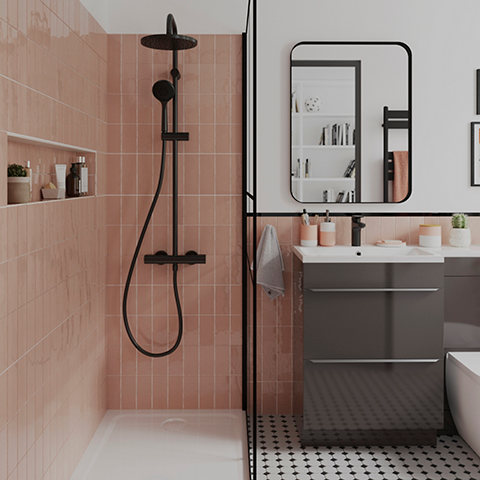 7. Be bold with black flooring
Is there anything more striking than high-gloss black floor tiles? Making the switch to gloss tiles in your bathroom will not only transform the space but it'll hide those dirty marks from people going in and out (perfect for busy families!). If you're feeling daring, pair your gloss black floor tiles with black bathroom walls for a totally colour drenched look. For a more understated look, opt for cool, light grey walls.
Consider wall tile sheets if you're after a budget-friendly option that looks bang on trend. They're also super easy to install – simply cut to size, peel back and stick the sheet in place. If you've got a traditional-style bathroom, we recommend these characterful Tortorey black and white mosaic tile sheets.