Gaming room ideas to take you to the next level
Eat, sleep, game, repeat
Consider yourself something of a gaming pro? Why not transform your bedroom or spare room into a dedicated gaming zone? From paint and soundproofing to bean bags and mini fridges – we've got everything you can think of (and more) to create the ultimate gaming den.
Climb the ranks and achieve gaming glory with the latest accessories, furniture, colours, and finishing touches. Whether you're turning your spare room into a gaming station, or you want to create a cool gaming bedroom, we've got you covered.
Check out these gaming set up ideas. Skip to…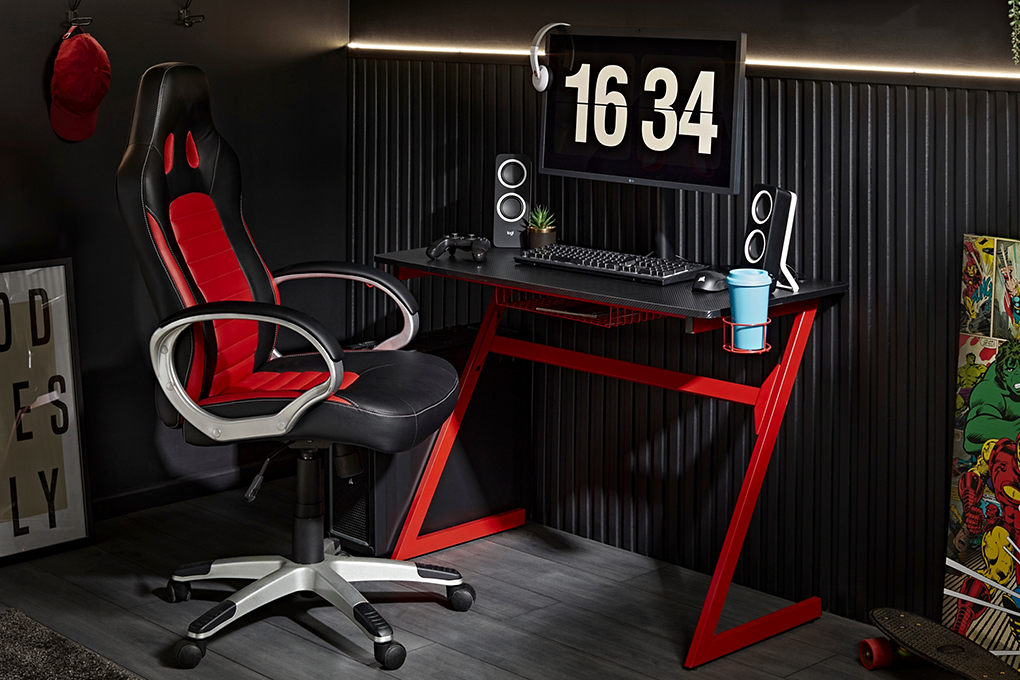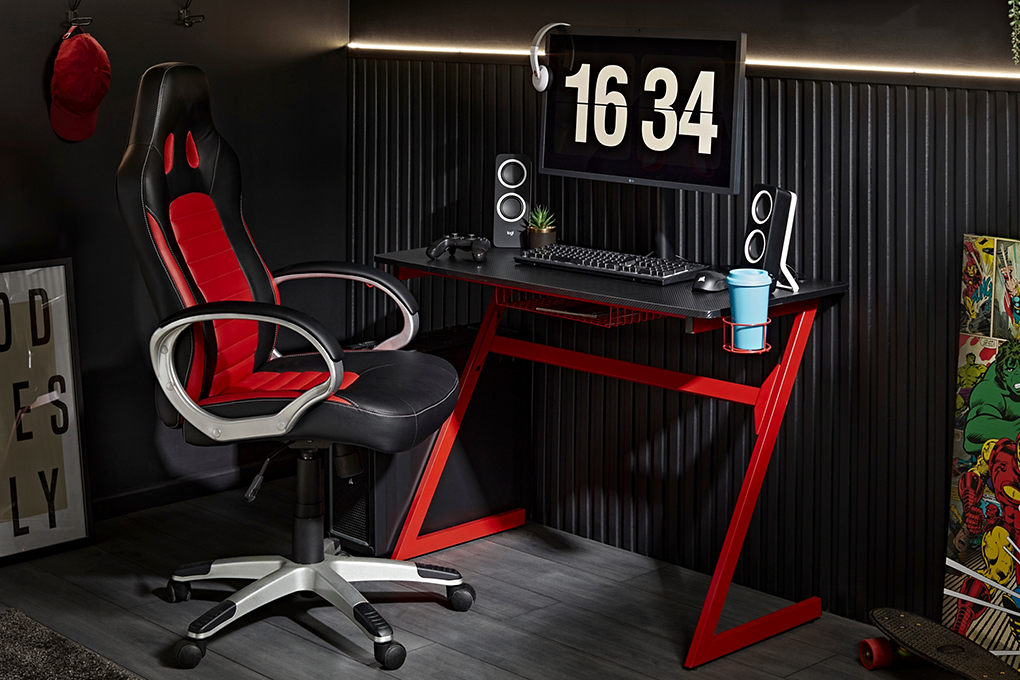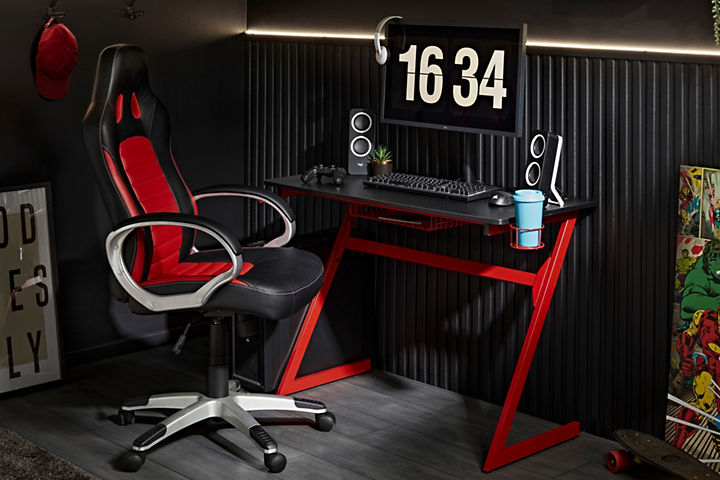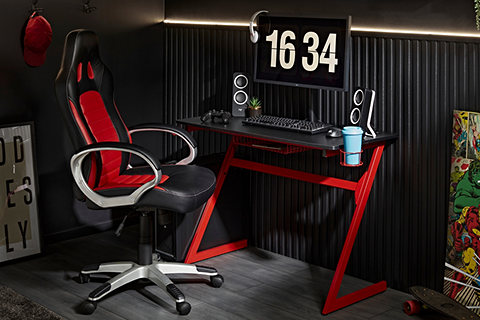 Set up your gaming station
A gaming desk and swivel chair will give you the edge you need to beat all your opponents. And when you're resting between sessions, we've got comfy bean bags and armchairs that will have you ready and raring for the next challenge. Our Thunya gaming desk has a built-in drinks holder to give you easy access to your favourite cup of tea or coffee. So, you can keep your energy levels up whilst gaming – without the risk of spilling you drink all over your keyboard. We know a gaming session rarely lasts just half an hour. It takes hours to rise to the top, right? Well then, you'll need a comfortable chair to sink into for gaming the day away. With a high back for extra comfort and support, our Thunya gaming chair is just the ticket.
Decorate with bold colours and patterns
It goes without saying, a gaming room should be exciting, bold, and impactful. Use vivid colours and striking patterns to create a room that reflects the fun of all the video games you're playing. From racing reds to Pacman yellow, browse our selection of emulsion paint. Wallpaper and wall murals are a great way of transforming the look of your room easily and quickly. Our 'game over' wallpaper was practically made for a gaming room, featuring classic mottos to keep you going to the next level.
Set the scene with lighting
LED strip lights and neon wall lights are a great way of illuminating your gaming room without detracting from the focus point – the screen. Localised light helps to create a cool ambience in the room and stops you from gaming in complete darkness. From colour changing strip lights to neon slogan lights, we've got loads of stylish options to choose from.
Soundproof your gaming room
Let's face it, gaming can be noisy. It's not just the sound coming from the speakers themselves, but the yelps and sighs when you're close to winning – or losing. Avoid irritating your roommates and neighbours by soundproofing your room. There are plenty of easy ways you can absorb the sound in your gaming room. Use soft furnishings like rugs, cushions, curtains, and upholstered furniture. We also stock SoundBloc plasterboard, this plasterboard has a high-density core structure to provide enhanced sound insulation to help reduce noise between rooms.
Storage for gaming gadgets
Use open shelves to display your coolest gadgets and keep anything else neatly tucked away in drawers and cupboards. From cube shelves to modular storage systems – we've got loads of options when it comes to gaming storage. There's nothing worse than being on a winning roll, and your controller decides to run out of battery mid-session. Make sure you've got a fully charged spare controller somewhere that's within easy access.
Block out the light
Remember, you want your gaming screen to be the main source of light in the room. Sunlight coming through the windows can cause unwanted glare on your computer screen. Block out natural daylight with a blackout curtain or blind when you're gaming during the day.
Finish off the look with gaming accessories
Add some personality to your room with the latest accessories, wall art, and ornaments. Choose from our huge range of wall art, from your Marvel comic characters to motivating slogans – we've got something for everyone. And don't forget those extra touches that will make your life a bit easier. Don't want to leave your room mid gaming session? With a mini fridge you'll always have a cold drink to hand.