Green bedroom ideas: 7 ways to use this uplifting shade in your home
Looking for some inspiration for your green bedroom? Just look out your window. From luscious lawns and tall trees to matcha lattes and pistachio gelato – every shade under the sun is out there.
There are a million and one ways you can incorporate green into your bedroom décor scheme. Be creative as you like – paint glorious feature walls, upcycle old furniture or choose botanical wallpaper. Another reason we're gaga for green? You can choose from a long list of accent colours, from deep purples and pinks to pops of yellow and orange.
So, whether you prefer forest green, sage, or emerald, we'll help you embrace Mother Nature's colour in your bedroom makeover. Keep reading for bundles of green bedroom inspiration…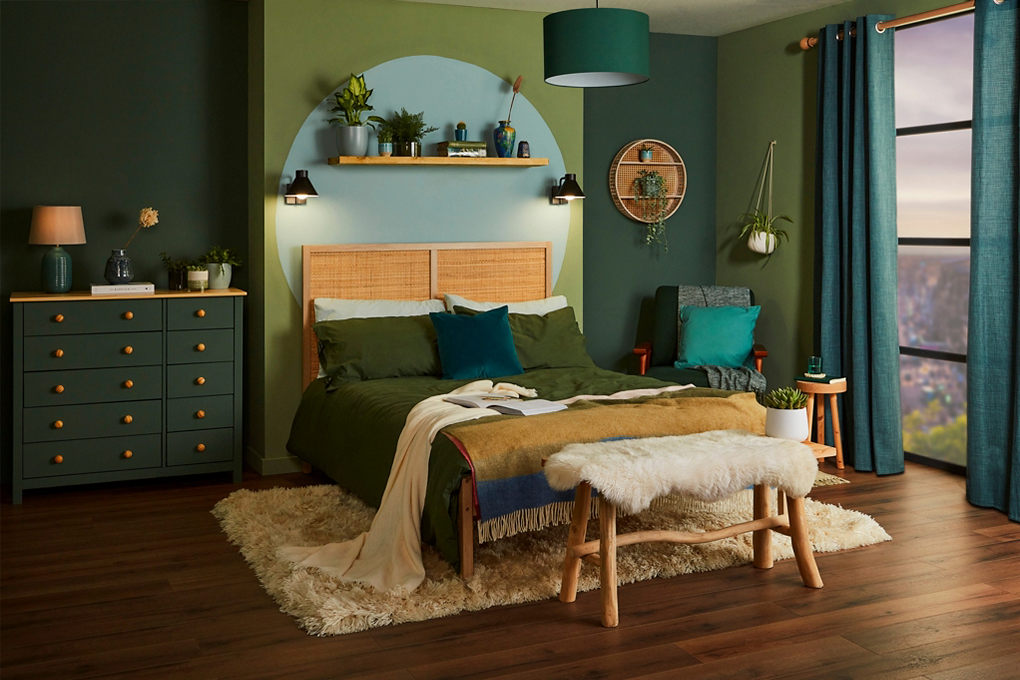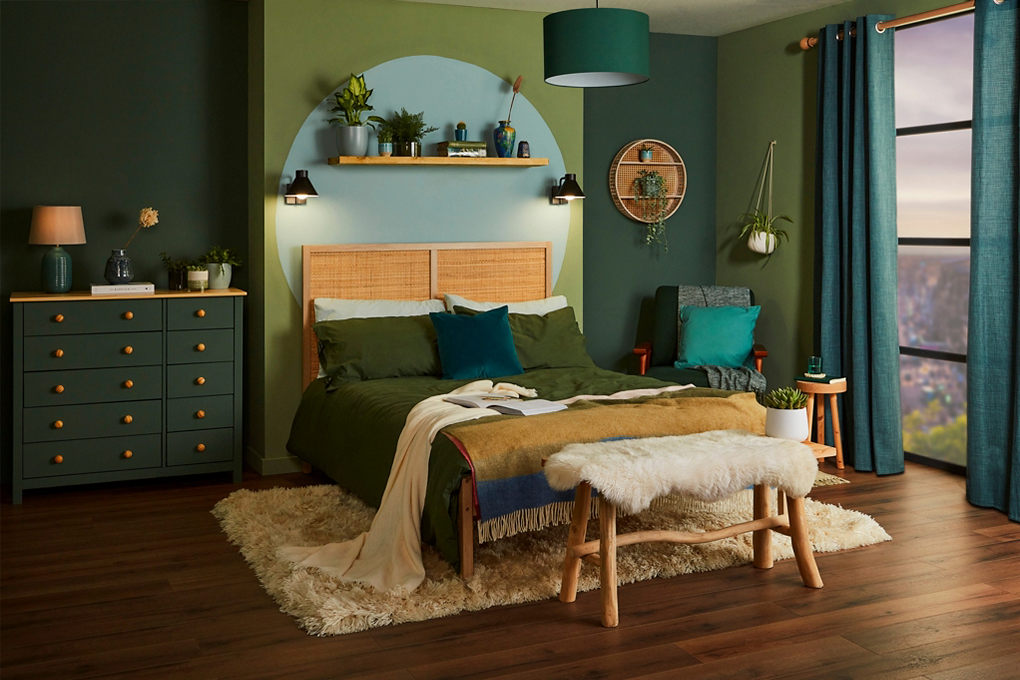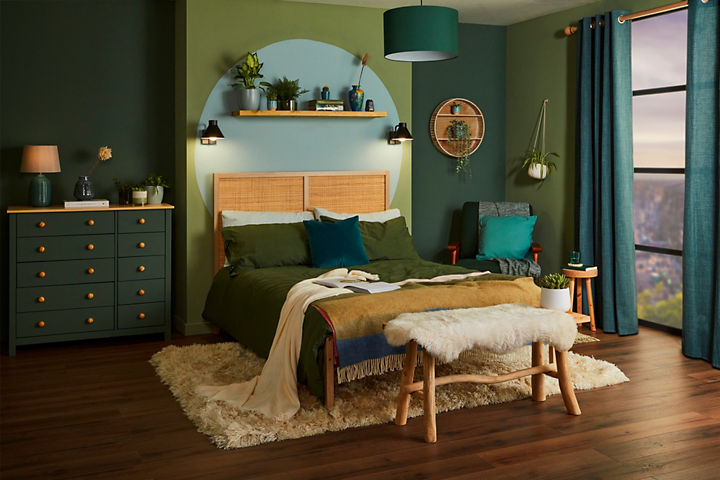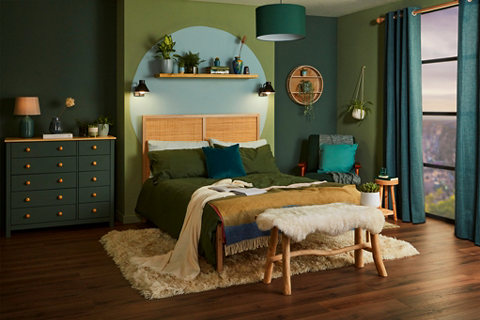 1. Botanical bliss
Bring a touch of the outdoors into your home with gorgeous botanical print wallpaper. We absolutely love how this leafy wallpaper has been made the focus point in this green and white bedroom set up. The crisp white bed sheets and furniture blend seamlessly into the background so that the wallpaper can take centre stage. From jungle-inspired prints to delicate floral patterns – we've got a huge variety of bedroom wallpaper to choose from.
2. B&Q loves: green wall panelling
Wall panelling is super on trend now, and for good reason – it's versatile, stunning, and adds character to your home. You'll be pleased to hear you can get the wall panelled look without having to get any power tools or dust sheets out. This gorgeous bedroom has been transformed into an elegant boudoir with green wood panel wallpaper.
3. Boldly bohemian
This dreamy boho bedroom set up is a feast for the eyes. Incorporating natural materials, soft lighting, houseplants, and a bold circular mural to top it all off. Shades of green, dark teal and pale blue have been combined to create a truly inviting and relaxing space. The dark wooden floor creates depth, whilst the mixture of rugs used on the floor and bench add warmth and texture. Total bedroom goals.
4. Tranquil teal
Teal is a mesmerising deep blue-ish green, and it's a popular colour choice for bedrooms. And we're hardly surprised – it's fresh, uplifting, and totally luxurious. Teal combines the soothing properties of blue with the energizing virtues of green to create a brand-new colour. This shade pairs wonderfully with shades of terracotta, burnt orange, and dusky pink.
5. Totally on trend: pink and green bedrooms
Green and pink are a match made in heaven. There are plenty of ways you can combine pink and green in your bedroom, experiment with paint, wallpaper, furniture, and accessories. In this floral bedroom, a dusky pink throw has been draped over the bed. Yes, it may be a small addition to the room, but the blend of contrasting colours really helps to bring the room to life.
6. Mix and match patterns
This bedroom is brilliantly bold. Deep green rainforest-inspired wallpaper covers the walls, whilst a striped black and white rug adds even more depth to the room. Leaf art prints and houseplants have been dotted around to add to the tropical jungle theme. With a bedroom like this, you'll wake up feeling energised and raring to go!
7. Forest feature wall
Imagine sleeping in the woods surrounded by the gentle sound of whistling trees and tweeting birds. How about we bring the forest to you? This stunning forest mural helps to create the feeling of sleeping within nature. With hues of blues and greens, this watercolour style mural evokes the serenity of an enchanted woodland. Ensuring a calm, yet welcoming feel, this foggy forest is perfect for bringing a touch of tranquillity to your bedroom.