10 front garden ideas for maximum kerb appeal
How to create a welcoming front garden
First impressions count. Your front garden is the first thing visitors will see before stepping into your home. So, you want to make sure it's neat, attractive, and welcoming. Whether you've just moved into a new home, want to spruce up your long-term place, or are thinking of putting your house on the market, these front garden ideas are the perfect way to bring style and kerb appeal to your entrance.
Refresh your outdoors with these simple front garden ideas…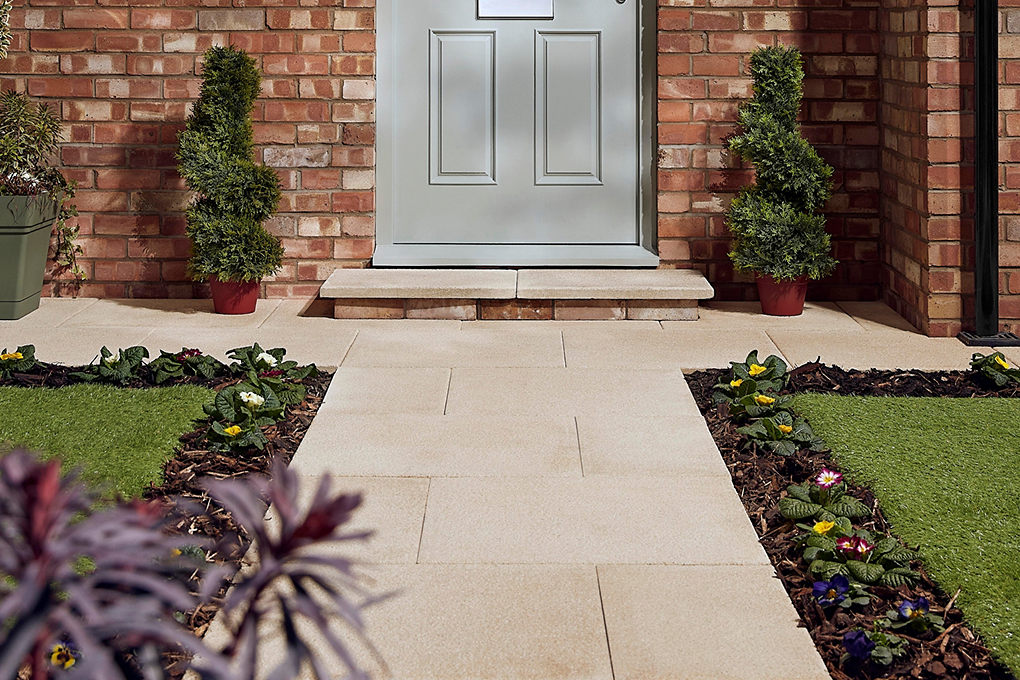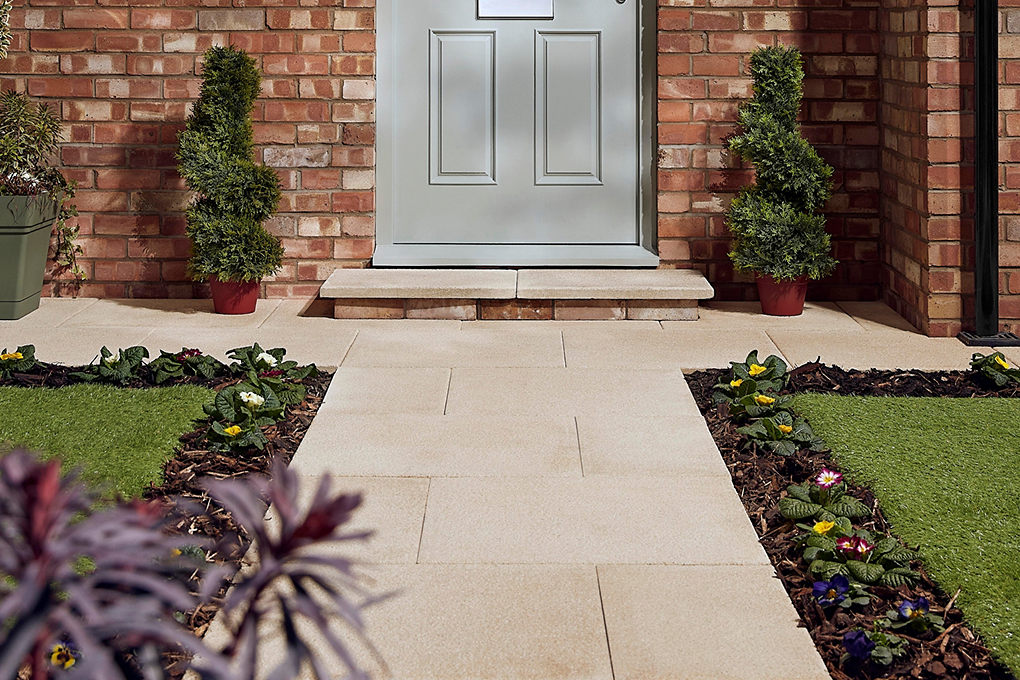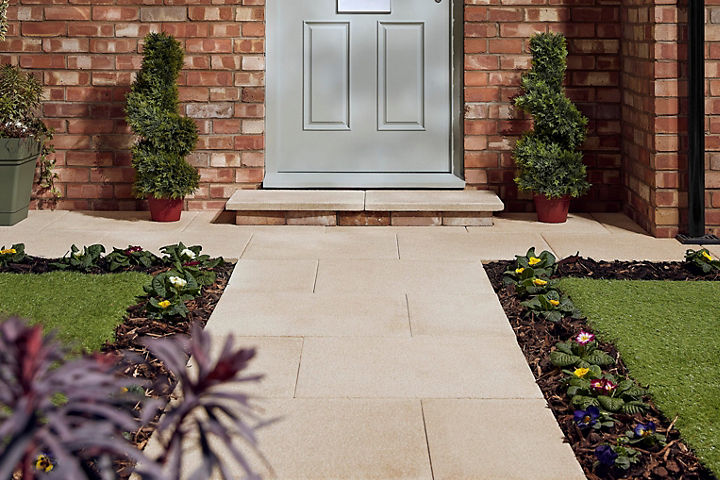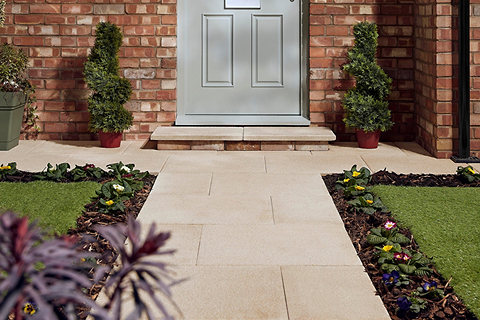 1. Give paving and paths a good scrub
Paving, paths and even doorsteps can get grubby and slippery over time. Use a pressure washer to clean and refresh any large areas of concrete and block paving, it'll return the surface to its original colour and remove any unsightly moss. Choose pressure washer accessories designed for paving to speed this task up and avoid splashes.
If you've got a smaller space, such as a doorstep or short front path, a scrubbing brush and warm water will work just as well. Whichever way though, use a detergent specially designed for outdoor paving – not only will this help to get the surface sparkling clean, it'll prevent mould growth so that it looks better for longer.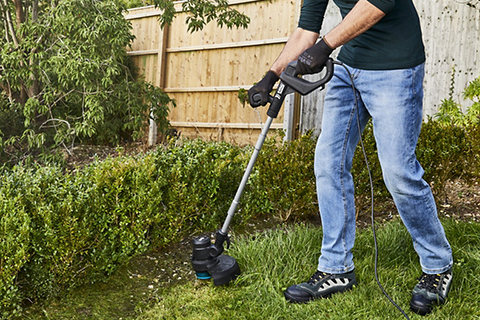 2. Tackle vegetation and lawns
Trim back any vegetation overhanging walls, gates, paths, or the front door. Not only will this look neater, but it'll also let in extra light and be more welcoming to visitors. A good pair of secateurs will tackle this with ease. Give any grass a good cut. Front lawns can often be a little unloved, as the small space can sometimes be hard to reach with a traditional mower. A hand-push mower or a trimmer can be a useful alternative here.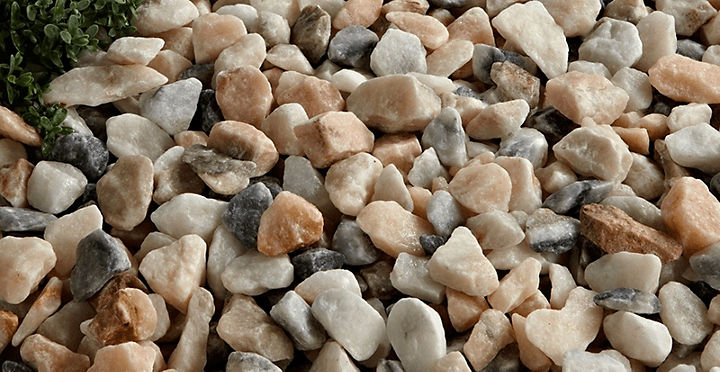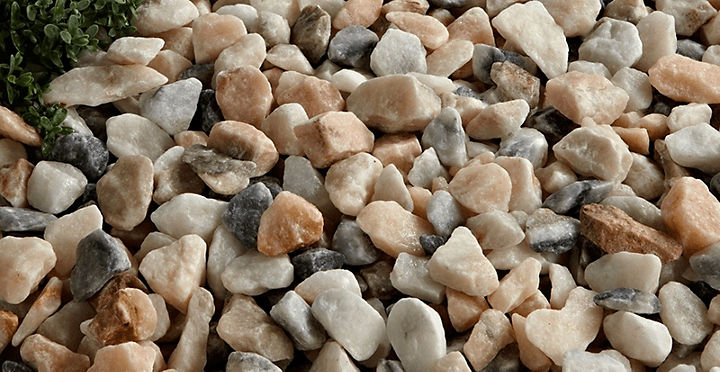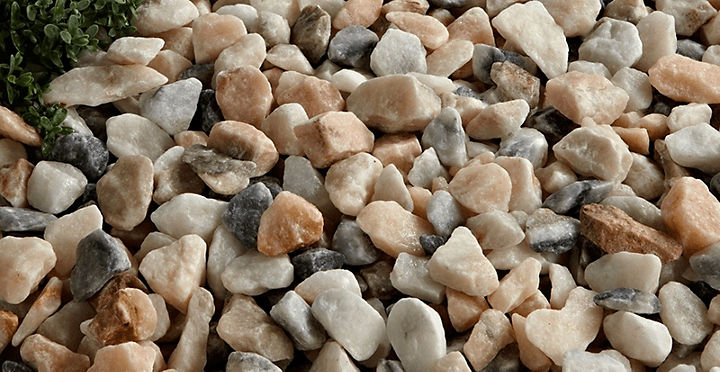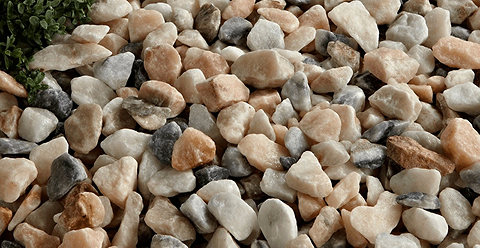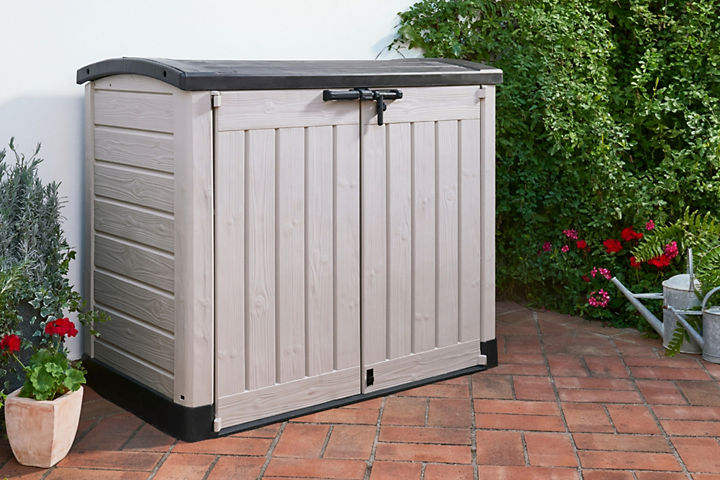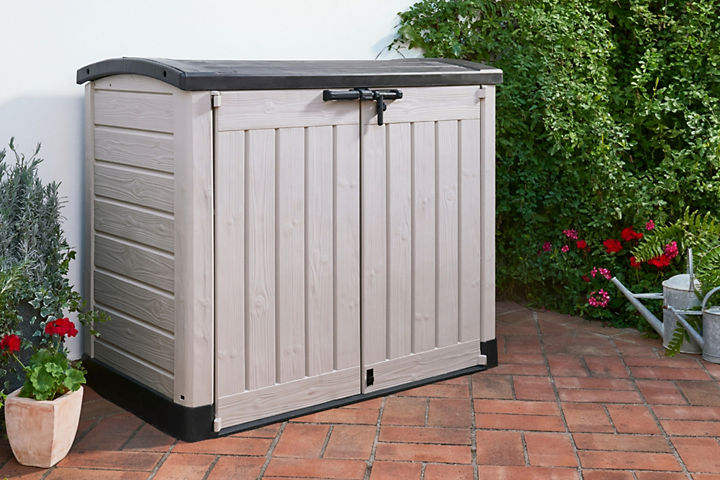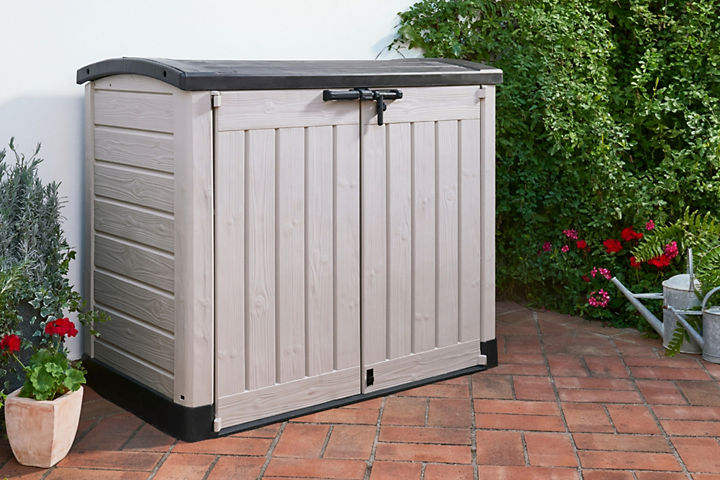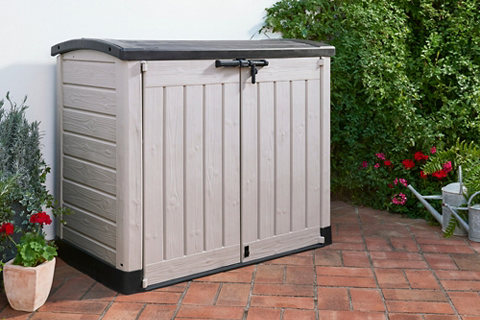 4. Make room for storage
For many of us, the space outside our front door serves practical purposes rather than decorative ones. It's often home to larger items that we don't have room to keep elsewhere, like bins, bikes, and other sports equipment. Choose an attractive garden store so you'll be able to protect your possessions, whilst keeping things neat and tidy.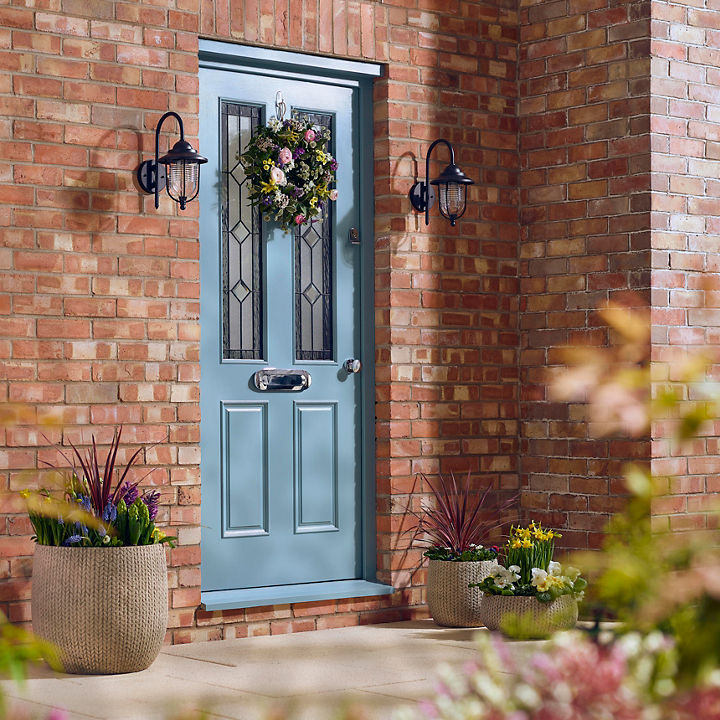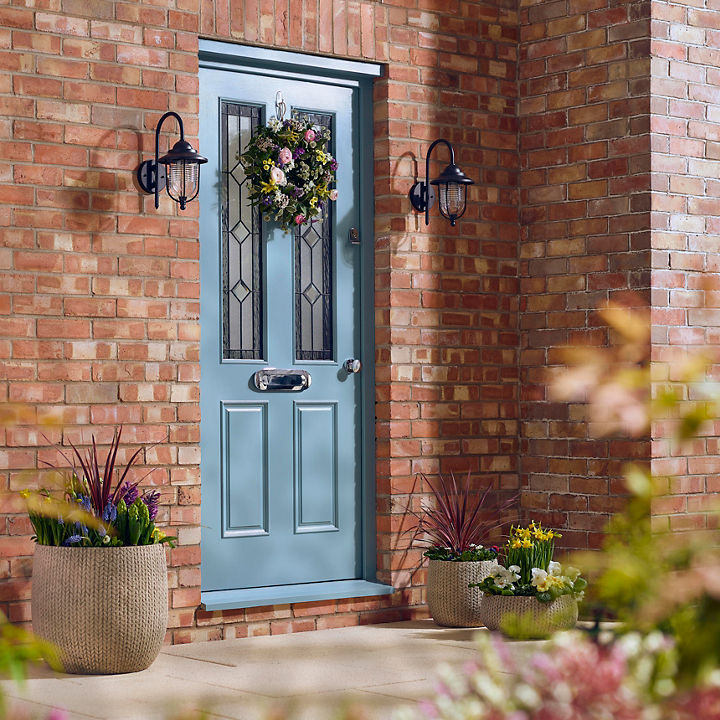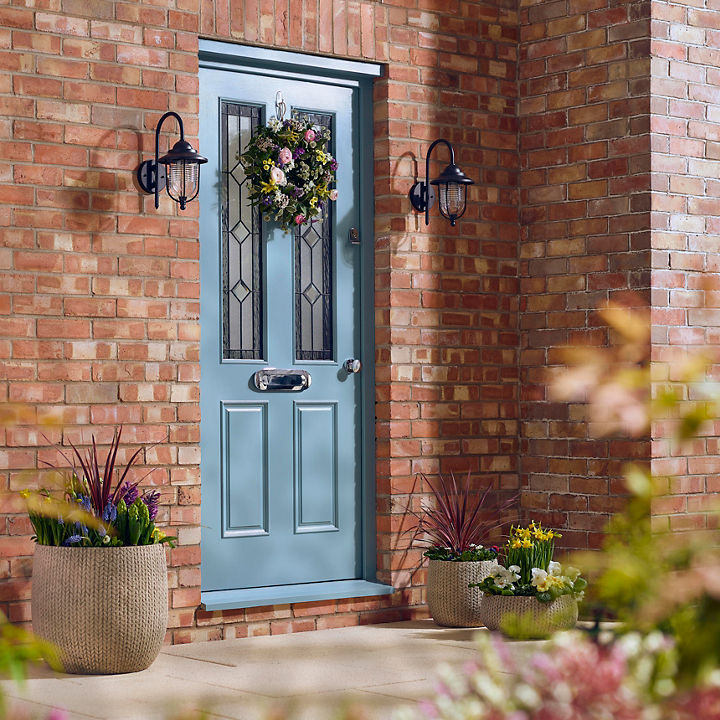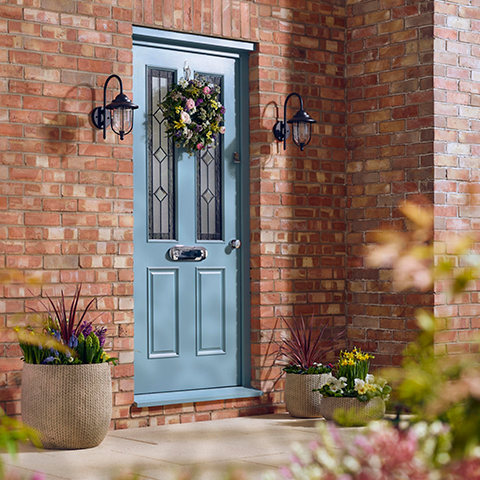 5. Give your front door a new lease of life
Whether you've a country cottage, urban apartment, Victorian terrace, or suburban semi, we've all got a front door that could use a little love. Make sure that yours gives the right first impression with our ideas that'll help your home look warm and welcoming.
Bring uPVC doors back to life with a specialist cleaner and a new coat of uPVC paint. If you have a wooden door, give it a fresh lick of exterior door paint. If you'd like to update the look of your house, try a new colour that complements the building's style. Classic pillar box red or racing green looks smart on traditional townhouses, muted sage greens and greys give a contemporary twist to older properties and neutral blacks and whites bring sophistication to modern homes.
If you have a garage door or front gate, think about doing the same to give a neat, coordinated look.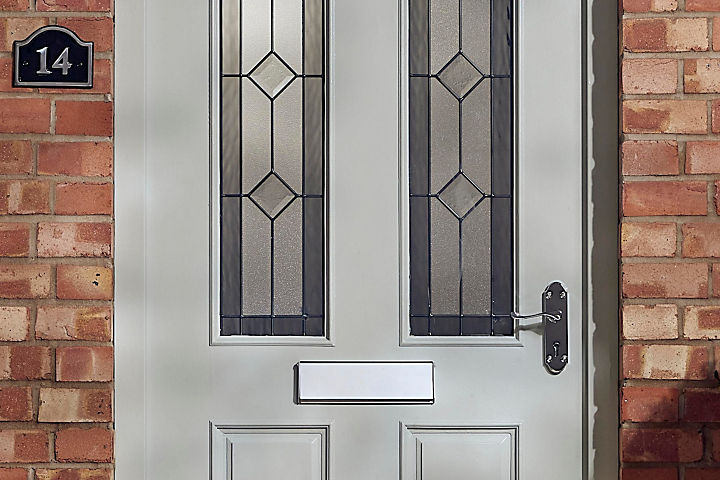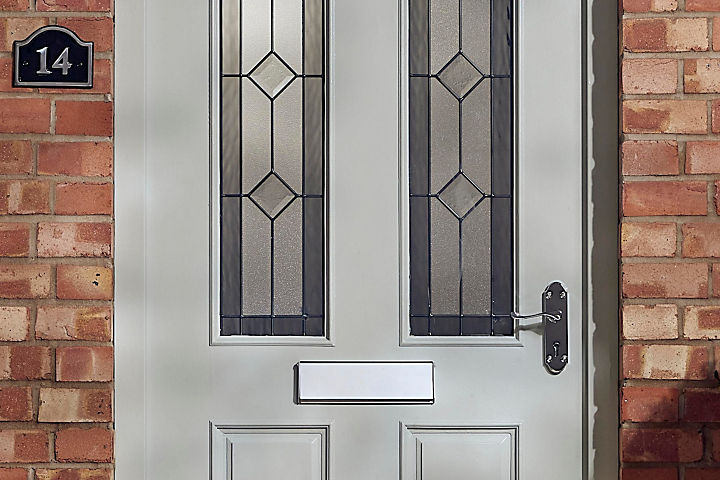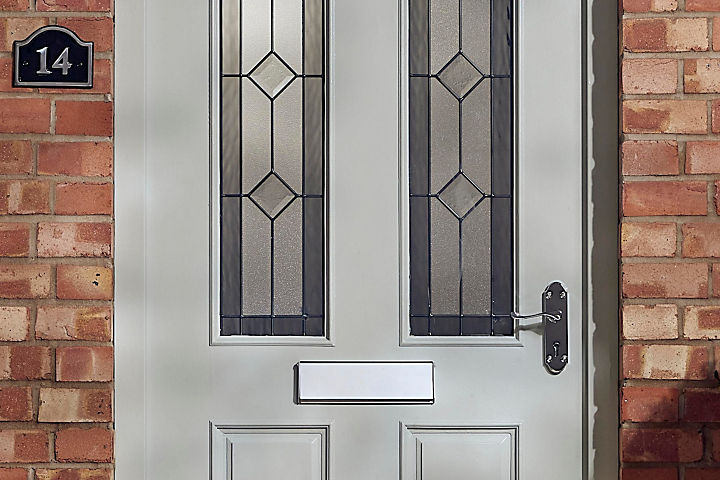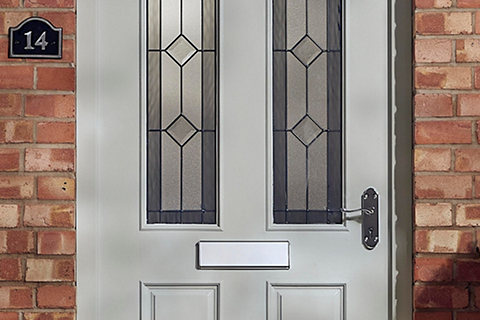 6. Refresh your door furniture
Update your front door with new hardware. Bring your door up to date with traditional or modern house numbers, door knockers and letter plates or letterboxes. If you'd prefer to keep your existing hardware, particularly if you have original features, give brass a good polish with a specialist cleaner and a soft cloth to bring it back to its best.
If your doorbell has seen better days, now is the time to take advantage of new technology. Wireless and smart doorbells take seconds to install, with no wiring to negotiate. A range of styles means you'll find it easy to pick one that suits your home.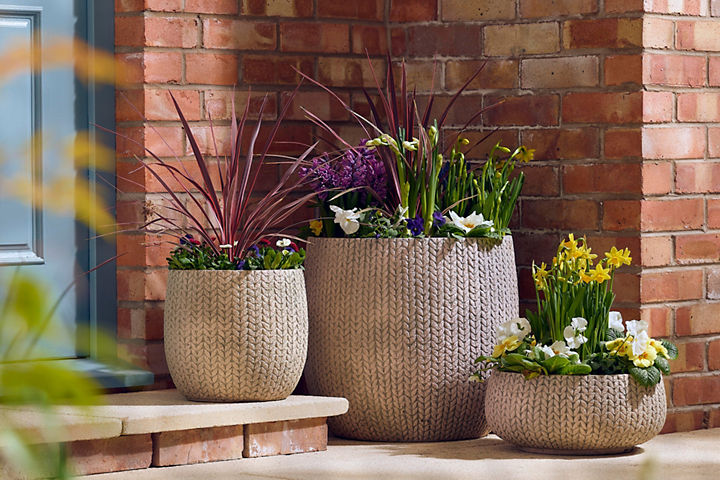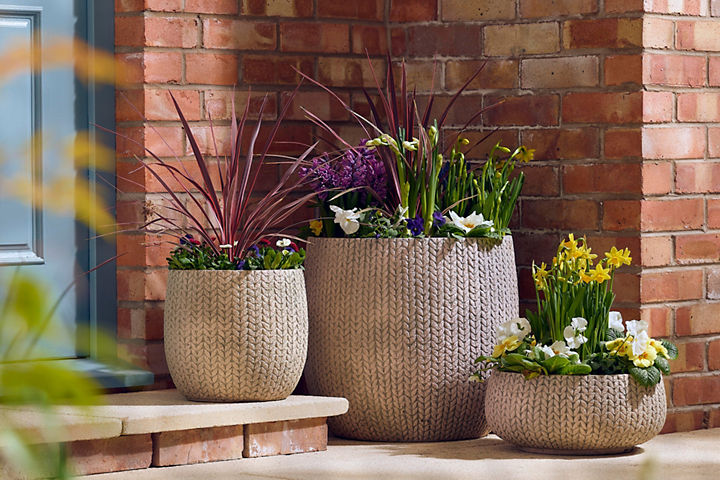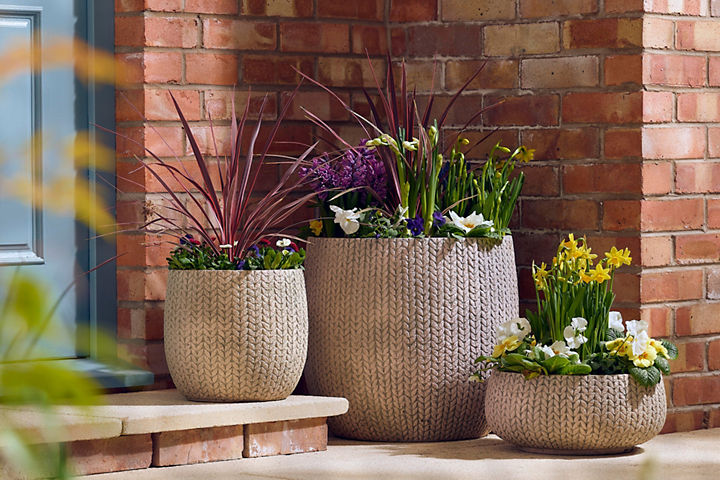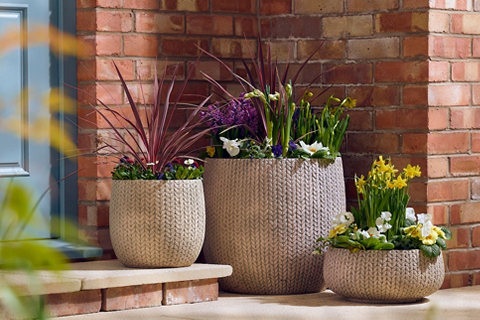 7. Frame your door with potted plants or trees
Whether you opt for topiary trees or colourful perennials, potted plants, or planters in front of your house. Place them beside the front door to bring style and colour to your entrance. Choose planters that are durable enough to use outside all year round, and evergreen foliage for a classic look. Hanging baskets can also be a great option, adding interest at eye level.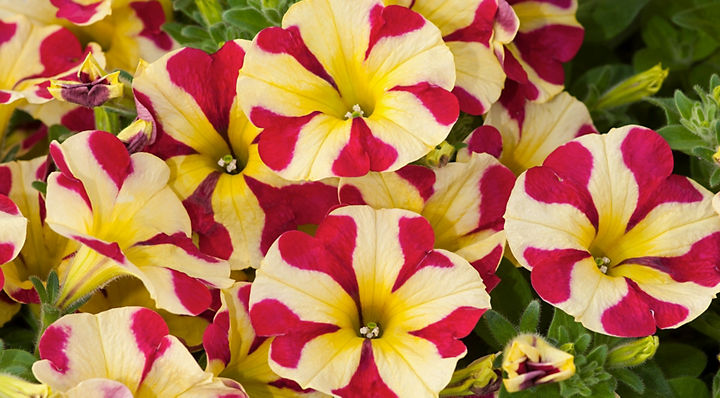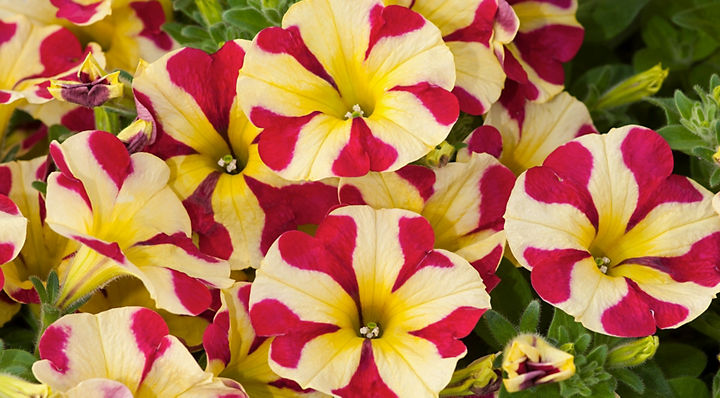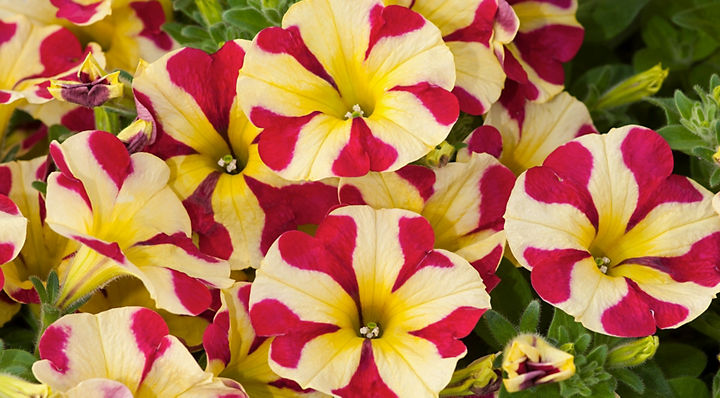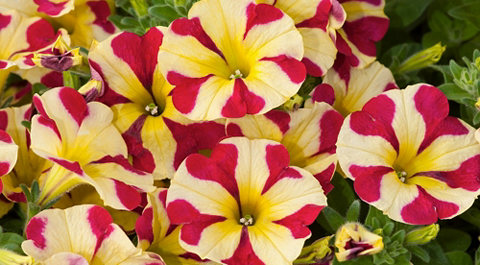 8. Add colour with bedding plants for your front garden
If you're green fingered, bedding plants can be added and refreshed throughout the year – bringing a splash of colour to your front garden borders and beds. From petunias to begonias, we've got a huge range of bedding plants in a selection of vivid colours to choose from for your front garden.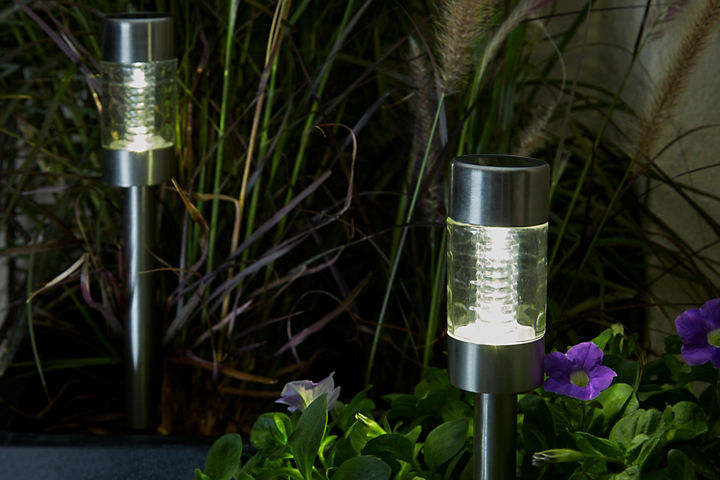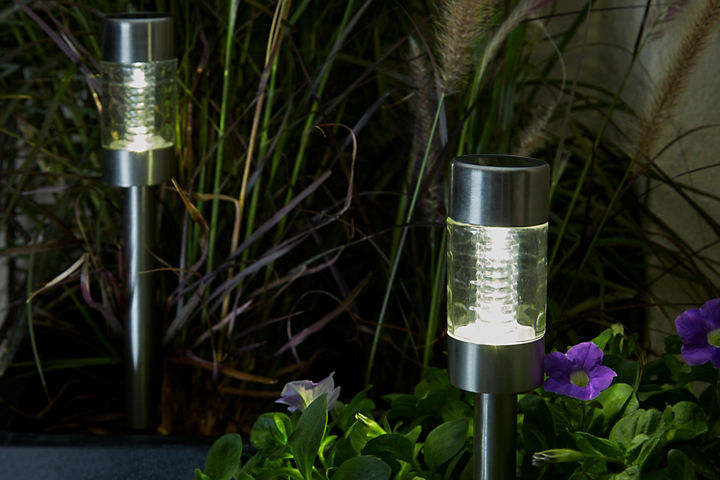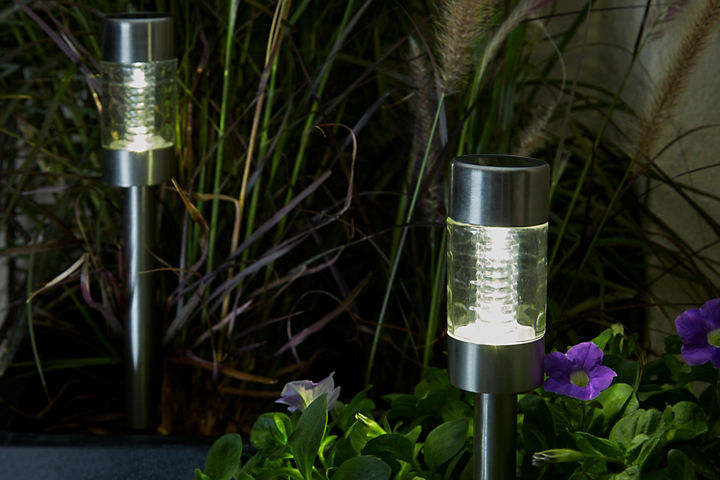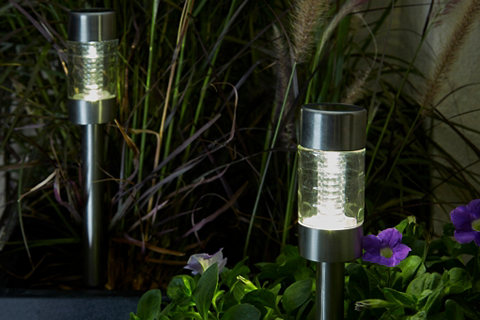 9. Define borders with ground lights
Ground lights are ideal for lighting up a pathway or defining a bed or border, to avoid guests from accidentally stepping on bedding plants in the dark. As well as being functional, stake lights can bring some added style to your modern front garden ideas. From rattan effect to iridescent glass balls that glow in a spectrum of colours – we're certain you'll find the perfect stake lights for your front garden.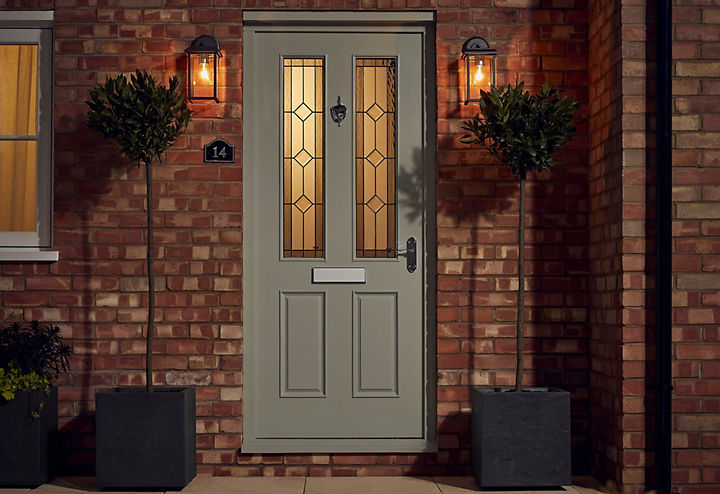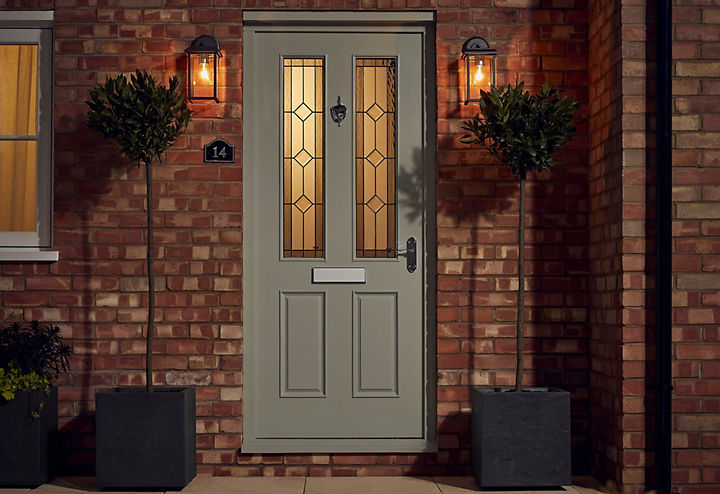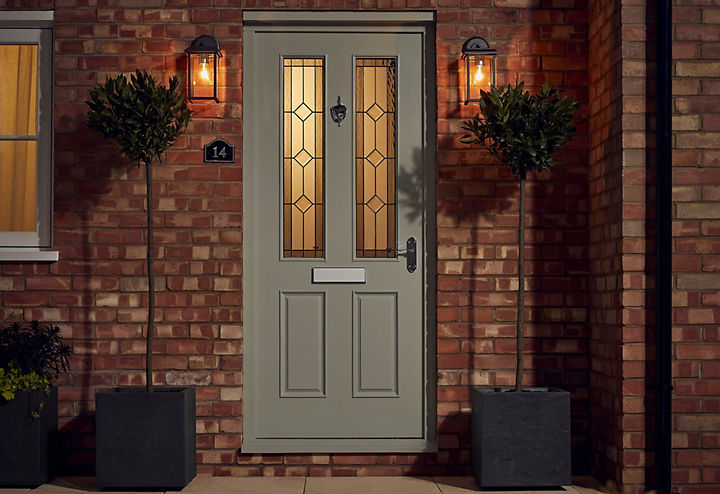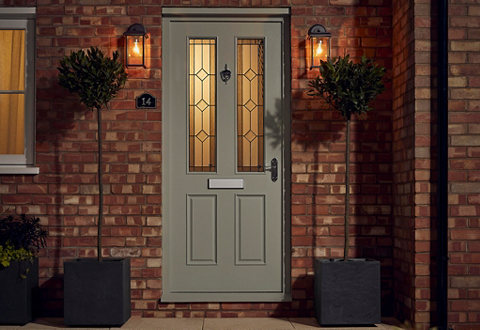 10. Use wall lights for visibility and security
On dark evenings, porch and outdoor lights are a welcoming touch. Front door lights makes finding your keys in the bottom of your handbag that little bit easier. If you've already got an outdoor power supply, choose a new fitting that complements the style of your home. Alternatively, opt for solar-powered wall lights. They're easy to install and don't cost anything to run – plus you'll be surprised how stylish they look.