7 steps to planning a new bedroom
Design the bedroom of your dreams
Planning a new bedroom gives you the chance to create a tranquil haven in a busy home. It's a place where you can escape the hustle and bustle of everyday life. Where you can reflect on the day, listen to music - and, of course, sink into a deep and peaceful slumber.
There are lot of things to consider when planning a bedroom. How much storage space do you need? How big is the room? Which colour scheme will you pick? Let us help you design the bedroom of your dreams with our helpful guide.
Skip to...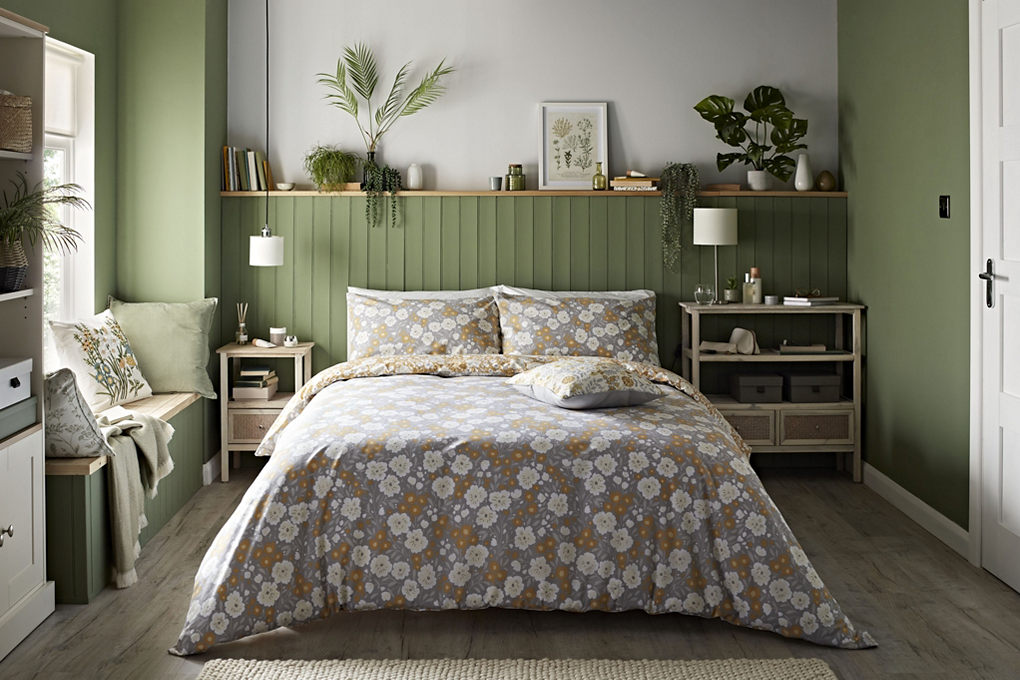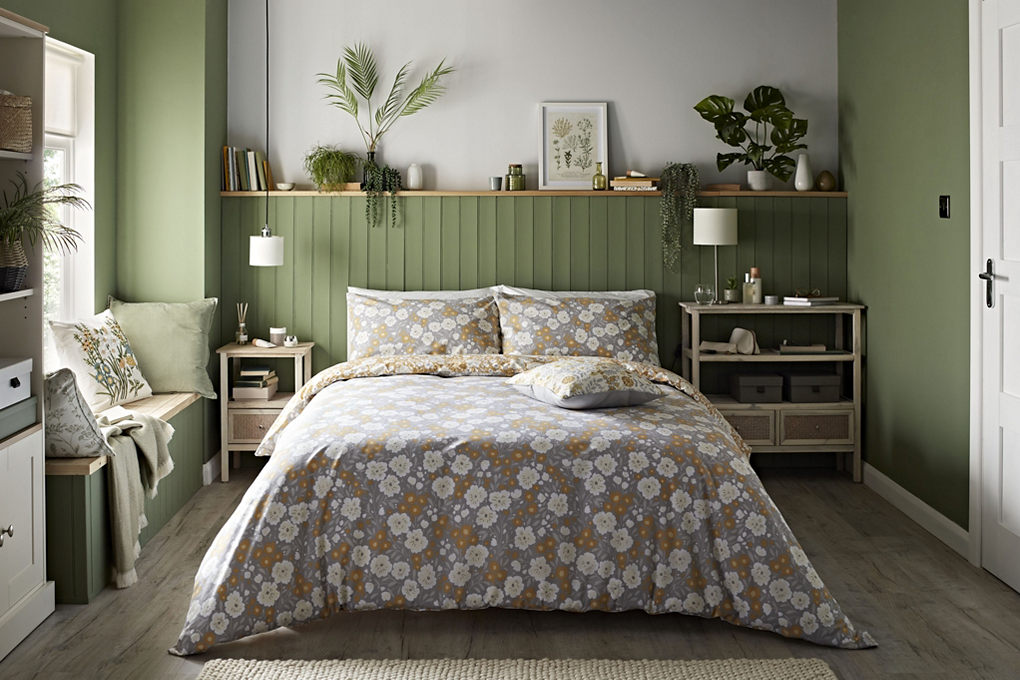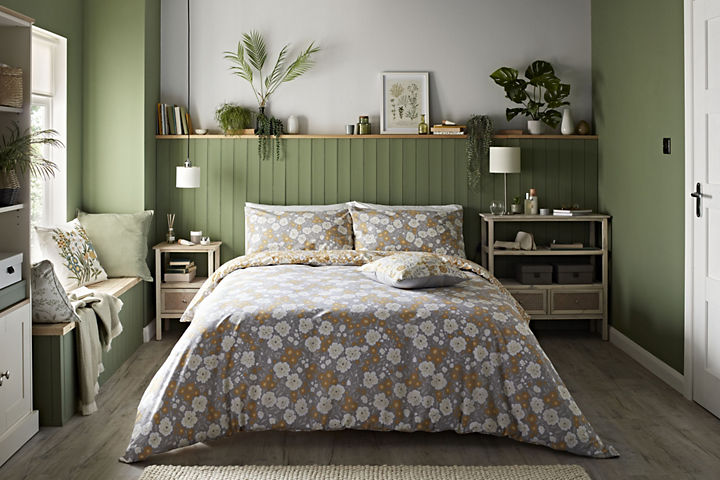 1. Refresh or refit?
If you want to freshen up your space without making any permanent changes, we've got a range of products that will make a huge difference. Including modular storage, freestanding furniture, and stylish bedside tables and drawers.
Do you want a complete bedroom overhaul? Arrange a planning appointment with one of our store colleagues. Send us your room measurements and some photos and we can help bring your vision to life. You'll get a 3D design, a tailored quote and a chance to talk about finance options.
2. How do you use your room?
It's time to consider the way you will use your bedroom. Do you want somewhere that you can store a lot of items and clothing? Will the room double up as a work space, or is it solely a place to come and relax? Is it for one occupant or two? How many hours of the day will you spend in there?
Ask yourself these sorts of questions whilst considering what would work best in your space. Also, why not scroll through our Instagram and Pinterest pages for more inspiration?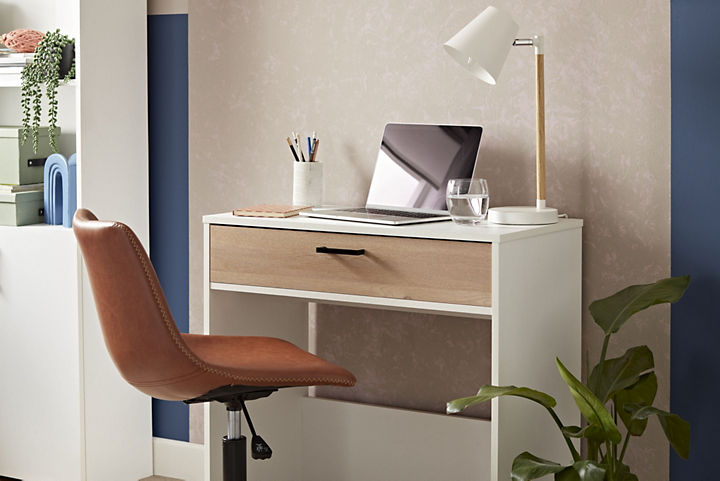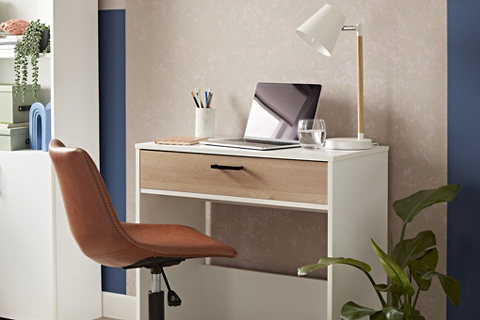 Top tip
If possible, try and keep your bedroom a tech-free zone. The blue light that is emitted through technological devices (along with the temptation to regularly check your social media feed) can interfere with your body's circadian rhythm. Resulting in a poor chance of getting a decent night's sleep.
3. Consider your space
Knowing how much space you've got to work with will help you to choose how to furnish the room. It's important to understand the size of your room so that you can determine which size bed you'll have and what furniture you can fit in. You also need to leave enough floor space for moving around.
Make sure there's sufficient room for moving around the bed, space for getting dressed, and for any furniture that you want, such as a desk or dressing table.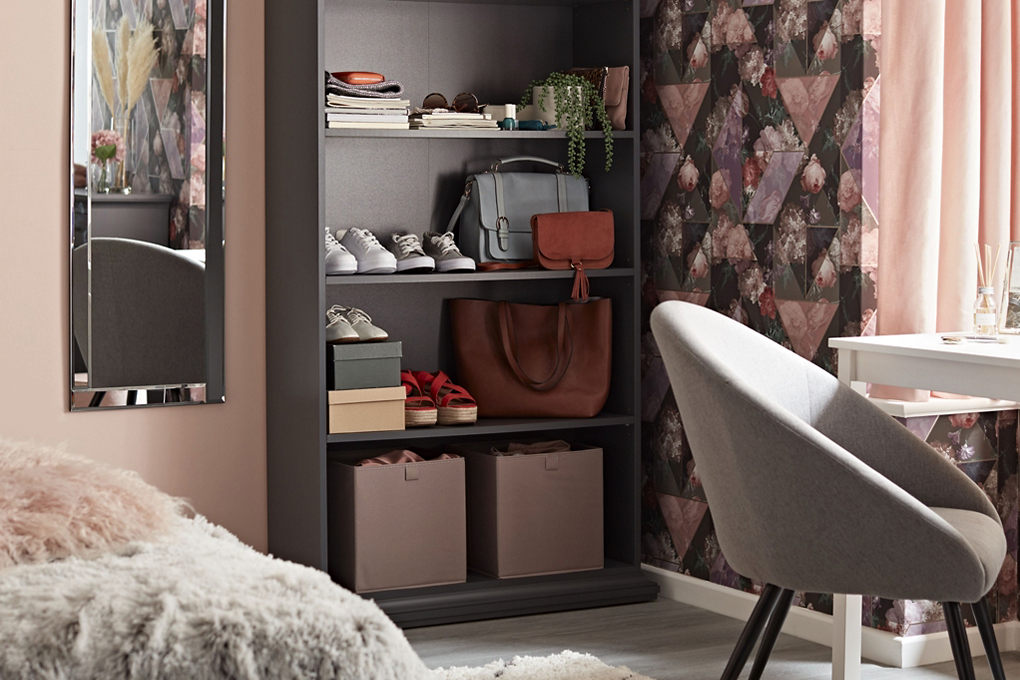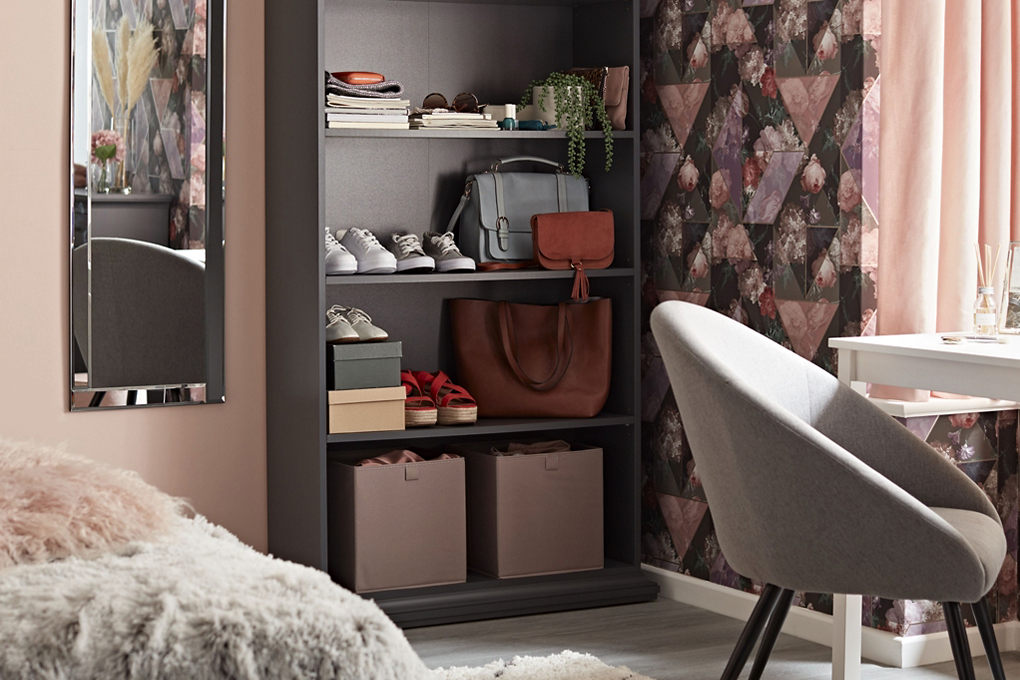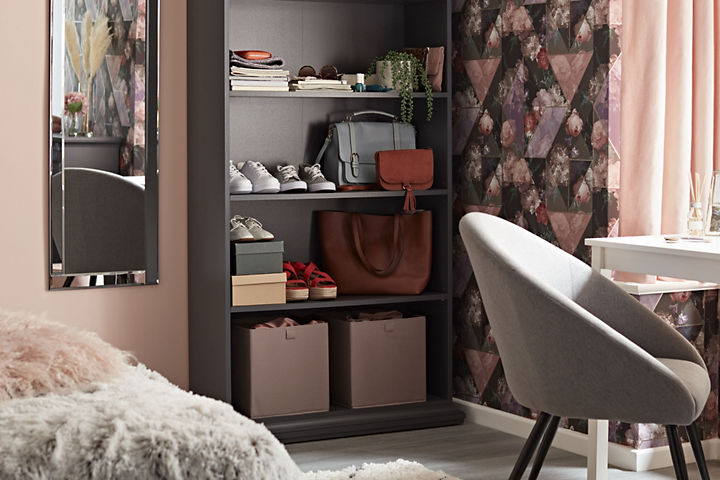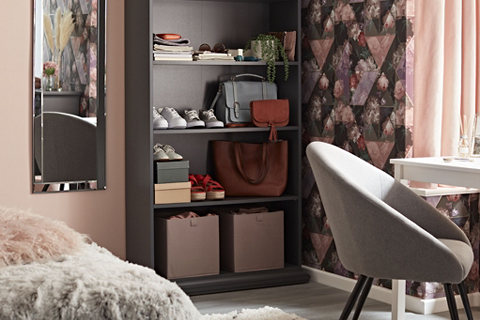 4. How much will it cost?
Decide what elements you believe are crucial in your new bedroom – and how much they will cost. Work out a budget, then you can start looking for furniture, accessories, wallpaper and paint to complete your project.
If you're struggling to work out what you can afford, or would like to talk to us about the financial services we offer – come in-store and we will be more than happy to chat with you about your options.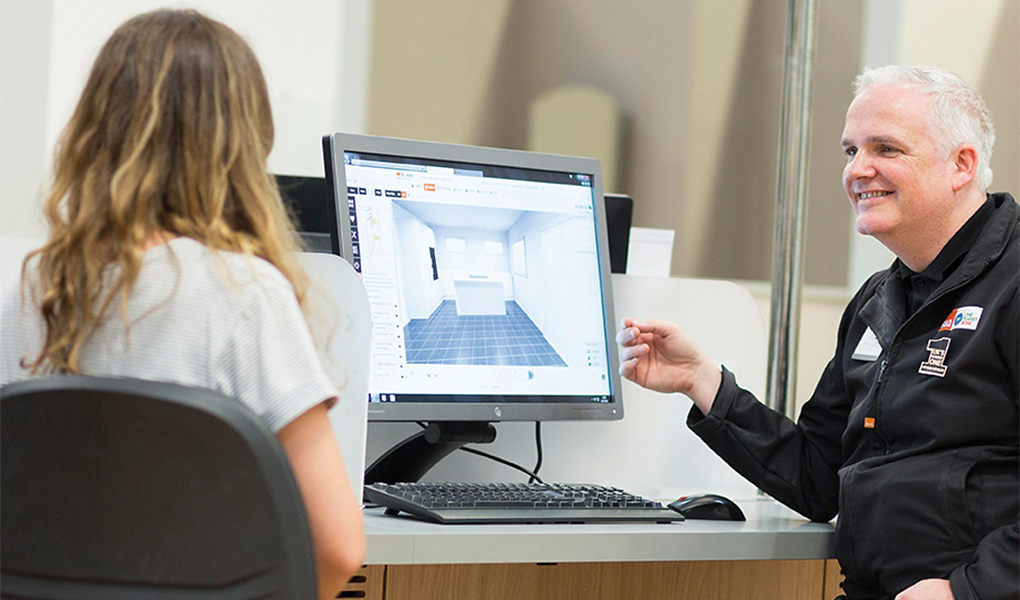 Top tip
Try not to obstruct doorways with furniture. Make sure your door has enough space to open freely so that you can enter and leave the room with ease.
5. Think about bedroom storage
Do you want your favourite things on display? Or would you rather tuck everything away using clever storage solutions? Is your style shabby chic, or smooth and sleek?
Think about whether you'll want a freestanding wardrobe, built-in wardrobe or a clothes rail. Maybe you will you opt for more shelves, or perhaps you'd prefer to have a large chest of drawers to keep your items in.
Browse our extensive selection of bedroom storage options and you'll find that keeping your bedroom tidy is a total breeze!
6. Choose your bedroom furniture
We have many different ranges and styles, from modern and sleek to sophisticated and elegant.  Remember you can use either freestanding furniture or our modular systems.
If your space is limited – use neutral, light colours. Try to avoid overloading your room with furniture and accessories, it will look cluttered and make your room appear smaller – minimalism is key.
Top tip
Use mirrors to create the illusion of space. Why not opt for sliding wardrobe doors placed against one wall to make your bedroom appear twice the size?
7. The finishing touches
You've decided where your furniture will go and how the room will work as a whole. Now it's time to choose your bedroom wallpaper, paint colour, and to shop for stylish accessories and embellishments to complete the look of your boudoir.
We have a charming selection of home furnishings, including bedding, cushions, lighting, wall art, candles, houseplants, and ornaments. Find something to suit your style, whether your preference is bohemian chic or simple and understated – we'll have the right accessories for you.
Our installation service
Our installation service makes it even easier to bring your dream room to life. We work with approved installers to coordinate your project from start to finish.
As well as fitting your design to your specification, our installers can complete the finishing touches to save you the hassle.
We provide a 2-year workmanship guarantee in addition to any product guarantees. We hope you'll never need to use our guarantees, but peace of mind is always a good thing to have. Plus, our range of flexible payment and finance options means you can find a plan to suit you.
Find out more about our installation service and book a free planning appointment to get started.