Blue bedroom ideas: 7 ways to use this calming shade in your sanctuary
Long associated with relaxation, serenity, and peace – blue is the ideal colour for a calm bedroom to unwind in after a long day. From navy to periwinkle and everything in between, you can choose from an array of soothing shades. And there's so much you can do with blue. Make small spaces appear larger or use vibrant hues that'll have you dreaming of tropical beaches.
Colour has the power to influence our mood and the way we feel. A blue bedroom will create a calming environment, enhancing the quality of your sleep. So, you can wake up feeling ready for anything the day throws at you. Looking for blue bedroom inspiration? We've got plenty of ideas to inspire your next décor project.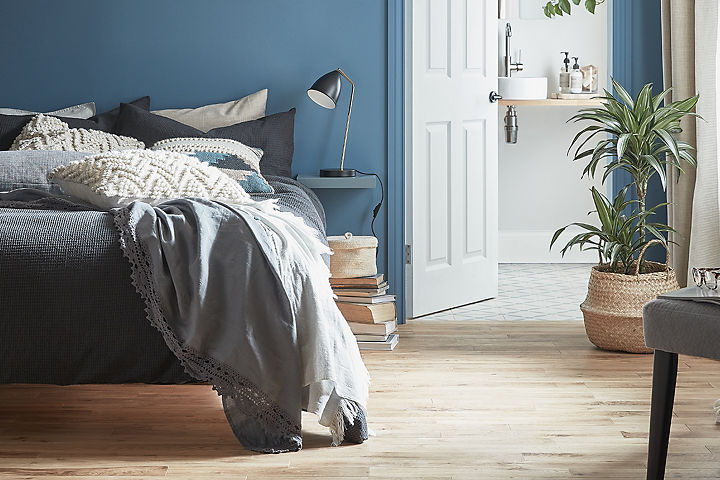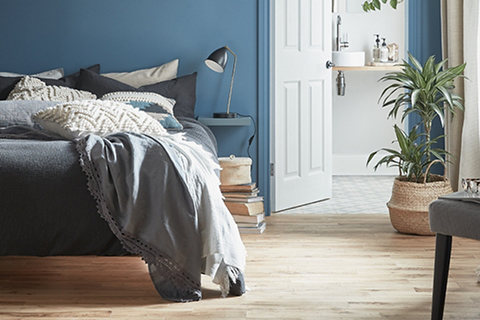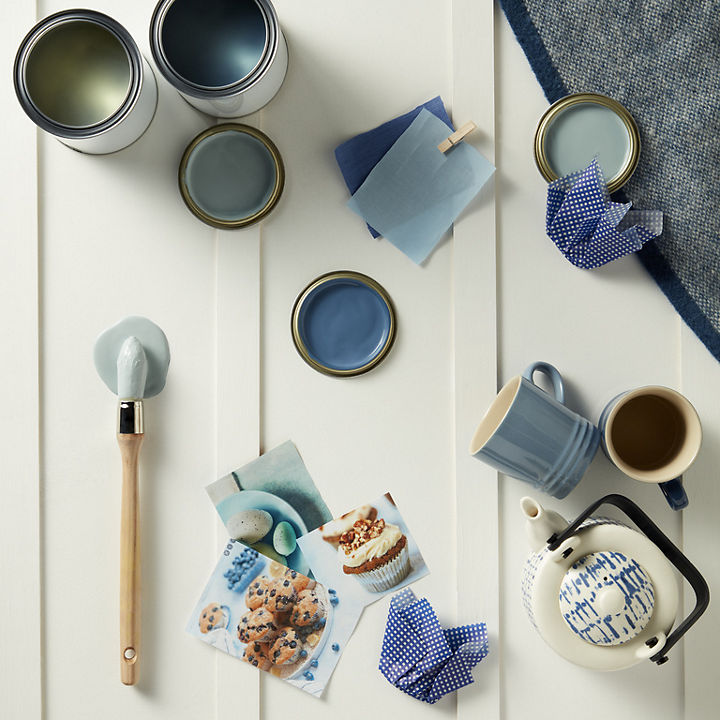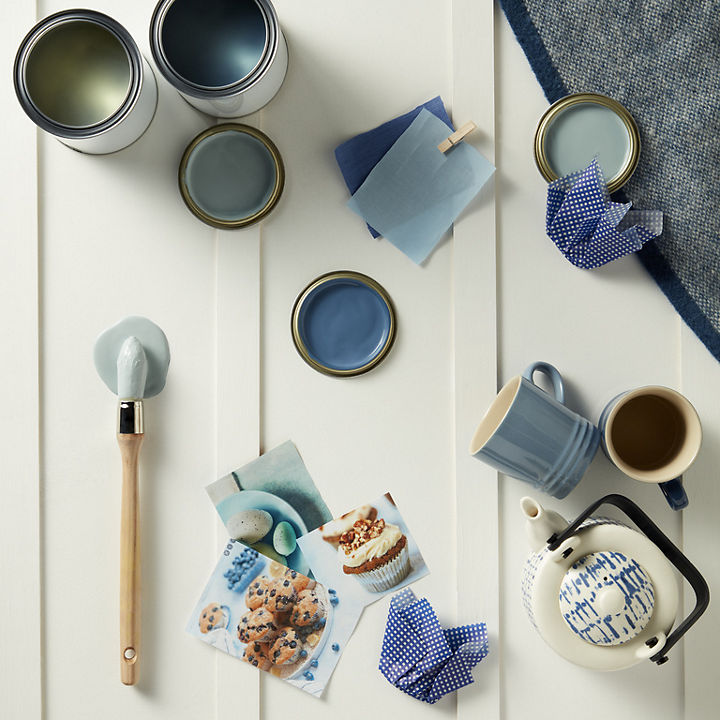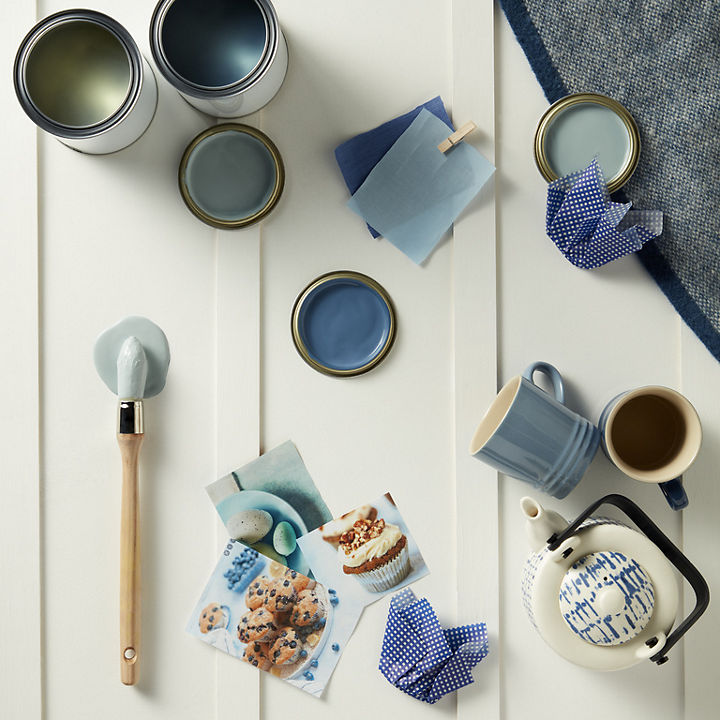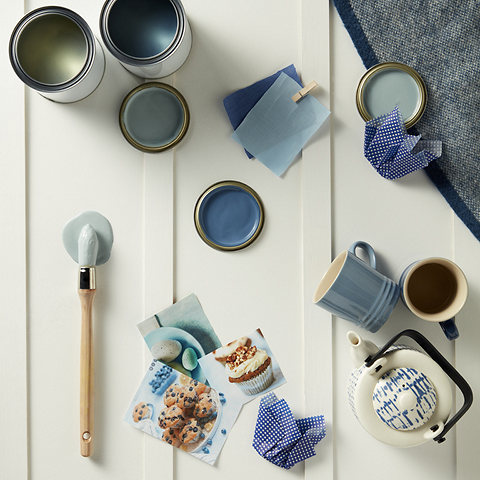 Colour matchmakers – finding the perfect blue
No matter what shade of blue you've got your heart set on – you can get the exact colour mixed at B&Q. Whether you're inspired by your favourite royal blue jacket, or the shade of indigo on your lampshade – get any shade your heart desires mixed at your local B&Q store. Simply bring your sample into a store, place it under the scanner at the colour mixing desk and one of our store colleagues will create a bespoke colour just for you.
1. Light blue for bedroom bliss
If you've got a small bedroom, pastel blue walls can trick the mind to make your space appear bigger and brighter. Paint your boudoir in a light blue tint for an open and airy place to rest. This will prevent your room from feeling too claustrophobic, so you'll have space to breathe again. Combine light blue with other cool tones such as white, cream, and grey. Finish off the look with light wooden furniture and white accessories for a room that will welcome you home with open arms.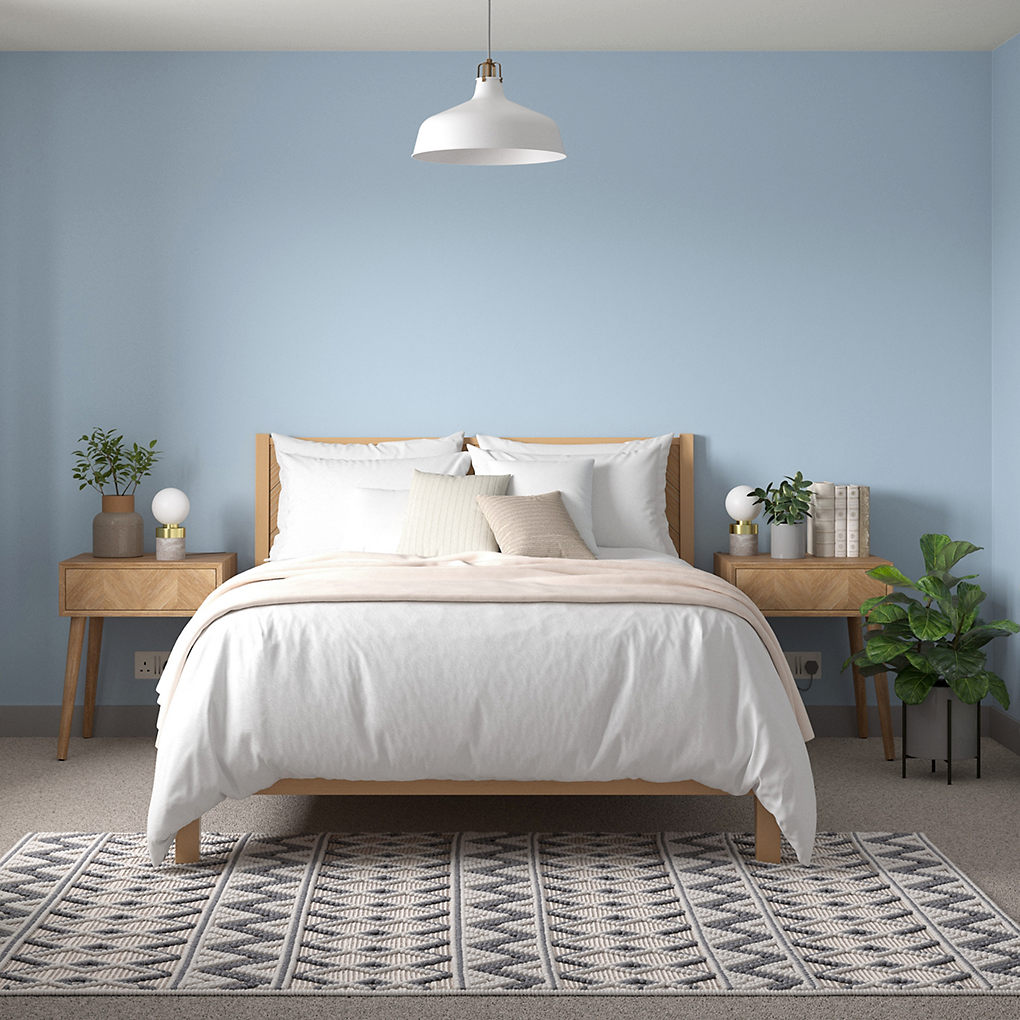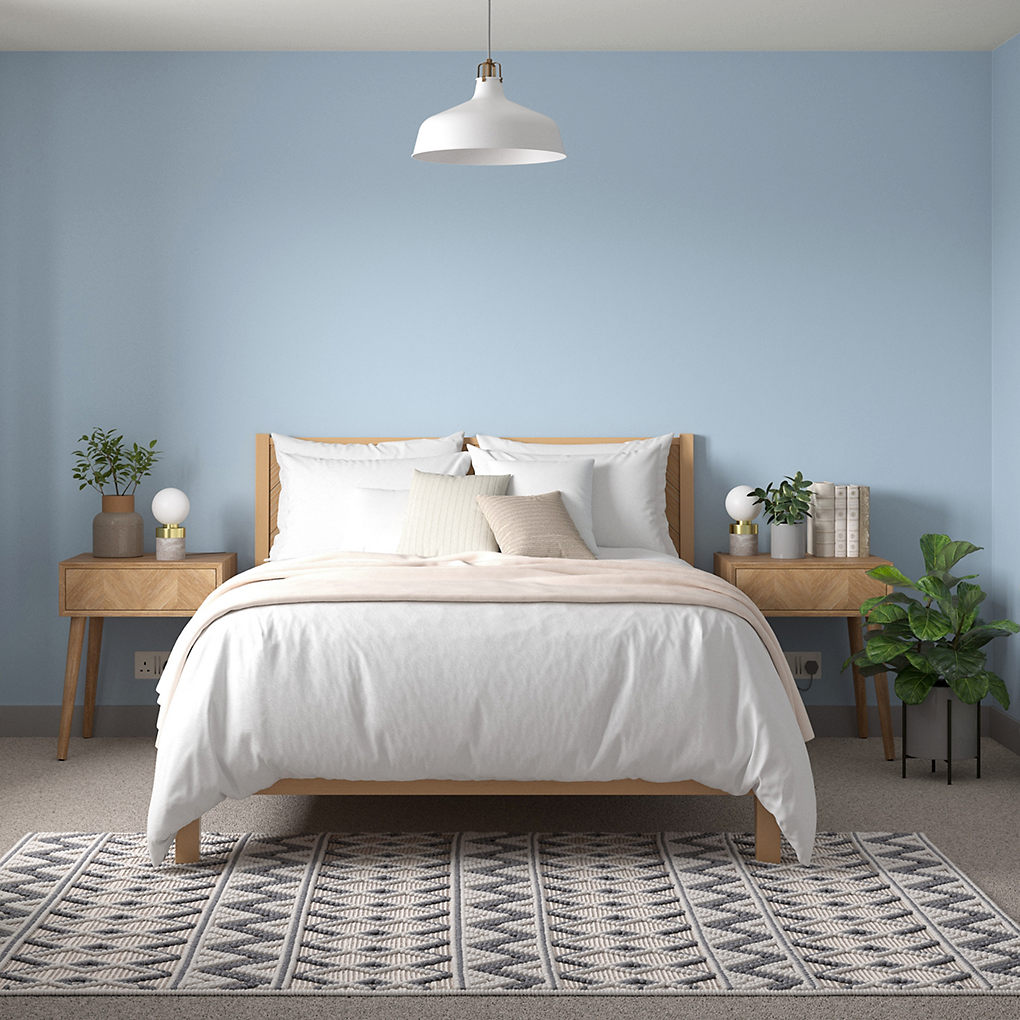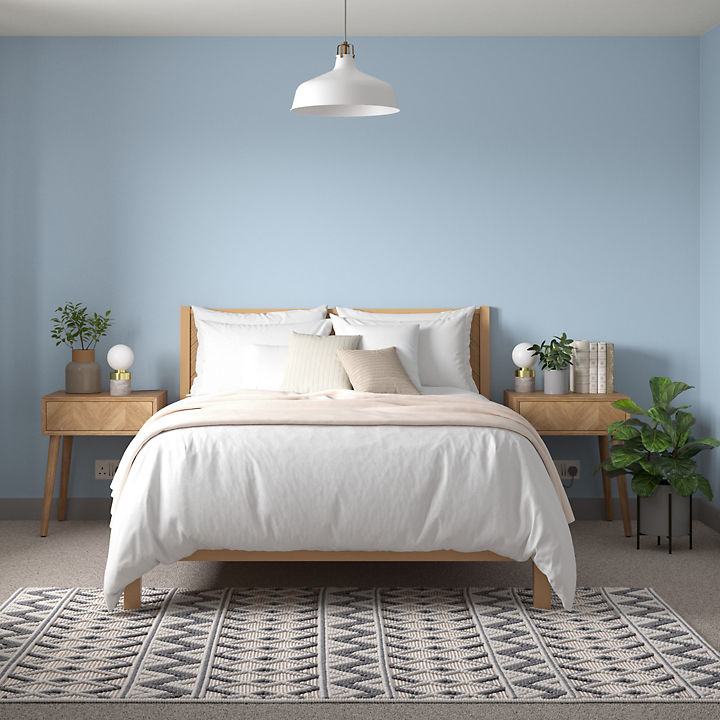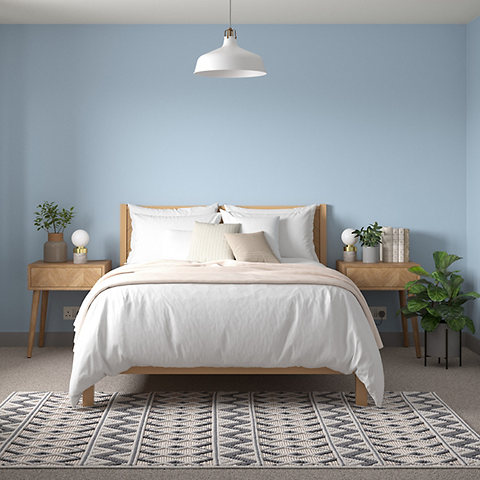 2. Dramatic dark blues
There's something extremely opulent about a dark blue bedroom. Darker tones such as indigo and navy make a room feel chic and expensive. Not to mention, dark shades are perfect for creating a relaxing space for a good night's sleep. If you're slightly wary of using a deep blue on every wall, why not paint a statement wall? Offset the darkness by painting your other walls in a white, cream, or a lighter shade of blue. If your space is small and you want it to appear bigger, you could paint your furniture in the same colour as the walls. It'll create the illusion of more space, plus it'll help tie the whole look together!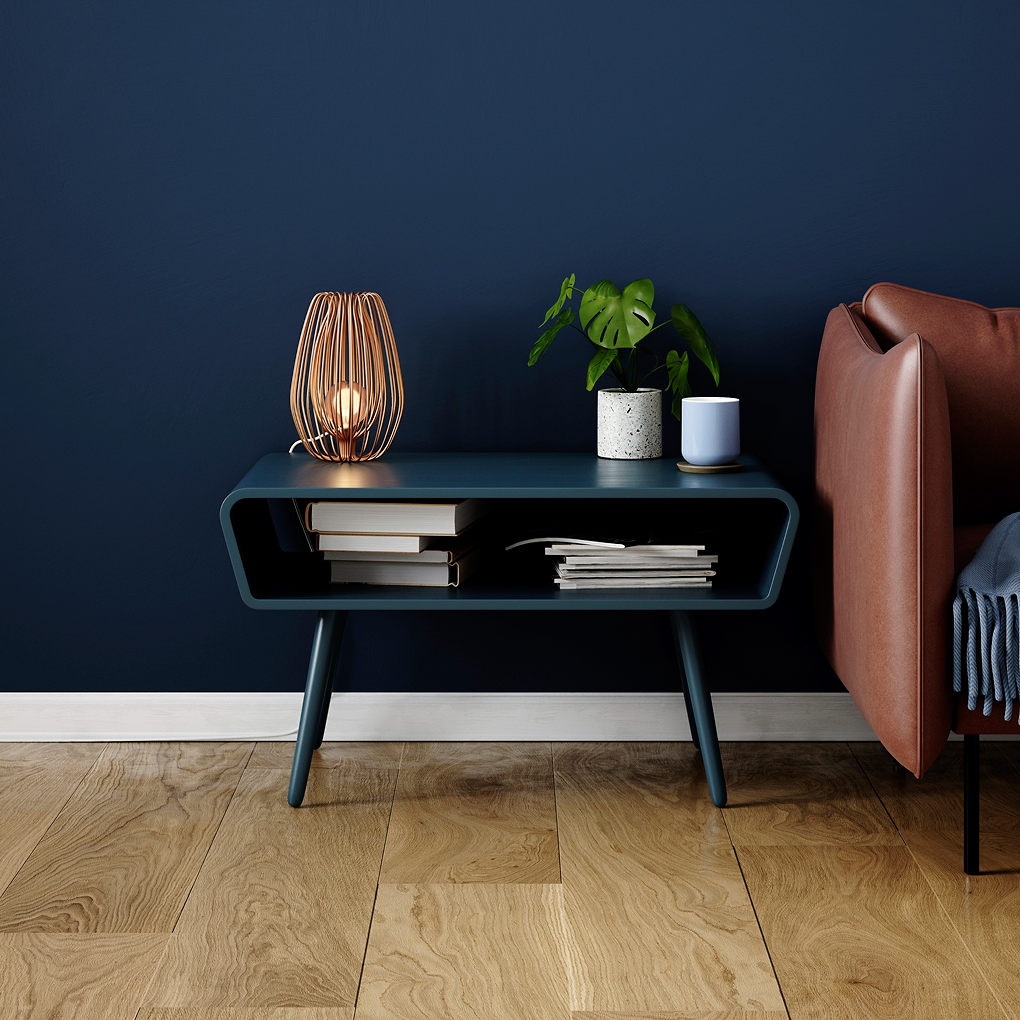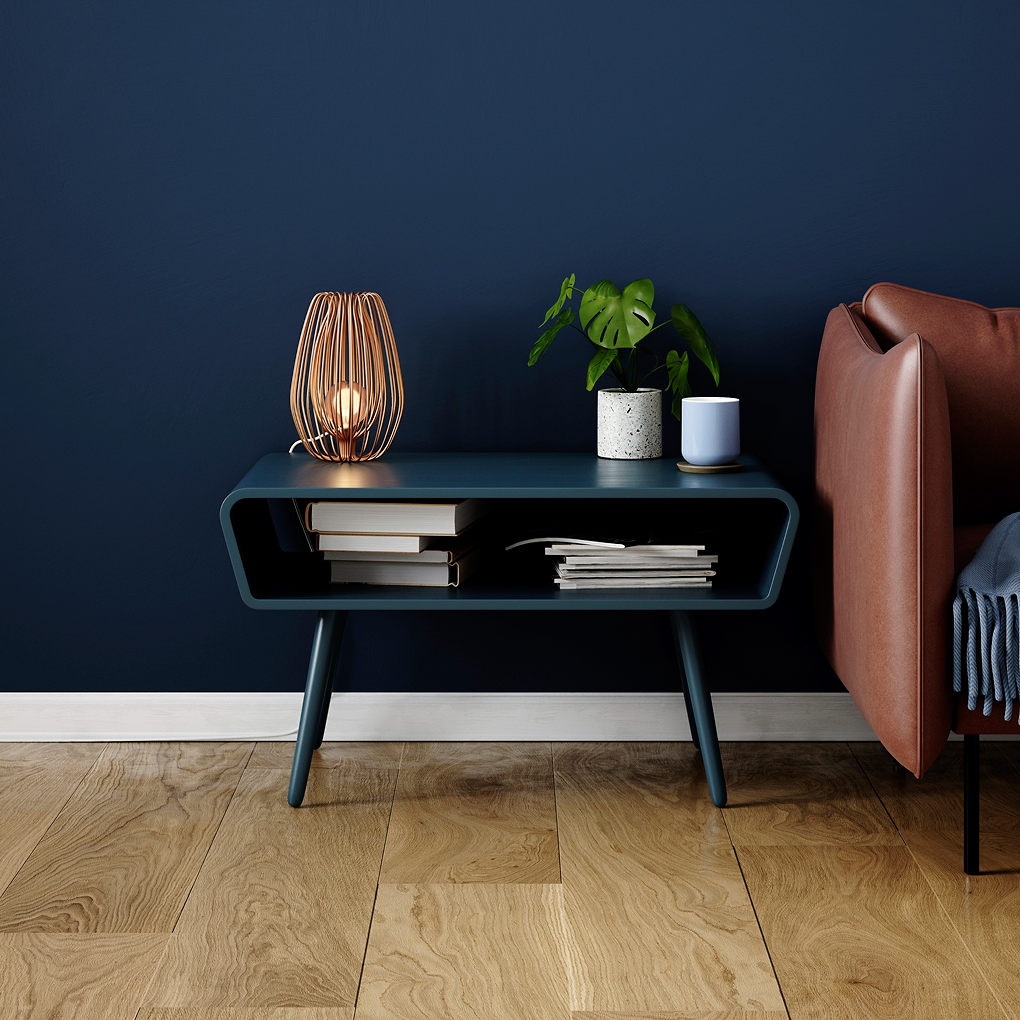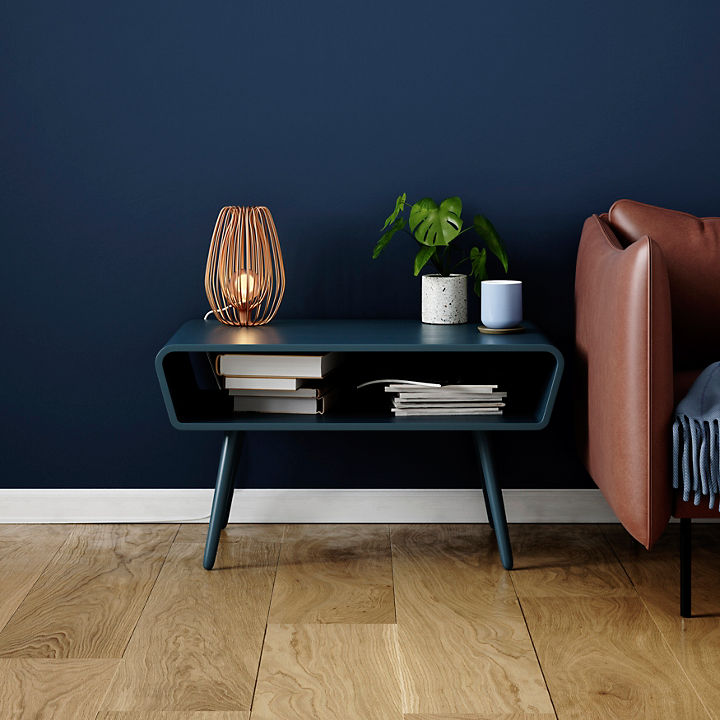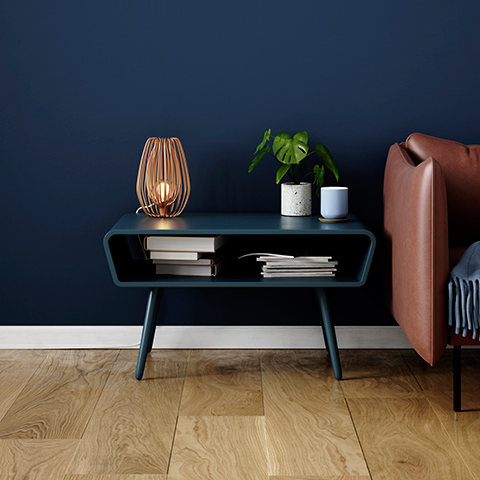 3. B&Q loves: elegant wood panel wallpaper
This trendy wallpaper helps you get the wall panel look for less money and effort. Gorgeous wallpaper like this looks great in any room – however it looks particularly impressive in a large room with high ceilings. So, if you've got a large room and you're feeling a little overwhelmed by all the area you need to style – then this wallpaper is just what you need. Deep navy blue is the perfect colour for an accent wall – it's bold, daring, and ultra-luxurious. Pair with a light floor and accessories to balance out the feature wall so the space doesn't feel too dark.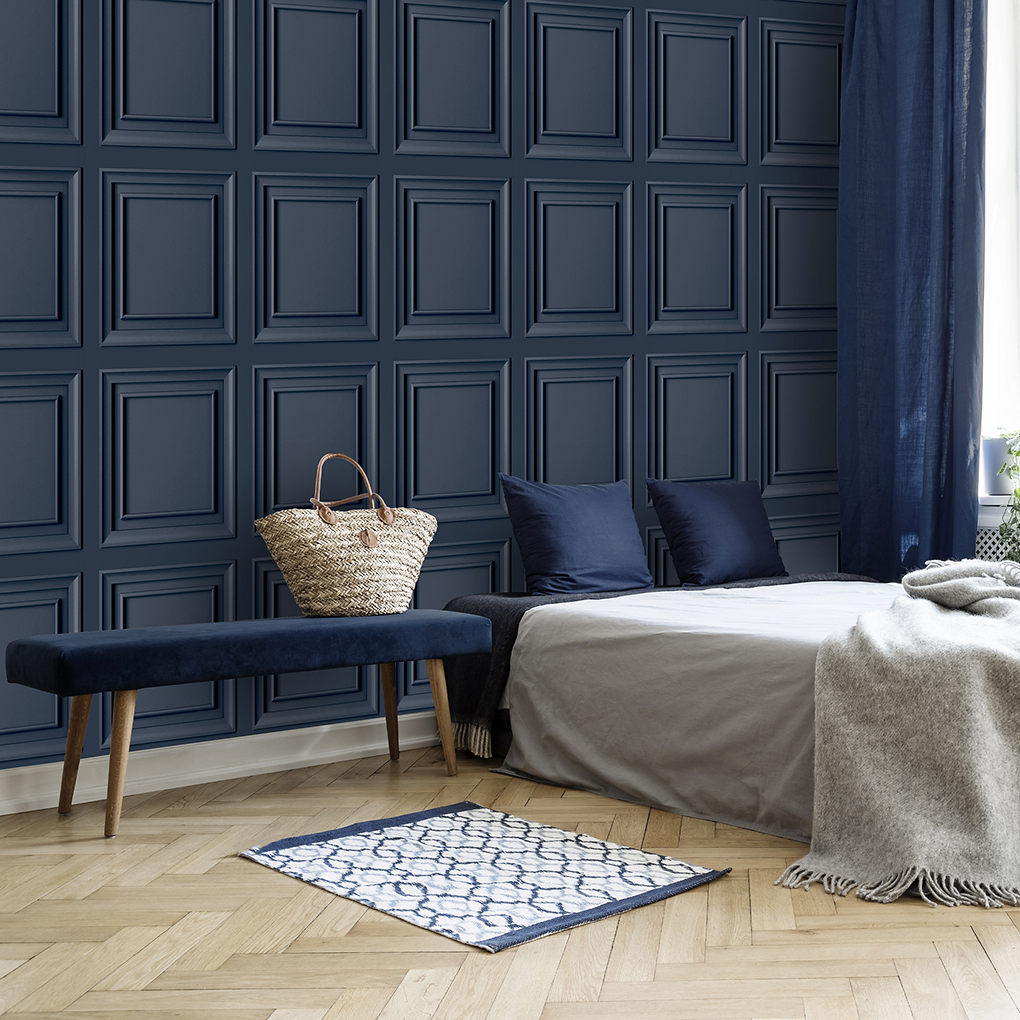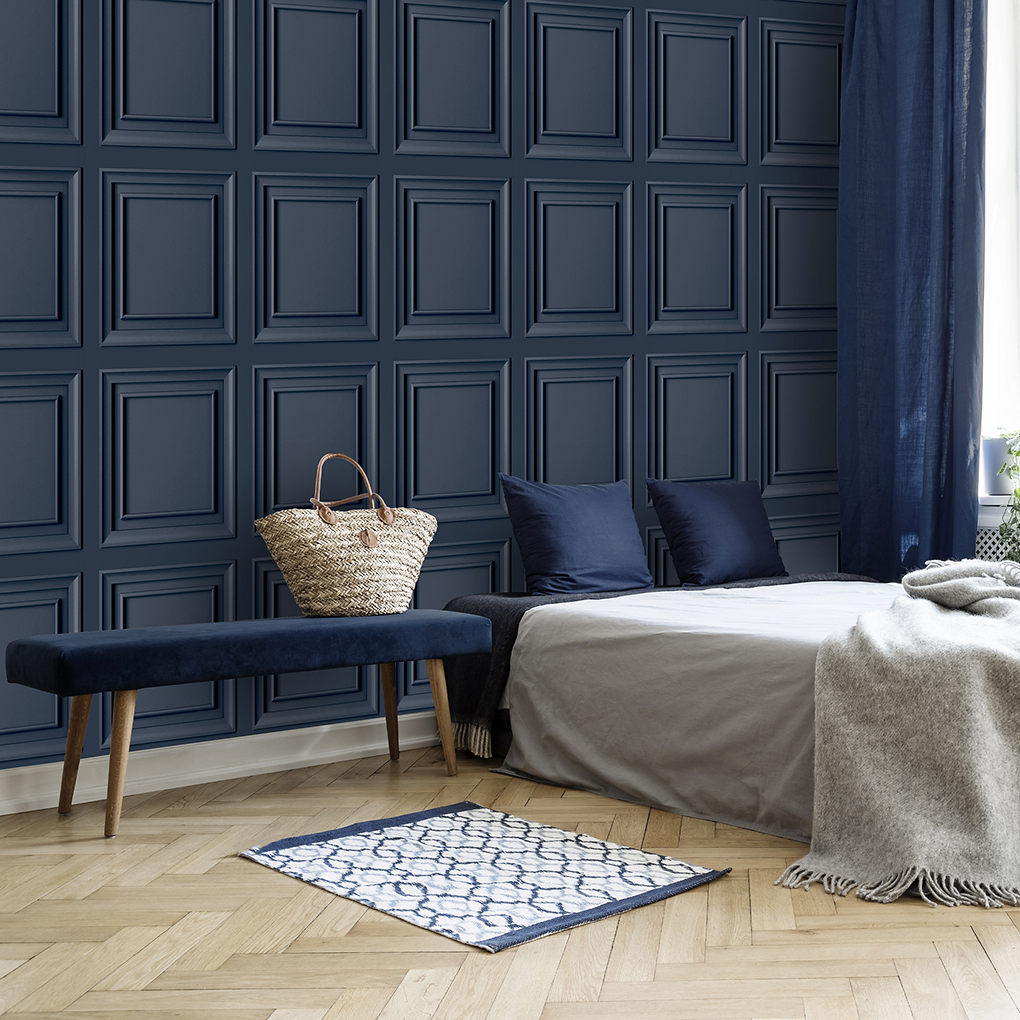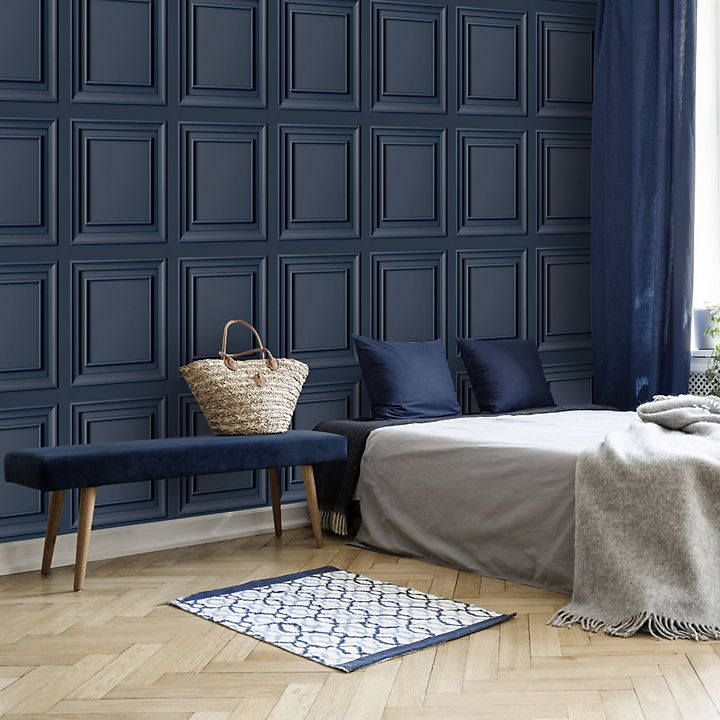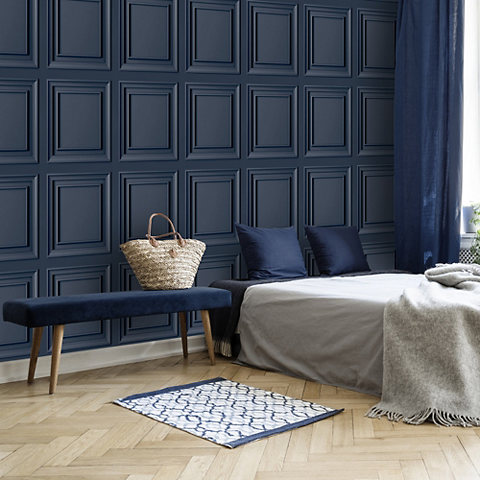 4. Energizing blue feature wall
Do you struggle getting out of bed in the mornings? This bright shade of electric blue will certainly wake you up. Paint all four walls with this uplifting tone, or paint just one wall for a wonderful feature. We've used GoodHome Valbonne to coat this bedroom wall. This energizing shade pairs beautifully with white furniture and grey accessories for a contemporary look.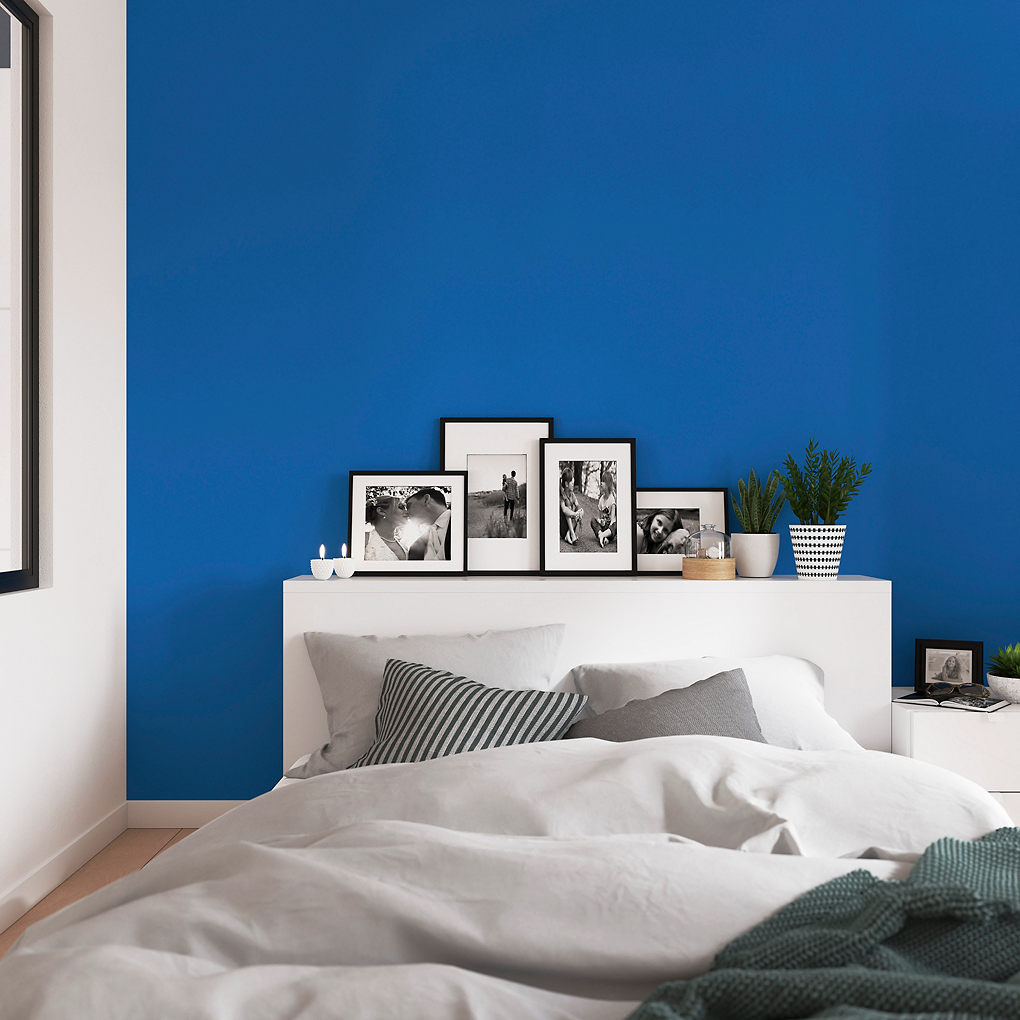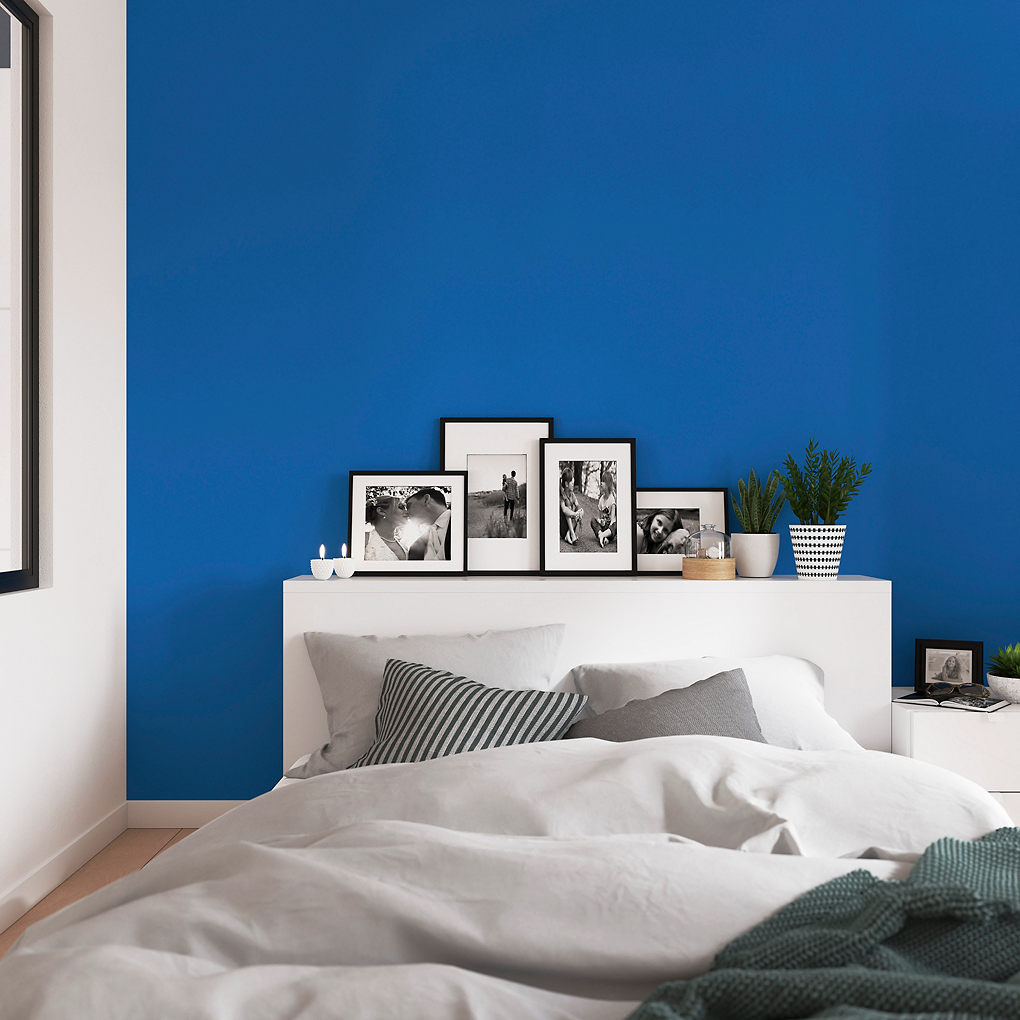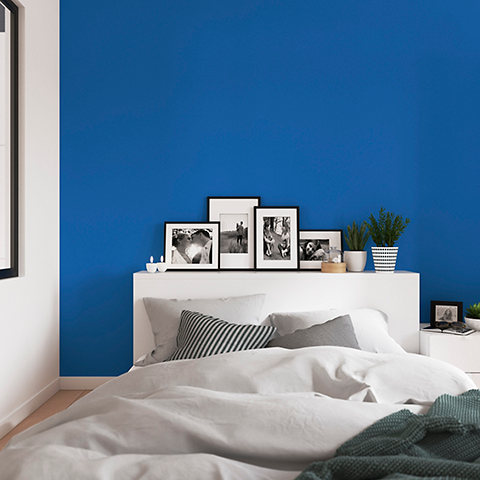 5. Upcycle your furniture with blue paint
Do you want to give your bedroom a sprinkling of blue without painting or wallpapering your walls? Perhaps you're living in a rented space, and you're not allowed to decorate, or maybe you just want to keep your walls neutral. There are loads of ways to bring blue into your bedroom, one of which is upcycling your bedroom furniture. This mid-century modern bedside table looks gorgeous with freshly painted ocean blue drawers. Experiment with different shades or use stencils or sponges to create different textures and effects.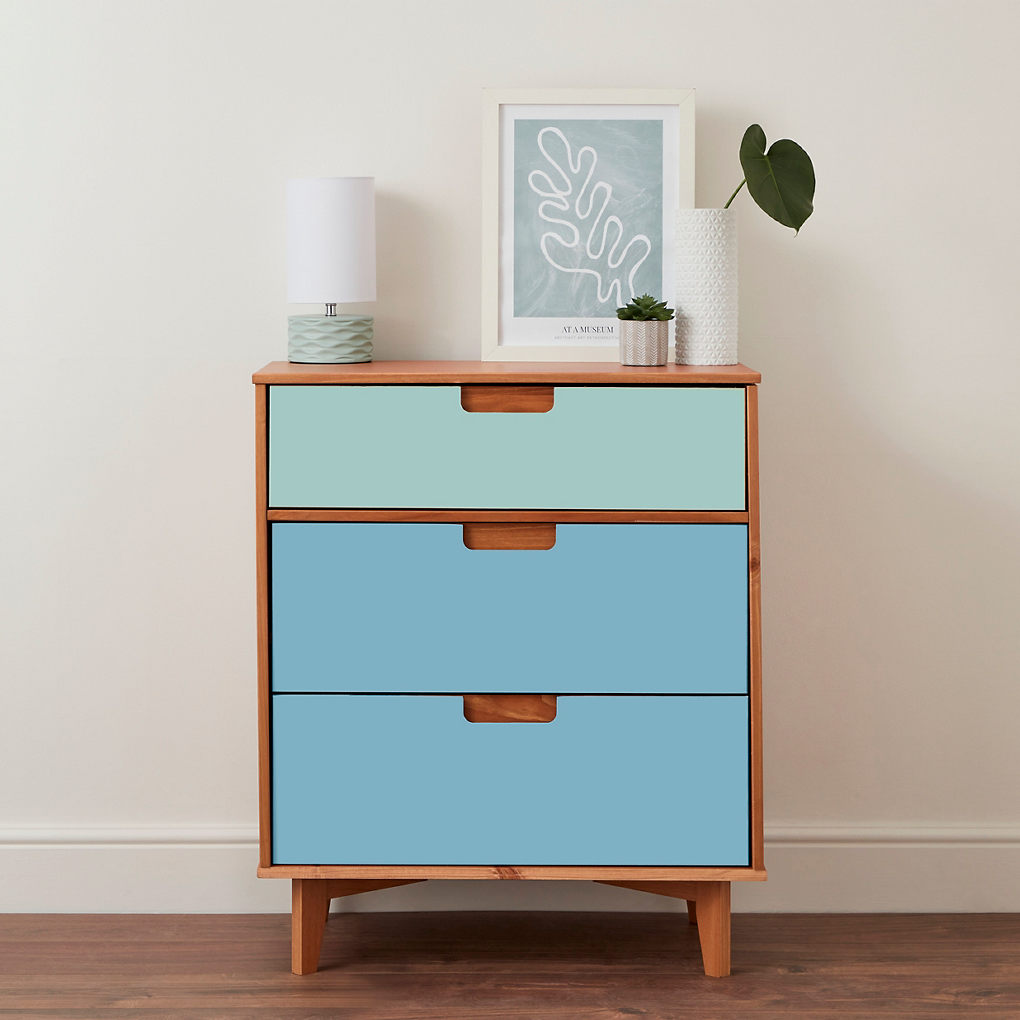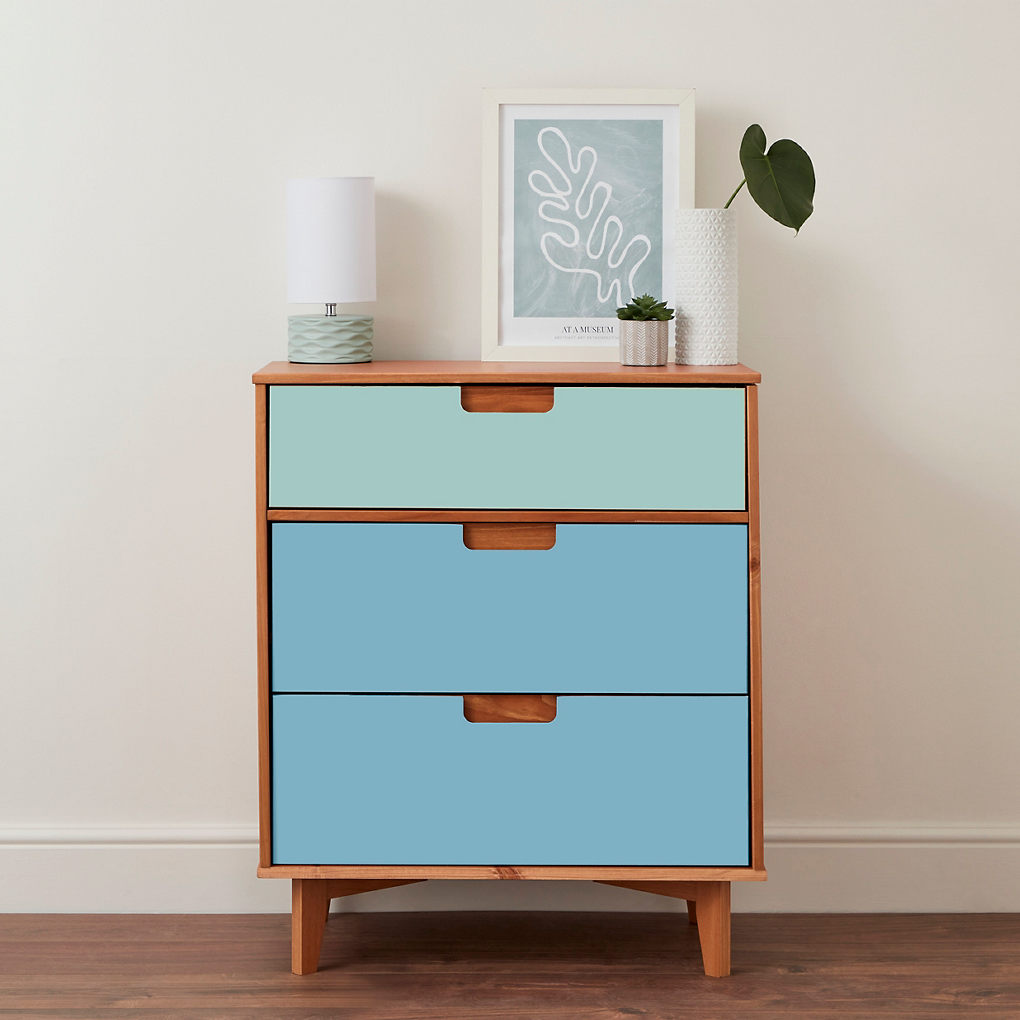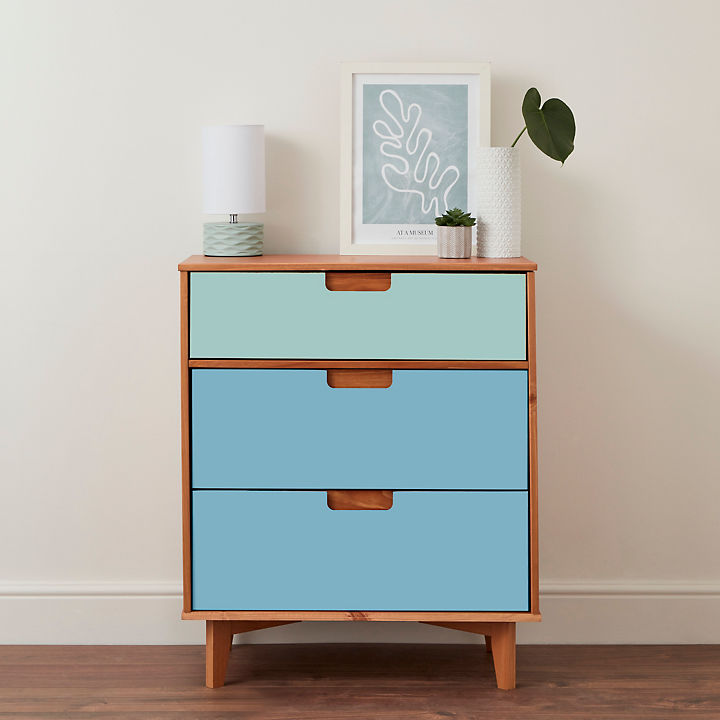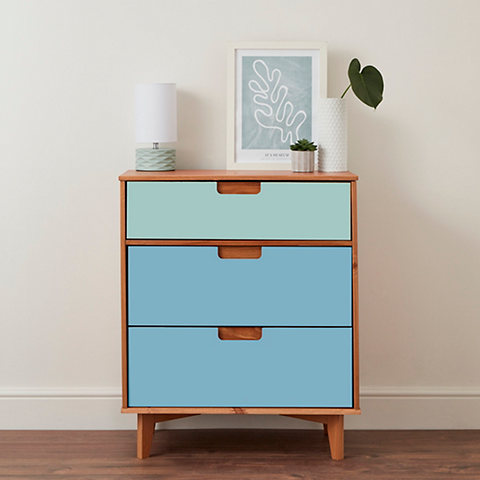 6. Blue and white two tone walls
Want to use a dark blue in your bedroom, but worried that the colour could dominate the room, making it appear smaller? Here's an idea! You could paint just half the wall and leave the other half white or cream. Not only does it create a gorgeous feature, but it allows you to use a bold colour without making your bedroom feel dark and cramped.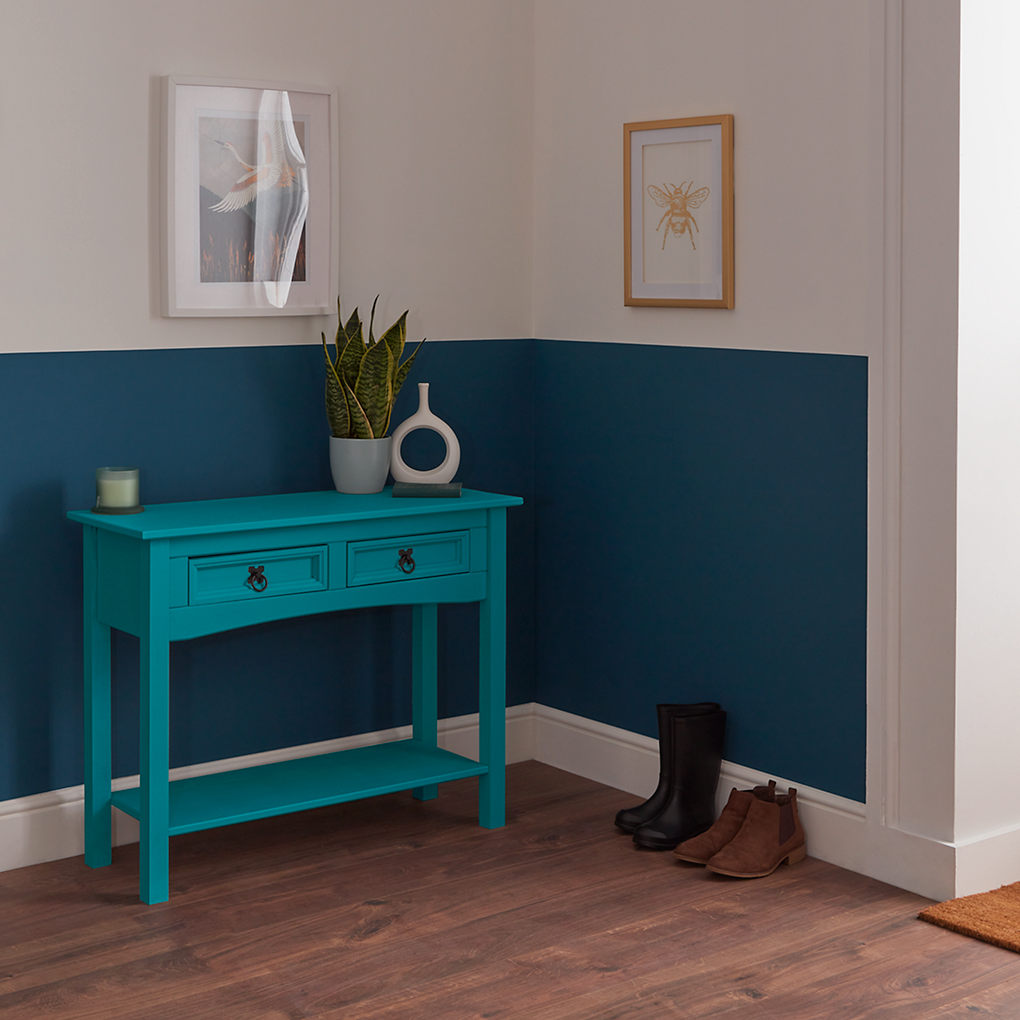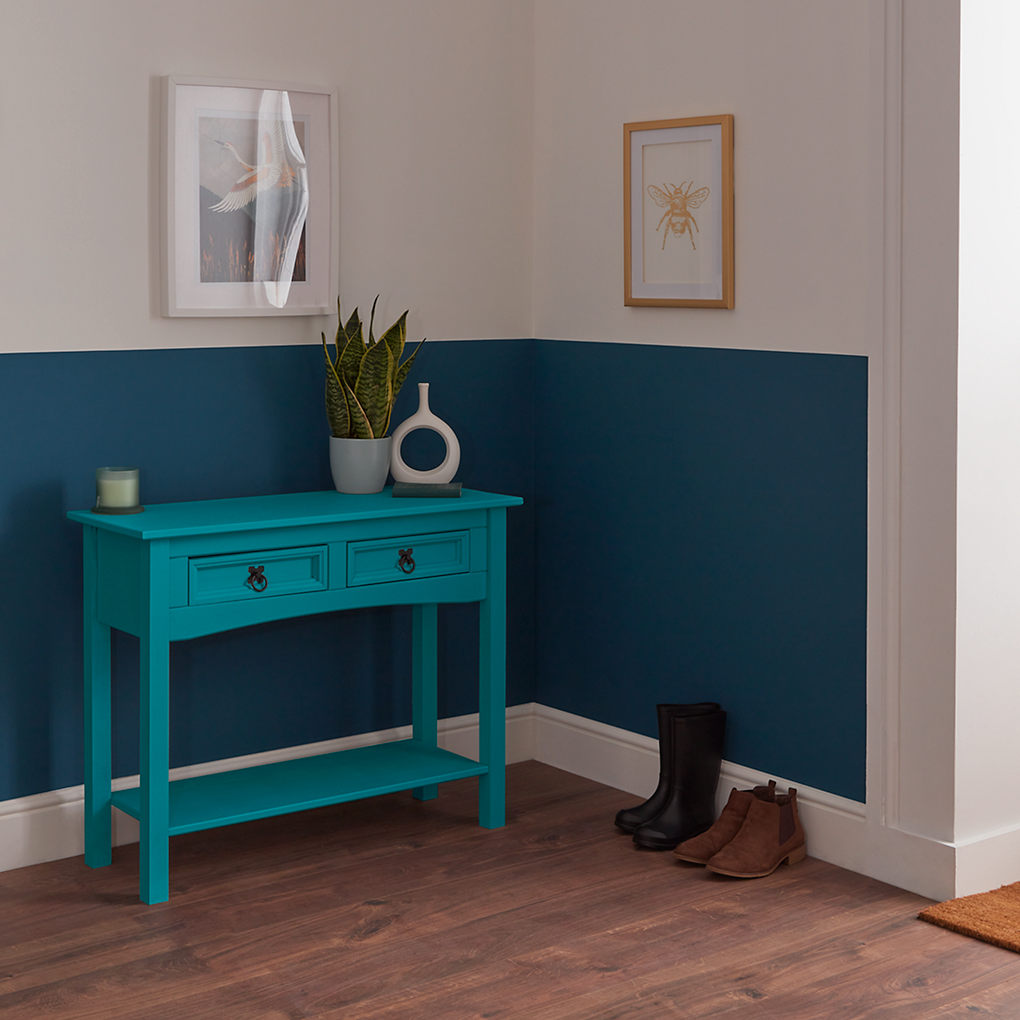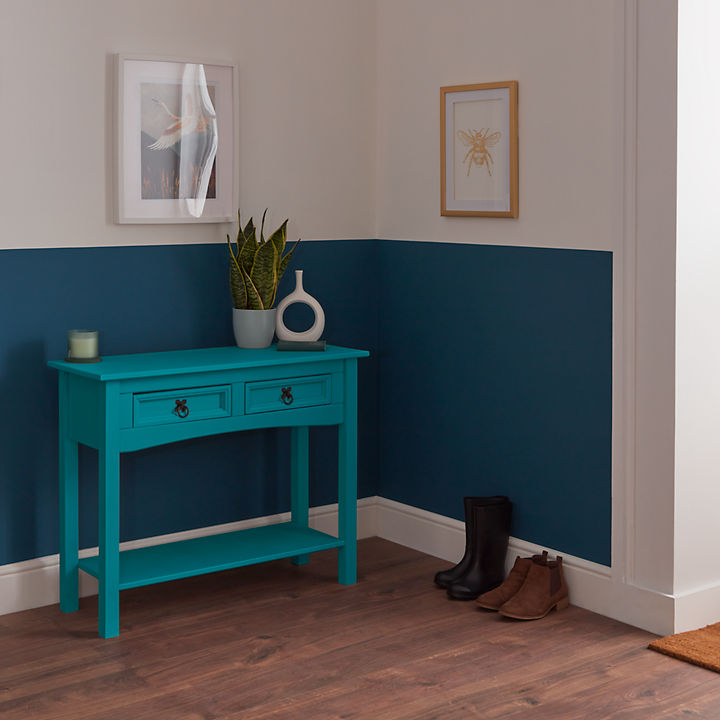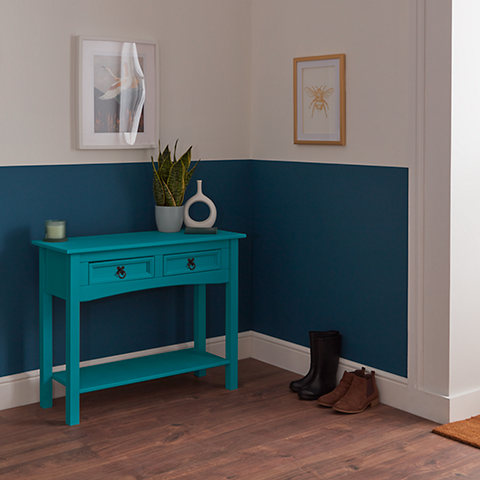 7. Decorate with delicate florals
Patterned wallpaper can add depth and texture to a bedroom. We're totally besotted with this beautiful botanical print wallpaper. A light wallpaper helps to brightens the room, making it feel open and airy. The pattern is simple and subtle, which means you can still incorporate other prints and textures without causing any pattern clashes.