Pick the perfect basin for compact cloakrooms or large bathrooms
Creating your ideal bathroom means making sure that every element is just right – not just in terms of looks but of usability. And as the most regularly used item in the bathroom, choosing the right basin or sink is very important.
Whether it's for your bathroom, en-suite or cloakroom, space is one of the main elements to consider. Does the basin just need to deal with occasional guest washing their hands? Or is it the main sink that has to deal with everything that a large and busy household has to throw at it on a daily basis? Not only do we have size options that cater for all needs, we also offer sinks that offer your extra storage – either built in or given you the space to do as you please.
All of our basins are made from vitreous china – smooth, stain-resistant and easy to clean, this material is built to last, whatever you use it for. And because they all come in clean and classic white, they'll complement any look you choose.
Read through our guide to find the right basin for you and your family.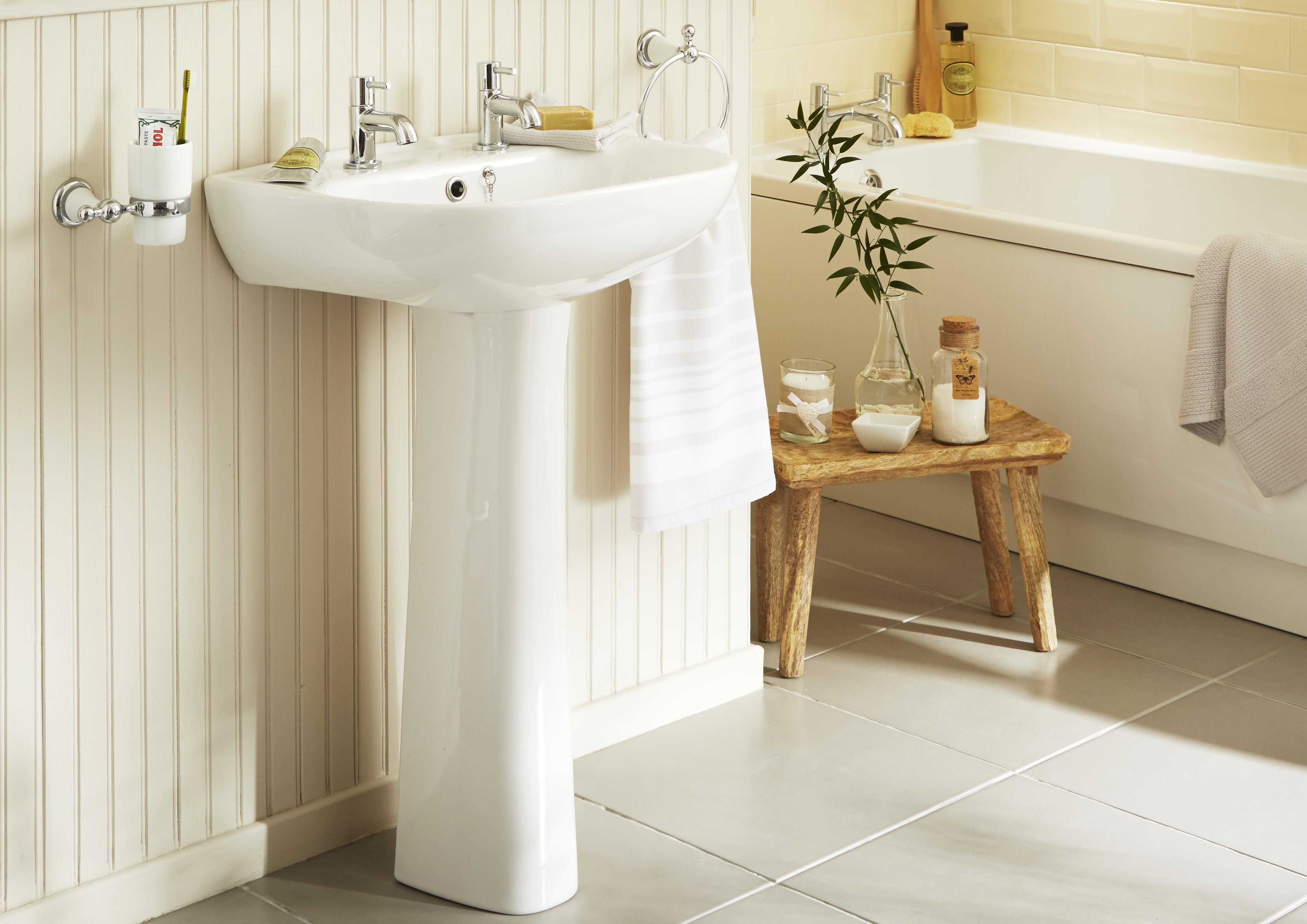 Before you begin
Are you moving your basin?
If you're remodelling your bathroom, you may want to move your basin from where it is currently. This will require some plumbing know-how and, for someone new to DIY, that may seem a bit daunting. Have a read through some of our help and advice articles on plumbing before you get going to see if we can help. Not only do they show you how to do complete various tasks, they'll also help you understand your home's water system.
What type of wall will your basin be secured to?
Whether for your bathroom, cloakroom or en-suite, the majority of basins need to be secured to the wall. If you want a wall-hung basin, you need to consider what type of wall you'll be fitting it to – remember that a lot of people tend to lean on the sink while brushing their teeth, so it needs to be secure. A wall made from masonry, brickwork or blockwork won't present any problems, but if you're fitting to a studwork wall, you will need to reinforce it before adding your sink. If you're not sure what type of wall you have give it a knock – a studwork wall will sound hollow.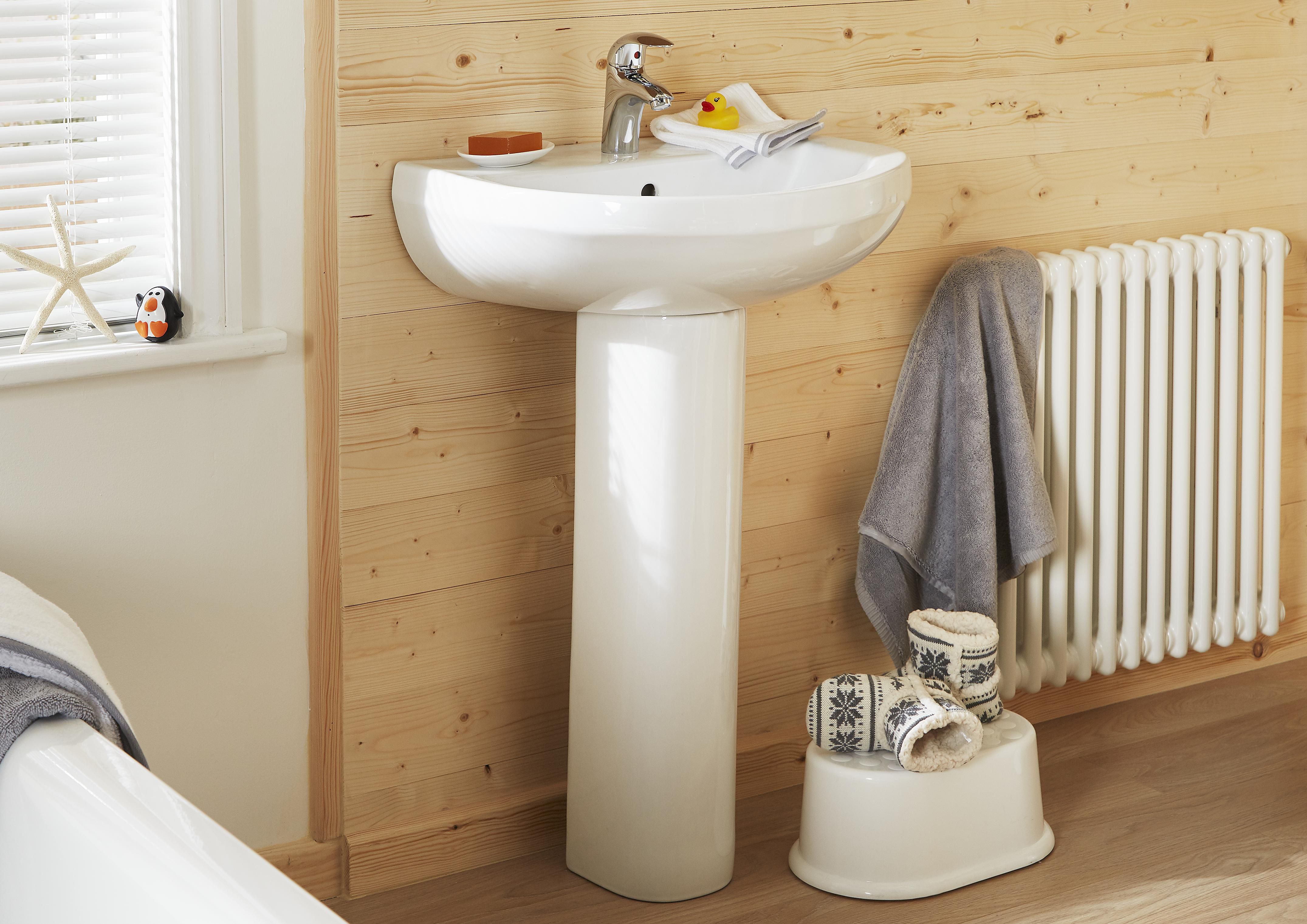 How much space do you have for your basin?
Whether you're going for a complete refit, or just updating what you already have, be sure that you've got all your measurements. If you're replacing an old sink, but are not changing the bathroom furniture around it, you'll need to have precise measurements to ensure it will fit.
For those remodelling, have a think about your bathroom basin will be used for before choosing your new one. This will determine the size you'll need.
If it's for a cloakroom, and will probably only be used for washing hands, you can choose a smaller basin with a shallower depth. This is also a good idea for the smaller bathroom or en-suite. And if you're limited when it comes to storage, explore our options that either sit on extra storage, or have no plumbing underneath – that way, you can store whatever you like underneath your basin.
If space is less of an issue, you can explore different sizes and depths – bigger and deeper basins are ideal if you're going to be using it to wash hair, or hand washing your delicate clothing in it.
We have a wide range of basins, in various shapes and sizes, and they range in depth from 160millimetres (mm) to 500mm, so we'll definitely have something that suits your needs.
How many taps do you want?
The number of tap holes cut into the basin determines the type of taps you can buy. The majority of our basins only have one tap hole, as most basin taps nowadays are mixer taps. This is because mixer taps combine the hot and cold water before it leaves the spouts making it easier to handle. If you're looking for the more traditional style, with separate taps for hot and cold, you'll need to look at our two hole basin options.
There are a few basin options with no tap holes, designed so that tall basin mixer taps can be installed onto the countertop or another surrounding surface.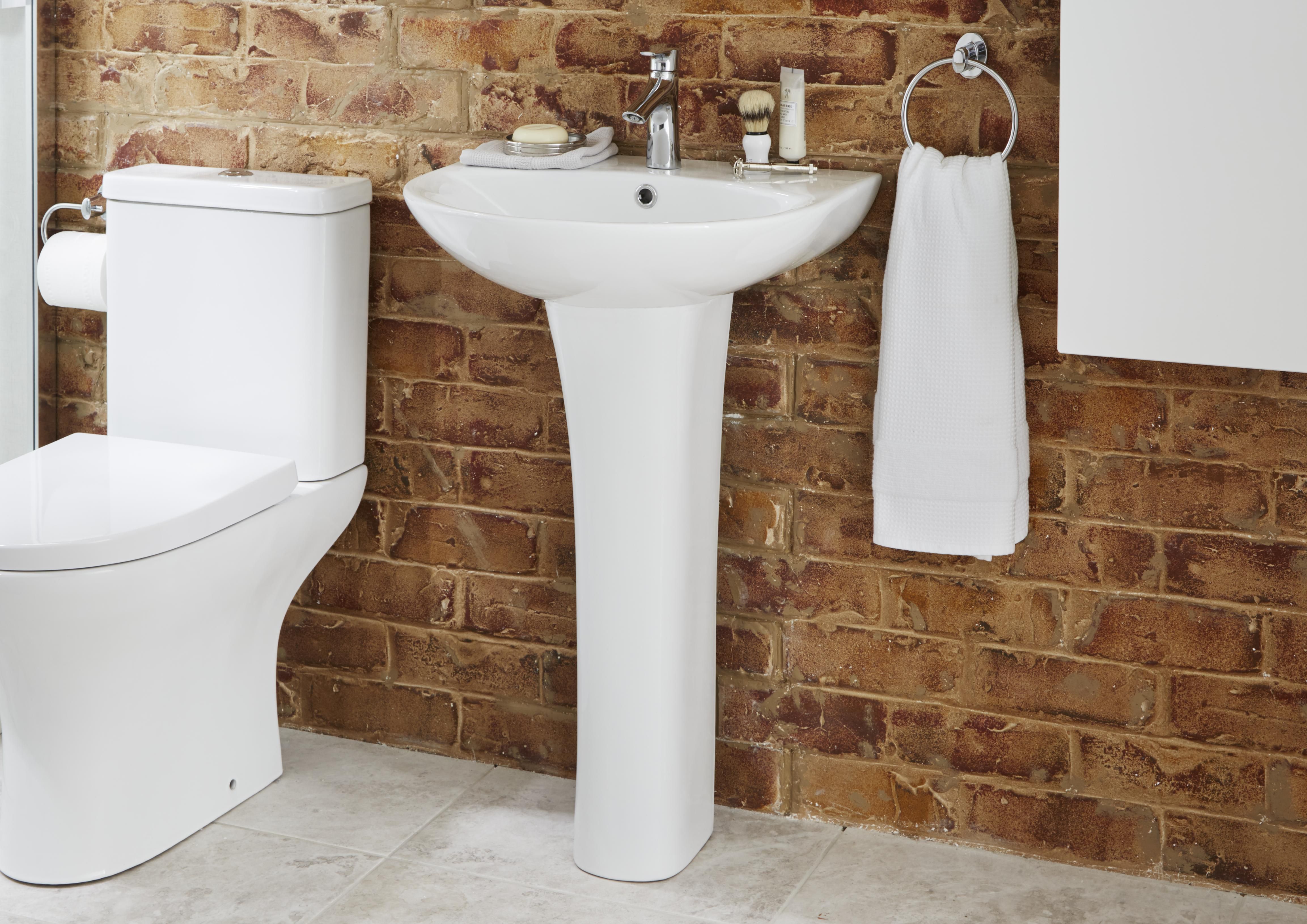 Types of basin
Whether you're looking for contemporary or traditional, curved or angular styles of basins, you'll be able to find it in our extensive range. But before you select your look, first think about the type of sink you want in your bathroom, en-suite or cloakroom.
Pedestal basins
There are two options of pedestal basins: full and semi- pedestal.
You might need
Now that you've chosen your bathroom sink, it's time to think about the finishing touches.
Taps
Once you've chosen your basin, it's time to think about taps. We've got a large selection that will suit any bathroom - depending on whether you've got a single or multiple tap holes, you can choose from our range of mixer taps, or separate hot and cold taps accordingly.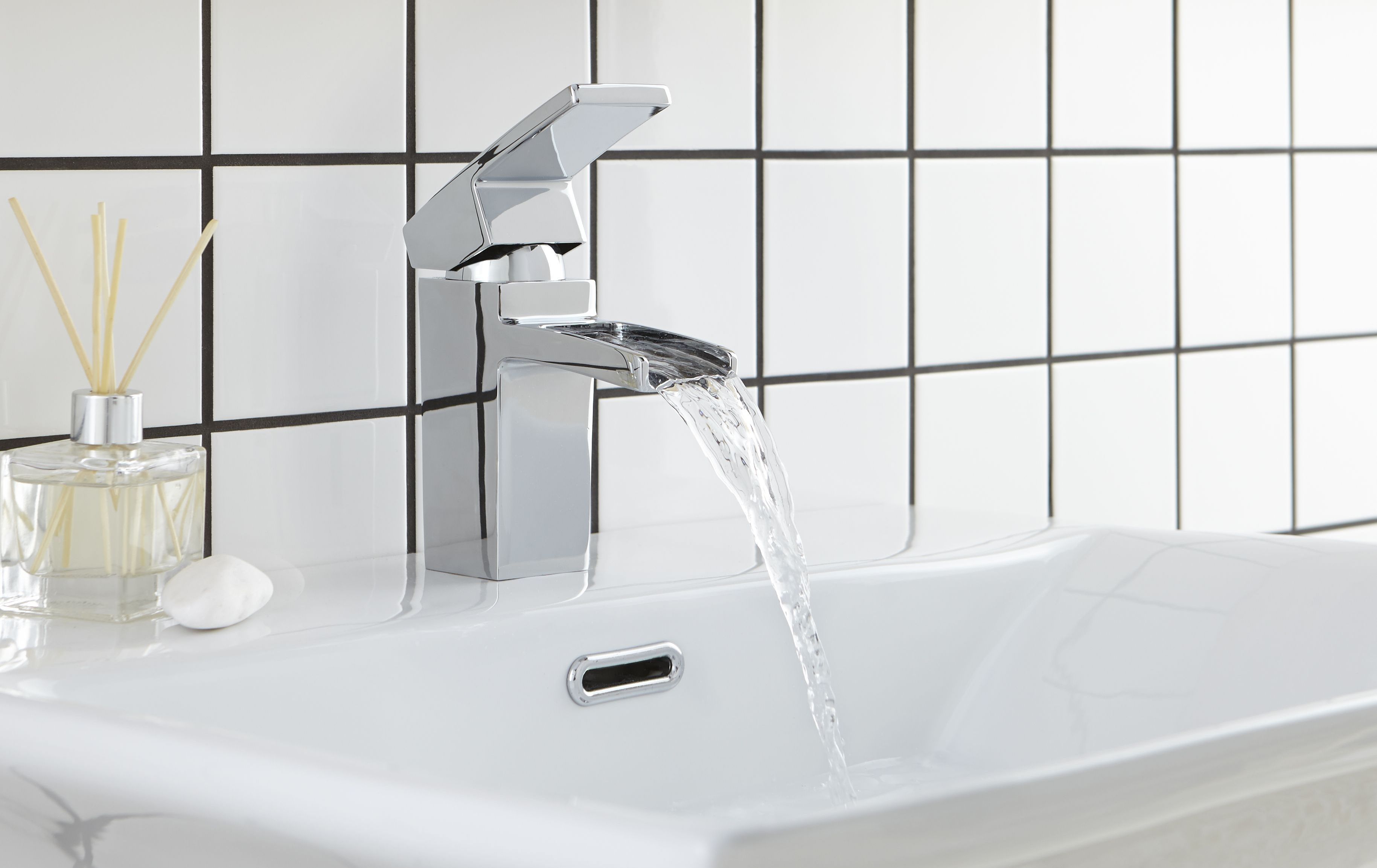 Wastes
Whatever type of basin you choose, you'll need a waste – this is where the water flows out of your basin and they act as barrier in order that you can fill your basin with water.
There are two types of wastes: slotted and unslotted. If you've chosen a basin with an overflow, you'll need a slotted waste. This means that if water runs into the overflow it will back into the plumbing through a slot that's cut into the waste.
Some of our countertop and vessel basins don't have an overflow hole and therefore don't need a slotted waste – so you can choose to have an unslotted waste if you like.
When it comes to style, you can choose from the classic plug & chain option to the more contemporary pop-up or flip top wastes. Once you;ve looked through the options, have a look at the rest of your bathroom as well as your taps and see which style would suit best.
Plug and chain wastes
The classic waste style, this option has either a plastic or metal plug that's attached to a chain. It's the easiest option to fix and replace.
A lot of modern basin options don't have a hole for the chain to be fitted to, so be sure to check your bathroom basin before you purchase your waste.
Shop plug and chain basin wastes
Pop-up wastes
With a lever in place, usually behind the taps, you pull upwards to lower the waste plug and stop water running away, and push down to raise it. The pop-up waste is the most modern in style.
Flip-top wastes
A fun design, the flip-top waste has a metal disc that you flip by hand to prevent the water escaping, or be released, as you like.
Shop flip-top wastes Shop all wastes
Accessories for your new basin
If you want to keep your new bathroom sink tidy, have a look at our toothbrush holders and tumblers as well as our soap dishes and dispensers – to keep it free from clutter you can choose options that attach to the wall.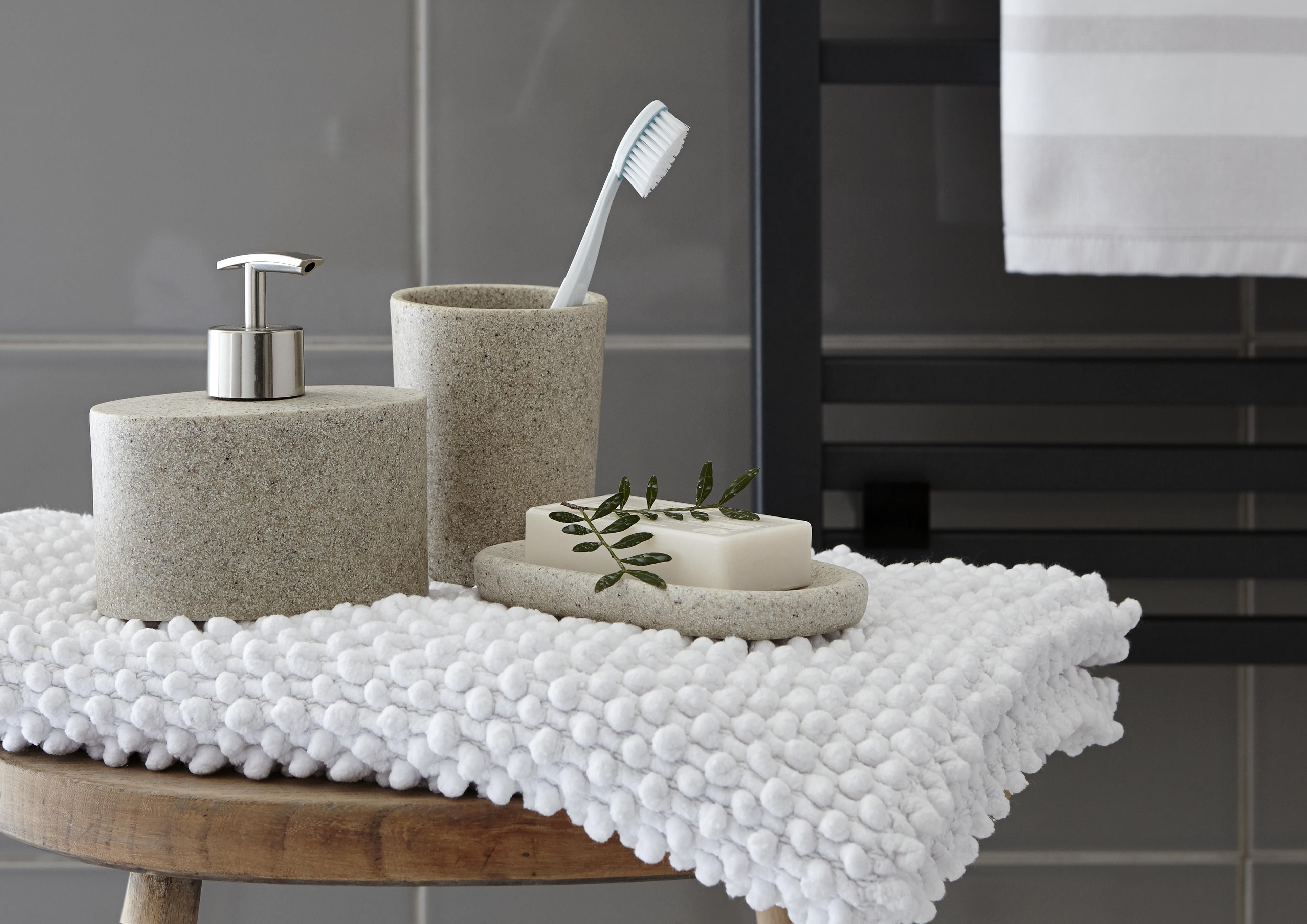 Articles