Toilet & toilet seat buying guide
Love your loo with our comfortable and stylish selection
When updating or refitting your bathroom or cloakroom, it's a lot easier to get excited about basins, baths and showers than it is about a new WC. But as the second most used item in the bathroom (after the basin) it's important to pay attention to the humble loo.
Choose from our range and find something that will suit the size and style of your space as well as your budget. We'll also help you understand a bit about your plumbing and how to make a choice that's good for the environment as well as your water meter.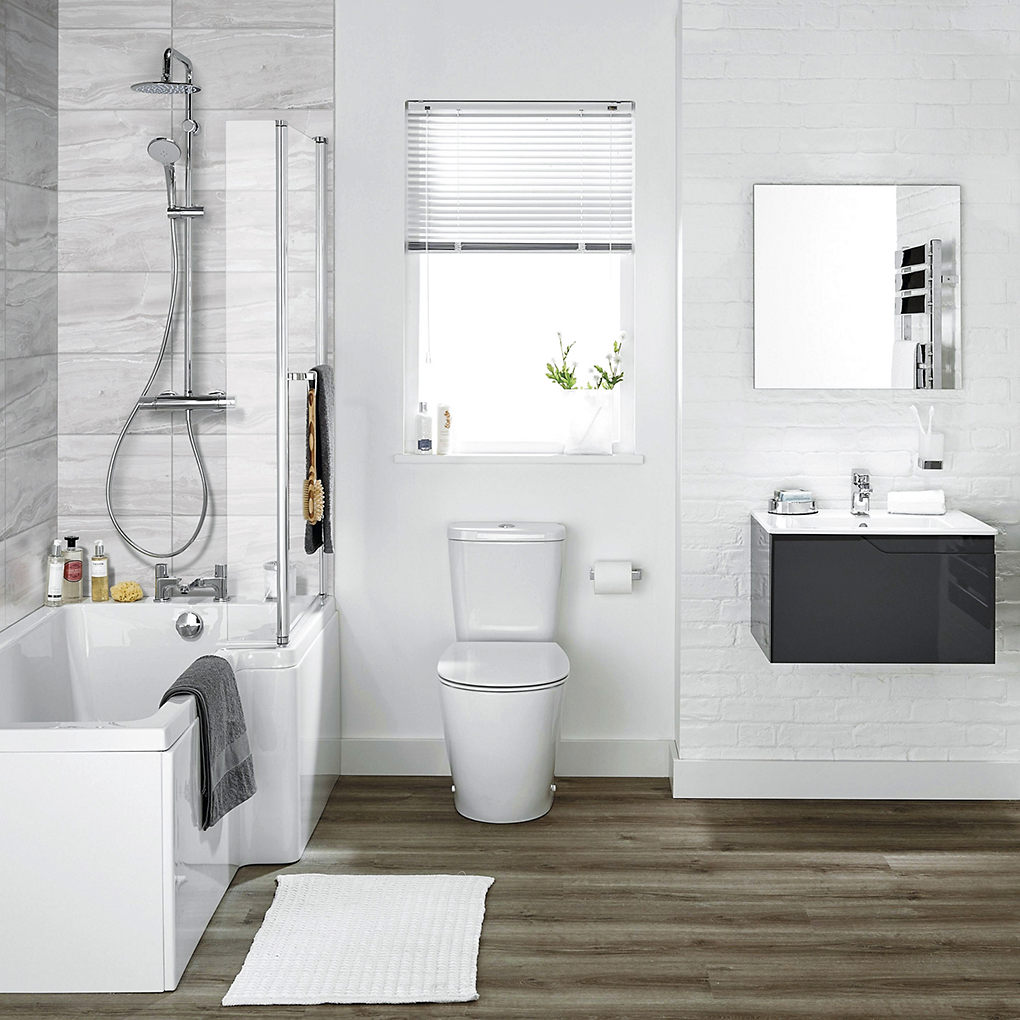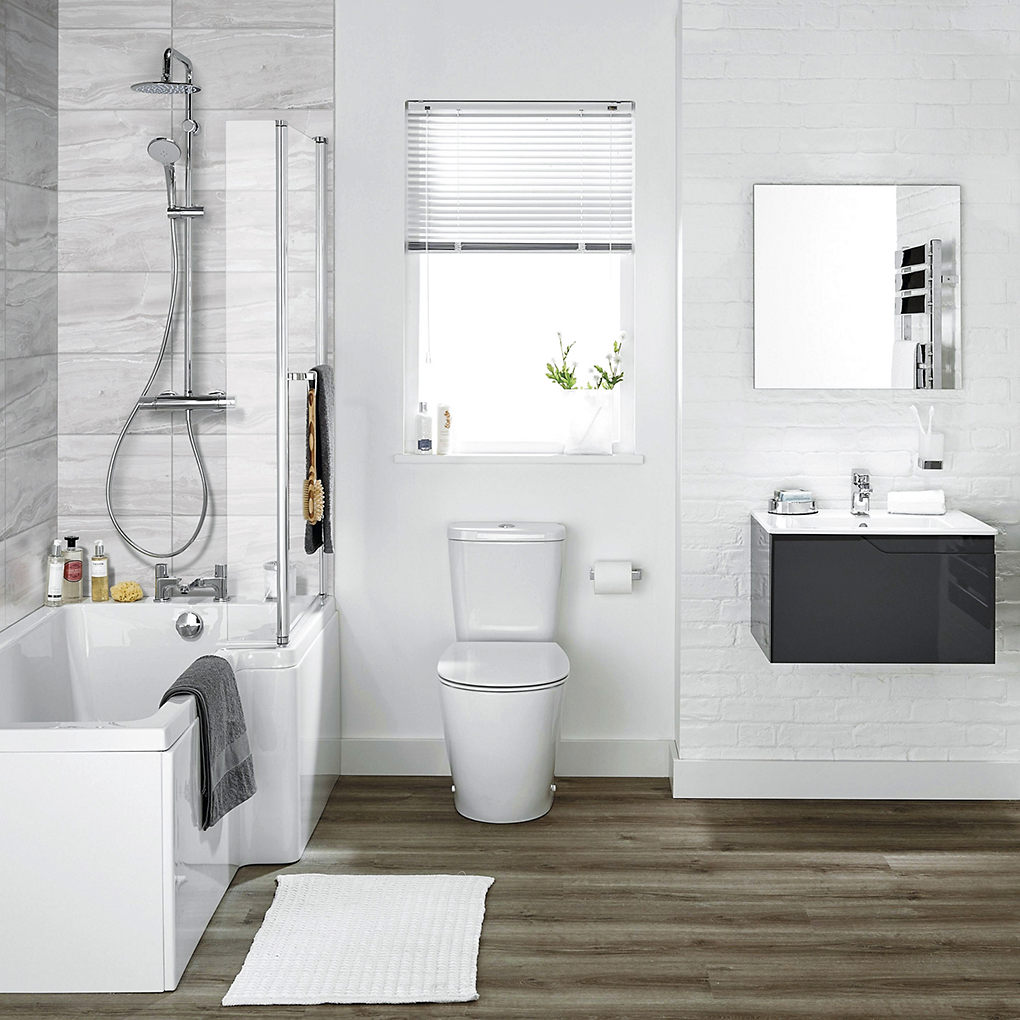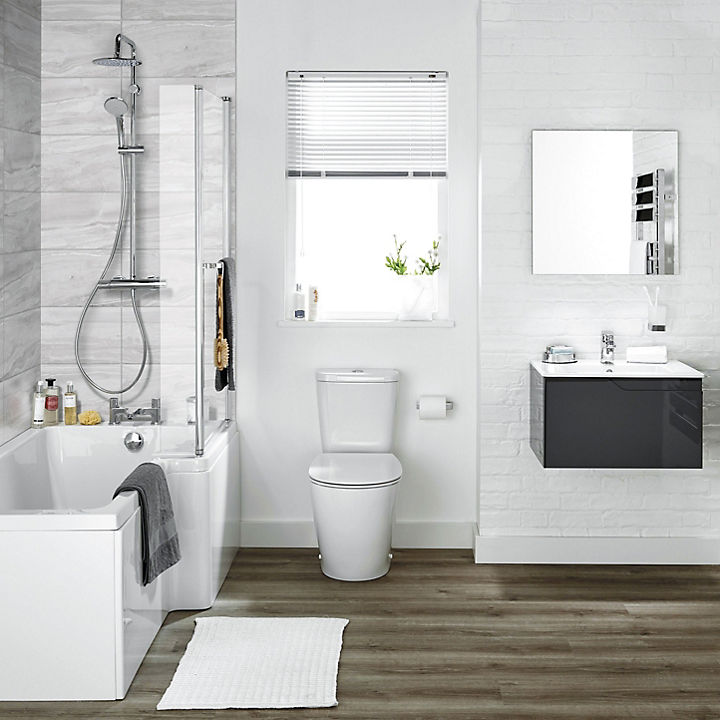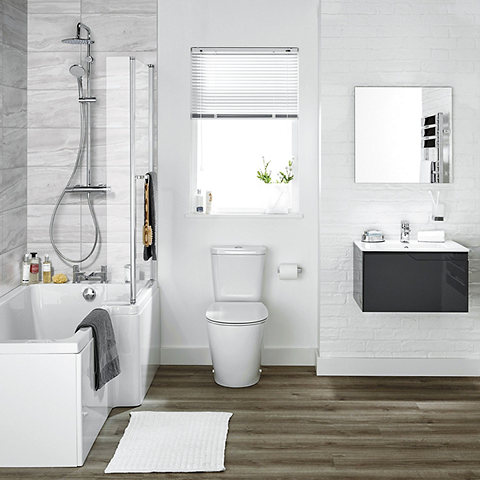 ---
Whether you're just updating your current toilet or replacing the whole system as part of a re-fit, it's good to know a bit about your plumbing before you choose your new toilet. Here are a few things to think about.
Connecting your soil pipe and spigot
The spigot is the round outlet at the back of your toilet pan that connects it to the soil pipe. Depending on the toilet, the spigot can either be connected to the soil pipe vertically, or to the left or right. The soil pipe is connected to the outflow pipe so that waste will then flow into the sewers.
The type of toilet you choose defines how this connection can be made, so you should check the height, diameter (of both the spigot and the soil pipe) and position of soil pipes in order that you can choose a toilet that will work with it.
If your spigot and soil pipe are different heights, you can use a flexible connector to join them – again you'll need the diameter to choose the right one for you.
---
There are two different options of close-coupled toilets for you to choose from, opened back or back to wall. Opened back toilets are specifically designed to provide room at the rear of the toilet pan so that it can connect to the soil pipe from any direction – check out the Cavally close coupled toilet as an example. This style works well if the soil pipe can't be moved easily, with a lot of older properties having a cast iron pipe fixed to an internal wall.
The back to wall (sometimes known as fully shrouded) toilet's pan has sides that go straight back and touch the wall – not to be confused with the back to wall toilet which has a concealed cistern. Neat and tidy to look at, back to wall close-coupled toilets are easier to keep clean than the opened back options, as you don't have to get under or around the pipework.
On a low level toilet the pan and cistern are separated by a flush pipe but, as the name suggests, the pipe is much shorter and the cistern is fastened lower on the wall. The low level toilet offers the traditional look when there's not enough space to have a high level toilet – if, for example, there's a window or shelving above the toilet. Check out this low level version of the Cooke & Lewis Serina model.
Back to wall
A popular choice on the continent, back to wall toilets have hidden or concealed cisterns. The cistern can either be placed behind a false wall, or installed into a cabinet that is part of your bathroom furniture.
If you want a modern look, choose the wall hung toilet - it doesn't touch the floor, giving the illusion of more space and allows you to clean underneath the toilet. Like back to wall toilets, the wall hung toilet has a concealed cistern.
You'll need a wall mounting frame to be able to hang this toilet from the wall – you can then hang at whatever height you want (within reason).
---
Dual flush
Did you know that about 22% of our water* is flushed away? It soon adds up as a single flush from one of our toilets can use up to six litres alone. The dual flush cistern lets you decide whether you need a full flush or a reduced flush with buttons or levers allowing you to control the amount of water used. A reduced flush uses only four litres, so is a lot more ecological. Whichever toilet you choose, check the water label to understand how water efficient it is.
*Source: Energy Saving Trust "At Home With Water 2" 2015
If you're looking for a toilet that's stylish and boasts exceptional performance, have a look at our rimless Cavally & Teesta ranges. The unique design creates two powerful blades of water that flow around the bowl and blast through all dirt and grime. As well as this, they also have a quieter flush.
The Cavally & Teesta ranges can also be introduced to the rest of your bathroom with matching basins available too.
Toilet height
The standard height of a toilet is around 35 to 38 centimetres (or 14 to 15 inches) tall from floor to top of the bowl. However, you might find that positioning your toilet at a different height may be more comfortable for you. Explore our wall hung toilets – once you've checked out the plumbing you can secure the bowl at whatever height suits you and your household.
When it comes to the look of your bathroom, en-suite or cloakroom, there's no need to worry about colour when it comes to picking your loo. All of our toilets are white and so easily work with any colour scheme.
Once you're decided on the type of toilet, another feature to consider is the bowl shape. Space and comfort should be your key considerations here. A rounder toilet bowl is a good choice for the smaller bathroom or en-suite, while the traditional oval bowl is more comfortable and takes up slightly more room. And for a modern look, why not try a square-shaped bowl?
---
Once you've decided on the type of toilet you want, it's time to think about seats and which features are right for you.
When picking your toilet seat, there are different type of materials to choose from, such as plastic and polypropylene, resin, wood and bamboo.
Plastic and polypropylene are very durable. It can also bring a splash of fun and personality to your bathroom thanks to patterned designs, bold colours. These can coordinate with the rest of the room to create a real sense of unity.
Alternatively, opt for wood or Bamboo. It's warmer and has a traditional quality that complements period homes. Our range offers a selection of shades to sync up with your bathroom furniture and worktops for a seamless bathroom style
Soft close toilet seats
Ideal if you're tired of hearing the lid or seat slam, soft close seats ensure that they always shut gently, and reduce wear and tear on your seat and pan.
Easy to install toilet seats
A universal hinge feature which offers easier and quicker installation to adapt the toilet seat position, in width and length on the toilet and ensure stability.
Some of our toilet seats have a built-in top fix hinge fitting system making installation quicker and easier. Quick release hinges for easy removal to allow more thorough cleaning and better hygiene.
---