Bathroom lighting buying guide
Illuminate the bathroom for washing and relaxing
The bathroom is one of the most used rooms in the home. It's where you get ready in the morning and where you can relax after a long day. With that in mind, it's essential to choose the right lighting for it.
While the bathroom can often be on the small side, that doesn't mean that your options are limited. In fact, there are plenty of exciting ways to create a bathroom lighting scheme that helps with everyday tasks and set a mood for private indulgence.
Read on to create your perfect bathroom lighting.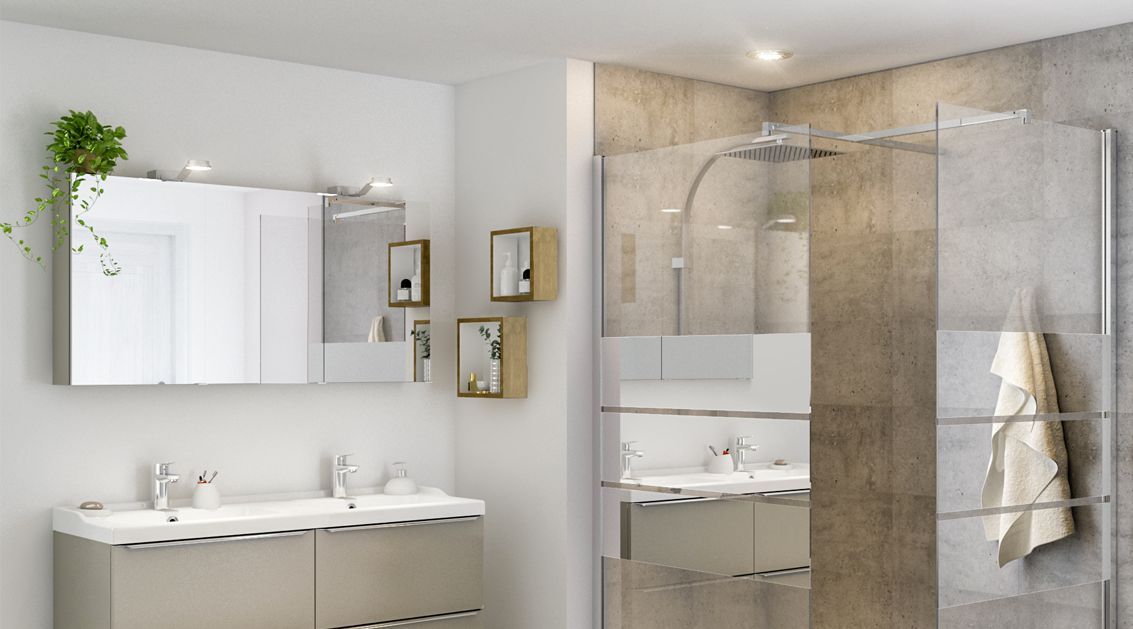 Explore your bathroom lighting options - from task lighting for washing and shaving, to softer ambient options for bath time relaxing.
Before you begin
Take time to consider a few key questions before buying.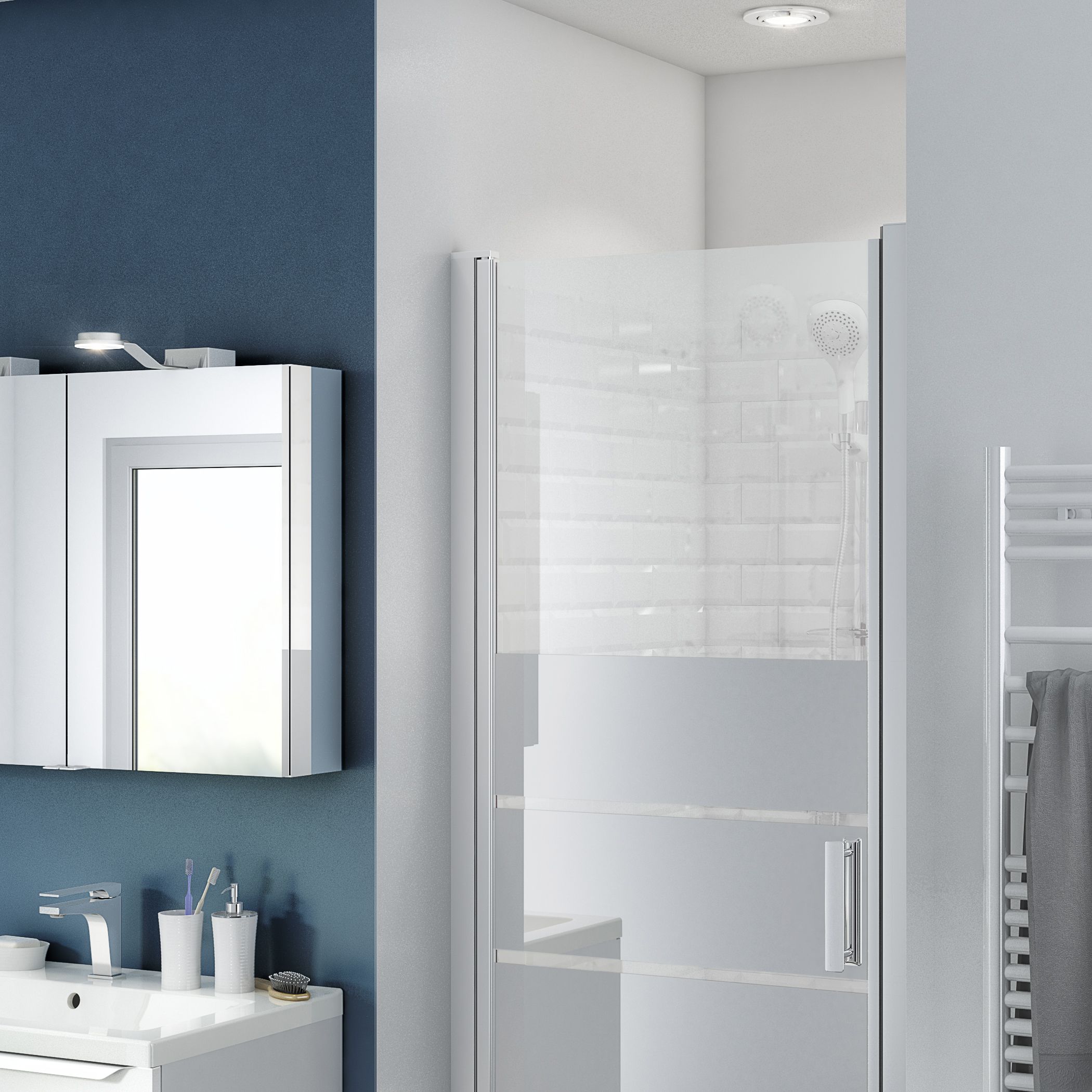 Bathroom update or a complete refit?
The effort and cost involved varies a lot based on the scale of your bathroom lighting project. Are you looking to simply replace your existing lighting and re-use the same fitting? Or is the entire room being re-fitted with lighting as part of a bigger room re-design? If it's just a like-for-like swap, explore our range of lights in your chosen type in Tab 2. Or if you're looking for ideas and inspiration for a larger-scale project, read on.
Both instances benefit from taking measurements before buying and if you are tackling a bathroom re-fit, we recommend selecting your lighting before work begins. This is because you'll want to complete any necessary electrical and fitting work before the likes of any tiling has started. It also helps you make the most of any recesses – adding variety and interest to your lighting plan.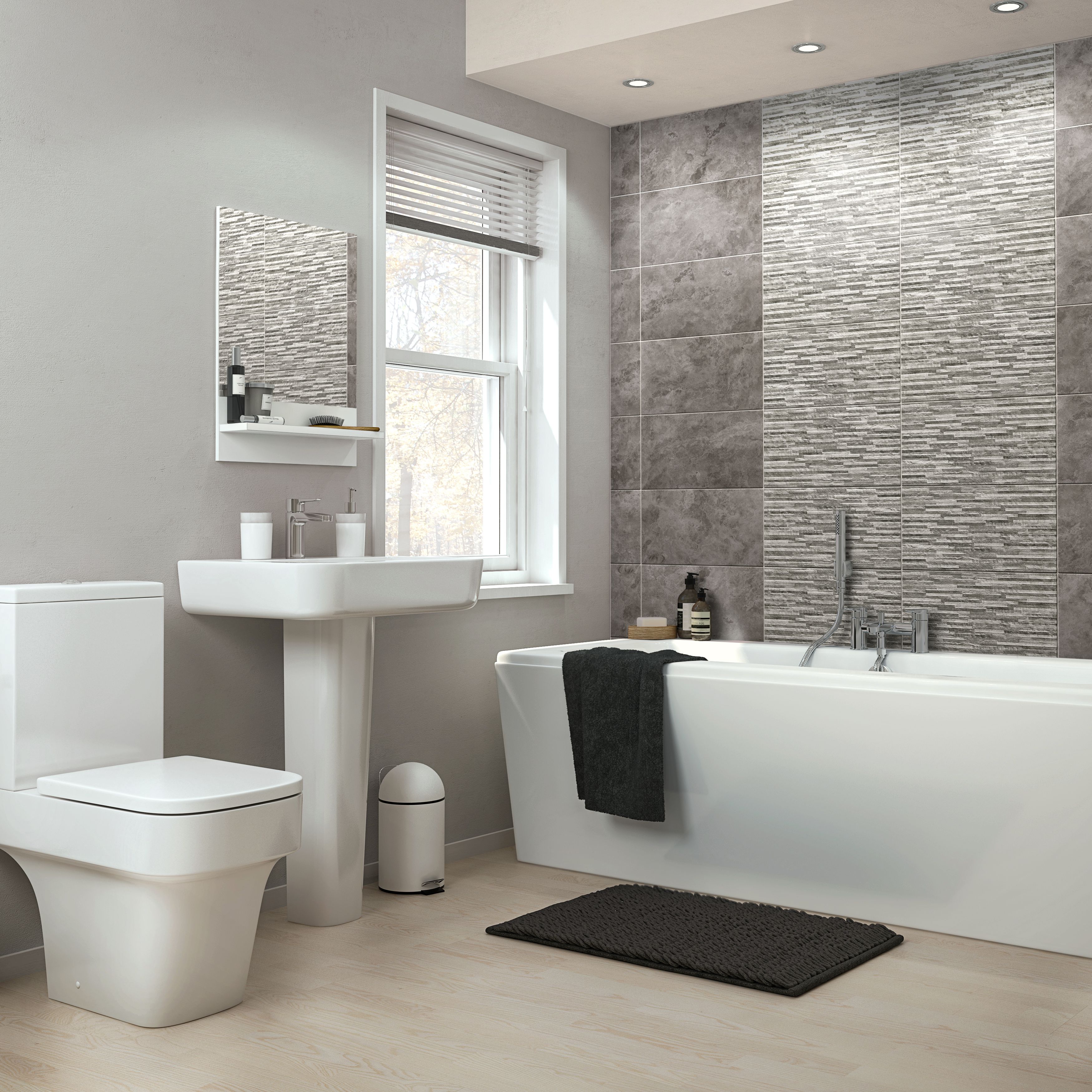 Consider the bathroom
As with any kind of renovation project, it's important to understand what you're working with and in this case, it's all about your bathroom.
Think about its shape and size. Often bathrooms are the smallest room in the house, but this doesn't have to limit your options. Different types of lighting can be layered together to create harmonious lighting schemes in quite compact spaces.
Is there any natural light? If so, how does it balance with the artificial light? If you don't have any natural light, your lighting scheme will be solely responsible for illuminating this important room, so be sure that it works for all uses.
What look are you going for? Perhaps you're preserving the current style or are keen to switch it for something new. From modern to traditional, monochromatic to colourful, luxury spa to quirky vintage, there are endless style options and good lighting can provide the ultimate finishing touch to bring it to life.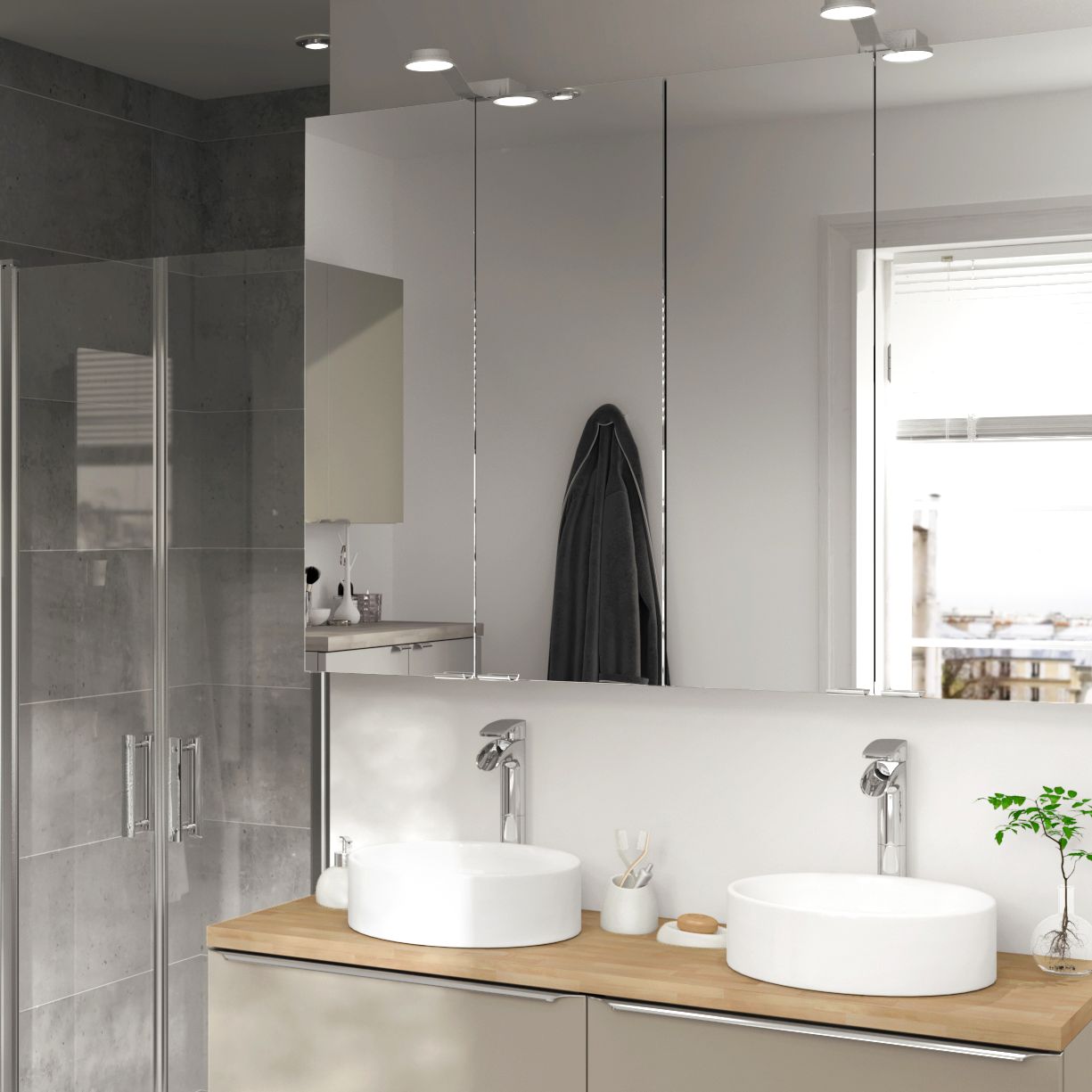 Where in the bathroom is being lit?
The final consideration examines how you use your bathroom and so where lighting is needed. There are two main types of lighting – task and ambient lighting.
Task lighting
Task lighting is functional, providing total coverage for everyday routines, such as shaving, washing and applying and removing make-up. It's essential in all busy spots, such as the basin, toilet and shower.
Ambient lighting
Creating mood and atmosphere, ambient lighting is all about setting the scene through clever use of lighting. Maybe this light is dimmed, changes colour or is even a natural flame – the light fitting itself can also be decorative to make a style statement.
Task and ambient lighting
Combine the two to create a lighting scheme that truly makes the most of your bathroom. This may well mean more of one type than the other. If you're lighting a busy family bathroom you might need more functional lighting; whereas for a relaxing sanctuary dial up the ambient elements. A happy balance lies in learning how to layer the types of lighting to suit your needs.
Types of bathroom lighting
The two types of lighting – task and ambient – are achieved through different types of lights.
Task lighting options include recessed downlights, spotlights, cabinet lights and mirror lights. Ambient lighting options include ceiling lights and wall lights. Of course, some types, such as ceiling lights and cabinet lights, can offer both – but it helps to have a clear sense of what its main use will be.
Let's explore the different types of bathroom lights available.
Zones and IP ratings
Shopping for a bathroom light is a little bit different to choosing one for living rooms, bedrooms and other living spaces. The amount of steam and moisture in bathrooms means that any light fittings have to be appropriately water-resistant. There are two ways in which we rank the suitability of lights for bathrooms – hazard zones and IP ratings.
Bathroom zones and IP ratings
The IET wiring regulations (the UK's national standard for safe electrical installation and wiring) divide a bathroom into hazard zones. These zones represent the distance from water sources, and as such determine what lighting is safe to use where. So for example, a light that is over a shower meets with more moisture than one away much further away from it, and so requires lighting with greater resistance to water.
This is how the zones look:
Bathroom hazard zones

| Zone | Bathroom location |
| --- | --- |
| 0 | Inside the bath or shower |
| 1 | Above the bath or shower to a height of 2.25metre (m) from the floor |
| 2 | The area stretching 0.6m outside the perimeter of the bath and to a height of 2.25m from the floor. The distance of 0.6m also applies to the basin. |
| Outside zones | The area anywhere outside of the above zones |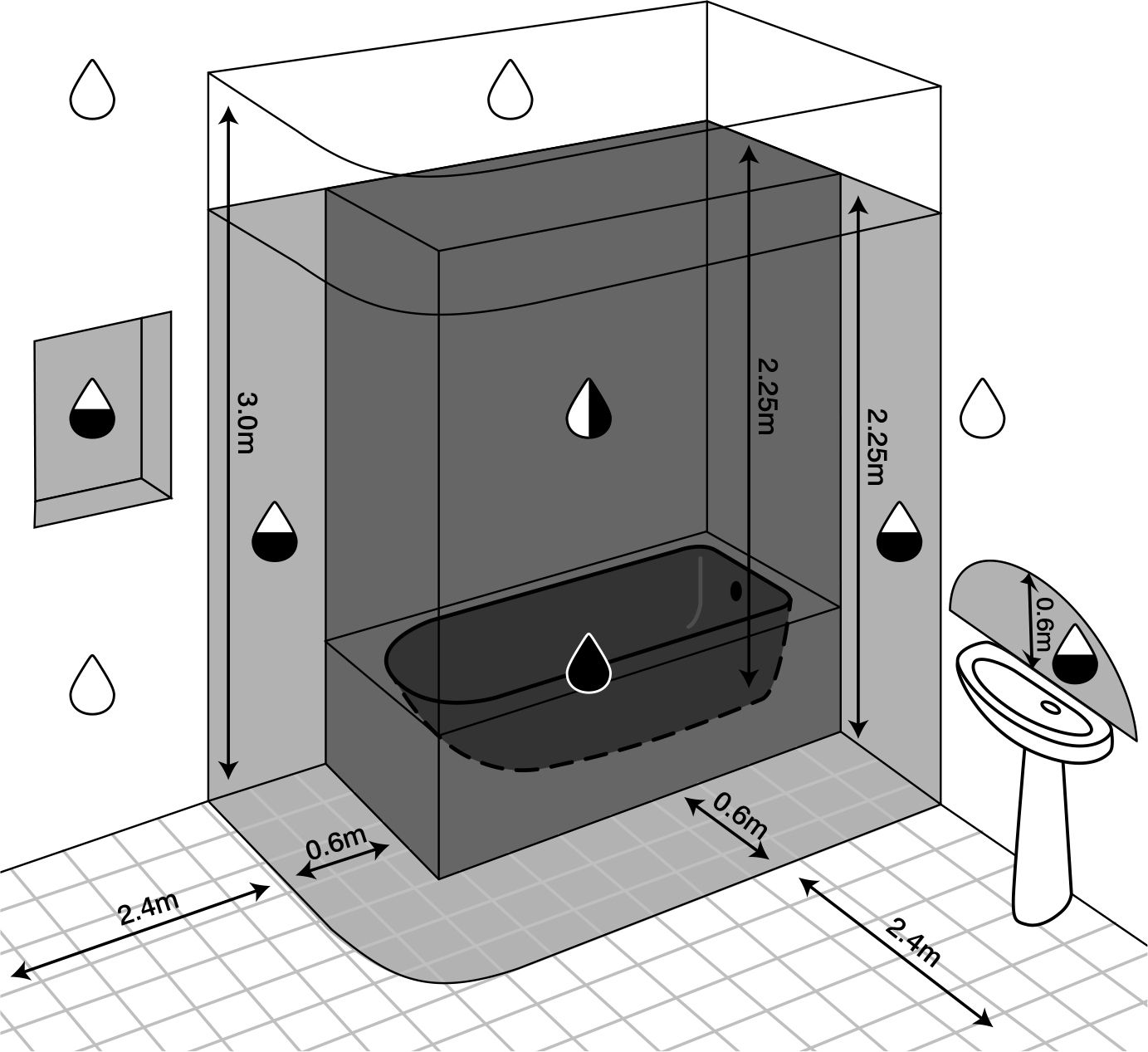 Bathroom lights can be listed with just their suitable bathroom zone, the corresponding IP rating or both. The IP (Ingress Protection) rating, also known as the IP code or International Protection Marking, ranks how effectively an electrical item is sealed against solid and liquid objects.
The ratings are given as the initials IP and then two digits. In this instance, we can overlook the first digit as it rates the protection level against solid objects. It's the second digit that's key for bathroom lighting and the higher it is, the greater the resistance to water.
Here's a breakdown of the scale for each of the second digit ratings.
Bathroom lighting IP ratings

| Level | Protected against... |
| --- | --- |
| 0 | No protection |
| 1 | Dripping water |
| 2 | Dripping water when tilted at 15 degrees |
| 3 | Spraying water |
| 4 | Splashing water |
| 5 | Water jets |
| 6 | Powerful water jets |
| 7 | Immersion, up to a depth of 1m |
| 8 | Immersion, beyond 1m |
When listed together, this is how bathroom zones and IP ratings correspond:
Bathroom hazard zones & IP ratings

| Zone | Minimum IP rating |
| --- | --- |
| 0 | IP67 |
| 1 | IP44 or IP45 if exposed to water jets. IP65 recommended. |
| 2 | IP44 |
| Outside zones | IP20. IP44 recommended. |
Check the listed zones and/or IP ratings to make sure your bathroom lights are safe to use in the desired spots before buying.
Essentials & other ideas
There are a few other ways to introduce extra lighting into your bathroom.
Complete your bathroom's new lighting scheme with a few more things.
Articles