Kitchen lighting buying guide
Brighten up the kitchen with task and ambient lighting
The lighting in your kitchen is vital to this busiest of rooms. We know that your kitchen is everything from the family dining area to where the culinary magic happens; a spot for homework and for parties. And with so much living going on, it can be hard to settle on a lighting scheme that works for everything and everyone.
That's where we can help. We're here to explore and explain all of your kitchen lighting options. So, whether you're redesigning your whole kitchen or just giving it a style refresh, we've got you covered.
Let's start shedding some light on how to find your perfect kitchen lighting.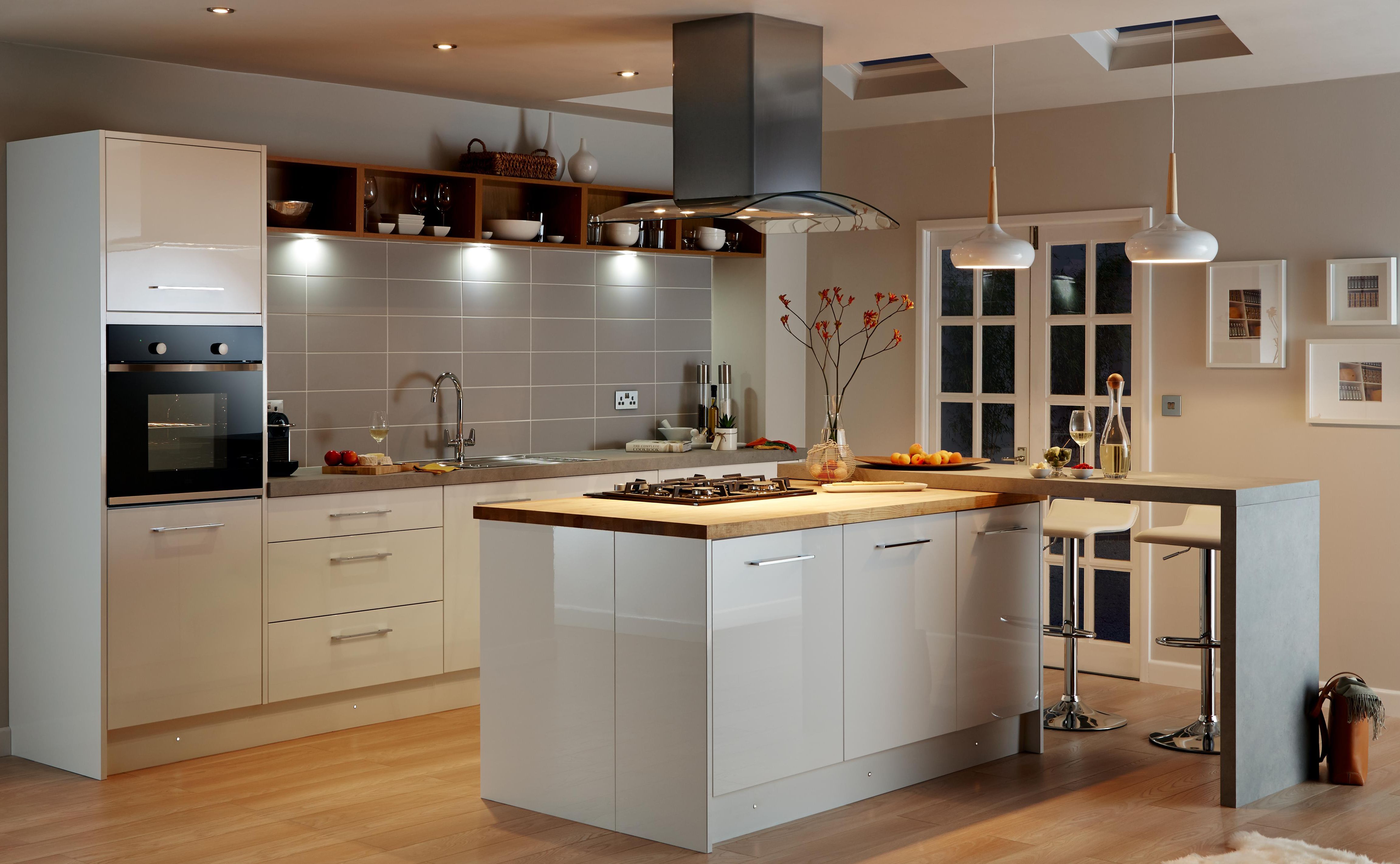 Before you begin
By identifying what you need from your lighting, you can better understand what your lighting options are.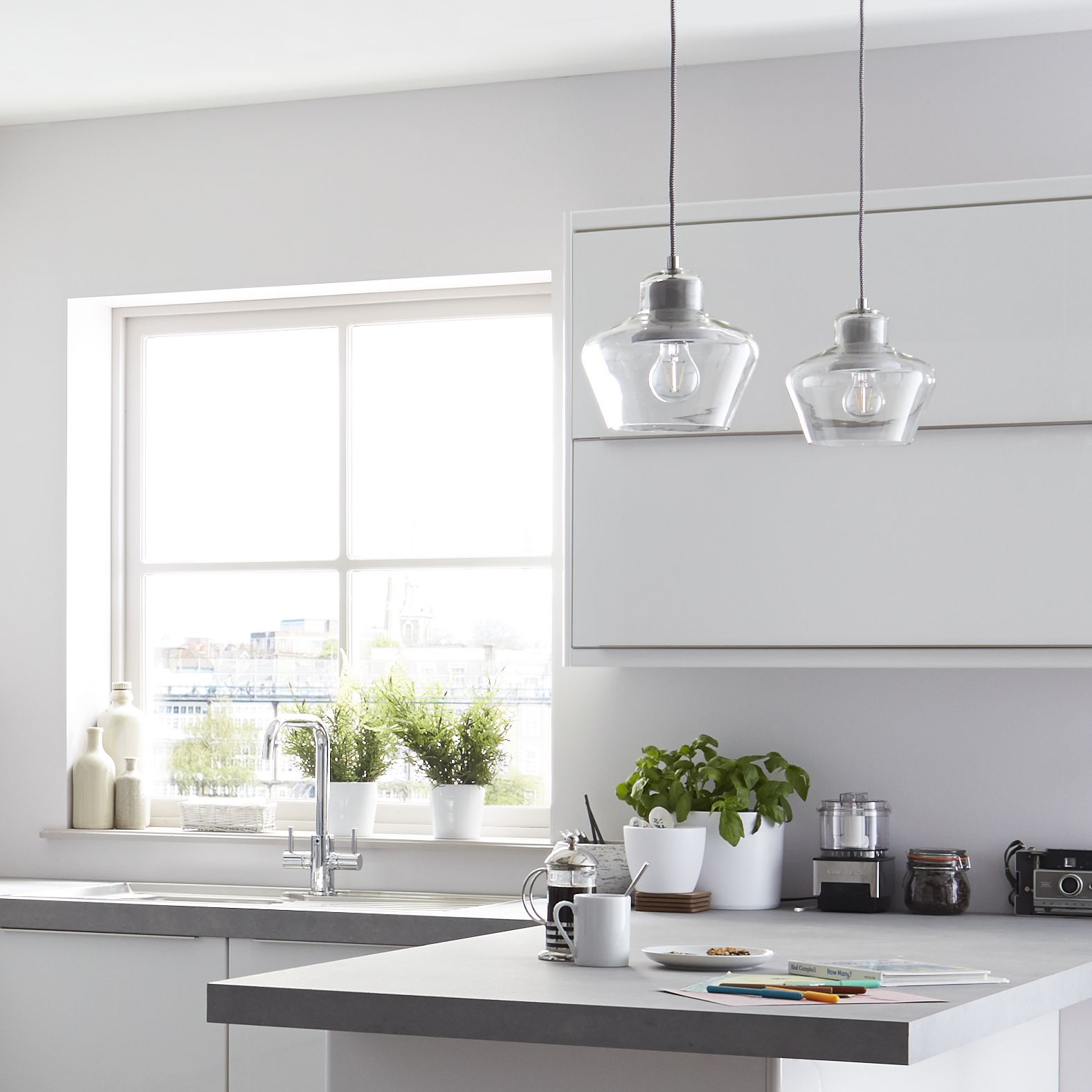 Kitchen update or a complete refit?
If you're updating your existing lighting with something similar, this can be quite a simple job. We advise checking fittings before swapping them over.
However, if you're adding new lighting as part of a complete kitchen revamp, this offers the exciting prospect of a blank slate. Create the lighting environment that you've always wanted and be creative with the available options. It can be easy to underestimate the impact of good lighting in the kitchen, but when you're installing new kitchen cabinets, worktops and more, show a little love to your lighting and it could be a real showstopper.
Naturally, planning is required in both instances. Ensure you have accurate measurements before buying. And if you're tackling the complete kitchen project, select your lighting before work begins. This is because the electrical and fitting work will have to be undertaken before other jobs, such as installing the kitchen cabinets.
Consider the kitchen
It's essential to get a sense of the space when creating a lighting scheme for your kitchen. Here are some key considerations.
What size is the kitchen? Dimensions are important. A compact kitchen doesn't rule anything out, all options are still possible, but a very big space could benefit from one type of lighting over another. Or it could also mean a greater variety of lighting types would work well with distinct zones.
What is the shape of the kitchen? Again, whether it's L or U-shaped, galley or island, there's no wrong answer. Simply think over whether you want to accentuate the shape of the room through the lighting or not.
Is the kitchen a single room or is it open plan? This is more about how the space is used. Is it just for cooking or is it a multi-functional space with room for dining, relaxing and after school study? Again, the latter offers the opportunity to introduce lighting zones.
How high is the kitchen ceiling? Low ceilings suit lighting closer to the ceiling to offer the greatest amount of coverage and avoid any accidents.
What is the design style of the kitchen? Kitchen styles range loosely from classic to contemporary, though many combine elements of the two. Consider the overall look and feel of your kitchen when deciding how best to light it. Do you want it to complement or contrast? Or again, combine the two to suit to create something truly unique to your home.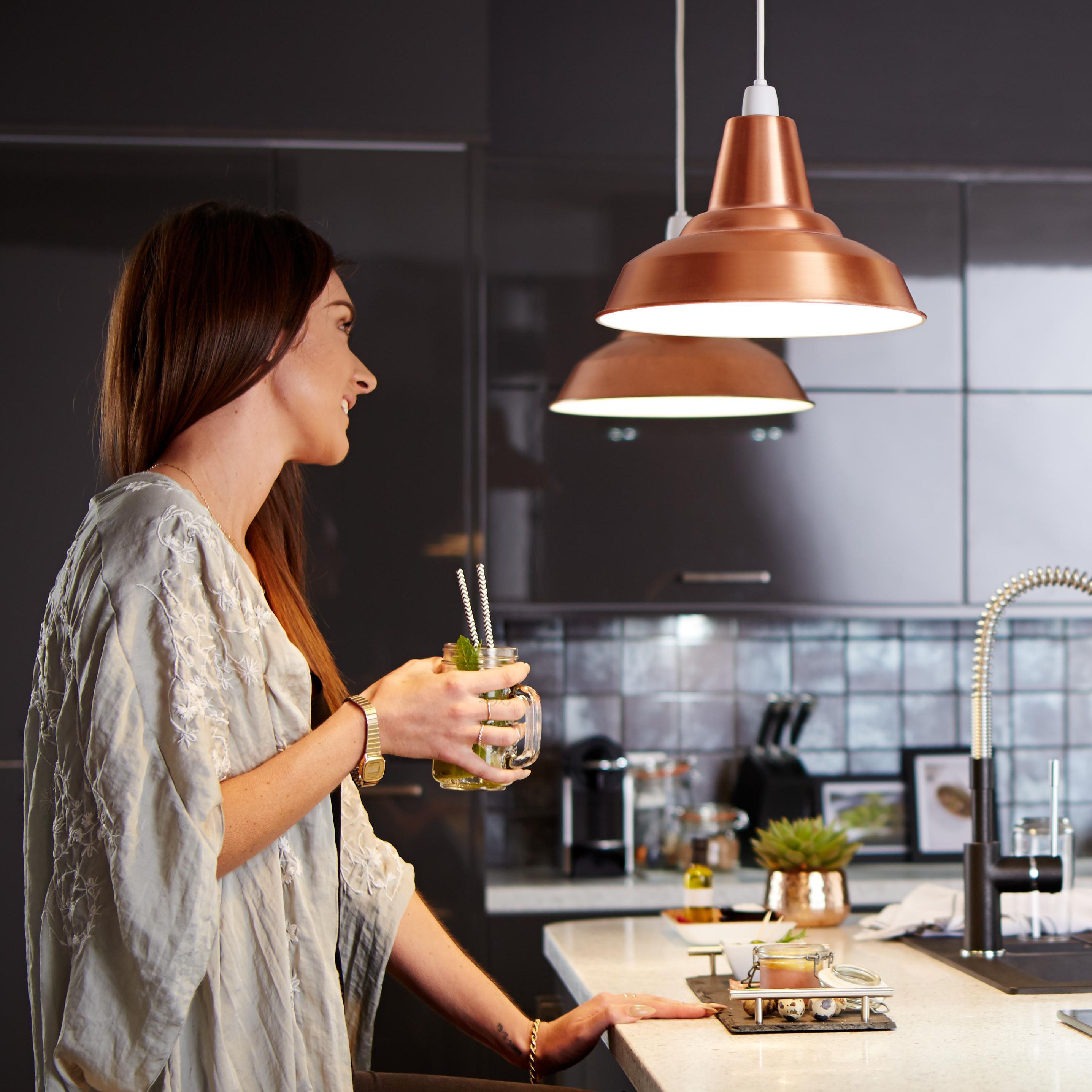 Where in the kitchen is being lit?
Now that we better understand the kitchen, it's time to think about how best to light it. There are two main ways to do so - task and decorative lighting.
Task lighting
This highlights key working areas, offering clear visibility for important kitchen jobs like cooking and cleaning. Vital around much-used areas like near your cooker or sink, task lighting ensures that you stay safe and can easily see everything that you need to.
Ambient lighting
In contrast, ambient lighting is about creating a mood through use of lighting. This might be private and romantic for intimate dinners or soft and subtle for easy unwinding. It's not about function but feeling. Ambient lights, also known as decorative lights, can also add to the look of the room, making more of a design statement through both the light fitting itself and the illumination it provides.
Task and ambient lighting
The good news is that you don't have to choose one or the other. Both are possible and work brilliantly together; creating different zones in the kitchen through different types of lighting. Why not use task lighting to offer directional light in working areas and then ambient with a dimmer switch in the dining space? One space, two functions all through clever use of lighting.
Lastly, are there any areas in the kitchen to highlight? Think about what you'd like people to notice first in your kitchen. Is it the period features of an older property? Overlooked nooks and crannies, the kids' artwork or much-loved furniture? Lighting is a fantastic way to direct the eye to these treasures and more.
Types of kitchen lighting
We've established that there are two ways to light your kitchen - task and ambient lighting. Now we explore how to achieve these through different types of kitchen lights.
Task lighting options include recessed downlights, counter and cabinet lighting, tube lighting and spotlights. Ambient lighting options include pendants and plinth lights.
IP rating
When shopping for a kitchen light, it can help to consider its IP rating.
IP (Ingress Protection) ratings measure the effectiveness of an electrical item to seal against solid and liquid objects. This scale is especially important when applied to lighting in rooms that are prone to moisture - such as kitchens, bathrooms and wet rooms. All the cooking and cleaning of busy kitchens demands water-resistant lighting and so be sure to check your chosen light's IP rating before buying.
Also known as the IP code or International Protection Marking, the IP rating is comprised of the initials IP followed by two numbers. The first number measures the protection rating against solid objects, while the more important second number indicates water-resistance. The higher the number, the more protection offered.
Here's a breakdown of the scale for each of the second digit ratings.
IP ratings

| Level | Protected against |
| --- | --- |
| 0 | No protection |
| 1 | Dripping water |
| 2 | Dripping water when tilted at 15 degrees (°) |
| 3 | Spraying water |
| 4 | Splashing water |
| 5 | Water jets |
| 6 | Powerful water jets |
| 7 | Immersion, up to a depth of 1metre (m) |
| 8 | Immersion, beyond 1m |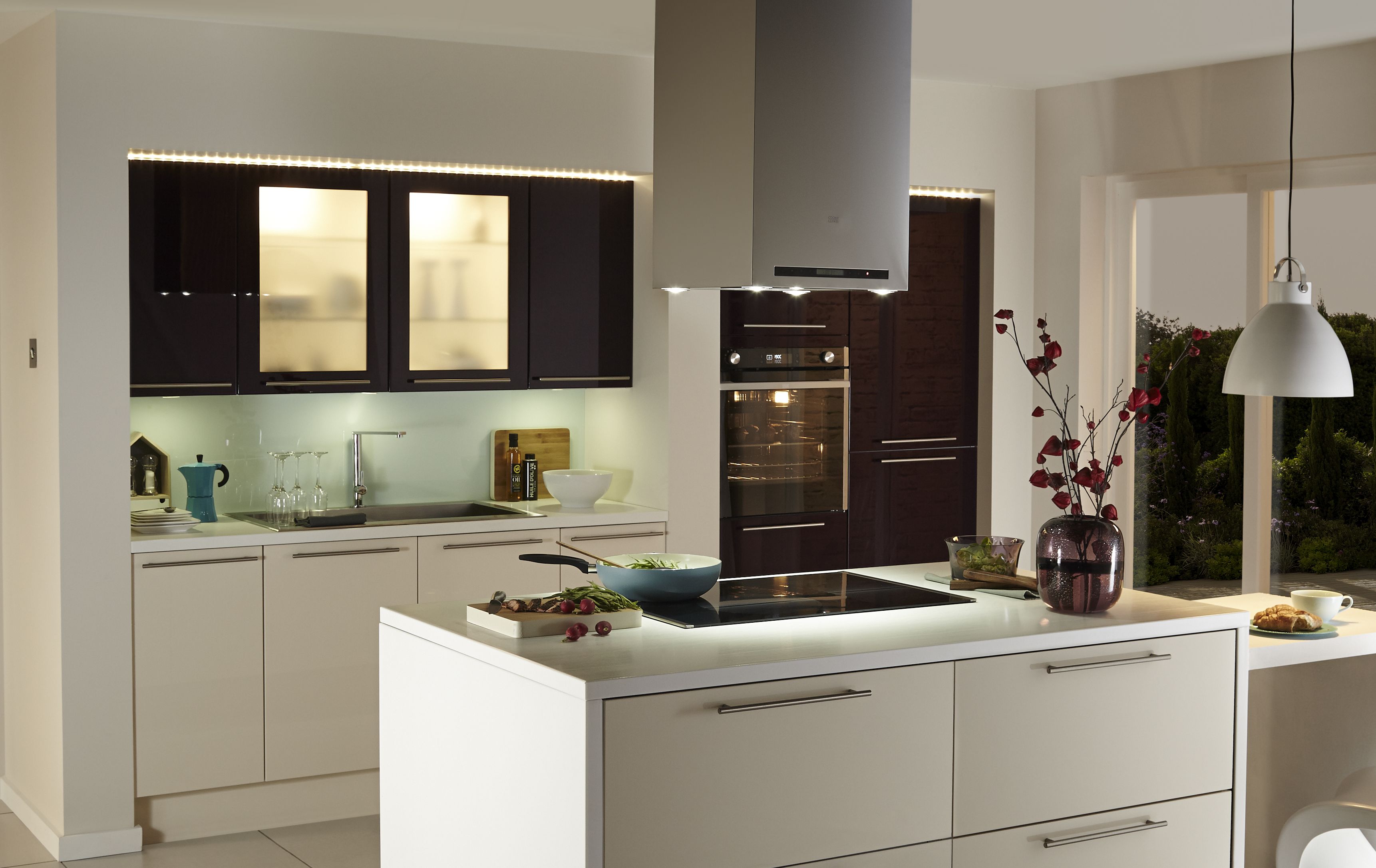 Essentials & other ideas
Once you've chosen your lighting scheme, you may need a few final touches to complete your kitchen project.
the shape of the switch mechanism. Explore toggles, push buttons and flip switches to find the easiest one for you and your family.
the profile – raised for greater prominence or flat for a sleek, contemporary feel
the finish and colour. Choose from effects such as metallics (like nickel, brass, copper and steel in brushed and polished finishes), woods or high gloss in monochrome shades. Alternatively introduce some colour with moody blacks, warm mochas or just change the front plate for an instant pop of vibrant colour.
the inclusion of screws. We offer screwless models that keep the plate streamlined and clean looking.
framing – achieve period detailing with an ornate frame or keep things simple without
For help on fitting your new light switch, check out our helpful guide before you begin.
Read How to replace a light switch
Shop light switches Shop dimmer switches
With your lighting scheme decided on, we've one more idea to bring extra light into your busy kitchen.
Articles