Outdoor lighting buying guide
Stay safe and have fun with our garden lighting options
Enjoy your garden after dark by introducing some outdoor lighting. It not only helps you move around your space safely, illuminating paths and changes in level, it can also help create an atmosphere for socialising or dining. Be it for fun family parties; romantic, intimate dinners or quiet, relaxing time alone. And with such a range of designs on offer, garden lighting can become an attractive feature to complement contemporary or more classic garden styles.
So whether you're looking for a permanent solution, or ones that can be put up and taken down as and when you need them, we have lighting options to help you make the most of your outdoors space.
Before you buy
With so many uses for outdoor lighting, there are a few things to consider before buying.
What area do you want to light?
The area in need of lighting often determines what lighting type would work best in this space. So, if you're looking to light up a path for example, this would require navigational lighting that helps people stay safe and easily follow the route, rather than a decorative alternative that might only illuminate a portion of the path. So, have a think about your space and how you use it to shape your lighting design.
Do you want your lights to be portable?
When it comes to whether or not you can move your outdoor lighting around, power source plays a large part. Fixed, electrical lights need to be connected to the mains making them the ideal choice if you want lighting close to the house. Whereas candles, battery or solar-powered lighting have no restrictions and can be moved around as, and when, you like. So, if the area you want to light is a distance from your home, or you want to be able to adjust your lighting based on what you're doing, choose one of these options.
Power sources
Power source is a critical consideration when choosing the best outdoor lighting for you – most of lighting types come with more than one option.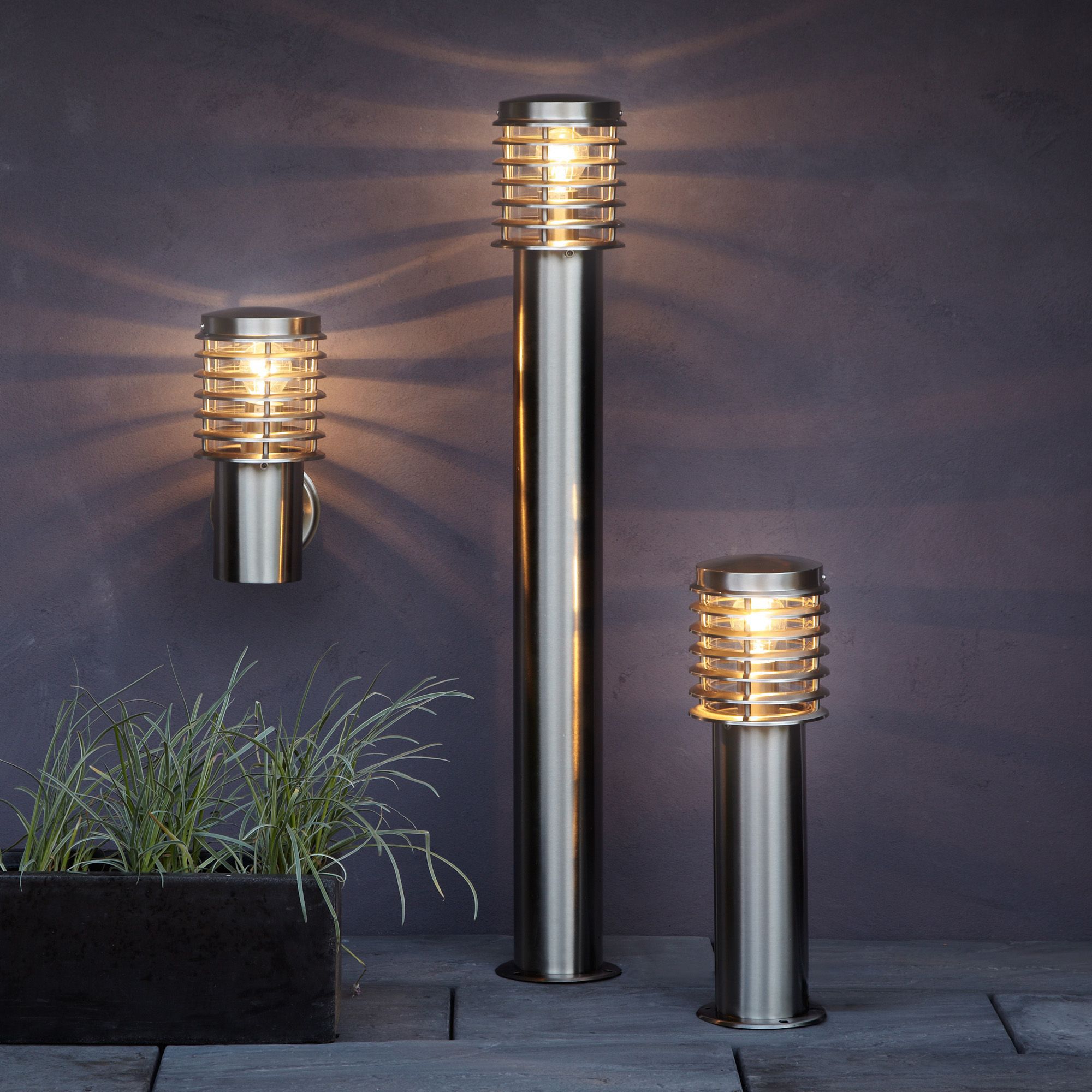 Electrical lighting
Mains power provides consistent and uninterrupted lighting which will burn brightly and for us long as you want it to. Being a permanent fixture, it has to be fixed into place and be properly fitted.
If you plan to install, or make changes to an outdoor power or lighting circuit, head to the Planning Portal website or contact your Building Control Office for more advice on what's involved.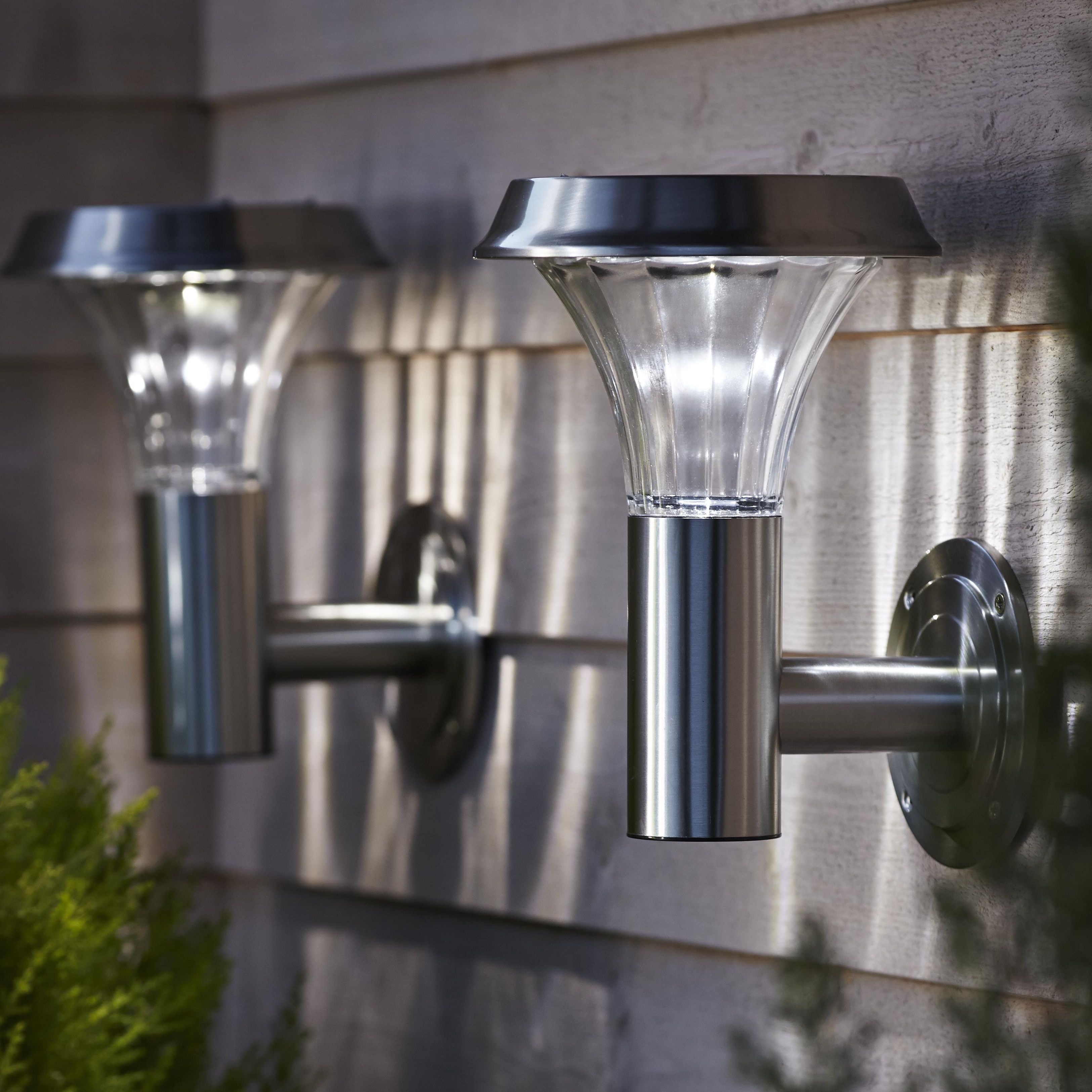 Solar-powered lighting
Solar-powered lights don't need any wiring as they store sunlight energy in a battery, which is activated once the sun goes down. Due to improvements in technology, solar lights are now more powerful and last longer than they once did, so there's no need to buy any to keep in reserve or worry about whether they'll last into the night.
Solar-powered batteries only need replacing if they stop working, so once you've bought a solar-powered light, simply place it wherever suits and forget about it.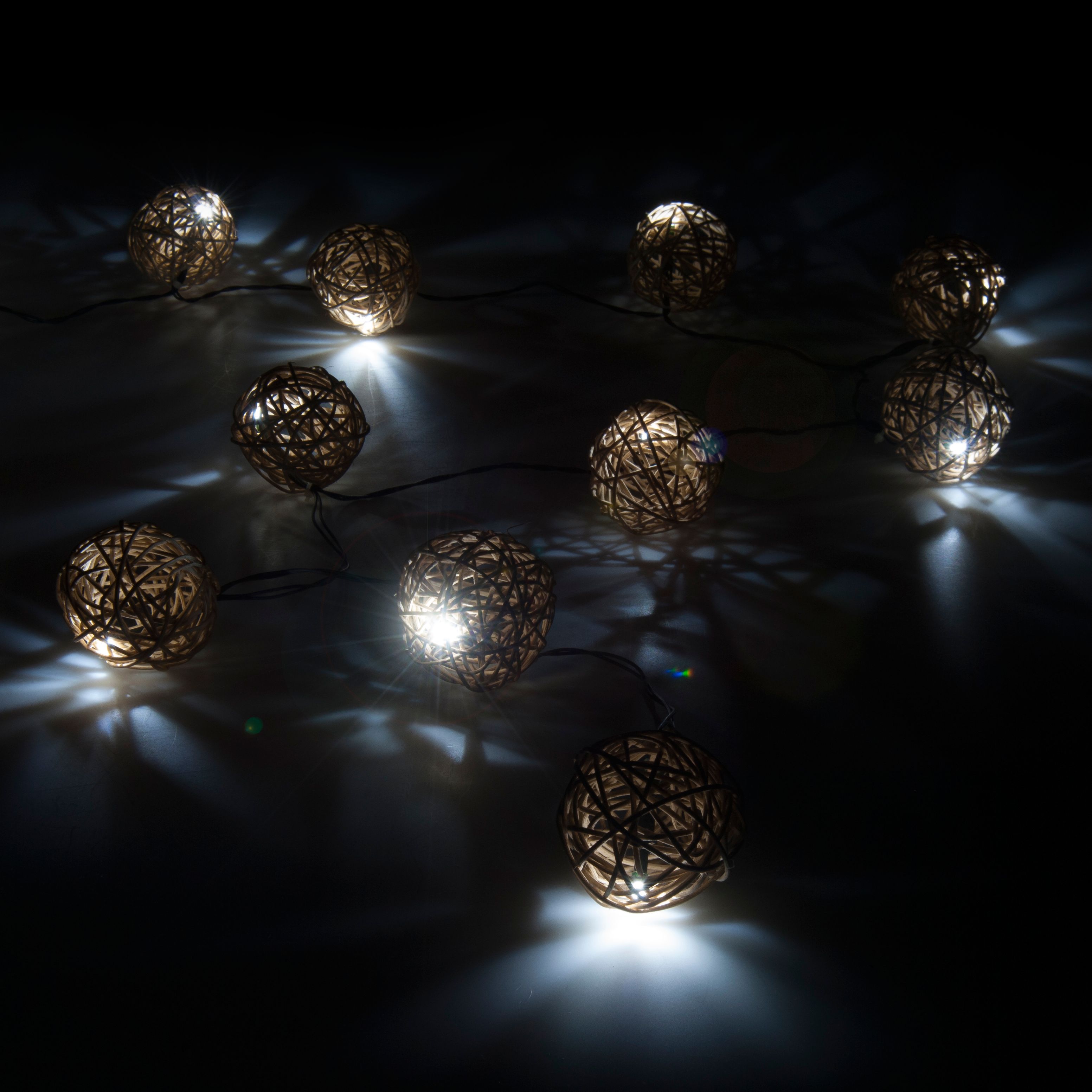 Battery-powered lighting
Like the solar-powered options, battery-powered lighting doesn't need wiring and is portable. However, unlike solar, it emits a consistent amount of light until the battery runs out.
The batteries will need to be replaced every so often, with this becoming more regular with bigger lighting options or if used more frequently. This can be costly, so if you're looking for larger options that will be used all the time, we recommend considering solar-powered or electric versions.
Candles
Dozens of tea lights can add drama to your garden. Whether used on a large scale such as lined up in rows along a path, the edges of garden steps or on top of a wall; or just a few here and there on a dining table for a more intimate setting.
Depending on the size of candle and how often you use them, candles can be used up quite quickly and will need replacing. Being naked flames, they should never be left unattended and not placed too close to trees or bushes that could be set alight by them.
Types of outdoor lighting
There are two types of outdoor lighting: functional and atmospheric.
Functional lighting tends to be fixed in place, helping you and others navigate around your outdoor space - be it the front or back garden, driveway or any paths and alleyways. It can also illuminate particular areas, such as decked and paved surfaces.
Atmospheric lighting, on the other hand, is about creating ambience and mood – such as when you're hosting a party or eating al fresco at night.
Add one or both to your outdoor space to create the perfect lighting design for you.
Functional lighting
There are a number of options available when looking for functional lighting in your garden.
Atmospheric lighting
Set the mood with our atmospheric lighting options.
Features
There are a few features and technical specifications to look out for when shopping for garden lighting.
IP rating
Electrical, battery and solar-powered outdoor lights have an IP (Ingress Protection) rating. This refers to how well they're protected from intrusion of water and dirt.
The first digit of an IP rating refers to intrusion protection – whether you're protected from its moving parts, as well how protected the equipment is from foreign bodies:
0: No special protection.
1: Protection from a large part of the body, such as a hand (but no protection from deliberate access); from solid objects greater than 50mm in diameter.
2: Protection against fingers or other objects no greater than 80mm in length and 12mm in diameter.
3: Protection from entry by tools, wires etc. with a diameter of 2.5 mm or more.
4: Protection against solid bodies larger than 1mm (e.g. small tools).
5: Protected against dust that may harm equipment.
6: Totally dust-tight.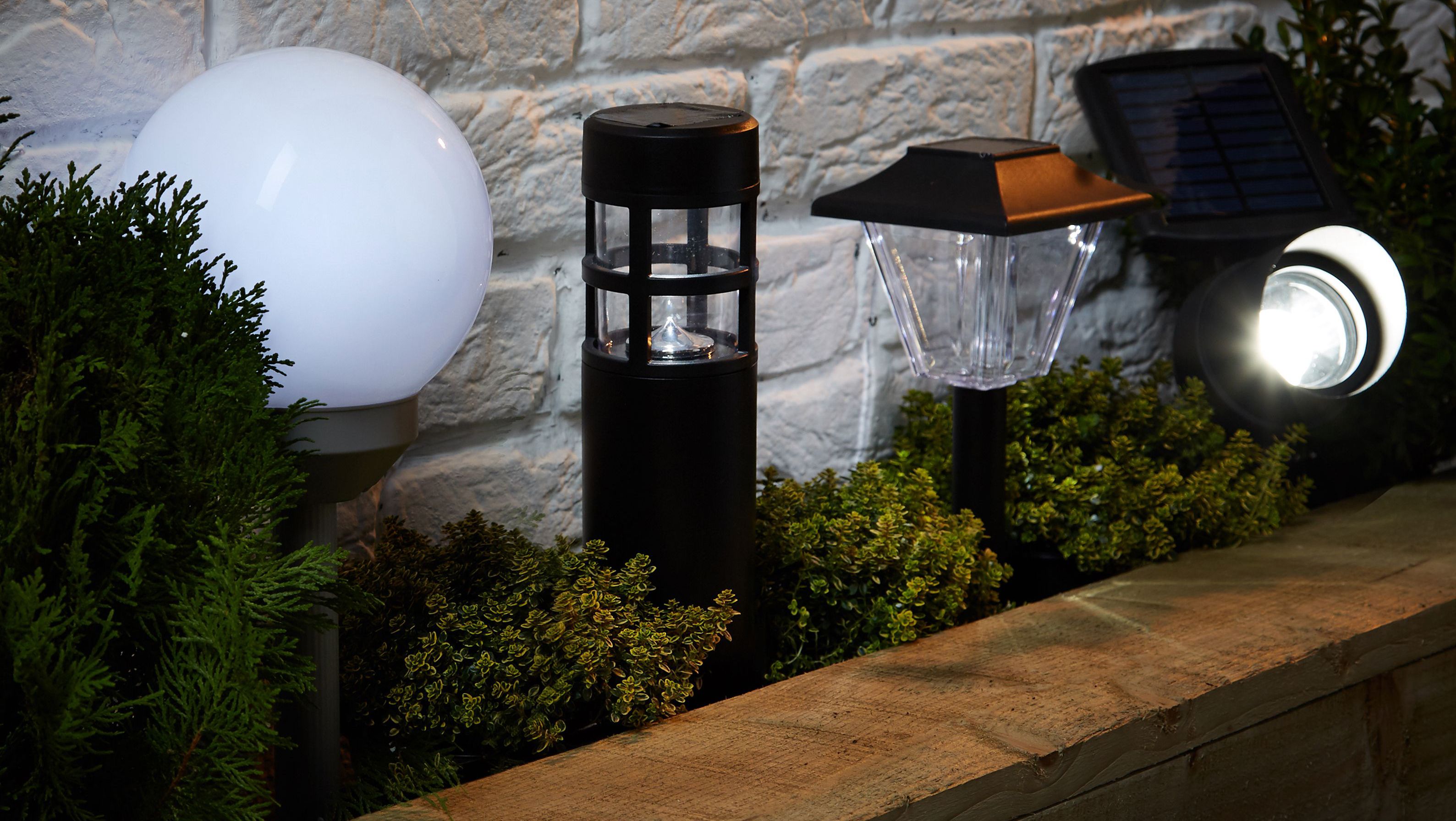 The second digit of an IP rating refers to protection against moisture:
0: No protection.
1: Protection against condensation.
2: Protection against water droplets deflected up to 15 degrees from vertical.
3: Protection against spray up to 60 degrees from vertical.
4: Protection against water spray from all directions.
5: Protection against low-pressure water jets (all directions).
6: Protection against string water jets and waves.
7: Protection against temporary immersion.
8: Protection against prolonged effects of immersion under pressure.
So, for example, a light with an IP rating of 68 will be very protected from both intrusion and moisture and would therefore be ideal for your garden pond.
A number replaced by an X indicates that the enclosure is not rated for that specification. Therefore, a light with a rating of X4 hasn't been rated for intrusion, but offers protection from water spray in any direction.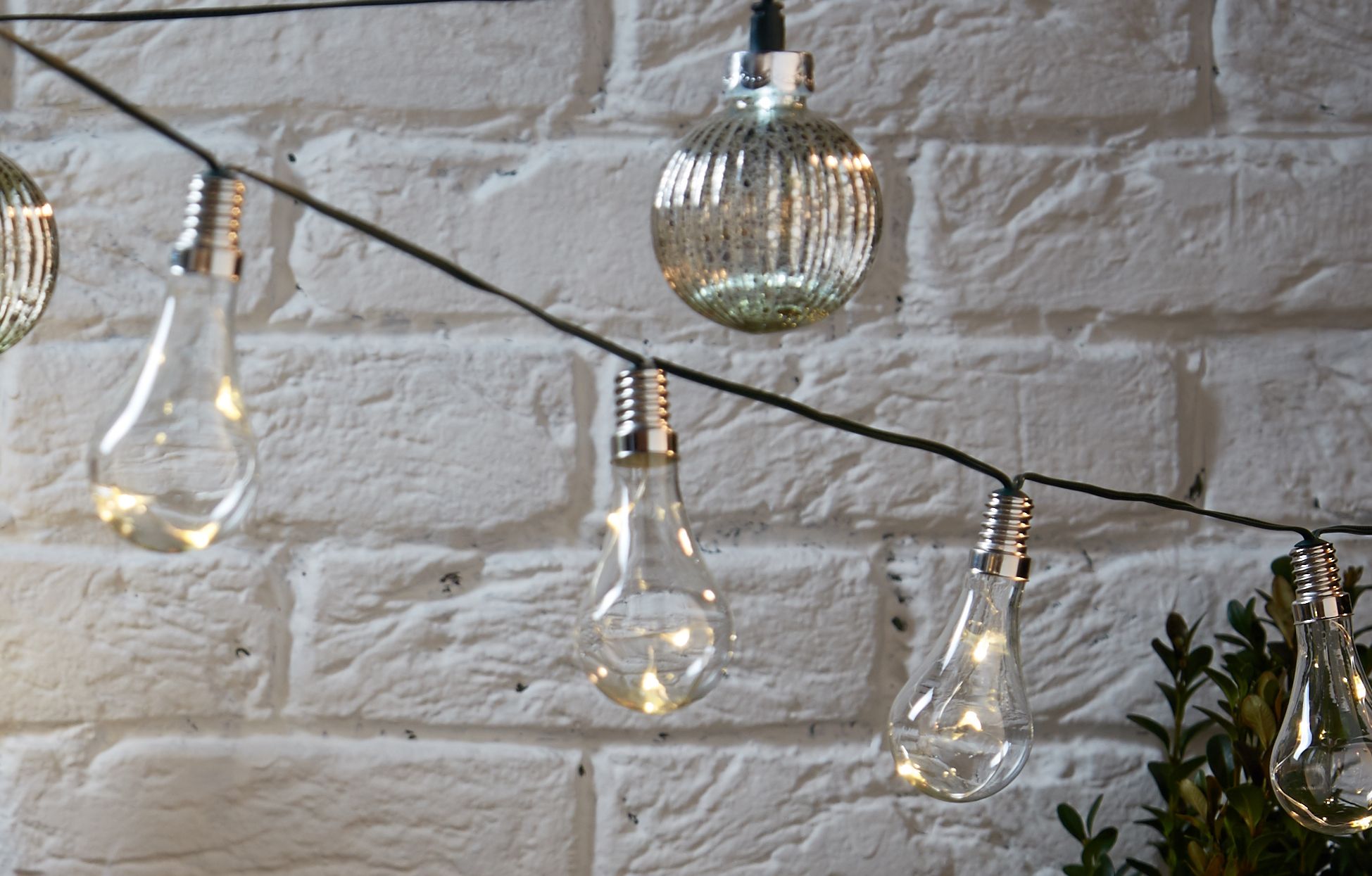 Bulbs
Before buying your electric, solar or battery-powered lighting, consider the type of bulbs they use.
Incandescent light bulbs
A cost effective light bulb, incandescent bulbs work by heating a wire filament until it's so hot that it glows with a visible light – this means that they take a few seconds to reach full brightness. They are the least energy efficient of all light bulbs and have shorter lifetimes than other options. Incandescent light bulbs can also get quite hot over time, so if you have children or pets make sure that you only choose lighting that is out of reach to avoid injury.
Halogen light bulbs
Halogen bulbs offer an energy saving of 20% compared to incandescent light bulbs and reach full brightness instantly. They're also better for the environment, but, like incandescent bulbs, they have a short lifetime and get hot when used for extended periods.
LED light bulbs
LED (Light Emitting Diode) bulbs save 90% more energy and will last 30% longer than incandescent light bulbs. They offer full brightness instantly so you don't have to wait for full illumination and aren't made from harmful materials so can be disposed of safely.
For more information, check out our buyer's guide to light bulbs for help choosing the right ones for your home.
Read our Buyer's guide to light bulbs
Bulb wattage
Measured in watts (W).
This refers to the energy released by the bulb and therefore how bright it is – the higher the wattage, the brighter your outdoor lighting will be.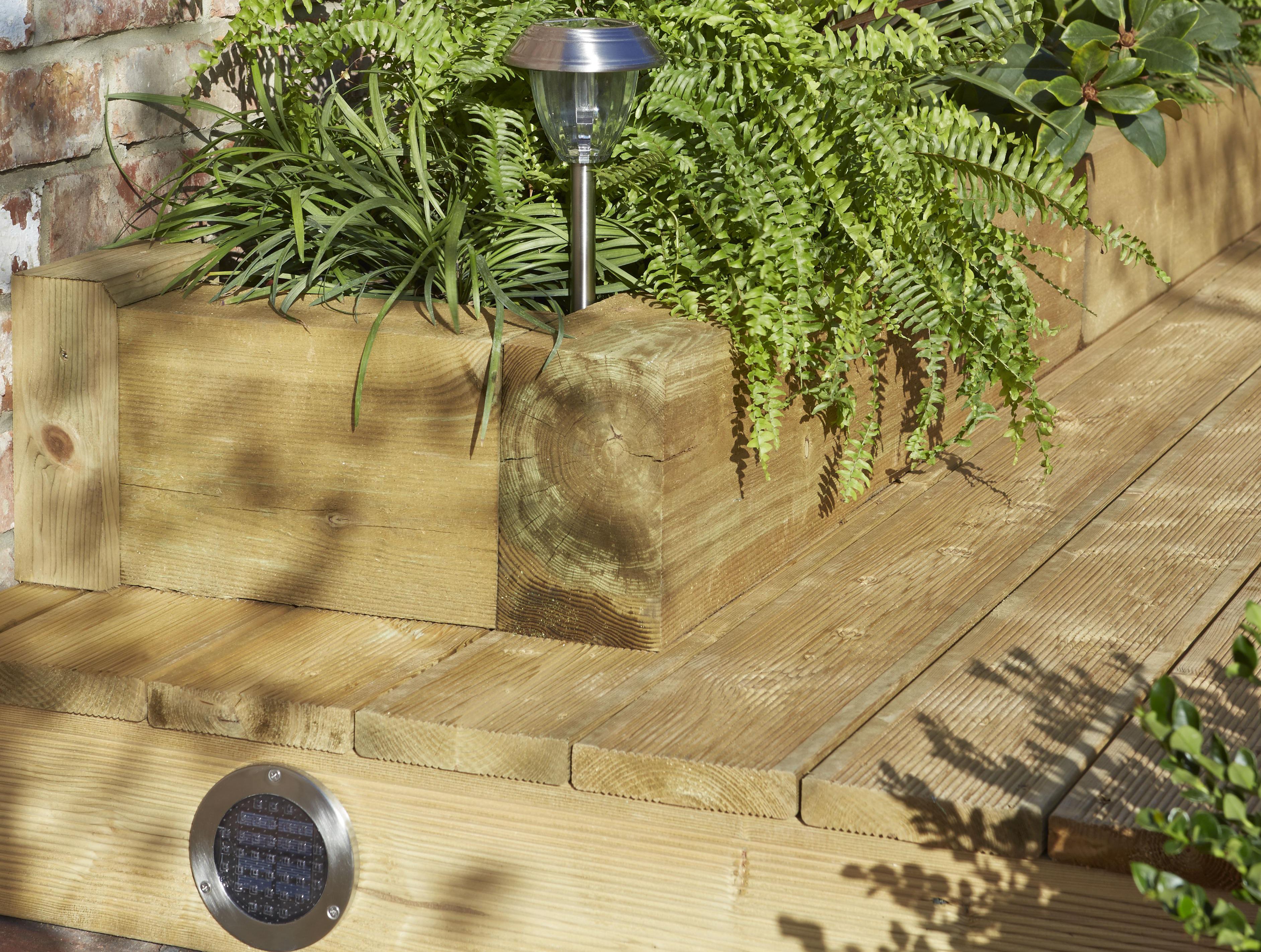 Articles