Choose the right curtains and blinds
From track to pole curtains, and roller to venetian blinds, let us talk you through the basics
We know everyone has their own individual style, that's why we've included a range of options to choose from. We've even developed a GoodHome range to coordinate with other GoodHome products such as paints and cushions, so you don't have to stop with the accessories.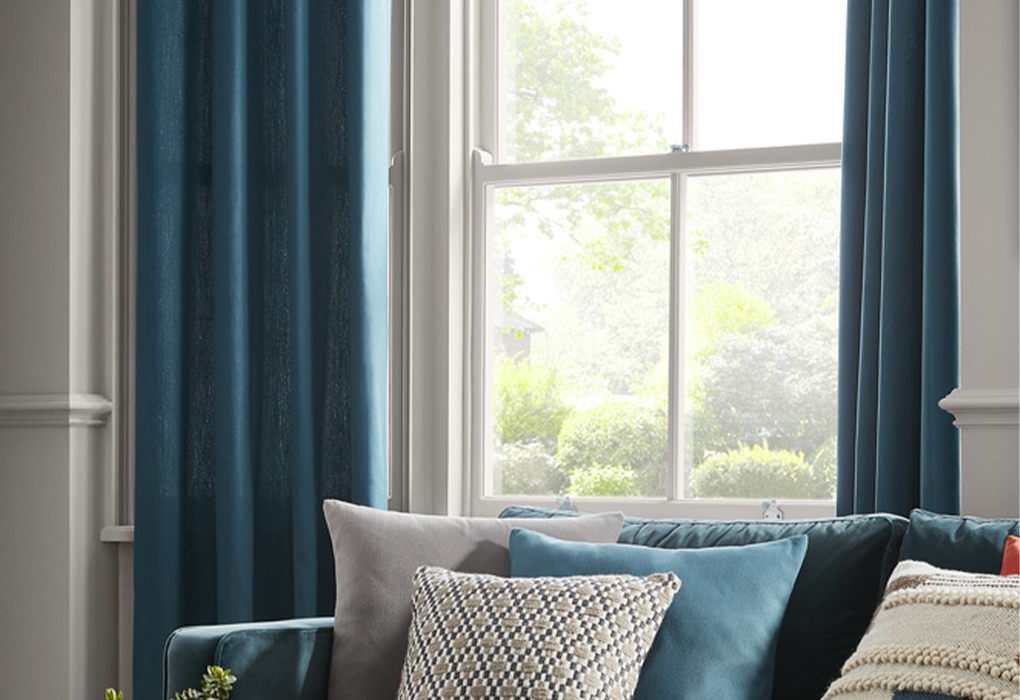 ---
Choosing curtains for your room can be both an exciting and daunting task. Soft furnishings are the perfect way to bring a room to life, adding personality, warmth and texture. But there are a few factors to take into consideration when shopping.
Curtain headers
There are three main types of curtain header. The header determines how the curtain can be hung and will, to some extent, be determined by the type of curtain pole or track you wish to hang your curtains from.
Eyelet curtains
Eyelet curtains are distinguished by punched metal rings within the top of the curtain. The curtains are threaded on to a curtain pole, through the eyelets, allowing the curtains to hang with a soft drape. They're easy to hang and add a sleek, contemporary finish to any room.
Pencil Pleat curtains
Pencil pleat curtains are a more traditional style, with a gathered header which conceals fixings to the curtain pole or rail. The top (or header) of the curtain has a wide strip of fabric fitted with drawstring cords, which can be adjusted to control the amount of 'gather' in the curtain. Pulling the drawstrings tighter will give a more gathered, luxurious look, but will also adjust a larger curtain to fit a smaller window. A looser gather gives a more relaxed feel and can be useful when fitting curtains to larger windows. Once adjusted, the drawstring cords can be tucked out of sight. Hooks are then attached at regular intervals along the curtain header and used to attach the curtain directly to a curtain track or to curtain rings on a pole.
Tap top curtains
These curtains have loops made from the same fabric as the curtain and can be easily threaded onto a curtain pole, in the same way as eyelet curtains.
Lined or unlined?
Once you've selected the curtain type, consider whether you would prefer lined or unlined curtain. Unlined curtains are ideal for summer use or in rooms where the window hangings are mostly for decorative purposes. They will drape nicely but filter out less light than lined curtains but will offer privacy during the day. Lined curtains will block out more light (ideal for children and light sleepers) and will offer complete privacy day and night. The heavier weight of the fabric will look more luxurious when gathered at the side of the window but can be too bulky for smaller windows.
Curtain Material
Curtains are available in a wide range of fabrics, each with their own benefits. Faux silk curtains have the same look as an expensive, delicate silk but are machine washable for easy care. For a softer, authentic feel consider natural fibres, such as our range of 100% cotton curtains. Jacquard and velvet are ideal choices when looking for warmer, more luxurious heavyweight materials. Don't forget to consider the washing advice for your new curtains – machine washable curtains are ideal choices for kitchens, children's rooms and busy spaces. Our curtains can be machine-washed at 30°C, so you can enjoy them for years to come.
What size curtains will I need?
The size of curtain you'll need to fit your window will be dependent on the type of curtain you choose. Follow the advice below to help understand the right size for eyelet and pencil pleat curtains.
Measuring for eyelet curtains
Begin by measuring the width of the existing curtain pole or track. If fitting a new pole, measure the width of the window recess and add an extra 30-40 cm.
The total width of a pair of eyelet curtains required for the window will be approximately one and half to two times the width of the curtain pole or track.
Don't forget: Eyelet curtains need at least 4 cm clearance between the curtain pole and ceiling.
Measuring for pencil pleat curtains
Begin by measuring the width of the existing curtain pole or track. If fitting a new pole, measure the width of the window recess and add an extra 30-40 cm.
The total width of a pair of pencil pleat curtains required for the window will be approximately two times the width of the curtain pole or track.
If you prefer a more gathered look, choose a wider curtain and gather the curtains more tightly.
Measuring the drop
Don't forget to think about the length of curtain to ensure that it covers the window completely. The minimum drop for any curtain needs to be the length from the top of the curtain pole or track to windowsill. Add at least 4 cm to this if you are hanging eyelet curtains. Longer length curtains (such as floor length curtains) may be more desirable in some rooms, as these can add elegance and warmth, and will be required for French doors. Otherwise curtains can be shortened to the required length – either by sewing (many dry cleaners offer this service) or for small adjustments on lightweight curtains, you can quickly do this at home using iron-on hemming tape. Make sure you wash the curtain before doing this, as the fabric might shrink slightly.
---
Where will your blind go?
Do you need to cover a small or a large window? Or is it a roof window? There's a range of blinds available depending on the type of your window.
Vertical blinds with slats are perfect for dressing a large living room window as you can control how much light you want to filter into the room.
For smaller windows, try a Venetian or roller blind. They're available in a range of colours and patterns.
Venetian blinds
Venetian blinds have horizontal tilting blades and are very easy to use. Offering privacy and moderating daylight. When closed, the blinds can filter or reduce the amount of daylight coming through when open. They can also help regulate the temperature of your home by acting as a barrier.
Our Venetian blinds are available in different widths from 40 to 180 cm, and in 1 height: 180 cm. You can also find these blinds in different materials, so you can choose the one which matches with your home.
Wood
Choose from wood for a friendly, warming feel in bleached, grey or natural styles. Or if you're looking for a natural look but want the blind in a humid room like a bathroom or wet room, there's imitation wood.
Aluminium
If you're after a contemporary style, these blinds are great for kitchens, living rooms or bathrooms as they're easy to maintain and are available in a range of colours.
PVC
Modern and more affordable compared to aluminium, these are available in several colours and are ideal for bathrooms or wet rooms
Roller blinds
Simple and discrete, these blinds can blend in with different types of décor. The fabric wraps and unwinds and is controlled using a chain.
Look out for blinds with a special thermal coating. They'll help to insulate your home, keeping the heat in - and your bills down.
If you have roof windows, we have blinds that are compatible with our Site roof windows, so you don't get disturbed in the morning.
Things to look out for
What do you want to use your blind for? Is it to filter the light, blackout light or for privacy? If you find the sun glaring through your window at certain times of the day, venetian or vertical blinds are easy to use, and their adjustable slats will filter the light without blocking it - resulting in soft natural daylight. Or try a roller blind - you can adjust the length of the blind to get it just right, whilst still getting a good amount of daylight. Choose opaque or blackout roller blinds for your bedroom to completely block any sunlight and create a tranquil atmosphere which is perfect for well-needed lie-ins on the weekend.
---