Christmas wreaths, garlands & swags buying guide
Add some evergreen extras to the festive décor
Festive floristry doesn't begin and end with a Christmas tree. There are other decorations available that can complement your tree and create a coordinated look in your home. These include wreaths, garlands and swags.
The most common of these is the Christmas wreath, a traditional favourite that hangs on your door to offer guests a warm welcome. Alternatively, use it as a centrepiece on your dining table with an LED candle or hang it above your mantelpiece.
Christmas garlands are brilliantly versatile decorations. Wind them around stair bannisters, drape over mirrors and large items of furniture, decorate fireplaces or place them artfully on window sills. If your garland is suitable for outdoor use, wrap it around porches or archways to add extra impact to your outdoor look.
Swags bring the best of wreathes and garlands. They're shaped with a wide centre and tapered ends so you can hang or lay them to add a festive touch to your Christmas home decor.
All of these decorations can bring cheer to small rooms that can't fit a Christmas tree – making them great alternatives when space is scarce. Use one or all of them, in matching collections or in contrasting styles – they're so adaptable. Let's explore your decorative options.
Shop artificial Christmas wreaths, garlands & swags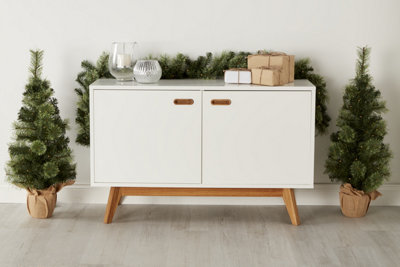 Articles