Christmas wreaths, garlands & swags buying guide
Add some evergreen extras to the festive décor
Festive floristry doesn't begin and end with a Christmas tree. There are other decorations available that can complement your tree and create a coordinated look in your home. These include wreaths, garlands and swags.
The most common of these is the Christmas wreath, a traditional favourite that hangs on your door to offer guests a warm welcome. Alternatively, use it as a centrepiece on your dining table with an LED candle or hang it above your mantelpiece.
Christmas garlands are brilliantly versatile decorations. Wind them around stair bannisters, drape over mirrors and large items of furniture, decorate fireplaces or place them artfully on window sills. If your garland is suitable for outdoor use, wrap it around porches or archways to add extra impact to your outdoor look.
Swags bring the best of wreathes and garlands. They're shaped with a wide centre and tapered ends so you can hang or lay them to add a festive touch to your Christmas home decor.
All of these decorations can bring cheer to small rooms that can't fit a Christmas tree – making them great alternatives when space is scarce. Use one or all of them, in matching collections or in contrasting styles – they're so adaptable. Let's explore your decorative options.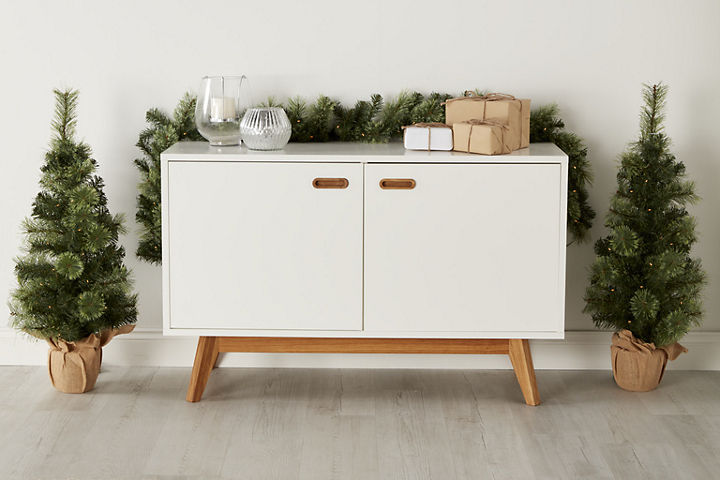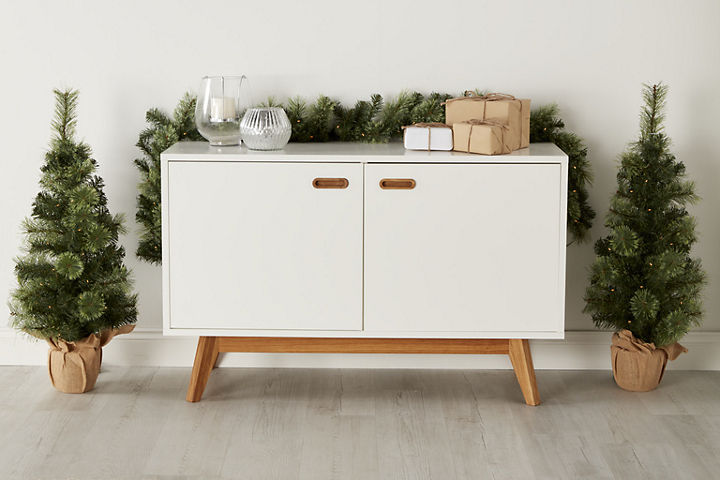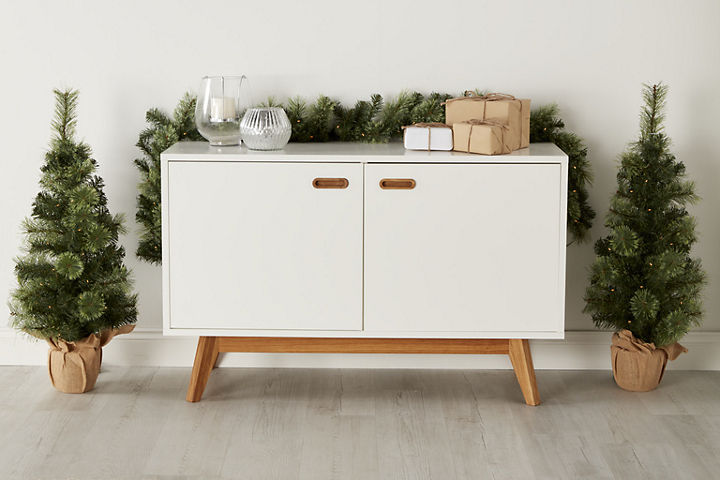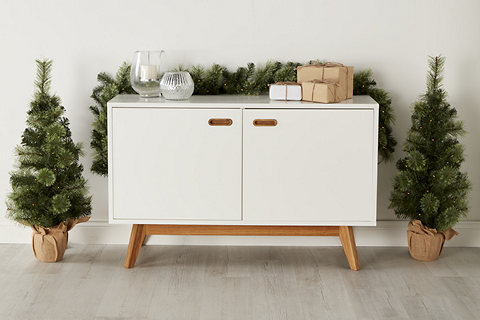 Before you buy
One of the first considerations when shopping for a seasonal wreath, garland or swag is where you'd like to hang the decoration – indoors or outdoors.
Hanging Christmas decorations outdoors
While outdoors display is one of the most common uses for decorations (especially wreathes), this exposure to the elements can take its toll. Some artificial wreaths, garlands and swags can be displayed outdoors if hung in a sheltered spot, such as under a porch or canopy. Be sure to check your decoration's suitability for outdoor use before buying.
If you are hanging a wreath in the open air with no protection from the weather, we recommend opting for a real one (check availability in store). These horticultural ones can better withstand unpredictable winter weather conditions and dropping needles are less of an issue outside.
Hanging Christmas decorations indoors
All of our artificial Christmas wreaths, garlands and swags are designed for use indoors and are fitted with hooks for easy hanging.
Or for all the tradition of the holiday, opt for a real wreath. Ensure these are never near a naked flame, so take special care if hanging near a working fireplace.
Types
We offer a super selection of artificial Christmas wreaths, garlands and swags to help create your signature seasonal style. These can be used year after year, require no messy clean up and are available in matching sets to create a coordinated look. Explore the options below.
Pre-decorated artificial Christmas wreaths, garlands & swags
Don't fancy adding your own decorations? We've got it covered with our range of pre-decorated wreaths, garlands and swags. Go for a rustic, woodland look with pine cones, berries and holly; super shine with gold, silver and glitter or a frosty feel with our flocked (snow-effect) style.
Pre-lit artificial garlands
Don't struggle with swathes of string lights – pick up a wreath or garland that comes pre-lit. They're battery-operated so there's no need to hunt for the nearest plug socket or worry about trailing cables.
We offer an 18ft pre-lit garland with warm white LED bulbs.
Plain artificial Christmas wreaths & garlands
Undecorated wreaths and garlands are perfect for personalising. Evoking the natural look of woodland pine, they offer the opportunity to indulge in some Christmas crafting. So, whether you prefer bells or baubles, get creative and add your own decorations for a look that's completely unique.
Features
There can be a few extra things to consider when shopping for Christmas wreaths, garlands and swags.
Size of Christmas wreath, garland & swag
Whether you're looking for something small and subtle or large and loud, we have just the size of decoration for you.
Christmas wreaths – Choose from wreathes measuring from 30 to 50 centimetres (cm) in diameter.
Christmas garlands – These start at 183cm (6ft) - perfect for draping on fireplaces and staircases – going up to 274cm (9ft) and our longest garland, 549cm (18ft). This 18ft Garland is fitted with a plastic winder to help reel in the garland when storing away and keep it neatly tucked together for easy storage.
Christmas swags – opt for our smaller size – 90cm long and 12cm thick, or our larger one – 110cm by 18cm.
Shape of Christmas wreath
We love the classic shaping of garlands, swags and wreaths, but also offer a few striking alternatives to the traditional ring wreath. Our metal star wreath (pictured) is a modern twist on the traditional Christmas wreath, styled in a pretty star shape - ideal for festive weddings and as an all-year-long decoration. Another less traditional option is our plywood bauble wreath, this funky new addition to our range features cut out baubles in white, red and blue. Kids will love it!
You might need
With your festive wreath, garland and swag chosen, it's time to stock up on those all-important little extras.
Christmas wreath hangers & garland fixings
Don't worry about hammering in any nails or fastening any hooks - our clever fixings offer easy-to-use and removable alternatives that won't damage your furniture or walls.
For Christmas wreaths – opt for wreath hangers that hang over the top of a door to offer your decoration a safe and secure spot to display. Available in matt gold or silver finishes to neatly coordinate with your décor colour scheme.
For Christmas garlands – We offer garland fixings in a pack of 20, these plastic grips hold garlands in place. Use at needed intervals to carry the weight of the decoration – perfect for lights as well.
Alternatively, use Command Hooks – adhesive plastic hooks that are also available to use indoors and outdoors on front doors and porches.
Batteries
Batteries are a must-have with pre-lit decorations. Ours use AA batteries and we love rechargeable ones as they reduce waste. Stock up now so you're ready to go when the holidays arrive.