How to store Christmas decorations
Safely pack away the tree, lights, baubles and more
When the leftover turkey has been eaten and your Christmas jumper is once again at the back of the wardrobe, you know that Christmas is over and it's time to pack away the decorations.
While this will never be as joyful as putting them up, packing away the decorations doesn't have to be the worst job in the world. With our clever storage solutions and some quick tips, it'll be done in no time at all and be neatly packed away, ready for Christmas 2021.
---
---
You might need:
Artificial Christmas tree storage box or bag – we offer three storage options designed especially to safely protect your artificial Christmas tree for next year. These include two bags that can both fit 8 foot (ft) tall trees – one with wheels for easier transport – and a transparent plastic box.
Christmas Light Storage Set – this festive red bag includes plastic handles for string lights to be wrapped around
Christmas decorations storage bag or box – the box features insert trays, while the bag has fabric compartments – both designed to safely store delicate decorations and baubles
Plastic storage boxes - choose from a range of sizes and colours
Plastic storage box accessories – divider pots and organiser trays can help with smaller, fragile items – add as many as you need
Scissors – if necessary
Bubble wrap – to protect baubles, if necessary
Pieces of cardboard – if necessary
Pen and paper
Smartphone or camera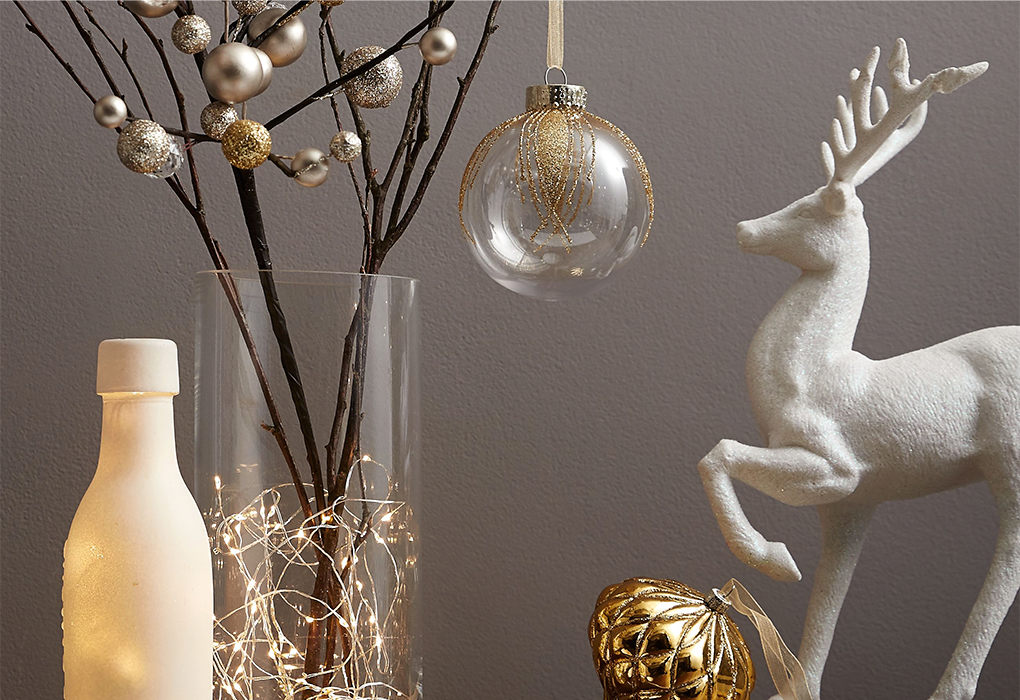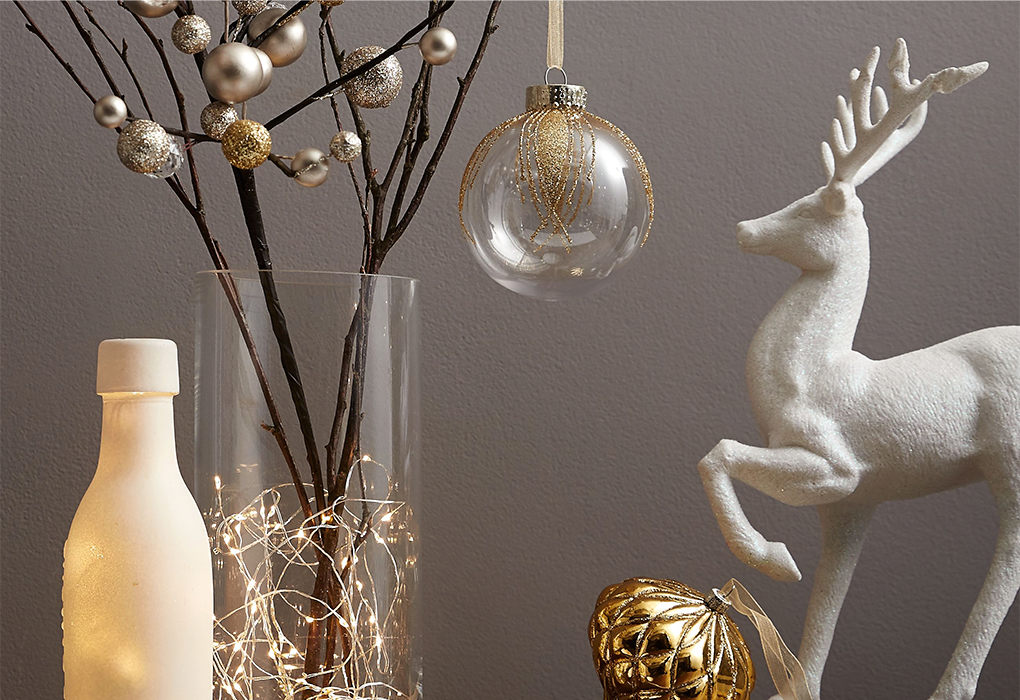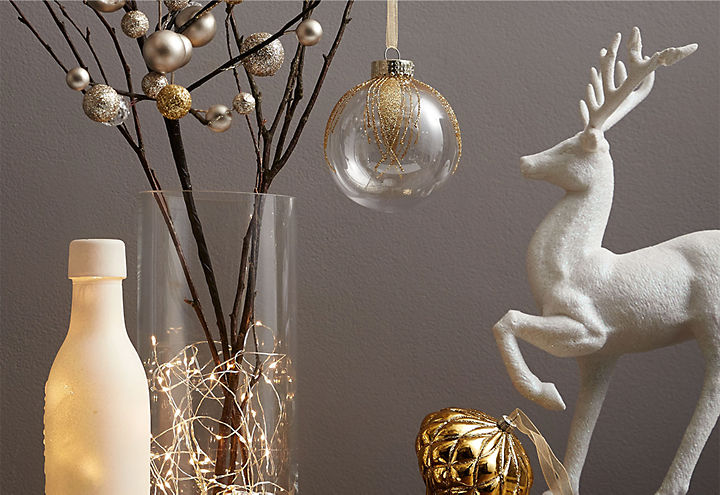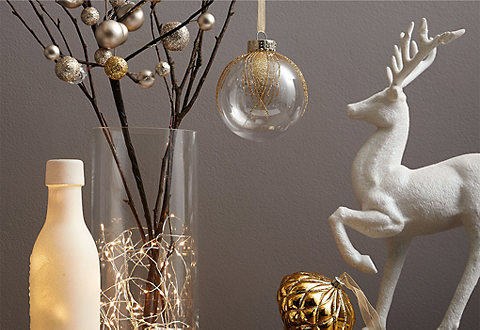 Step 1
Take a photo of how your Christmas decorative displays look. Chances are, you'll want to replicate it again next time and it can be frustrating wondering how you did it - especially as it'll be another year until you do it again.
Take pictures of your Christmas tree and any other highly decorated areas such as mantelpieces and the Christmas dining table.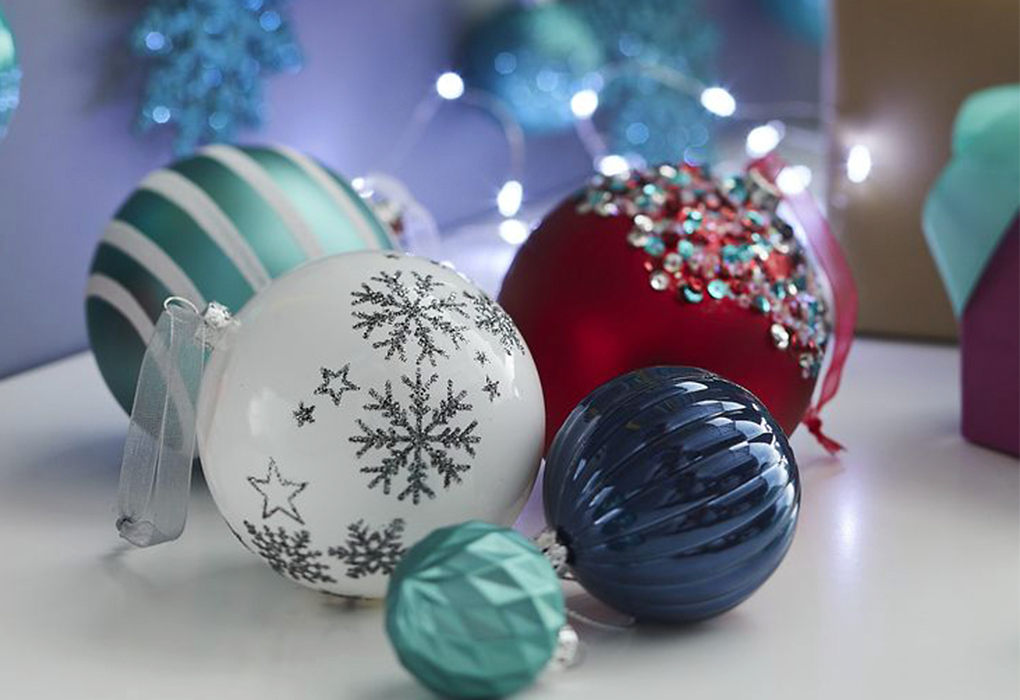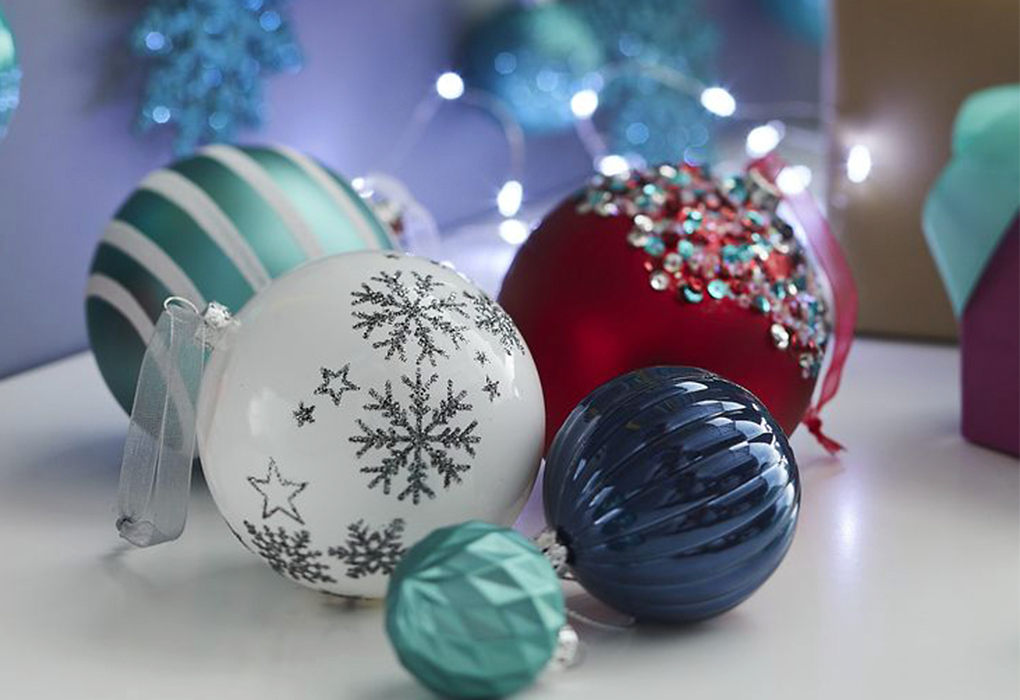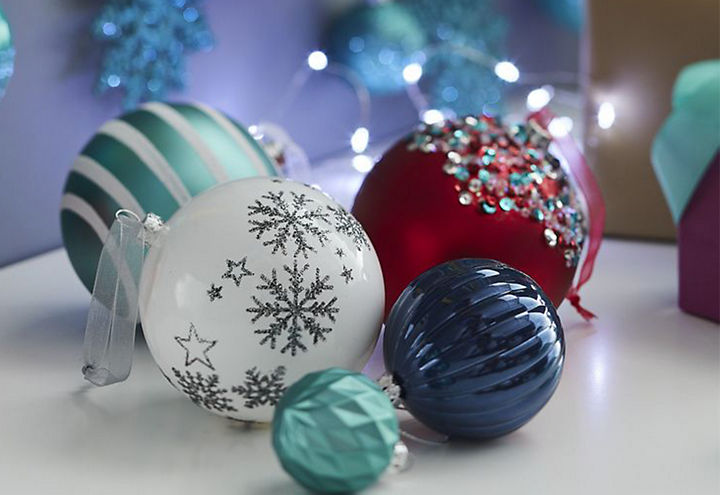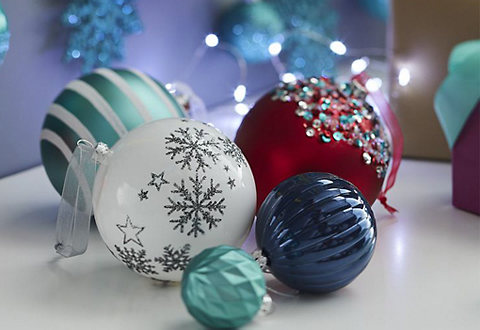 Step 2
Start taking down your decorations and decide what you'd like to keep.
Have any decorations suffered over the festive season and now look a little too worn for next year? If so, see if they can be recycled or re-used before throwing them out.
Consider whether any of your festive favourites could still be enjoyed beyond the holidays. Perhaps those twinkling string lights could be hung outside in summer or to add sparkle to a fireplace?
With all of your decorations taken down, you should have two types – those to keep and store for next year, and those for other uses or recycling.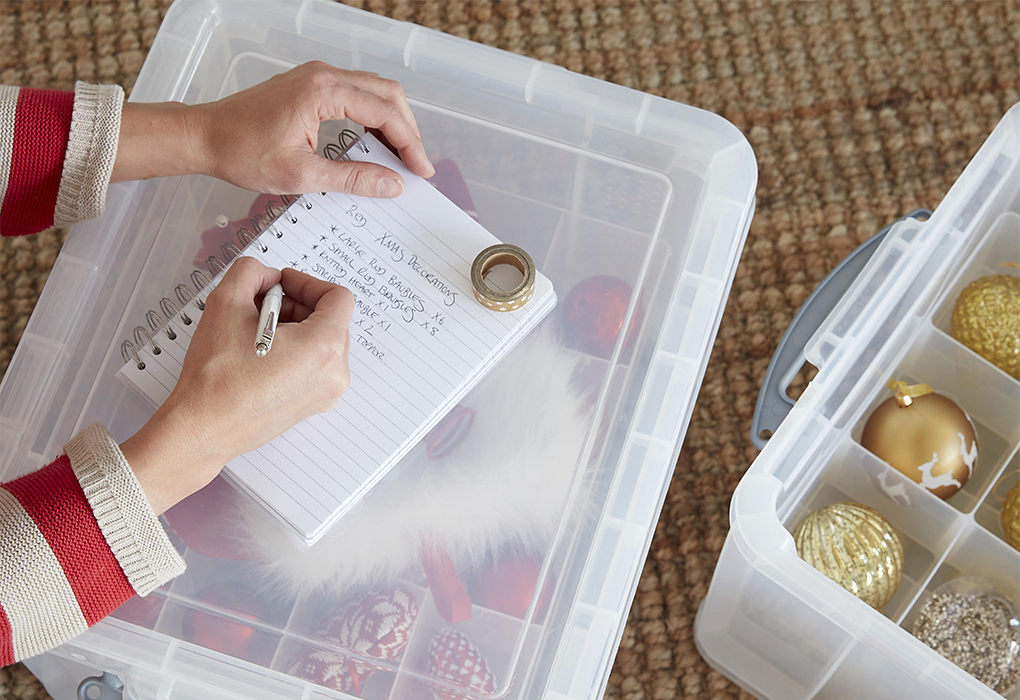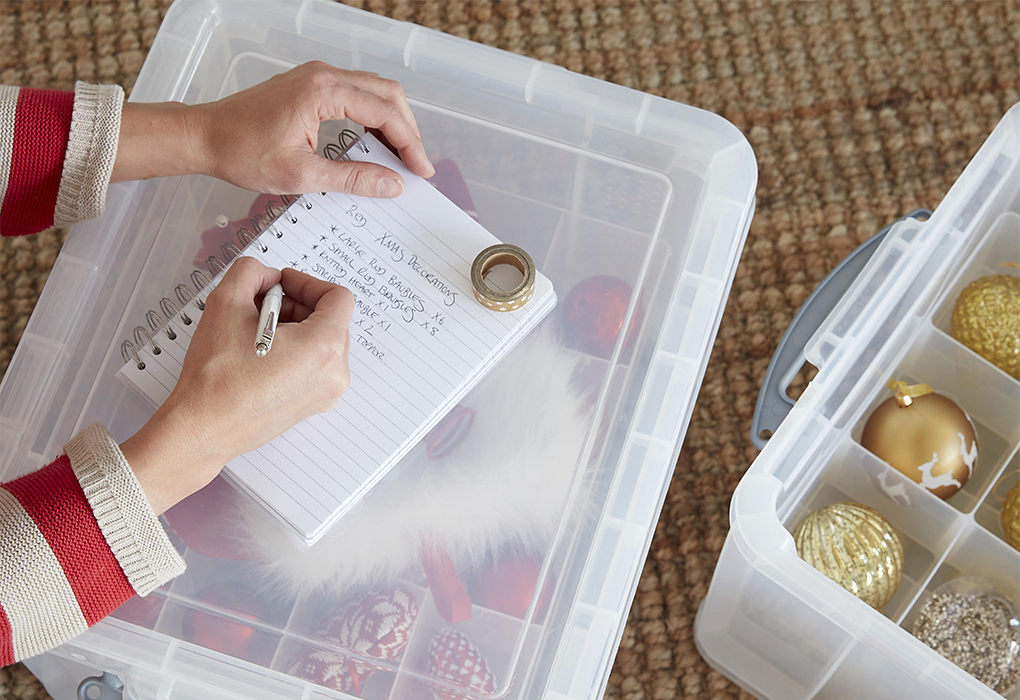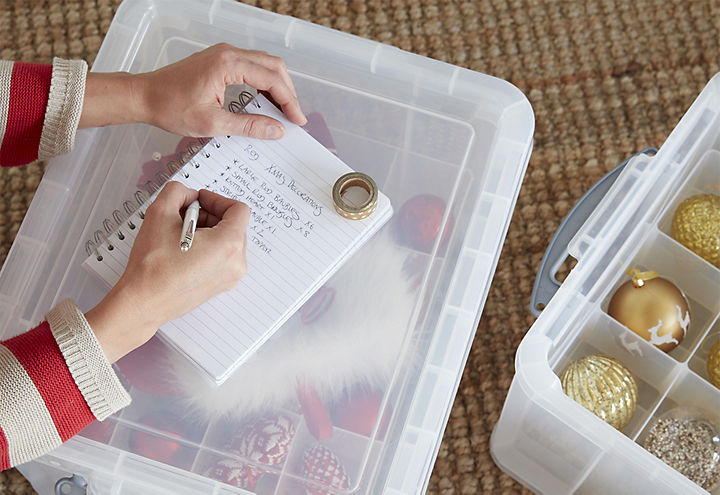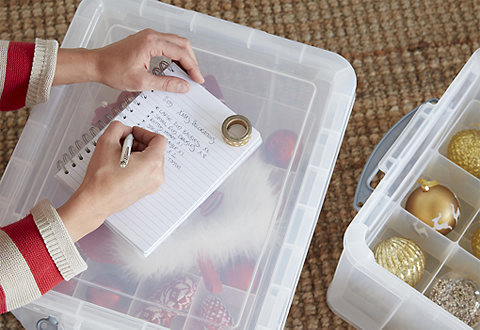 Step 3
Compile a list of everything you're storing away - from tinsel, baubles and wreaths to fun Christmas cushions, novelty decorations and outdoor lights. With this list, you'll know exactly what you have so you won't have to worry about duplicating anything next year. Tape it to the inner lid of one of your storage boxes so you can quickly grab it.
Top tip: Prepare for next year's shopping
Make a note of any new decorations that you'll need for next year. This will make shopping easier. This might be to replace old pieces or just to introduce something new.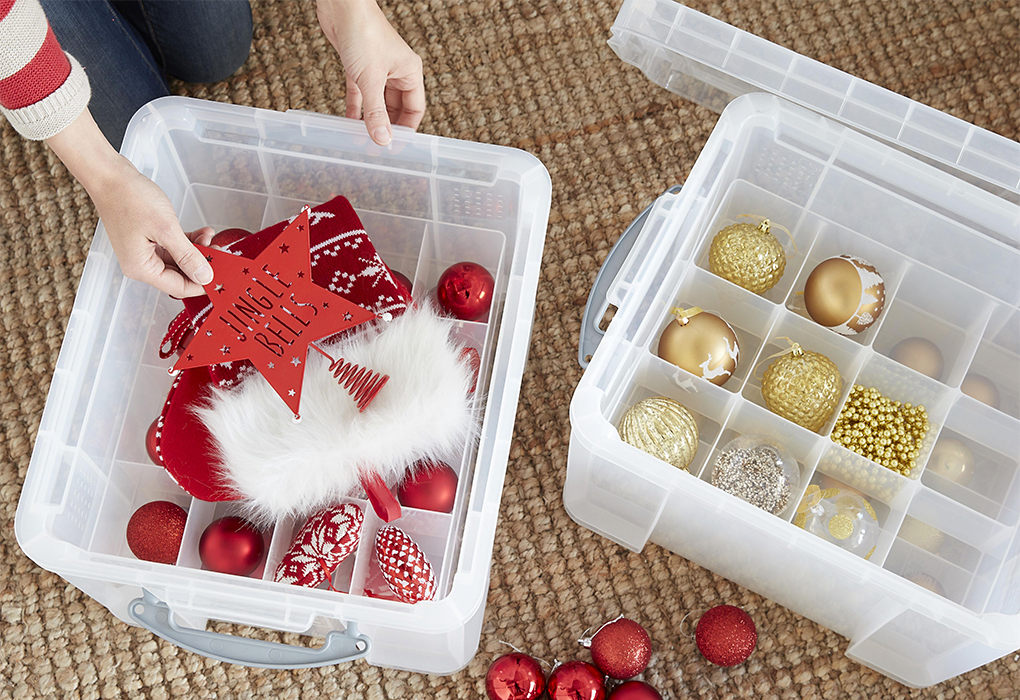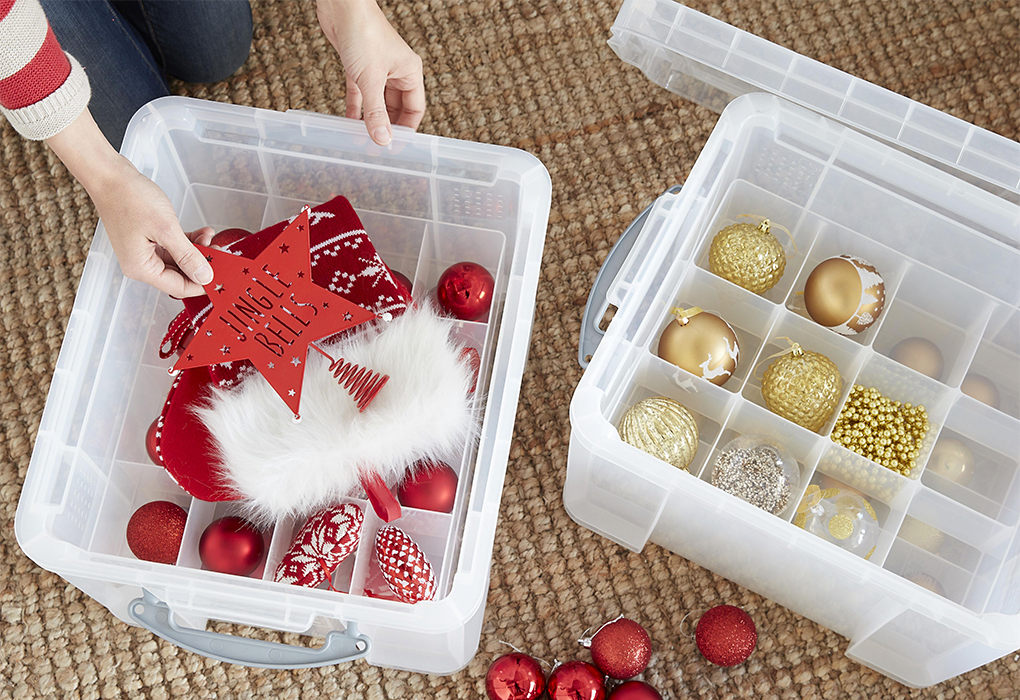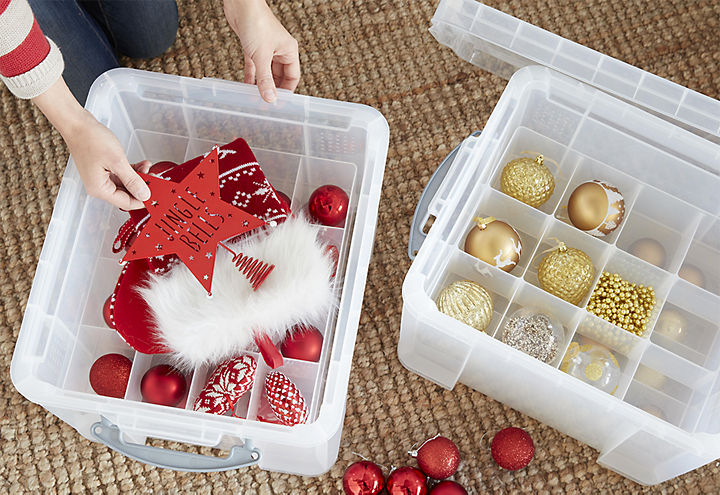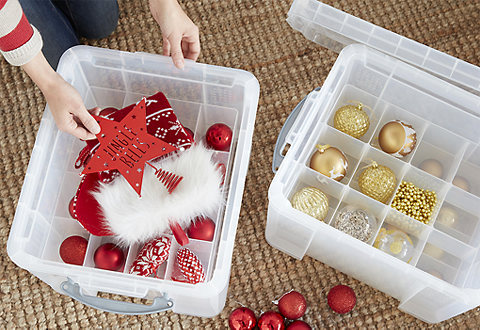 Step 4
Organise your decorations into types and store them in these groups. This might be based on colour or room.
We recommend packing all tree decorations, from the skirt to the star on top, together to save time trimming the tree next time around. Of course, this doesn't mean cramming them all in one box – just keeping them together and all labelled as tree decorations.
If not using the Christmas Light Storage Set, keep string lights tangle-free by wrapping around pieces of cardboard.
And for a DIY solution to protecting baubles and decorations, cut and wrap them in squares of bubble wrap or used Christmas wrapping paper. Not only will this help to keep them safe, it's a great way to recycle packaging from gifts you received.
Using a permanent marker, write what's stored inside on the lid of each box, that way you'll be able to find all your Christmas decorations at a glance next year.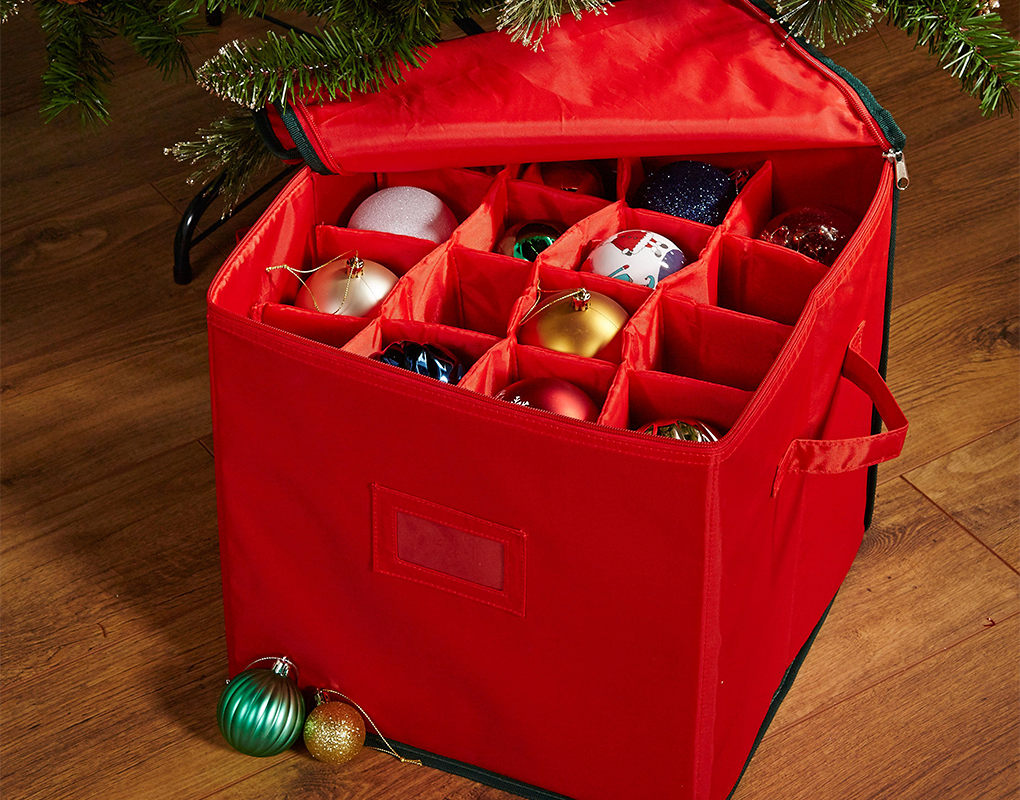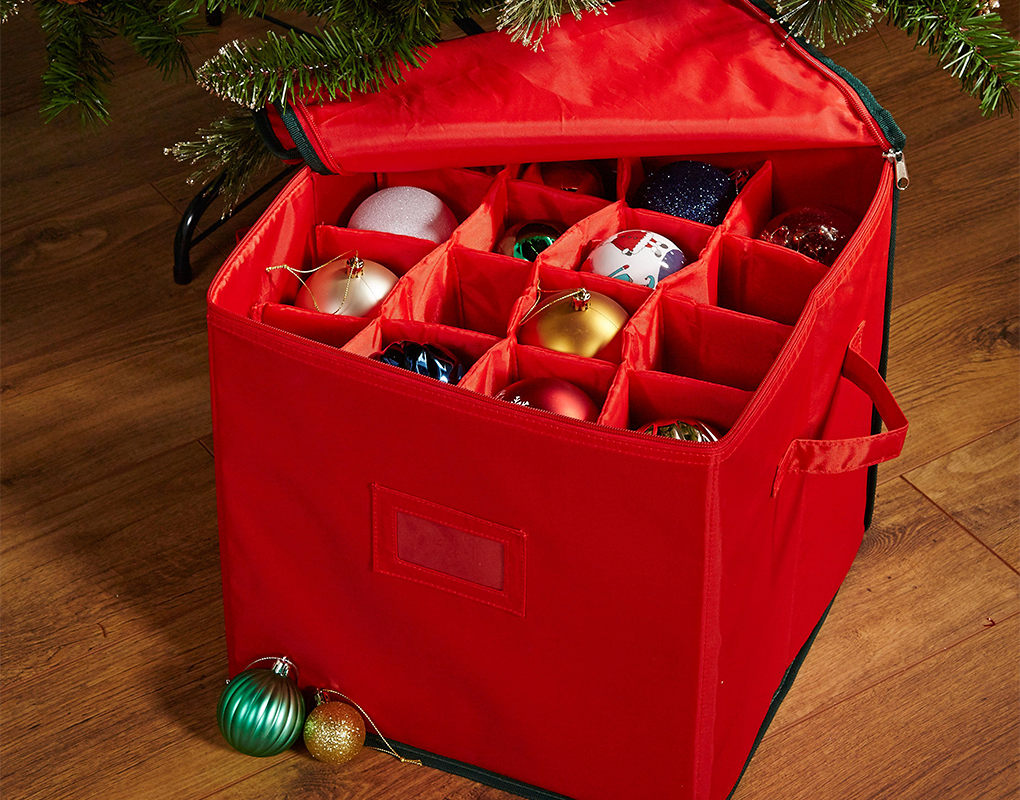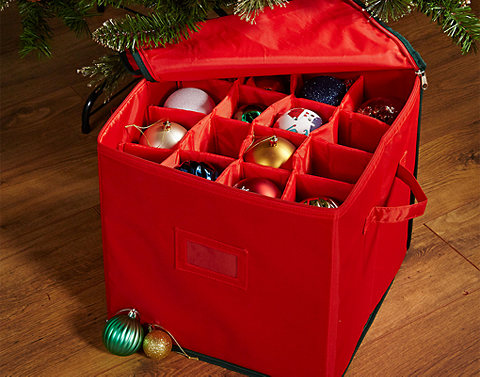 Step 5
Now all that's left to do is just to pack away the boxes (taking care at all times if you're using a ladder to access your loft or attic space) and start counting down the days to next year.
---