Grass trimmer & brushcutter buying guide
An essential garden tool for neat, manicured lawns
Add a finishing touch to your lawn by cutting long grass and trimming the edges with a grass trimmer or a brushcutter.
Lightweight and easy to manoeuvre, grass trimmers are great for accessing areas that your lawnmower can't reach. They're also ideal for tidying around fragile areas of the garden such as around plants, trees or the borders of your lawn. A brushcutter is a heavier weight and more powerful machine, suitable for clearing overgrown grass, weeds, brambles and small hedges.
There are a number of types and models available and choosing one can be difficult. So let's breakdown the options for buying a new or replacement grass trimmer or brushcutter.
Skip to...
Grass trimmer types
There are three main power types of grass trimmer and brushcutter: corded electric, cordless electric (also known as battery-powered) and petrol.
Corded
Corded electric grass trimmers and brushcutters provide unlimited constant power so you don't need to worry about how much fuel you have or whether you have enough charge in the battery. Easy to handle while still being powerful, corded grass trimmers don't require much maintenance and are ideal for use close to the house (or wherever your power source is).
Being plugged into a mains electricity socket, you have to be aware of the trailing cord at all times for safety. Make sure that your outdoor power source, as well as any extension cables, have a residual current device (RCD) – these shut off power when there's a fault or the cable is damaged, ensuring that you don't get a shock.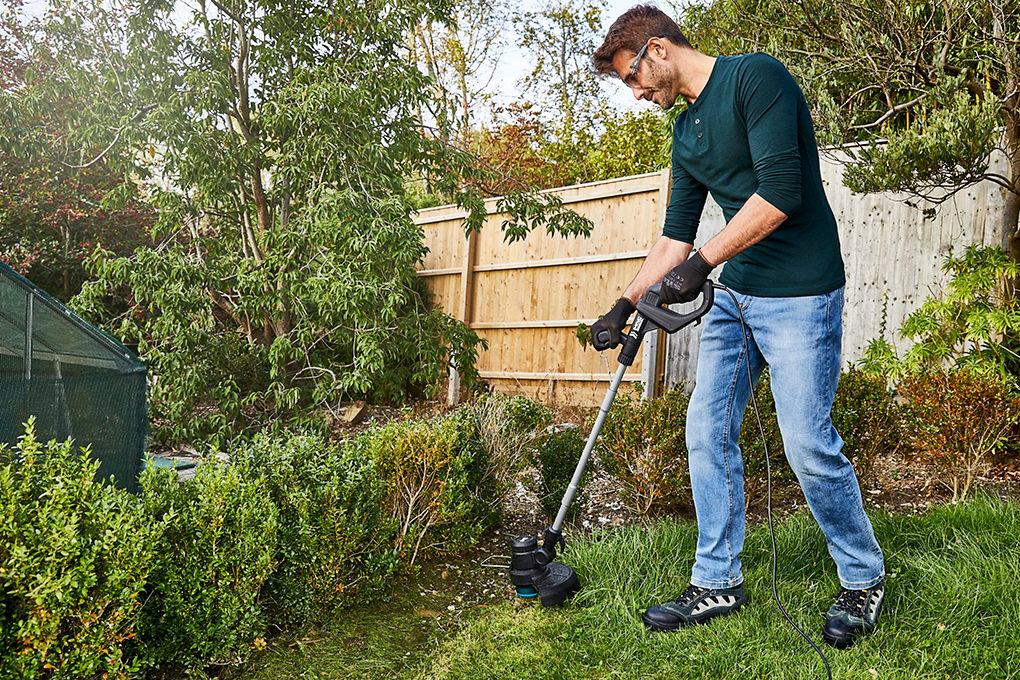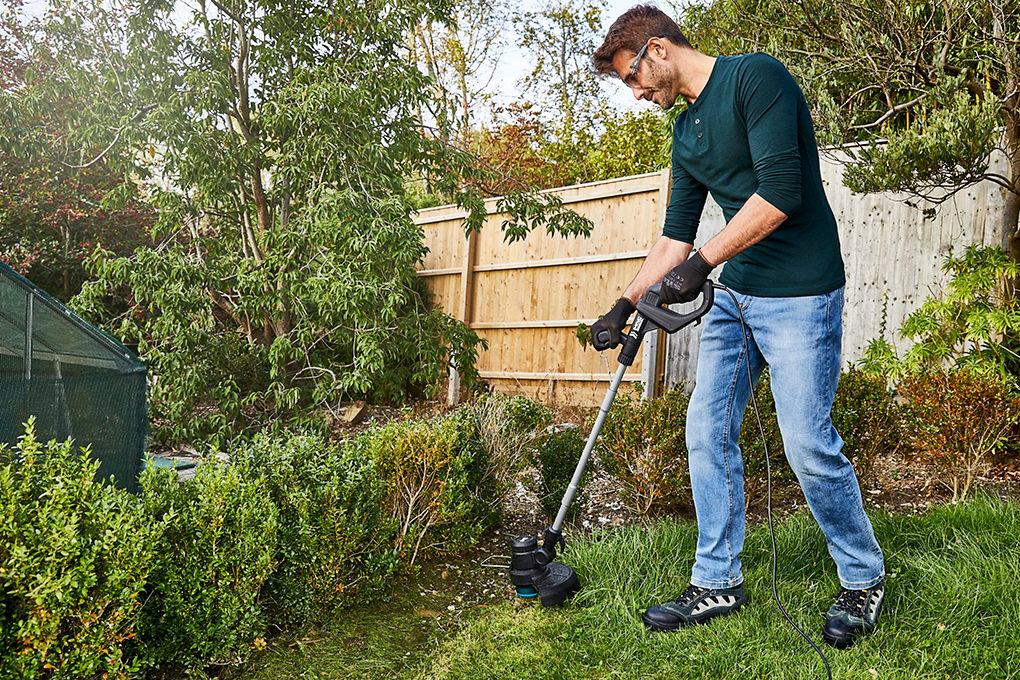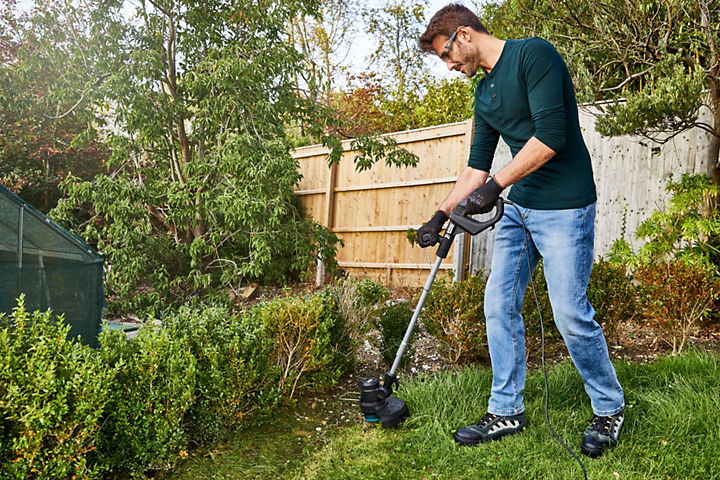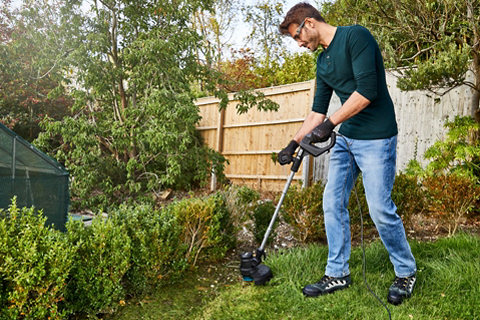 Cordless
If you don't have access to an outdoor power source or have a larger garden where an extension cable simply is not practical, then a cordless trimmer or brushcutter could be perfect for you. Cordless models offer many of the benefits of corded models, being lightweight, easy to use and maintain, but offer the freedom of petrol, making them ideal for a variety of garden sizes. They are also the most environmentally friendly power type as you do not generate any emissions and do not need mains power supply.
With advances in technology, cordless models can now run for much longer and can cut larger areas versus older models. Although we state the runtime you can get from your tool where possible, in real world use there are a number of factors that influence the runtime and more information on this can be found here.
The majority of our cordless products are sold as kits, meaning you will get a battery and charger included. Products sold without these are commonly referred to as baretools. The majority also come with interchangeable batteries. This means a number of different garden power tools are part of the same battery platform and will work using the same battery. Depending on the vendor the same battery will also work on indoor power tools, giving you greater convenience and potentially a bigger pool of spare batteries.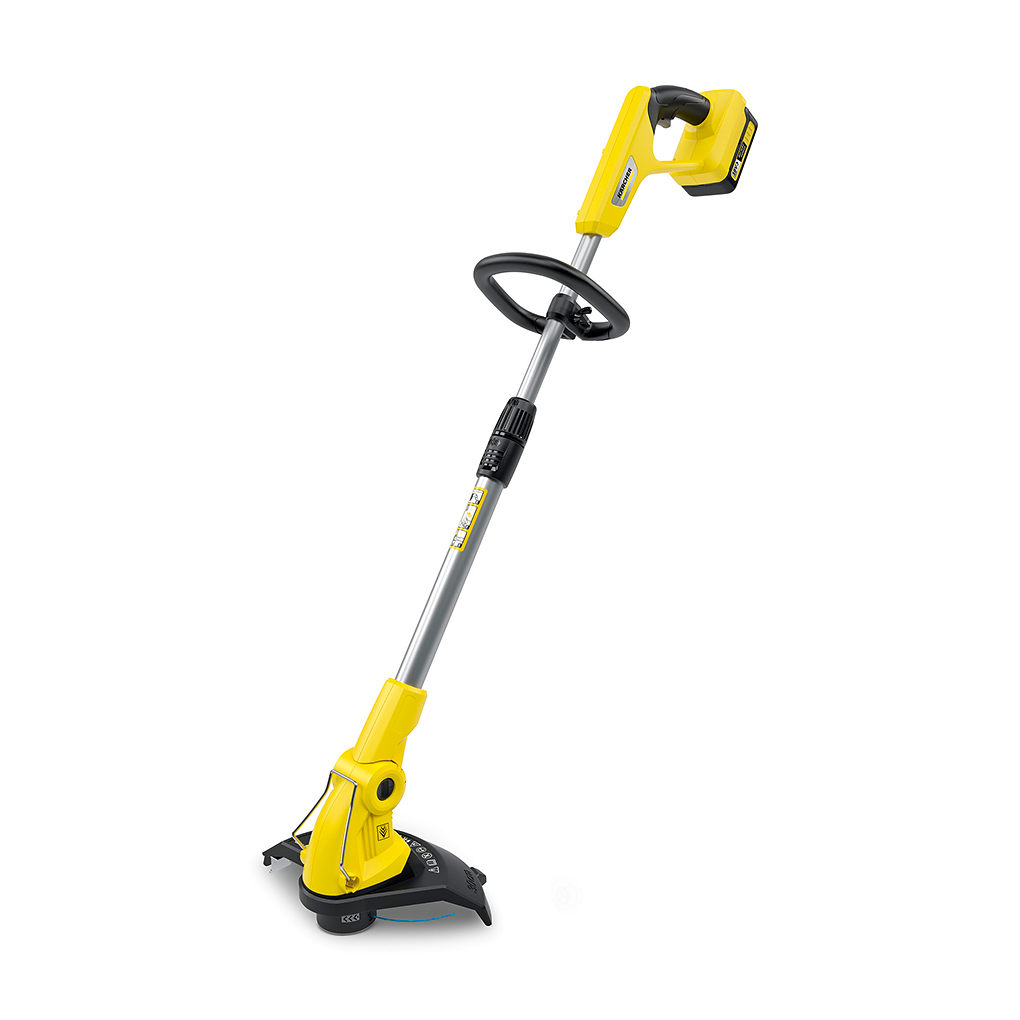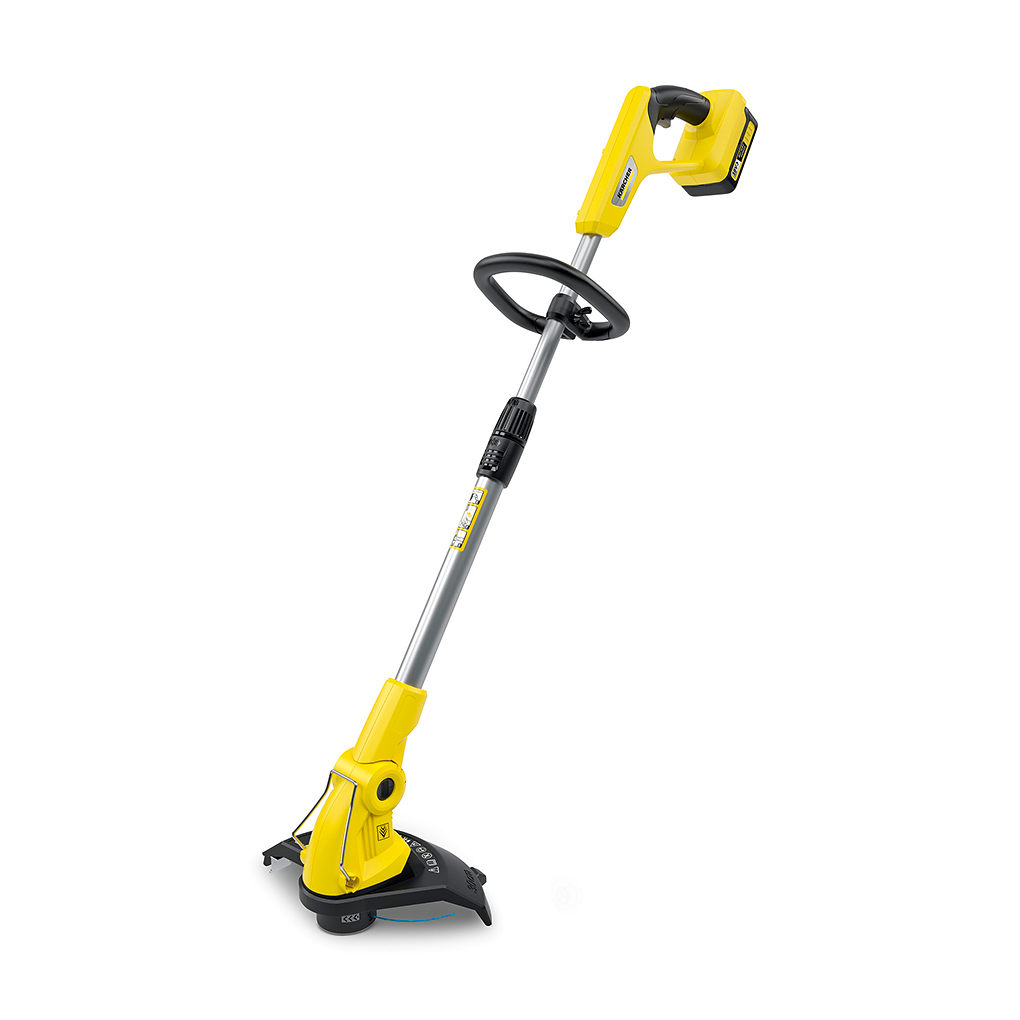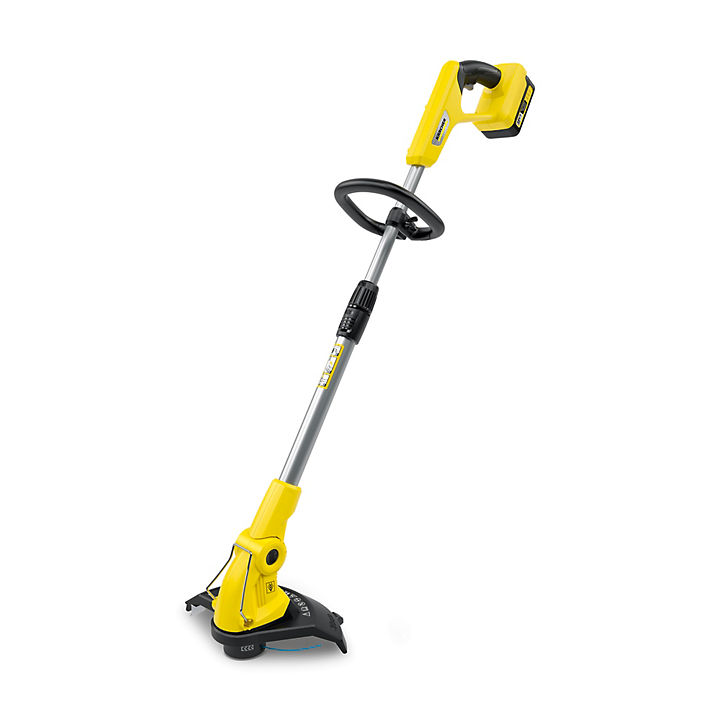 Petrol
For those with long grass, coarse weeds or rough vegetation, a petrol brushcutter or grass trimmer is perfect. They're powerful, portable and offer unrestricted movement.
Ours have a 2-stroke engine, which means they require fuel and oil to be mixed together before they can be used. Heavier and louder than other models, petrol trimmers need regular maintenance to keep them performing at their best.
IMPORTANT: E10 fuel and how it affects your petrol-powered garden tools
From 1st September 2021, E10 petrol will replace E5 as the most common petrol type in the UK. This change relates to the ethanol content in the fuel where E5 contains 5% ethanol, and E10 contains 10%.
What does this mean?
The greater the ethanol content in the petrol, the greater the chance of moisture building up in the fuel tank of garden power tools over long periods of time. This could pose real problems for you if your equipment is not properly maintained, such as blocking the carburettor or corroding the pipes.
Both fuel types are compatible with existing petrol-powered products. To best ensure the maintenance of your garden power tools we recommend that you;
• Don't use fuel that is more than 30 days old
• Don't leave any fuel in the tank if the product is to be stored for 30 days or more
Although not essential, you may wish to use a fuel stabiliser to optimise the performance of your garden petrol engines.
Find out more about the introduction of E10 fuel
What to consider before buying a grass trimmer or brushcutter
When choosing a grass trimmer or brushcutter, ask yourself the following questions to help decide on the best option for you.
What will you be cutting?
Firstly, think about what type of grass you'll be cutting most often. Will it be a grass lawn, or coarser, more overgrown vegetation? For trimming short to medium-length grass, tidying edges and reaching places where the lawnmower can't, a grass trimmer is the best option. For long and overgrown grass, weeds and small trees, consider a brushcutter. Or if you're not sure what you'll be cutting, or are likely to have both grass and brush to cut, look out for machines that are both grass trimmers and brushcutters.
Knowing what you'll be cutting will also determine how powerful you need your grass trimmer or brushcutter to be.
How big is your garden?
If you have a large garden or patch of land, or plan to trim far away from your house, consider an option that doesn't have to be plugged into the mains, giving greater freedom of use and movement. Similarly, a lightweight option will help you stay comfortable for the duration of the task.
Also, consider how densely packed with plants your outdoor space is. For example, if you need to work around a lot of flowers, bushes or trees, a trimmer with a smaller head will allow you to do this without damaging them as easily.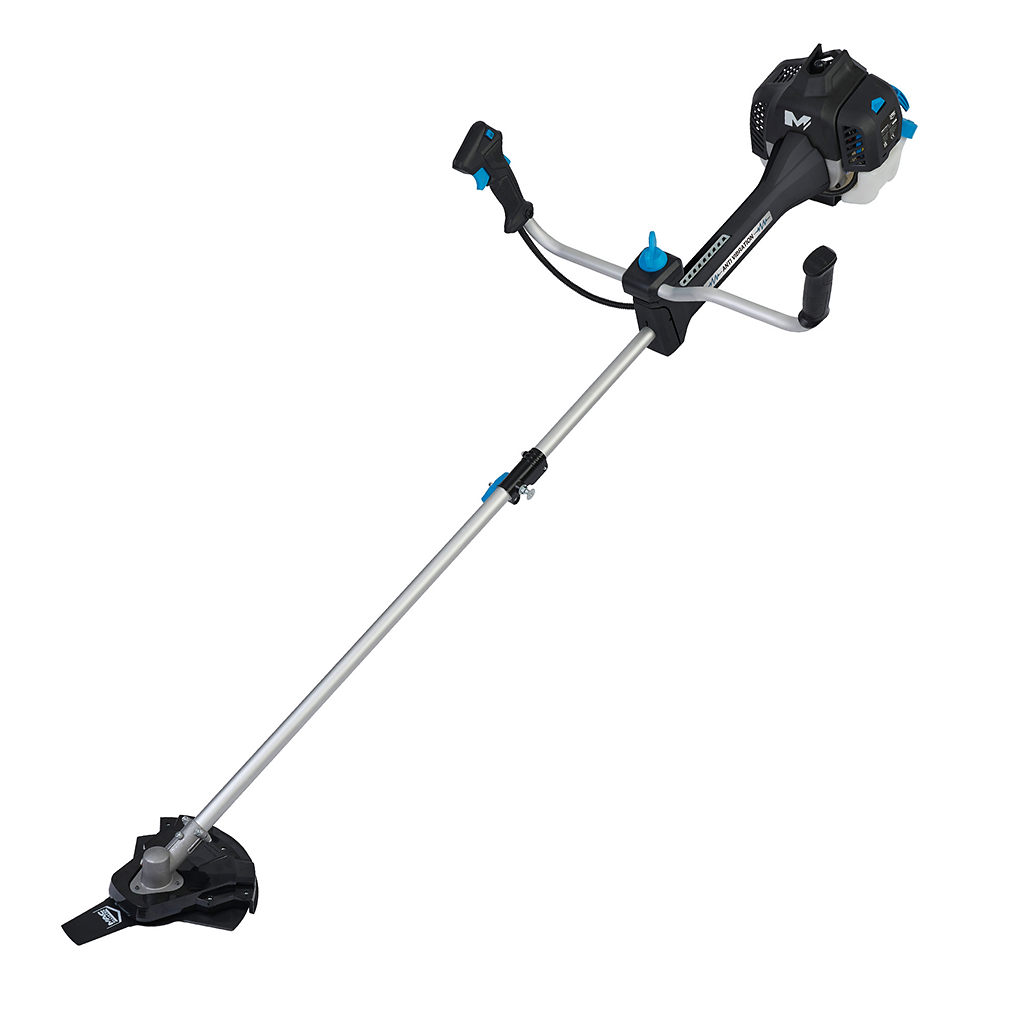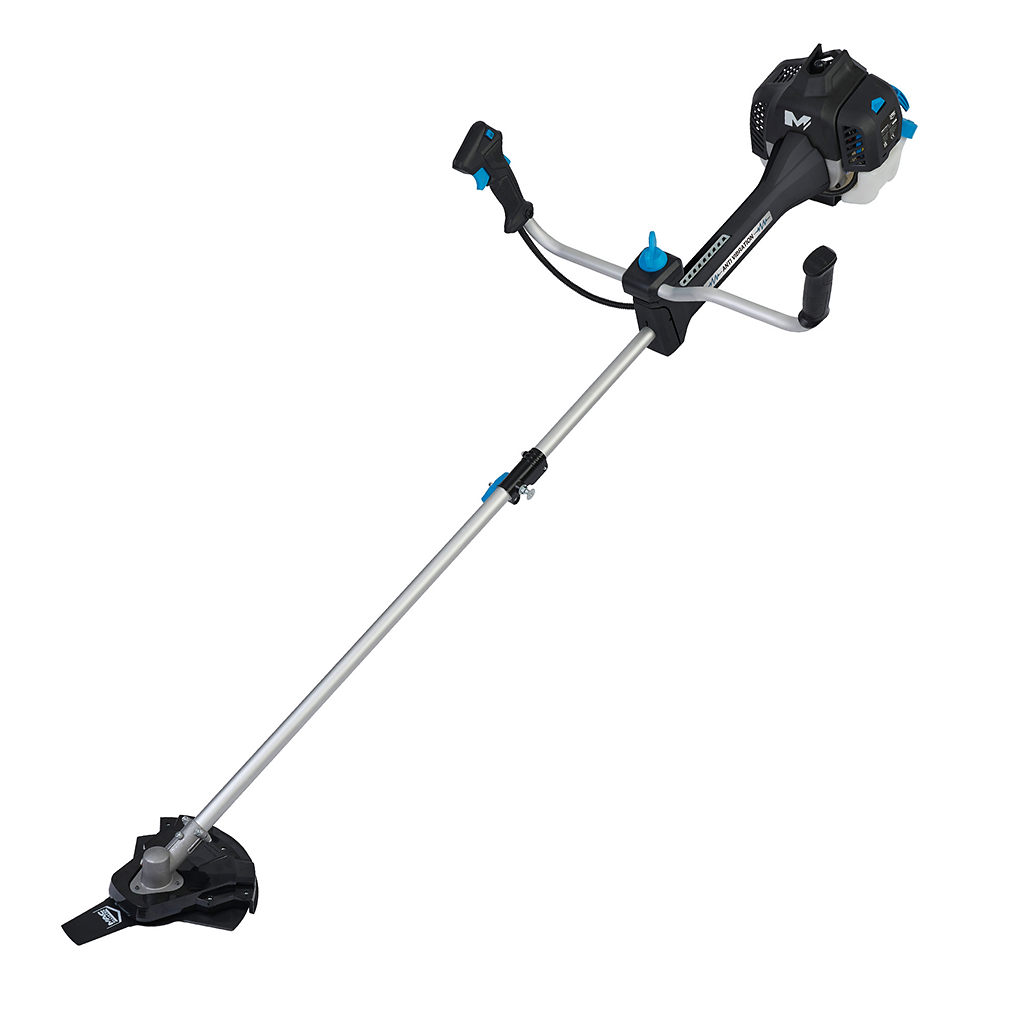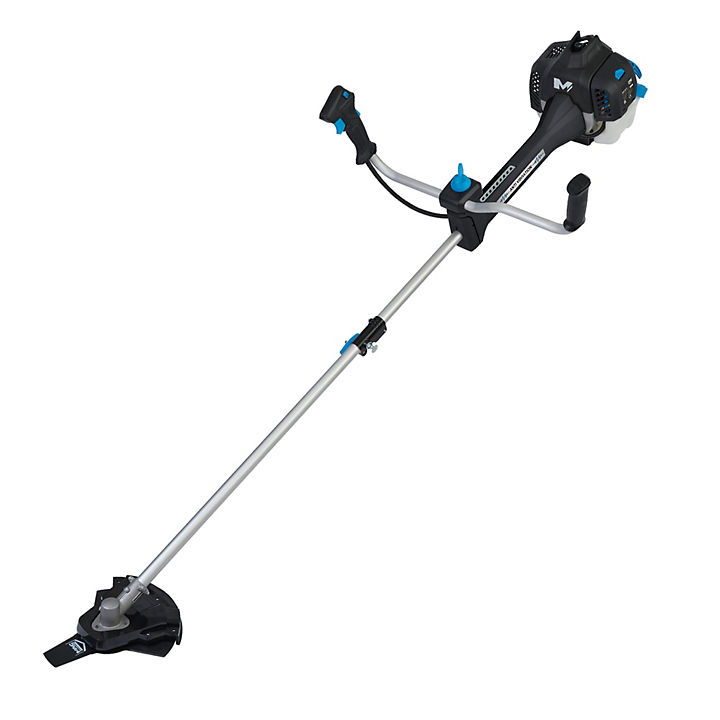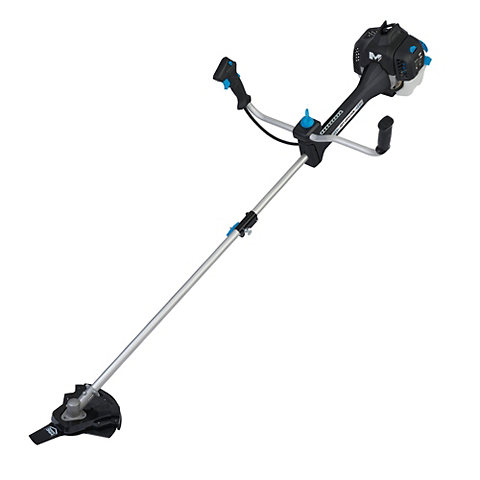 Tech specs
When choosing your grass trimmer or brushcutter, look out for these technical specifications.
Cutting systems
There are two types of cutting systems for grass trimmers and brushcutters: lines and blades.
The line cutting system is the most common on grass trimmers. A strong wire rotates extremely quickly to cut the grass and is held on with a spool within the head of the grass trimmer or brushcutter. This wire (or line) can become degraded with use, and so a fresh supply is needed to keep trimming with ease. Look out for grass trimmers with two lines, increasing the amount of grass cut at one time. There are three different ways to release extra line from the trimmer:
manual feed - this process involves stopping the grass trimmer and manually pulling out more line
bump feed - requires the trimmer head to be physically 'bumped' on the ground to release more line
automatic feeds - the most sophisticated line feed option, this automatically gives out more line when the grass trimmer trigger is released, ensuring quick and easy trimming.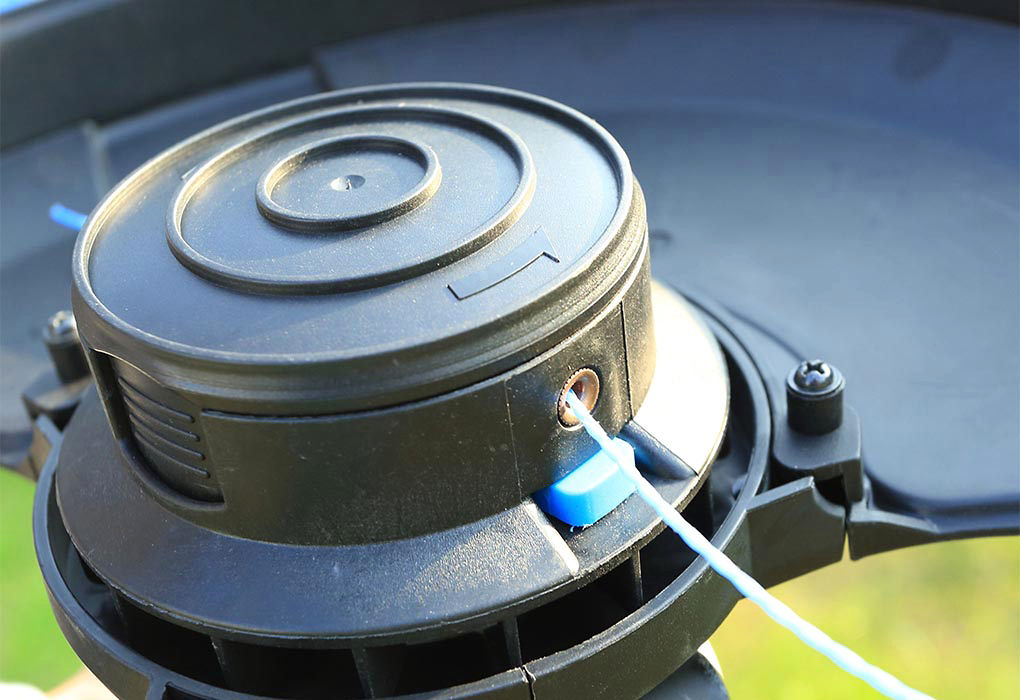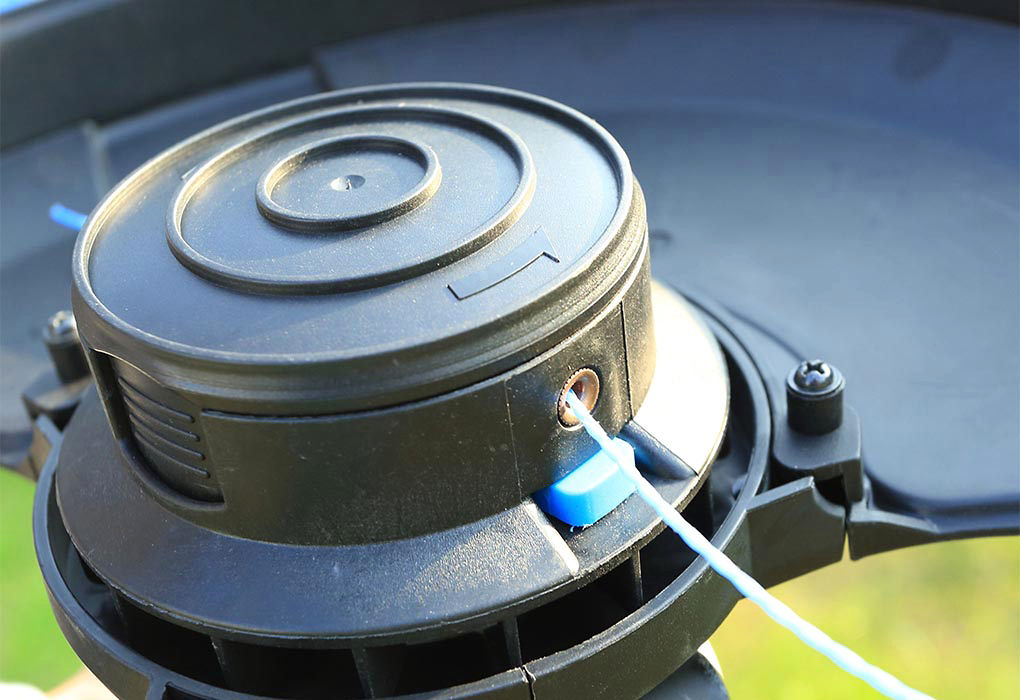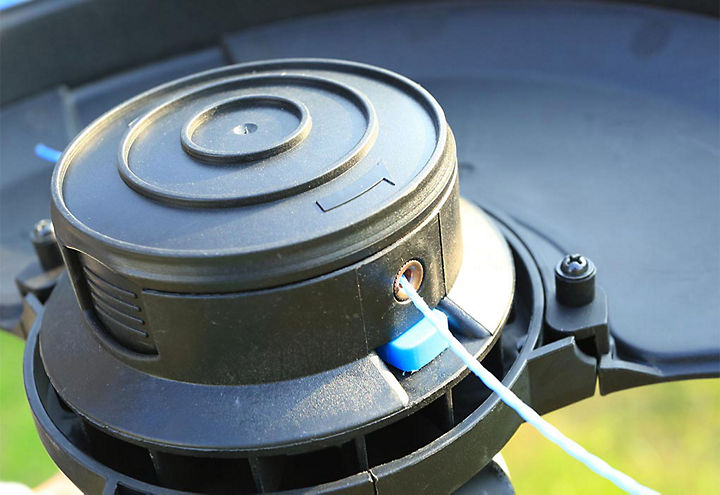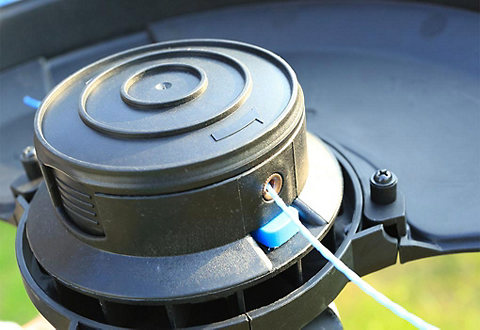 The blade cutting system is more common on higher-specification grass trimmers and on brushcutters. These blades rotate at high speed and are easy to change. They're also less hands-on than line cutting systems and tend to be more durable.
Look out for grass trimmers with a Durablade cutting system (pictured). This blade is made from a nylon composite and automatically contracts when it hits a hard object. Because of this it can last longer than other blades and ensures fewer interruptions during use.
Some brushcutters have interchangeable blades and wires. Use blades for longer grass, shrubs and weeds, or change to a line when trimming shorter grass and around delicate areas.
Cutting width
Measured in millimetres (mm)
The size of your trimming area determines the size you need - the bigger the cutting width, the more grass the trimmer can effectively clear in one go. Larger cutting widths will make cutting large areas quicker, but are not the best choice for smaller, hard-to-reach areas.
As a general rule:
200 to 300mm is a good width for light grass trimming and small-to-medium lawns
301 to 399mm is a better width for thicker grass and medium-to-large lawns
400mm and above is perfect for heavier work, like thick grass, undergrowth and large gardens.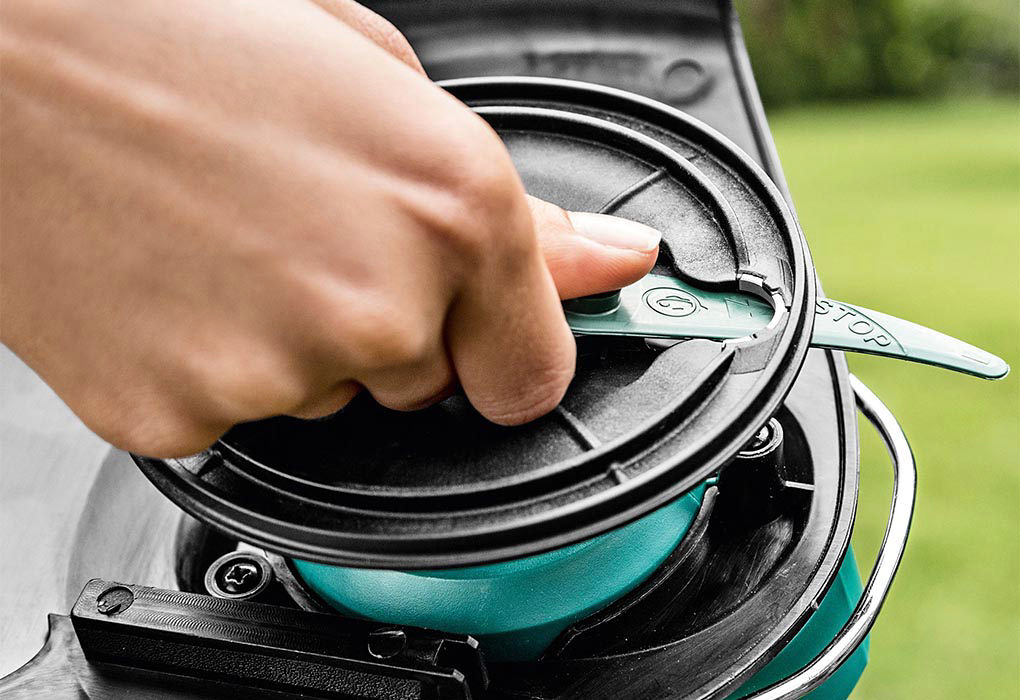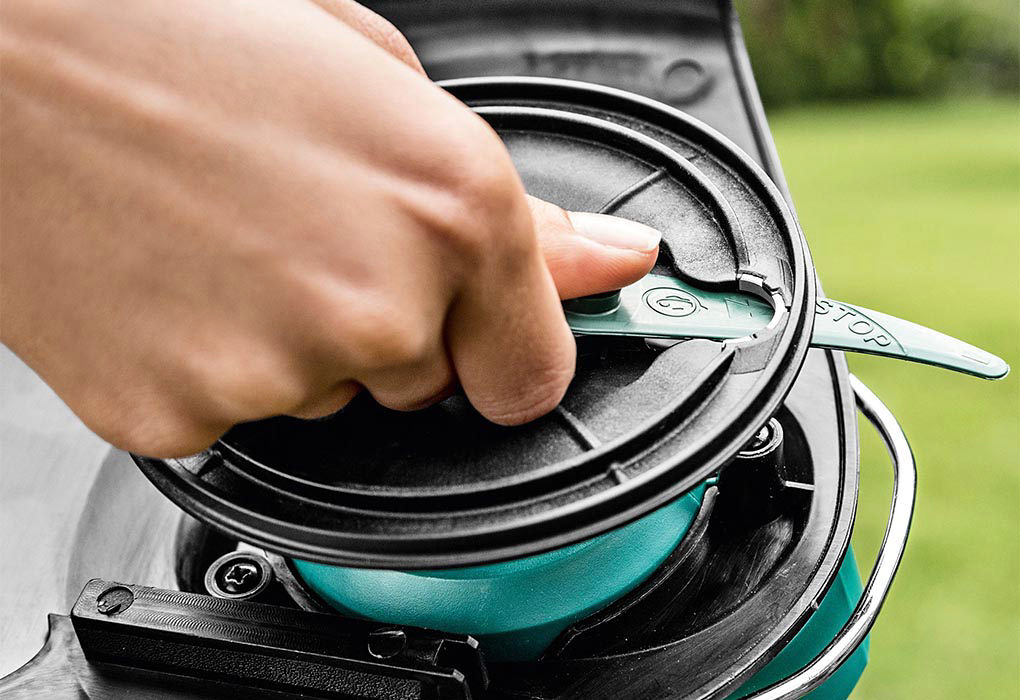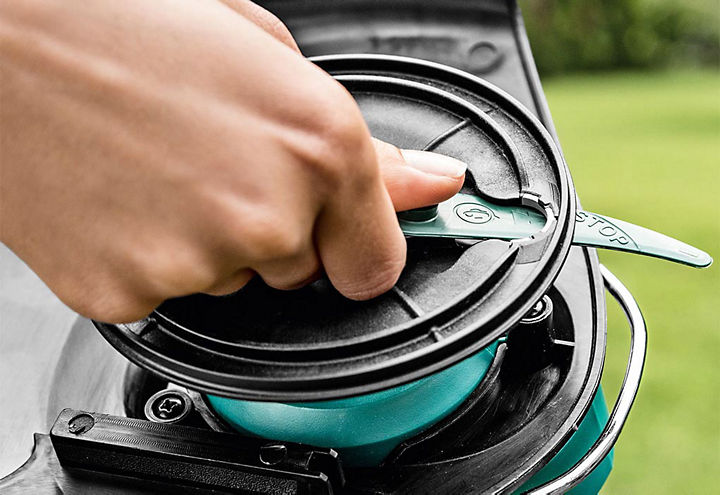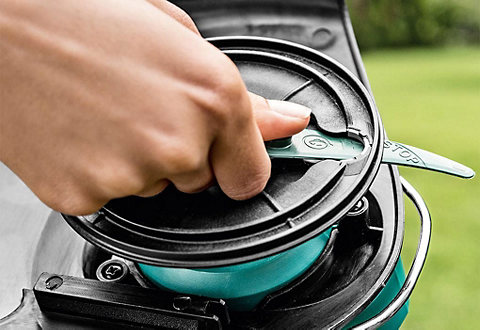 Power output
Measured in watts (W) or volts (V)
When it comes to electric motors, the bigger the power output, the more powerful the trimmer motor will be – allowing them to deal with thicker grass. Electric motor power is measured in watts, while cordless battery power is measured in volts.
If you're looking to use a trimmer on a small lawn, or for light use, electric models from 250 to 400W or cordless models with 12V and above will be suitable. For larger lawns with difficult areas, more power will be required – opt for a cordless electric model above 14V, a corded trimmer above 450V or a petrol model. The most powerful option is a petrol brushcutter.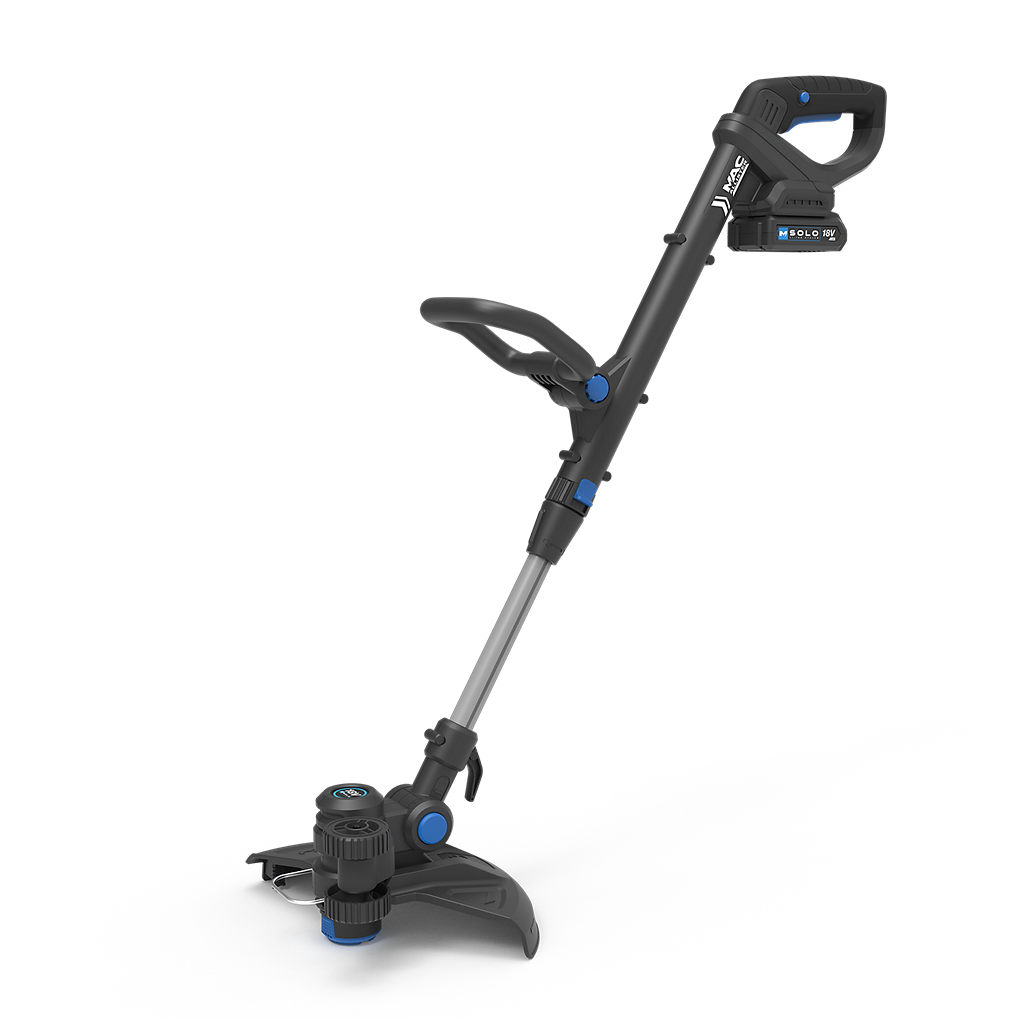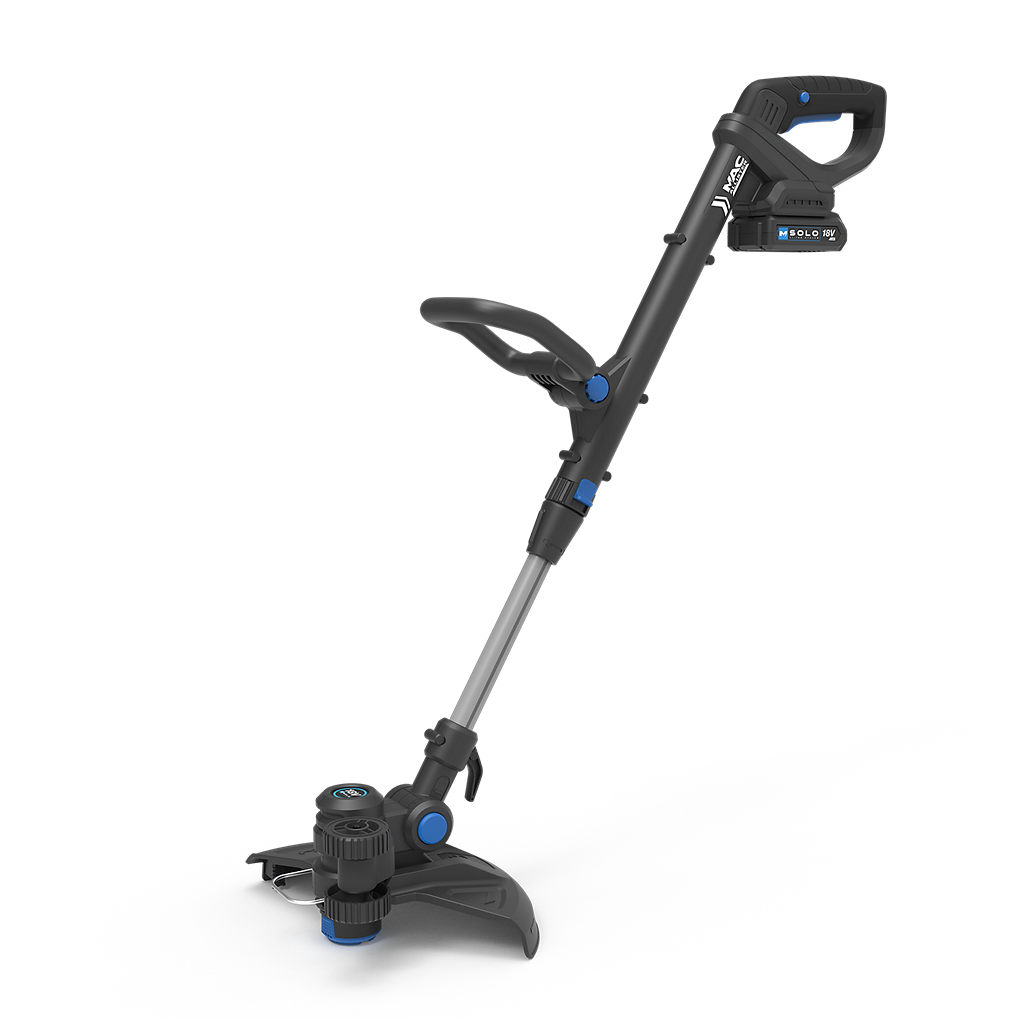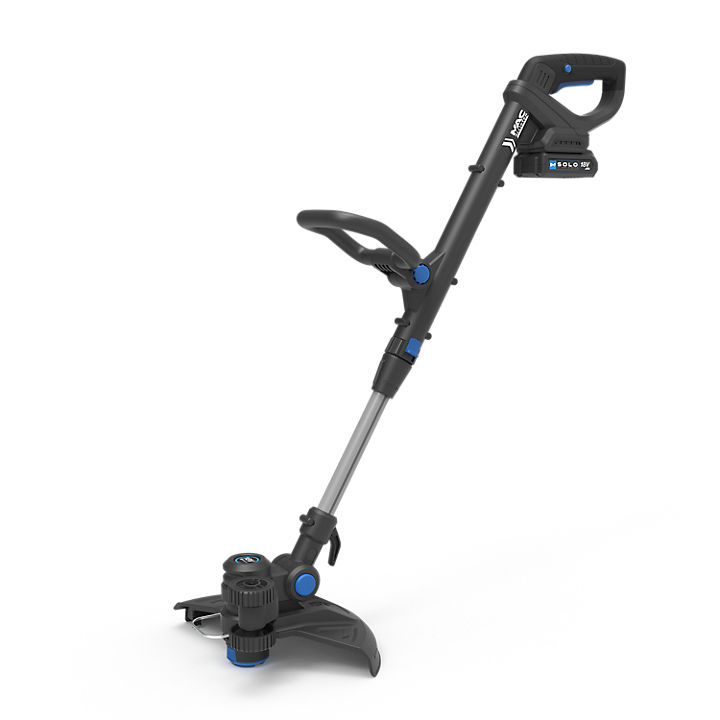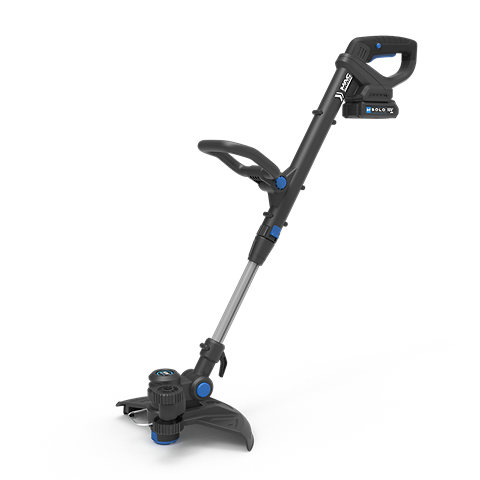 Cubic capacity
Measured in cubic centimetres (cc)
The bigger the number of cubic centimetres, the more powerful your petrol grass trimmer or brushcutter will be. More power is deployed to the cutting head, enabling it to deal with tougher jobs like thicker grass or weeds. Usually, the larger the engine, the heavier the tool is, so bear that in mind when choosing your petrol model.
Tank capacity
Measured in litres (L)
The larger the tank, the more petrol your grass trimmer or brushcutter can store. This means that you can trim for longer without having to fill up. However, a bigger cubic capacity means that it will need more petrol to power it and this affects how quickly the fuel is used.
Cable length
Measured in metres (m)
If you've opted for a corded electric grass trimmer or brushcutter, you'll have to keep an eye on the cable when trimming. For greater reach and mobility, opt for ones with the longest cable length available. Ours span up to 10m in length.
Weight
Measured in kilograms (kg)
Grass trimmers and brushcutters require lifting and, depending on the job, this could take quite some time. Be sure to choose a weight that you can comfortably manage for the duration.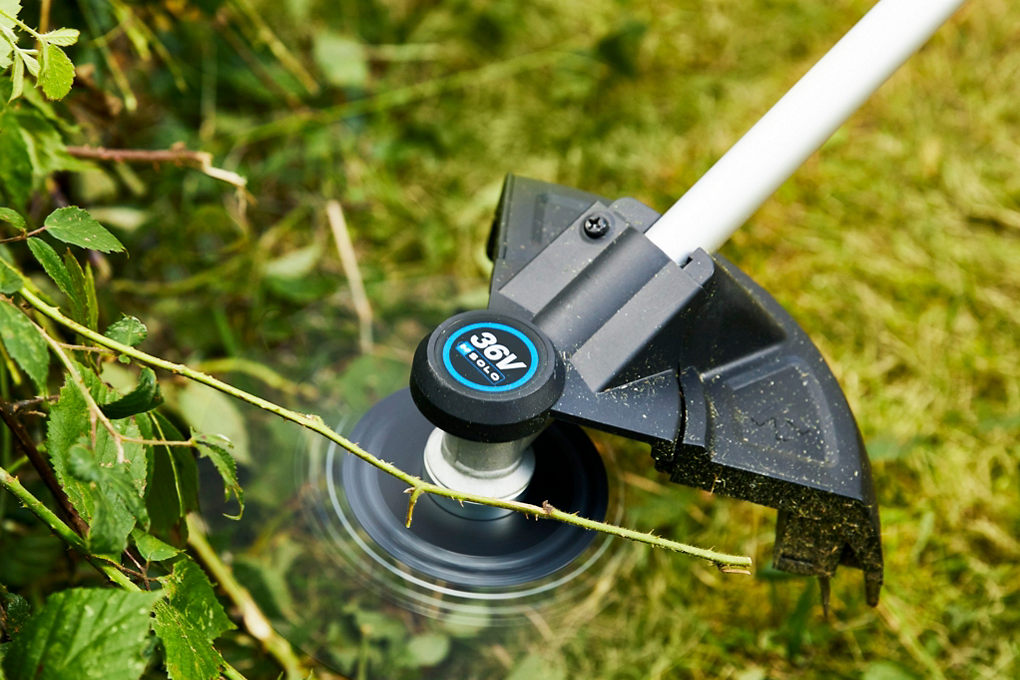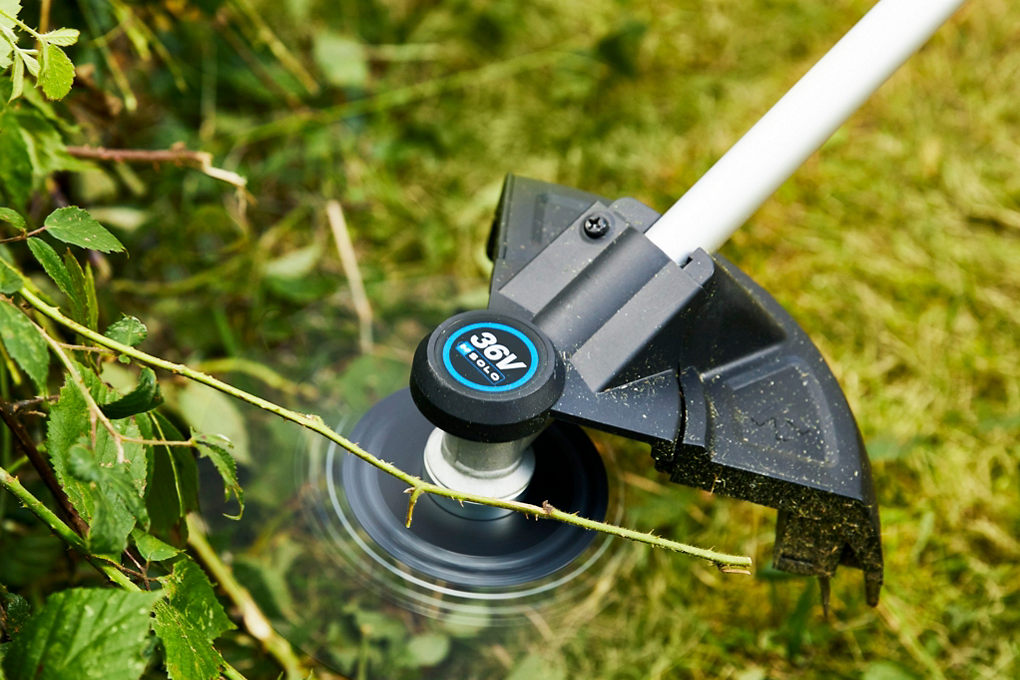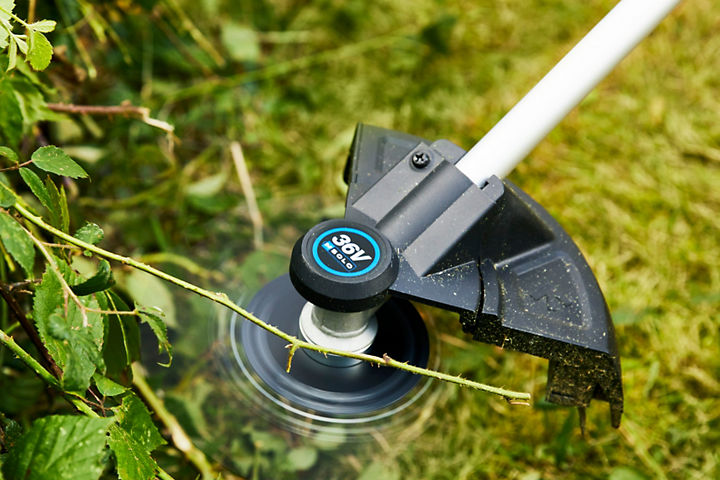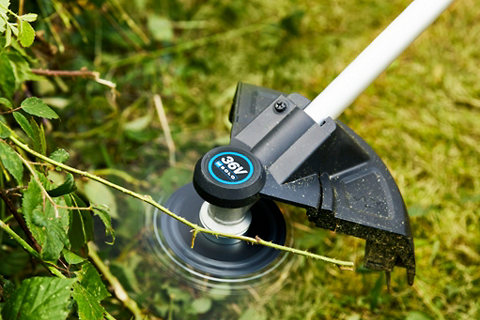 Looking after your trimmer or brushcutter
There is a range of support available should you encounter an issue with your trimmer or brushcutter at any stage. If you have bought your product within the last 6 months you may be entitled to a refund if brought back to store, however there is a variety of other support available. We stock a wide range of spare parts both instore and online with matching parts across lawnmower blades, trimmer spools and chainsaw chains to name a few, spare batteries for cordless products and a range of oils and fuel enhancer for petrol products. All our vendors also have aftersales contact support available which can help you troubleshoot any issues and provide any advice on how best to look after your product or in some cases send you spare parts or repair your product. These details can be found here.