Advice to help choose the perfect spa
If you're looking for a new and exciting way to experience your outdoor space, consider installing a hot tub (also known as spas). You can indulge in some ultimate garden luxury with models that feature LED mood lighting, MP3 sound systems, and a multitude of designs, seating configurations and jet options.
Hot tubs are a great addition to any outdoor space – offering different experiences depending on what you're looking for. Most of our hot tubs are designed to provide ultimate relaxation so you can sit back, chill out and enjoy the bubbles. But we also have a few that can help you to keep fit too. This guide will explain the different types and features to help you find the right spa for you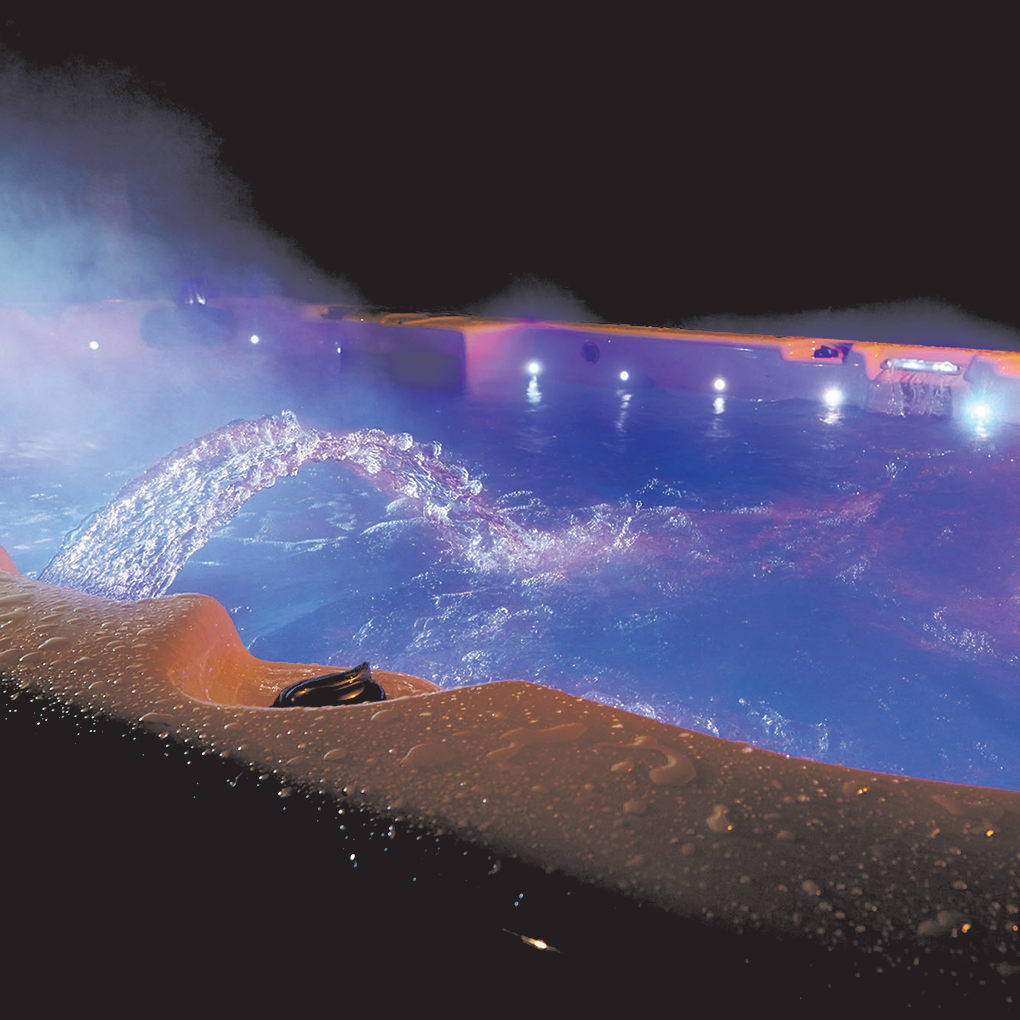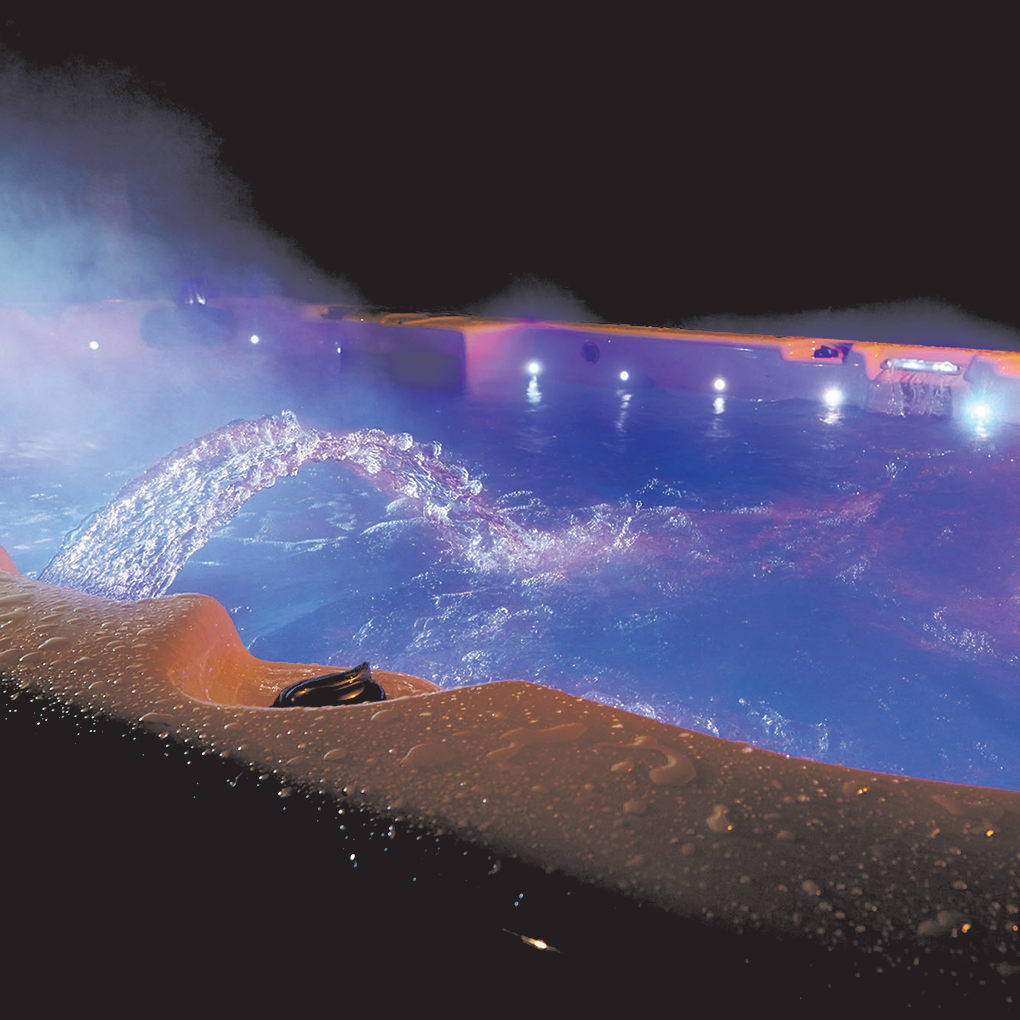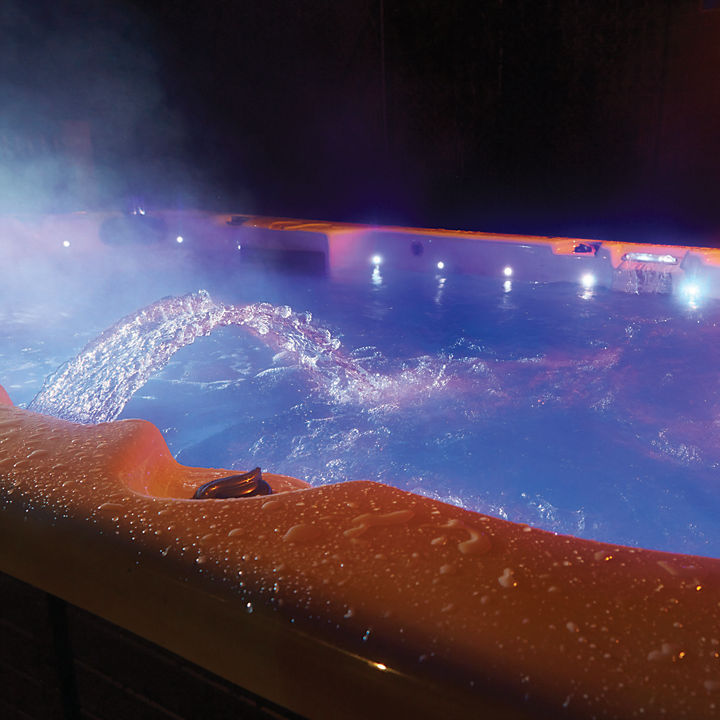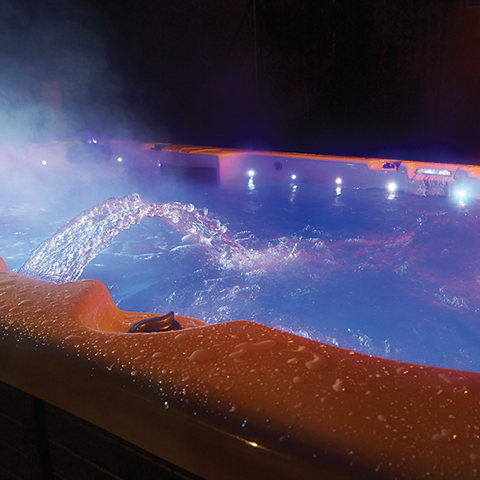 Before you begin
There are a few practical considerations to go through before you buy a hot tub.
How much space is available?
The first things to think about are where you want to put your hot tub and what the access to your garden is like. This might affect the kind of hot tub you can go for.
Our acrylic spas are delivered fully assembled so you must have clear, straight access to the spot where you want to have your spa. The access with most of our acrylic spas should be at least 90 centimetres (cm) wide and 3 metres (m) high, (the Niagara model requires 1m width due to depth). Because portable spas are assembled onsite, access doesn't pose the same issue.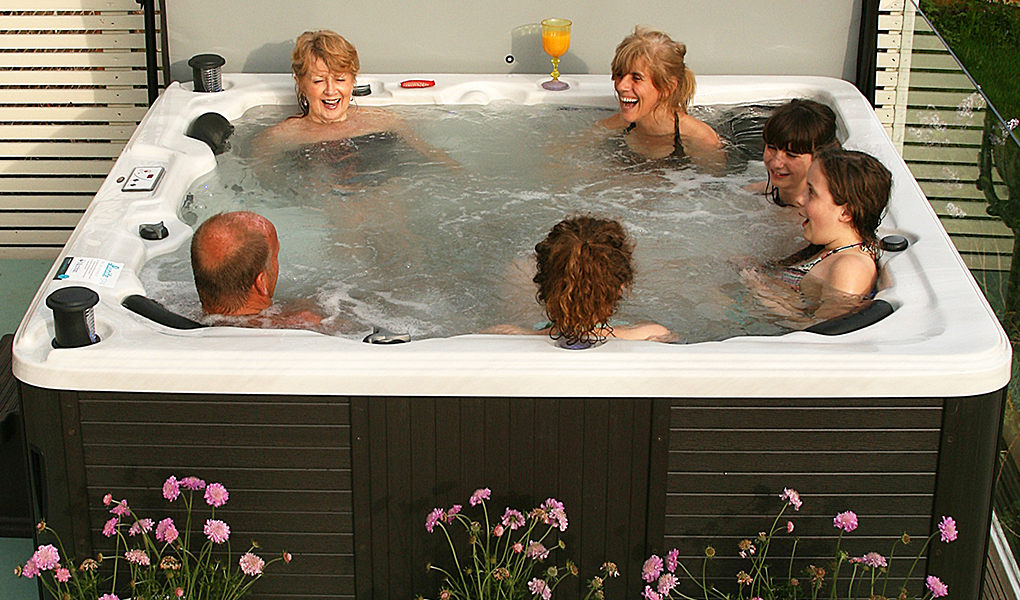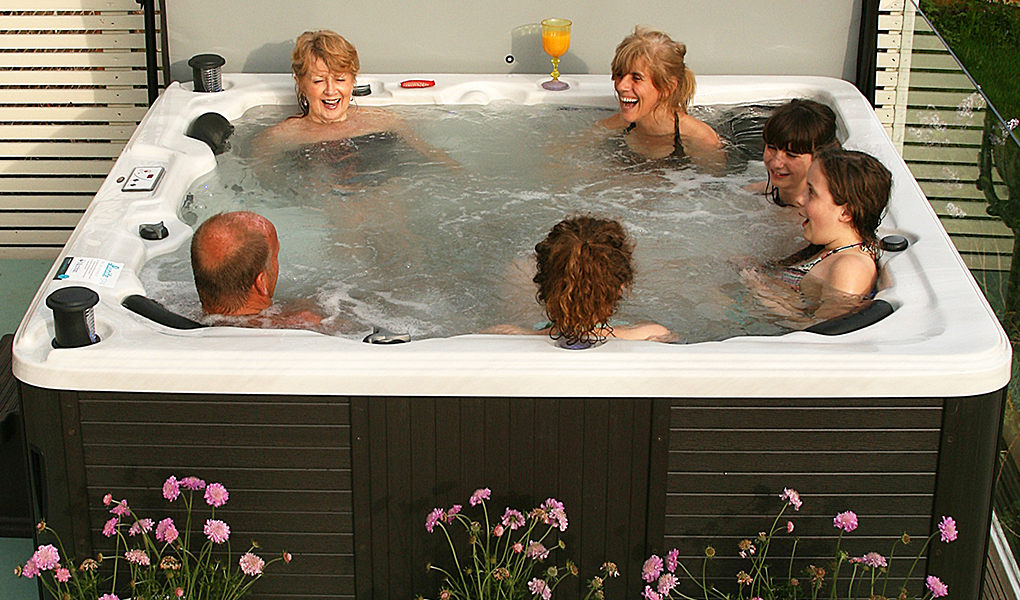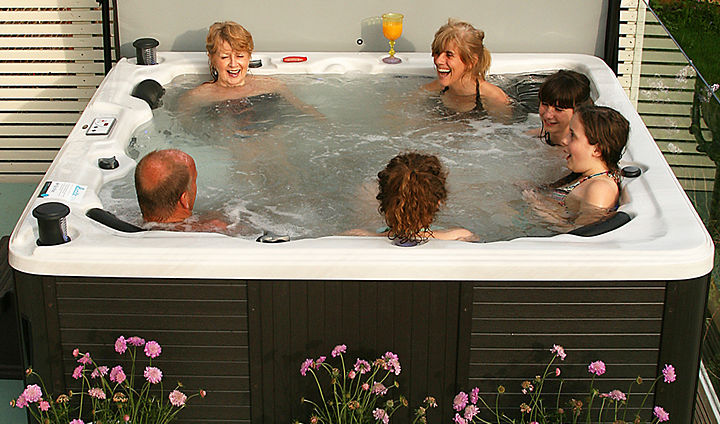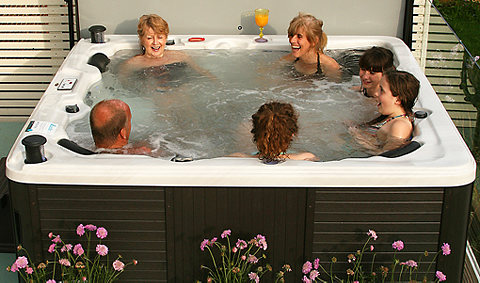 Who will be using the hot tub?
Hot tubs are great for socialising, so think about how many people you want to be able to fit in it. We have compact models that are designed for two people, like the Yukon 2 seater spa, right the way up to swim spas that can fit up to 15 people with a dedicated swimming lane.
How acrylic spas are delivered and installed
Standard Delivery:  Your Plug & Play spa will be delivered onto your property; other spas may require additional delivery requirements and costs.
After visiting diy.com and choosing your spa, upload your information to the Canadian Spa Company website and their team will contact you directly with delivery options for your chosen spa.
---
We have three different types of hot tubs: acrylic, portable and swim spas. Each option comes with different features and benefits, read on to establish which would best suit your hot tub needs.
Acrylic hot tubs
If you're looking for a permanent spa experience in your home, go for an acrylic hot tub. These hot tubs are designed specifically with hydrotherapy in mind providing a deep tissue massage using a powerful flow of water through jets. The spa shell is made from Lucite acrylic. This is a strong, scratch-resistant material with Microban® properties which means your spa surface will stay cleaner between cleanings. Microban protection inhibits the growth of bacteria on the surface of the spa.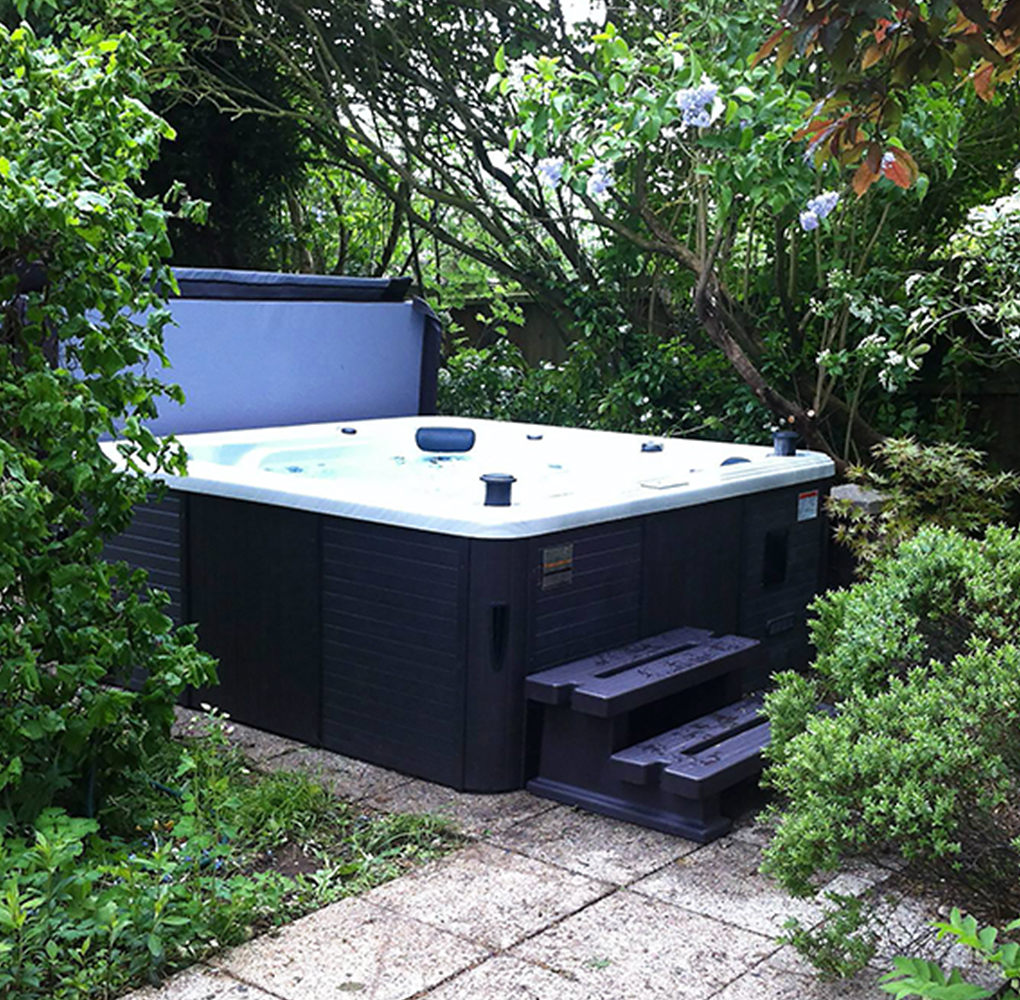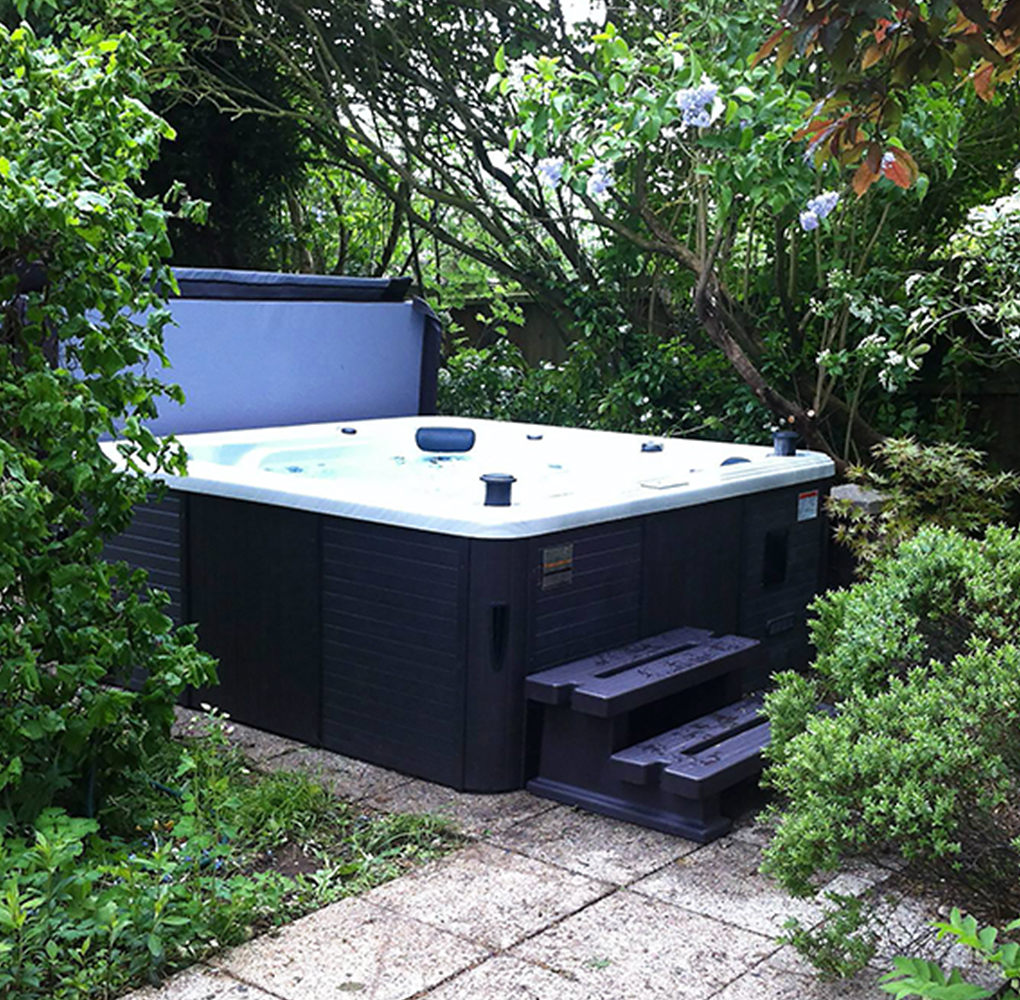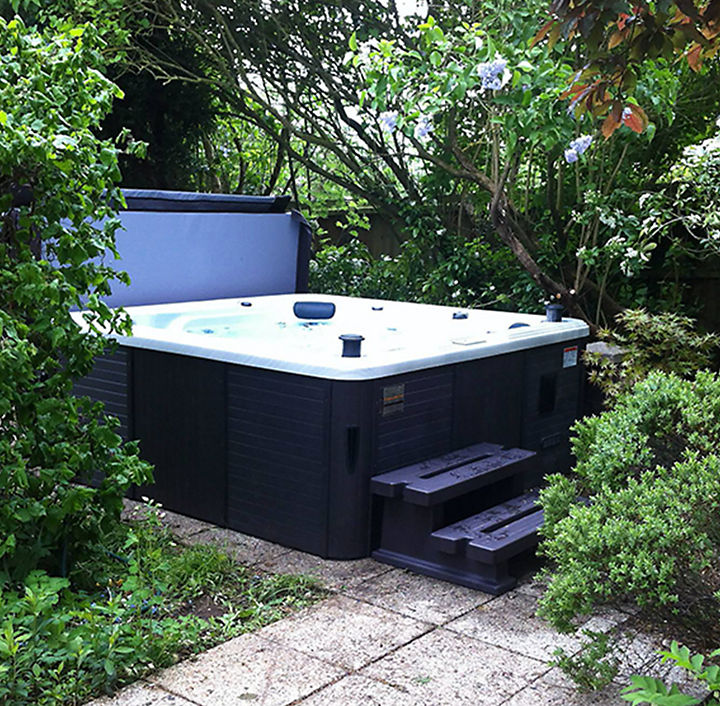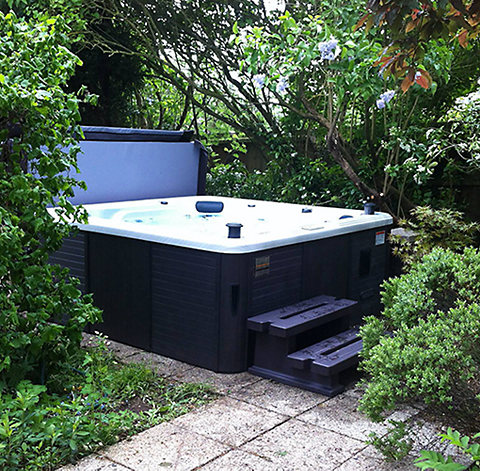 Our acrylic hot tubs:
have a variety of seating configurations available for up to seven people
feature a Balboa electronic control panel - this allows you to easily adjust temperature, water and air jets, and lights
are fitted with a premium lights package, MP3 sound system with LED speakers and an LED backlit waterfall (more information about these in the features tab)
have an ozone generator - this kills bacteria and reduces the amount of chemicals needed to sanitise the spa • feature an installed set of cleaning filters
come with a 5 to 3inches (") thick, heavy-duty insulating spa cover
come with delivery and installation
come with a two year parts and labour warranty, anywhere in the U.K
Portable hot tubs
Our portable spas are great if you dream of relaxing in warm, bubbly water but you don't want a hot tub to be a permanent feature in your garden. They're ideal if you're worried about the access available or you live in rented accommodation. They offer all the benefits of a hot tub with the ability to dismantle it should you move home or wish to use it seasonally.
Choose between two types of portable hot tub - inflatable and foam-walled. Inflatable spas are made from an inflated vinyl liner and are best for seasonal use. Foam-wall spas, like the 4 seater Rio Grande, use a high-density foam to create the spa's sectional wall structure and a two-part vinyl liner to prevent the water-holding liner from touching the floor. This offers greater insulation and durability than an inflatable spa - perfect for year-long use.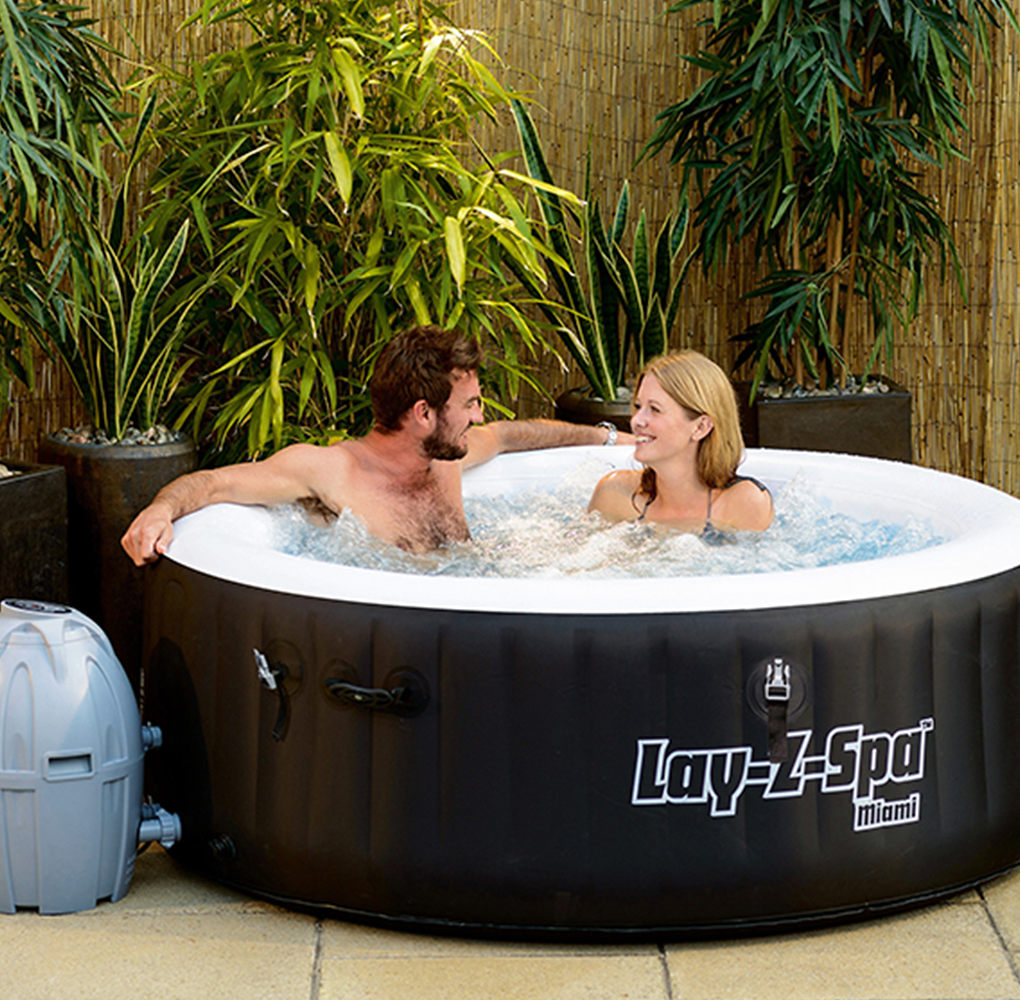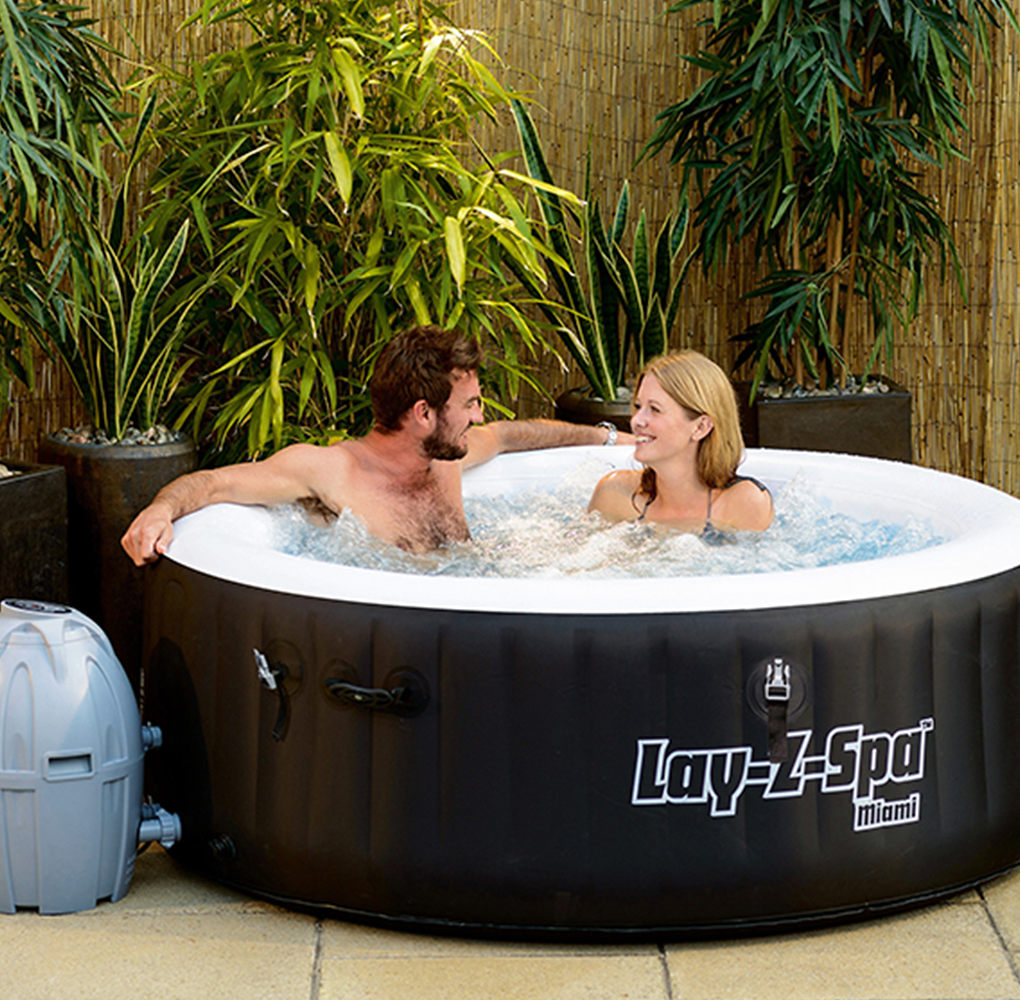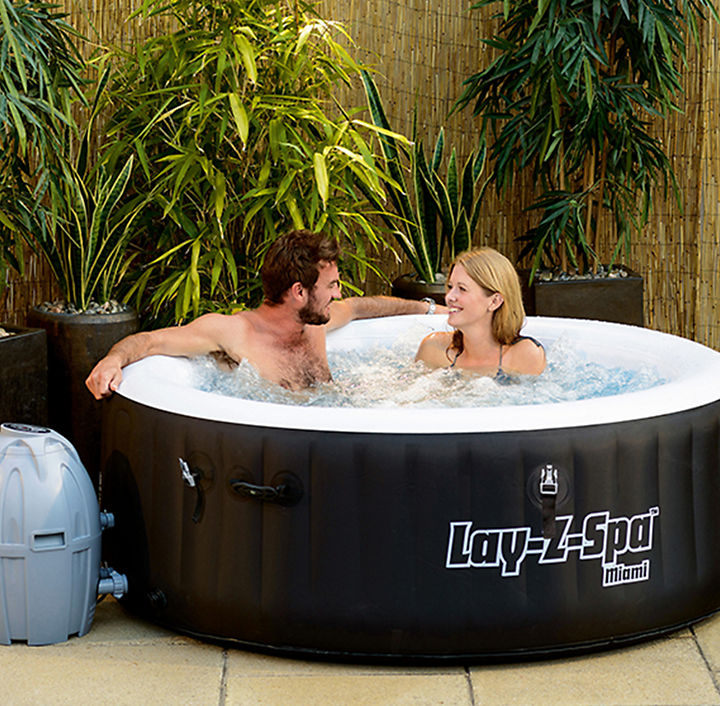 Our portable hot tubs:
have open plan seating for up to seven people
feature a control unit that lets you set the temperature and operate the massage function
are easy to assemble - no tools are required
can be plugged into a 13amp (A) outdoor socket
Swim spas
With hydro-massage seats and a dedicated swim area, our range of swim spas are a hybrid of a hot tub and a swimming pool. They offer you the opportunity to exercise as well as relax. And because they maintain the water temperature and keep the water clean in the same way that a hot tub would, they allow you to swim 365 days a year.
With models up to 20 feet (ft) long with four powerful 5 horsepower (HP) pumps, the jets of the swim spas offer a vigorous workout, as well as a deep tissue massage.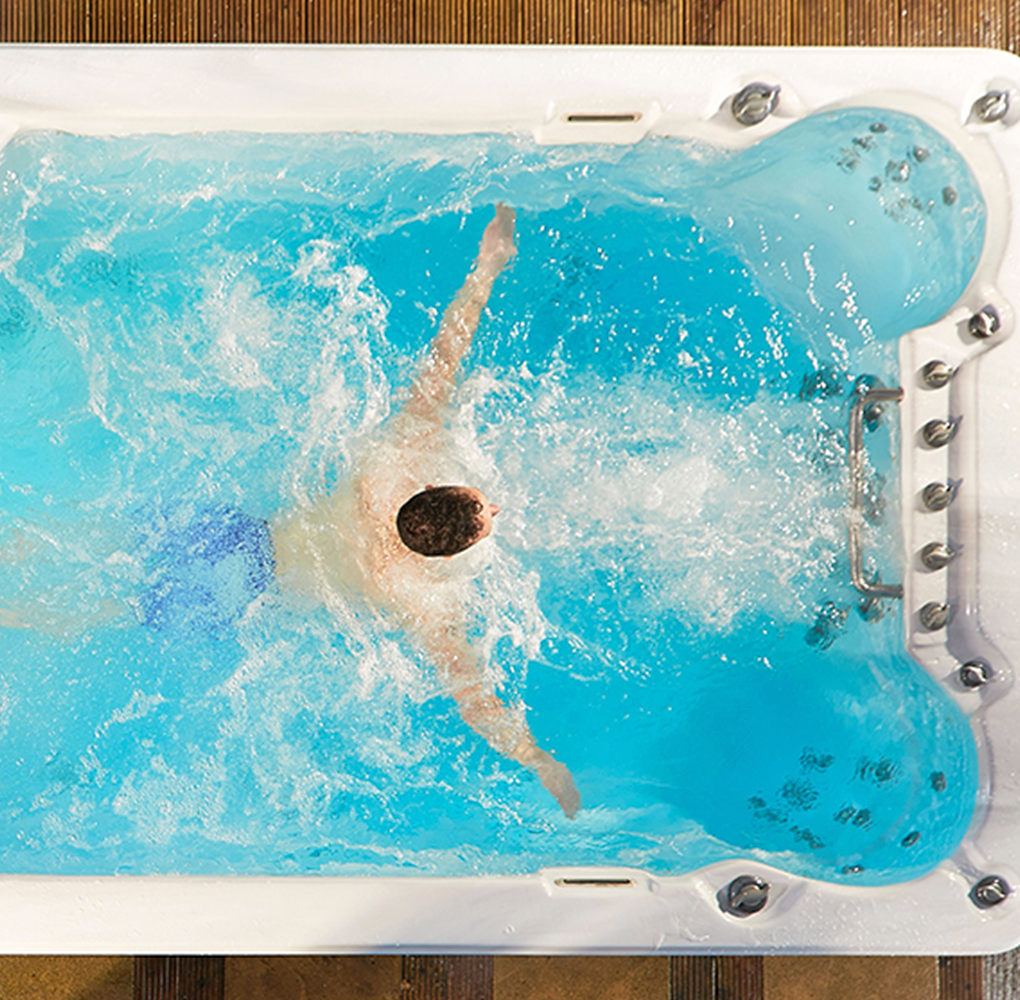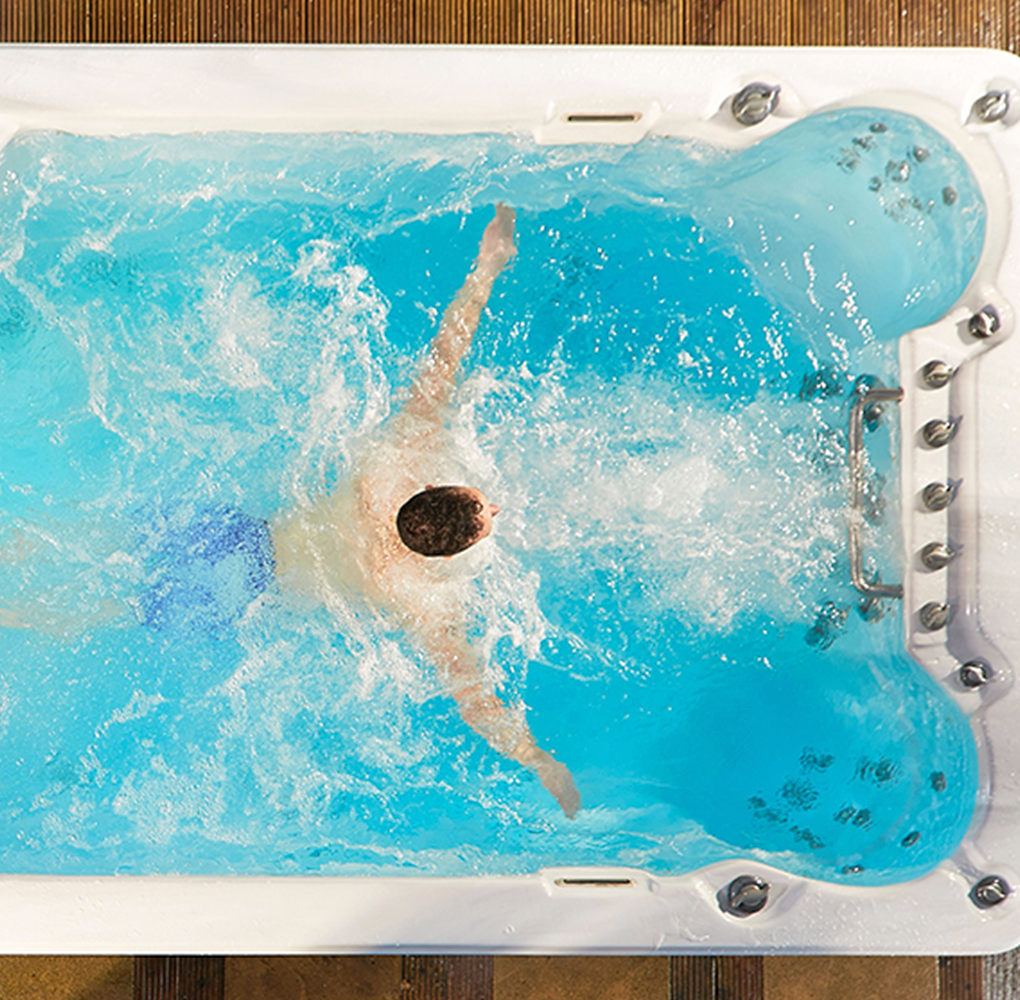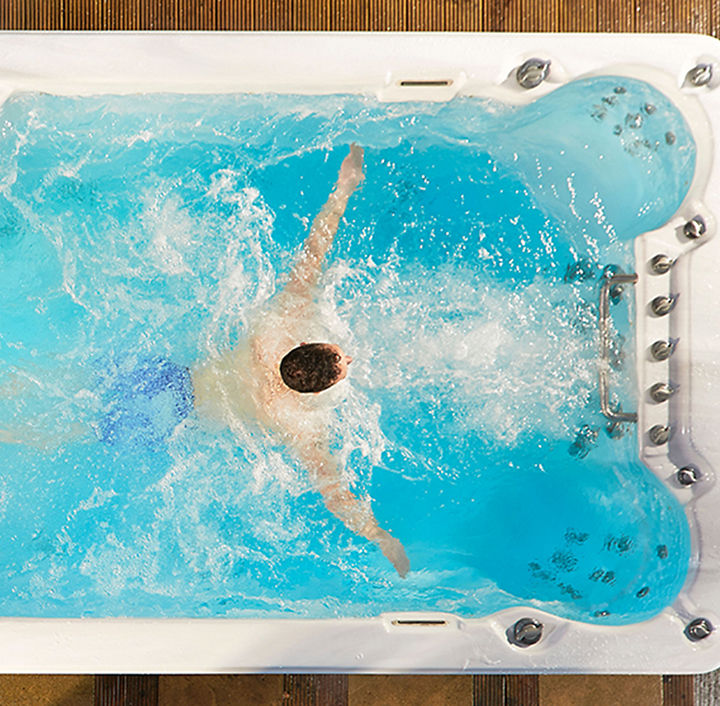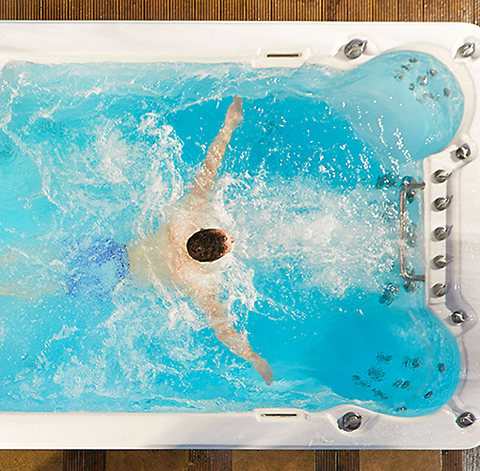 Our swim spas:
have space for up to 15 people - however only one person can make use of the swimming feature at a time
feature an adjustable current which you can swim against
feature a Balboa electronic control panel - this allows you to easily adjust temperature, water and air jets, filter cycles and light
are fitted with a premium lights package, MP3 sound system with LED speakers and two LED backlit waterfalls
have an ozone generator - this kills bacteria and reduces the amount of chemicals needed to sanitise the spa
feature an installed set of cleaning filters
come with a three-tiered step
come with a 5 to 3" thick heavy-duty insulating spa cover
come with delivery and installation (if an over-the-house crane is required this is not included)
come with a two year parts and labour guarantee, anywhere in the UK
---
Hot tubs have lots of features that help to make your spa experience the best it can be. We outline the key features below and explain what they mean. Most of the features we talk about are applicable to acrylic and swim spa models. Features vary depending on type and model so be sure to check the specific details of the spa you choose.
Hot tub jets
The different spa designs come with different number of jets and the more jets, the better the massage effect. Every jet in our acrylic hot tubs or swim spas is adjustable, so you are in complete control of the pressure. Turn them on or off, and increase or decrease the pressure as you wish. Our jets can be easily managed to blow heated air and water in varying combinations to create different massage effects. So, whether you fancy a tranquil flow of water for a morning soak, or an invigorating, deep tissue massage after playing sport, it's up to you.
Customise your experience by moving the jets around as you like. Any jet can be swapped for another of the same size within the spa to allow for different styles of massage and they have plastic surrounds which are easy to grip underwater. On some portable spa models you can change the speed of the jets using the control panel to deliver three different massage settings.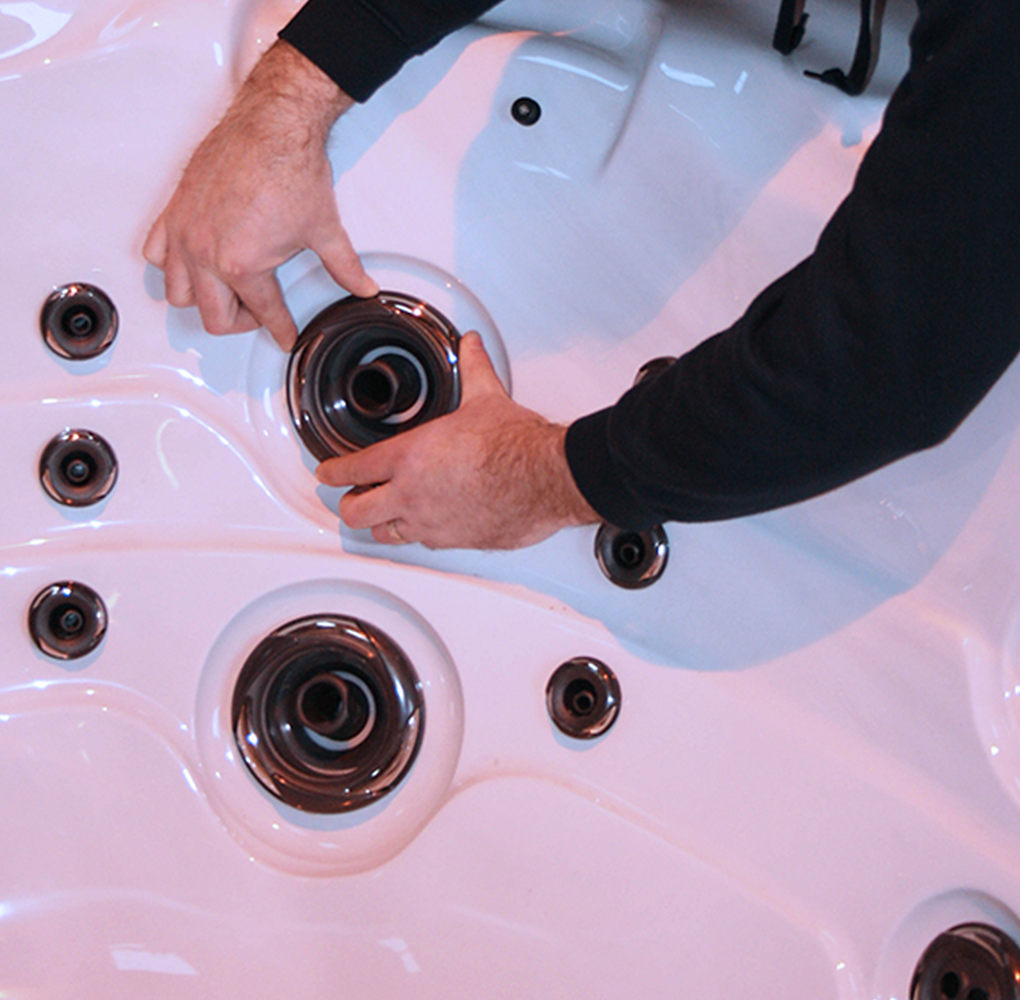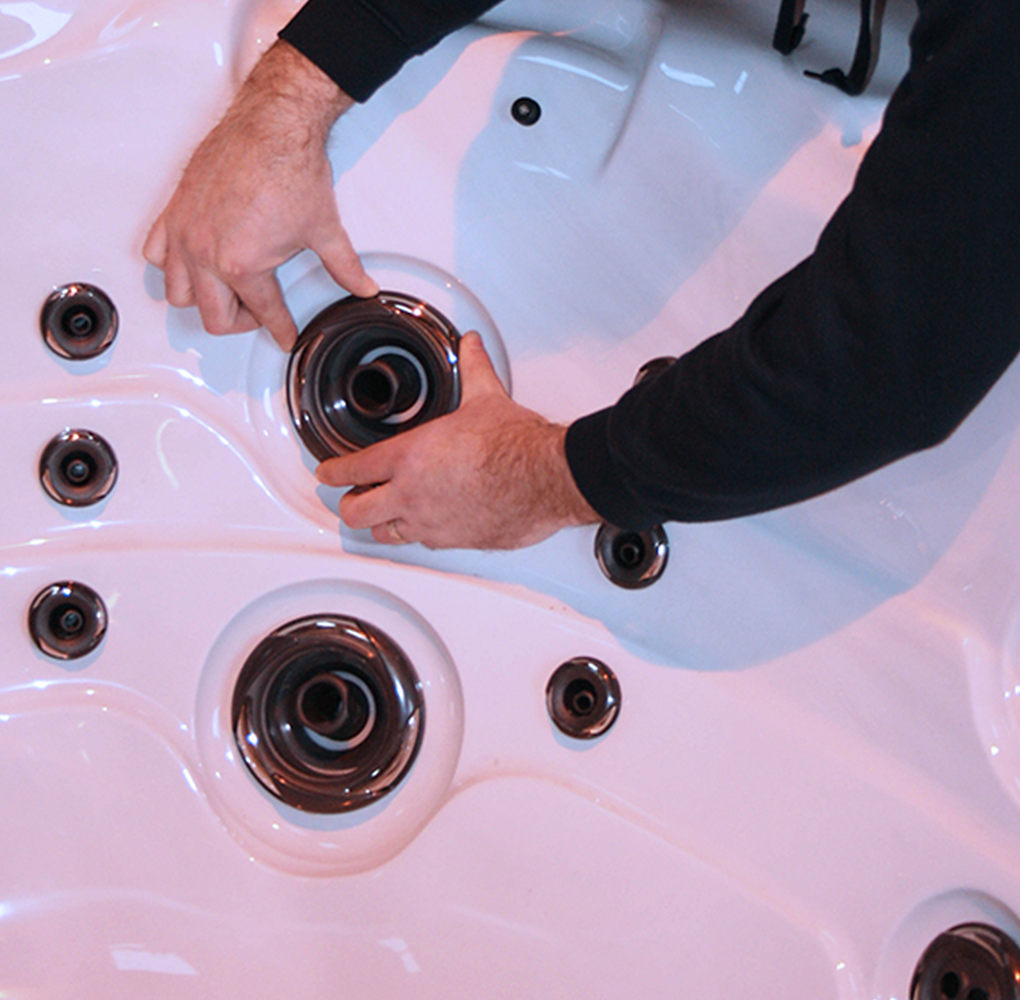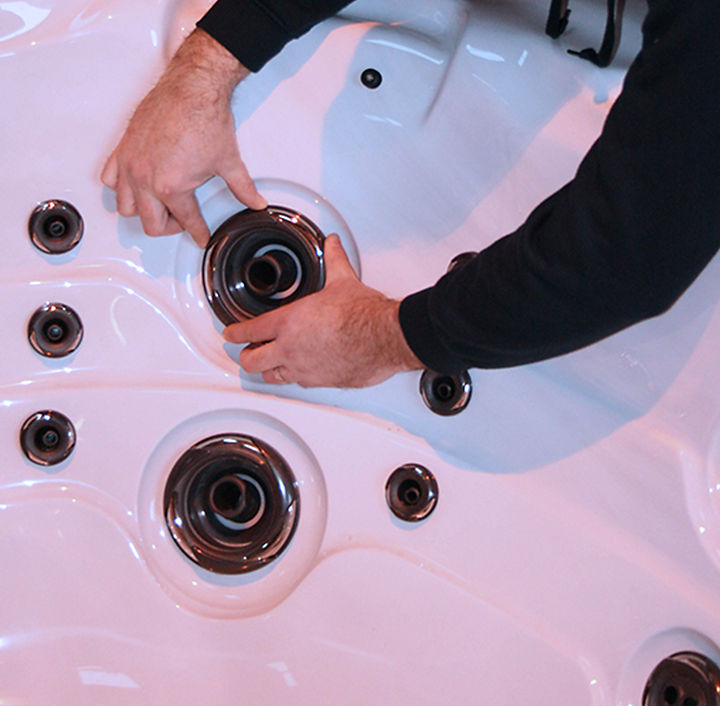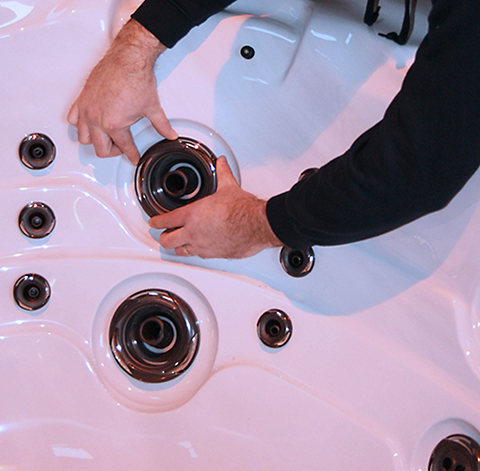 Hot tub seating
Depending on the size and model of your hot tub, you can expect a combination of seating styles including:
• body-contoured loungers that allow you to lie back and really relax
• the Captain's chair – a deep seat that allows you to be almost fully submerged
• bench-style seating that allows people to sit together
• elevated seats that lift you higher above the water surface
Each of our seating styles comes with different jets to provide a new spa experience for each position. If you're looking for a full body massage, move around the tub, sitting in each place to get the full impact. We recommend a model that seats five or six people for the best value.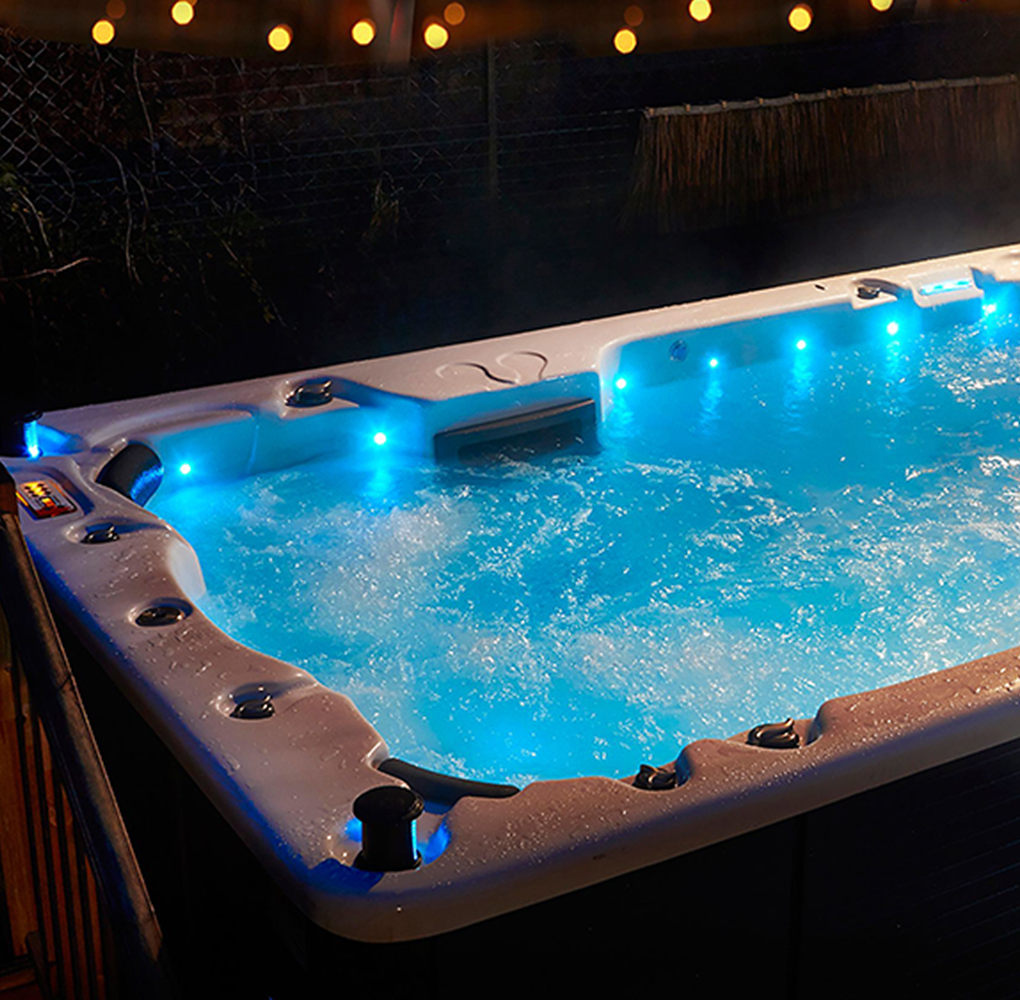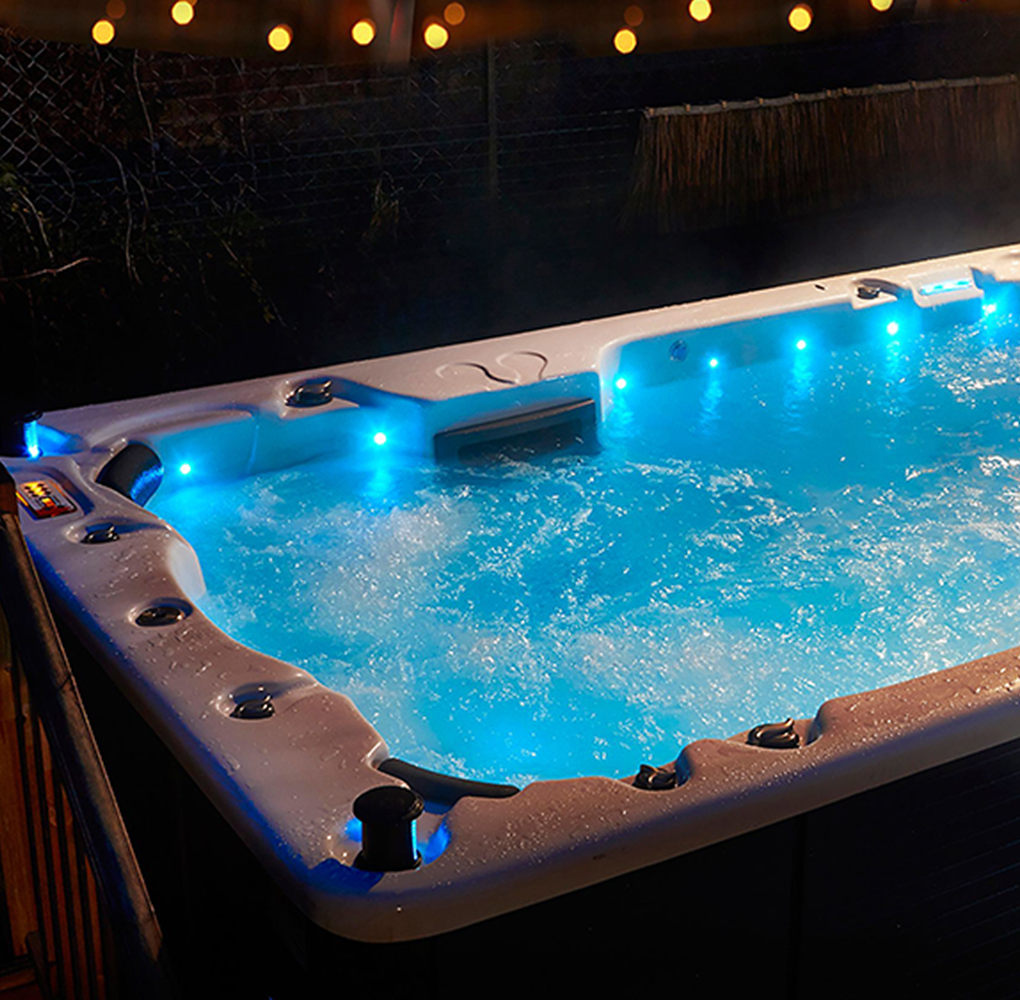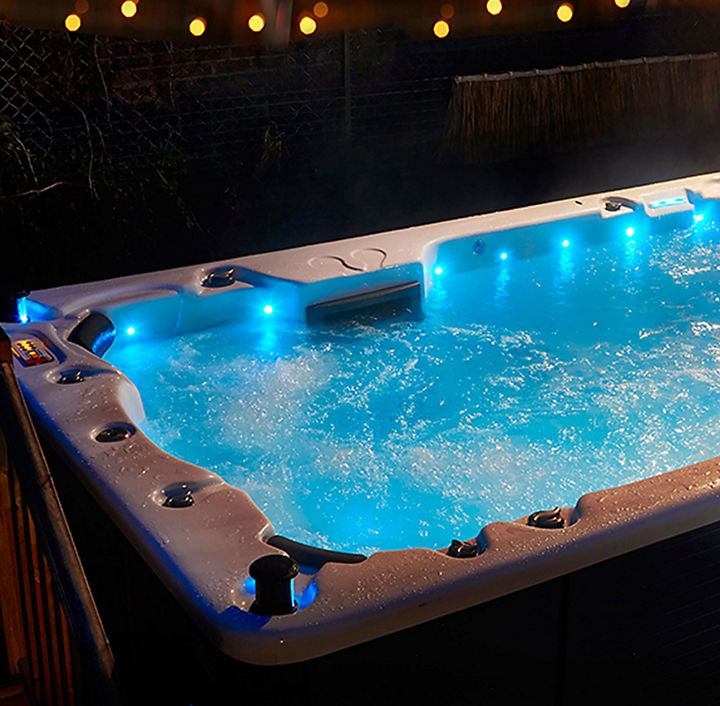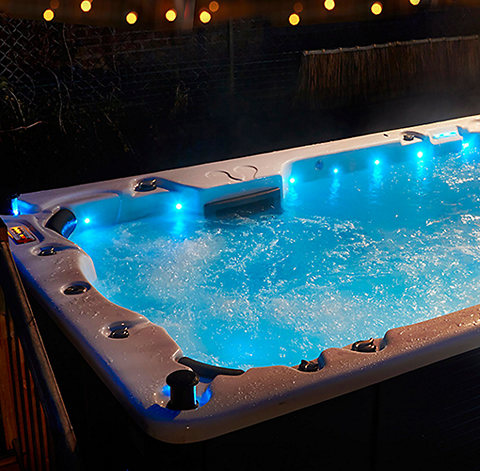 Hot tub lighting
Create the perfect mood for your night-time soak with our changeable LED lighting. Perimeter lighting around the waterline is an impressive feature for when it's dark, especially if you have a lighter-coloured hot tub. Not only does the water change colour but the shell itself will reflect the light colours, creating a striking visual experience.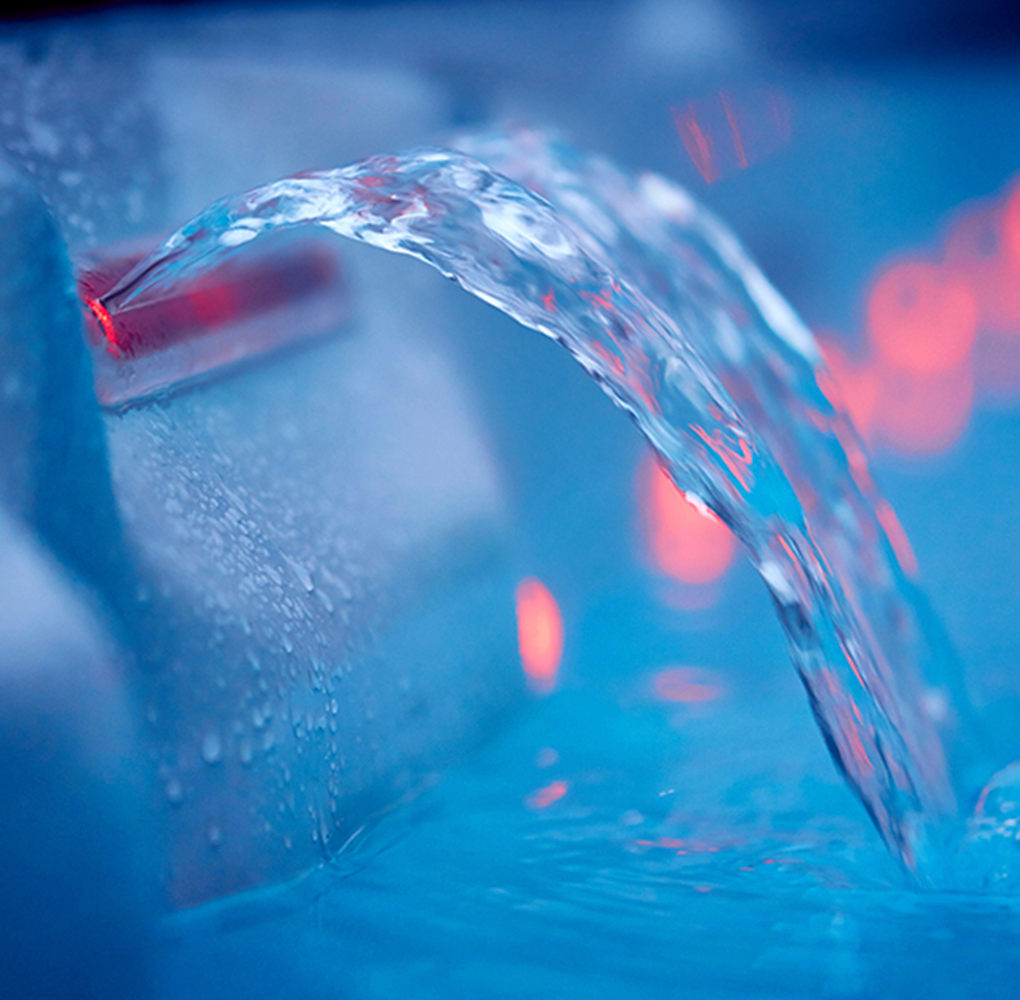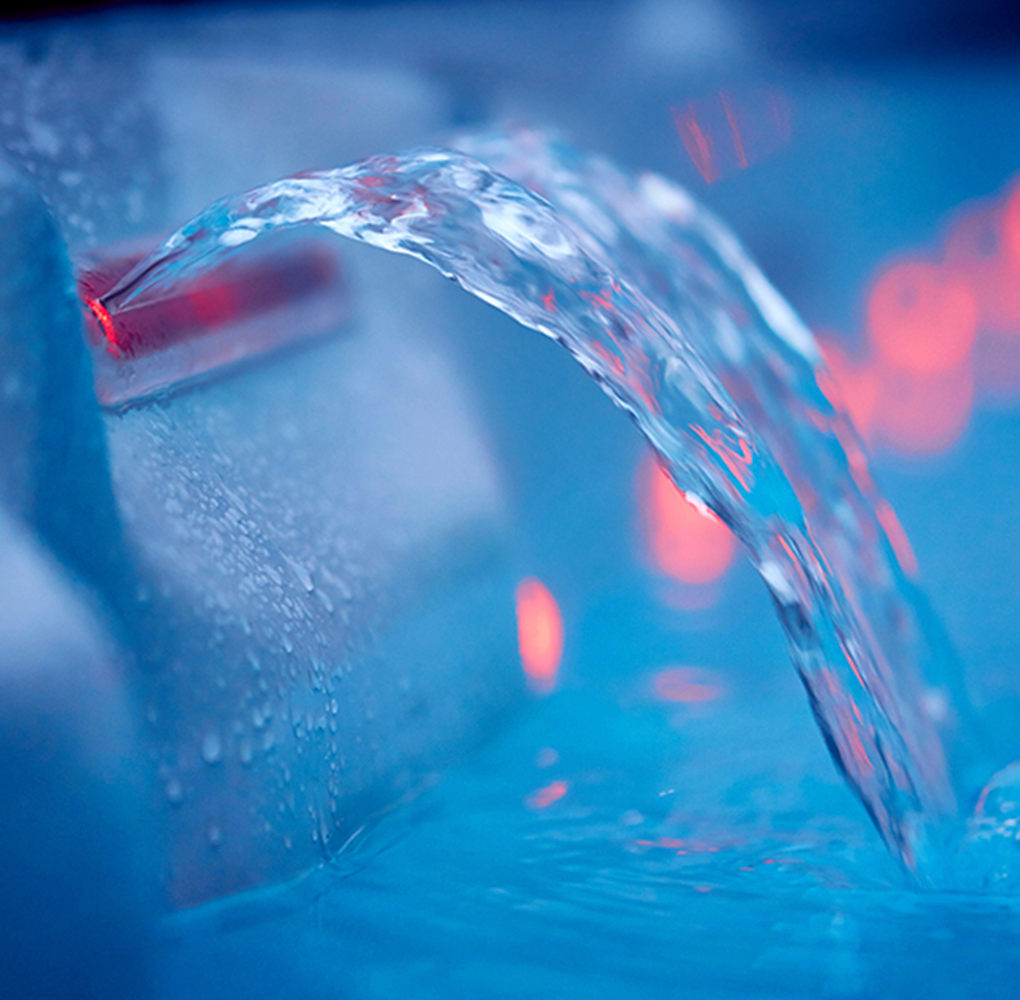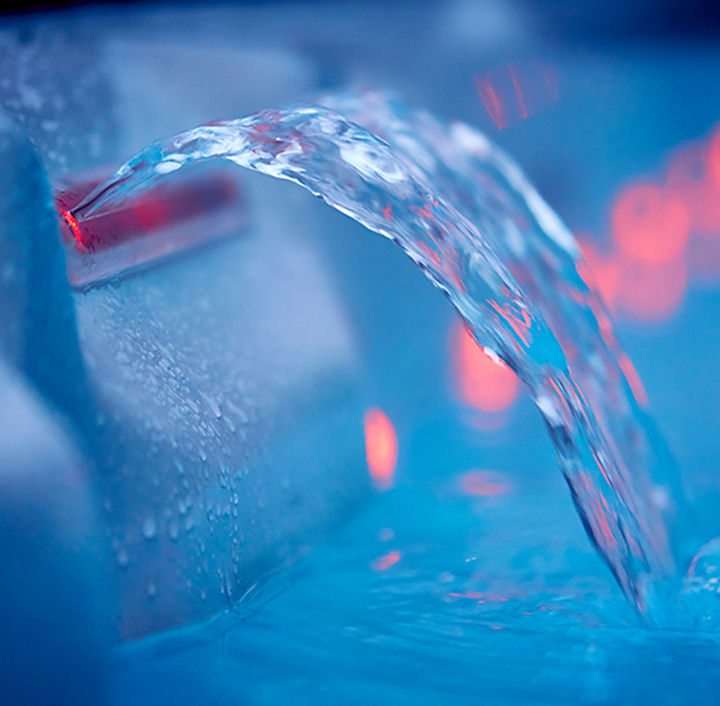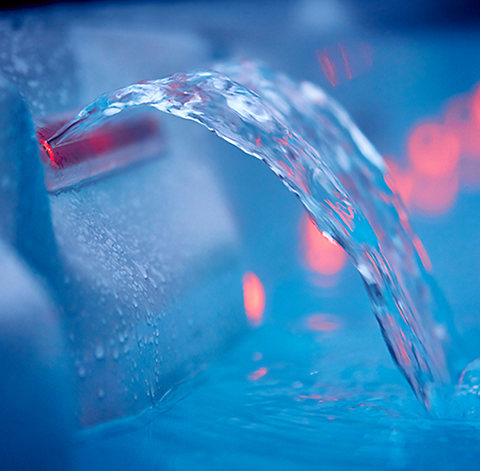 Hot tub sound system
Whether you're looking to create a bit of a party atmosphere, or want to play your favourite songs while you're massaged by the jets, choosing a spa with a built-in sound system can make all the difference.
Our MP3 sound systems come with illuminated, retractable speakers so they can be put down out of the way allowing you to put the cover on. They work with any smartphone or MP3 player, so you're in total control of what you're listening to, and they also have LED lights to complement the rest of your spa's lighting.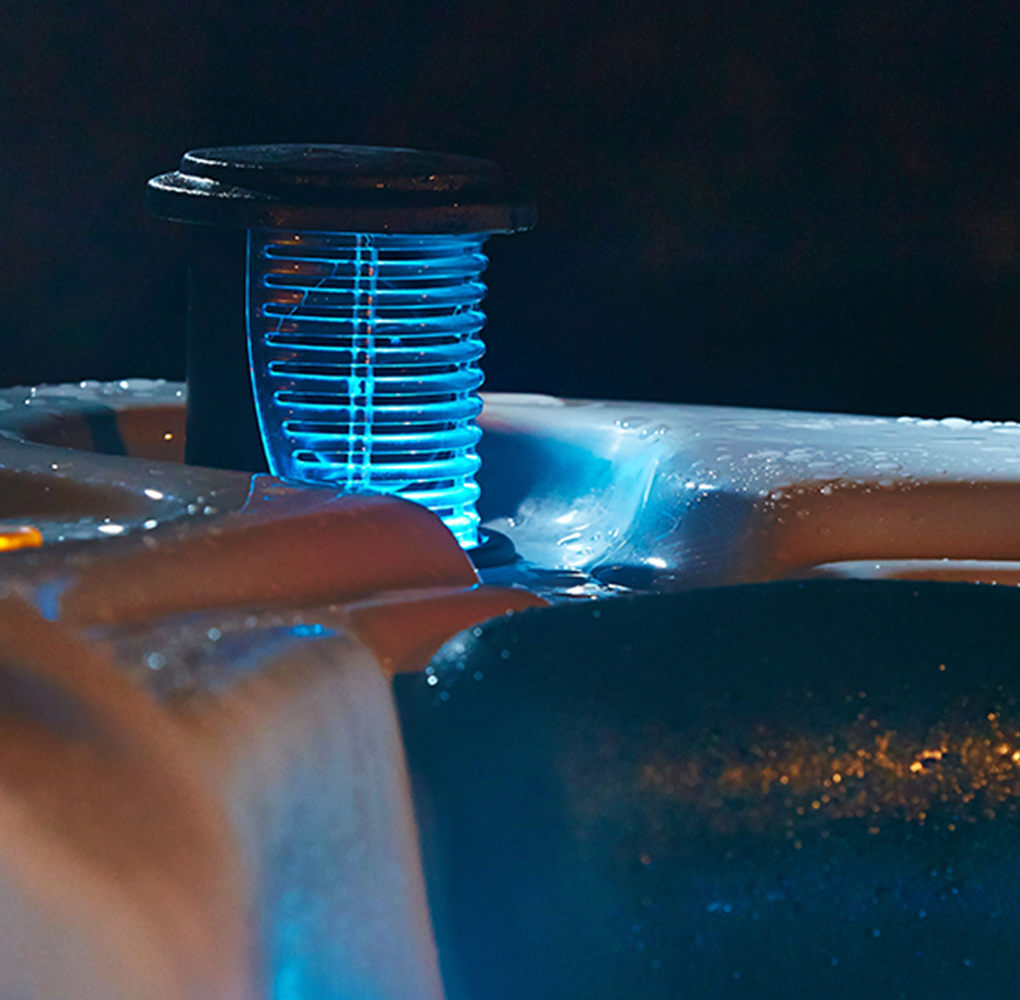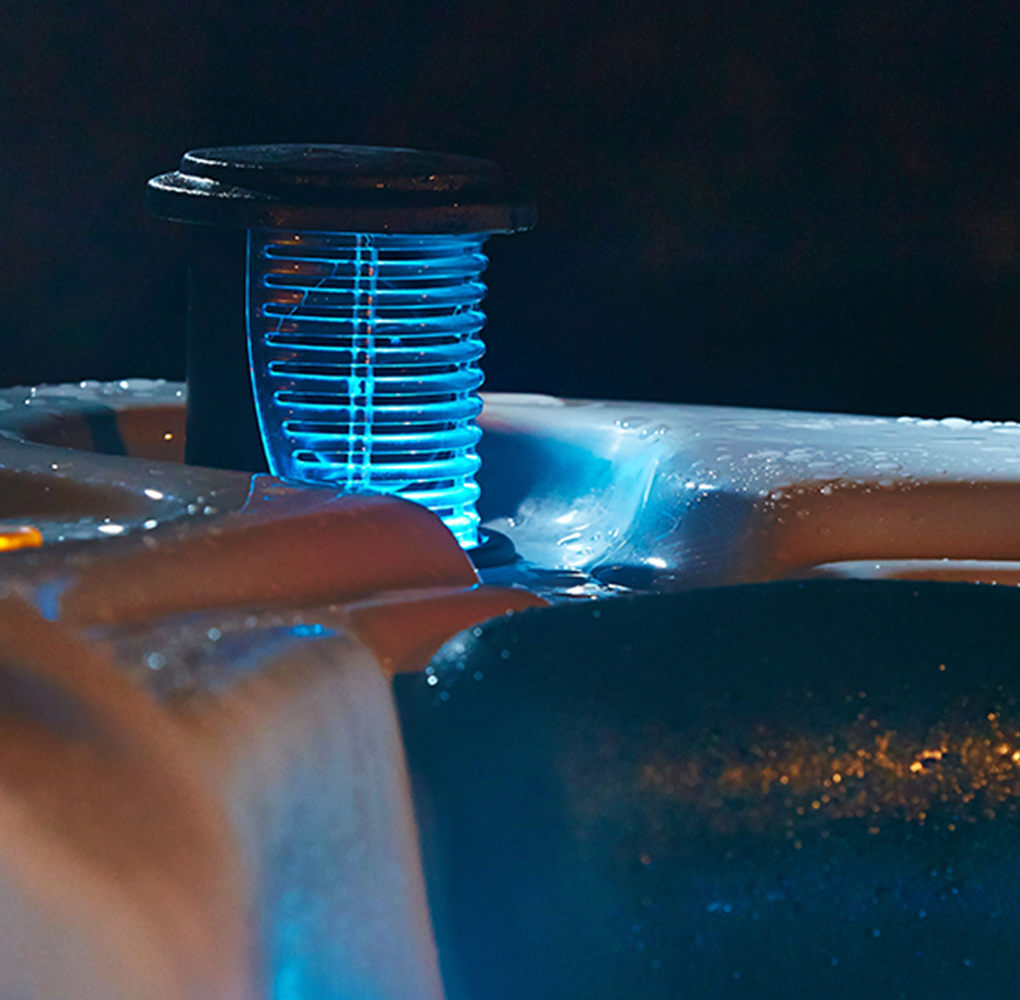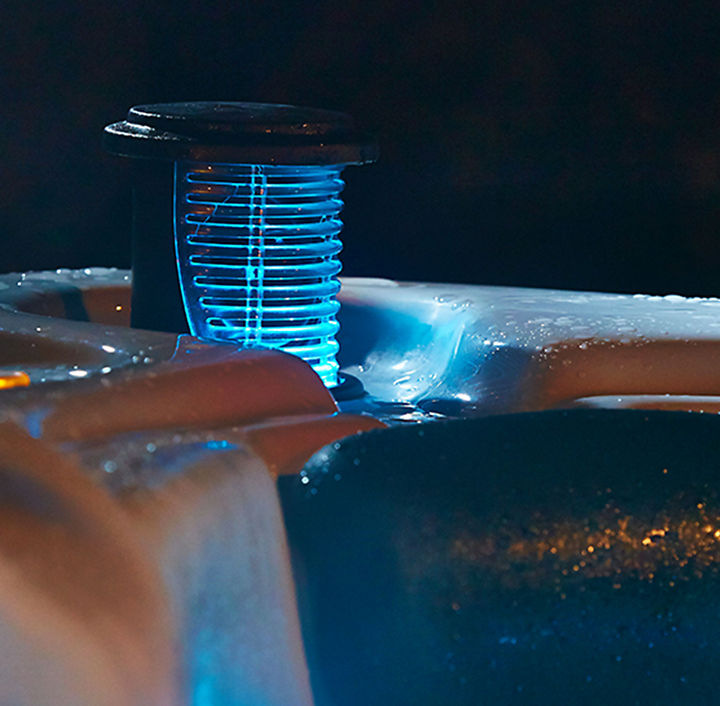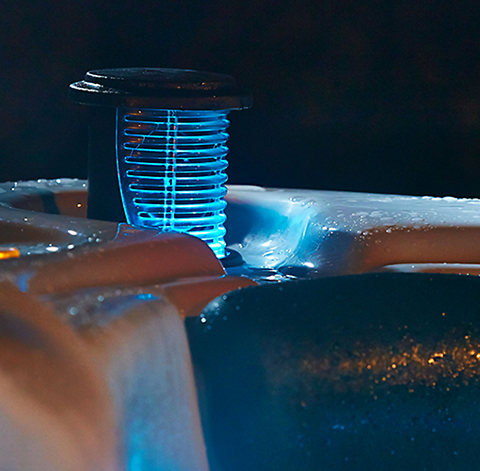 Hot tub filters & water purification
Silver Ion Microban filters kill bacteria and offer antimicrobial protection to ensure that your water is fresher for longer. All the water in your spa passes over these filters meaning that any bacteria is killed on contact, reducing the amount of chemical treatment required.
The 100 square foot filtration system on our acrylic spas provides superior cleaning and reduces any flow problems that can be caused if the filters become clogged. The UV ozone water purification system regularly disinfects and kills bacteria in the water of your hot tub.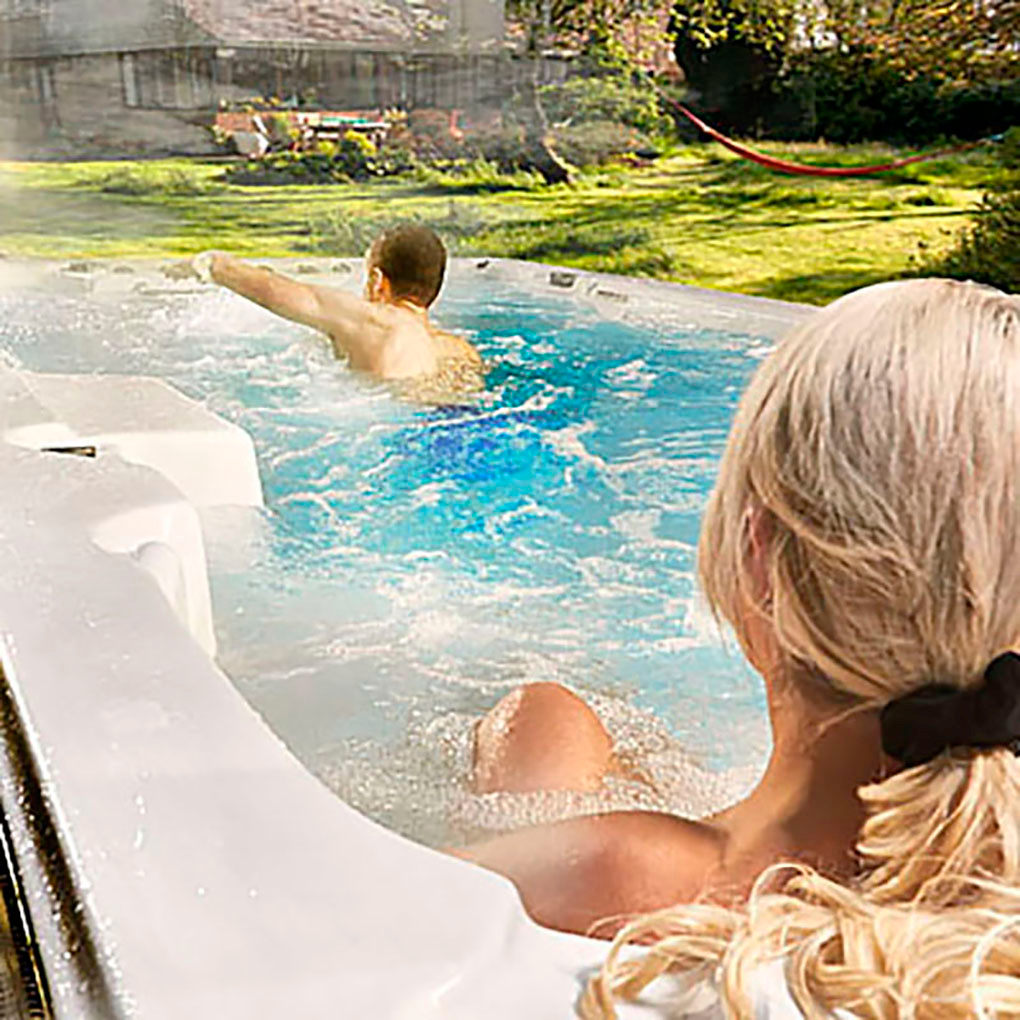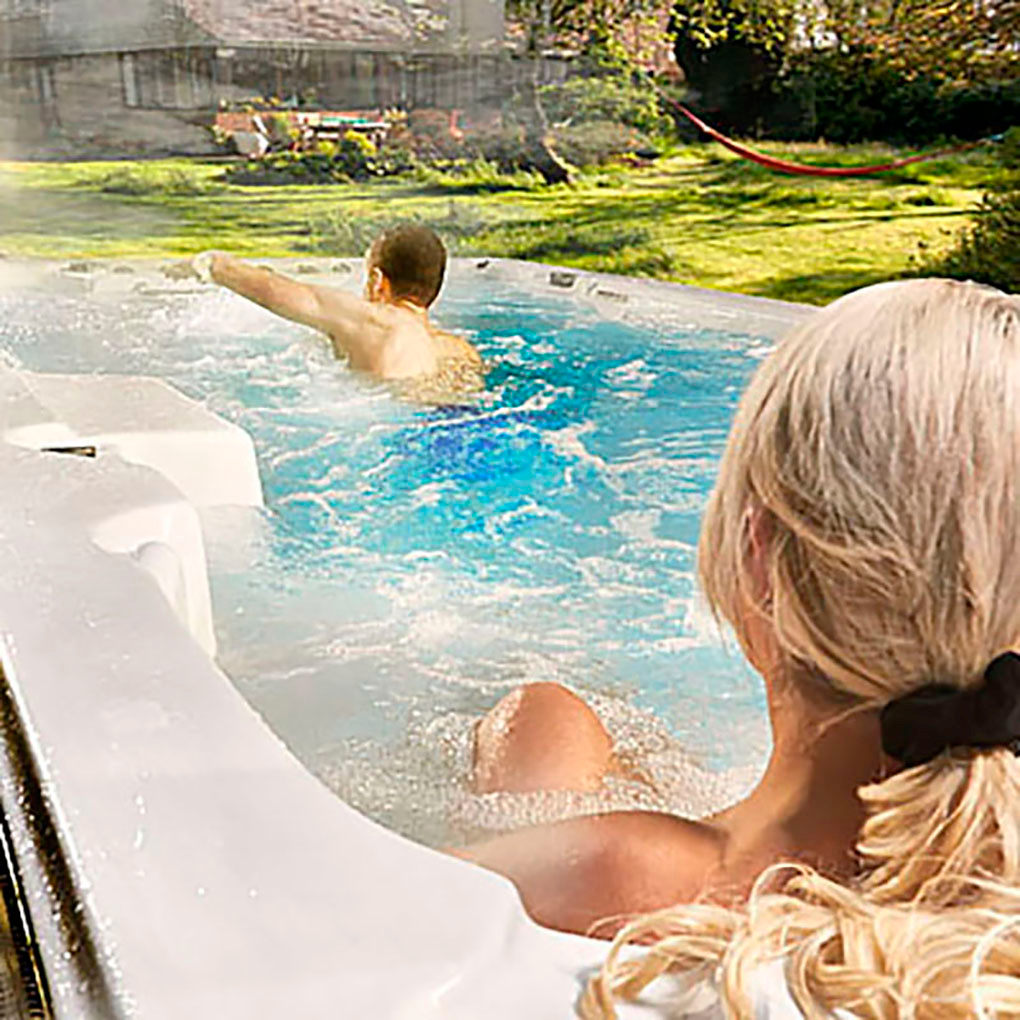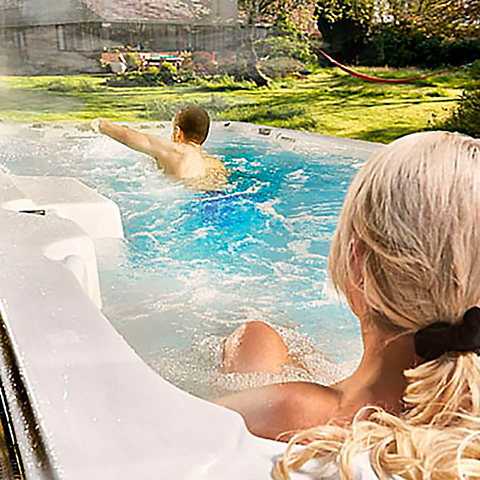 ---
There are lots of extras and accessories available to help you get the most out of your hot tub. From steps, that make accessing your spa easy, to stylish modular furniture designed to go round your hot tub.
Read on to discover the many features to look out for when choosing your spa.
Hot tub steps
Make it easier to get in and out of your hot tub by getting a hot tub step. Our spa steps come in either PVC or synthetic rattan. Choose between straight or curved steps or even one designed to go round the corners of your spa. They are easy to assemble and you won't need tools – the standard step has no bolts or screws and is put together using a simple push-and-snap lock system.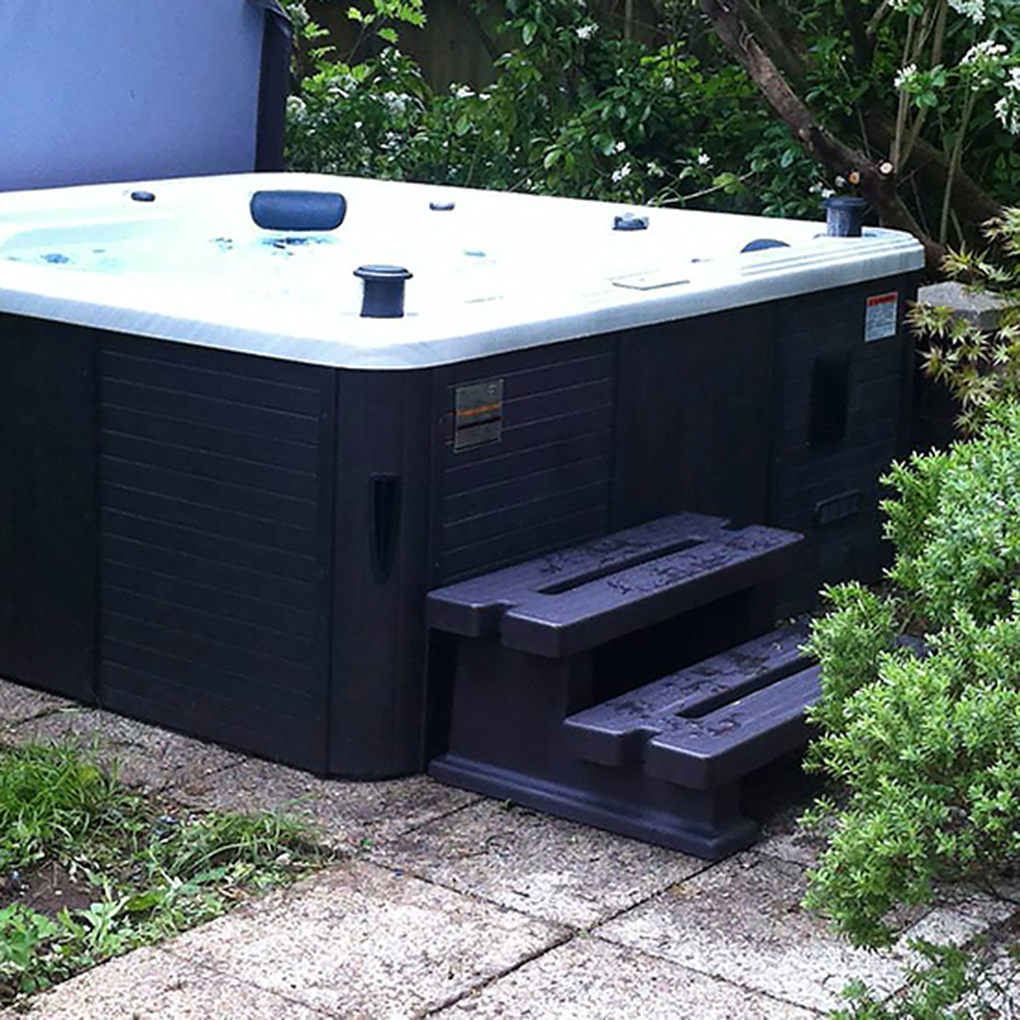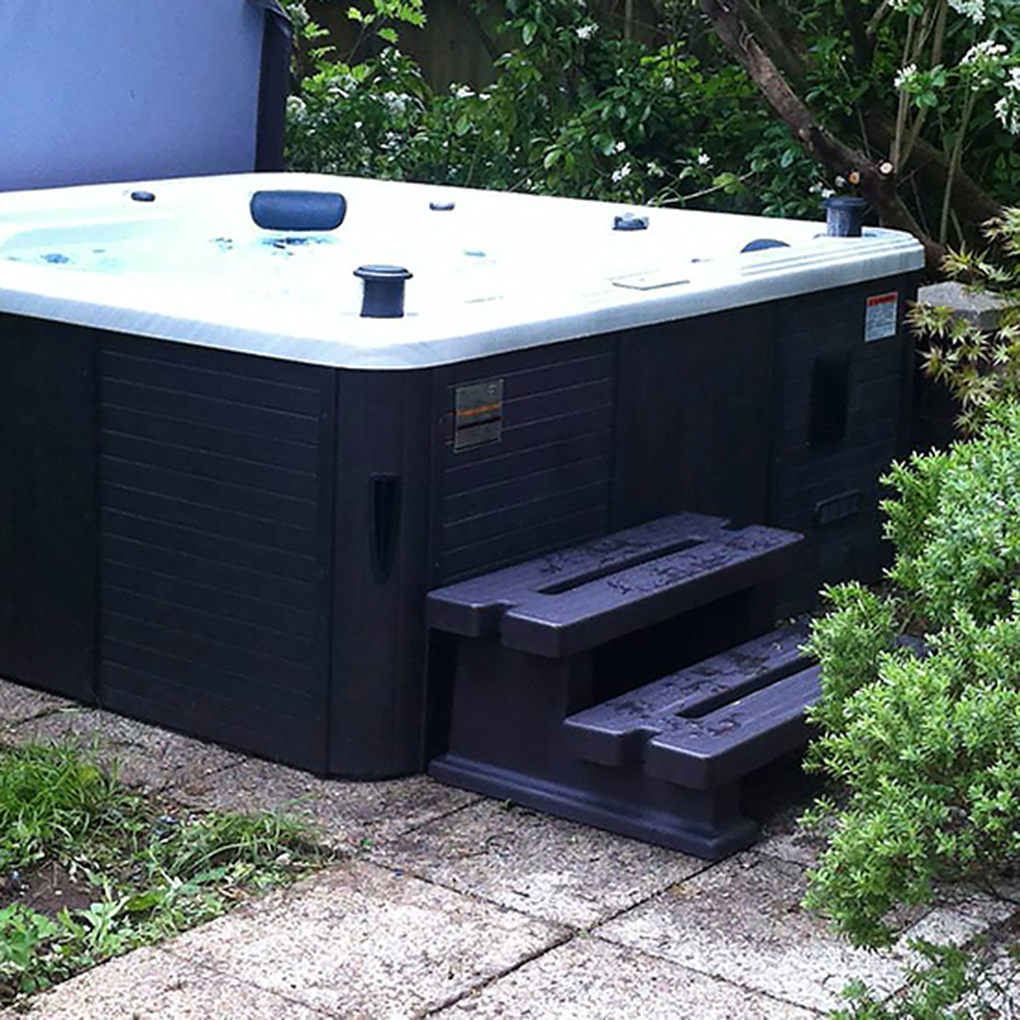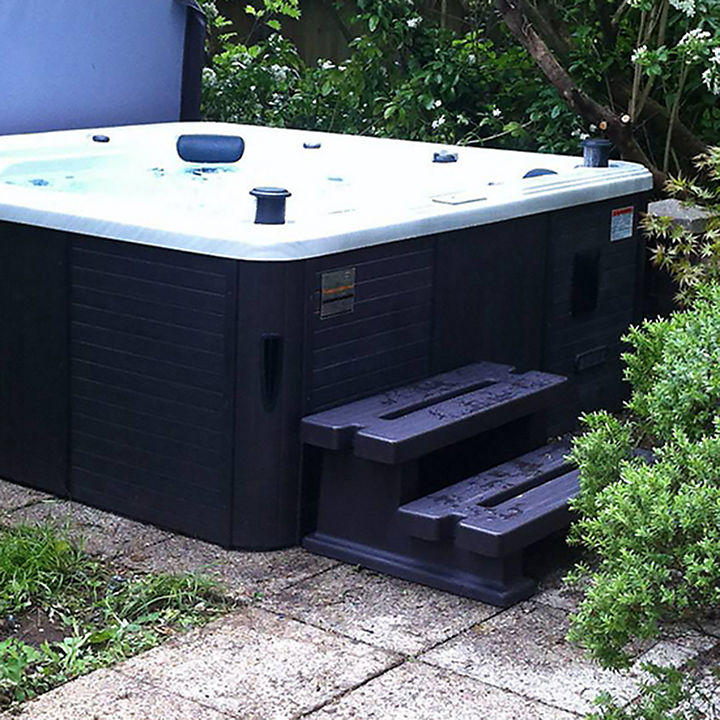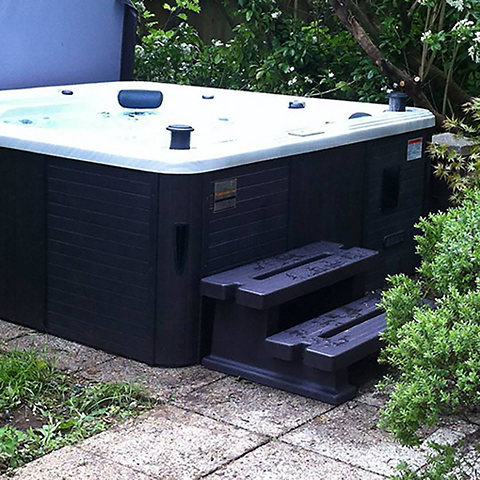 Hot tub furniture
Our range of hot tub furniture is designed to fit around your spa. The modular furniture can transform the area around your hot tub into comfortable seating, storage that is ideal for towels, and even a bar or planter.
The furniture is made from durable plastic, making it hard-wearing and water-resistant as well as stylish.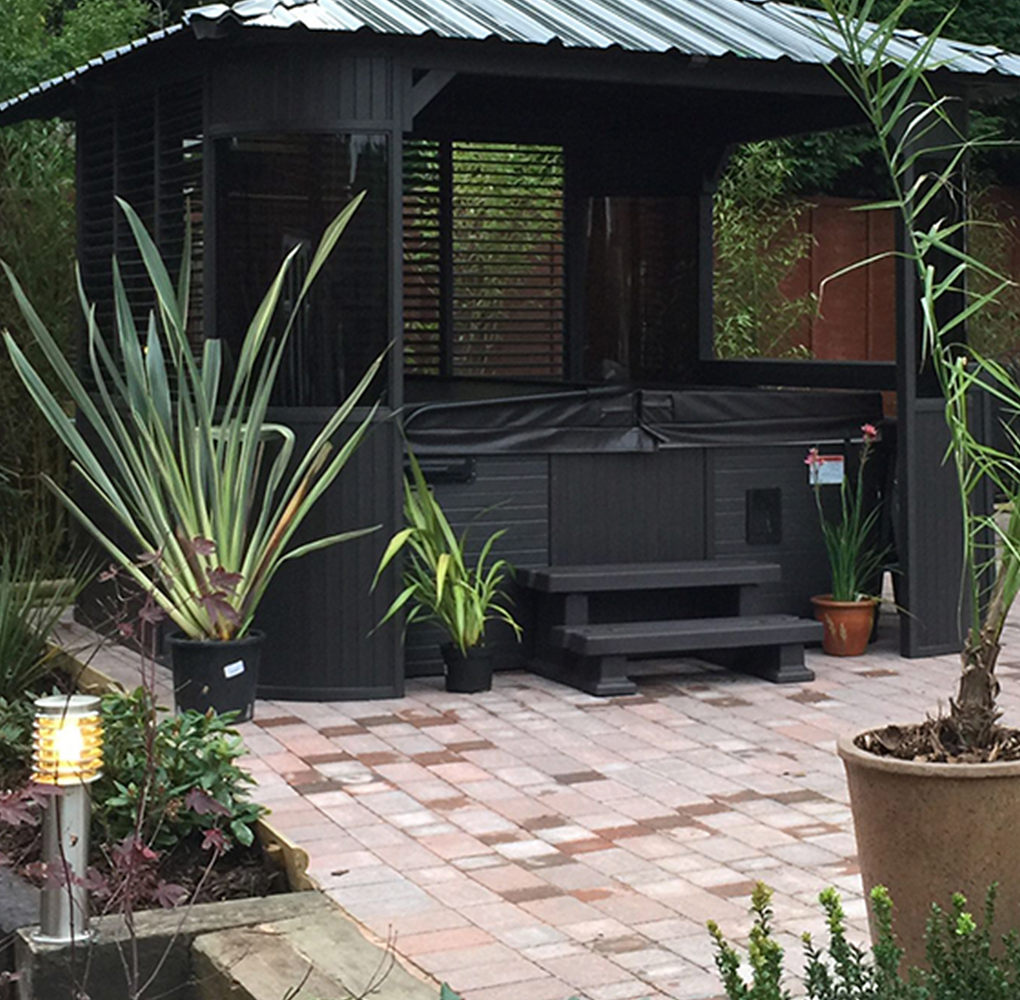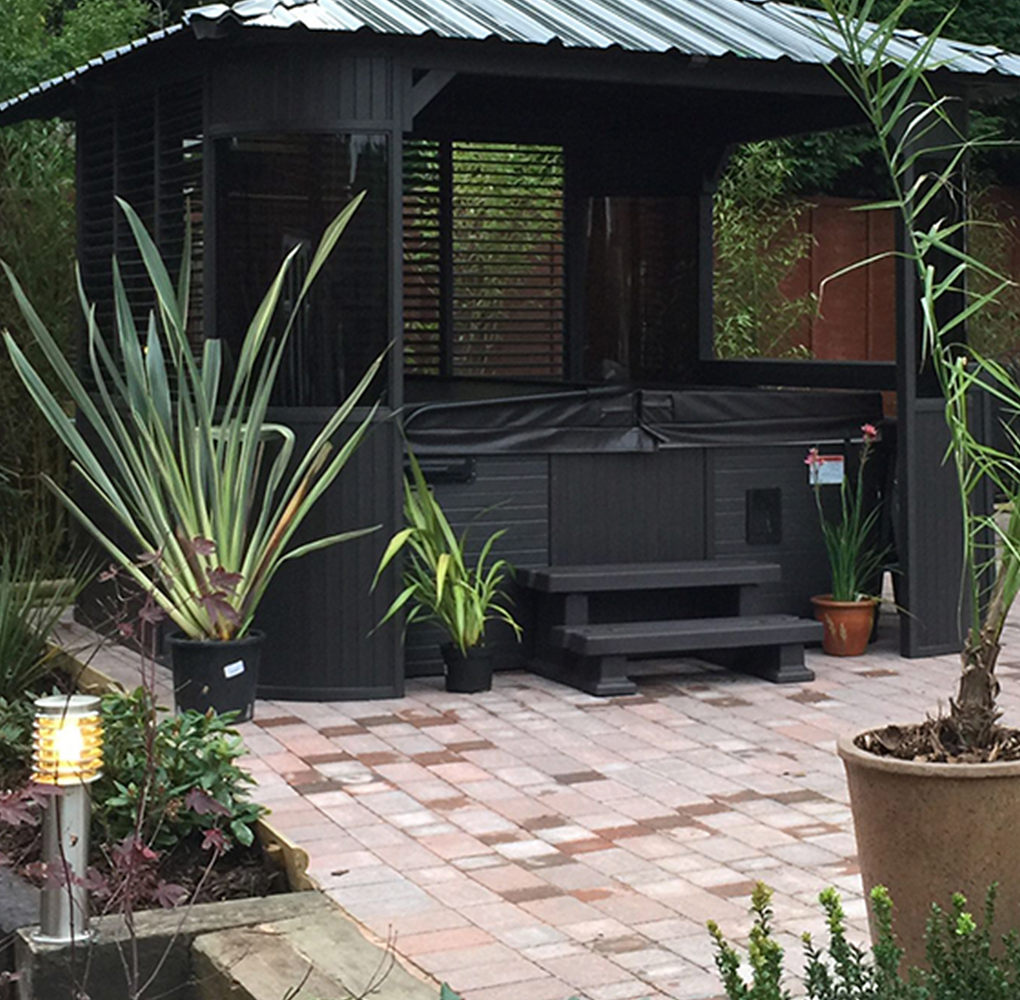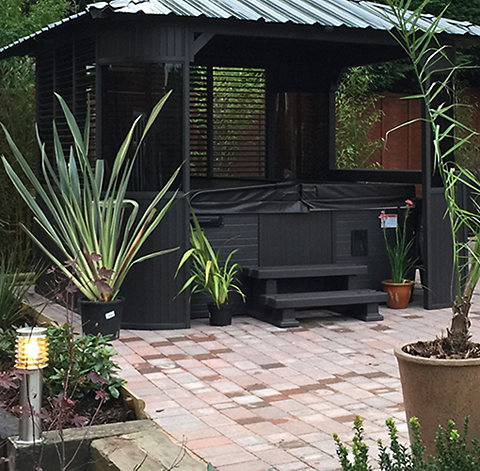 Hot tub aromatherapy
For the ultimate in relaxation, our aromatherapy diffusers use the air from the jets to infuse scents into the air around your hot tub using your favourite aromas to improve your experience. We also have a range of selected spas equipped with aromatherapy baskets.
Simply place some aromatic beads of your favourite essential oil scent inside the aromatherapy canister. This is connected directly to the air line of each jet, so the scent from the beads will be injected through the jets and into the water.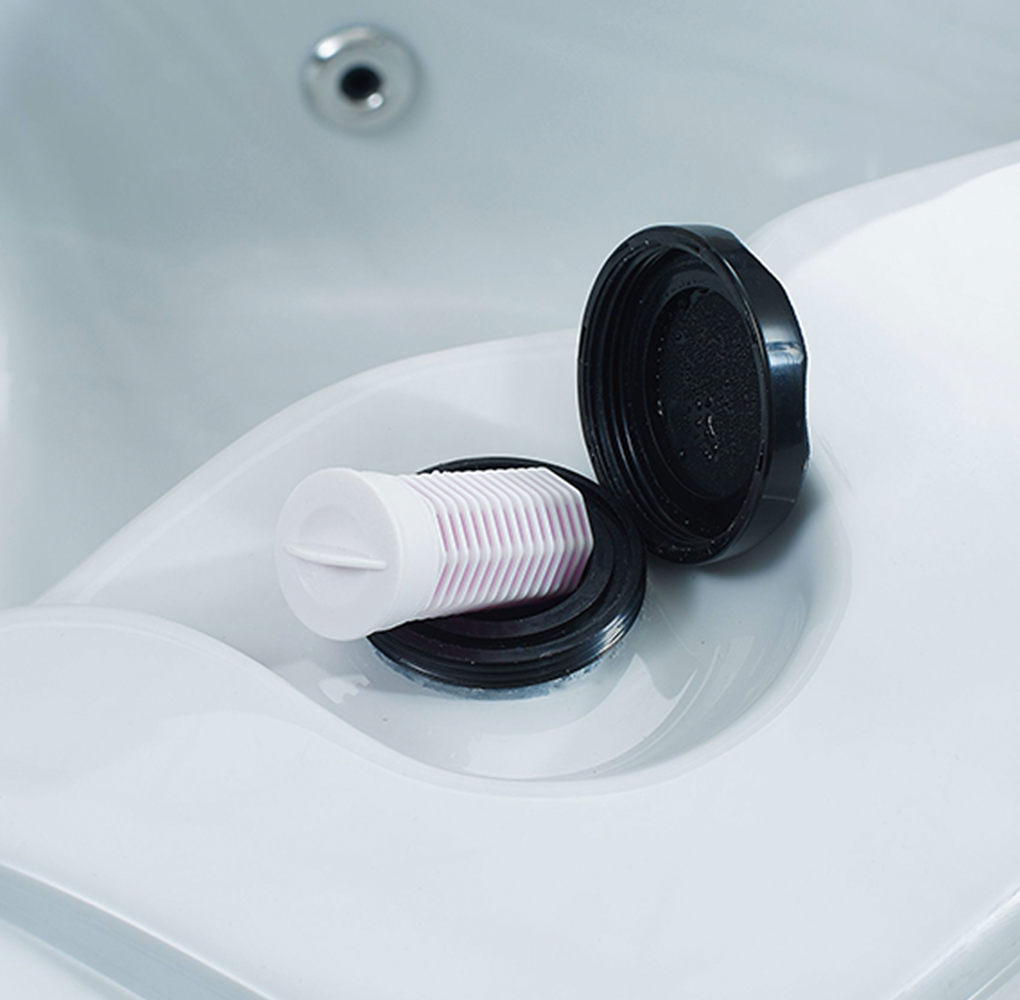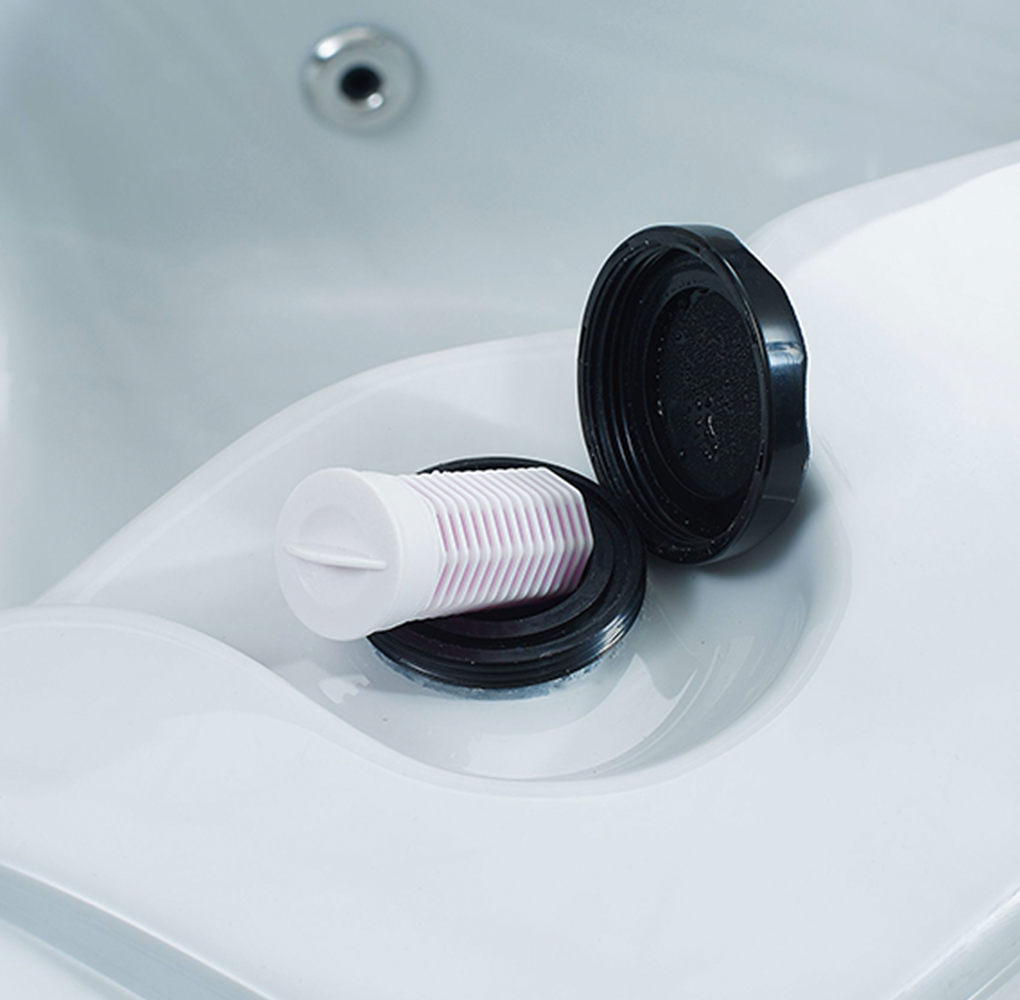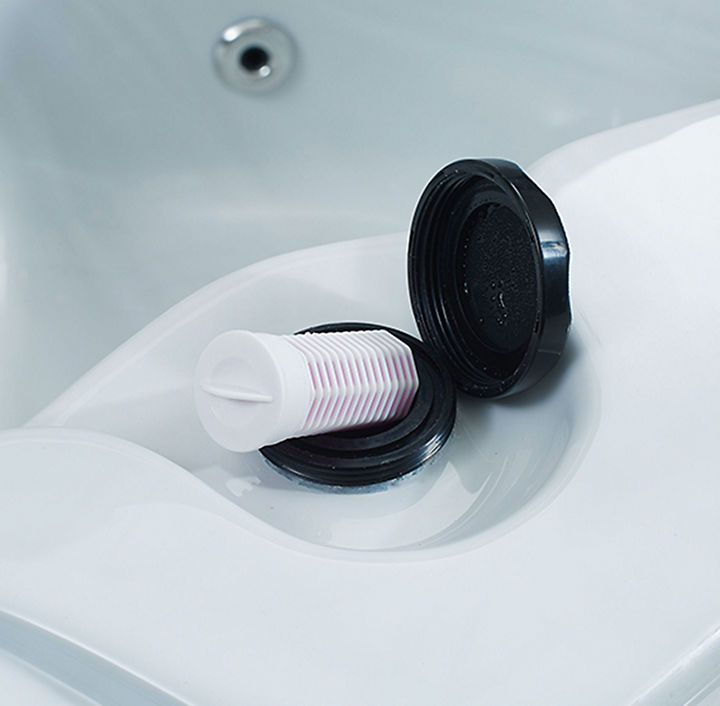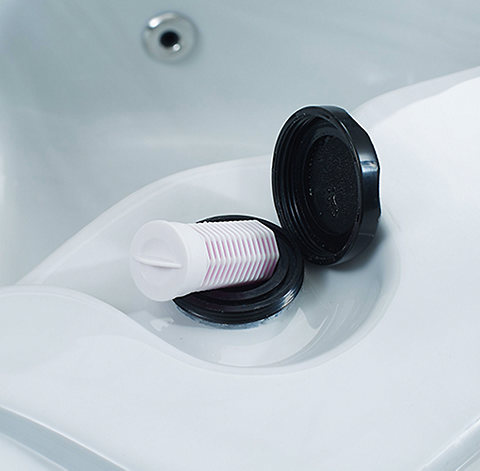 Hot tub covers
To keep your hot tub insulated, clean and secure, as well as protecting it from adverse weather conditions, a cover is essential. We use a 5 to 3" thick heavy-duty hard top insulating spa cover designed for temperatures as cold as -30 degrees celsius (°C).
All of our acrylic spas and swim spas come with hard top covers included. Our portable spas come with either a soft top cover, or a hard top cover depending on model. If the model you choose comes with a soft top cover, you may wish to upgrade to a hard cover to protect it completely. We also offer a variety of sizes of replacement covers which will fit the majority of hot tub brands.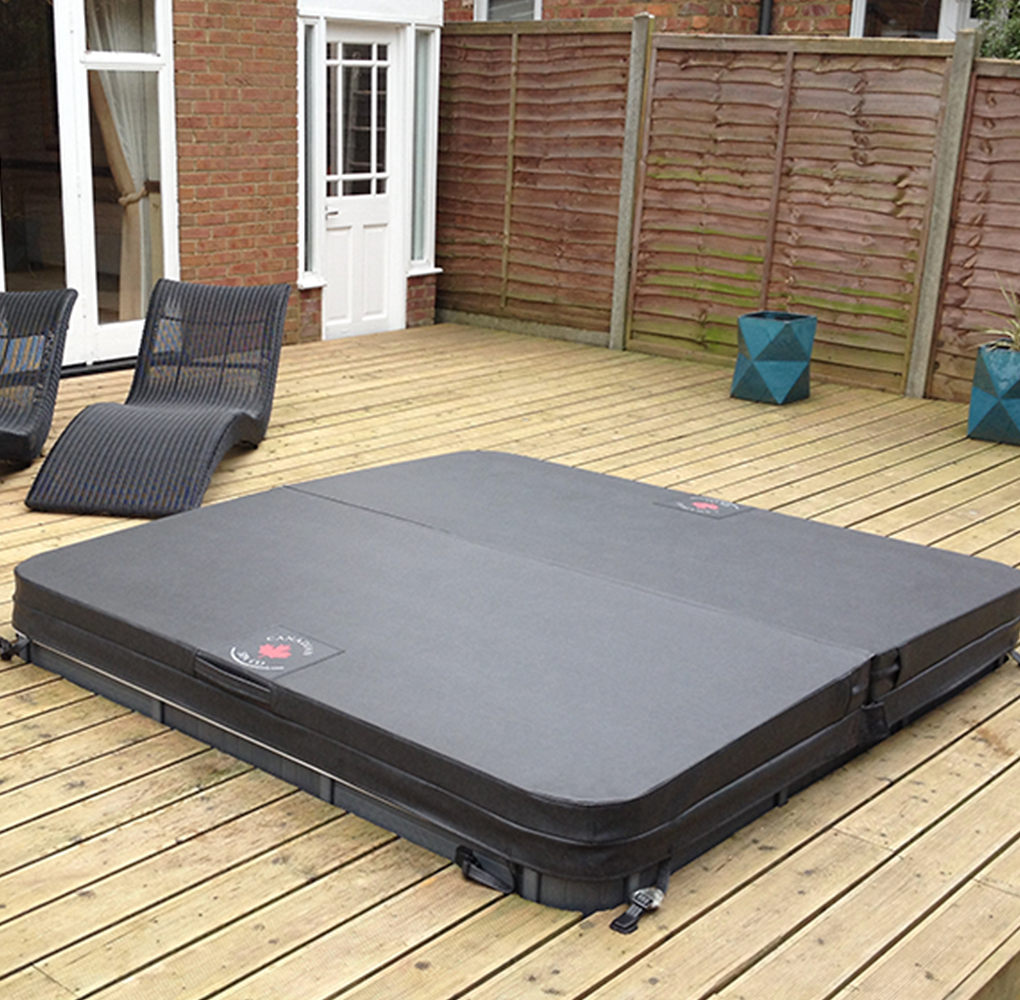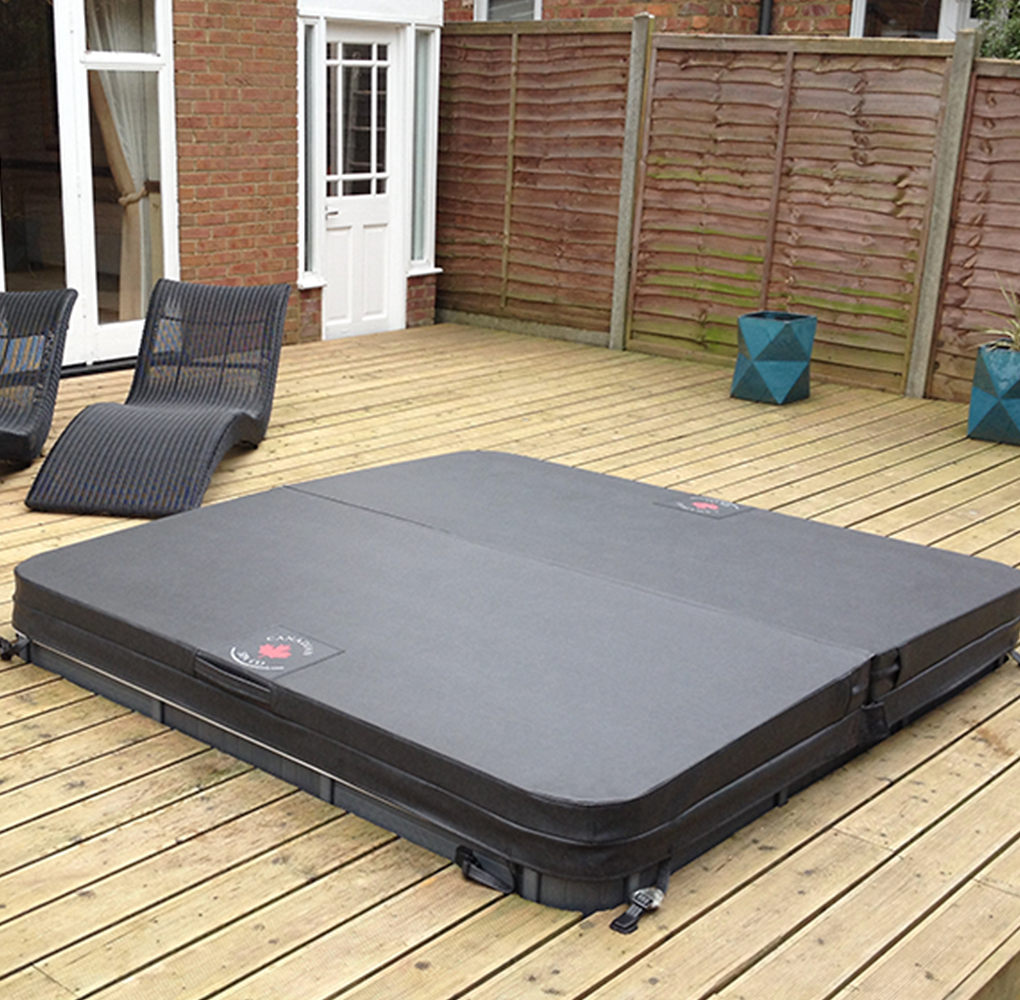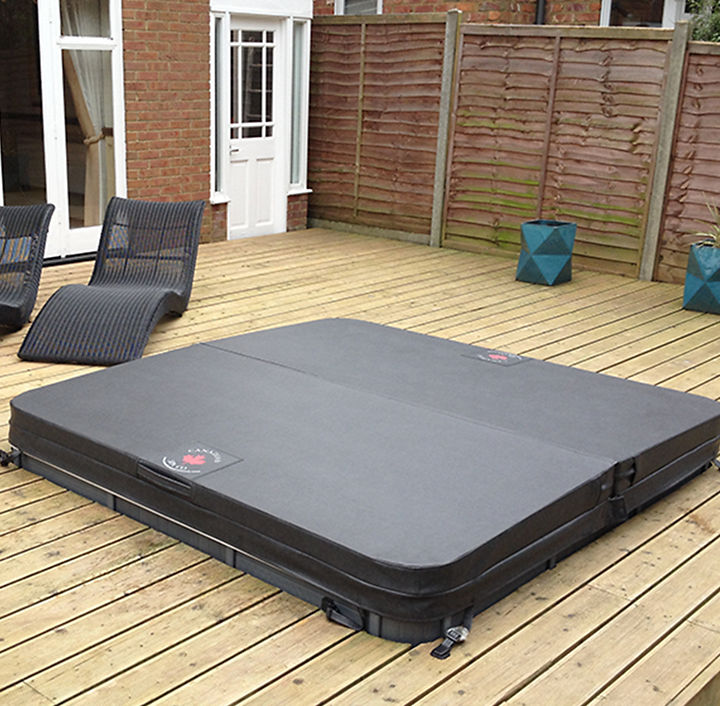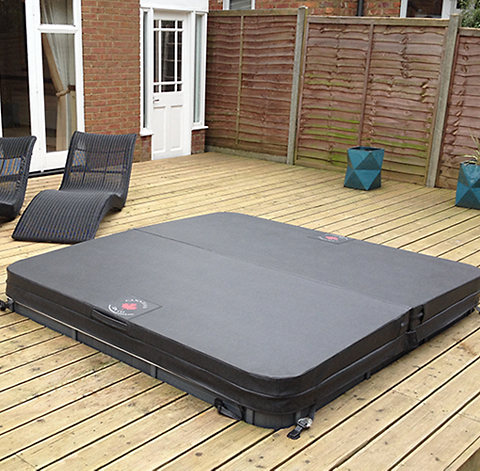 Hot tub cover lifters
Hard top covers keep your hot tub warm and protect your spa in adverse weather conditions, but they can be quite heavy and awkward to manoeuvre. A cover lifter helps you remove and replace your hot tub's cover quickly and can be done using one hand.
This clever mechanism also helps to reduce wear and tear on the cover by ensuring it is moved carefully, meaning that it lasts longer.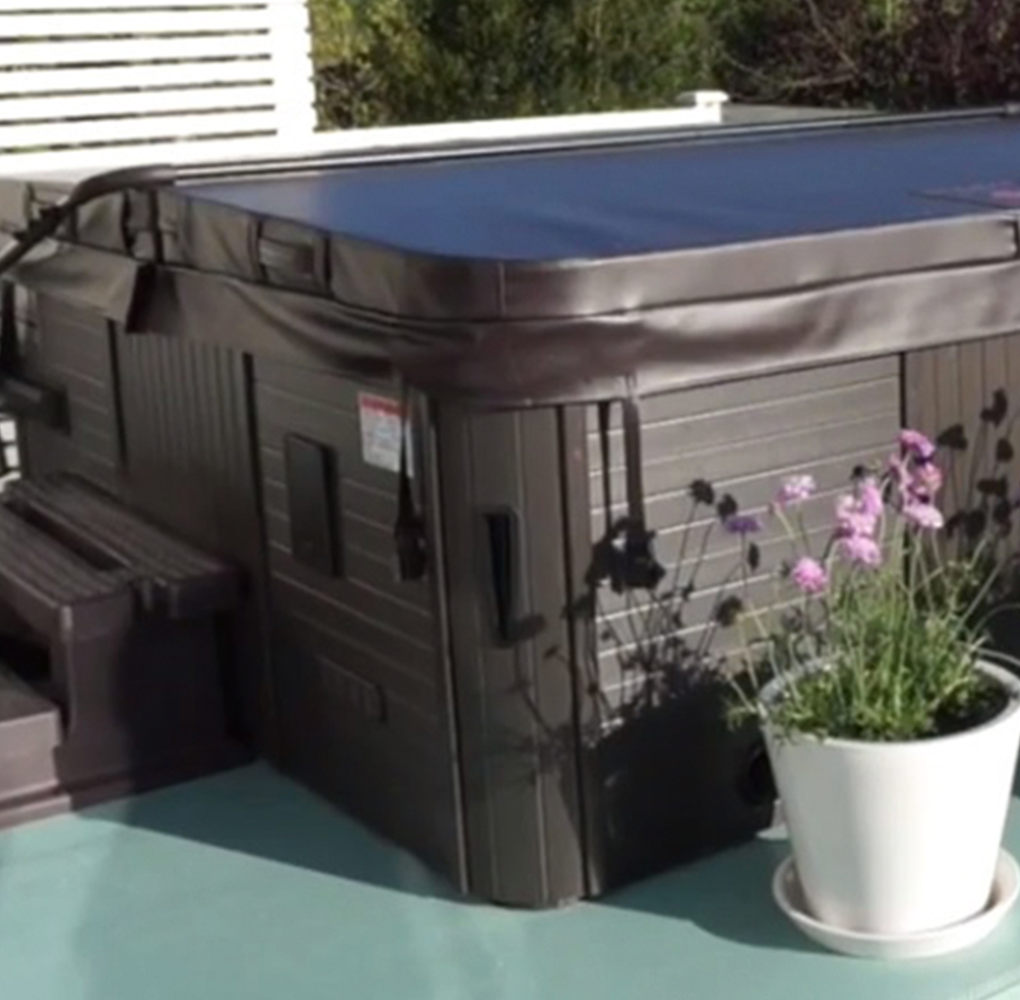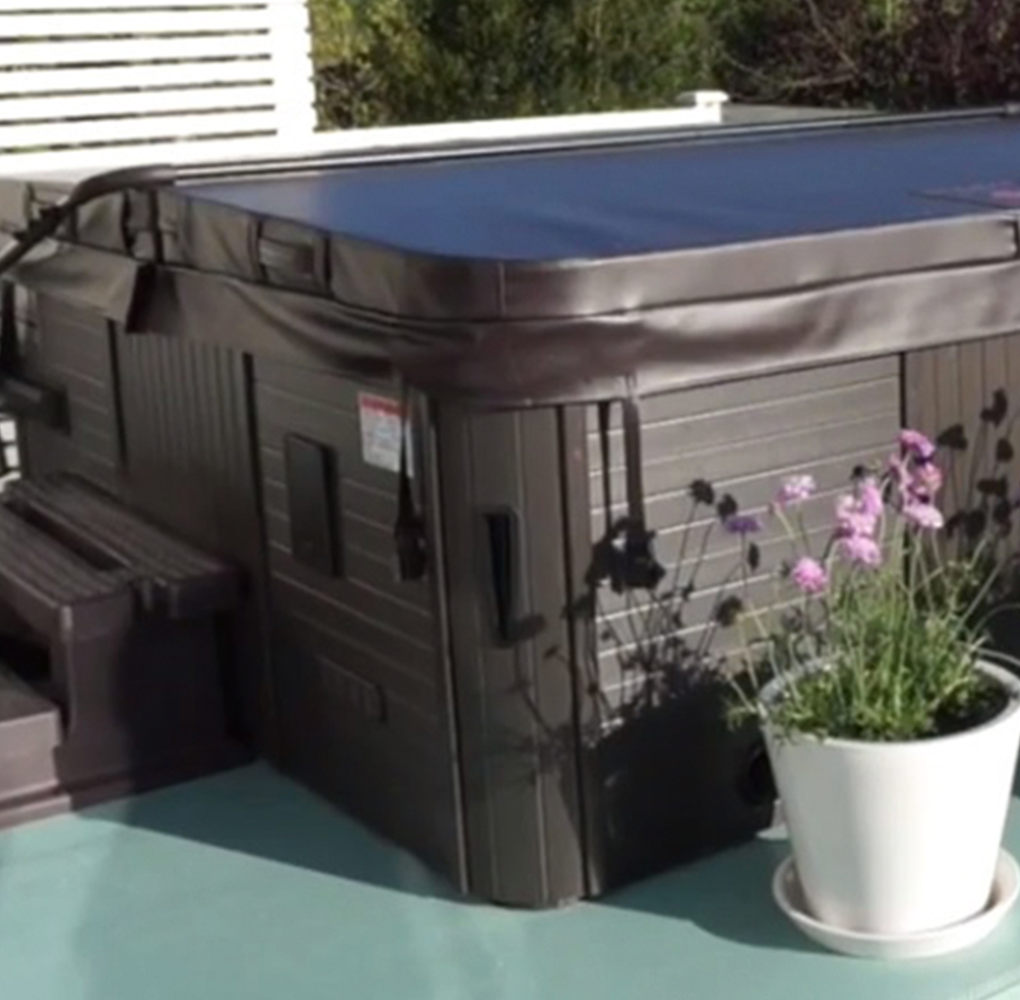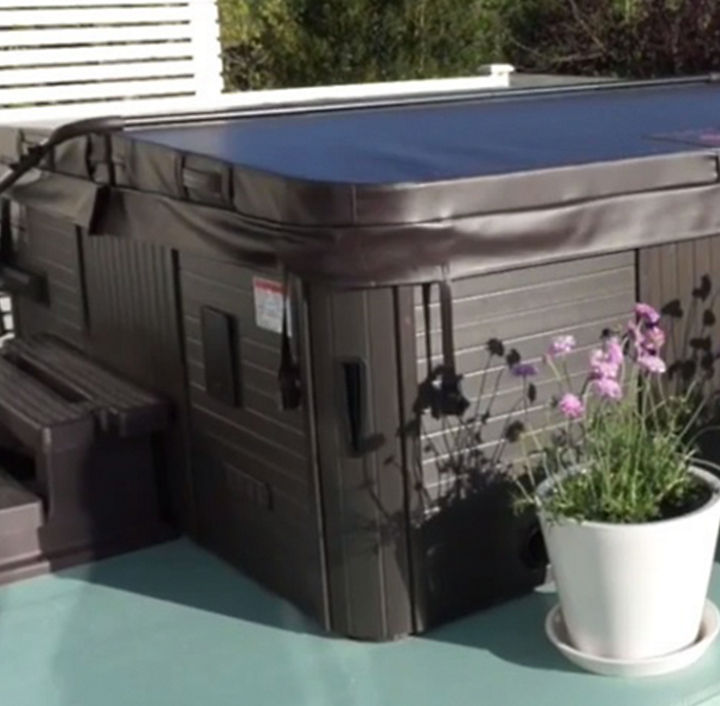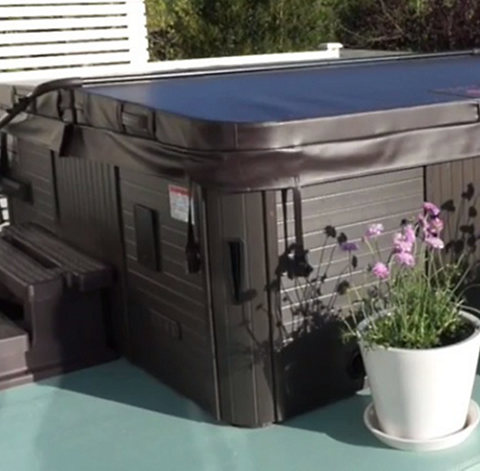 Hot tub cushions & headrests
Amongst our range of accessories designed to help you get the most out of your spa, we have cushions and headrests.
Simply fill our booster cushion with water and it will raise you up in the water a bit. Because it's filled with water, it will stay below the surface of the water without floating away. This inflatable headrest and cup holder, (pictured), hooks over the side of your spa and offers a comfortable place to relax your head as well as a handy place for your drink.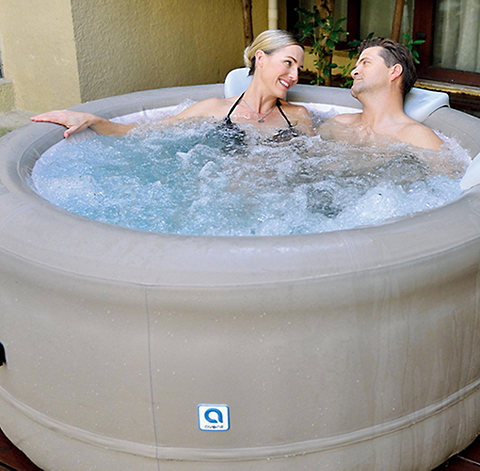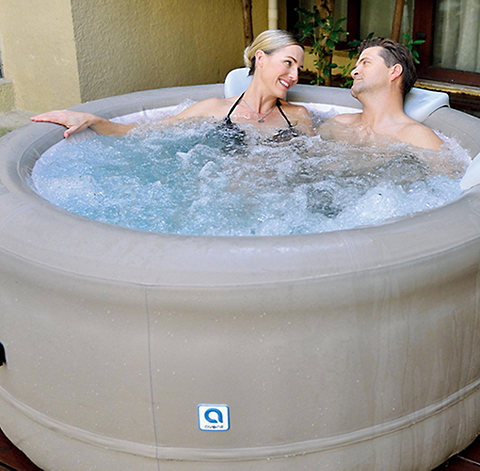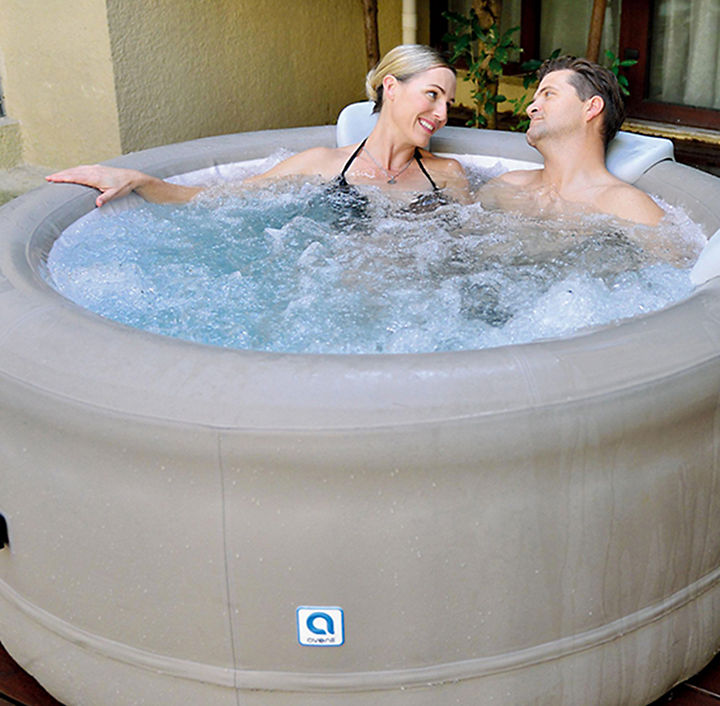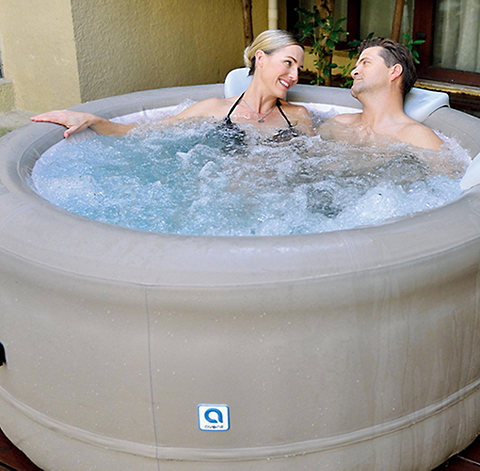 Hot tub filters & cleaning chemicals
Our filter packs and chemical kits are an essential purchase for your hot tub keeping the water free from impurities and bacteria. Keep debris out of your spa by cleaning the filters every four to six months and replacing them at one year.
Be sure to keep on top of dosing the water as this will not only help sanitise, it will also help control pH, calcium hardness to keep your water pristine. We recommend starting off with a chemical kit to cover all the essentials.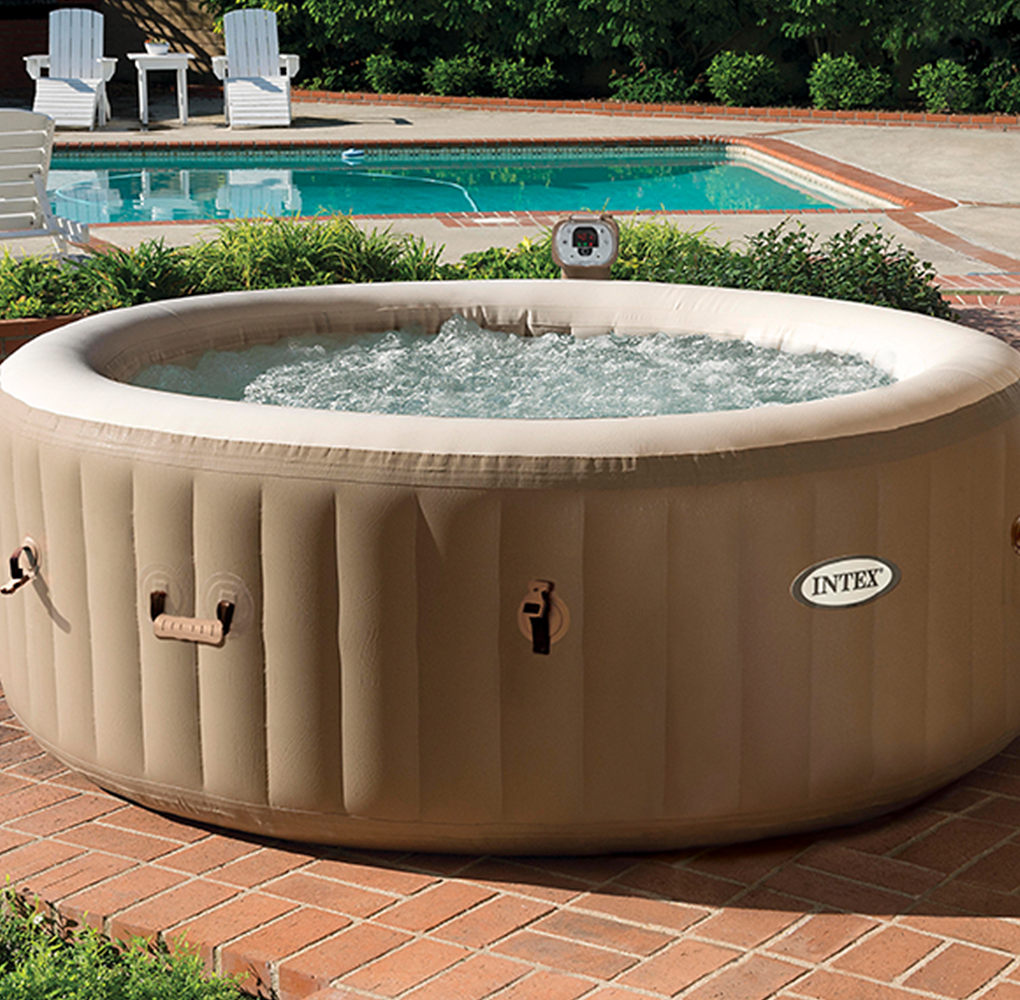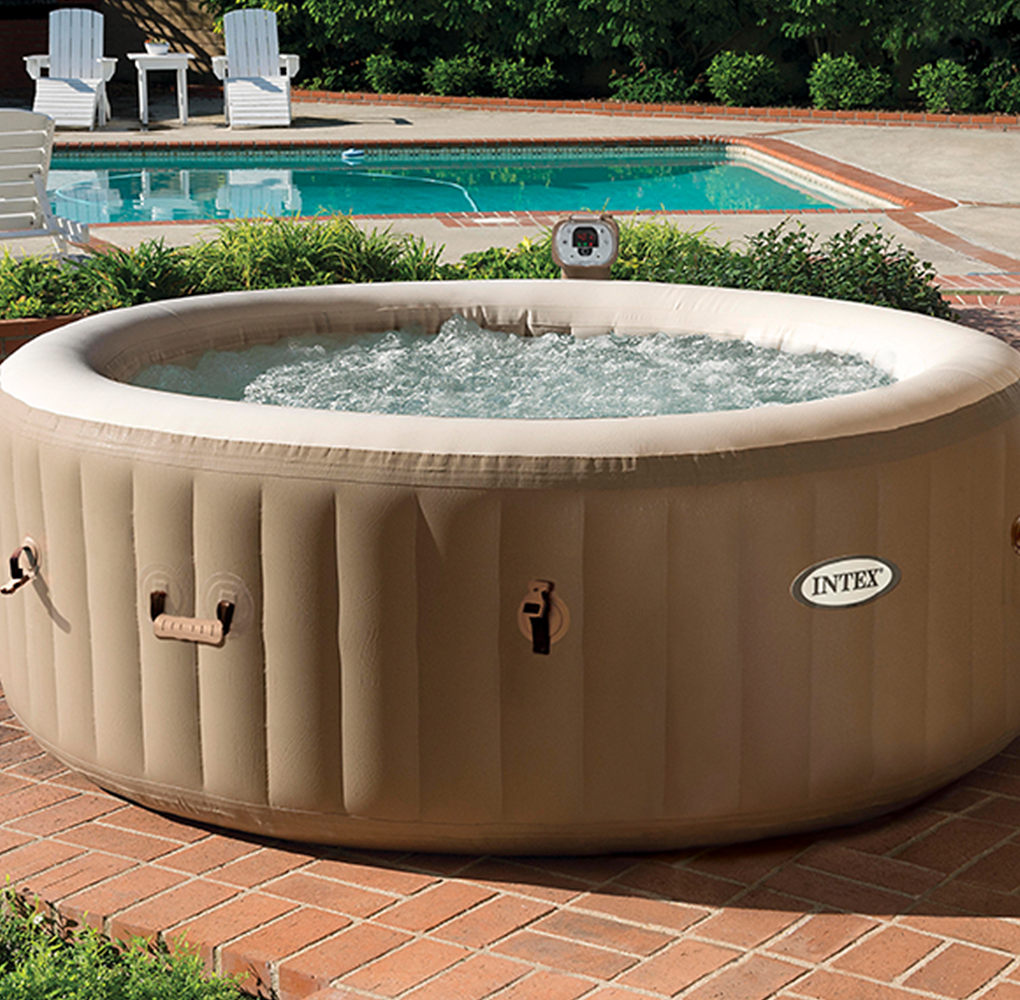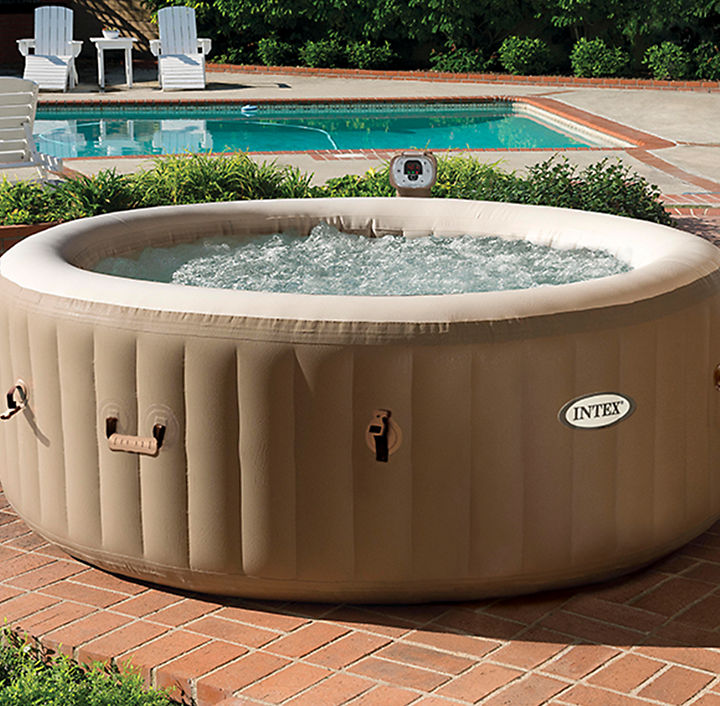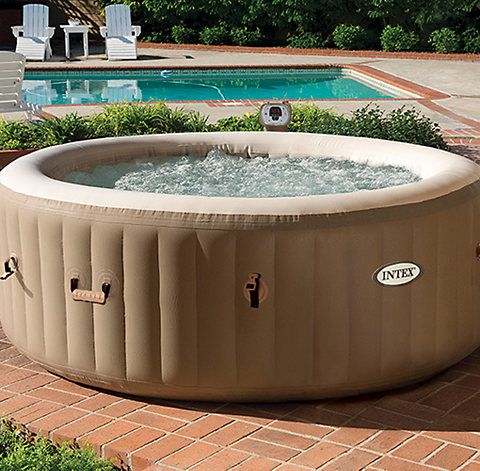 ---
Portable spas don't require professional installation as you can build and set these up easily yourself. As mentioned at the beginning of this guide, acrylic spas have a slightly more involved installation so all of our acrylic spas and swim spas come with installation included as standard.
Installation of acrylic hot tubs
For your spa to be installed on the day of delivery, you must arrange for a qualified electrician to be present. And they must have installed a 32A cable, single phase with the appropriate gauge coming from an RCD, with live, neutral and earth wires available. The installers will test the spa on the same day as delivery with the cable you provide, but your electrician will need to sign off the installation before you can use it.
Hot tubs can be delivered anywhere in the UK and the moment you place the order through B&Q, the order is supported by our specialist supplier who will look after your installation.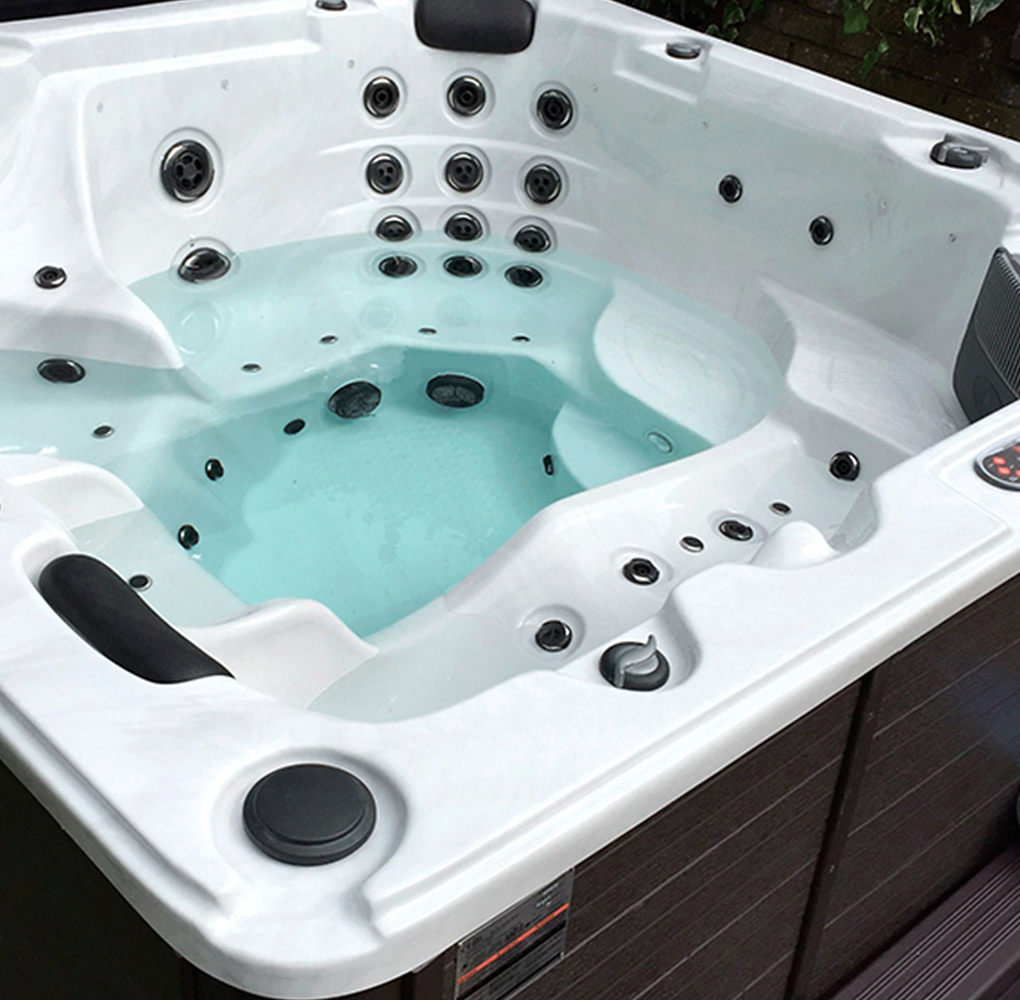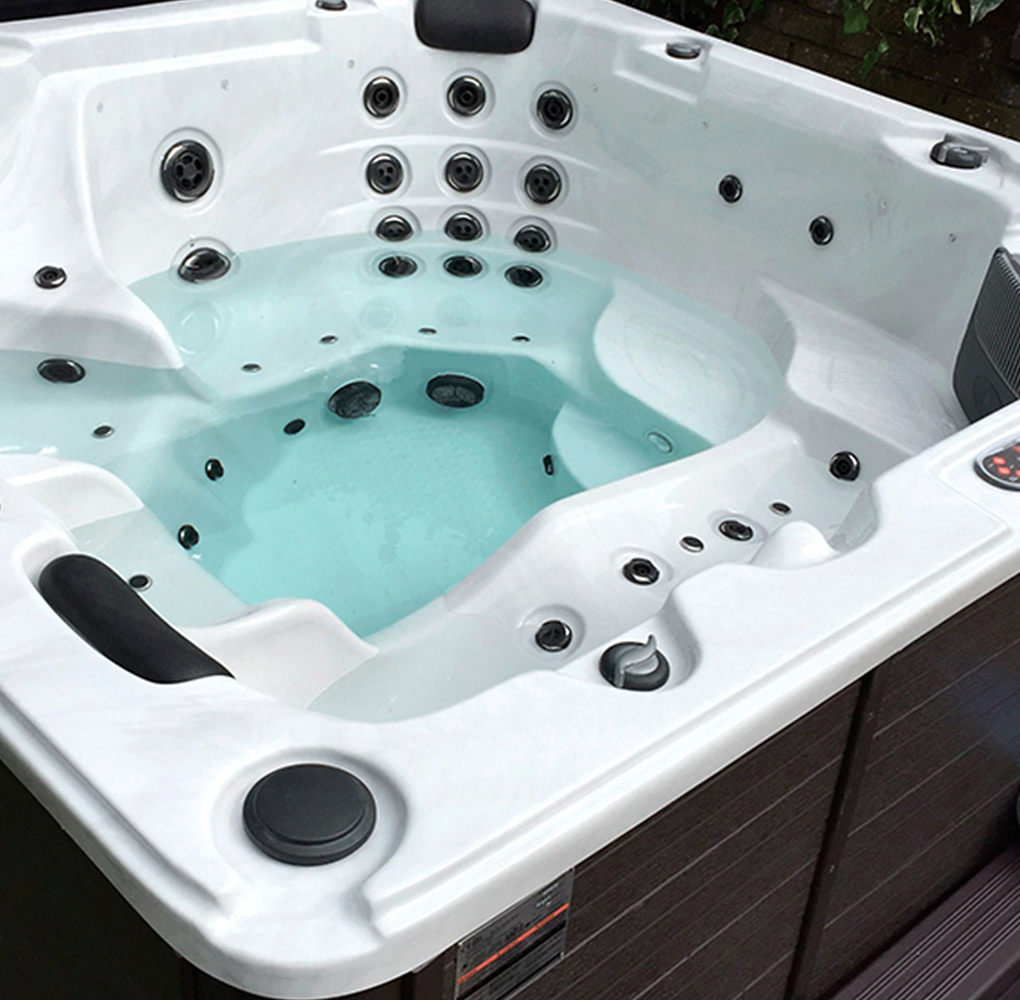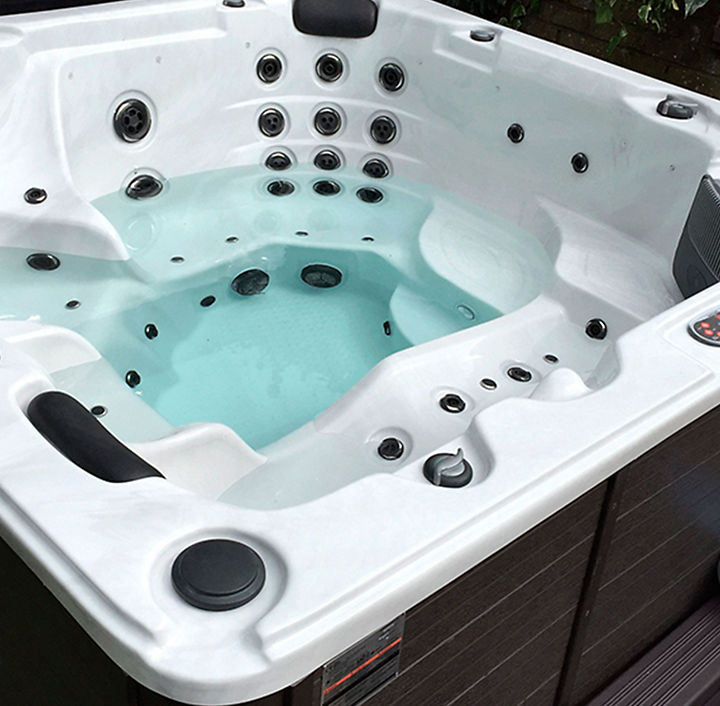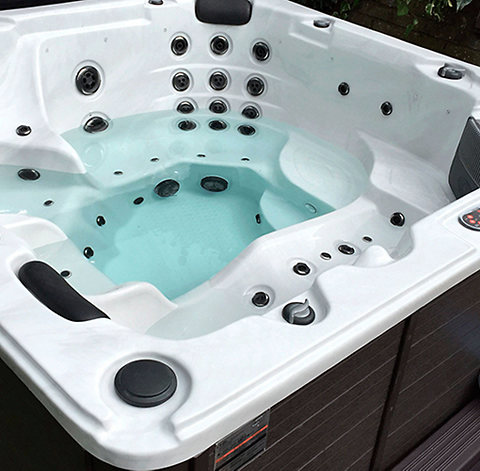 How to fill a hot tub
The best way to fill your hot tub is with a garden hose through the filter housing in order to avoid airlocks – making sure it's cold water, not hot. If you are aware that you have low water pressure, let the supplier know before delivery.
Not sure if you have low water pressure?
Read our handy guide that can help you understand your water pressure.
Our hot tubs are designed to be drained using the drainage valve at the base of your spa – use your hose to empty the water into a nearby drain. Or speed things up using a submersible pump.
---