How to insulate your loft
Keep your home warm by insulating your loft
Insulating your loft can seem like an unappealing job, but saving money on your utility bills always sounds good. If your home's without adequate insulation, you could be losing up to a quarter of your home's heat through your roof*. This makes insulating your loft one of the most effective ways to reduce heating bills and be more energy-efficient. And even if you already have some existing insulation, it's key to have the optimum amount for it to be truly effective.
In this guide, we'll walk you through everything you need to know to lay loft floor insulation. Also known as 'cold roof' insulation, insulation is fitted to the floor of the loft trapping the heat in the main part of the house and away from the loft. This is ideal if you don't use your loft at all, or only for the storage of non-perishable items.
The alternative is ceiling, or 'warm roof' insulation. This is fitted above the rafters and keeps the heat in the loft. It uses different types of insulation to loft floor and is used in loft conversions to make the space into a habitable living area. This isn't explored in this article.
Our guide includes step-by-step advice on how to:
Work out how much existing loft floor insulation you already have
Confirm how much new insulation you need
Lay, and cut, two different types of loft floor insulation – rolls of insulation and insulated loft floor boards
Lay loft floor insulation around cables and recessed downlights.
Let's get started…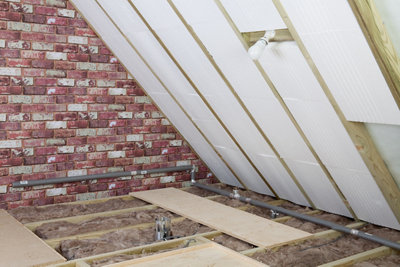 Articles