Kitchen sink buying guide
Practical and stylish sinks to complement your kitchen
Choosing the right kitchen sink is about more than just design. Important for washing hands, rinsing vegetables, cleaning up afterwards and so much more, it's something you'll use every day. With that in mind, you need to make sure that you've chosen the right type of material, style and have added the perfect accessories to make it work for you.
Are you updating your entire kitchen, with your new sink being part of the refurbishment? Or are you just looking for a replacement for what you have currently? Either way, you need to think about the size and shape of your new sink, whether you want it with a drainer, as well as the type of material that your worktop is made from – as not all sinks work with all worktops.
For those who are starting from scratch, size and position are completely up to you (dependent on the plumbing) and so think about what you've had previously and what you'd like to change about it. Was it big enough? Would you like more than one bowl? And of course, think about the overall style you're going for – a modern look kitchen may suit a toughened glass, 1.5 bowl sink, while a more traditional style would suit a ceramic or Belfast sink.
If you're replacing what you have currently, be sure to take accurate measurements of the sink and holes to ensure that your new sink will fit. But while you may be restricted by size, do explore different material options to completely refresh the look: if you had stainless steel one before, why not have a composite sink now? You'll also find that updating your kitchen taps or adding some new sink accessories could make you feel as though you're in a completely new kitchen.
Let us help you find the right sink for your home and add the finishing touch to your dream kitchen.
Types of sink
When exploring the materials for your new sink, durability is an important factor. You're going to have it in your kitchen for years to come and so you want to choose a material that's going to work with your lifestyle – as well as complete the look you're going for.
For the busy family, a hard-wearing and easy to clean material will be a priority: have a look at our stainless steel or composite options. While those who like to entertain may wish to have a more visually striking (but still practical) addition, so check out our ceramic or toughened glass sinks.
Stainless steel
A classic and industrial-looking choice, the stainless steel sink is practical and stylish. Stainless steel sinks are:
Hard-wearing
Easy to clean and take care of
Incapable of being cracked or chipped, but it's common for minor scratches to appear in the first weeks of use. This is normal and will become less noticeable over time.
Shop stainless steel kitchen sinks

Linen stainless steel
With all the features of stainless steel, linen stainless steel sinks also have:
A micro-dot pattern that offers increased protection against visible scratching
Shop linen stainless steel kitchen sinks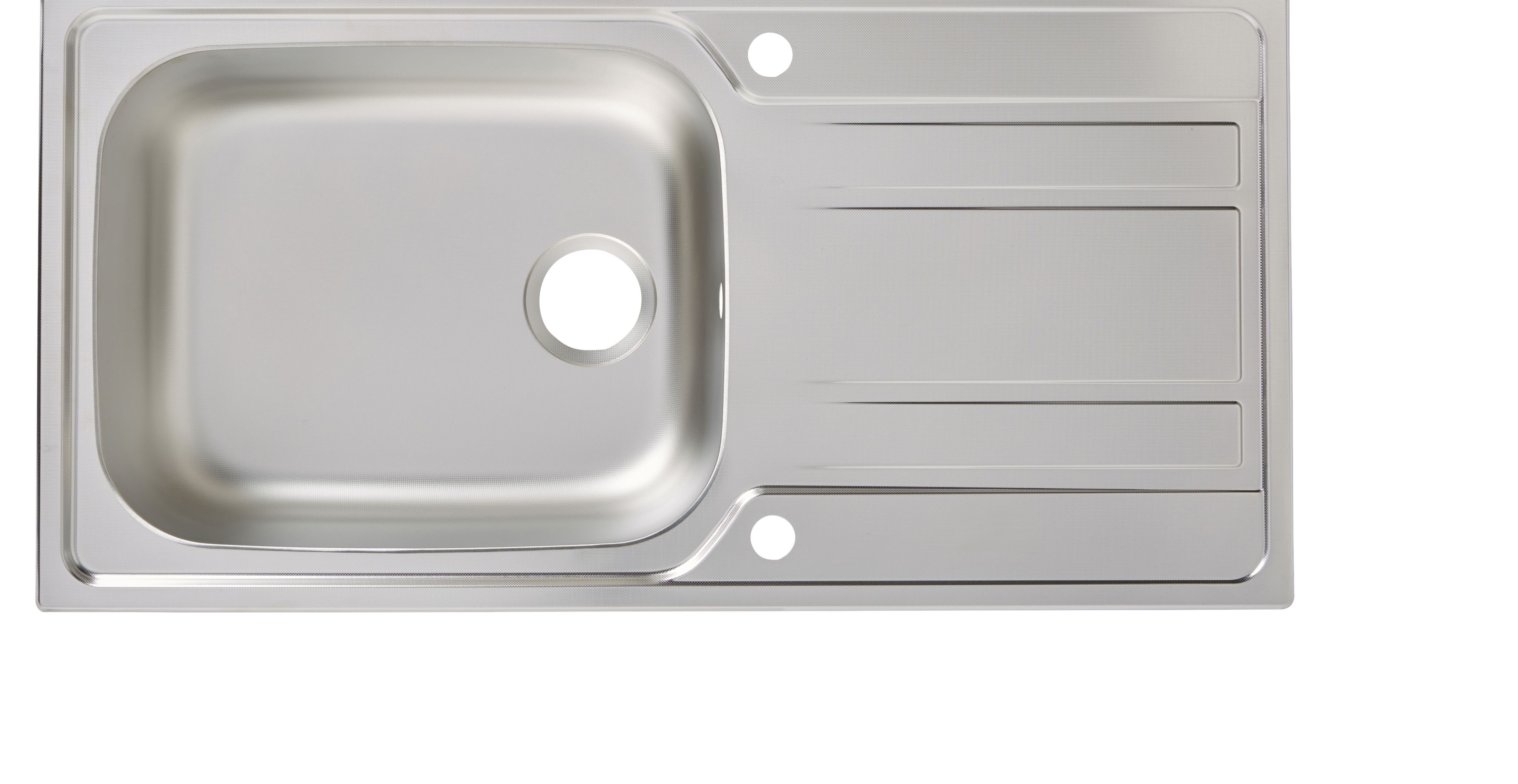 Resin
Resin sinks are made from man-made materials, giving the look of composite, while being cost-effective. They are highly resistant to daily wear and tear. Resin sinks are:
A modern choice that's ideal if you're on a budget
Available in white, black or grey
Easy to clean and take care of
Hard-wearing - scratches can be buffed away with a cloth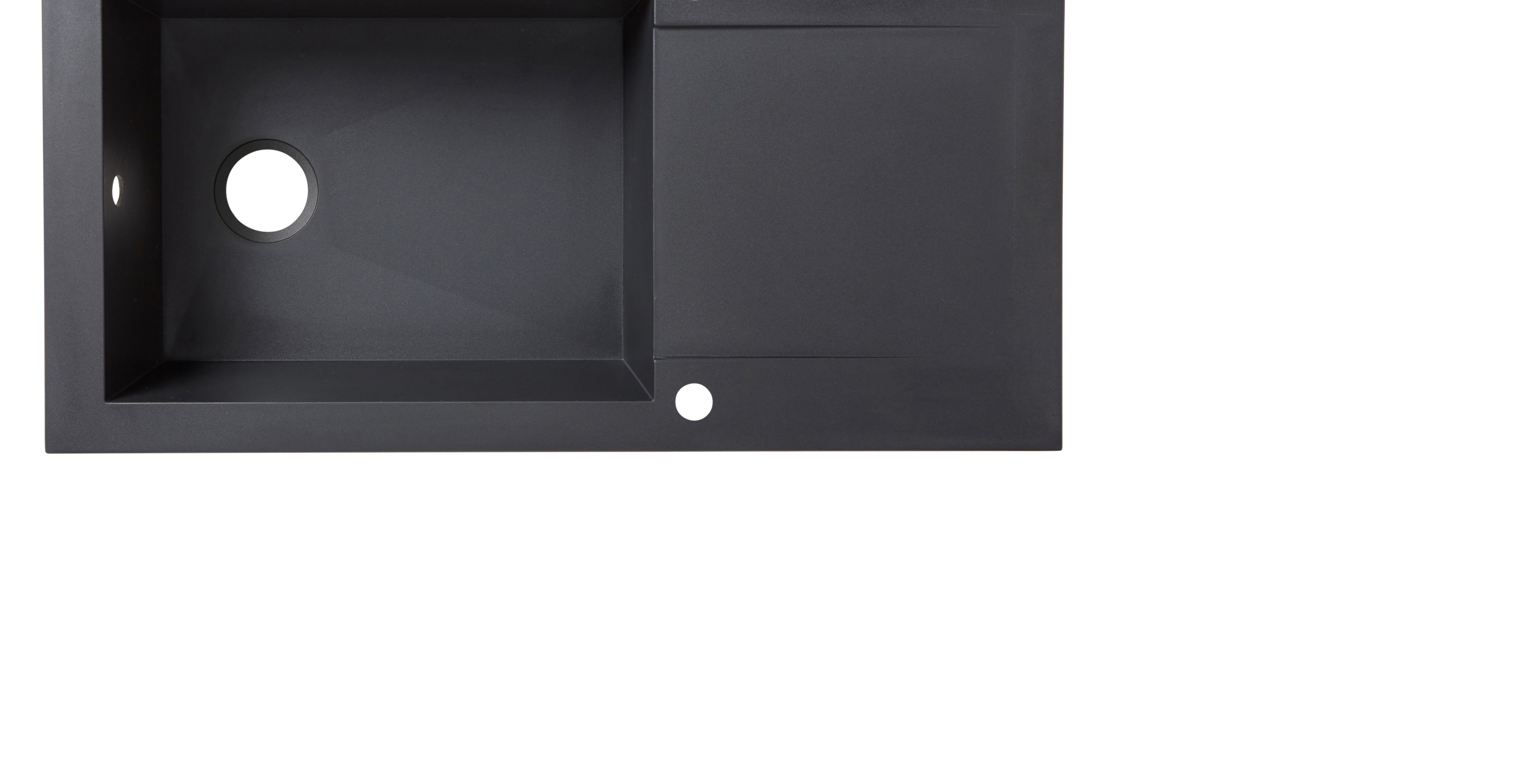 Composite quartz
If you're looking for more strength and durability, choose a composite quartz sink. Boasting many similar features to resin sinks, instead it contains real quartz meaning it can withstand very high temperatures. Composite quartz sinks are:
Heat resistant to over 200 degrees centigrade
Highly scratch-resistant
Shop composite quartz kitchen sinks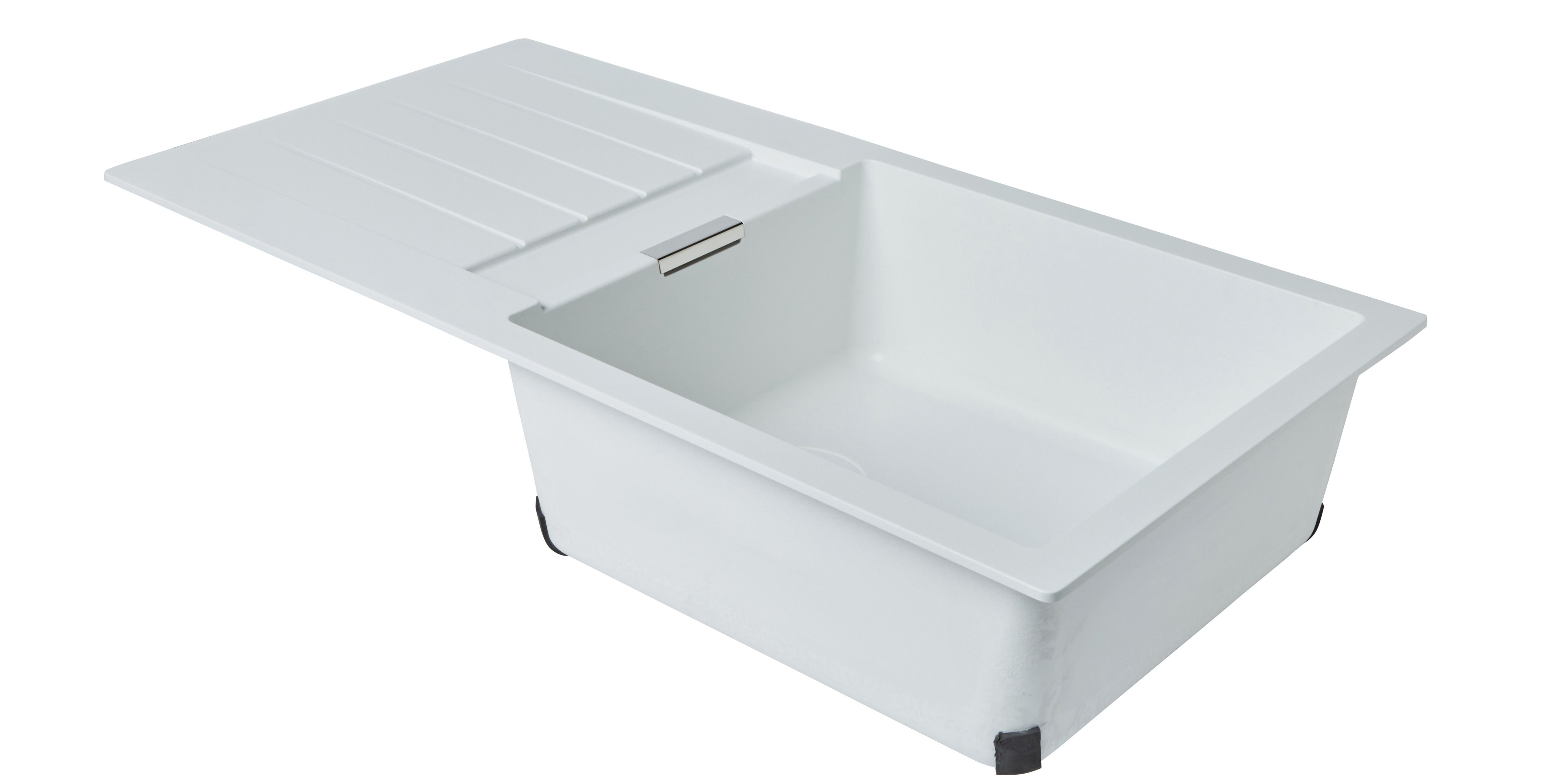 Ceramic
Silky to the touch, our ceramic sinks are on their way to becoming one of most popular choices. Regularly wiping down your sink will ensure that it will remain stain free for years to come. Ceramic kitchen sinks are:
Ideal for traditional and country kitchens
Handcrafted and baked in fireclay
Easy to clean and take care of – just wipe down regularly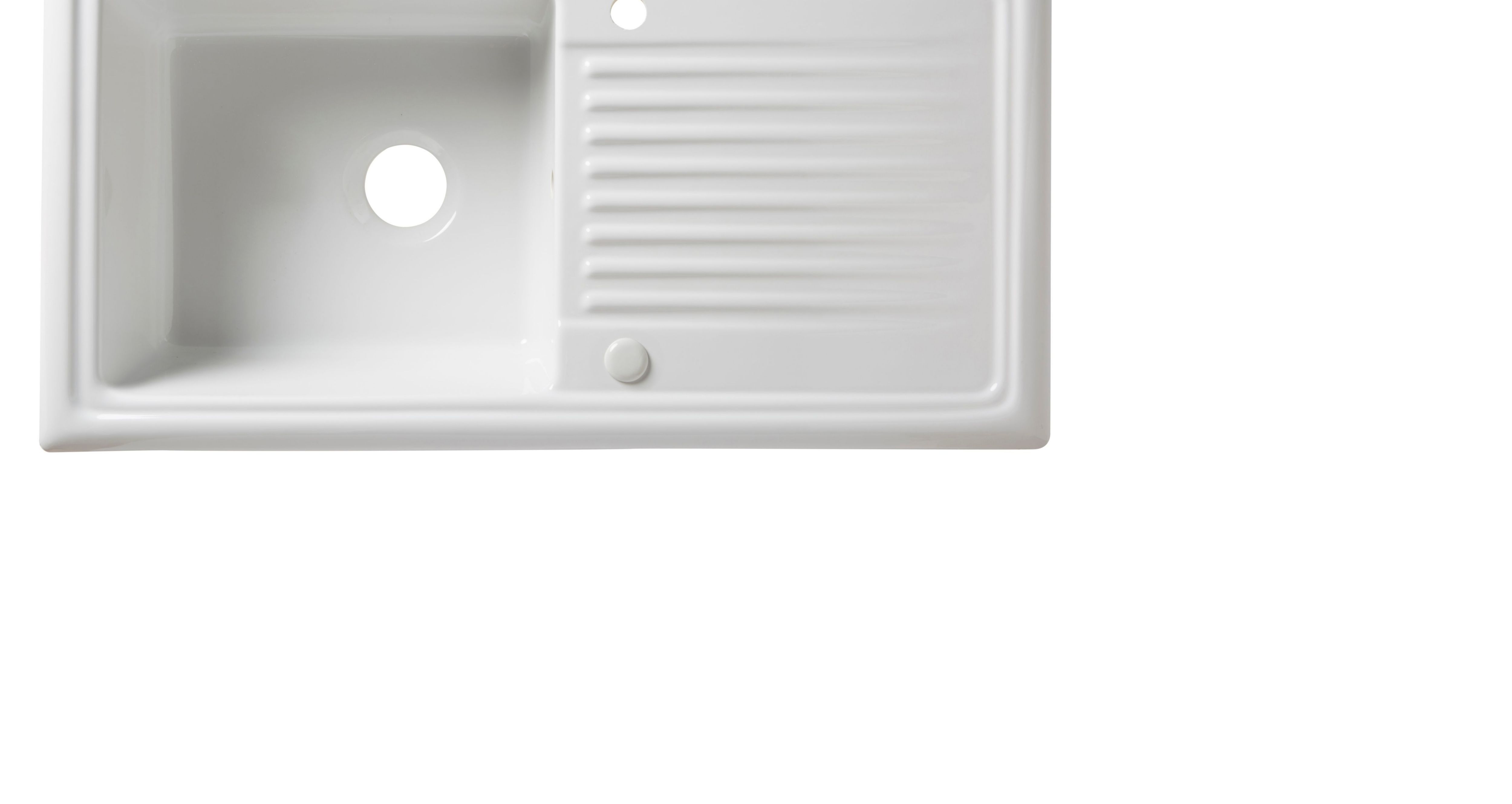 Toughened glass
If you want a different look for your kitchen, choose one of these innovative kitchen sinks. The frame is made from toughened glass while the bowl is stainless steel. The result is a stunning but practical addition to your kitchen. Toughened glass kitchen sinks:
Look stylish and modern
Are distinctive and unique
Create an undermount look with an inset bowl
Shop toughened glass kitchen sinks Shop all kitchen sinks

Styles of sinks
When thinking about the size and style of your sink, consider the practicalities of how it's going to be used. If you like to have a clear worktop with all your washing up in the sink, you're going to need a large bowl. And if you're likely to be doing more than one thing at once, why not opt for multiple bowls so that you can get stuff done without having to move things in and out of the sink?
If you're looking at a sink with a built-in drainer, most of our sinks are reversible. So you can choose the sink you like and then decide which side you'd like your drainer on.
Single bowl inset
Taking up less room than some of the other options, a single bowl sink offers plenty of space for your bigger dishes and pots. Single bowl sinks (known as inset or surface mounted) work with all worktop materials.
Shop single bowl inset kitchen sinks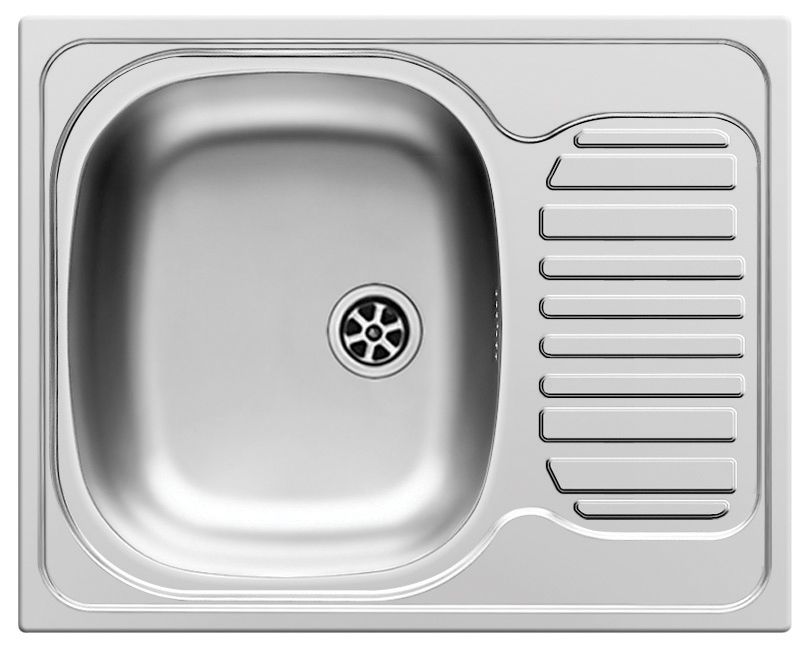 1.5 bowl inset
Perfect if you want to wash vegetables while the sink is full of dishes, the 1.5 bowl option lets you do two different tasks at once by giving you two bowls with two different drains. These sinks are compatible with all worktops.
Shop 1.5 bowl inset kitchen sinks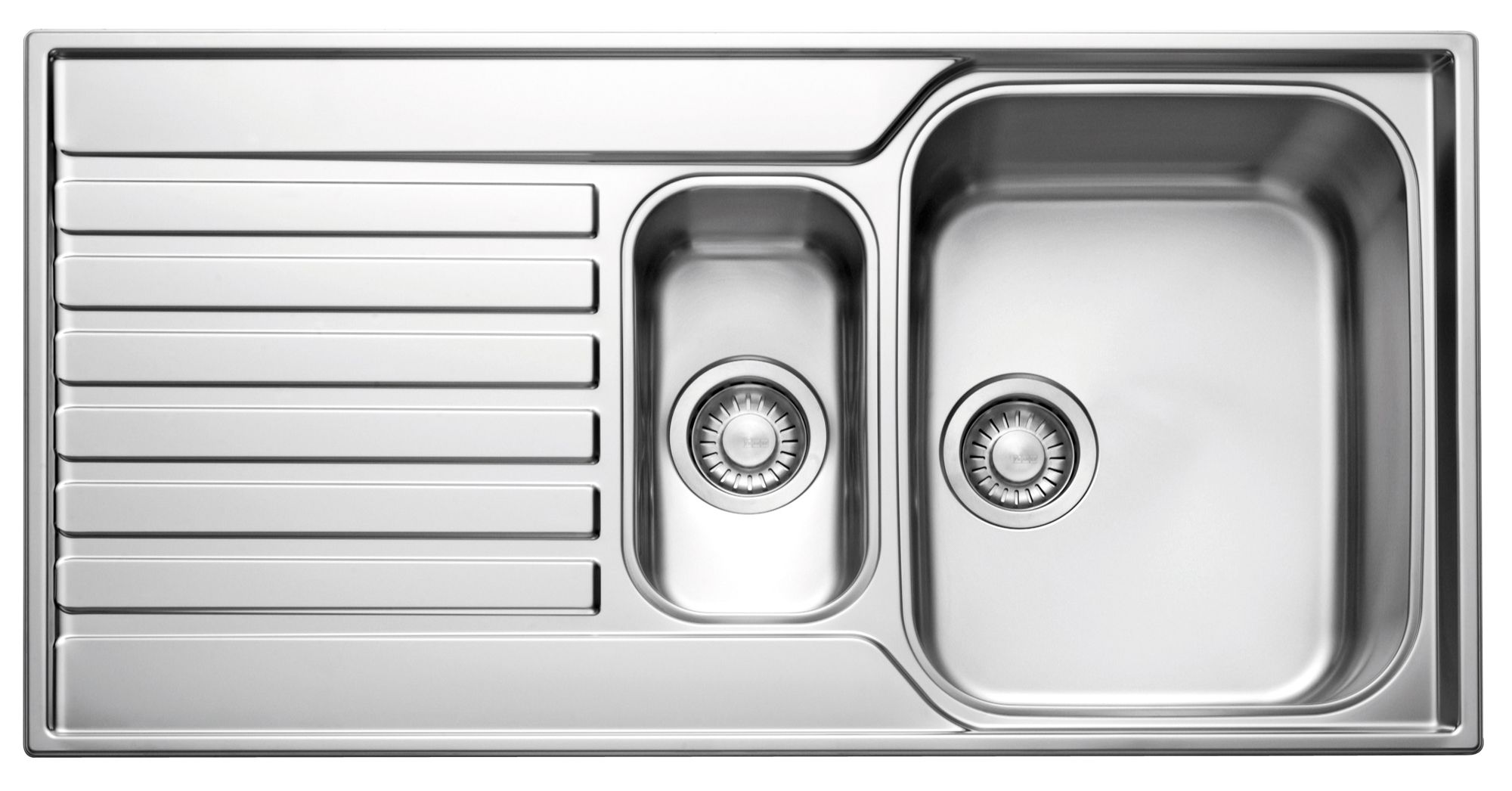 Double bowl
Perfect for large or awkwardly shaped kitchens, double bowl models offer extra sink space. Like the single versions, they're surface mounted or inset and so are compatible with all worktop materials.
Shop double bowl kitchen sinks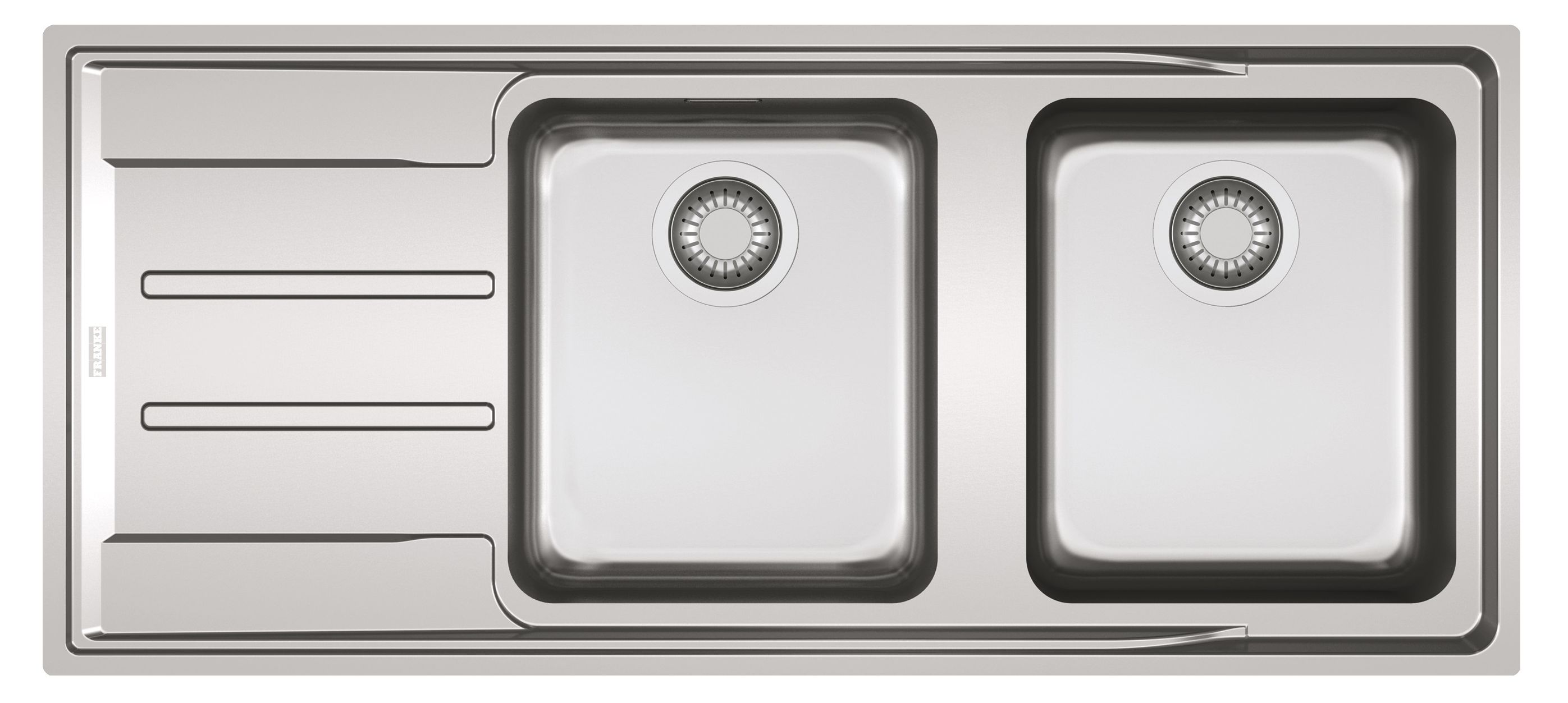 Undermount
Fitting neatly underneath the worktop, undermount sinks allow for more space in your kitchen due to their rimless design. It also makes them easier to clean as you can just brush everything straight into the sink as there's no lip. For a stylish look, you can pair your undermount sink with any worktop except for laminate, due to the fact that the edge above the sink is exposed.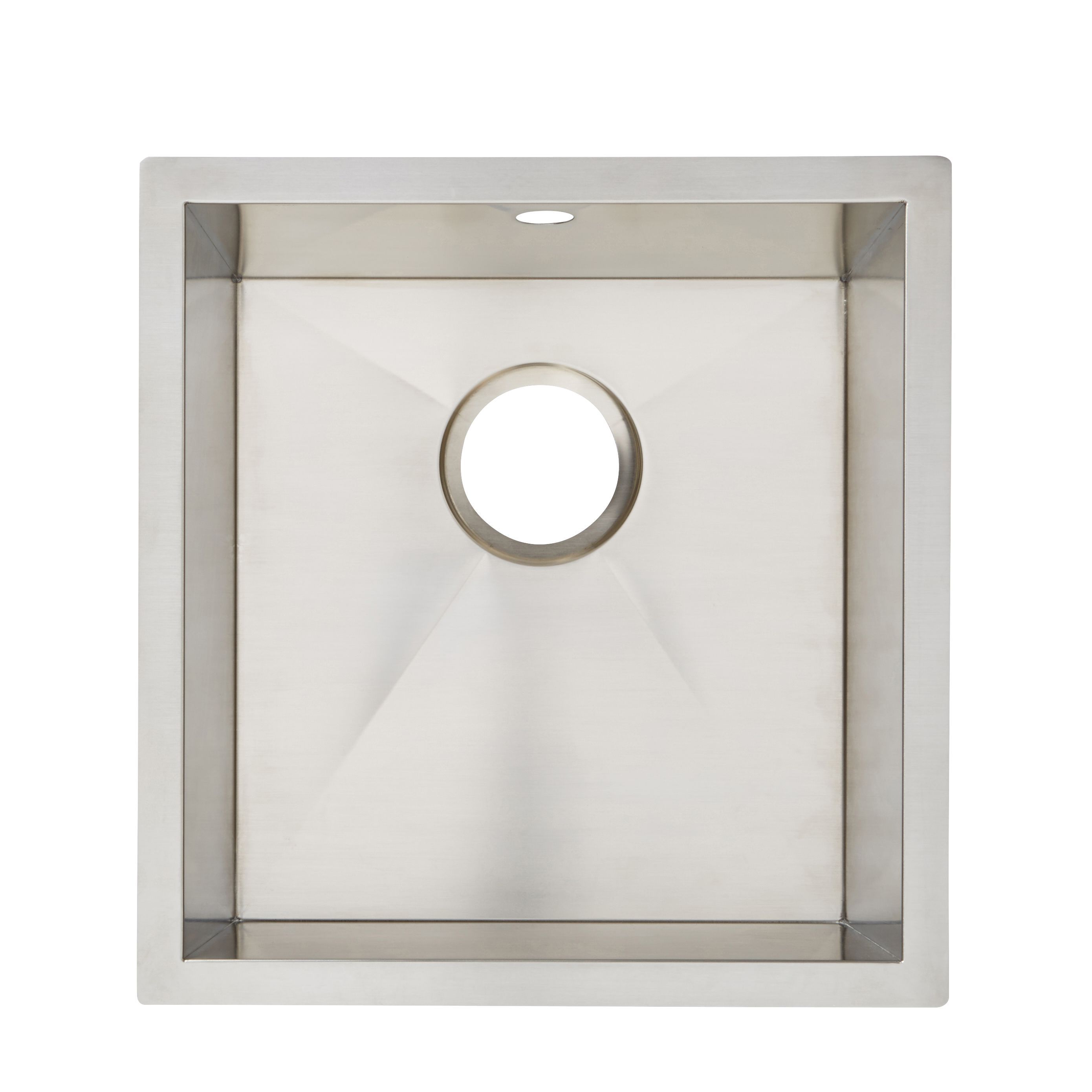 Round inset bowl
Choosing a round inset bowl means that you can decide between having it fitted to the surface of the worktop, or under the surface, like an undermount sink. Please note you cannot have an undermount sink with a laminate worktop.
Shop round inset kitchen sinks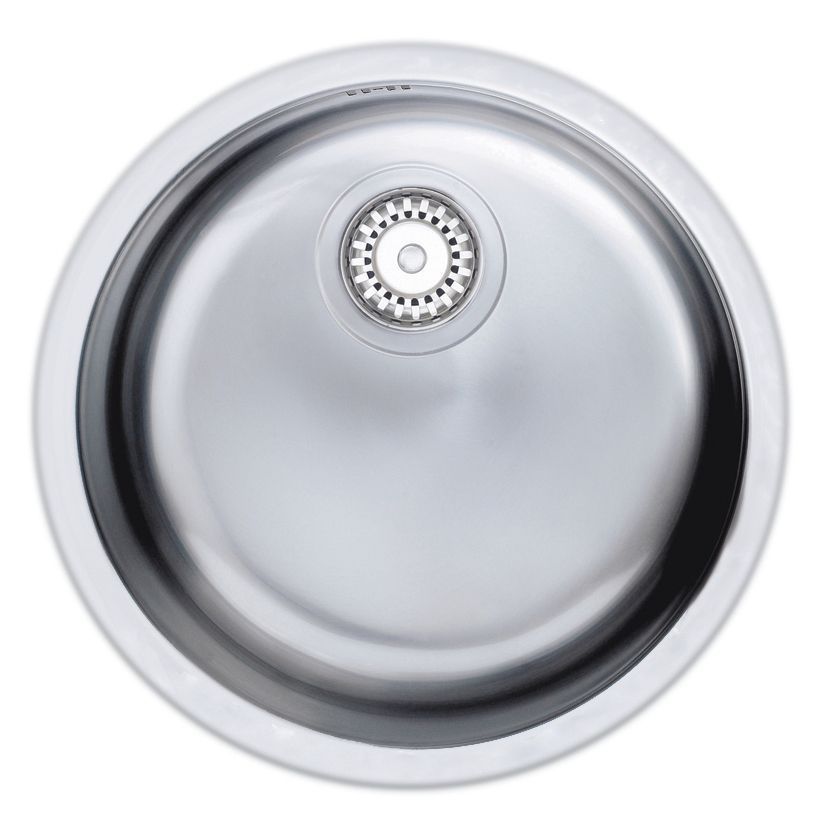 Belfast
A classic-looking sink, the Belfast has a deep rectangular bowl that was traditionally made in glazed white porcelain. Because of its shape, you're unable to have properly sealed finish with a laminate worktop, but you can choose from any other material.
Shop Belfast kitchen sinks Shop all kitchen sinks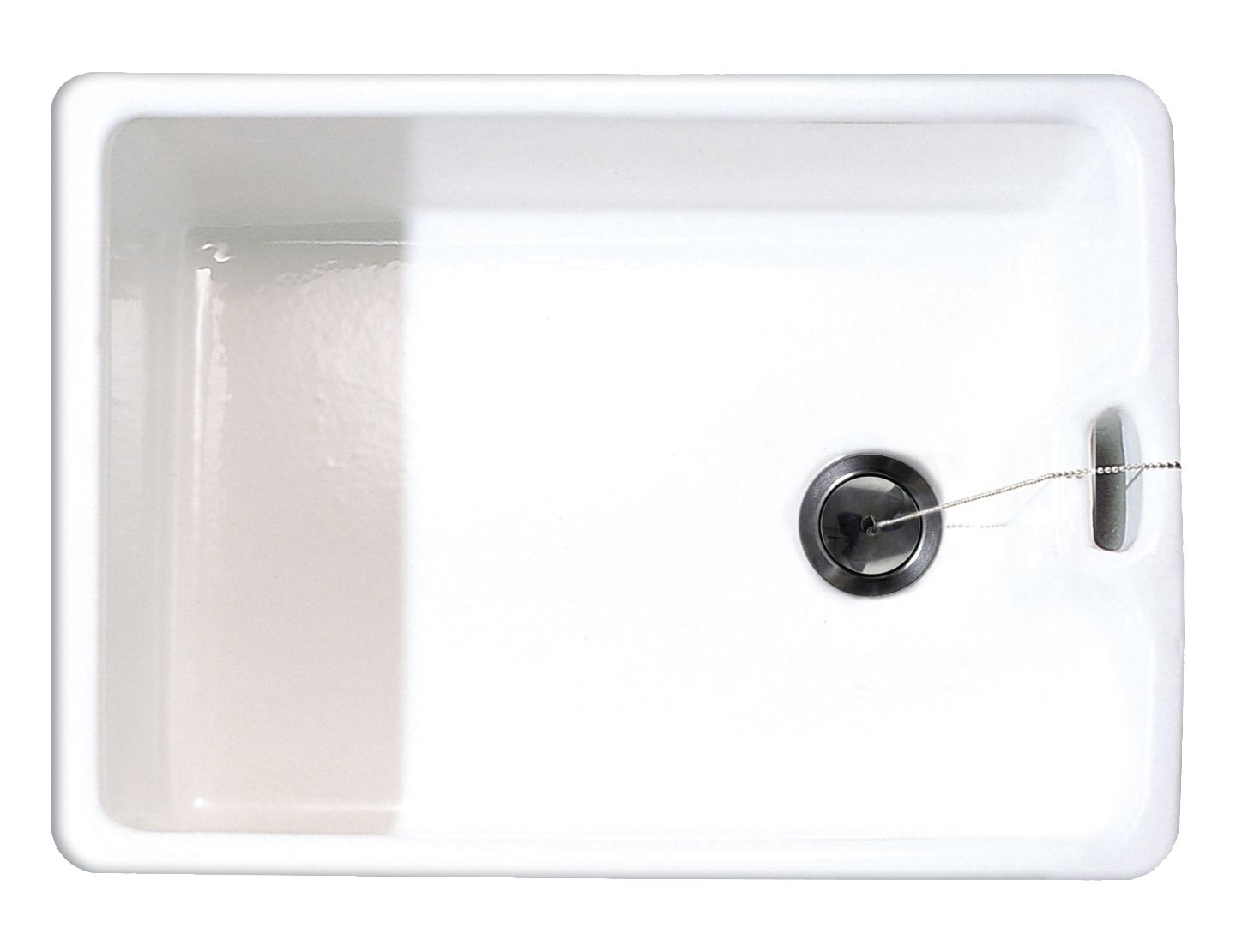 You might need
Sink accessories
Once you've chosen your ideal sink, be sure to pick out some accessories to help you make the most out of it.
Waste disposal units
If you're looking for a hygienic and convenient way to get rid of extra food waste, consider having a waste disposer installed underneath your new sink. With our range of InSinkErator food waste disposers, any small bits of leftover food can quickly and easily be washed away down your drain. There's no mess or bacteria build up, and most sinks are able to have one fitted underneath.
Washing up bowls
Whatever sink you choose, protect it from bumps and scrapes with a washing up bowl – it's a cheap way of making your sink keep looking good for longer.
Draining baskets, boards and racks
No one wants to put their clean cutlery and crockery straight onto their drainer or worktop. You'll need a rack and a basket in order to keep everything in order next to your sink, as well as let it dry properly.
Shop draining baskets, boards and racks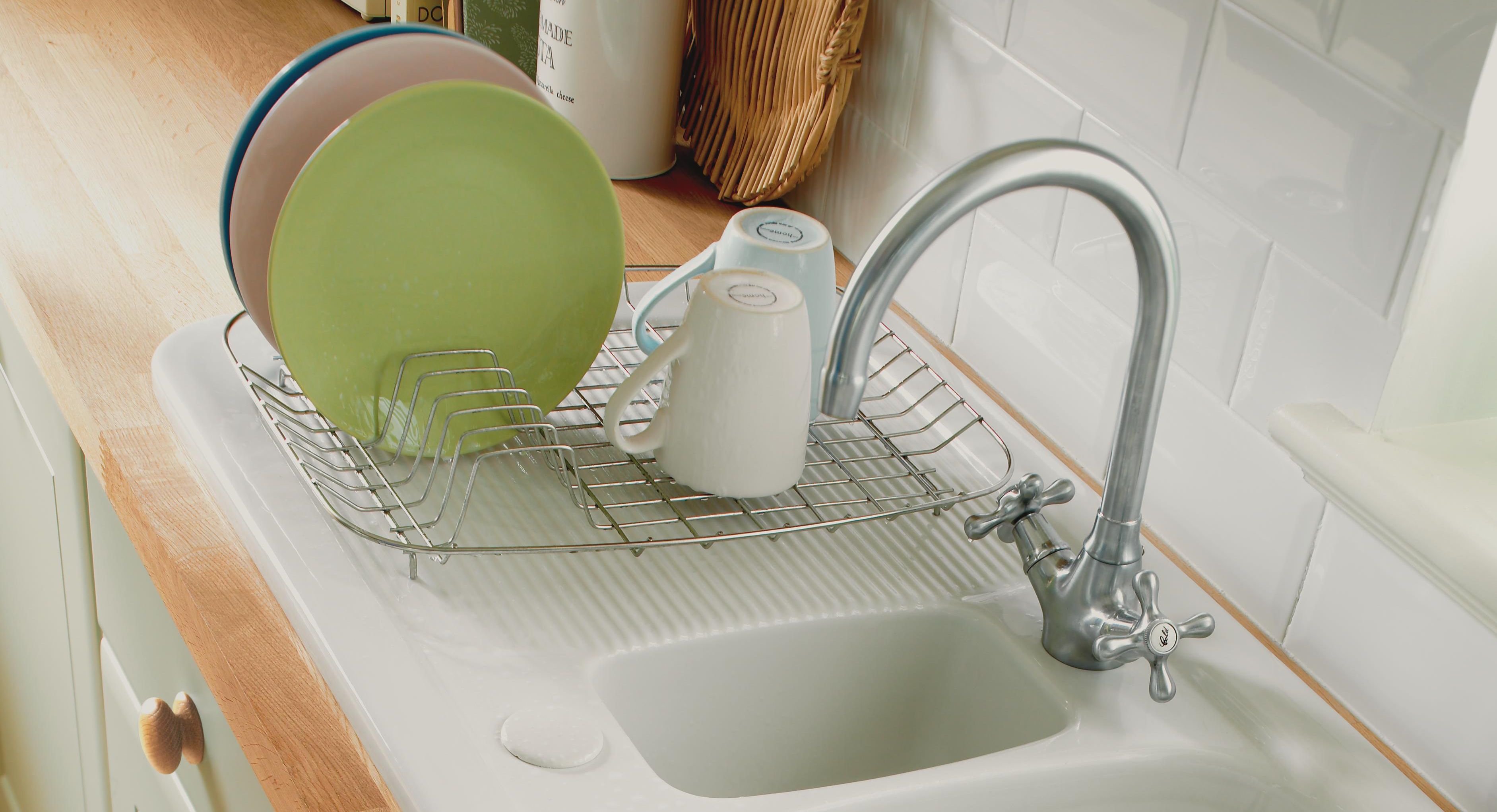 Articles