The answers to your frequently asked radiator questions
If you need a new radiator, but you're not sure where to start, our FAQs will run through the important information you need to make the best choice for your home.
Are there different kinds of radiators?
You can either have a plumbed or electric radiator, depending on how you want to heat your house. A plumbed radiator is essentially a metal container which fills with hot water, then heat is dispersed depending on size, material and style. An electric radiator is filled with thermofluid, which is heated by an electrical element, powered by a plug or wired into the mains. You can combine both if you have an area of your home which isn't served by plumbing, such as a loft conversion.
You can add a thermostatic heating element which will turn your radiator into a dual fuel set up. This is a device that sits in your radiator and allows you to heat up your plumbed radiator using electricity. The benefit of this is that you'll be able to independently heat up one, such as your bathroom towel rail, without using a lot of energy to heat up your whole house.

Should I choose electric or plumbed radiators?
Both plumbed and electric radiators have benefits which you'll want to consider before making your purchase.
Plumbed systems are an efficient choice when heating up your whole home.
Electric radiators are convenient if you want to heat up one room quickly, such as a guest room with no existing system.
Where's the best place to install my radiator?
Before double glazing became a common feature in our homes, radiators were placed under windows because this was the coldest part of the room.
Placing them there was effective because cold air creates better heat conduction. Nowadays, you probably won't find there's a particularly cold part of your room, so you have more freedom about where you can install your radiator.
Here are a few of tips which could help you choose the best position:
Try not to place your radiator behind any furniture, like a sofa or chest of drawers as this will restrict airflow.

Avoid covering your radiator with full length curtains, these will trap the heat behind them.
If you have to install your radiator on a exterior wall, add reflector foil behind it to avoid losing too much heat.
Can I install my own radiator?
Installing your new radiator in place of an old one is something you could do yourself, but make sure you follow our guide to avoid any unnecessary impact to your system.
What is a BTU?
One of the first things to need to work out when you decide to purchase a new radiator is how much heat output you'll need it to be to suit the room you want to install it in. The output of a radiator is measured in BTU, which stands for British Thermal Unit.
All radiators are assigned a BTU rating, telling you have many BTUs they produce. It's a quick and easy way of letting you know how much heat your radiator will generate. You can install more than one radiator in your room, so the combined output reaches the required BTU.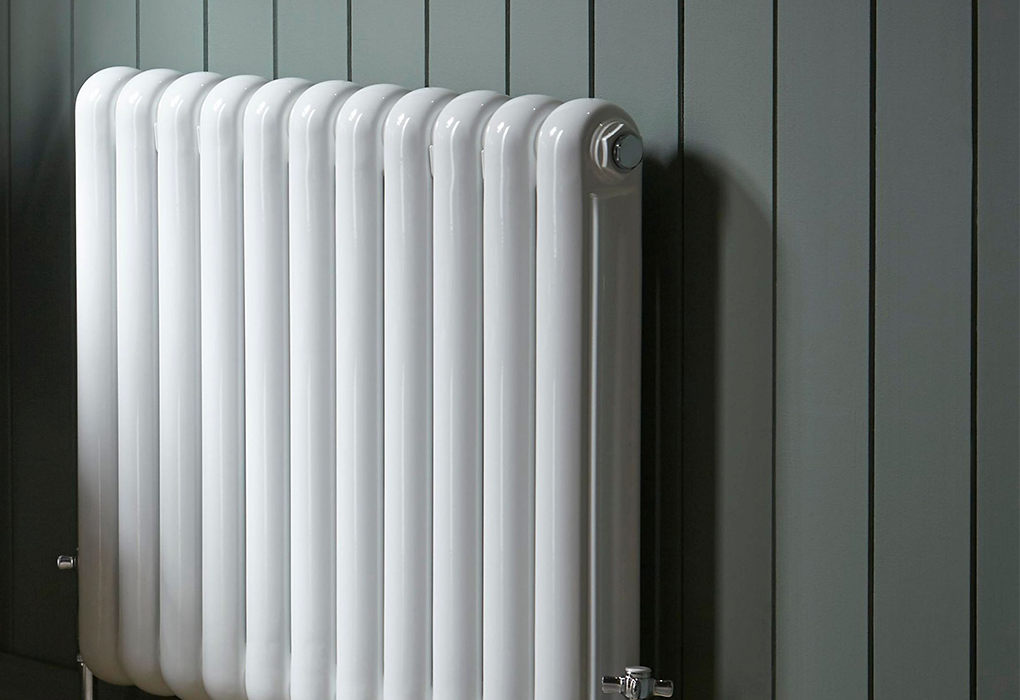 Our easy to use BTU calculator will help you to work out how many, and what heat output you'll need, to get the most of your new radiators. All you need to know is the dimensions of your room, and the type of windows you have.
What kind of valve should I buy?
Each radiator will have 2 valves, but you'll need to purchase these separately to the radiator itself, which means you can choose the best kind for you.
The valve connects your pipes to the radiator and controls the amount of heat you'll get. There are two kinds of valve to consider, thermostatic or manual. Manual valves work like a tap, you simply twist to adjust the flow of heat. A thermostatic valve will react to the temperature of the room and will self-regulate to a certain point.
The next factor you'll need to think about is whether you need a straight, angled or corner valve. This depends on how your pipes sit in relation to your radiator, so you'll need to choose a valve that can connect the two. The table below will help you decide: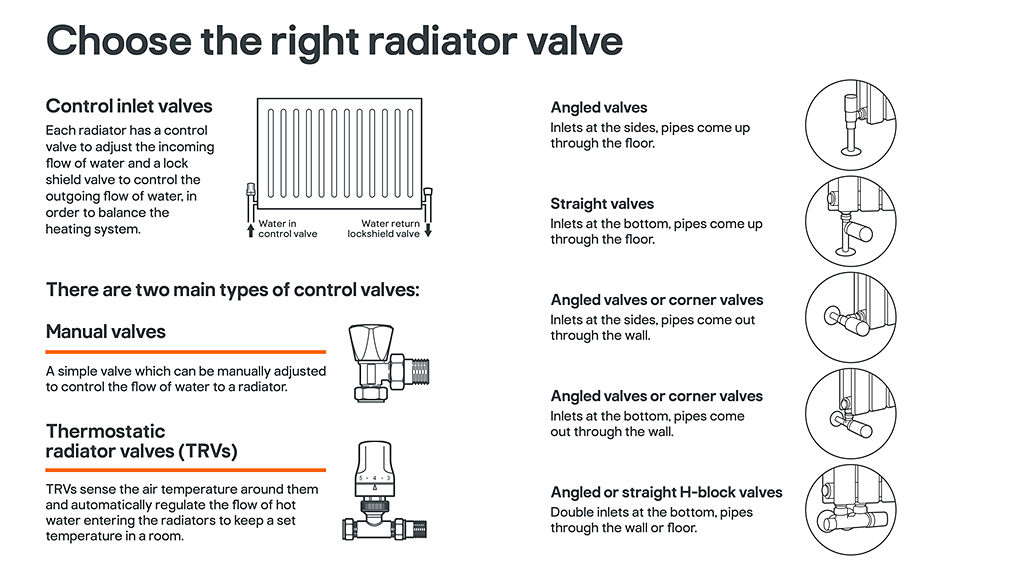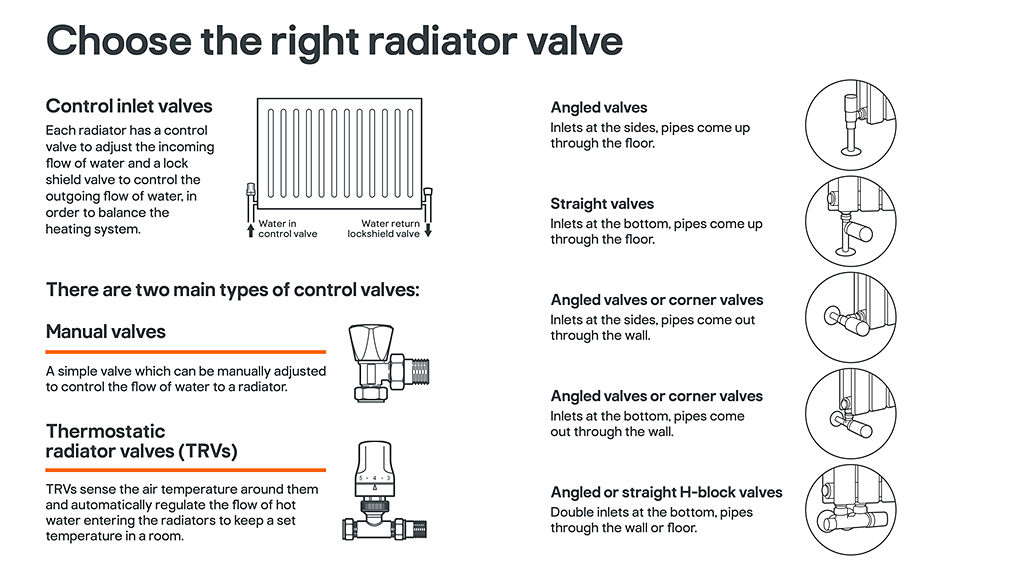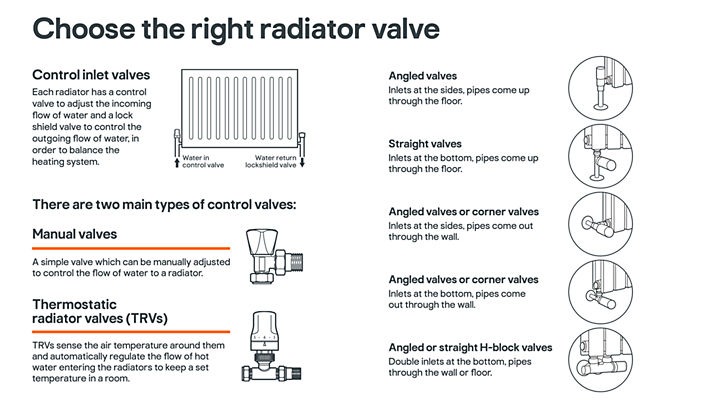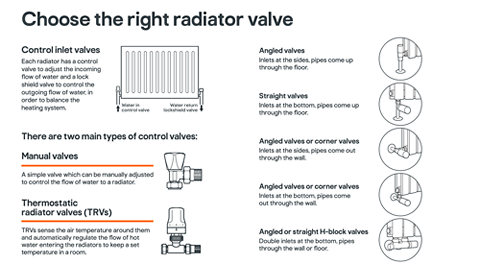 | | Pipes coming out of wall | Pipes coming out of floor |
| --- | --- | --- |
| Inlet on the sides | Angled/corner | Angled |
| Inlets underneath | Angled/corner | Straight |
Can I paint my radiator?
If you want a radiator which fits better with your décor, but don't need a new one, you could try giving it a lick of radiator paint.
Check out our video guide for simple step by step instructions:
How do I maintain my radiators?
Over time, the performance of your radiator may decline due to some common problems, and these usually have simple solutions.
Take a look at our helpful guide to learn how to combat issues with your radiator.