Shower enclosure & tray buying guide
Find the perfect shower enclosure to suit your bathroom
The shower is a key feature of the bathroom and the shape and design of the shower enclosure has an impact on the style of the room.
Whether it's a compact shower cubicle for a small en-suite bathroom, a modern and spacious shower for a large family bathroom or a contemporary and luxurious walk-in shower for a wet room, we offer flexibility within our ranges so you can create the ideal look to suit your lifestyle.
We'll help you plan your shower enclosure and understand and navigate the variety of door, panel and tray options so you can be sure that you choose the right ones for your bathroom.
Shop shower enclosures Shop shower trays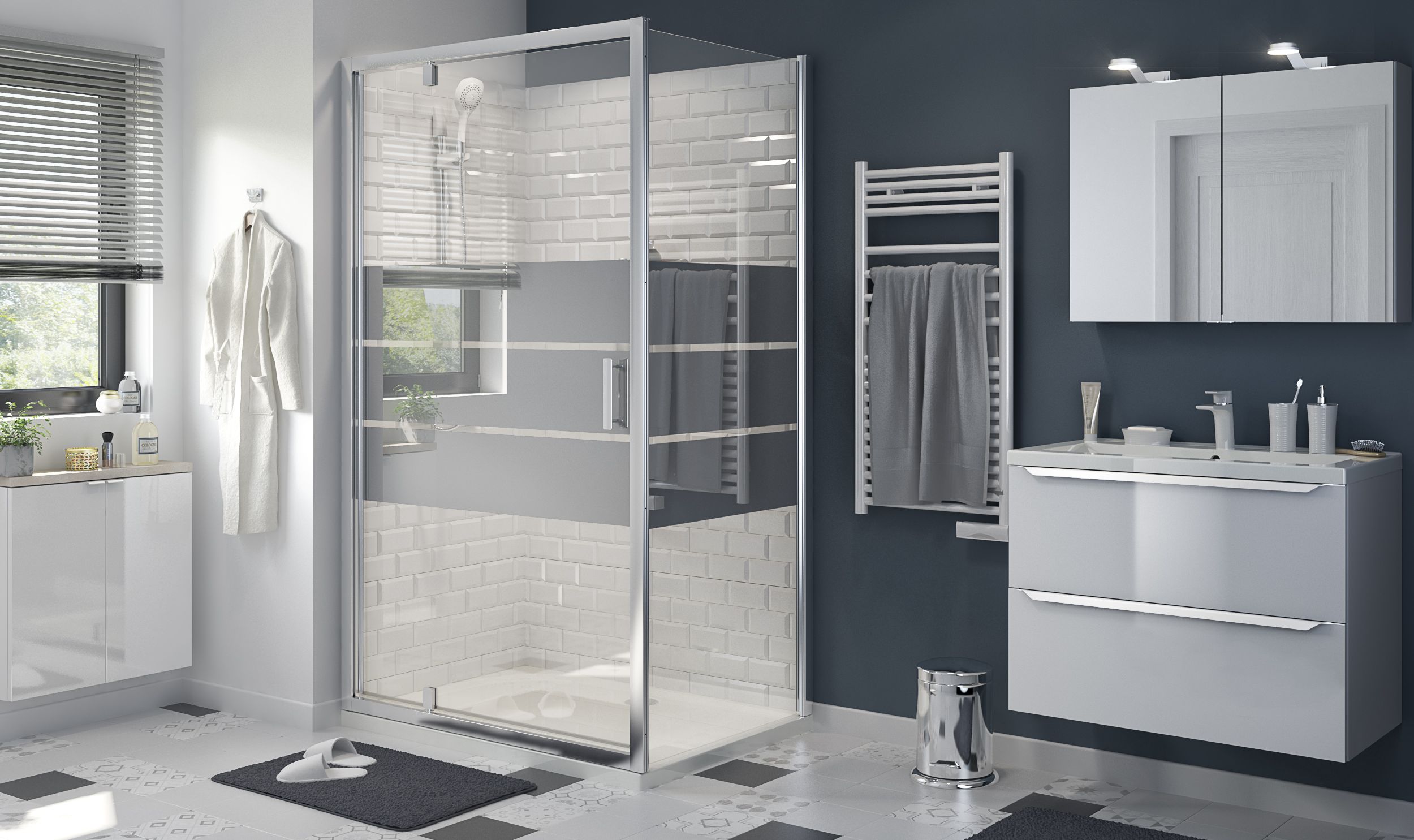 Consider the space
Before you begin to look at the details of your shower enclosure, you'll need to evaluate the space you have available in the bathroom. We'll walk you through the factors to consider.
Where is the shower enclosure going to go?
When planning your shower enclosure, you'll first need to decide where it is going to go in your bathroom. The components you'll need for the enclosure will depend on where you put the shower.
Are you just replacing the shower and want to keep it where it is? Or are you re-fitting your bathroom? If the latter, you might want to move it to a different location in the room. When deciding where to put it, consider the space needed for the door opening and any other features you want to add, such as towel rails. Take into account any existing features such as pipework, vents and lights.
Consider the number of walls you have available for the shower enclosure. Below we explain the options for each scenario: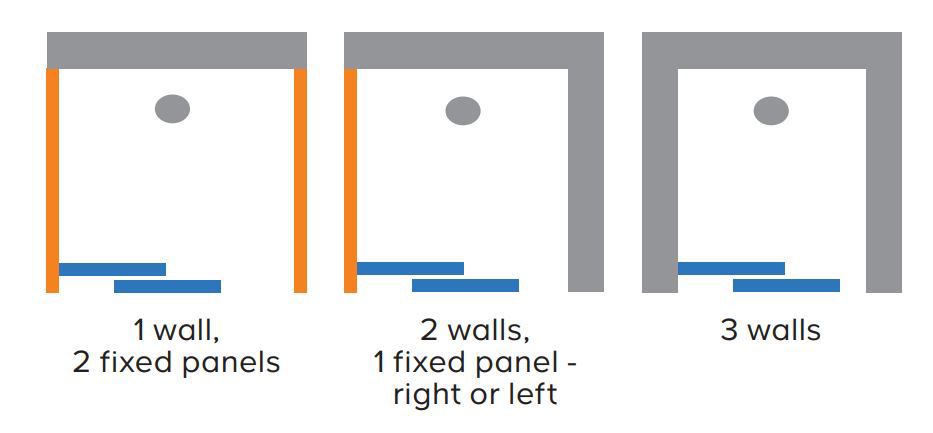 One wall – If you have a large space then you may want to make a feature of the shower by placing it in the centre of one wall. This means you'd need two side panels to the enclosure, as well as a door panel for the front.
Two walls - The conventional and more common approach is to fit the shower into the corner of the room, against two walls. This is most suitable for small to medium-sized bathrooms. For this you'd need one side panel and a door panel.
Three walls - You'd just need a door panel for the front.
How much space is available for the shower enclosure?
Now you've decided where the shower is going, the next thing to consider is how much space you have. How big do you want the shower to be? If you have the space available, why not go for a larger shower to make it a stand-out feature in the room?
Our shower enclosures range in size from 760 by 760millimetres (mm), to 900 by 1600mm. Use a tape measure to work out the dimensions, which you'll need when shopping for the enclosure.
Once you've decided how much space you want to use, continue reading for an outline of the different shape enclosures available and the various door options.
Enclosure features
You've planned your space and where your shower will go. Next, we'll get into the details of the shower enclosure – its shape, door style and glass style.
Shower enclosure shapes
There are a number of different shape options when choosing a shower enclosure and tray. The most appropriate will depend on the size and layout of the space you have available. We'll run through the different shape enclosures and the spaces they suit, to help you make your choice.
Shower enclosure access
You've decided where the shower is going and what shape it will be, so now is time to decide what sort of doors you want on the shower. We'll walk you through the options.
Choose from either a left or right-handed enclosure and tray to fit the shower into your chosen space. To establish which you need, stand with your back to the corner of the room. If the longest side is on your left then you need a left-handed enclosure and vice versa.
Enclosure ranges
Now you have an idea about the details of the shower enclosure you want, check out our ranges to see which best suits you.
At B&Q, we offer two different ways to shop for your shower enclosures.
Modular shower enclosure ranges – Our Beloya and Onega ranges are offered in a modular approach, meaning that the door panels, fixed screens and trays are all individual products that you can mix and match. You can choose only what you need to build your perfect shower enclosure. It also gives full flexibility on the details, so you can choose the door style you want, to go with the number of fixed panels you need. The only exception to this is the square or quadrant enclosures with corner entry sliding doors, as these come with the fixed panels.

All-in-one shower enclosure ranges – Our Plumbsure, Luxuriant and Grandeur ranges come as all-in-one shower enclosures. Simply find the enclosure you like and it will come complete with doors and panels. Some of our enclosures in these ranges come as a package with a tray and waste as well, perfect if you're starting from scratch on a new bathroom project.
Explore the details of our ranges below to find the best enclosure for your bathroom. As well as the choices we've already outlined, like shape, door type and finish, you'll also see the details of the glass thicknesses and guarantees for each of our ranges. Depending on your budget, some of our ranges include easy-clean, anti-limescale panels.
Table with details of our shower enclosure ranges
Shower enclosure range
Shapes
Door styles
Size (W) mm
Glass thick-ness (mm)
Finish
Guarantee
Easy clean?


Beloya

Square (door and panels or square enclosure)
Quadrant
Rectangular

Half pivot
Full pivot
Sliding
Western
Corner entry sliding
Walk-in entry

760-1600
8
10 years
Yes
Onega

Square (door and panels or square corner enclosure)
Quadrant

Half pivot
Sliding
Corner entry sliding
Bi-fold
Walk-in entry

760-1200
5
2 years
No
Luxuriant

Square
Quadrant
Offset quadrant
Rectangular

Full pivot
Sliding
Walk-in entry

800-1400
8
5 years
Yes
Grandeur

Square
Quadrant
Rectangular

1400
8
5 years
Yes
Plumbsure

Square
Quadrant
Offset quadrant
Rectangular

760-1200
4
2 years
No
Shower trays & other essentials
Shower trays come in a variety of different materials. We'll go through each of the materials:
Cast stone shower trays – Made from a mixture of limestone and resin.
Acrylic shower trays – The most affordable material that is flexible and lightweight. As a lower-budget option, acrylic shower trays are more at risk of damage than sturdier materials.
Resin shower trays – Made from a mixture of minerals and resins. A sturdy and durable material that is likely to last longer than acrylic shower trays and is strong enough to withstand wear and tear.
Liquid shower trays (pictured) – Our liquid shower trays are made from XPS (extruded polystyrene foam), mortar and fibre glass. They are designed so you can create a bespoke look by using your own choice of tiles over the top. Make sure you use non-slip tiles.
Not all trays come with a shower waste – the piece of equipment that acts as a drain. Be sure to check your tray before you buy and if it doesn't, take a look at our range.
Shop shower trays Shop shower wastes
In addition to the shower tray, there are other items you might need to complete your shower enclosure and tray installation.
Fitting a shower tray
Our easy plumb kits are specifically designed for use with shower trays. They convert a standard floor level tray to a raised tray installation, ensuring that it can be fitted to any floor. It also enables the installer to have access to the waste plumbing for services or maintenance.
Walls and flooring in the shower enclosure or walk-in shower
Articles