Sliding wardrobe doors buying guide
Attractive bedroom storage solutions
For a space-saving and stylish option for bedroom storage, explore our extensive range of sliding wardrobe doors.
Sliding wardrobe doors are fantastically flexible. Use them from wall to wall in an existing alcove, or make your own wardrobe space by fitting between a wall and a wardrobe end panel. Close off shelved areas or awkwardly-shaped rooms to offer a clean, seamless look. Or why not create a walk-in wardrobe or unusual room divider? They can be used in any room, not just bedrooms, transforming it into clever storage space.
Let's explore our wide range of styles, designs and sizes to help you find the right sliding wardrobe doors for your home.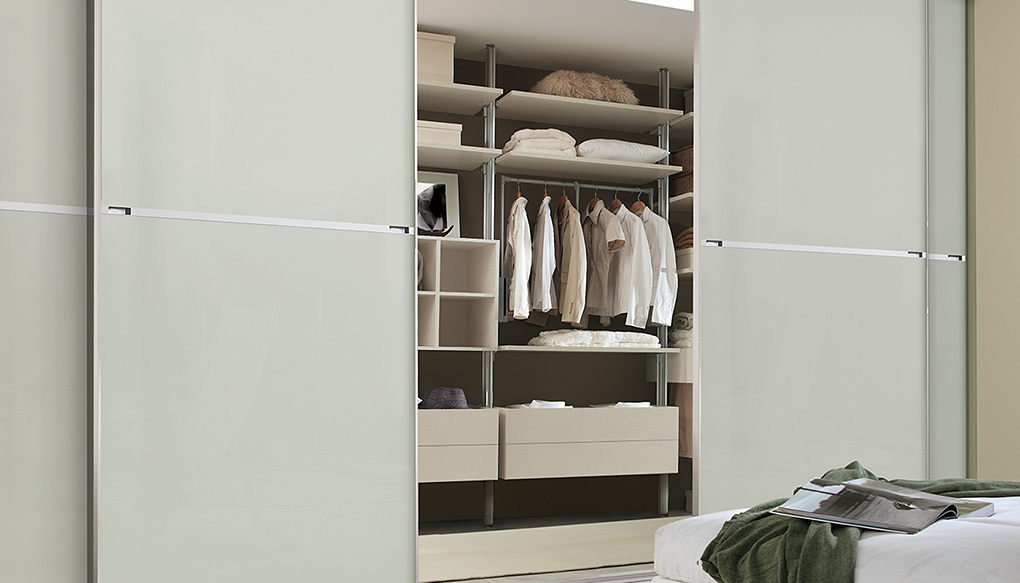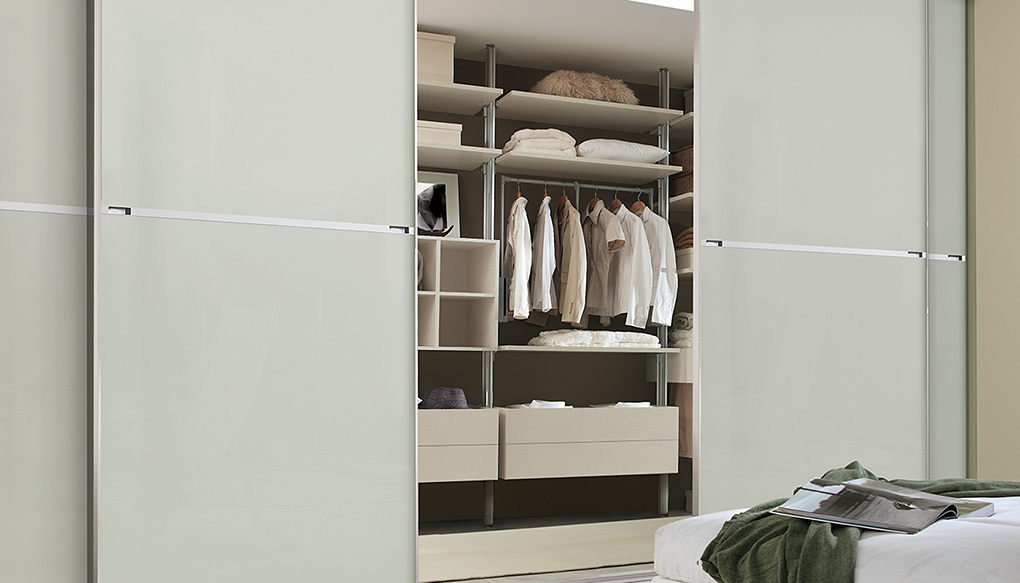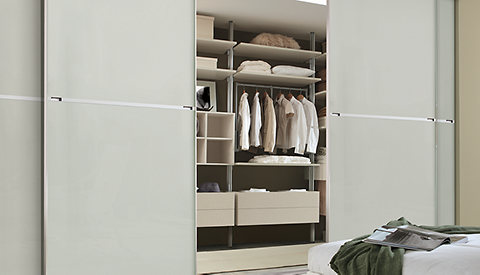 ---
Before starting your sliding wardrobe door project, it's important to consider a few things.
Where are the sliding wardrobe doors going?
Think about where you plan to install your sliding wardrobe doors and how big they need to be to fit their space. Start by measuring the area where they'll be situated. This will help you decide how many doors you'll need and also determine whether you can buy from our standard sized range or whether you'll need something specially made.
What kind of look are you going for?
We have a wide range of designs and finishes to suit both modern and classic styles. Choose from framed or unframed, single or multiple panel doors, and colours and finishes including wood effect, painted white, glass and more.
We love the popular favourite - mirrored sliding wardrobe doors - which are available across all of our ranges. The large reflective surfaces are a great way to create the feeling of more light and remove the need for a separate full-length mirror in your bedroom.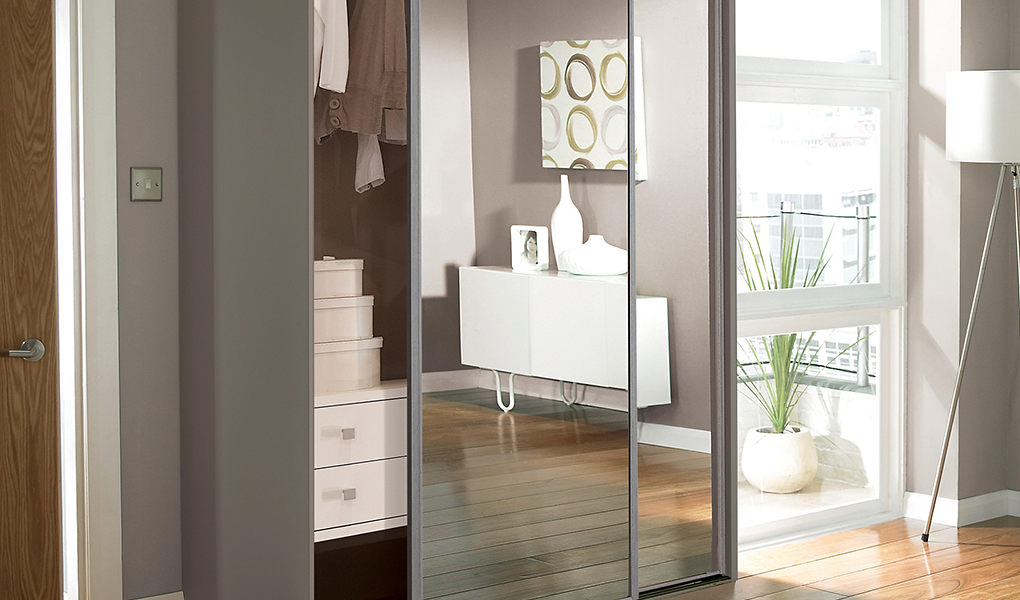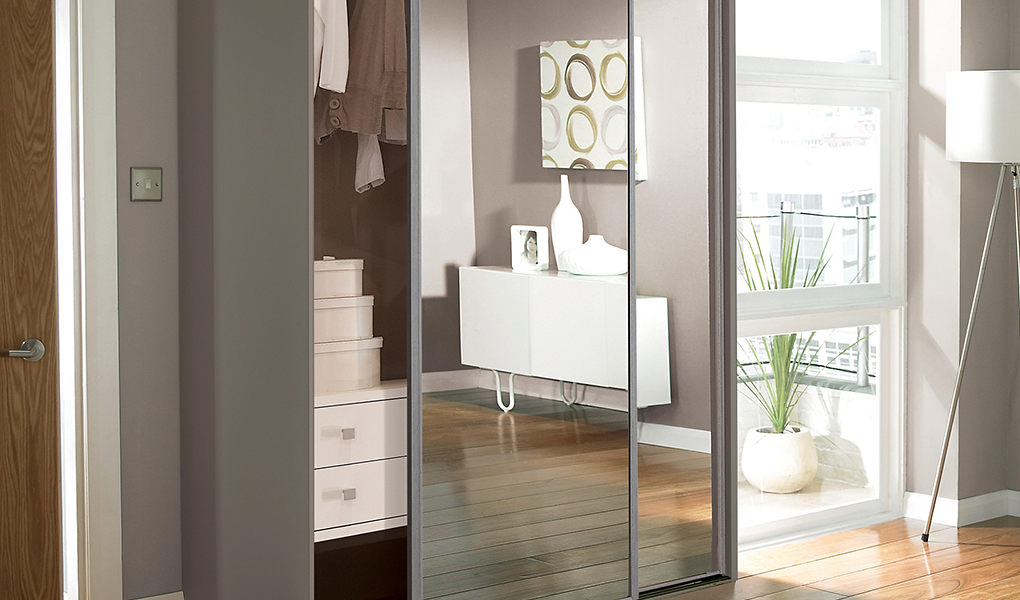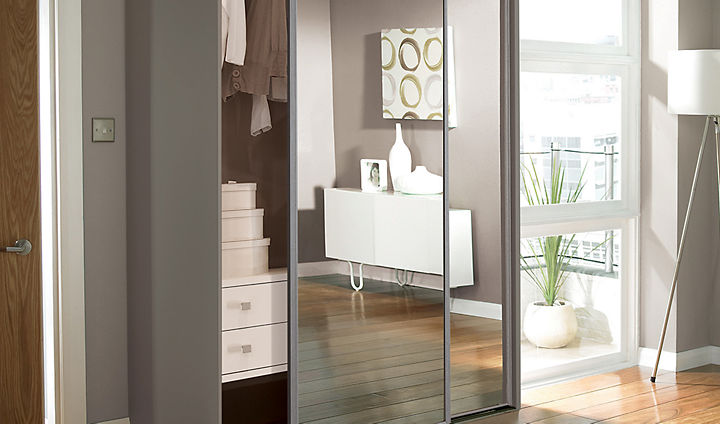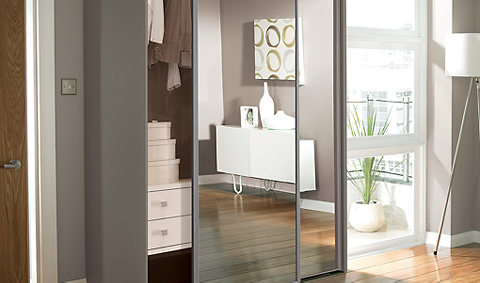 ---
We offer three types of sliding wardrobe door - standard, mix and match and made to measure.
All the wood used to create our wardrobe sliding doors comes from responsibly sourced, Forest Friendly timber. For more information on our commitment to sustainability, check out our One Planet Home pages.
Standard sliding wardrobe doors
available in a range of designs, including mirror, shaker (pictured) and panel sliding doors. Look for our Fineline range that features a sleek horizontal panel for more of a modern design feature.
available in a range of finishes, such as wood effects (oak, walnut, maple) and painted white
offered in two heights - 2220 and 2260millimetre (mm)
offered in three width sizes - 610, 762 and 914mm
Alternatively, opt for one of our standard sliding wardrobe door kits that come with two or more doors and a trackset.
Made to measure sliding wardrobe doors
Looking for wardrobe doors tailor-made to fit your space, size and lifestyle? Explore our made to measure range of sliding wardrobe doors available in three eye-catching designs - shaker, minimalist and double-sided (pictured).
Shaker doors offer a number of ways to customise to suit your style. They're offered in two, three and four panel designs, and both the panels and the frames come in a range of finishes, such as wood effects, mirror and glass.
Minimalist doors add a modern edge and come in two or four panel designs with a sleek aluminium frame. Like the Shaker, choose between mirror, wood effect and glass finishes. We love the unusual linen-looking wood effect and the striking white/ blue shadow glass.
Double-sided doors are ideal for creating elegant walk-in wardrobes or unconventional room dividers. Made from a single panel, they can either have the same effect on both sides or opt for contrasting ones. Finishes include mirror, wood effect and glass, and soft-close is included on all doors over 650mm wide.
---
Here are a few items you need to complete your wardrobe installation project.
Tracks
Sliding wardrobe doors need tracks - both running along the top and bottom of the wardrobe space - to smoothly glide open and shut. We offer these tracks in sets, including top and bottom tracks, and in four different lengths - 1803, 2692, 2700 and 3607mm. Choose the one compatible with your selected doors and the closest in size to your measured wardrobe space and then cut to size. They are also available in white or silver effects to complement the style of your doors.
See the table below to find the right trackset for you.
| No. of standard sliding wardrobe doors | Ideal door opening (in mm) | Door width | Trackset | Trackset in white | Trackset in silver |
| --- | --- | --- | --- | --- | --- |
| 2 doors | 1195mm | 610mm | 1803mm | Small White | Small Silver |
| 2 doors | 1499mm | 762mm | 1803mm | As above | As above |
| 2 doors | 1803mm | 914mm | 1803mm | As above | As above |
| 3 doors | 1780mm | 610mm | 1803mm | As above | As above |
| 3 doors | 2236mm | 762mm | 2692mm | Medium White | Medium Silver |
| 3 doors | 2692mm | 914mm | 2692mm | As above | As above |
| 4 doors | 2390mm | 610mm | 2692mm | As above | As above |
| 4 doors | 2998mm | 762mm | 3607mm | Large White | Large Silver |
| 4 doors | 3606mm | 914mm | 3607mm | As above | As above |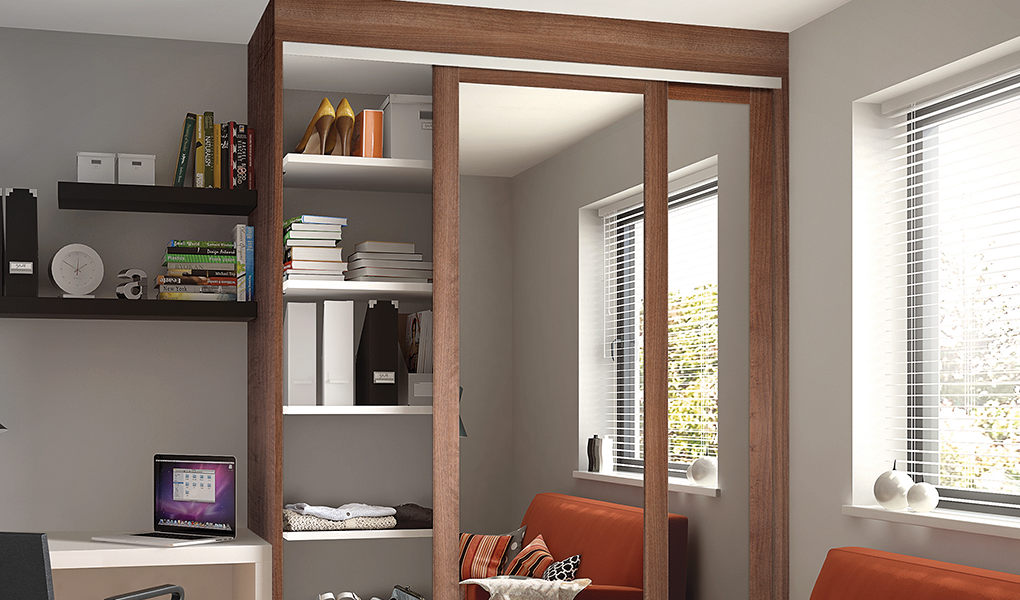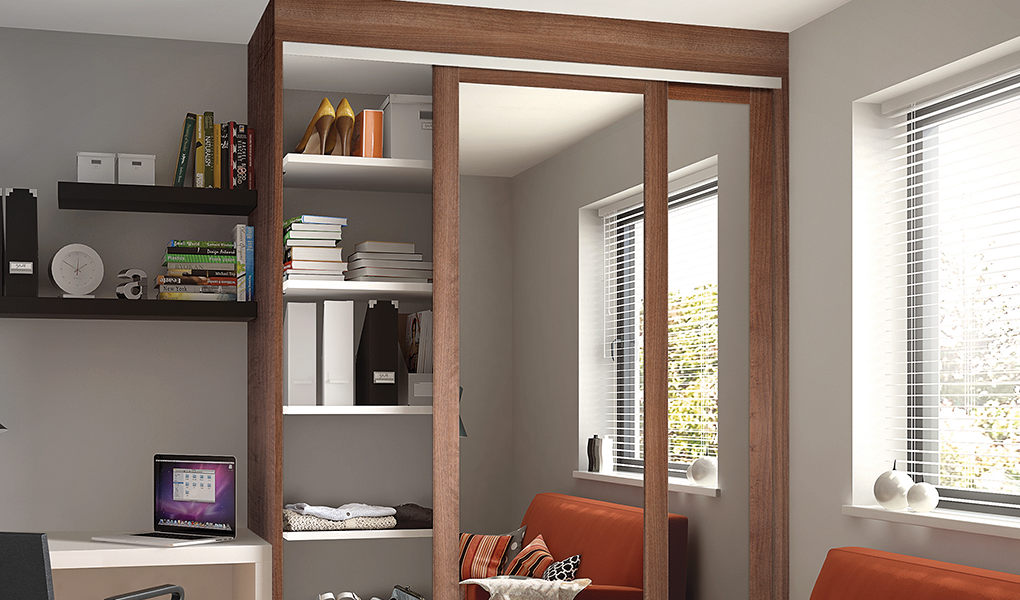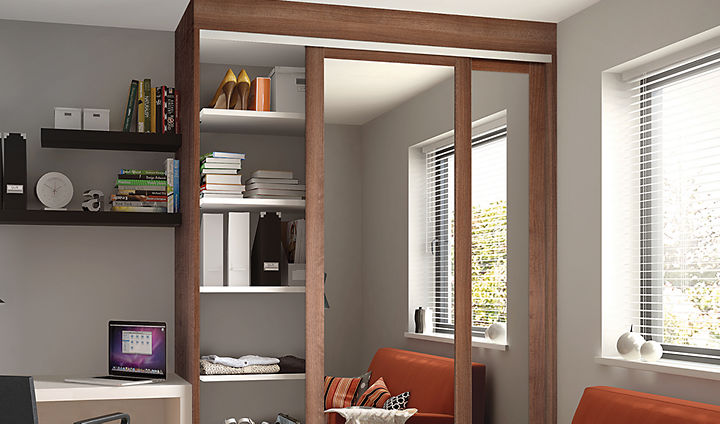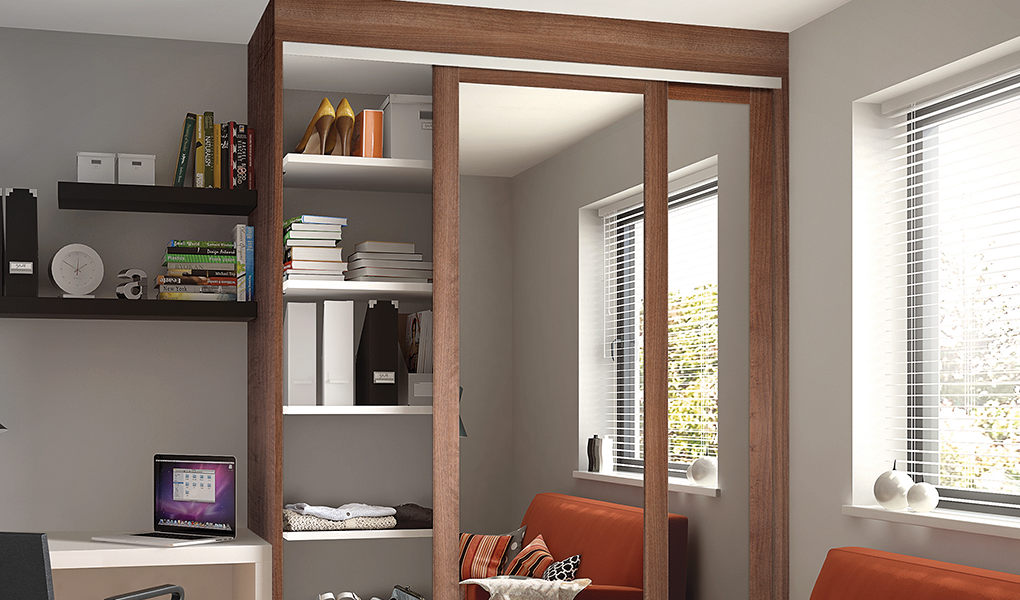 Sliding wardrobe door accessories
There are a number of accessories to help when installing your sliding wardrobe doors. These include:
Sliding door end panels - these provide a protective cover for the side of your wardrobe if your doors aren't being installed from wall to wall
End fillets - handy strips that can be cut to size to fit any small gaps, such as between your door and skirting board
Fascia strips - self-adhesive strips that fasten to the front edge of the top track to create a seamless look
Fixing blocks - these secure wardrobe end panels to the wall, floor and ceiling
Opening height reducers and spacer blocks - these bridge any gaps between the top of the wardrobe door and the ceiling
---
Now you've sorted the outside of your wardrobe, it's time to think about the inside. We offer a range of storage solutions to help you organise your clothes, shoes and more.
Atomia modular storage
Atomia is the perfect solution for all those awkward spaces in your home. A stylish and completely customisable storage system. Choose from a number of heights and widths to fit any space. From the size and style to the accessories within, Atomia modular storage lets you decide it all. You can choose from a selection of doors, sliding doors, external drawers, and a variety of handle designs. Use the configurator to design your own custom storage set up.
---
Our installation service
Our installation service makes it even easier to bring your dream room to life. We work with approved installers to coordinate your project from start to finish.
As well as fitting your design to your specification, our installers can complete the finishing touches to save you the hassle.
We provide a 2-year workmanship guarantee in addition to any product guarantees. We hope you'll never need to use our guarantees, but peace of mind is always a good thing to have. Plus, our range of flexible payment and finance options means you can find a plan to suit you.
Find out more about our installation service and book a free planning appointment to get started.