Charcoal, gas and electric BBQ options explored
For food lovers, sunny weather means one thing - fire up the barbecue. Dining outdoors is a summer treat that's guaranteed to create a buzz amongst your family and friends. Everyone loves to eat al fresco when the sun is shining and the weather is warm.
From extra large gas BBQs to feed a party of people to compact and portable charcoal options to take camping, we've got a barbecue to suit. We're here to help you find the best BBQ for cooking up a delicious feast, from tasty grilled burgers and sausages to scrumptious smoked fish.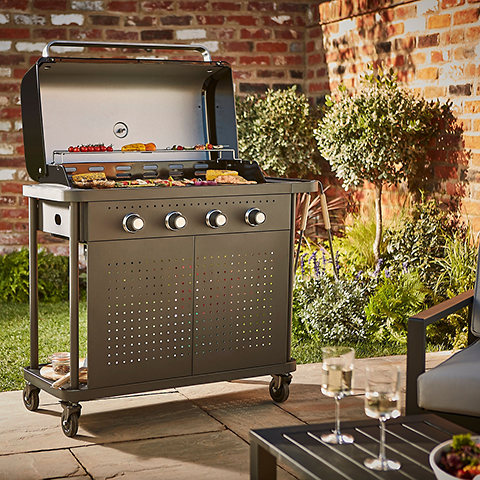 Before you begin
When choosing your barbecue, it can help to better understand how you'll be using it by considering a few questions.
Where will the barbecue be used?
Are you going to be doing the majority of your cooking in your own garden? Think about the size of your garden, courtyard or balcony, and the space available. Make the most of your garden furniture and save floor space by opting for a table top BBQ. Or if you've got plenty of room go for a larger barbecue. Many in our range come with handles and wheels so you can easily move them around and store them away when not in use.
Are you after a barbeque that you can take with you for picnics and camping? Look for something that's easy to transport. Consider the size and weight of your barbecue and how you'll be getting it in and out of your car. We offer a number of compact options, so wherever you're heading, there's a barbecue to suit your needs.
If you live in a flat or apartment with a balcony, you may not be allowed to have a gas or charcoal barbecue. Check with your property management or landlord to find out. However, you may still be allowed to have an electric BBQ, so you can still enjoy cooking and dining outdoors.
When deciding where to place your barbecue, make sure there are no low-hanging plants or tree branches close by. And remember that they're not recommended to be placed on artificial grass.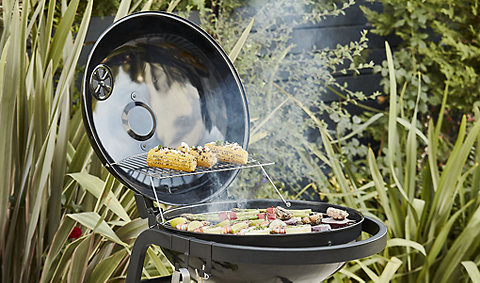 How many people will the barbecue cater for?
Almost all of our barbecues are designed to cater for four people or more, so don't be shy when inviting friends and family over to sample your grilled goodies. Size does matter though, and the bigger the grill size, the easier it will be to cater for bigger groups or parties.
And if you expect to be hosting large numbers of hungry people, look for additional extras that help you cook up more food. Many in our range come with handy side areas for prepping food and serving up.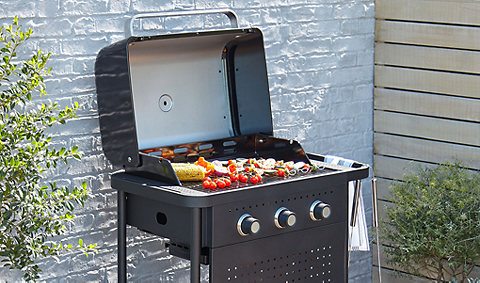 Barbecue types
Barbecues are categorised based on the fuel they use and we offer three types – gas, charcoal and electric.
Gas barbecues
For complete control over the temperature, as well as the ease of being able to start cooking with one click, choose a gas barbecue. Unlike a charcoal option, they're ready to start cooking almost immediately. Gas barbecues have a generous cooking area making them ideal when cooking for larger groups and they're easy to clean afterwards.
We offer two kinds of gas barbecue – the traditional type and plancha grills.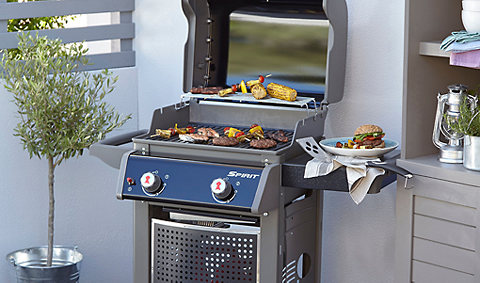 Traditional gas barbecues
Our traditional gas barbecues:
cater for up to 16 people
offer fast and reliable ignition
have up to six burners
feature grills made from porcelain enamel, enamel-coated steel or cast iron, offering even heat distribution
are flat-packed and easy to assemble, though some may require a second pair of hands
are simple to store – most come with handles and wheels to make moving them into your garage or shed a breeze.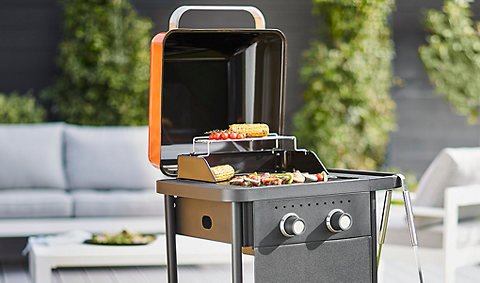 Plancha grills
Planchas are hot plate-style grills that offer a flat surface with evenly distributed heat. With no grill bars, food doesn't slip through – perfect for cooking fish, vegetables, and smaller, delicate foods. Plancha grills heat up quickly and any fat is drawn away from the cooking food thanks to the grease-collecting mug for healthier cooking.
Compact in size, they're ideal for smaller outdoor spaces with the flat bottom enabling you to use it on appropriate surfaces. Alternatively, look for models with a trolley and side tables for extra food preparation space.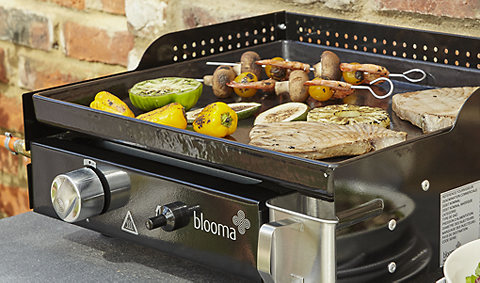 Charcoal barbecues
For the authentic barbecue experience and flavour, opt for a charcoal barbecue. While they take a little more time to be ready – the ritual of getting one going is what outdoor cooking is all about and they can be a cost-effective choice. Charcoal barbecues can be used to smoke food, such as fish, meat or cheese. The fuel is inexpensive to buy and replace, but they do require more maintenance. You'll need to clean the grill and remove the ash every time you use it.
We offer two kinds of charcoal barbecue – the classic, portable option and masonry barbecues.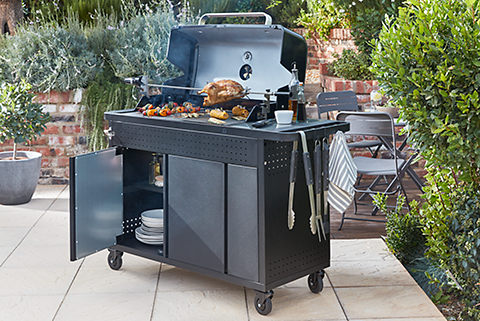 Portable charcoal barbecues
Our portable charcoal barbecues:
cater for up to 12 people
have up to four adjustable grill heights to allow you to control the temperature of your food
feature grills made from steel, porcelain enamel, or steel and enamel. Porcelain enamel offers even heat distribution
are available with porcelain enamel lids so that you can cook at high temperatures, like an oven
feature wheels to move out of the away when not in use.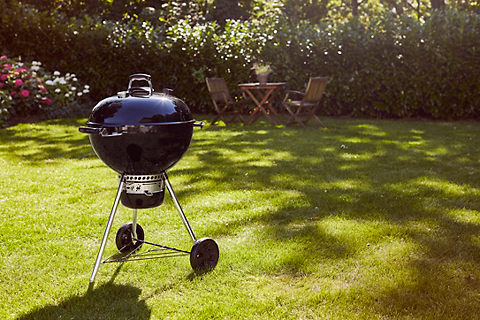 Pizza ovens
Forget burgers and sausages, if pizza is more your thing then a pizza oven is the perfect match for you. Our Blooma Maipo Pizza Oven will cook the perfect pizza on a pizza stone in the top oven, above the charcoal-fuelled fire in the bottom oven. But the Maipo is not just for pizza – you can also smoke meat, fish and vegetables for a delicious barbecue feast.
Our pizza oven features:
a temperature gauge to ensure your food is cooked just how you like it
wheels and a handle so it can be moved easily
stainless steel doors to retain heat
a shelf underneath for plates and condiments
a removable ash drawer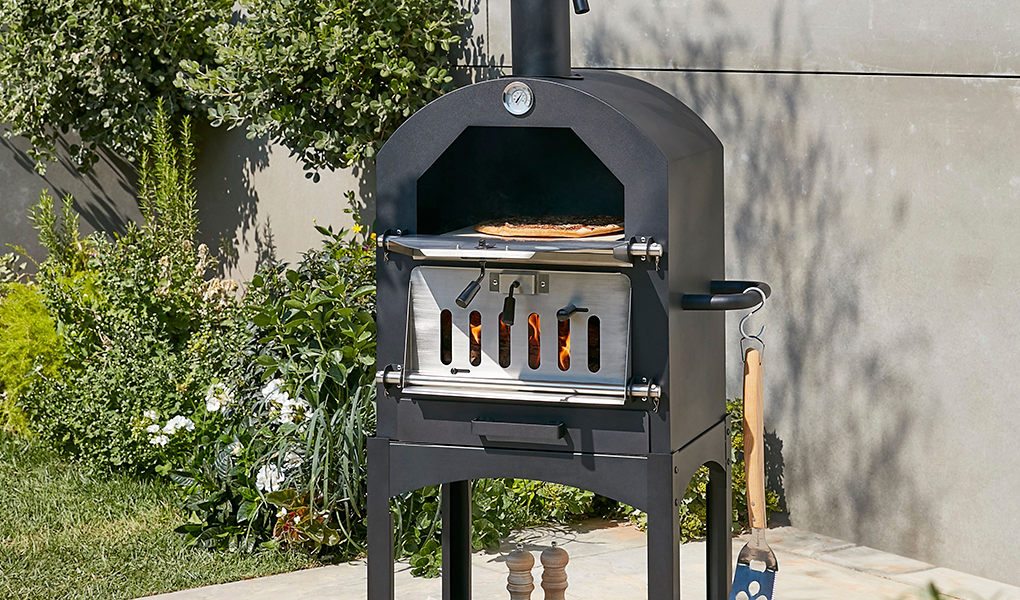 Electric barbecues
Electric barbecues are powered through a power socket, like most other electrical items. This makes them an easy and versatile choice - simply plug them in and wait a few minutes for the element to heat up before you start cooking. Whilst they don't add the same chargrilled flavour as a gas or charcoal barbecue, they produce an even heat and don't require any ventilation. They are an ideal solution for flats and apartments with balconies or small gardens, where gas or charcoal BBQs are not permitted. They're also great for caravans and camping on powered campsites.
Our electric barbecues:
feature porcelain-enamelled cooking grates, that are easy to remove and clean by hand or in the dishwasher
are compact and simple to store
offer easy temperature control
are available with side tables for food preparation and serving up.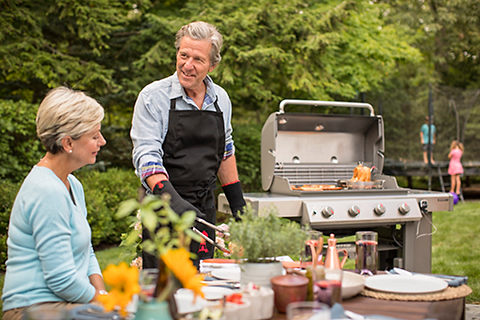 Barbecue features
When choosing your new barbecue, look for extra features that make outdoor grilling easier and the results all the tastier. Below we've listed some of these exciting qualities for both gas and charcoal barbecues - though they aren't available across all models, so do be sure to check before you buy.
Gas barbecue features
Our gas barbecues can feature:
a removable drip tray for easy cleaning and some models feature vapour bars that protect the burners from excess grease
storage options, including storage cupboards for gas bottles
side tables for extra surface space – look for ones that can be folded, extended or feature integrated hooks for utensils
dishwasher-safe grills
extra grill bars that help the cooked food achieve that authentic chargrilled flavour
a warming rack to keep cooked food warm, toast buns and melt cheese
a hood-mounted temperature gauge/ thermometer
a stylish design, featuring coloured components in either a shiny or matt finish
resistance to rusting and chipping.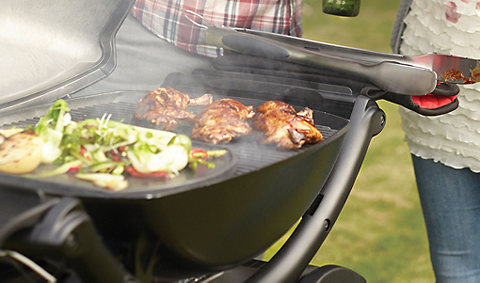 Charcoal barbecue features
Our charcoal barbecues can feature:
a hinged grill grate to make it easier to add extra fuel
an ash collecting tray for the post-barbecue clean-up
storage options, including shelves or a cupboard underneath the barbecue
a built-in chopping board for food preparation
a side table – look for ones that can be folded
dishwasher-safe grills
a warming rack to keep cooked food warm
a chimney starter for quick start-up
utensil hooks
a hood-mounted temperature gauge/ thermometer
non-rust vents to allow airflow
a stylish design, featuring coloured components
resistance to rusting and chipping.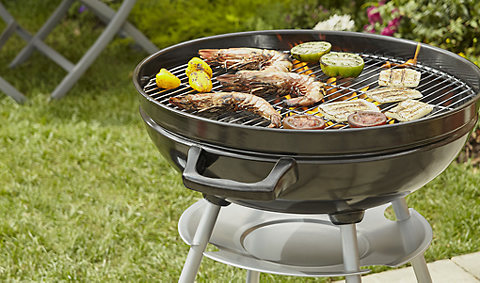 You might need
In addition to your BBQ you'll need extras like fuel and cooking tools. We'll also suggest some other items to consider, to make the most of your barbecue.
Barbecue fuel and accessories
Make sure your barbecue doesn't burn out halfway through cooking your sausages by having fuel on hand. Stock up on charcoal or gas dependent on your barbecue's fuel type. Pop into one of our stores to get your gas bottles and refills.
Charcoal models also need firelighters and a flame lighter.
And always be sure that any extra fuel is kept a good distance away from your barbecue when it's lit.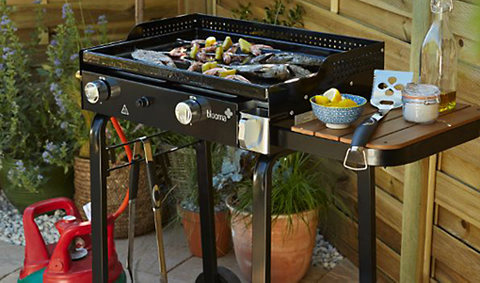 Barbecue cooking tools
Prepare delicious food on your barbecue with the help of our wide range of cooking accessories. From smokers to tongs, grill baskets to thermometer forks, we have plenty of cooking tools to help you look and feel like a professional chef.
Pizza cooking tools
Turn your gas or charcoal barbecue into a pizza oven for a delicious alternative to the usual hamburgers and hot dogs. Simply pop the La Hacienda Firebox on top of the barbecue grill and wait for it to heat up before putting in your prepared pizza.
And for your pizza oven, we have a range of cooking tools including pizza peels, to get the pizza in and out of the oven, as well as spatulas and pizza cutters.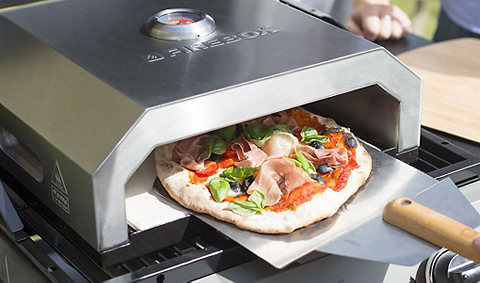 Barbecue cleaning tools
Keep your grill sparkling by cleaning after every use with warm soapy water and brush. We also offer some barbecue cleaner sprays that can help with the post-barbecue clean up.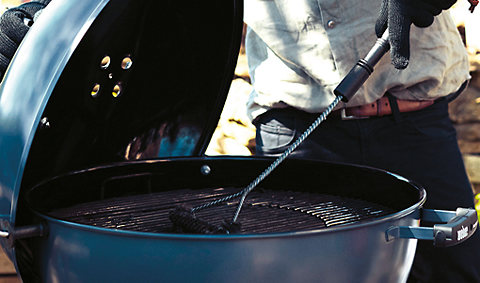 Barbecue covers
If being stored outside, shield your barbecue from the elements with a barbecue cover. Choose the right one to suit the shape and size of your barbecue and look for those made from material that is water and tear-resistant for extra protection.