Bathroom taps buying guide
Instantly update your bathroom with matching basin and bath taps
New taps add a stylish detail which can enhance the way you use your bathroom. Through innovative designs with sleek profiles, lighting and water-saving features, this small change offers big results.
Features that make your taps easier to use, help to keep your basin clean or those which help to extend the life of your tap are a bonus for busy bathrooms.
With a wide range of styles and finishes to choose from, it's easy to find something that can complement other elements in your bathroom, from towel rails and hooks to shelf brackets and other accessories.
In this guide we'll help you through any tricky choices, such as finding taps which work best with the water pressure in your home.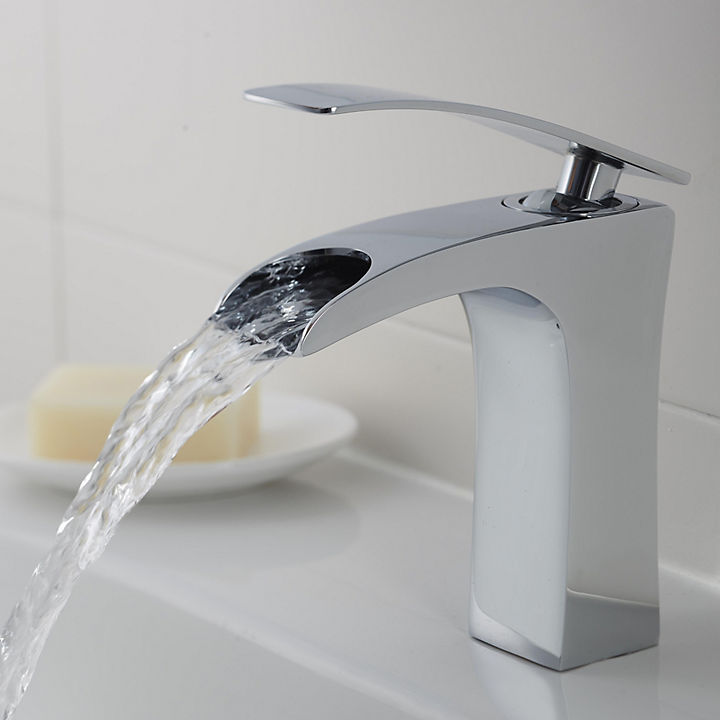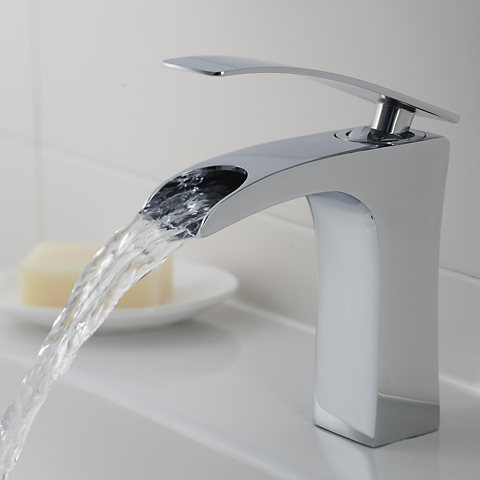 Before you begin
The performance of your taps can depend on the water pressure system in your home – and whether your taps are compatible. If you have a high-pressure water system, you'll be able to choose from most bath and basin taps, but if you have a lower pressure system it's worthwhile identifying your exact water pressure to find taps that will ensure a strong flow of both warm and cold water. Our guide to understanding your water pressure system will talk you through how to work out the water pressure in your home and explain what to look for when choosing taps.
Choosing your basin taps
It's important to take note of how many tap holes you have as this can determine what taps you can use with your basin.
If you have one tap hole
A single tap hole offers the choice between monobloc and single--lever taps. As the name suggests, single-lever taps use a lever to control the flow of both hot and cold water from a single spout.
Monobloc taps also have just one spout, but with two handles to independently control the balance of hot and cold water. With monobloc taps, you'll have the choice of different handle styles as well as different finishes.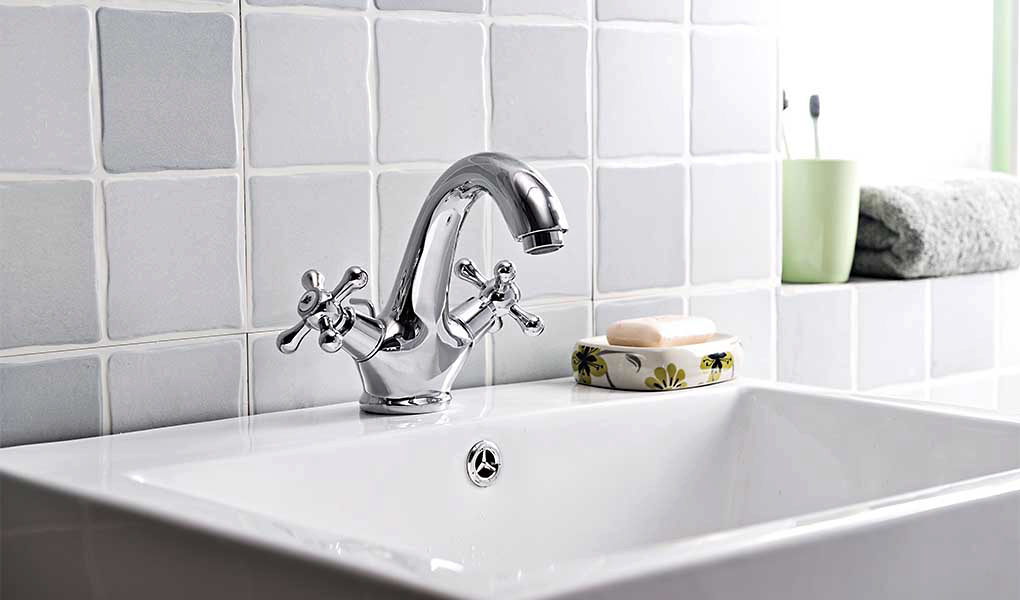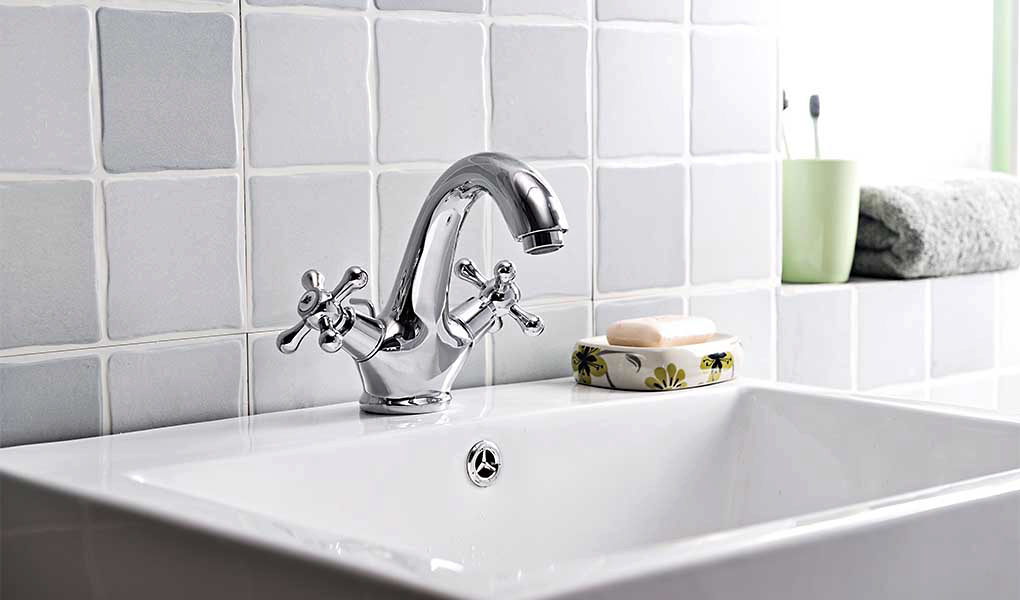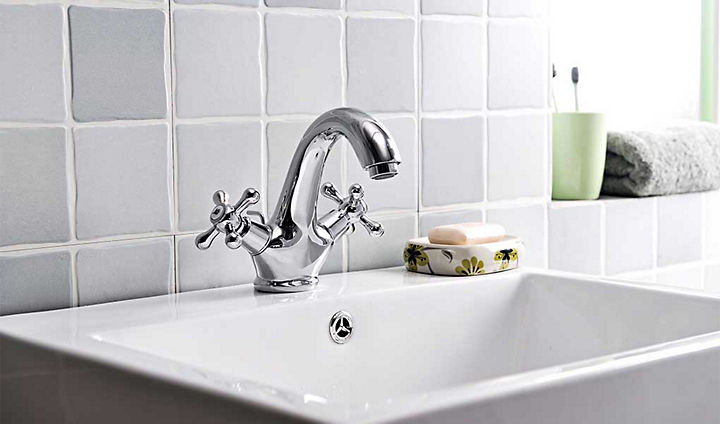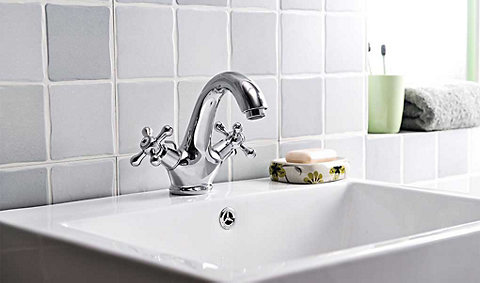 If you have two tap holes
With two tap holes you'll need to opt for pillar taps.
Available in a wide variety of styles with both knob, lever and cross-shaped handles, pillar taps independently control the flow of hot and cold water.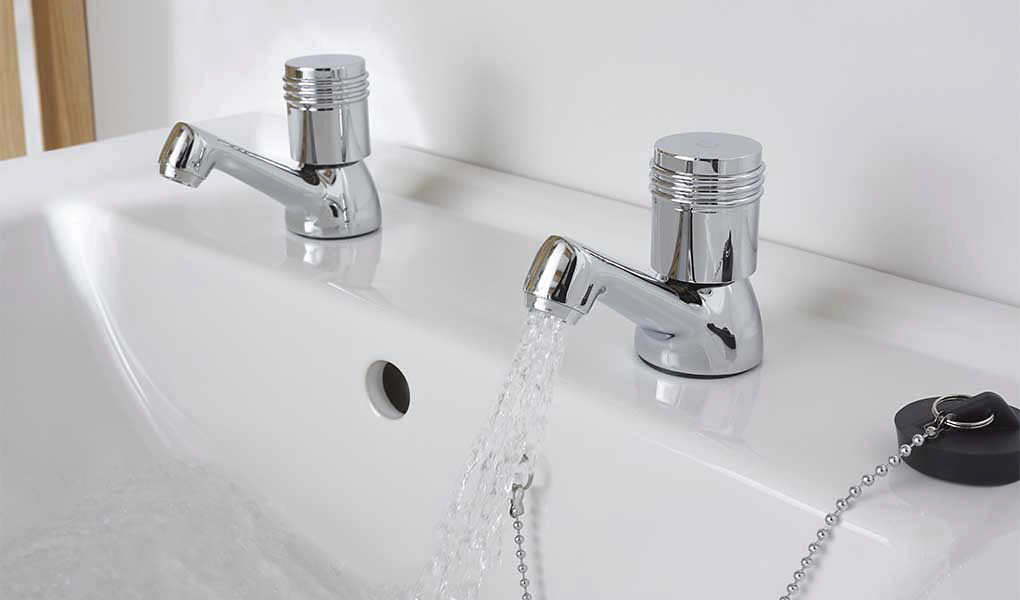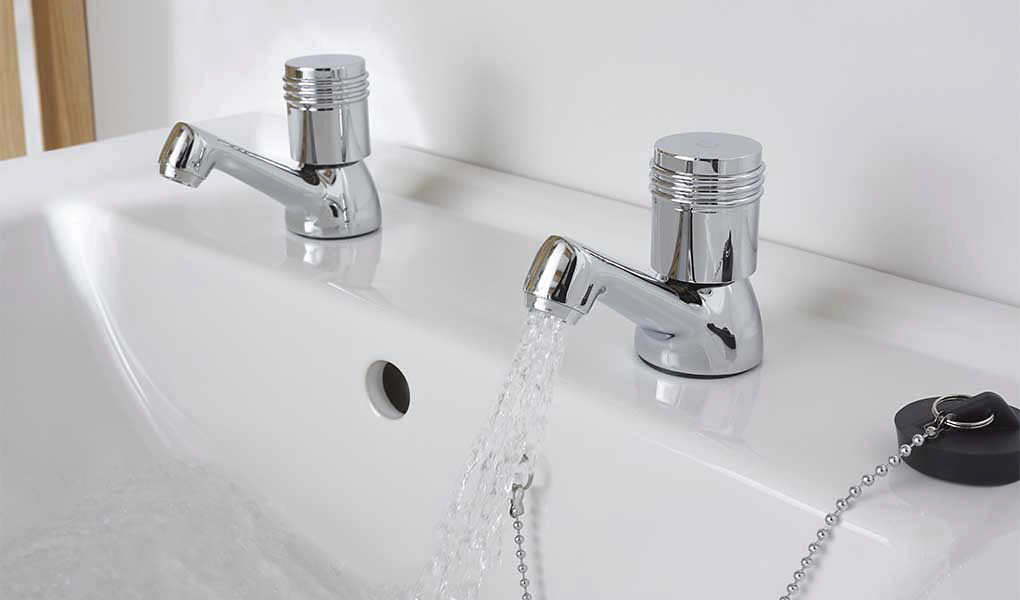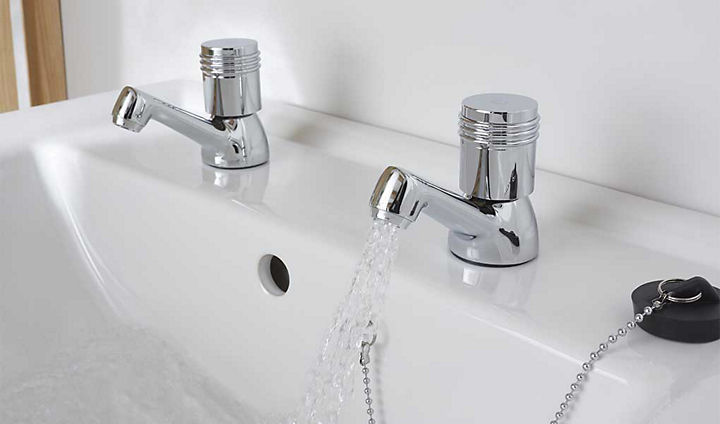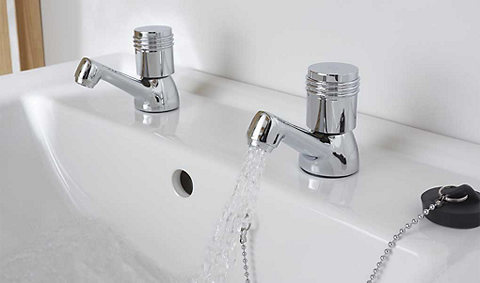 Spouts
There's nothing more frustrating than a sink where you can't quite squeeze your hands under the running water. Choosing taps with the right size of spout for your basin is a crucial element in ensuring your basin makes life as easy as possible.
Think about the depth of the basin. How far away from the edge of the basin are the tap holes? How big is the basin itself? Are there cabinets or shelves above the basin that might make it difficult to lean over?
You'll also want to consider what you're using the room for – just for hand washing, a space for kids to wash and brush up or somewhere to shave?
If you have a compact basin, consider a shorter spout – look for one which extends as far as the plug hole but no further. A lower spout will work well in a cloakroom where space is tight or opt for a higher spout if you'd like to be able to wash and shave comfortably.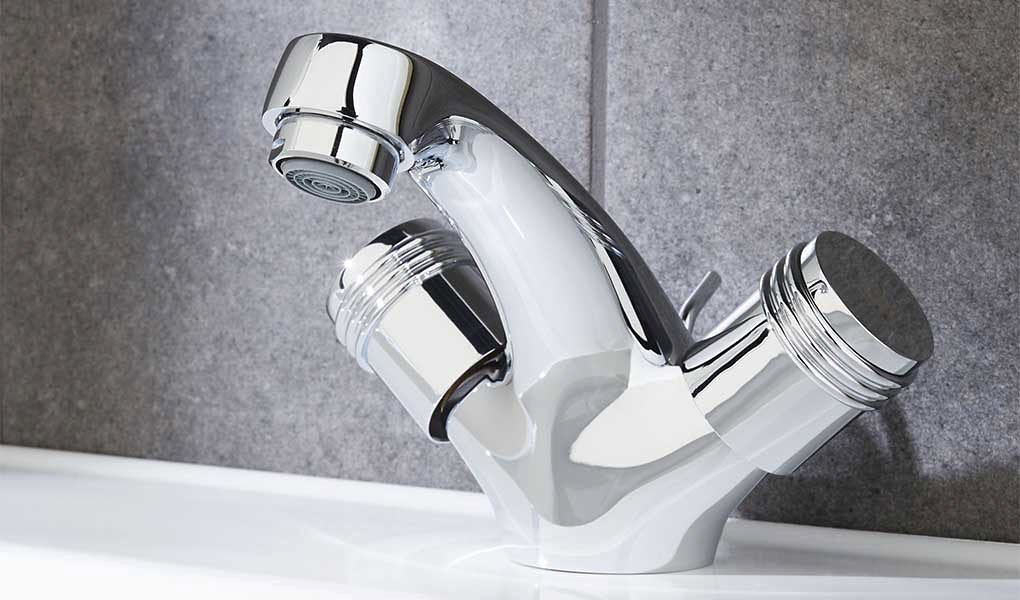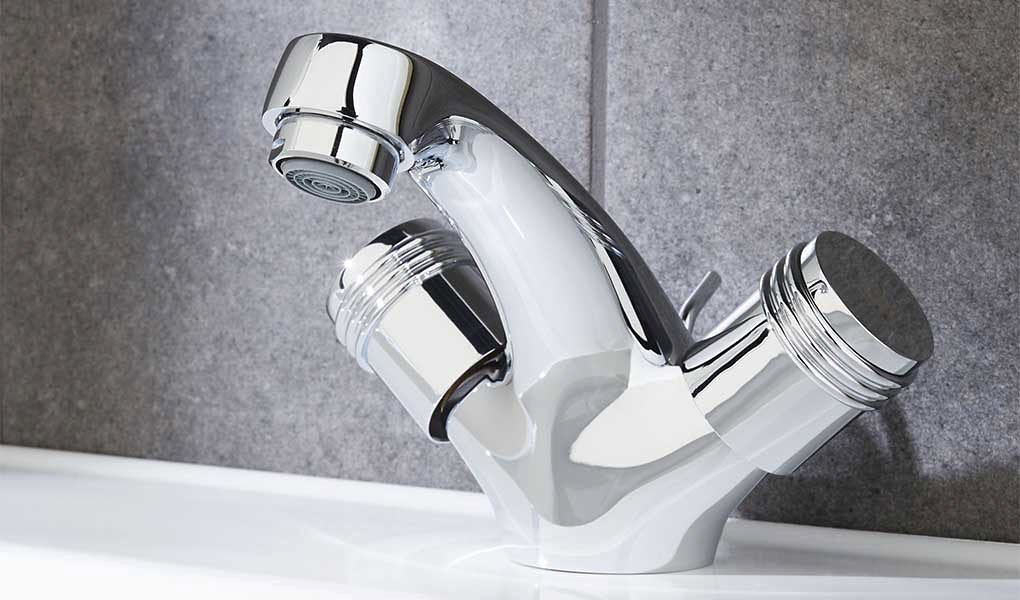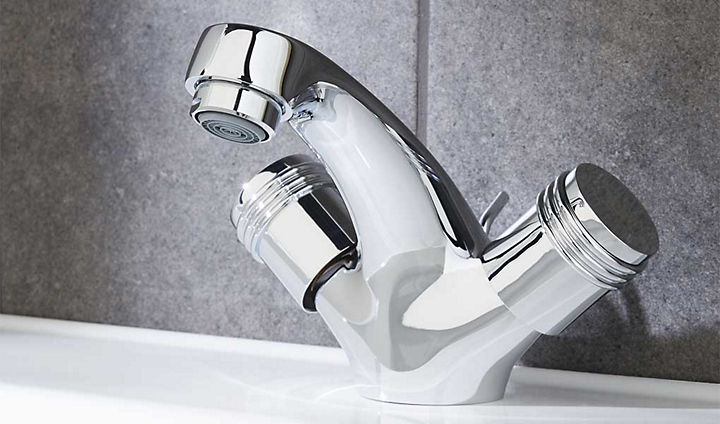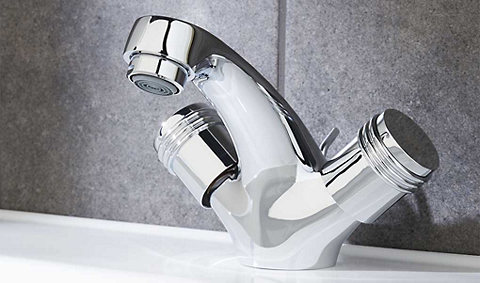 For larger bathrooms and basins, a longer spout might be more suitable, so you're not struggling to get your hands under the tap. Again, a higher spout will work well in a busy room where the basin is used for many tasks. A spout that swivels may also come in handy.
Lastly, if you're looking to add a touch of luxury to your bathroom, check out our waterfall taps. When the tap is turned on, the water flows along a rivulet and waterfalls into the basin. They're a great way to make a statement in your bathroom, and matching bath taps are available too.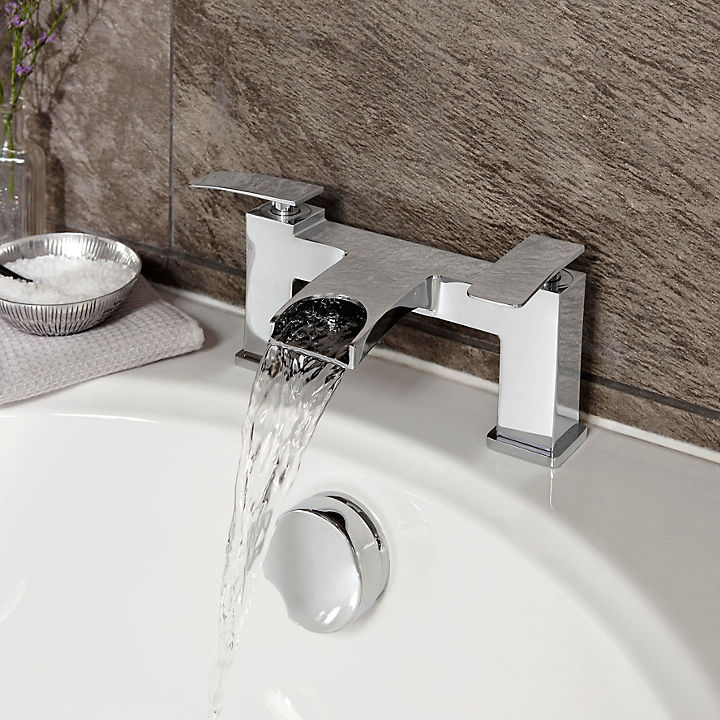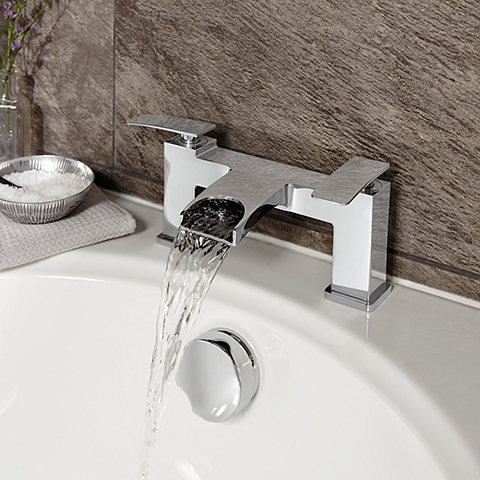 Choosing your bath taps
Whether you're updating an existing bath, or adding a new one to your home, you may find that it has between one and four tap holes. You'll need to find taps that work with the number of tap holes you have, so this is worth bearing in mind if you are choosing a new bath. Most baths don't come with pre-drilled holes so you can choose any model tap that you like the style of, but make sure you check the product information if you're buying a new bath too.
If you have one tap hole
Contemporary baths often have one tap hole, designed for a monobloc or single-lever tap. The flow of water will be controlled by one or two handles, and the bath will be filled from a single spout.
These are a great choice for sleek, modern bathrooms and both monobloc and single-lever taps bring the benefits of easy operation.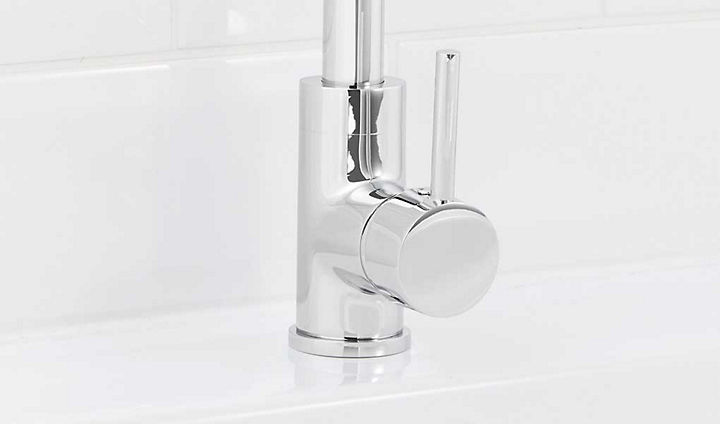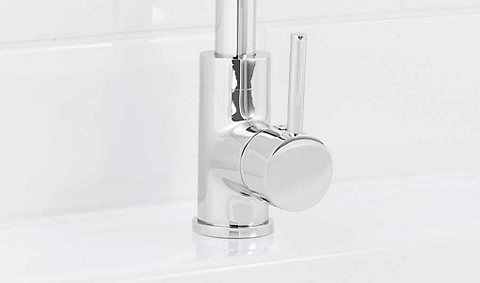 If you have two tap holes
You'll be able to choose between pillar and mixer taps. Pillar taps allow you to independently control the flow of hot and cold water using two separate taps with separate spouts. A great budget choice, they're available in a range of styles to suit modern bathrooms as well as period properties.
Mixer taps offer great flexibility, with a wide variety of styles and finishes available, both with and without a shower head attachment. Hot and cold water is controlled separately but mixed together and supplied to the bath via a single spout. It's common to have a diverter which allows you to send the flow of water through an attached shower hose, offering you more flexibility for bathing and cleaning. For bathrooms with a separate shower, choose a discrete mixer tap without a shower hose.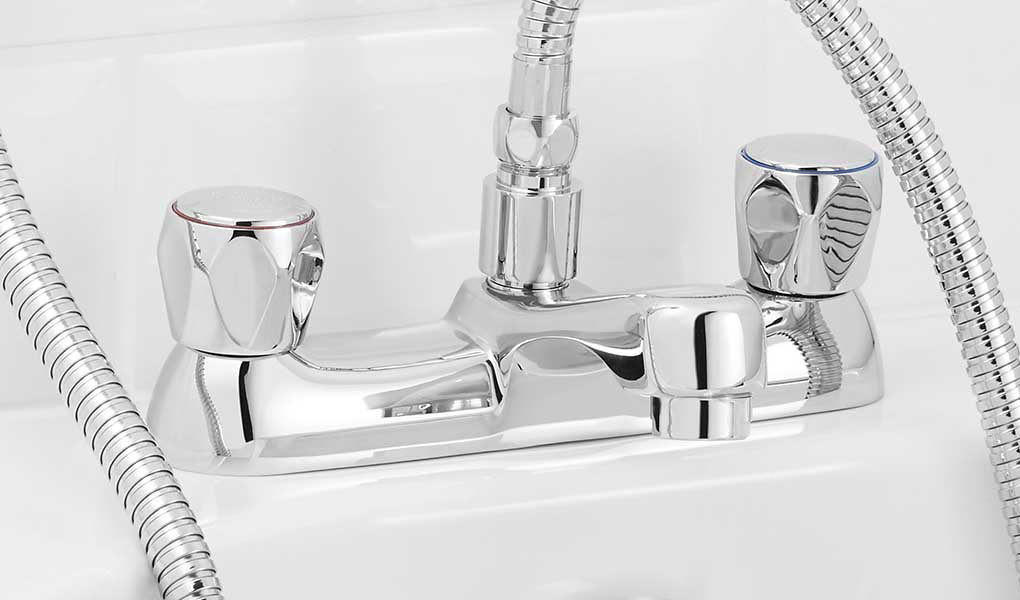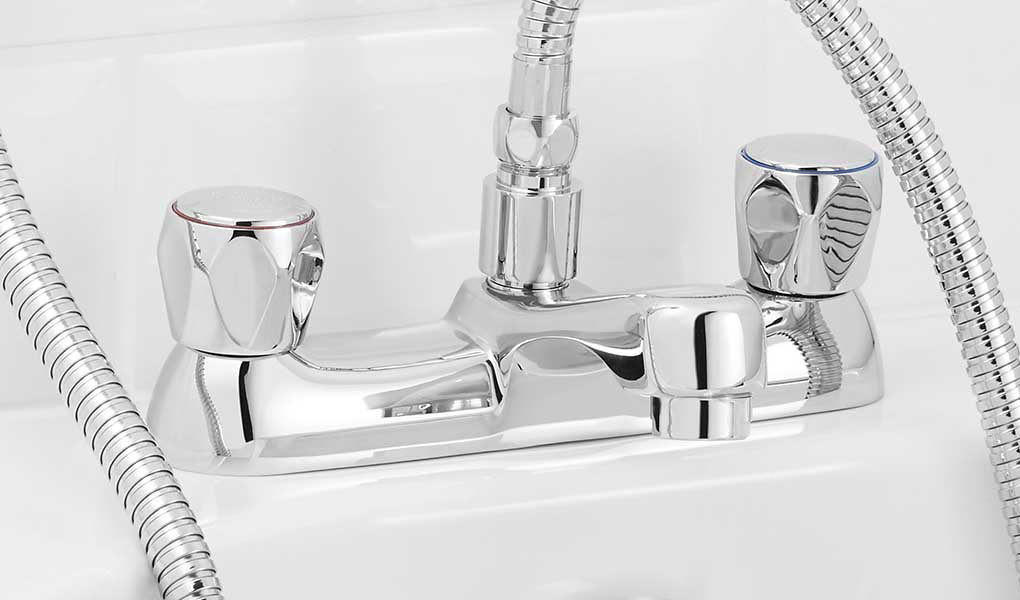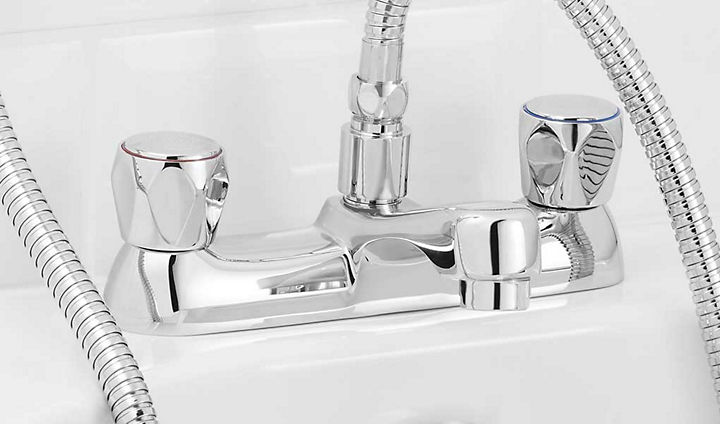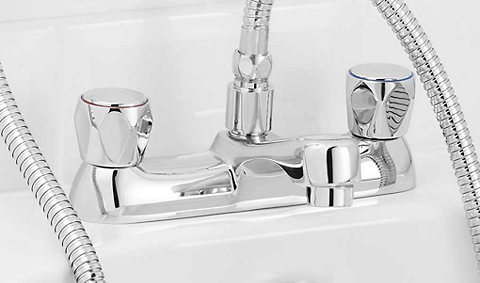 Wall mounted taps
Wall mounted taps look modern and sleek, and work well if there's not enough space on the bath rim, or if you've chosen a free-standing bath.
There is a selection of different styles, from cross handle to waterfall. These take a bit more planning than other options, but the results are well worth the work.
You'll need to choose a bath without pre-drilled holes so you can fit these over the bath.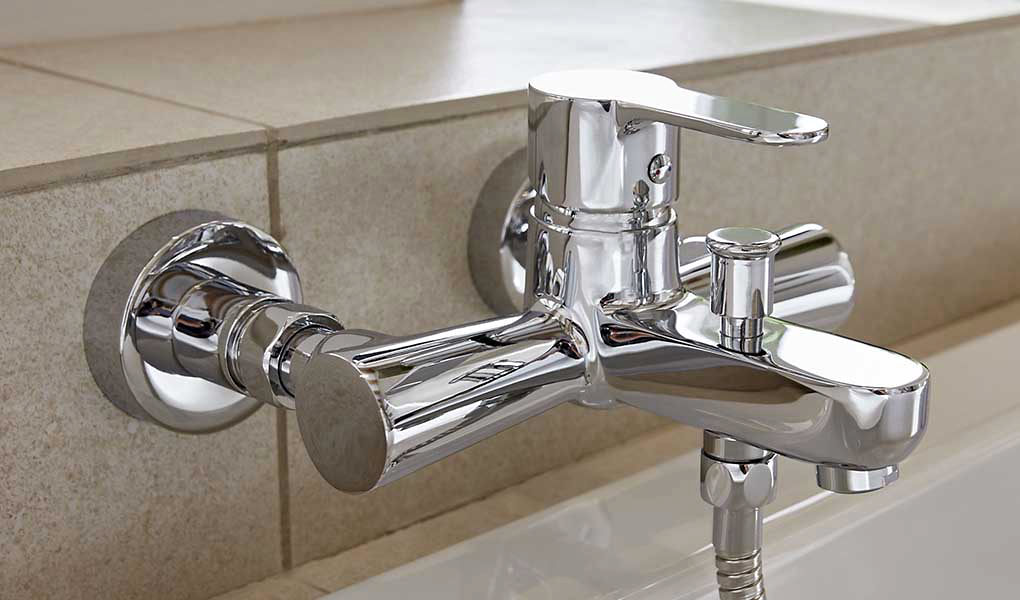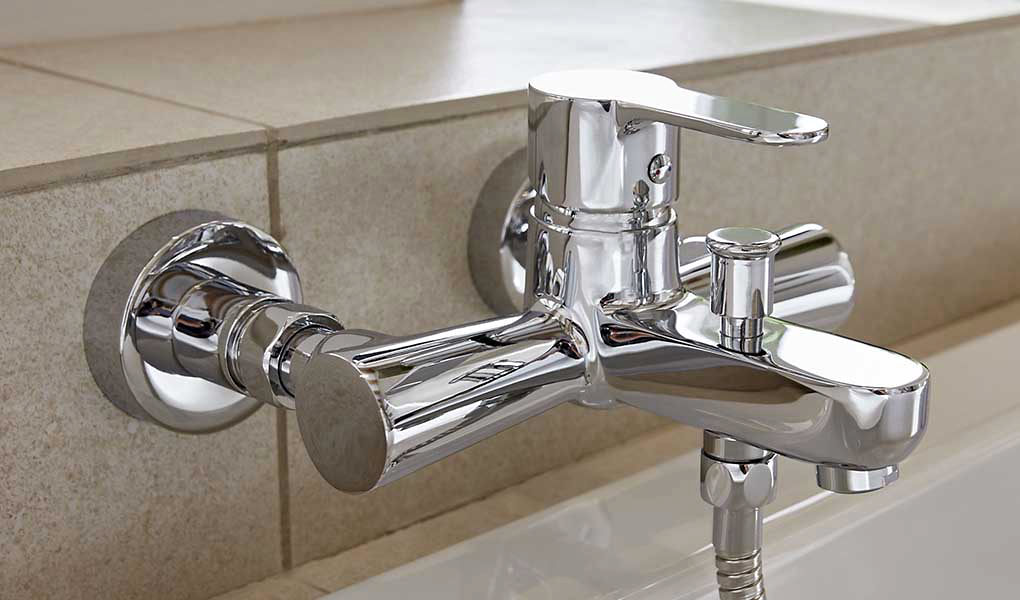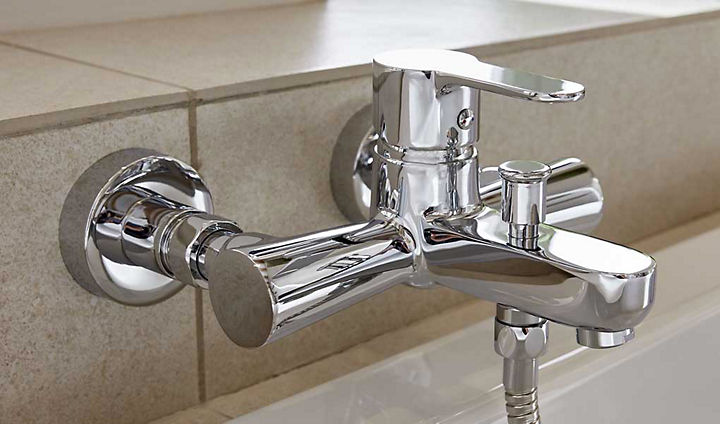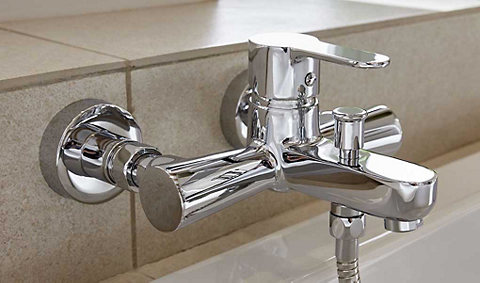 Features
Handles
Handles make a big difference to how a tap looks, as well as how simple they are to use.
Lever handles look great in contemporary settings and are easy to operate. Single lever taps can be a great choice in busy homes – the lever is child-friendly and easy to handle if you have reduced mobility in your hands. Lever handles are also a good idea if you're concerned about hygiene, as they can easily be turned on or off using an elbow or the back of a hand, helping to keep them clean.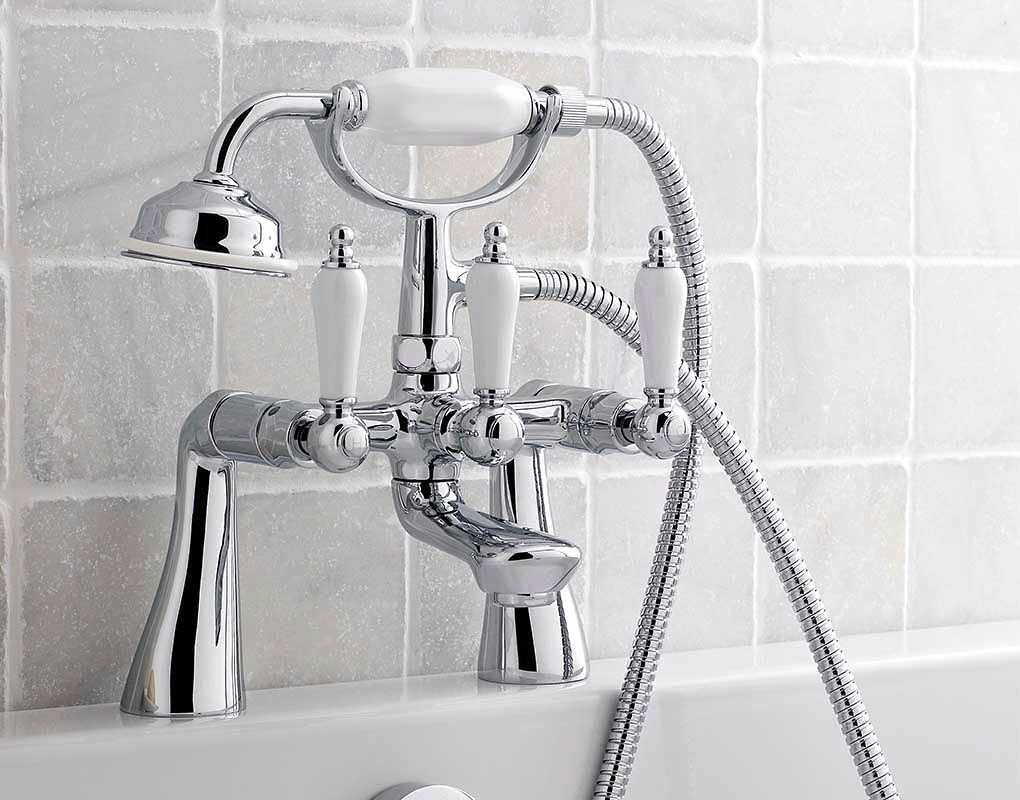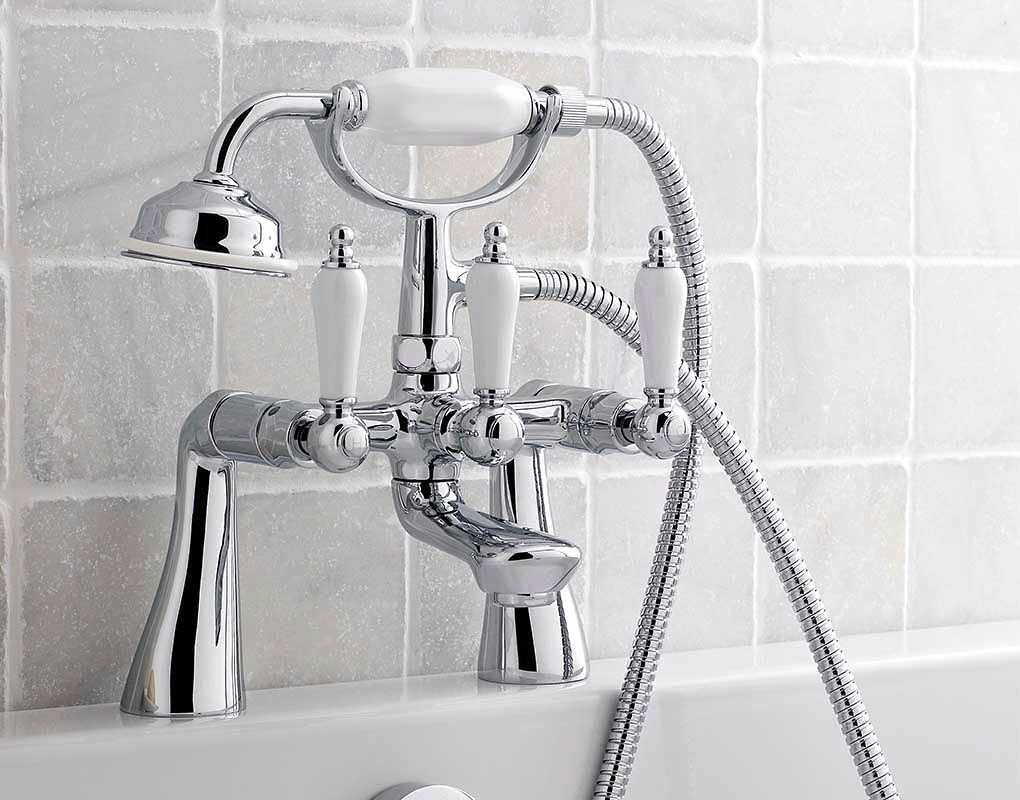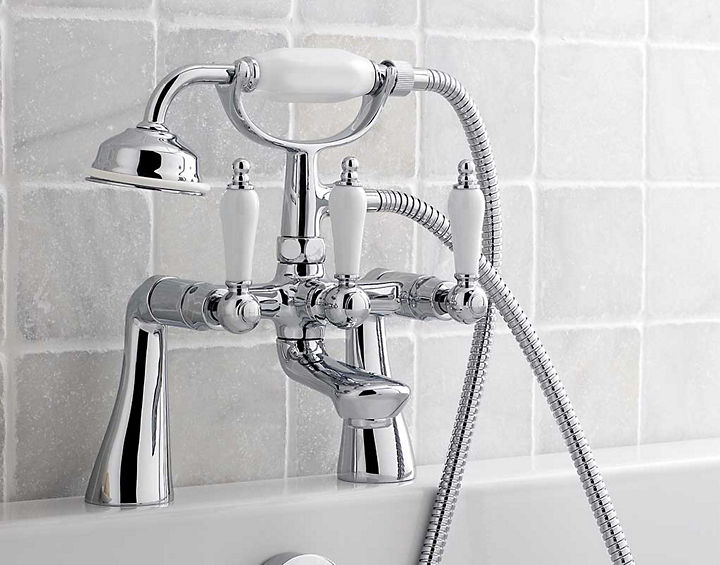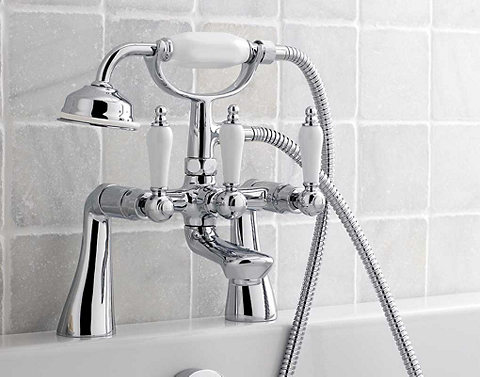 Knobs are a more traditional option and control the flow of water with a twisting mechanism.
Cross-head taps are popular when trying to preserve, or add, period charm in your bathroom.
They're sleeker than knob handles but use the same easy-to-operate twisting mechanism.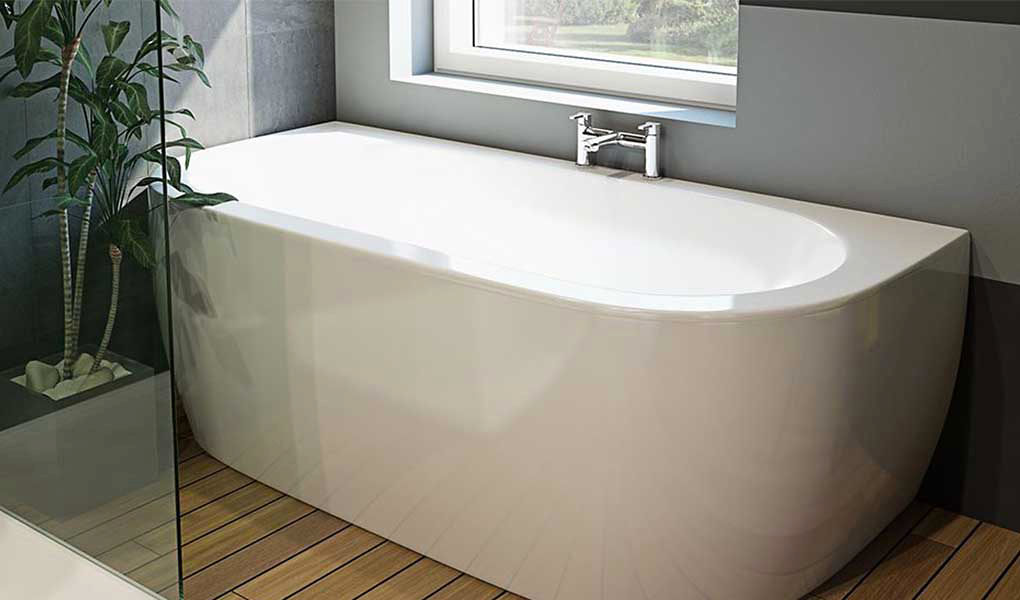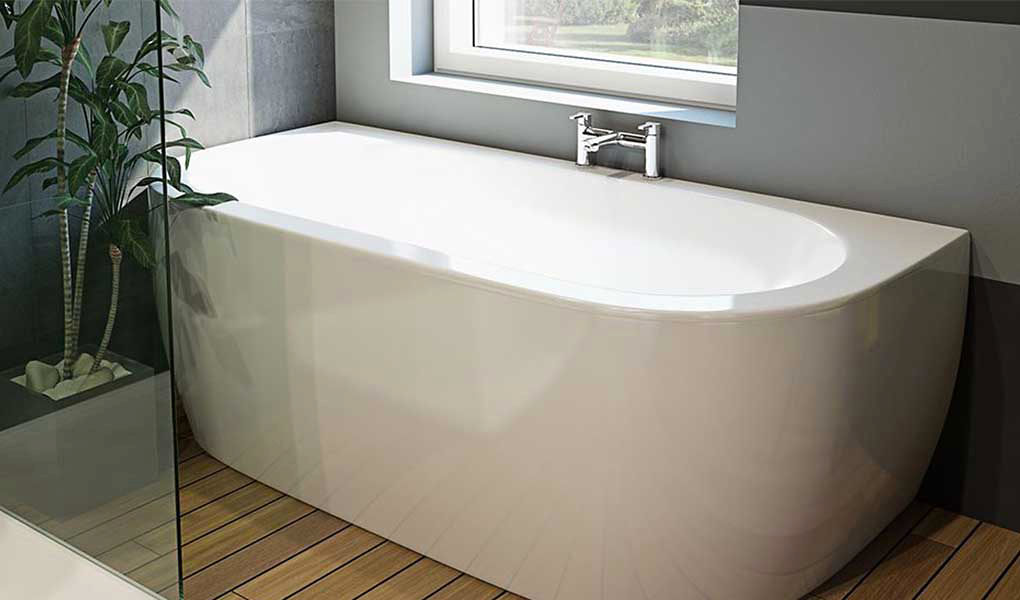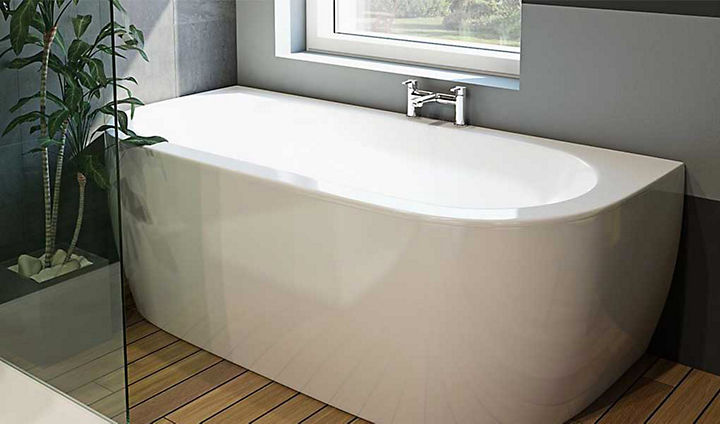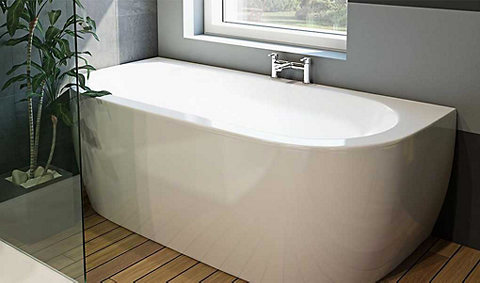 Finish
Chrome-effect finishes are most popular for basin taps. They work well with a wide range of basins and bathroom styles, from the more traditional to super-sleek contemporary styles. It's also easy to find a basin waste that matches for a joined-up look in your bathroom.
If you're looking to complement a period style in your home, why not try a gold-effect finish? Designed to recreate the look of traditional brass fittings but with a high-gloss finish, these look stunning when paired with the Serina basins from Cooke & Lewis.