Garden storage buying guide
Banish clutter with stylish and practical outdoor storage
Keep your garden clutter free and your outdoor items organised and accessible with our range of garden storage solutions.
Ideal if you don't have the space for a shed and available in a variety of styles and materials to complement your garden's look, they help find a discreet and secure place for tools, garden equipment and outdoor living items. So, whether you have plenty to pack away or just the odd bulky item, let's have a look at our garden storage options to find the right one for you.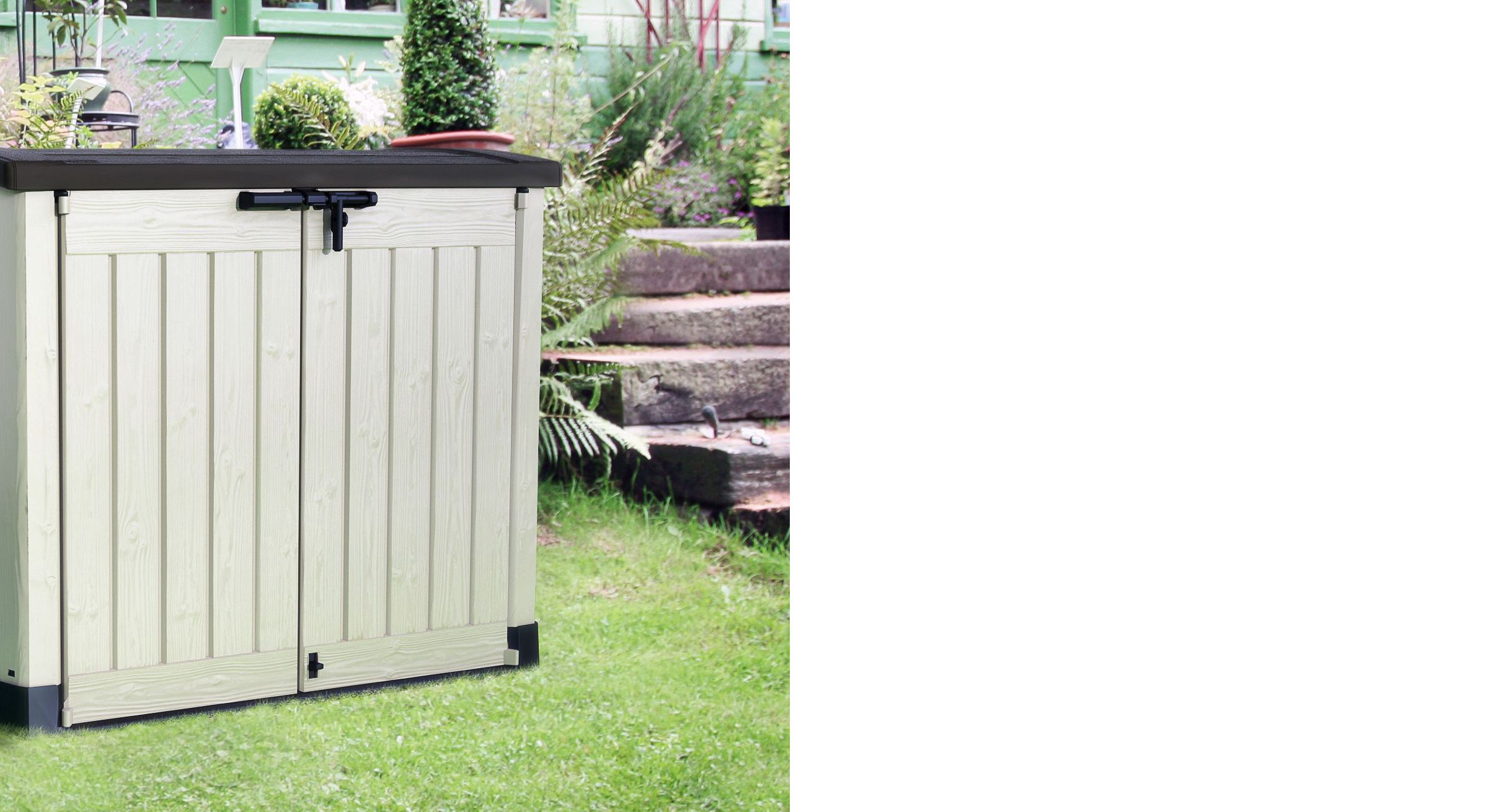 Before you begin
What will you be storing?
Are you looking for a space to keep tools? A place for your bikes? Or storage to keep your garden neat and tidy? There are all sorts of items that require extra storage space outside, some of the most common being:
tools and gardening equipment
garden furniture, cushions and parasols
barbecues and accessories
bikes and children's toys such as paddling pools.
We offer storage solutions designed with particular scenarios or tasks in mind, with features to help keep specific items safe and secure. Or, if you're looking for more flexibility, check out our multi-purpose storage options that put away all sorts of different items tidily and securely.
How big does your storage need to be?
Now that you know what you're looking to store, it's important to measure the outdoor space you have available, using a tape measure. With this measurement taken, you know the maximum size of your chosen storage option. Take into account the extra space required to access it, as some options will also have roof overhangs to consider. If you can, we recommend opting for a slightly larger option than you think you require – it's always better to have too much space rather than too little and you'll probably fill it up over time.
If you require a lot of storage, or a place to work on outdoor projects, a shed may be a better choice for you. Check out our shed buying guide for help choosing the right one for you.
Read shed buying guide Shop sheds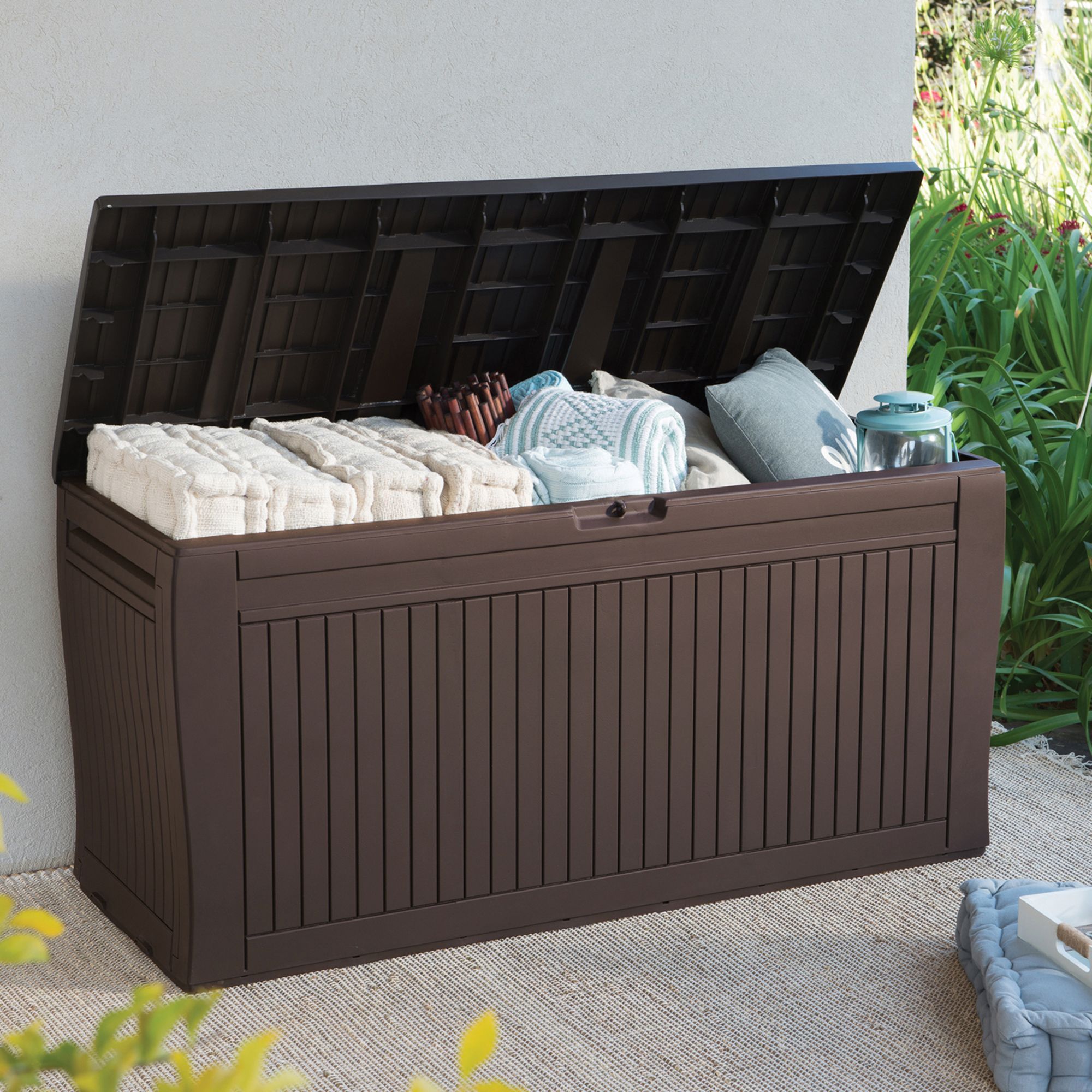 Where will your garden storage go?
Depending on what you're storing, you may want to place it near the house for easy access – on your patio or decking for example. If this is the case, pay attention to the weight of your chosen option, as well as the recommended base for it, so that you do not damage what lies beneath.
For items that you use less often, you can position your storage further away from your home. Maybe next to your garden fence or hidden away in a side alley. We also stock smaller options that can be placed within greenhouses or sheds.
If your garden is susceptible to flooding, make sure your storage is placed in the driest spot possible to protect it and its contents. It will also need to be placed on a level surface – for more advice on how to create a suitable base if you don't have one already, head to our how to guide on shed bases.
Garden storage types
We offer two different types of storage: multi-purpose options that are suitable for storing a range of different items, and those that have a particular task in mind.
Most of our storage options have either an apex or pent roof to protect the structure from rainwater.
A pent roof has one side lower than the other in order to drain water away from the front of the structure.
An apex roof is raised in the middle to make a triangular shape and water drains away on both sides of the structure.
A full range of sizes is available so that you can choose the most appropriate model for your storage requirements.
Multi-purpose garden storage options
Storage for particular items
Garden storage materials
Are you trying to match your storage with another garden item or structure? Or is there a particular look or colour that you're after? Our range includes various materials, as well as styles, to help you find the one for you and your outdoor space.
There are three materials to choose from - plastic, wooden and metal.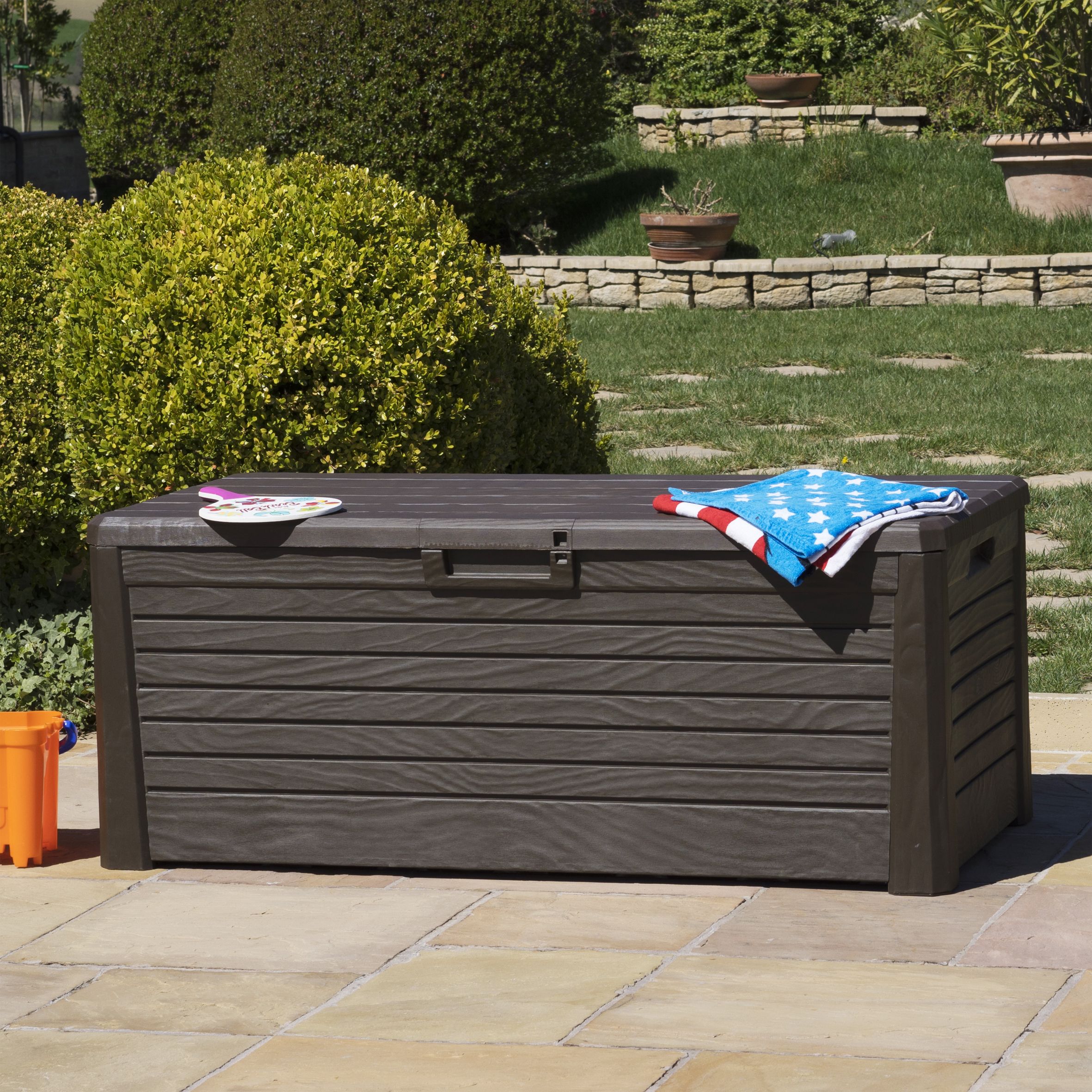 Plastic garden storage
The most popular garden storage material, plastic is durable and requires very little maintenance.
Plastic storage:
Won't fade over time
Only requires an occasional wash to keep it looking clean and new
Is available in different styles and finishes. Choose between classic neutral designs, wood-effect and rattan-effect finishes to achieve a decorative statement that blends in with your garden furniture, planters and other outdoor items.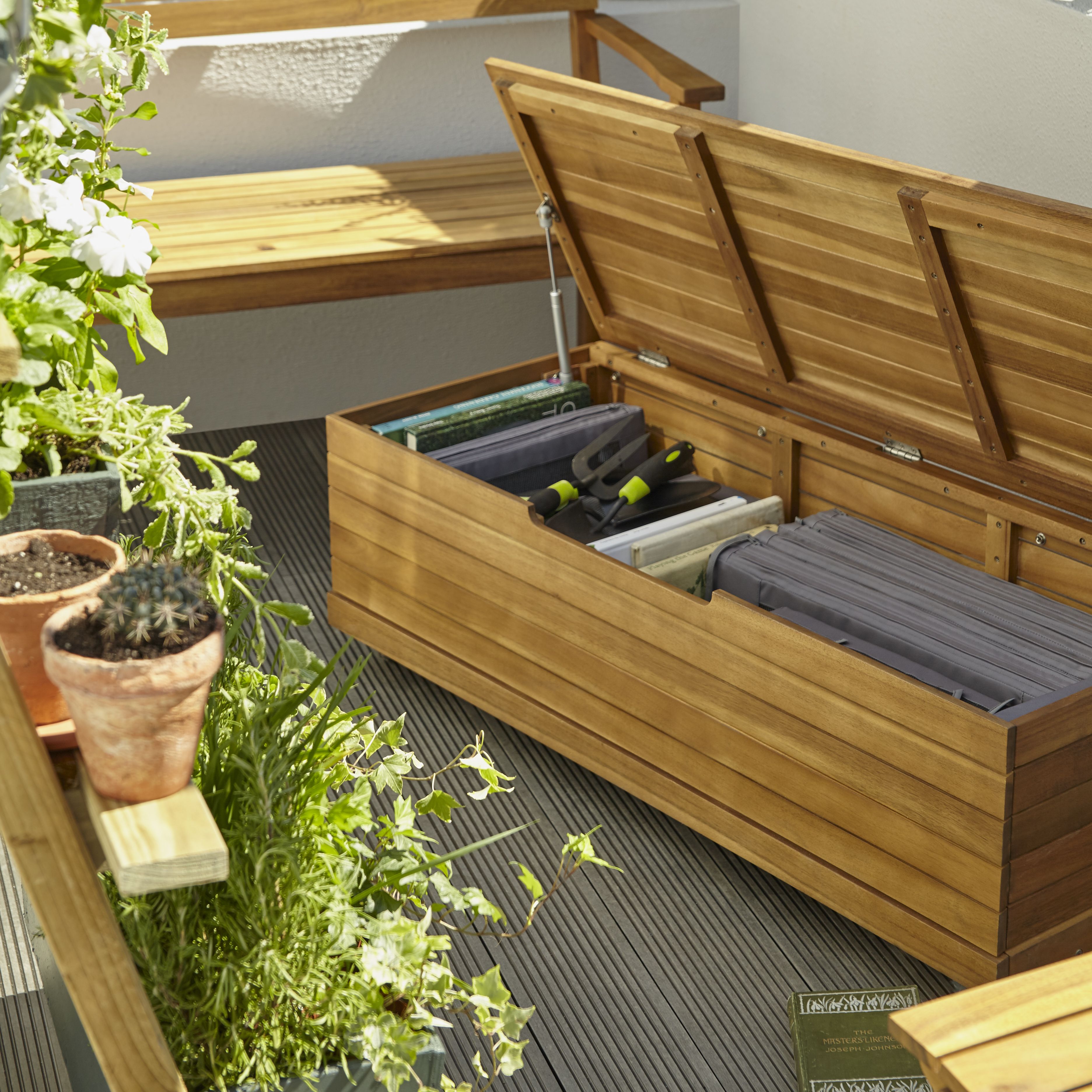 Wooden garden storage
If you're looking for the most natural look in the garden, opt for wood garden storage. Stain it to maintain its rustic look, or paint it to either coordinate or clash with the rest of your garden.
Wooden storage:
Is made from wood that comes from sustainable sources. We work with suppliers who ensure what is taken is replenished, and that woodland habitats are protected
Will require regular treatment with wood stain if not pre-treated
Is easy to take with you if you move
Is available with horizontal or vertical cladding. Some products are constructed using tongue and groove cladding.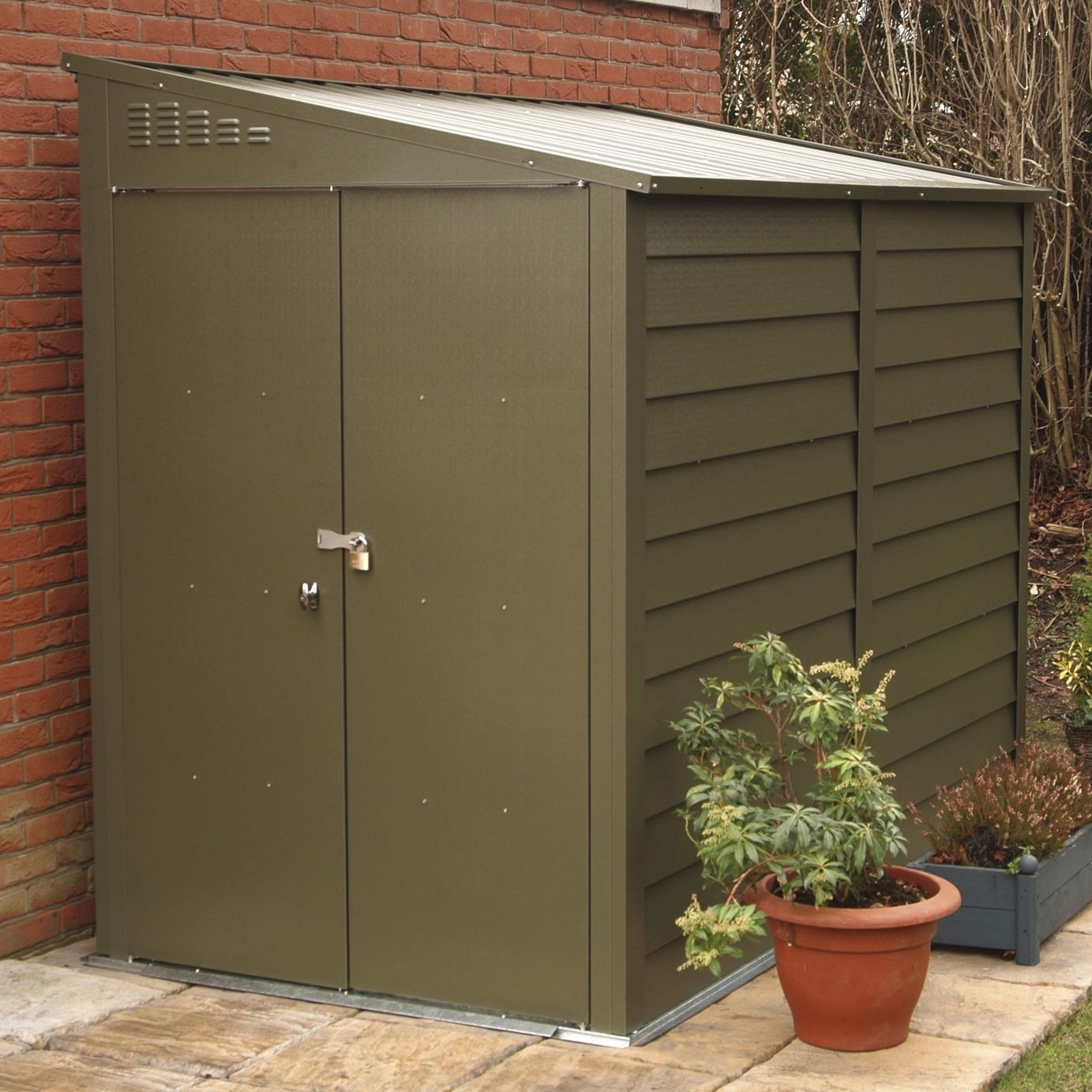 Metal garden storage
For a modern look that provides the ideal security solution, choose metal outdoor storage. These products are designed and constructed to prevent their doors or roofs from being prised open.
Metal storage:
Is made from steel, making it incredibly difficult to damage or vandalise
Is available in several neutral colours, painted in a galvanised outdoor paint to protect from rust and decay
Is perfect for storing high value items, and items that require more secure storage
Is low-maintenance and designed to last.
You might need
Now you've chosen your outdoor storage, don't forget the little things that you'll need to complete this addition to your garden.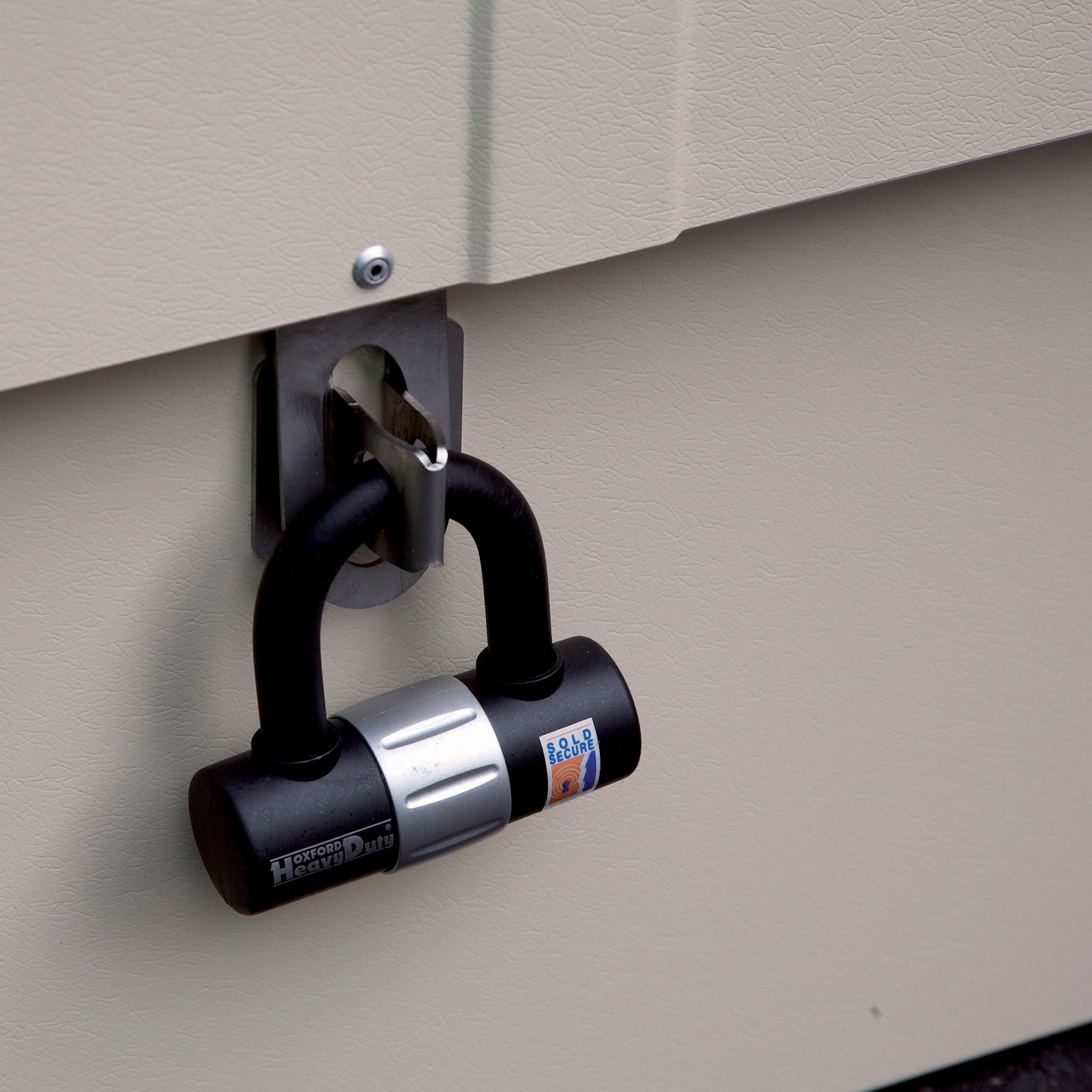 Security
It's essential to secure your storage, both from potential intruders to your garden and any inquisitive little ones (especially if tools and equipment are stored inside). It can also help during periods of bad weather. Look for products with padlocks or outdoor fixings, and if sold without, add separately.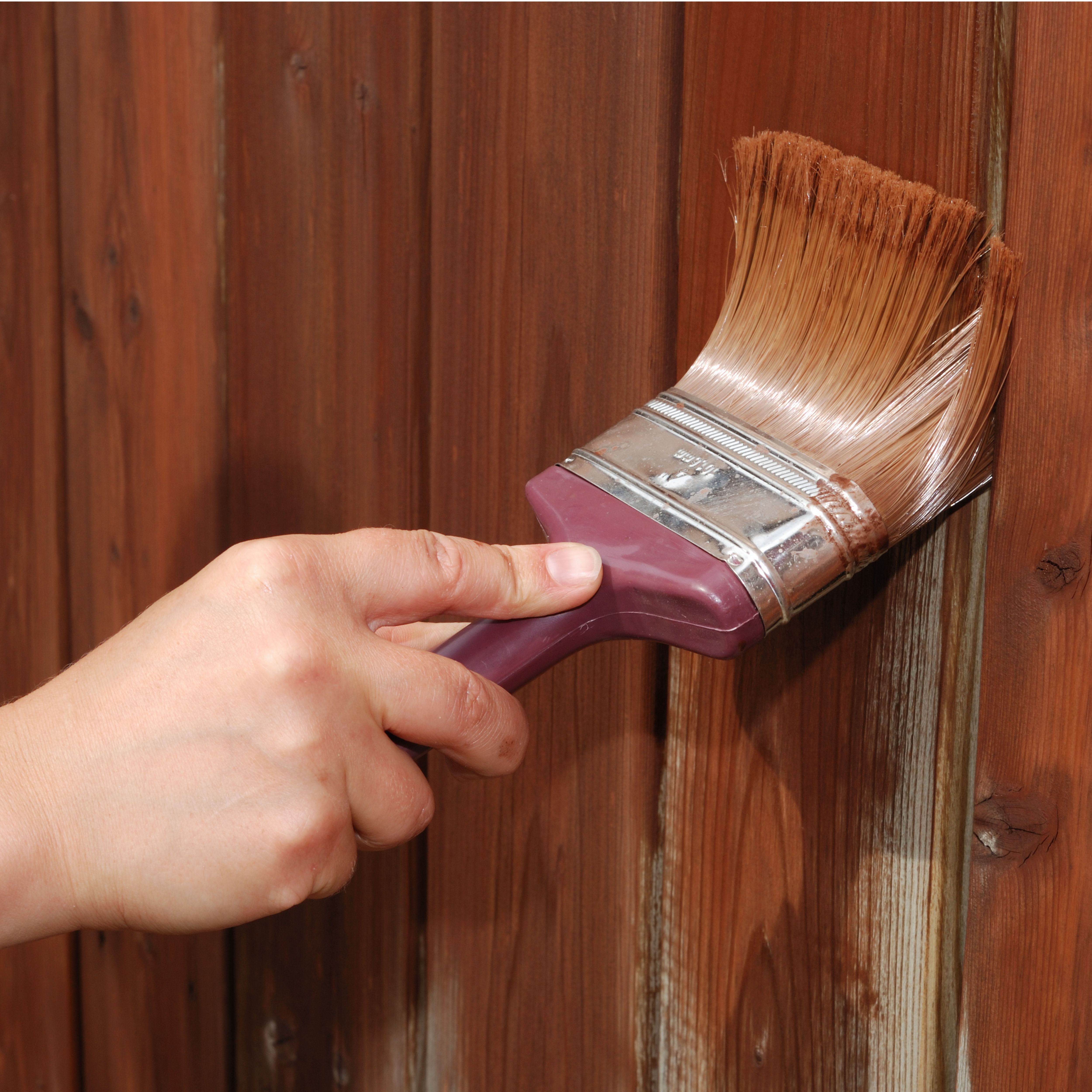 Maintenance
If you're looking to match your wood storage to your garden's look (perhaps a fence, gate or shed), or create a standalone style statement, check out our range of exterior paints for wood. Alternatively, use a more subtle protective treatment to help maintain its natural beauty.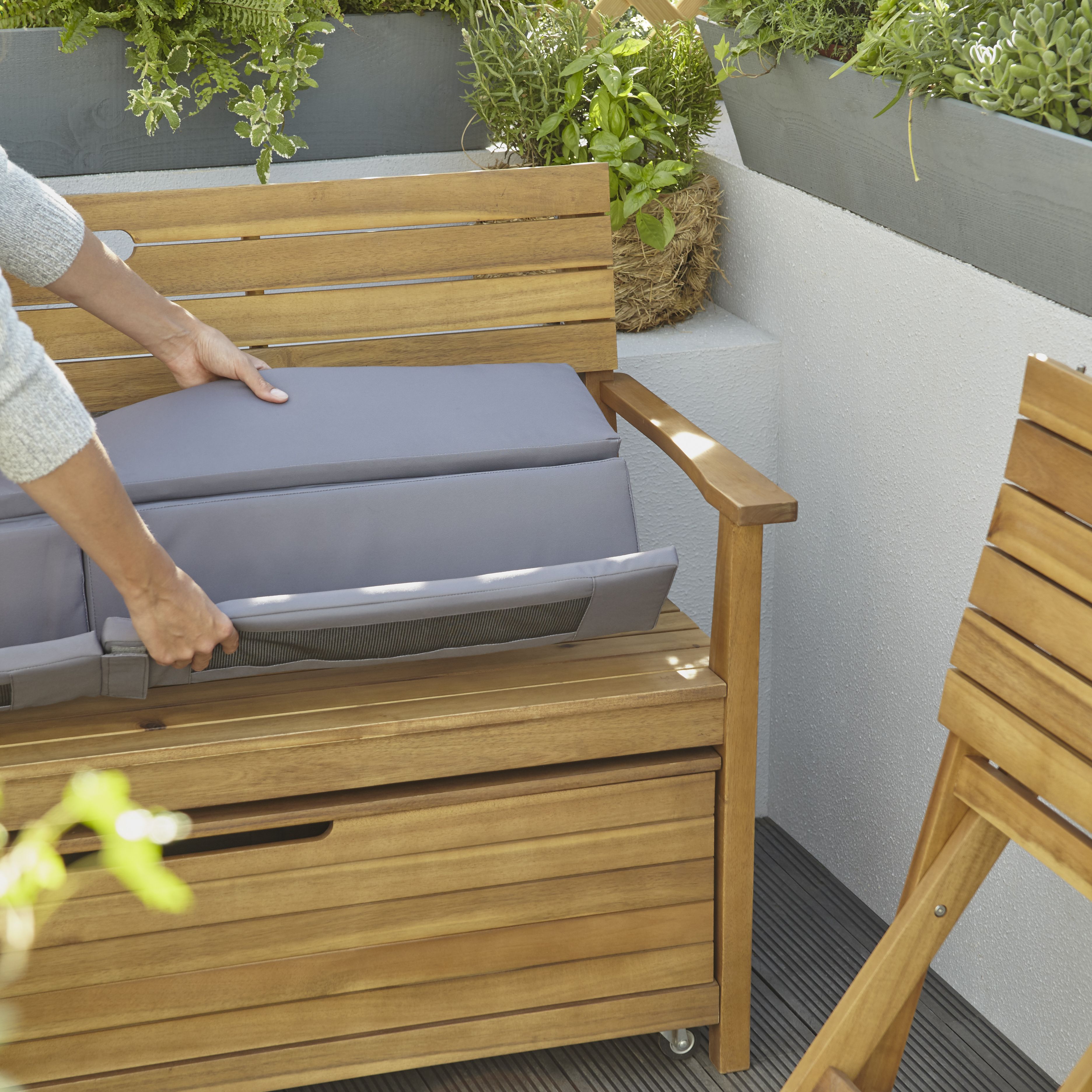 Bench cushions
Whether you've got a storage bench for dedicated seating or a storage box that can be used as a bench when additional seating is needed, consider some bench cushions. They are super comfortable and will bring some colour to your garden. And of course they can be easily stored underneath when not in use.
Articles