Christmas lights buying guide
Christmas light ideas for a dazzling display
Don't be left in the dark this Christmas – we're here to shine a light on the best way to illuminate the inside and outside of your home this festive season.
From cluster string lights to glowing inflatables, trust us when we say, if you can think of it – we've got it. Inflatable snowman archway? Yep, we've got it. LED reindeer silhouette? Got it. Door garland string lights? Got it too.
If you want your stunning outdoor light display to be seen from space, or you'd prefer a subtle, toned-down glow – we've got something for you.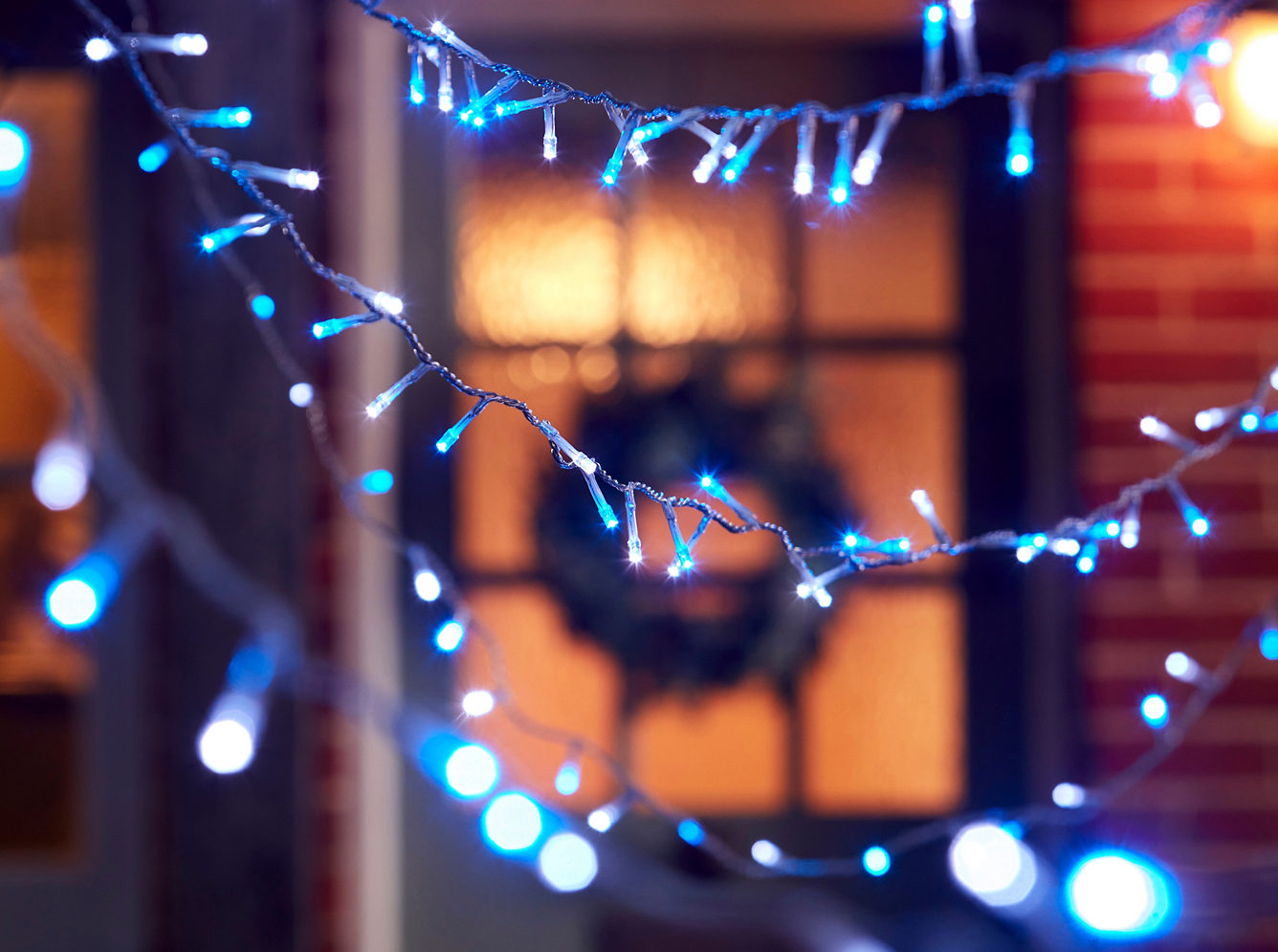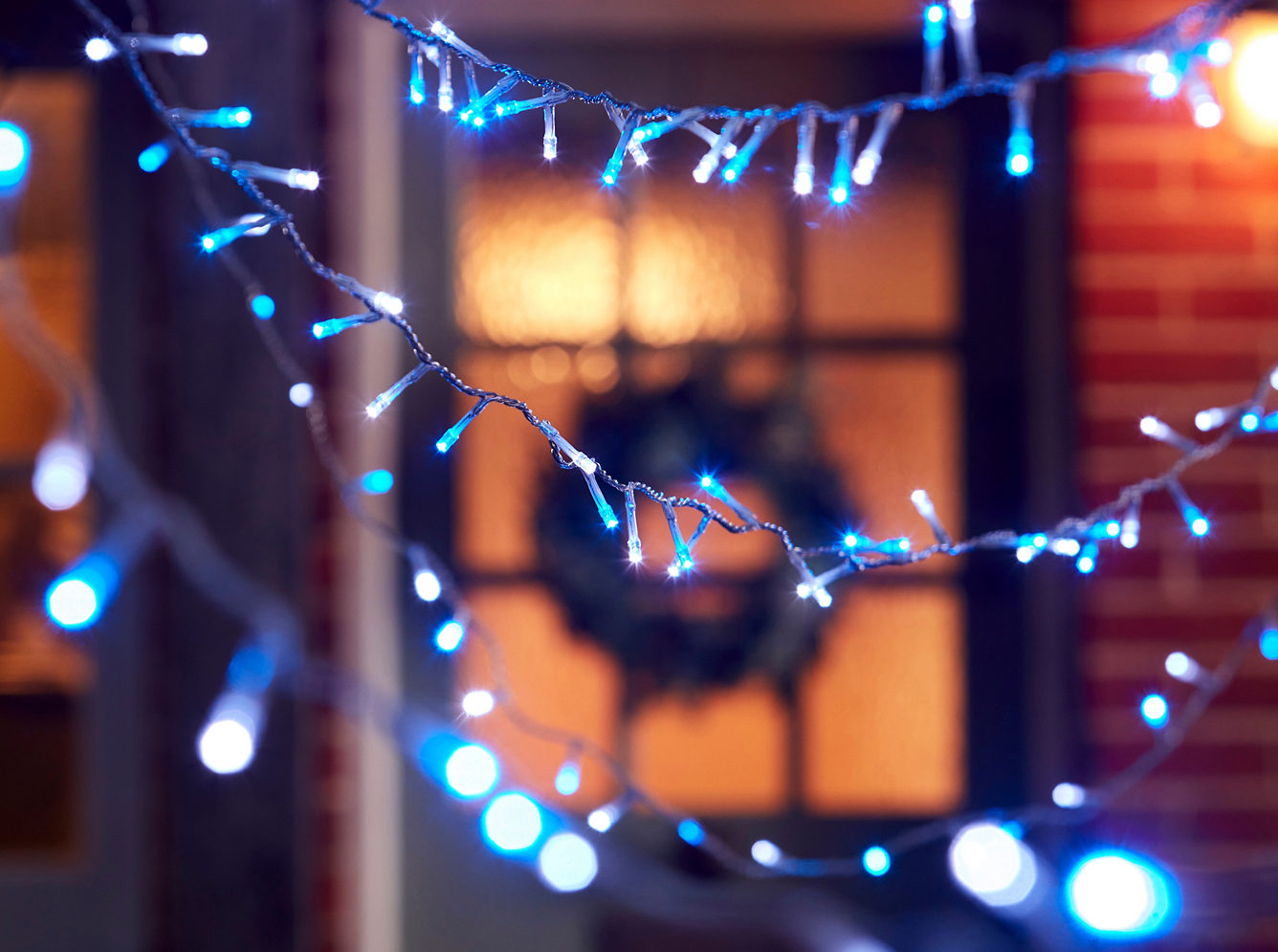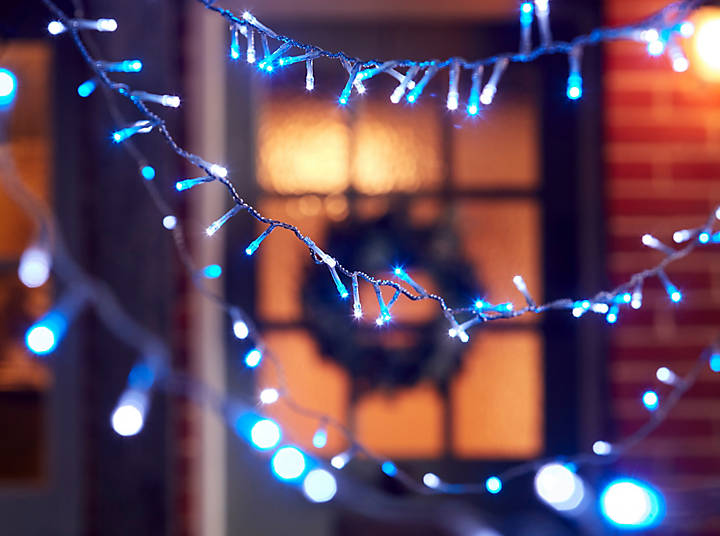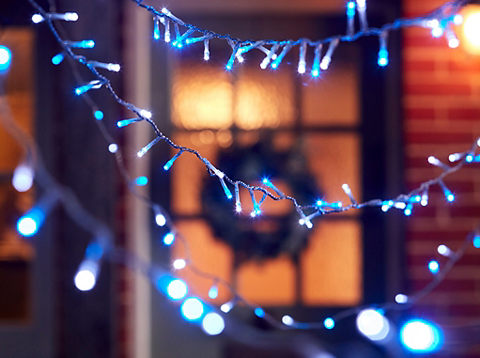 Before you buy
Safety first - indoor and outdoor use
Remember to check the product carefully before buying to ensure you know exactly what you're buying and where you're going to use it.
It's important to note whether the product is recommended for use indoors or outdoors. Many of our lights are safe to use in both environments, however some lights may be limited to indoors only if they are made of delicate materials that could be damaged by the weather. Always keep lights out of reach from small children and pets.
For advice on how to hang your outdoor Christmas lights, check out our handy how to guide.
Christmas tree lighting tips
---
These classic Christmas string lights, also known as fairy lights, are the traditional choice for lighting up your Christmas tree. They have become increasingly popular to use around the home for further decoration. There are different shapes, colours and bulb effects available, so we're here to breakdown your options this Christmas.
Shape of string Christmas lights
We offer string lights in a variety of different shapes, choose from:
Straight line string Christmas lights
The original and most popular choice. Easy to use, simply drape or attach them where you want some added seasonal sparkle. Look out for battery-operated timer lights that can be programmed to come on at the same time every day. Set up once, these automated lights are a great hassle-free option.
We offer standard straight line string lights with visible LED bulbs, as well as string lights with shades covering the bulb. Add some extra fun to Christmas this year by opting for shaped string lights, such as ball-shaped or starburst lights.
Net Christmas lights
Net lights feature a grid of LED bulbs, most usually in a square or rectangular shape. They're often used outdoors for maximum impact and they look especially effective draped over fences, the roofs of porches or inside window frames. They also look great draped over hedges and trees.
Curtain Christmas lights
Replicating the look of window curtains, curtain lights are designed with lines of string lights hanging loosely from a horizontal cable. They look great in windows or in entrance ways.
Icicle Christmas lights
Echoing the frosty chill of winter icicles, these lights use the straight line framework but with hanging lights of different lengths. Icicle lights look fantastic hung from eaves and windows – though remember to stay safe if attempting to hang in such spots. Alternatively, use indoors in windows, like curtain lights.
Bulbs of string Christmas lights
All of our Christmas string lights are fitted with LED bulbs, so they're energy-saving and cost-efficient to run. They're also brighter, longer lasting and safer than old-style bulbs, as they don't heat up. Our range offers variety in each of the following design features:
Number of bulbs/ lamps - as few as 8 lights, up to as many as 2,000
Bulb shapes – including stars, snowflakes, and balls
Bulb colours - choose from two types of white bulbs, ice white or warm white, single colours such as red or blue, or multicolour
Lighting effects - help achieve your festive mood with settings from twinkling to flashing, soft glow to sequenced patterns
Bulb spacing - opt for the bulbs close to one another for a clustered look or more spaced out for a sparser approach
Power source - available as mains or battery-operated to best suit how and where you want to use your Christmas lights
Cable colour – choose from green, silver or clear to help keep the wiring discreet
Cable length – directly related to the number of bulbs or lamps featured. Our range stretches up to 43 metres (m) for some of our most busy string lights.
Top tip: Don't pack away after the holidays
Why not enjoy your Christmas string lights all year long? Use outdoors ones to light up your garden come summer, or decorate a feature in your home such as a fireplace with them for year-long twinkle.
---
A hit with kids - silhouettes have become the family choice for fun, festive lighting. As the name suggests, they use light effects to create seasonal shapes and profiles. Due to their simple form, they are easy to distinguish from a distance and so are commonly used outdoors and in windows as a warm greeting to welcome friends and family to your home.
They're easy to set-up, many simply are erected (if freestanding) or hung (if wall or window-mounted), and are available as main or battery-powered. Choose from:
Outdoor silhouettes
Greet your guests with a seasonal display on your front garden, porch or roof top (always remembering to stay safe when installing). Use a single outdoor silhouette for a striking look or assemble many for a more detailed scene.
Some are two-dimensional (2D) in design and so look best against a flat background such as a fence or wall; while others are three-dimensional (3D) and freestanding and so work well stood in a garden. Choose a combination of the two to create a more balanced and interesting picture – and with many designed to coordinate, the creative options are endless.
Indoor Christmas silhouettes
Indoor, or window-hanging, silhouettes bring the fun back into the warmth of your home. Smaller in scale, these designs are available as simple, individual shapes, such as a snowflake or star, like our colour changing LED star silhouette. We also have more elaborate images, such as the freestanding house silhouette (pictured below) which would look lovely on a windowsill or side table.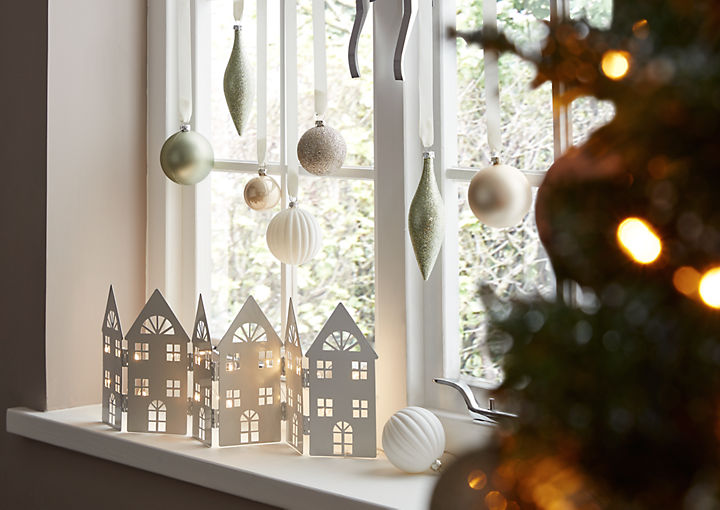 ---
Fancy a little more Christmas lighting? Explore our other exciting ideas.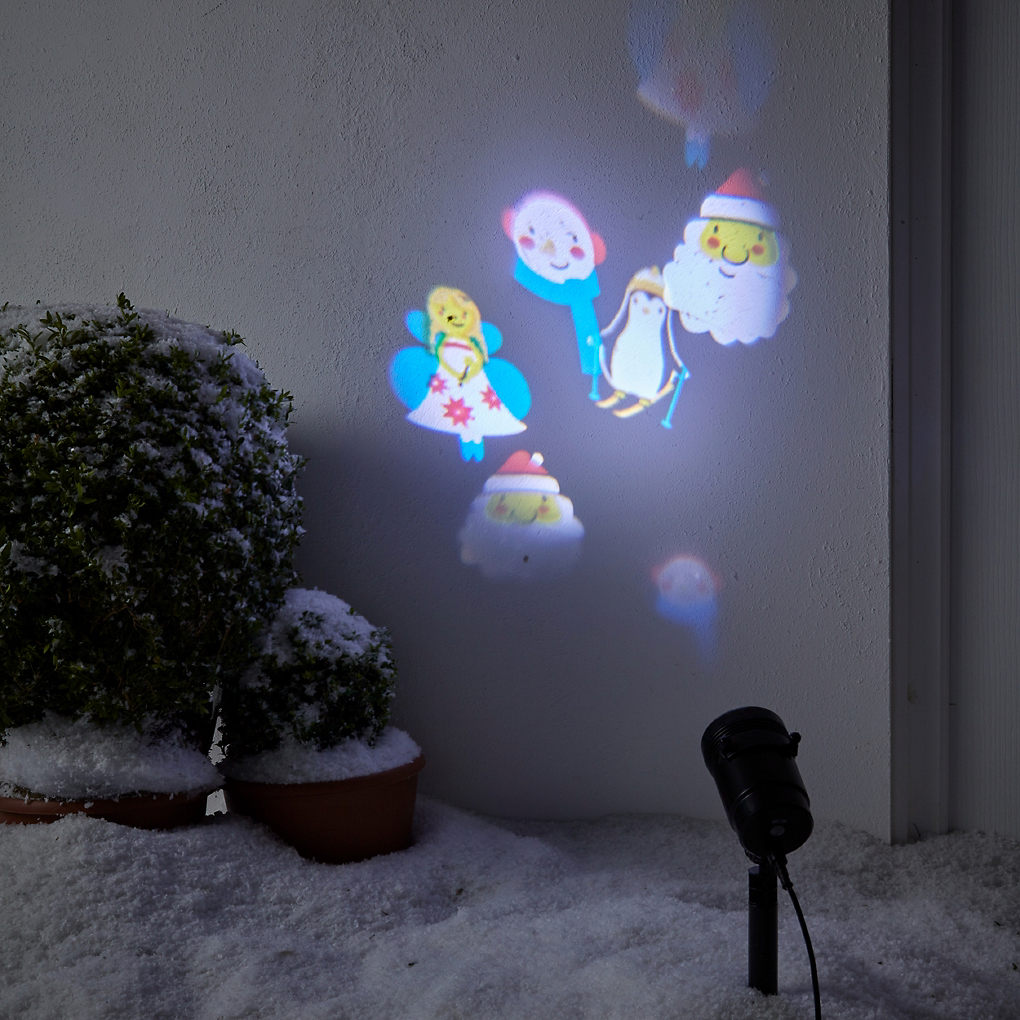 Christmas projectors
This year's must-have, our Christmas projectors use bright LED lights to project vibrant patterns onto your wall. They look great projected onto the house for a festive and fun look that will complete your Christmas display. Our LED projectors are a safer alternative to laser projectors, which have been known to pose a hazard to pilots in aeroplanes flying over. We offer two designs - classic white snowflakes or cheerful multi-coloured icons including snowmen and Christmas trees.
Christmas stake lights
Stake lights feature a post with a pointed end that can be driven into the ground outdoors or a pot indoors. This year we're selling a fun 'Santa stop here' sign. Easy to set-up and easy to take down – stake lights are a low-maintenance option that delivers great results.
Rope lights
Rope lights are a series of small, linked light bulbs encased in a plastic tube. They're fantastic at creating clean and simple shapes and as such we use them to great effect in our silhouettes range. However, if you're looking to create your own, personalised silhouettes, we offer rope lights as malleable lengths of lit tubing available in warm white, ice white or multi-colour. Mould into your preferred shapes and seasonal slogans, or outline your home's favourite features – both indoors and out. We offer two lengths of rope lights - 3m (battery-powered) or 8m (mains powered).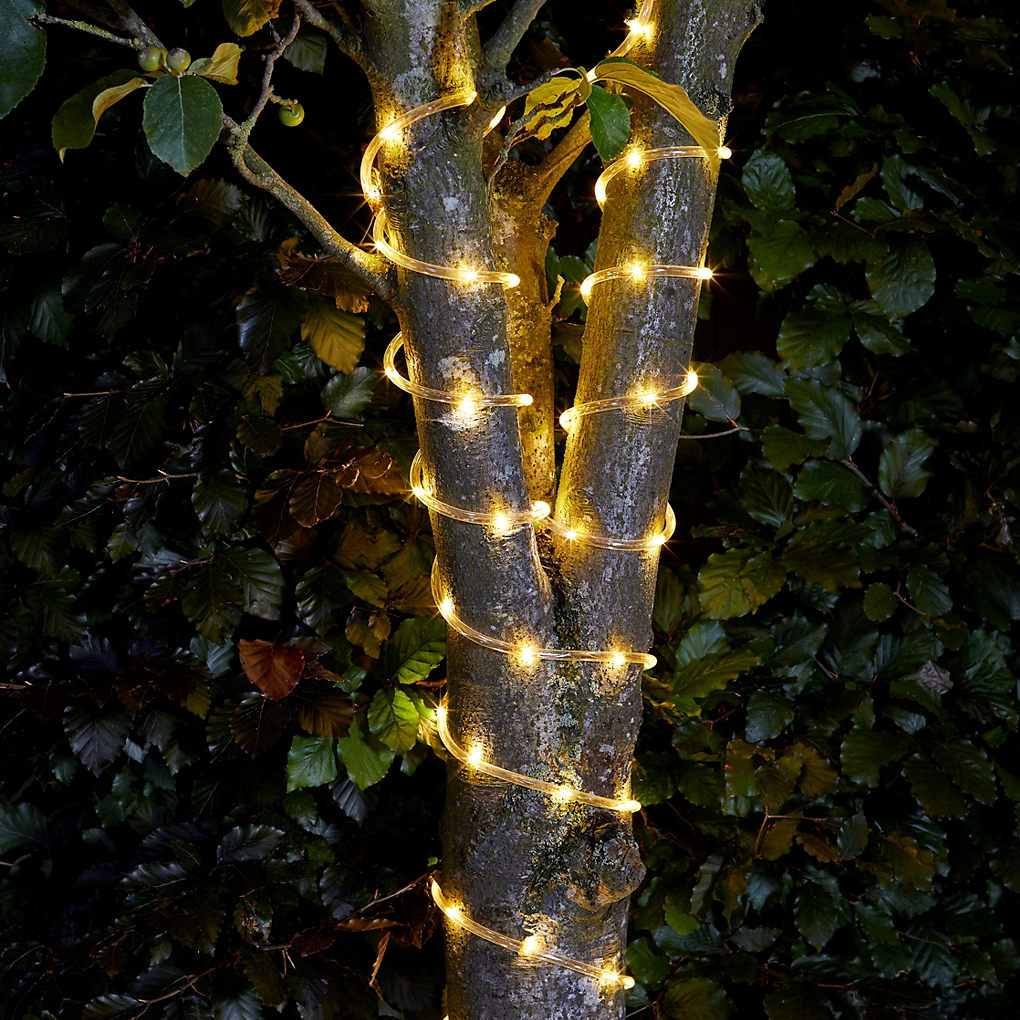 Christmas inflatables
Welcome your guests with seasonal style. Kids (and adults alike) will love our light-up Christmas inflatables. If you want to make a statement - we're selling a Santa and snowman arch (pictured), and we've also got a nutcracker toyshop archway. Inflatables such as this adorable inflatable dog can be used indoors or outdoors, but if they are to be used outside, don't forget to secure them to the ground.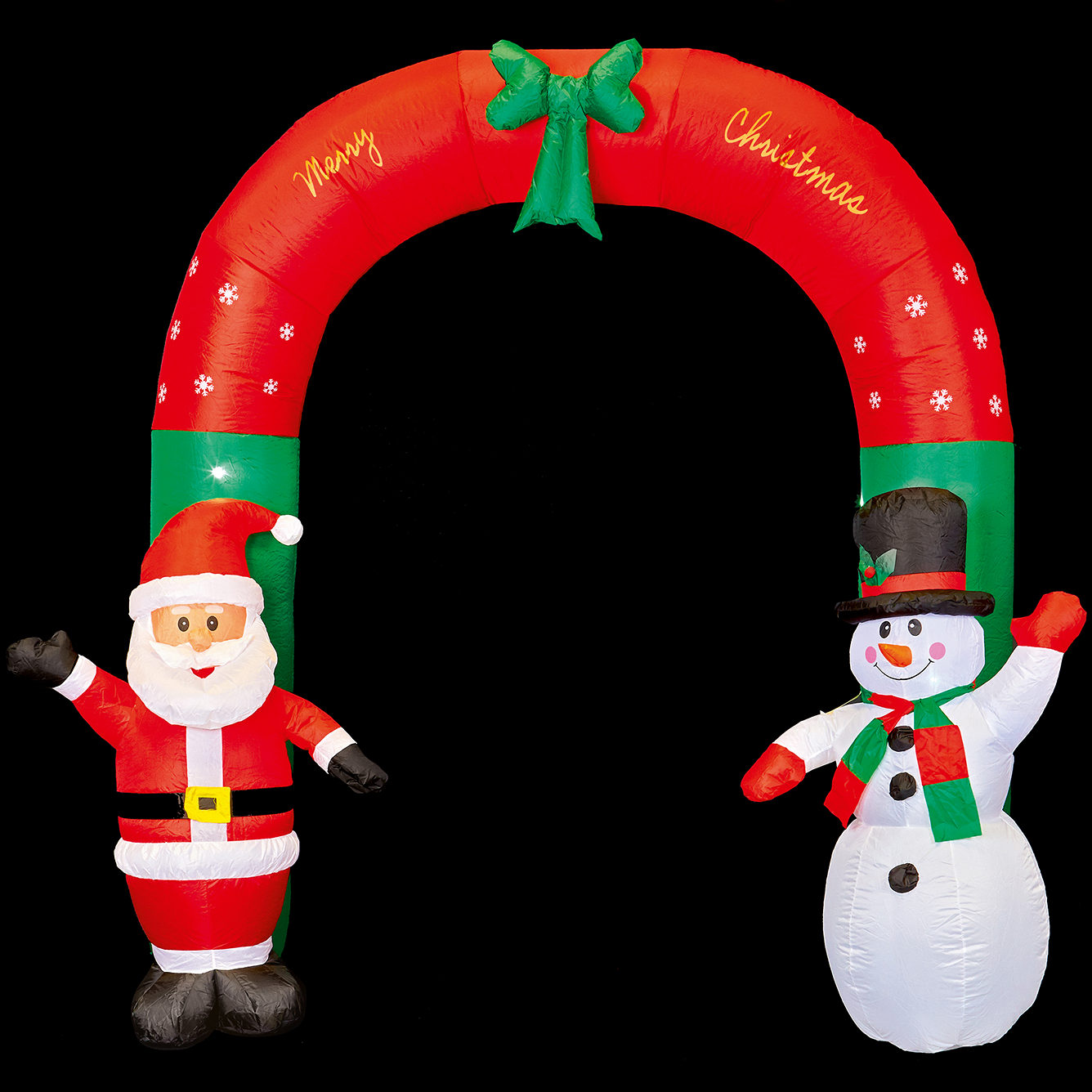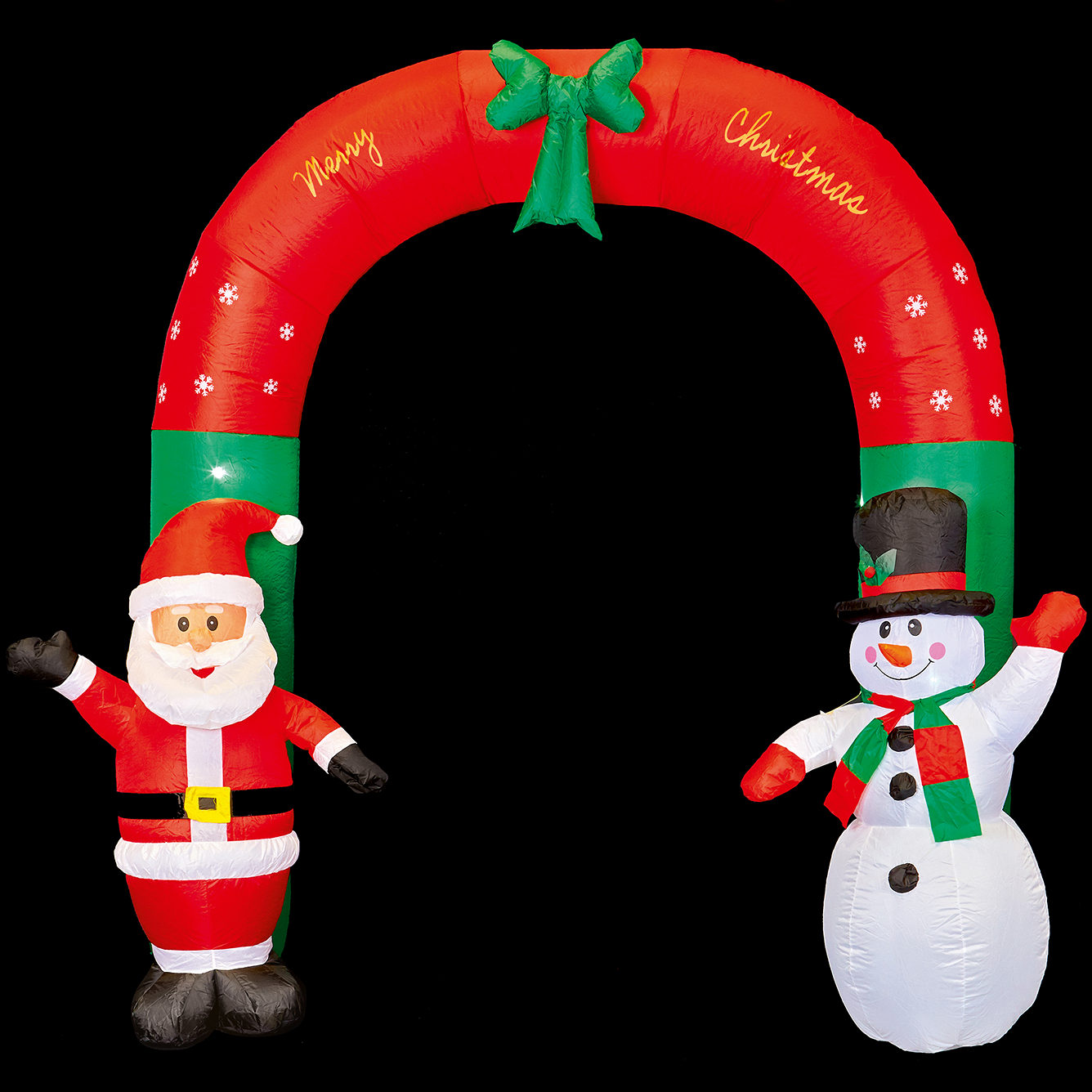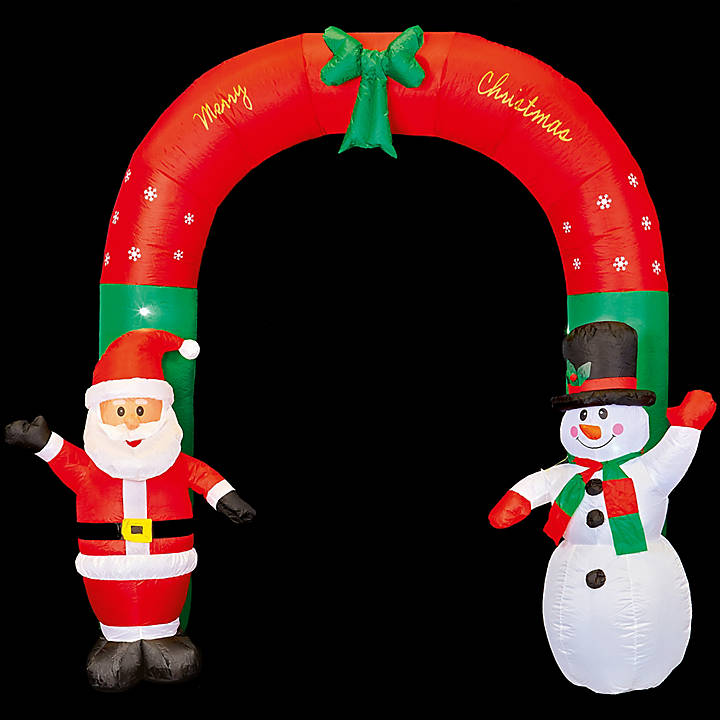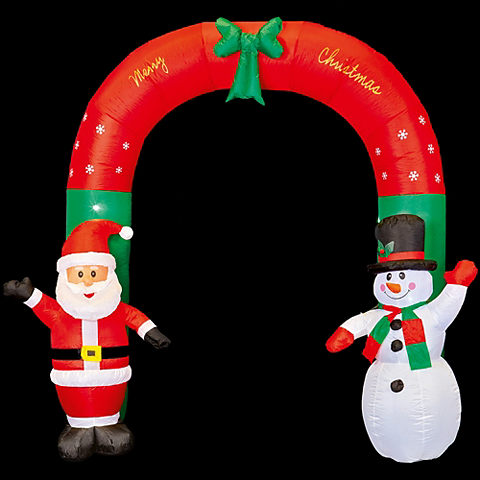 Our Christmas inflatables are quick to inflate, and even quicker to pack away when you're finished with them. Guaranteed to bring plenty of festive cheer to your front garden. Great fun for big kids, little kids and kids at heart.
---
---