Walls and ceilings paint covered
Find the right paint for your project
It can be easy to get overwhelmed with the different types of paints available. But by choosing the right features for the right room, you can end up with the perfect finish that lasts longer. We'll help you find out all you need to know with this handy guide.
Emulsion paint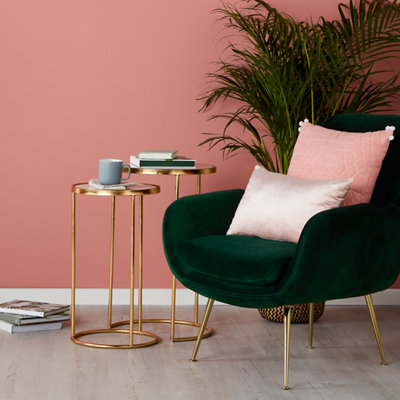 Wall or ceiling paint, also known as emulsion, is a water-based paint that's designed to give great coverage on plaster and artex – the surface usually used on ceilings. Water-based paint dries faster than oil-based paints and has a lower VOC (volatile organic compounds) content than other types of paint. These are chemicals found in paints and other household products and the lower the VOC, the safer the paint is to use.
We have a massive range of colours and finishes to choose from. Whether you want to create a neutral space with the odd pop of colour, or have a bold, contrasting palette, we'll have a wall paint to suit your style.
And don't forget the ceiling. These can become discoloured over time – especially if there's an open fire in the room, you burn candles or smoke. Paint these white to make the room feel taller and airy or add a bit of colour and leave the walls blank if you want a cosier feel.
Choose the right paint for your space
Before you begin, where will you be painting? And what? What goes on in the room you're planning to paint? We have different types of paints specially designed to suit your needs in every room of your home, the things inside your home and even the outside. There are special paints for kitchens and bathrooms, and kids' rooms too. Take a look at our article to figure out which paint is best for your space.
Paint finishes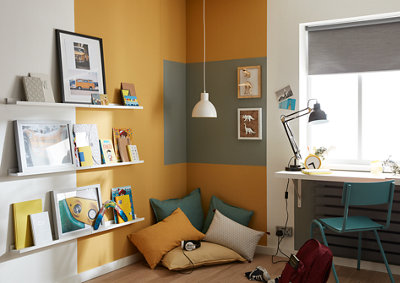 Our GoodHome paint is available in matt and silk options.
What's the difference? Well our matt paints have a smooth and flat finish which helps to hide any minor imperfections and is great when going for a more contemporary look. A silk finish has a subtle mid-sheen that will reflect some light and is ideal for darker rooms.
Colours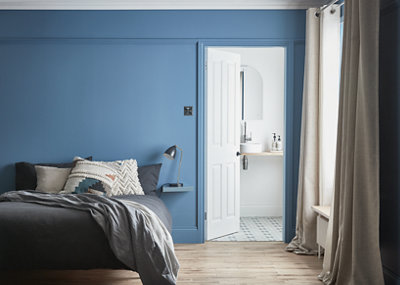 Our GoodHome walls and ceilings colour paint is available in 80 different colours to personalise your home.
We've grouped our colours into 9 colour families to make it easy to select your perfect shade. But if you can't find the right one, or you've got a certain colour in mind try our colour mixing service. Bring in your favourite scarf or the tiles you're putting in the same room and we'll match that colour and put it in a pot for you. Find out all about it in our guide.
Whites
If you want to give your home a light, fresh feel, you can't do much better than white paint. Versatile and easy to pair with touches of colour, white is perfect for adding balance and calm to your home.
GoodHome paint
GoodHome walls and ceilings paint is ideal for general living spaces. It's available in a white matt finish, which will help to disguise surface imperfections, or silk, which gives a smooth, wipeable finish.
Sizes – 2.5L, 5L and 10L
Finish – Matt and silk
Surfaces – Walls and ceilings
Top tips
Paint is temporary, so there's nothing stopping you from going bold with your colour choice. But if you're still feeling unsure, you can always grab a tester pot and try before you buy.
Articles