We remain open and here to help. Customer and colleague safety remains our priority. Whether shopping in store or online, we urge you to follow the Government's social distancing guidelines and to shop responsibly only for what is necessary.
It's up to you how you create your space, and there's so much you can do with paint
It's up to you how you create your space, and there's so much you can do with paint. So, rather than sticking with tradition, why not create a space that's completely unique to you? Our range of special effect paints and design ideas are inexpensive and easy to recreate at home, so you can unleash your inner artist.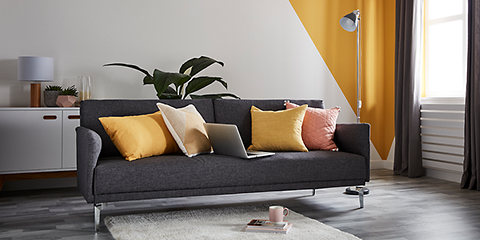 ---
---
Paint manufacturers are constantly developing inspiring new products that open a whole range of fresh possibilities for decorating your home and for transforming your furniture and accessories.
Metallic-effect paints
Great for accessories as well as trim details and radiators. You can also find metallic-effect paint that's specially designed for woodwork and walls. It takes a little extra care to get a good finish with metallic paints over a large area, as brushes and rollers are liable to leave marks. Paint a small cutting-in strip around the edges of your wall and then fill in with a short-pile roller in vertical strokes, working quickly. It can help to practise first on an out-of-the-way area or on lining paper until you're confident with your technique.
Chalkboard paint
An area of chalkboard paint on a wall or MDF gives you a handy space for writing or drawing in chalk. And you can easily wipe the surface clean with a damp or dry cloth. It's ideal in your kitchen for shopping lists or messages as well as in a children's room or study.
Glitter
For the best effects, put glitter on with stamps or a stencil, or paint it onto marked-out shapes.
---
Sponging is a simple decorative technique which you can create in one or more colours. You can use diluted matt emulsion over a solid and dry base colour to get this effect. But make sure you test your colour choice before starting on your walls.
If you're using more than one colour, it's a good idea to begin with the darkest and finish with the lightest. This creates a sense of depth, and the lighter colour will help correct any mistakes you might make. As diluted emulsion has a short drying time, check the room you're decorating isn't too hot or dry.
Preparation
If you want to mix colours, buy some tester pots of matt emulsion and thin them with clean water by 50% or more - depending on the depth of colour you want. Pour the emulsion into a jam jar, then add a measured amount of water. Close the lid tightly and shake it until it's completely mixed.
It's worth bearing in mind that when you dilute emulsion its performance reduces - so your surface won't be as washable as a standard coat of paint.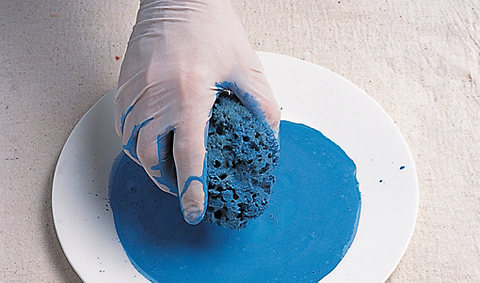 Step 1
Pour a little colour mix onto a paint tray or plate and dip a natural sponge into it. Wash the sponge in warm water first to make it soft and flexible and wipe any excess paint on a cloth or card. It's a good idea to experiment on an out of-the-way patch of wall first.
Step 2
Gently pat the sponge on the wall, making sure you constantly change the angle and position. Try not to press too hard or turn the sponge while it's in contact with the surface as this can cause smudges. From time to time, step back to check your work is even. And if you want a denser effect, simply go over the wall a second or third time.
---
Why not combine different shades of paint to create a feathered effect pattern on your feature wall?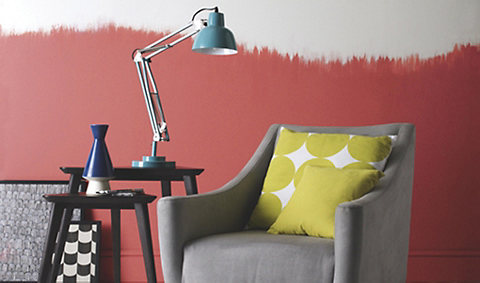 Step 1
Brush on the lighter shade first. Then, when it's dry, dip your roller into the bolder shade. Start at the bottom of your wall and finish about half-way up.
Step 2
Now take your paint brush and, using upward brush strokes, continue painting. Gently lift your brush as you reach the level you want to get an uneven edge.
---
This basic technique will help you create a whole range of eye-catching effects, from bold brush strokes to a soft feathered look.
Step 1
Using a colourwash brush, work in random criss-cross strokes over the surface. For bold brush strokes use long, firm sweeping actions. But go for repeated, shorter brush strokes if you want a feathered effect.
Step 2
Allow the first glaze to dry, adding another coat if you want a deeper effect or alternative colour. For a deeper, full bodied effect, start with a darker shade and use lighter shades in the following layers.
---
You can choose from a huge range of ready-made stencils to help you create a unique design, or you can create your own with masking tape. Make sure you choose the right paint for the type of surface you're painting on. You can stencil in stages, working on small areas at a time. But take care not to use too much paint or move the stencil.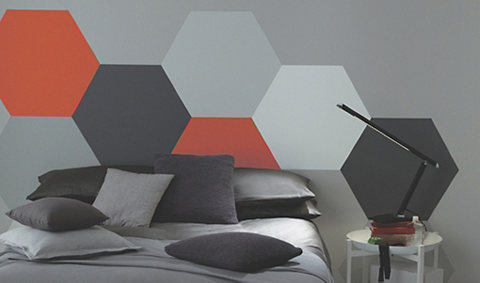 Step 1
Carefully plan the area where you want to use the effect and attach your stencil with low-tack masking tape. Use brush strokes if you want to create a feathered effect.
Step 2
Apply a very small amount of paint to a stencil brush or sponge, and gently dab or stipple the paint through the stencil.
Step 3
Gently remove the stencil before the paint is dry, and make sure you wipe off any excess paint before starting your next section.
---
Graphic stripes are a great way to give your home a modern feel. But before you start painting, make a rough drawing to plan the width of stripes and colour combinations. Squared or graph paper is ideal for working to scale.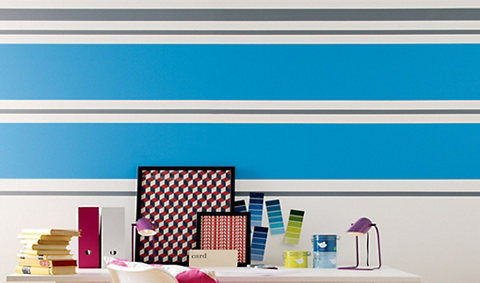 Step 1
Paint your wall with the base colour. Once it's completely dry, use measuring tape to divide the area into bands. Draw the lines on the wall with a pencil and ruler. Use a spirit level to check that all your lines are straight.
Step 2
Outline your stripes with masking tape, pressing it firmly against the wall. Then paint the stripes with the second colour and add a second coat, if needed. When your second colour is completely dry, carefully remove the masking tape.
---