Customer Support
We're here to help with your questions about shopping at B&Q. Find answers to frequently asked questions about home delivery, Click + Collect, the B&Q Club and more as well as contact details if you'd like to speak to our customer support team.
---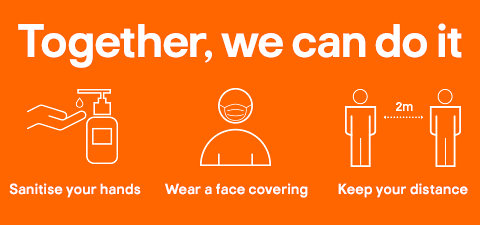 We remain open and here to help
As an essential retailer, we want to reassure you that our stores remain open and customer and colleague safety is our priority.
Whether shopping in store or online, we urge you to follow the Government's social distancing guidelines and to shop responsibly only for what is necessary. Please remember you can always shop online at diy.com and place orders for Click + Collect as well as home delivery. You can also book an online kitchen, bathroom and bedroom planning appointment at diy.com.
For customer and colleague safety, we have a number of social distancing measures at our stores. All stores have a designated queuing area outside (when required) and these have markers every two metres to help remind everyone to respect each other's personal space.  There are also two metre floor markers throughout stores as well as customer notices and marshalls to help you navigate around our stores safely. At the checkout we continue to have perspex screens and ask that payments are made by card or contactless.
Where local restrictions apply, some areas of our stores will not be available to shop or to browse.
We continue to offer a Click + Collect service as well as home delivery service through our website. If you need to visit a store please remember:
Hands:
• Hand Sanitiser: Please sanitise your hands on entering the store using the hand sanitiser provided at the entrance to the store. You will also find sanitiser stations at the paint mixing desk and at other parts of your store.
• Sanitiser Stations: We provide cleaning materials at the store entrance for customers use to ensure trolleys are good to go.
Face:
• Face covering. It's mandatory for customers & colleagues to wear a face covering while shopping in store unless you are exempt or have a reasonable excuse. If you do not want to wear a face covering in our stores, please remember you can always place an order for your essential items at diy.com for home delivery.
Space:
• Social distancing measures. We're committed to providing the best possible service to support your home improvement needs, while keeping you and our colleagues safe. In the best interests of safety for you and our colleagues we will continue to follow two metre social distancing measures within our stores and in queues outside of our stores.
• We are quieter in the morning and late afternoon. If you want less queuing (who doesn't), try coming in a little earlier in the day or later in the afternoon. Don't forget we are now open until 8pm Monday - Saturday and until 4pm on Sunday.
• Groups in store. We may ask customers to reduce their group size when entering our stores to help keep a safe number of people in our stores. We recommend a group size of no more than two. Children under 16 are permitted at the manager's discretion.
• Have your shopping list ready. At the entrance, our helpful colleagues will ask you what you need and direct you to where your required items are within the store.
• Be respectful of colleagues and other shoppers. We have two metre floor markers throughout the store. Let's all give each other space.
• Our preference is for card or contactless payment. This is to keep handling of materials to a minimum in order to reduce the opportunity for virus transmission through contact, however we do offer customers the flexibility to pay with cash should they need to.
• In store services. All in store services remain open however some may not be available at certain times of the day.
Contact our Customer Support team