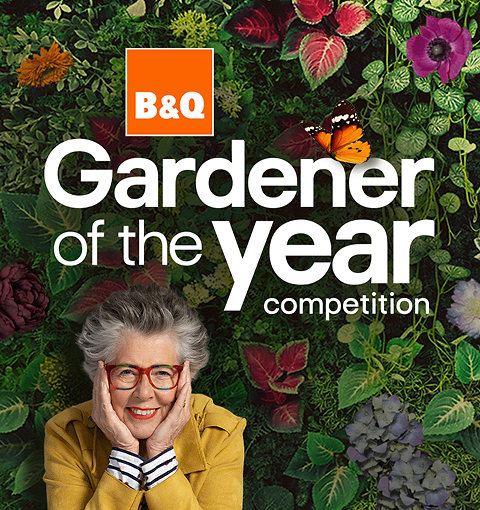 B&Q's Gardener of the Year competition is back!
Following last year's success, which saw Gary McLaughlan crowned B&Q Gardener of the Year, we're delighted to announce that the competition will be returning for a second year running. With fresh categories, a new celebrity face on the judging panel and £10,000 up for grabs, this competition has quickly become a highlight in the gardening calendar.
This competition is now closed, winners will be informed of their prizes on 24th June. Come back here on 20th July to see all the winning gardeners and their gardens.
Meet the judges
This year we've enlisted the help of gardening enthusiast Dame Prue Leith who will be leading the judging panel and offer her expert opinion and judging prowess. Joining Prue will be our returning judges; award winning garden designers Matt Childs and Humaira Ikram and B&Q Outdoor Category Director, Steve Guy. This mighty team will judge entries and crown the B&Q Gardener of the year 2022, who will be awarded £10,000 and the prestigious 'golden trowel' award. Three runners up will also be selected to receive £1,000. So, what are you waiting for? Could you be next? It's time to dig deep and show us your awe-inspiring gardens.
This year's categories
This year the nation will showcase their green fingers in four brand new categories. Perhaps you're a Classic Gardener, who appreciates the importance of time, care and attention when building your outdoor space. A Year-Round Gardener whose garden thrives no matter what season. A Productive Gardener who makes sure their outdoor space works as hard as they do, or perhaps an Eccentric Gardener who doesn't follow the rules and always embraces the unexpected. No matter what type of gardener you are, we want to here from you!
Gardening ideas & advice
Read expert help and advice from our Gardener of the Year judges
See full terms and conditions here