Let your plants flourish with a drip irrigation system
If you're not already using a drip irrigation system in your garden, then believe us when we say, today is the day to start. Installing an irrigation system will save you money, effort, and heaps of time. And with all that extra time, you can give the neglected areas of your garden the attention and TLC it deserves.
With a drip irrigation system, you will have total peace of mind that your plants are healthy, happy, and continuously watered. On top of that, it reduces the growth of weeds, and your crops will be less likely to get any unwanted diseases.
Drip irrigation delivers water at a much slower and more gradual rate than a normal watering system, enabling you to supply water straight to the roots of your plants and vegetables. It can be used on most areas of your garden, including borders and flowerbeds, veg patches, greenhouses and container plants as well as hanging baskets.
Now you've made up your mind, where to start? Fortunately for you, we have everything you need to create your own tailor-made, water system to all parts of your garden. From individual products through to irrigation kits - save time and water so that your plants can flourish freely.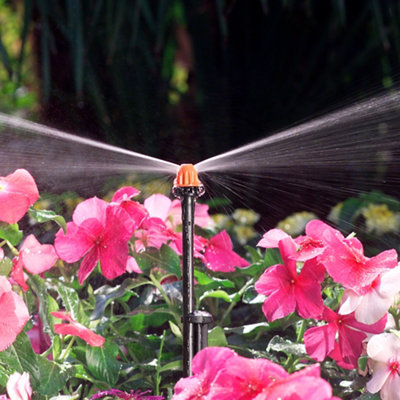 Articles