Make the most of your kitchen with space saving solutions
Kitchens are getting smaller, in fact, 6 out of 10 kitchens are less than 12 m². Luckily, we're on hand to advise you with helpful ways to ensure your small kitchen can be functional and practical, as well as attractive.
With clever storage and design solutions, you can easily create the illusion of a bigger space. Fill your kitchen with everything to cater to your needs – cooking, eating, washing or entertaining guests, all without making the room look cluttered.
Our handy guide will reassure you that minimal space doesn't mean having to settle for a dreary kitchen. With our tips, tricks and innovative products, we can help make your small kitchen feel more spacious than ever. Read on for our small kitchen ideas...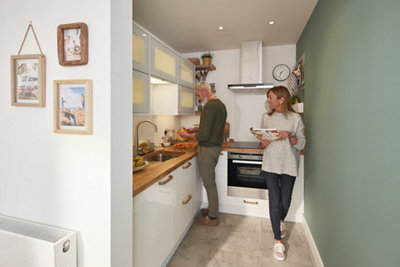 Articles