The open plan living space
combine two rooms and make the most out of your space
Sometimes the amount of stuff we have seems to grow and grow, and we quickly run out of room. When we love our home but need a little extra space, a renovation can help transform two small rooms into one living and kitchen area.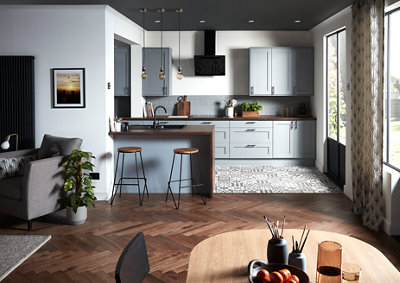 Creating space with open plan
Adding an extension or renovating two rooms to create one is a big decision. And once it's done it can often be hard to think about what to do next and how they'll work together. Try not to treat it as two separate rooms, instead respect each functional area at the same time. It sounds complicated, and like there's a lot to ponder over, but we've made it simple to create an open plan space that works for you and your family, and blends seamlessly from one area to another.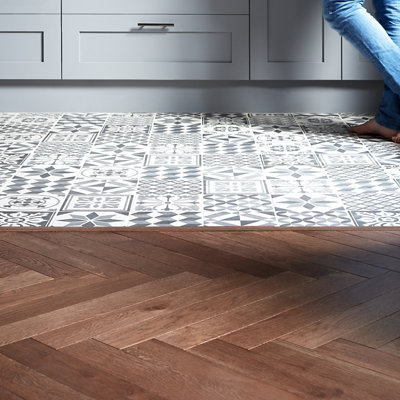 Project checklist
In the busy family kitchen, our GoodHome paint is stain and grease resistant and washable to help you remove any splashes from cooking
Instead of replacing the cabinet doors, why not freshen them up with a new colour?
We love this flooring for its warm look and authentic feel
Perfect for the kitchen and running alongside the Herringbone flooring
Get snug and cosy under this relaxing amber bulb
Enjoy open plan living
Neutrals are key to this space, and we don't think you should be afraid of having white walls to help bring out the skirting, moulding, the new industrial style windows and the dark ceiling. Treat the ceiling like another wall, painting it actually brings it down and pushes your walls out to create a cosy feel. We've used whites, charcoals and warm wood to create a different dynamic that really shows off your space.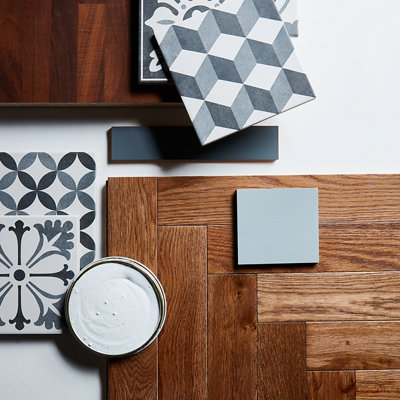 A space to be proud of
Painting the cabinets a matt grey matches the other elements of the room. The industrial style windows along with the art deco lighting help to create a modern look and feel, bringing the whole room together to work as one space.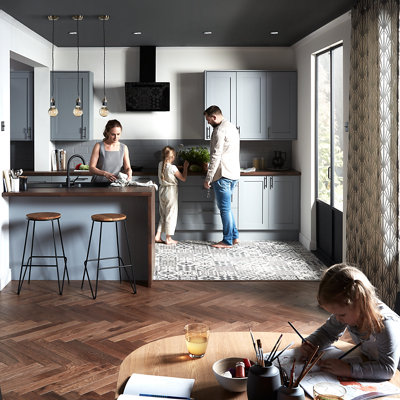 Articles