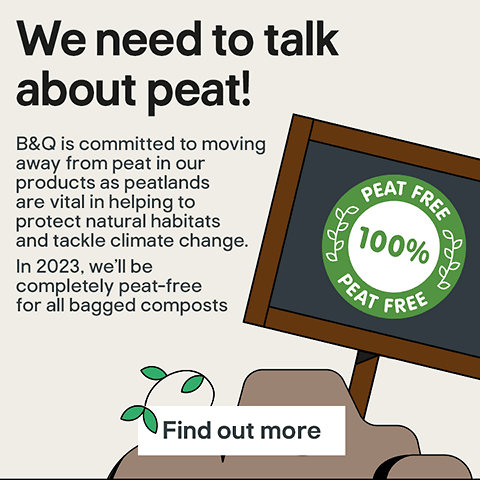 We're committed to moving away from peat in our products, as peatlands are vital in helping to protect natural habitats and tackle climate change.
In 2023, we'll be completely peat-free for all bagged composts.
B&Q has led the industry in this area for over 30 years, since 1991, when we first introduced peat-free compost. We stopped selling 100% peat in 2008 and introduced a range of peat-free bedding plants in 2014 and further peat-free grown ranges since then. Whilst we will move to 100% peat-free compost in 2023, we are calling on the Government to ban the sale of peat-based compost by 2024. 
Why is moving away from peat products important?
Climate change 
Peatlands are the world's largest land store of carbon, much more than the Amazon rainforest. They also continue to absorb carbon and help prevent flooding with Sphagnum mosses, which are key to creating peat bogs, holding up to 20 times their weight in water. When peat is extracted and added to our gardens, it breaks down very quickly, releasing that ancient carbon into the atmosphere – contributing to climate change in a similar way to burning fossil fuels or cutting down rainforests.  
Habitat 
Peatlands create bogs and wetlands; providing unique ecosystems for a diverse range of wildlife. Birds like hen harriers and dunlins; insects such as dragonflies, heath butterflies and jewel beetles; and an unusual insect-eating plant, the sundew, all call peatlands home. Peat is created by nature over thousands of years, taking a long time to regenerate which is why reducing our peat consumption and moving to peat-free gardening is crucial. 
Why use compost at all? 
Compost has a superior structure to normal garden soil – both nutritionally and physically. Composts offer the specific nutrients that your plants need for the various stages of healthy growth. Some composts will also have organic matter added to them to help change the physical structure of the soil, making it richer or denser so that it's better at holding water. 




Developing a peat-free compost 
We've learnt a huge amount about how to source and mix alternative ingredients to get exactly the right balance for a great peat-free compost.  To fulfil our customers' needs to enjoy their gardens, we've worked with our suppliers to improve the quality of peat-free composts and to secure sufficient volumes to achieve our peat-free commitment. 
Over the last four years, we've partnered with suppliers to develop a high quality 100% peat-free formulation under the GoodHome brand. This high-quality 100% peat-free compost, launched in 2020, is formulated using coir (coconut fibres), and other ingredients to replace peat. We have invested heavily in this formulation, and work continually to ensure consistency and make improvements. We also make it available to customers at the same price as peat-based versions, despite it costing more to produce; we're doing this because it is the right thing to do.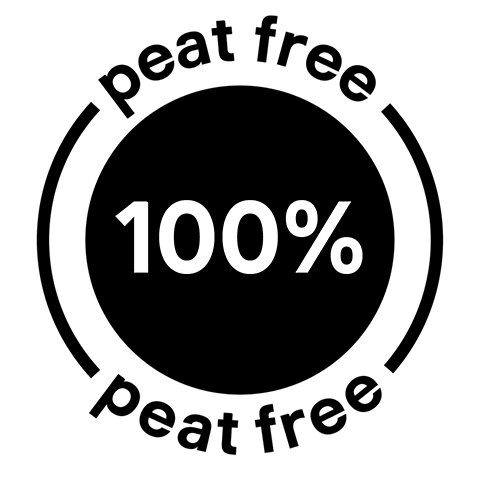 We now sell a large range of peat free compost for all jobs in the garden under our GoodHome brand, as well as branded peat-free composts. Look for "peat free" labels in store.
Our peat free commitment is part of our broader ambition to help our customers have greener, healthier gardens. In 2018 we were the first retailer to remove neonicotinoids from our supply chain, in 2019 we removed all products containing metaldehydes and 2020 saw the removal of glyphosates from our range. This year we have introduced a wider range of recycled and recyclable pots and propagation trays too, all helping to make our gardens greener.